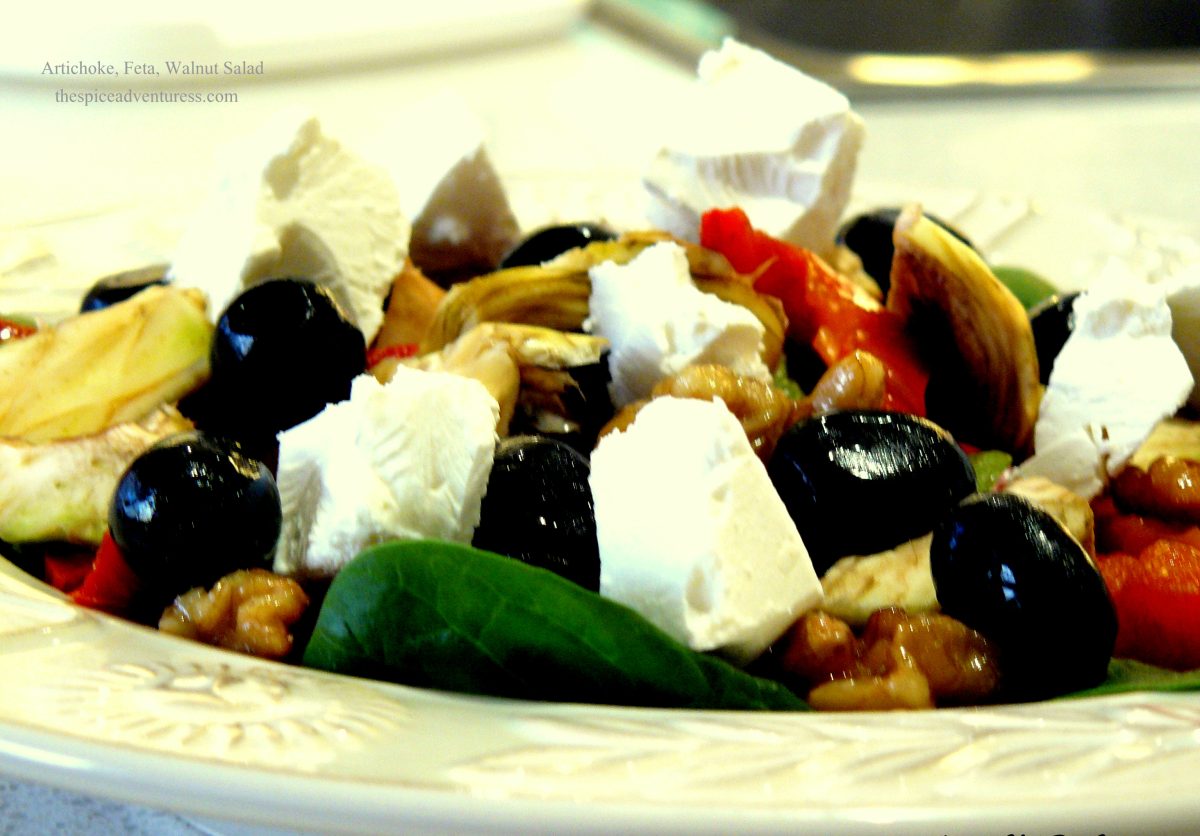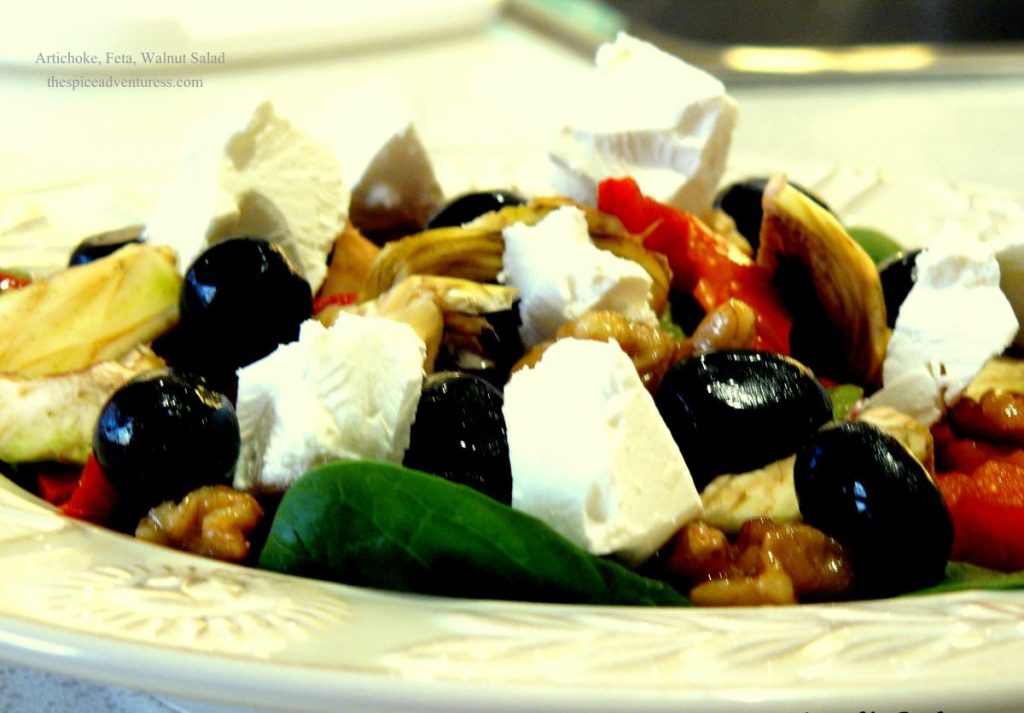 This salad recipe is a first for me in many aspects – it is the first time I am using walnuts in a salad and also the first time I tasted artichokes. And the latter made this salad quite a technical one for me as I decided to use fresh artichokes and learn how to peel off the layers and get to the heart instead of opting for canned ones. But it was worth the effort as this salad turned out to be one of the best I have eaten in a long time.
I loved the fact that the salad did not incorporate the all too familiar veggies like cucumber, tomato, onion etc. Instead it was a delectable mix of unusual ingredients and flavours. The saltiness of the feta and the olives juxtaposing with the nutty, earthy and smoky flavours all tied down perfectly by a simple olive oil-honey dressing.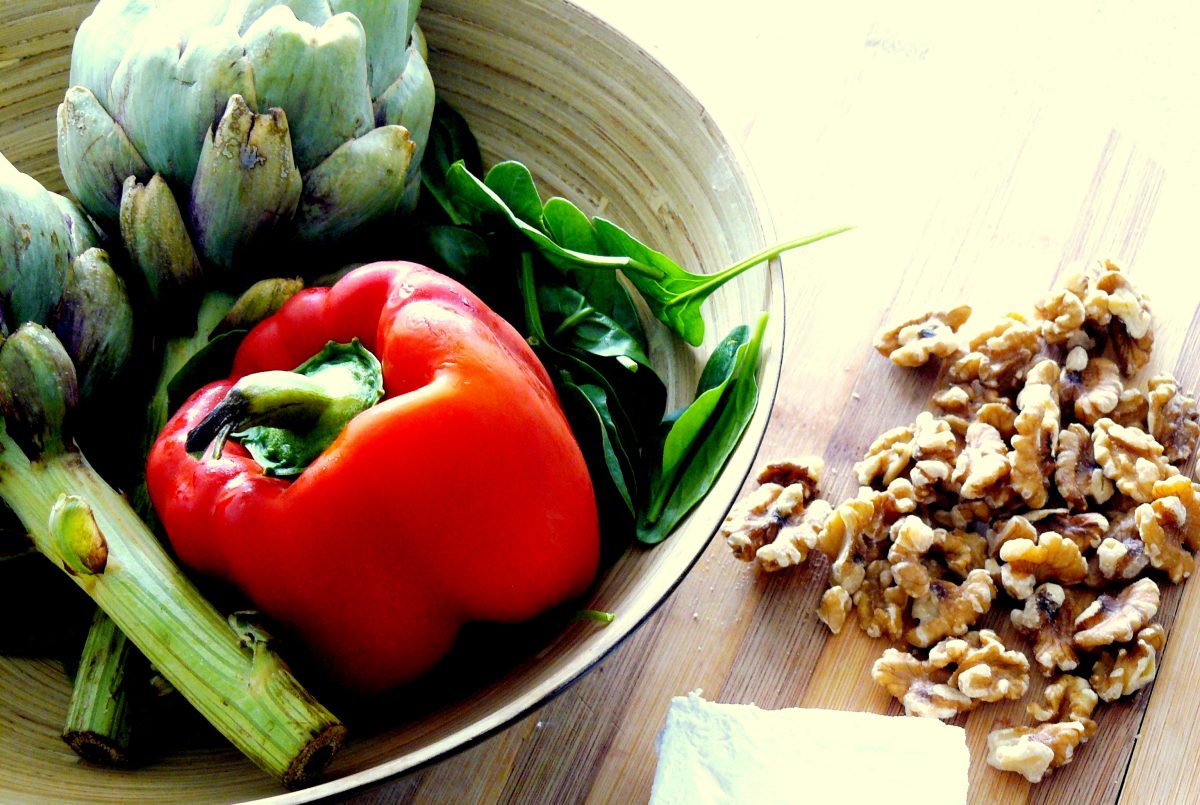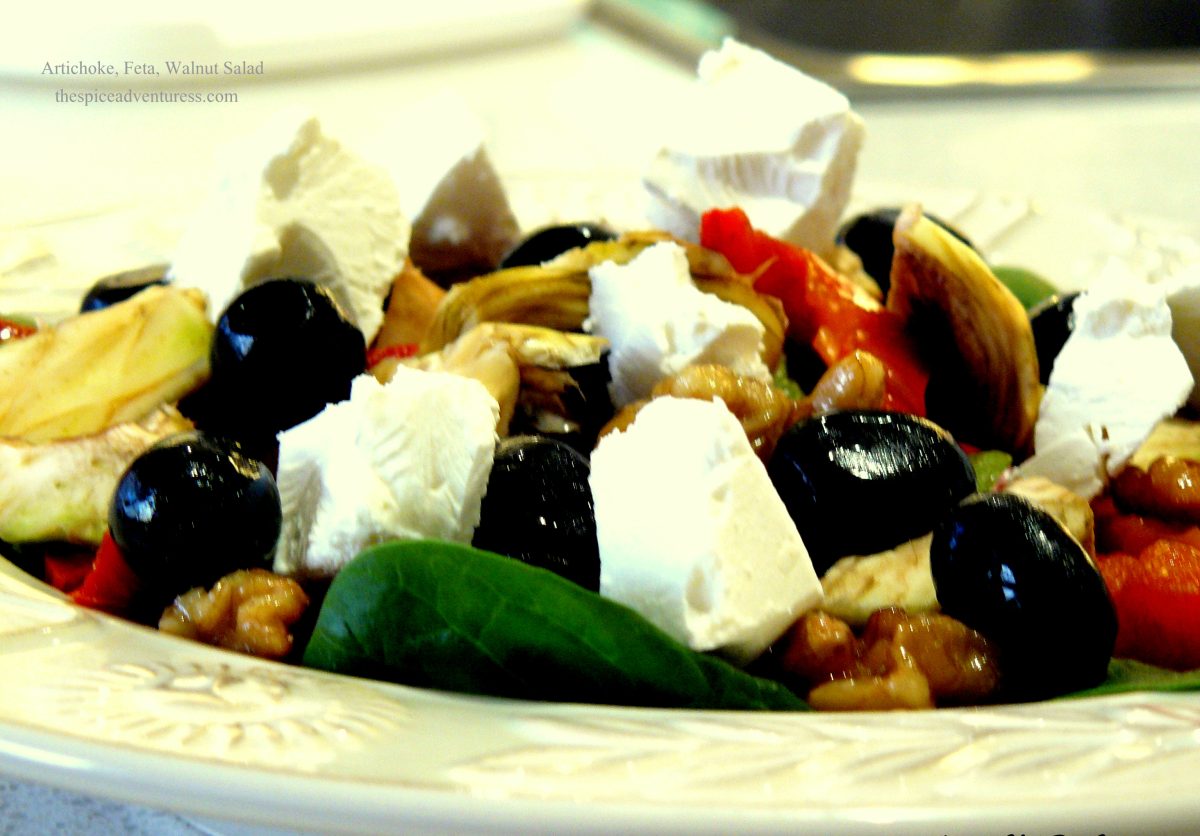 Recipe Courtesy – Vegetarian Cooking by New Holland Publishers

Ingredients:
1. Red capsicum/bell pepper – 1, quartered and seeded
2. Walnuts – 100 gm
3. Baby spinach – 200 gm
4. Greek feta – 200 gm, cubed
5. Artichoke hearts – 300 gm, quartered
6. Black olives – ½ cup, pitted
7. Olive oil – 1 tbsp
8. For dressing:
• Extra virgin olive oil – ½ cup
• Lemon juice – ¼ cup
• Honey – 2 tsp
• Oregano – 2 tsp
• Black pepper – freshly ground, to season
• Himalayan pink salt – to season (any type of salt can be used)
Method:
• Preheat grill. Grill the capsicum pieces till the outer skin starts to turn black. I did not char the skin completely since I wanted a little bit of bite to the pepper but if you like it soft, grill till the outer skin turns completely black. Cool slightly and peel skin when still warm. Cut into long strips and keep aside.
• In a frying pan, heat olive oil, add the walnuts and cook for a minute or two. Keep aside.
• In a small jar, combine all the ingredients under dressing and mix well.
• In a large salad bowl, combine the baby spinach, artichoke hearts, feta, olives, walnuts and bell pepper.
• Pour the dressing just before serving.
Note – If you do not know how to get artichoke hearts, there are plenty of YouTube videos demonstrating the same. Or you could just make your job easier and buy canned ones.