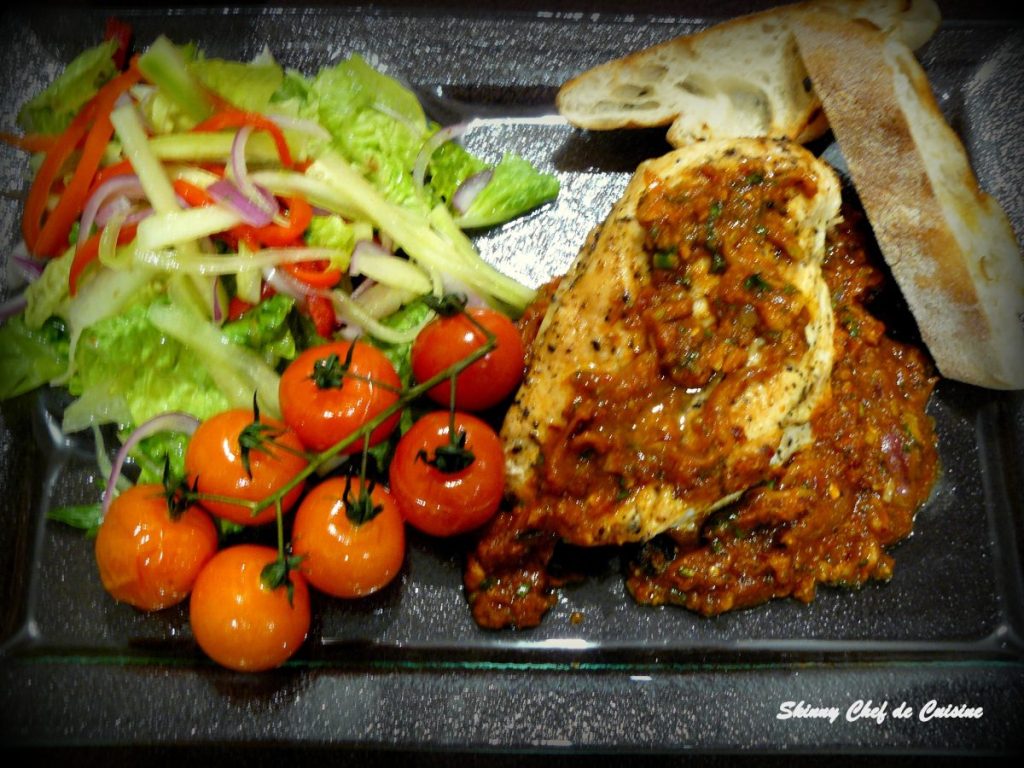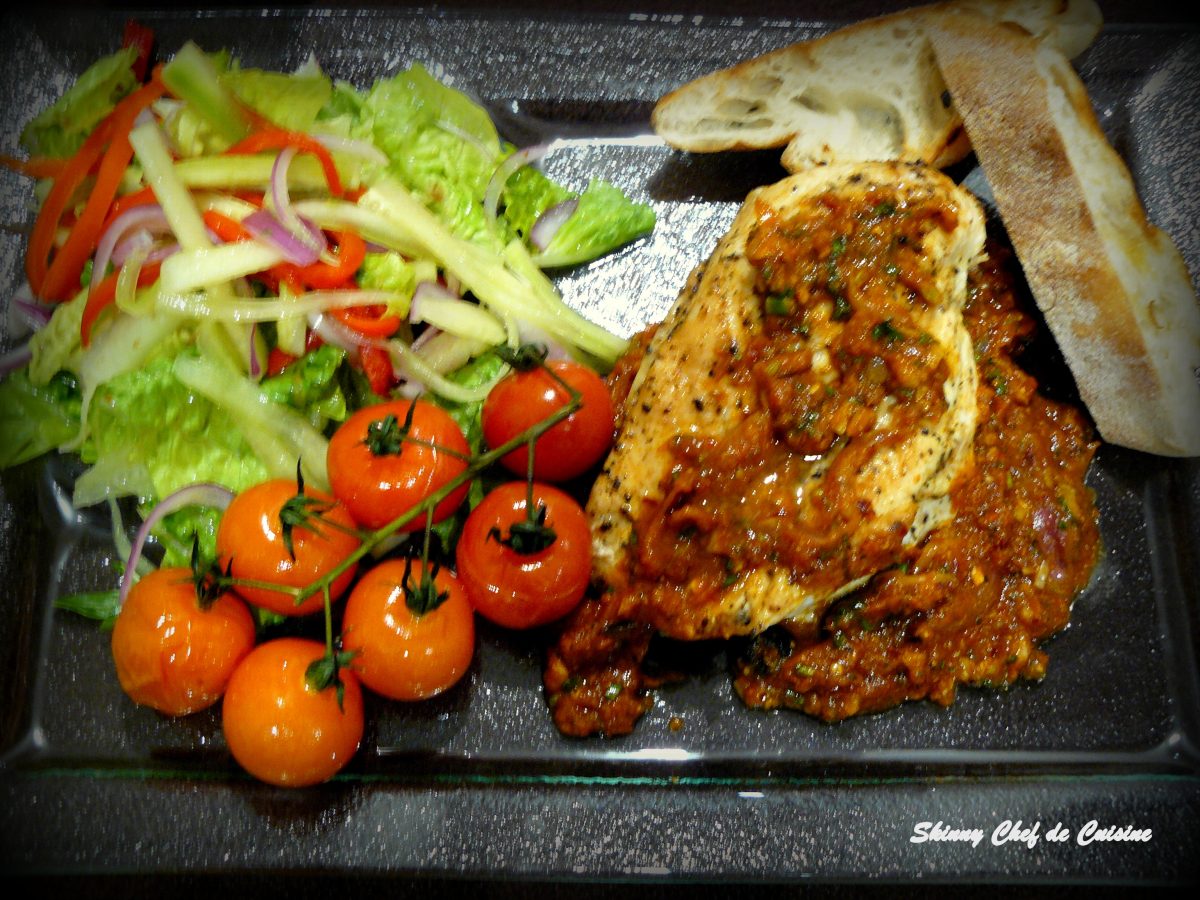 This dish is a complete experiment – the result of a random food thought that originated while I was tossing and turning trying to catch some sleep. Now, I do have food dreams especially since I have started blogging and there are times when an idea would suddenly pop up and I frantically search for my mobile trying to jot it down for future experimentation.
Every time I visit the local farmer's market or any supermarket for that fact, the first aisle I want to visit is the spices and condiments section. I love learning about new spices, buying it and then experimenting with these trying to come up with unique spice blends and thereby new dishes. Very rarely do I buy commercial spice blends – I love the process of making these at home itself.
On one such trip to the spice aisle, I came across the Cajun seasoning which is quite a commonly used spice blend in Australia. The main ingredients of this blend are paprika, fennel, garlic, chilli, pepper etc. which makes it a good marinade/rub for meats and seafood. I bought a bottle and decided to put it to the test with this recipe.
Somewhere along the way, as the recipe took shape, I decided to incorporate some Indian flavours too (and this is proof that Indian flavours can be incorporated and teamed well with international dishes) and hence decided to make an Indian inspired base/sauce.
So, the final dish – grilled chicken breasts with Cajun seasoning served with Indian inspired tomato sauce, oven roasted vine-ripened tomatoes and a fresh green salad. The flavours went well and the dish was a total ripper.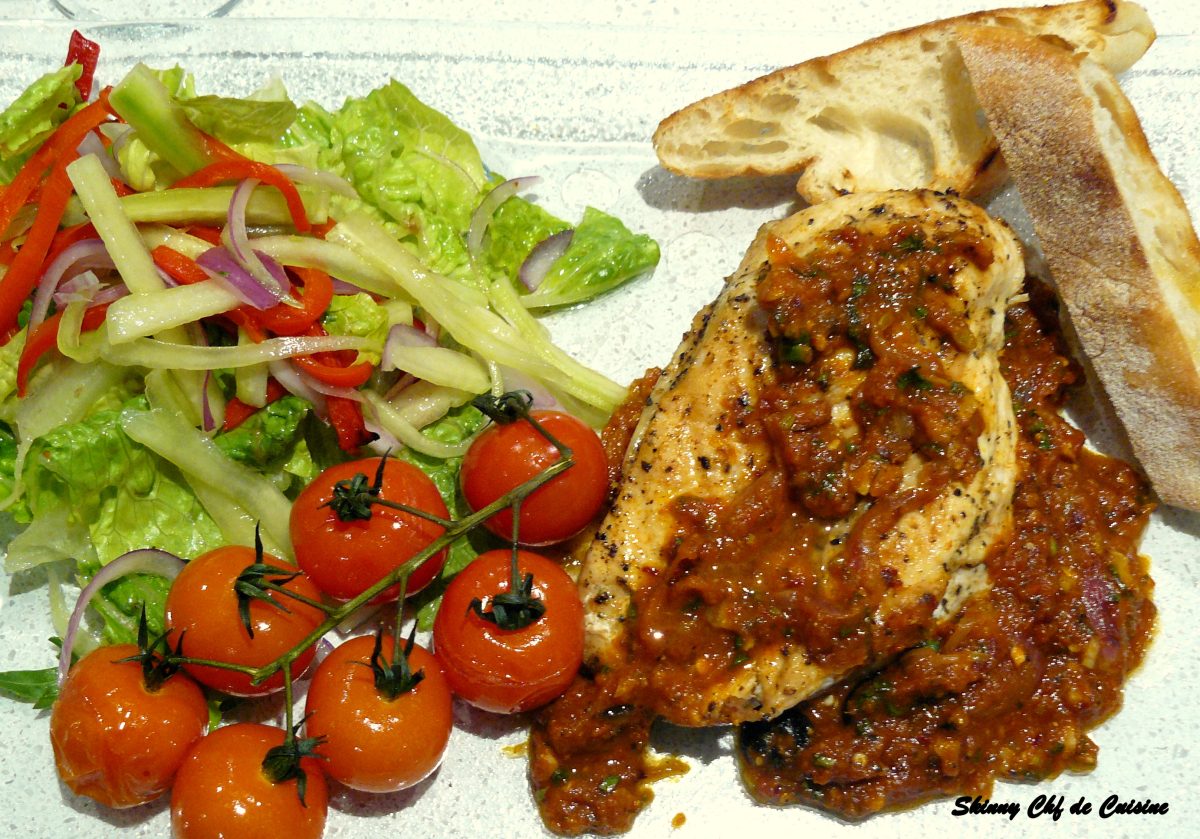 Ingredients:
For the chicken:
1. Chicken breast, skinless – 2
2. Cajun seasoning (store-bought) – 1-2 tsp
3. Salt – to season
4. Black pepper – to season
5. Lemon juice – 1 tsp
For the tomato sauce:
6. Ripe red tomatoes – 2
7. Ginger – ½ inch piece
8. Lime juice – 1-2 tbsp
9. Olive oil – 5 tbsp
10. Shallots – 3 medium
11. Garlic – 2 cloves, chopped finely
12. Smoked paprika (you may also use kashmiri chilli powder) – 1 tsp
13. Chilli flakes – to season
14. Sugar – ½ tsp
15. Salt – to season
16. Balsamic vinegar – ½ – 1 tsp
17. Coriander leaves – ½ cup, finely chopped
18. Black olives – 4, finely chopped
For the salad:
19. Iceberg lettuce – 1 cup, shredded
20. Lebanese cucumber – 1, sliced finely
21. Red onion – 1, sliced finely
22. Lemon juice
23. Salt – to season
For the tomatoes:
24. Vine-ripened baby tomatoes – 1 bunch
25. Salt – to season
26. Olive oil – 1 tbsp.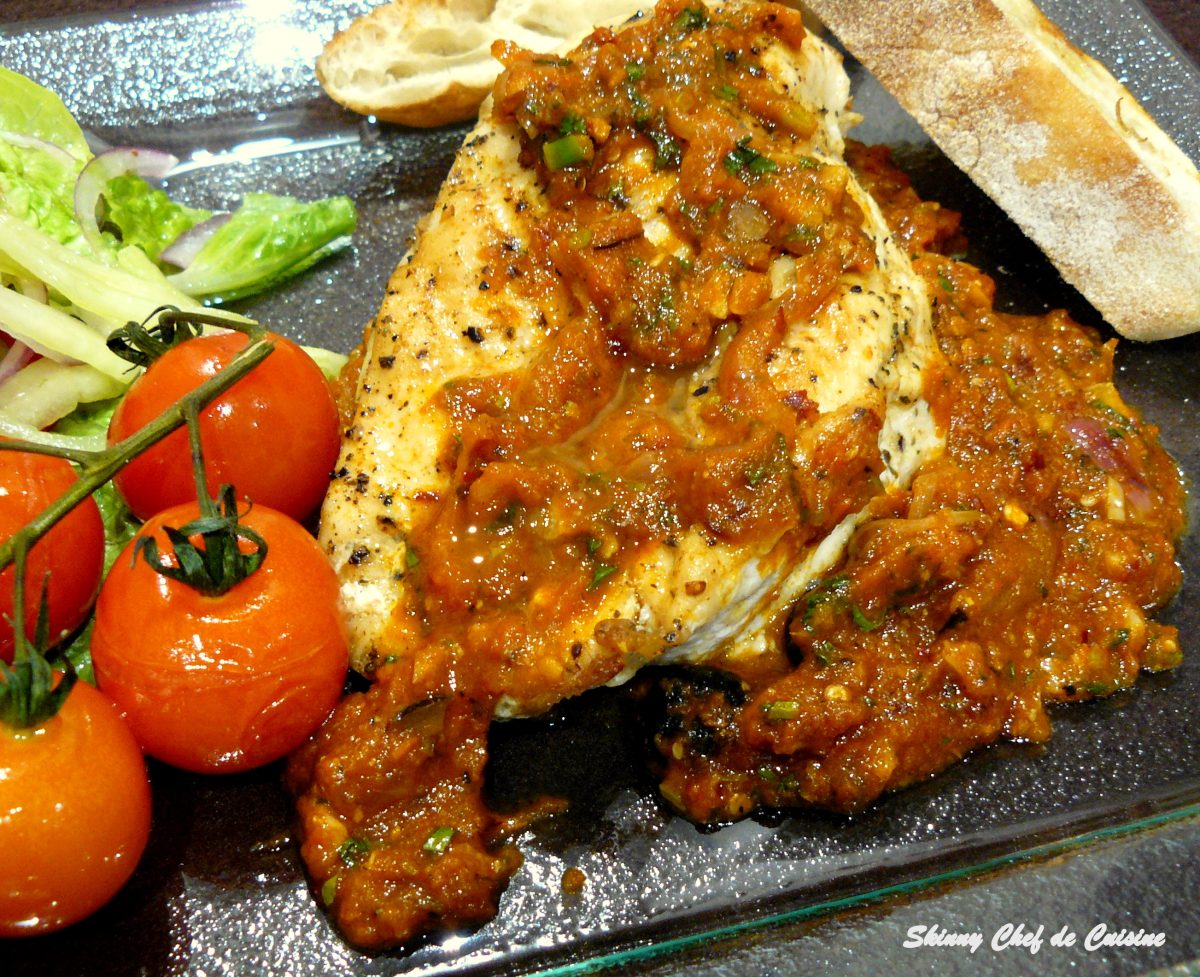 Method:
For the chicken:
• Make a marinade with ingredients 2-5 and marinate the chicken breasts in this for at least one hour.
• Grill the chicken breasts till tender and juicy. Take care not to overcook the chicken as this tends to make the meat rubbery and hard.
• Rest for 15 minutes before serving.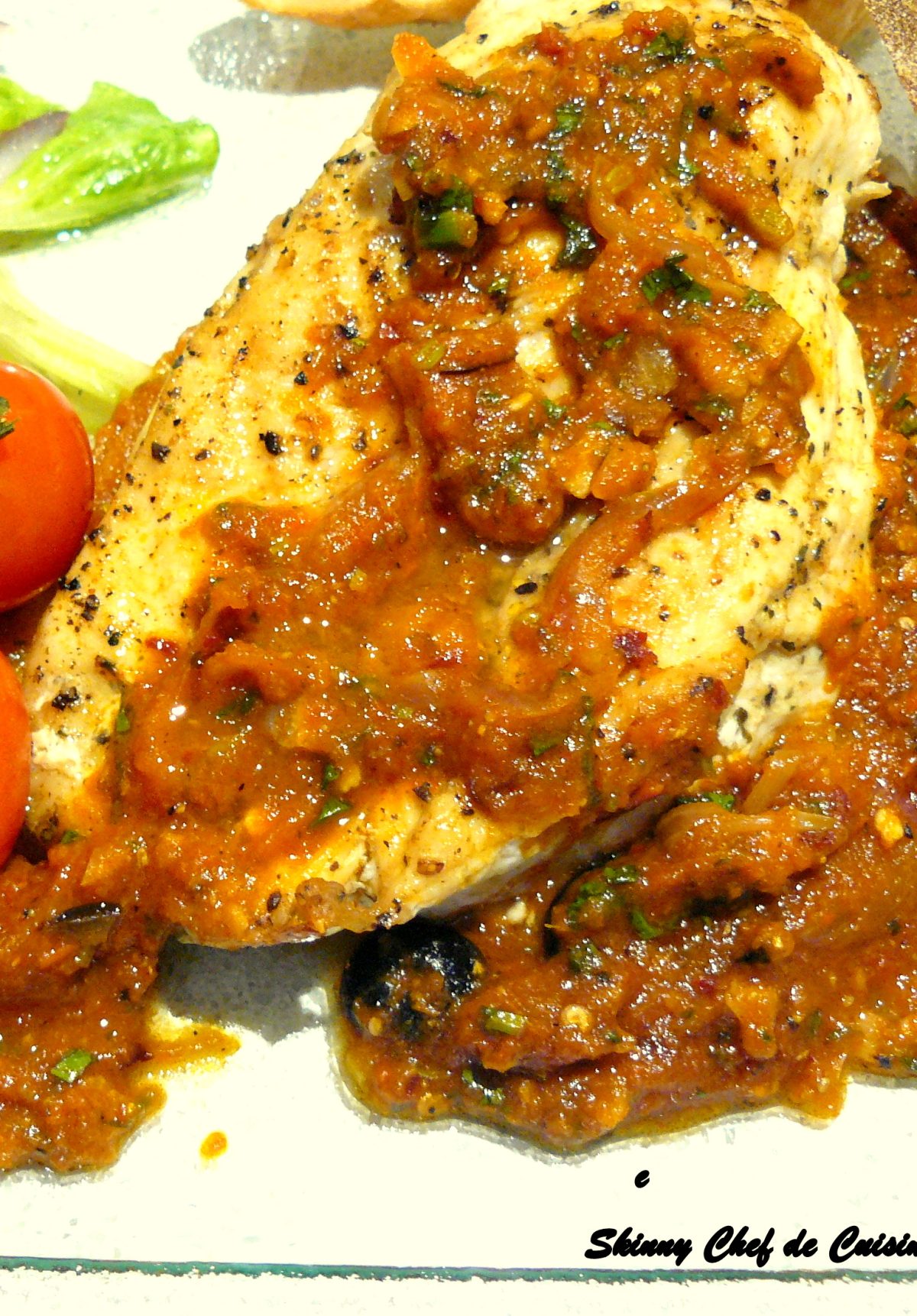 For the tomato sauce:
• Blend ingredients 6-9 to create a smooth sauce.
• In a pan, sauté shallots and garlic till soft and then add the tomato puree.
• Season with salt, sugar, paprika and chilli flakes, mixing well.
• Then add balsamic vinegar and cook till the sauce is reduced to a nice, creamy and smooth consistency.
• Finish off with coriander leaves and olives.
Note – Make sure to keep tasting to ensure that the flavours are in balance.
For the salad:
• Mix ingredients 19-22 in a bowl and keep aside. Season with salt just before serving.
For the oven-roasted tomatoes:
• Place the tomatoes in a baking tray and season with salt. Drizzle olive oil on top and roast at 200°C for 10 to 15 minutes or till soft.
The final dish:
• On a plate, spoon the tomato sauce generously and place the chicken breast on top. Pour a little of the sauce on top of the breast too.
• Finish off with the oven roasted tomatoes on one side and the fresh, green salad on another.
• Serve with any crusted bread.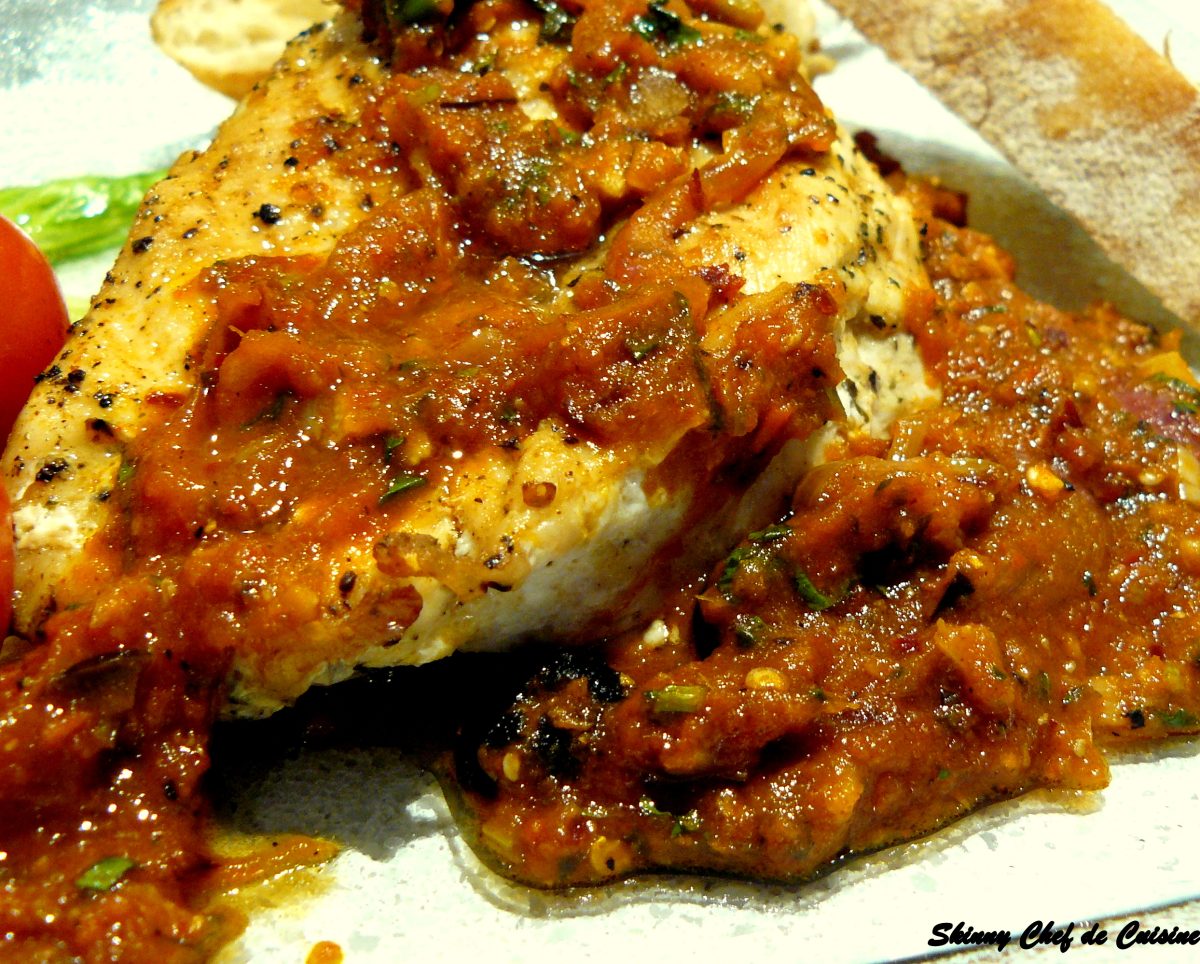 This might seem to be a lengthy recipe but the individual components are simple to prepare and hardly takes up any time at all.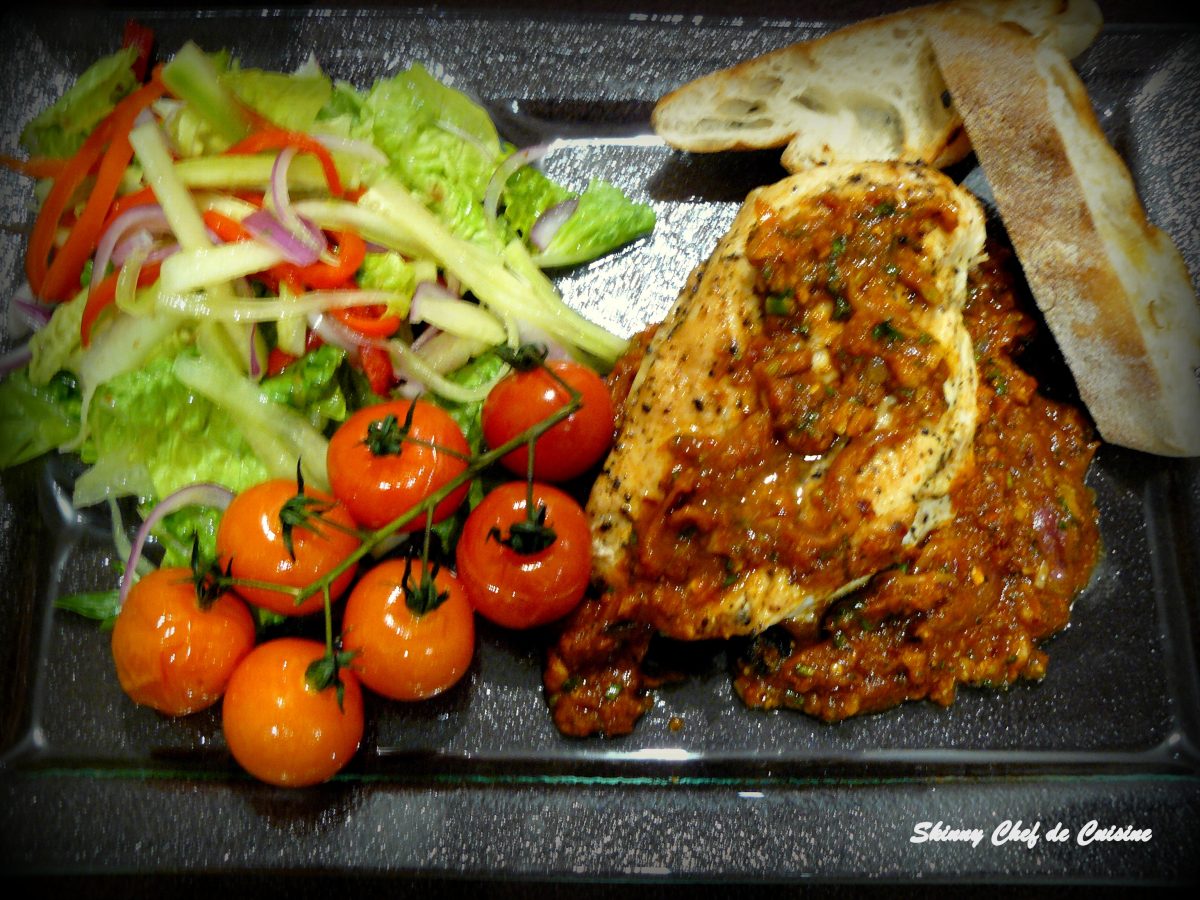 Cheers, foodies!