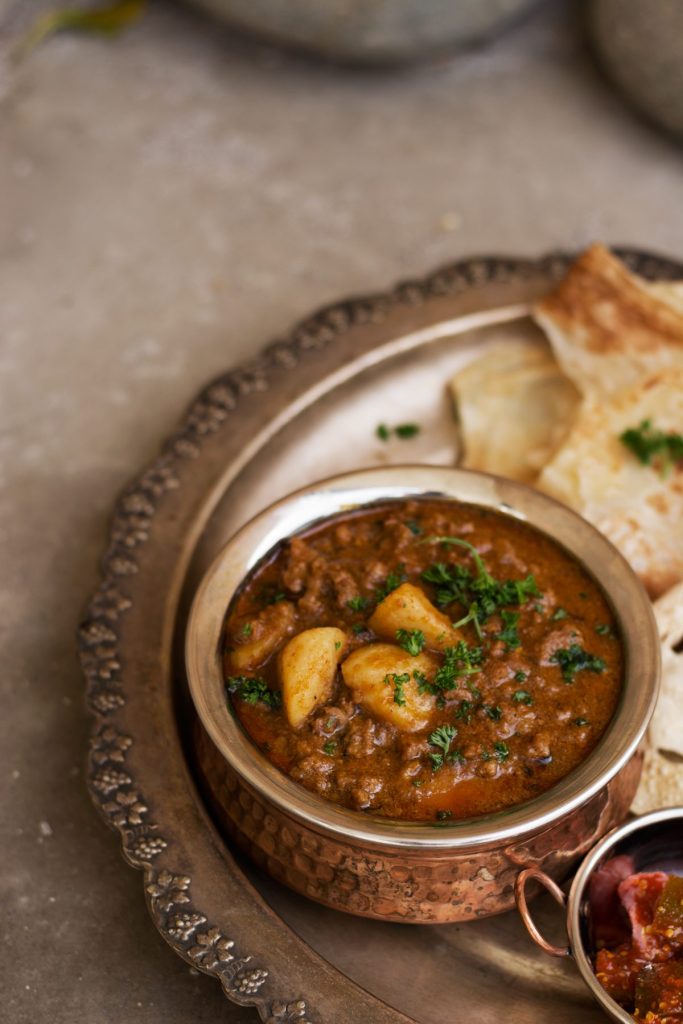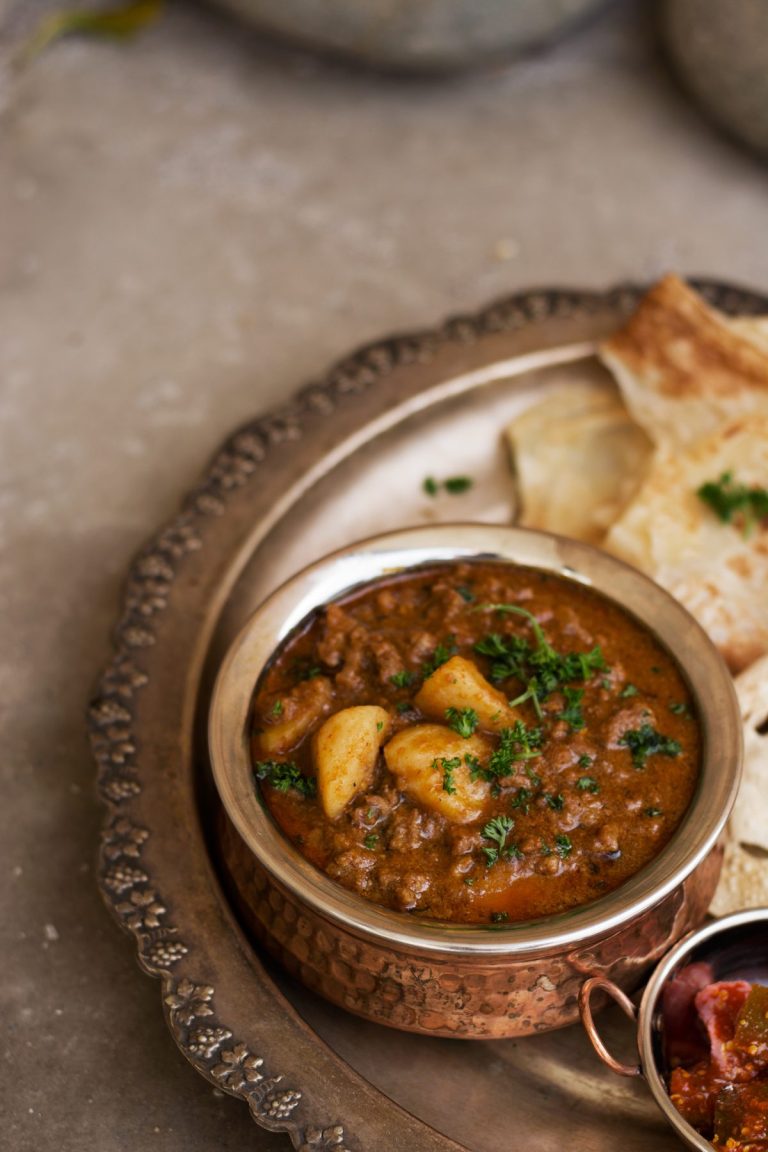 Meat mince is one of the most versatile ingredients that I can think of. It can don a thousand delicious avatars; as burgers, cutlets, patties, tacos, curries, pies….the list is endless. And almost every cuisine in the world uses this ingredient in some form or the other.
Today, we are doing an Indian dish; aloo kheema masala or an Indian style potato and lamb mince. You can call it a curry if you want to, but I wouldn't because for me, curries are dishes that have a rich gravy and this dish is not one of those.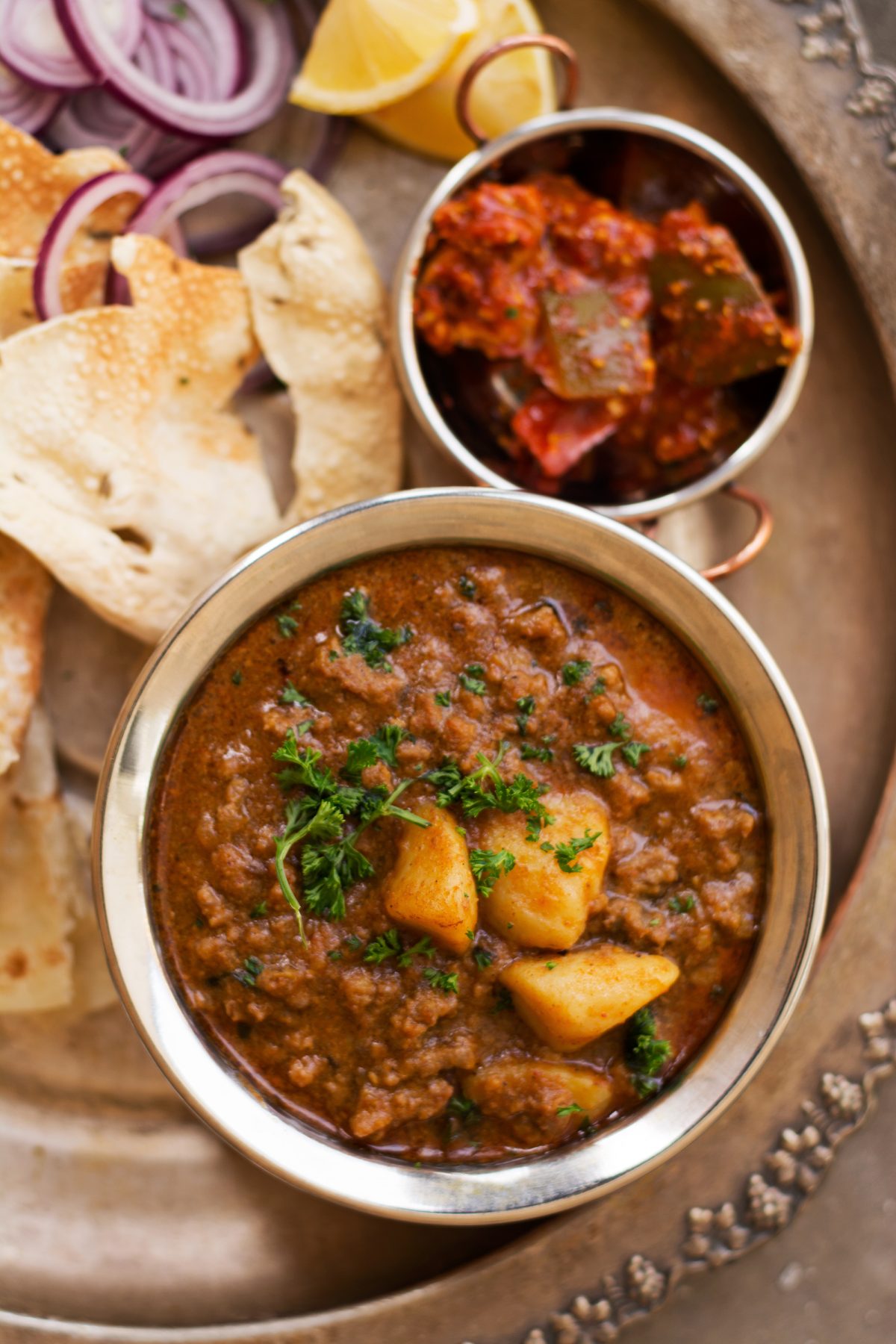 Scrolling down, you may think that this one has so many ingredients. But instead of getting jittery, especially if you make Indian food infrequently, just open up your spice pantry and you might have most of the ingredients anyway.
Though the list of spices is long, this aloo kheema masala is very simple to prepare. It is quick to make and can be paired with just about any kind of bread. I could eat this with a just a bowl of salad for accompaniment.
If you aren't too sure of how spices work, you might think this dish is going to be 'spicy'. But note that the amount of heat is very less in this aloo kheema masala; the dish is more about infusing the whole flavour of the spices rather than adding heat.
Aloo kheema masala or Indian style potato and lamb mince gravy – a dish resplendent with the aroma and flavours of whole spices caressing the lightly fried potatoes and succulent lamb mince, cooled down with a touch of thick yoghurt.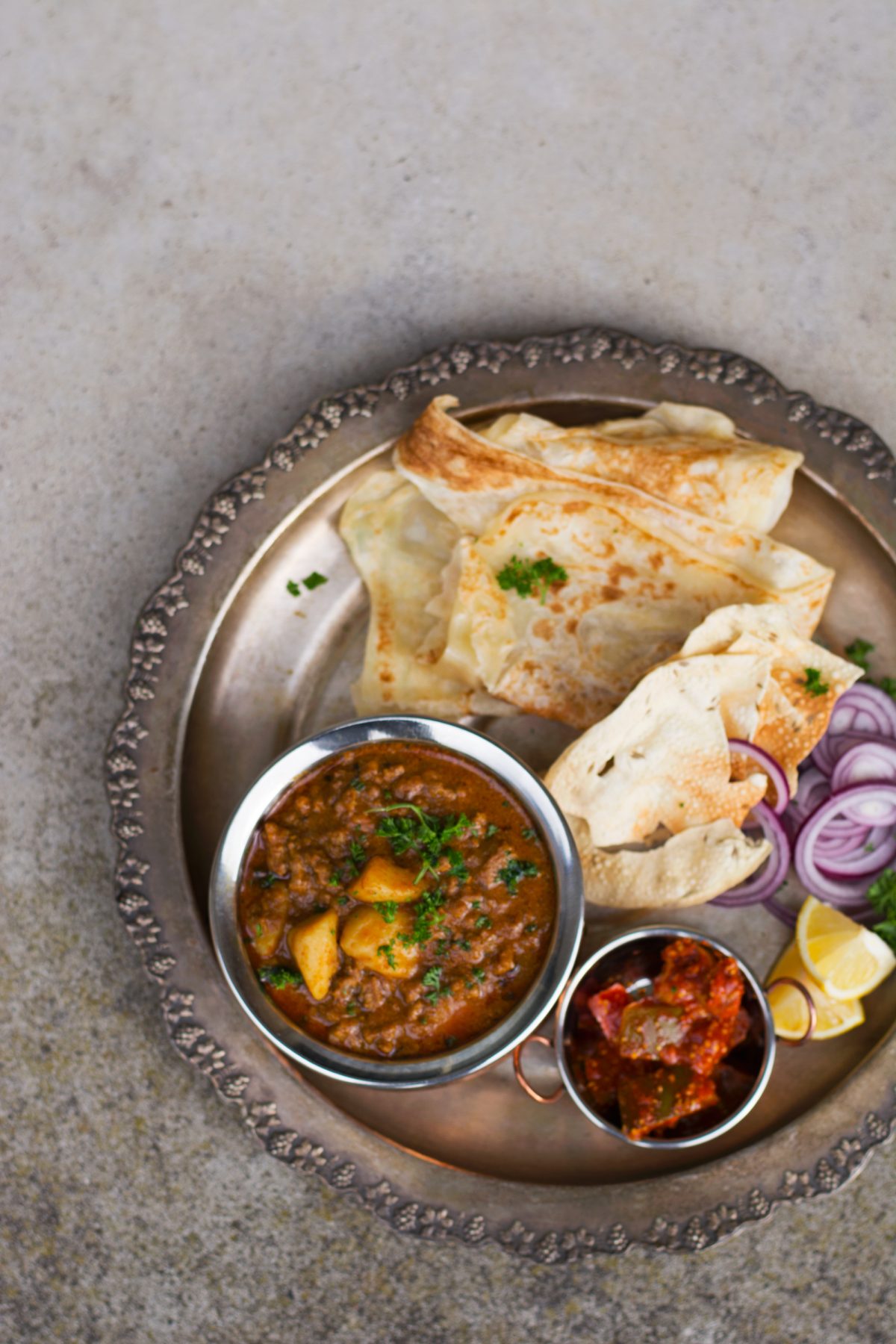 And this recipe is from this delish blog!
Ingredients:
1. 1 kg, lamb mince
2. 2 large potatoes, cut into cubes
3. 2 medium tomatoes, finely sliced
4. 2 large onion, finely sliced
5. 4 tbsp yoghurt, whisked well
6. 1 green chilli, finely chopped (you may increase or decrease based on heat preference)
7. 1 tsp ginger, grated
8. 1 tsp garlic, finely chopped
9. 4 cloves
10. 4 green cardamom
11. 1 black cardamom
12. 1 bay leaf
13. 1 inch cinnamon stick
14. 1 tsp cumin seeds
15. ½ tsp fennel seeds
16. ½ blade of mace(crushed)
17. ¼ tsp nutmeg powder
18. 1 tsp garam masala powder
19. 1 tsp Kashmiri red chilli powder (available at all Indian stores)
20. ½ tsp turmeric powder
21. 1 tsp coriander seeds, roasted and crushed
22. ½ tsp dried fenugreek(kasuri methi)
23. 1 tsp lemon juice
24. Salt, to season
25. 3 tbsp vegetable oil
Method:
1. Heat oil in a heavy bottom pan.
2. Fry the cubed potatoes in oil till slightly brown; remove and keep aside.
3. In the same oil, add bay leaf, cardamom, cinnamon, cloves, cumin seeds, fennel seeds and lightly fry on low heat for a few seconds. This infuses the oil with the various flavours of the spices.
4. Add green chilli, ginger and garlic, sauté till the garlic turns brown.
5. Add sliced onions and fry till the onions get pink and soft.
6. Add minced meat and tomatoes, sauté on high heat for 2 to 3 minutes stirring well.
7. Lower the heat; add whisked yoghurt, red chilli powder, turmeric, crushed coriander seeds, mace and nutmeg powder. Mix well and sauté for another minute.
8. Add the fried potatoes, salt, garam masala powder and ½ cup of warm water. Cover and cook till potatoes and the minced meat are cooked. The potatoes should not get mushy.
9. Finally add lemon juice and kasuri methi, cook for another minute.
10. Dish out, garnish with coriander leaves and serve hot with parathas, phulkas or pulao.
NOTE: Adjust the consistency of the gravy by increasing or reducing the warm water.