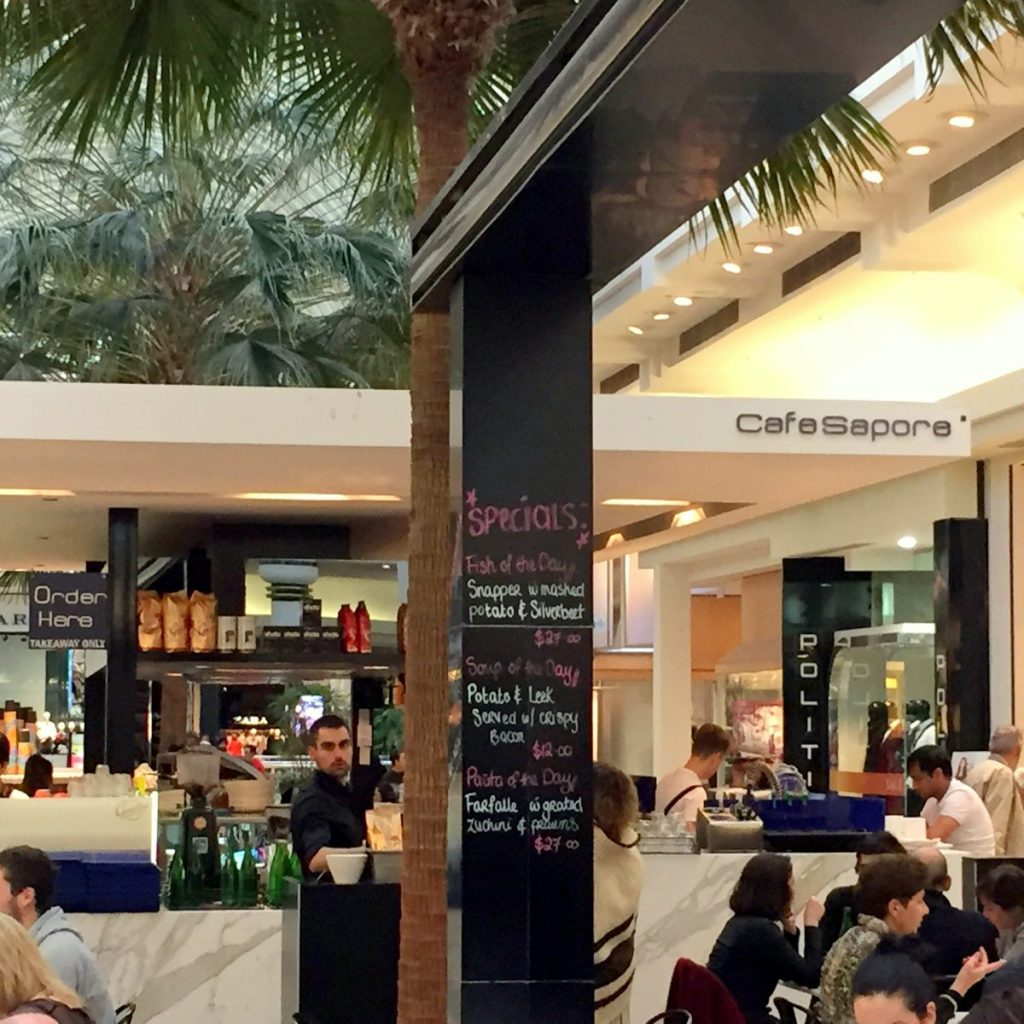 Ok, so you have heard about my fixation with the Chadstone Shopping Centre and I have no plans of starting it off again. Let's just get straight on to the review this time.
I have noticed this Café a zillion times and make a mental note to visit it every time I pass by as it is situated right in the middle of the shopping centre with absolutely fantastic boutiques surrounding it….Ugg Boots Australia, being my favourite.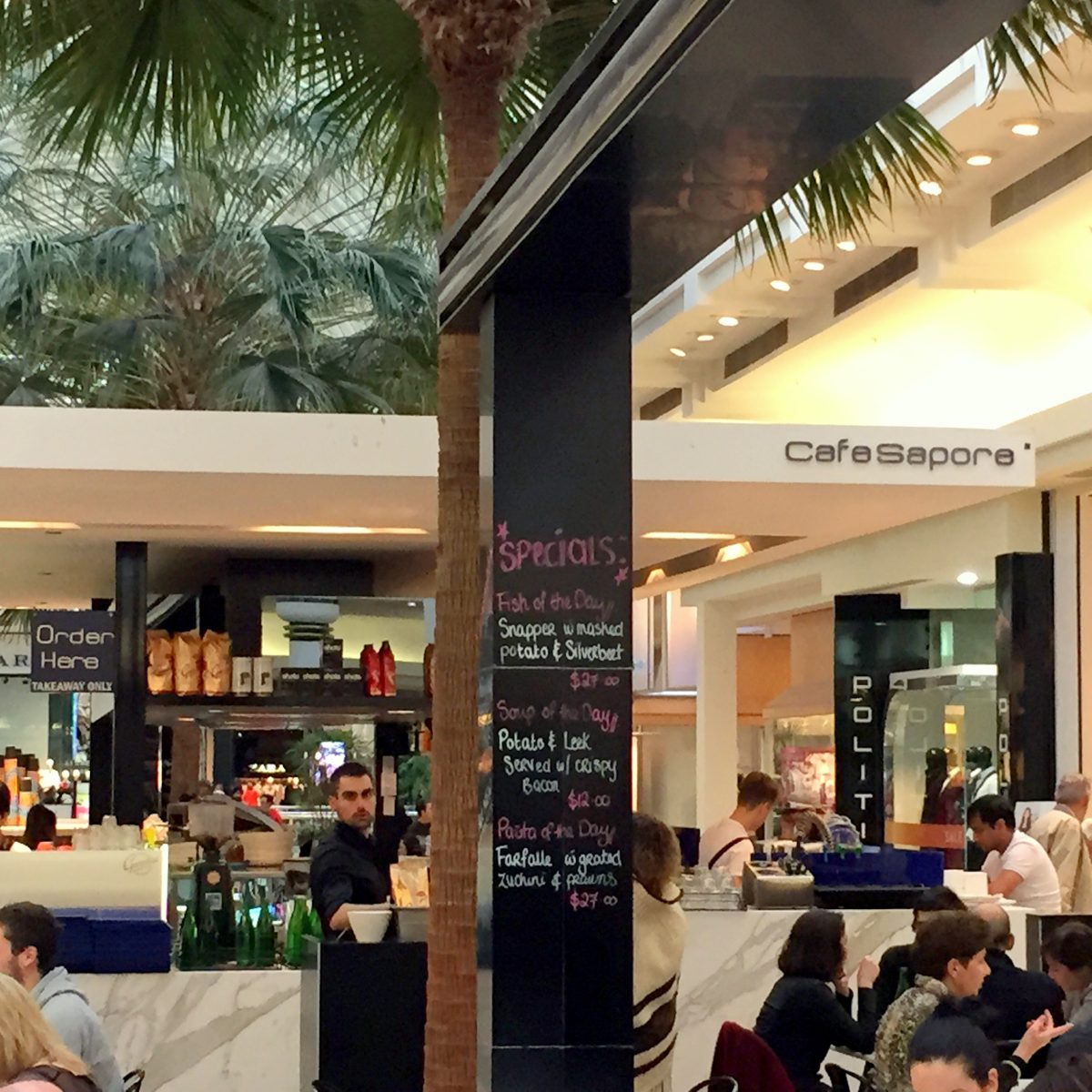 And since it never happened naturally, I decided to make a conscious effort to visit this place the last two times I was out shopping at Chadstone. We tried out different items from the menu both times but I am going to include it in one single review, which would make more sense to all of you.
Speaking of ambience, Café Sapore is bang in the middle of the shopping centre so the only atmosphere that you get is of busy shoppers and of course, a lot of window shopping from your seat. The café is pretty much full throughout the day but you are likely to find a place soon enough with the constant streaming in and out of people.
Both the times, we were promptly approached by the staff and seated comfortably. The menu was bought over immediately which included both the meals and drinks. Look out for the specials board as it changes every day. There is also an in house bartender but he is only available at certain times of the day so check with the staff and then order the cocktails. But otherwise the drinks menu covers all the basics.
There is a kids menu too with the standard fare but I am always happy to see one as it means spending less money and also lesser portions.
There is a also a selection of sandwiches, pastries, cookies and baked good at the counter for light bites.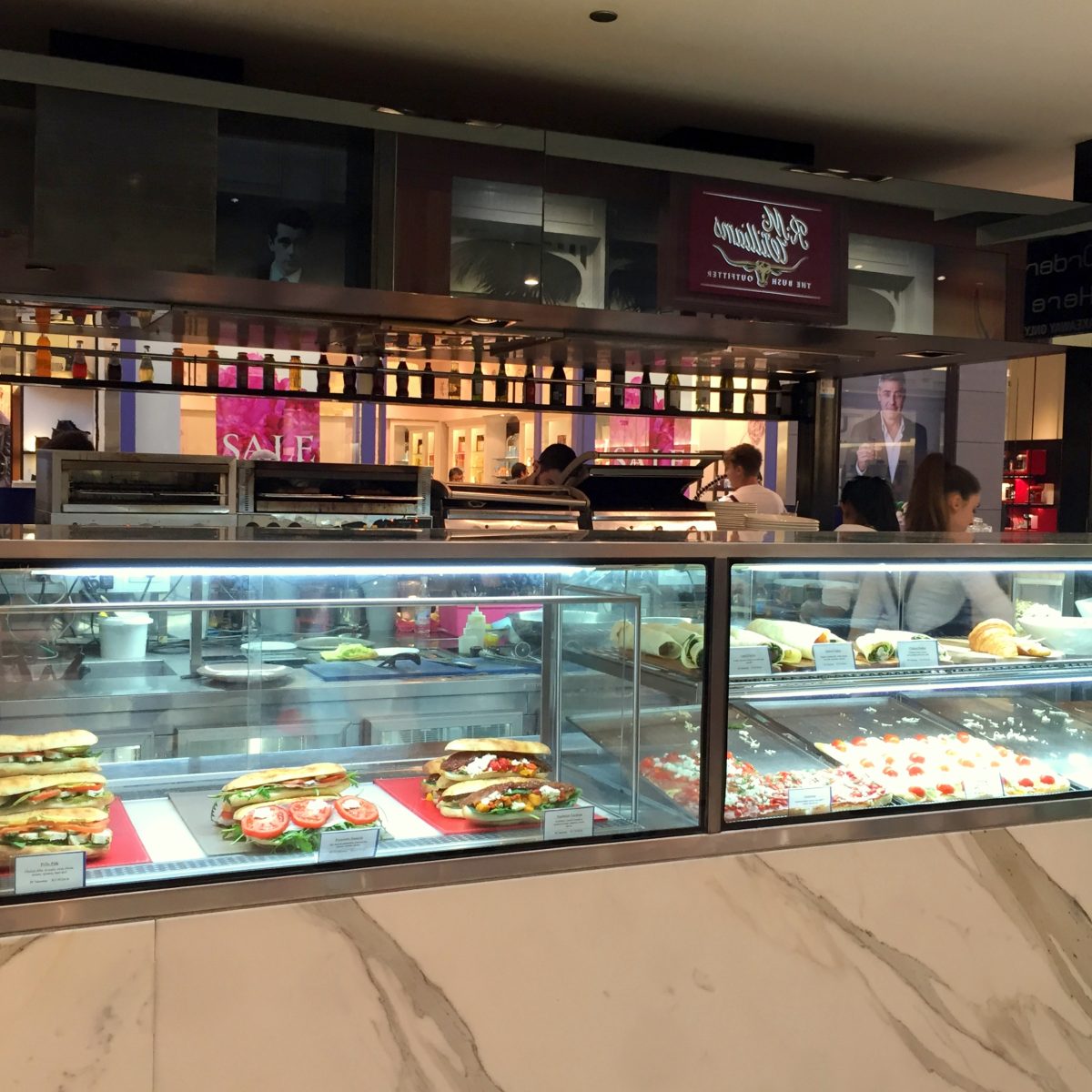 Now since we went twice, I am going to break down the review as Day 1 and Day 2.
Day 1:
For drinks, it was the Peroni for my hubby and the Pinot Grigio La Maschera (Limestone Coast, SA) for myself. A refreshing white, not too strong and went well with the seafood dish I ordered.

And that seafood dish was the risotto with an assortment of seafood, white wine, garlic, cherry tomatoes, chilli and extra virgin olive oil. I was really happy with the risotto; it had a real good flavour, not gluggy or starchy at all and that hint of chilli totally lifted the dish for me.
My husband got the Open style souvlaki with both grilled lamb and chicken served with a Greek salad, lemon, tzatziki and pita bread. It was average; the chicken was cooked well but the lamb fell short of expectations. Good portions but just average.
And from the kids menu, we ordered a plate of chicken nuggets and fries. A classic which can't go wrong with children; it was polished off in no time.
Day 2:
This time, the hubby ordered a chicken parma with fries and garden fresh salad. It was a really good parma, cooked well and lots of flavour from the tomato sauce and cheese. And good portions too.
I ordered the special of the day – grilled snapper with a radish, green apple, witlof salad. I loved the salad; fresh, vibrant and zingy which went so beautifully with the fish. The snapper was cooked well but I would have preferred a bit more flavour to the fish.
And we finished off the meal with a Nutella cupcake served with chocolate drizzle and fresh cream. Yumm! That's all a nutella cupcake needs.
Overall, it was a good experience on both days. I would definitely step back in for a quick meal or coffee while I am there.
Psssst…be prepared for a bit of Italian charm from the boys!
My rating: 6.5/10

Café Sapore
Chadstone Shopping Centre
Upper Level
1341 Dandenong Road
Chadstone
Melbourne, VIC
Phone no: 03 9568 8443
Facebook: https://www.facebook.com/cafesaporechadstone
Timings:
Mon: 9 am to 5.30pm
Tue: 9 am to 5.30pm
Wed: 9 am to 5.30pm
Thu: 9 am to 9pm
Fri: 9 am to 9pm
Sat: 9 am to 5.30pm
Sun: 9 am to 5.30pm
Disclaimer – Yup, I paid for it all.