Feast of Merit is a communal dining space and a YGAP initiative. The menu is predominantly Middle Eastern with a touch of Modern Australian.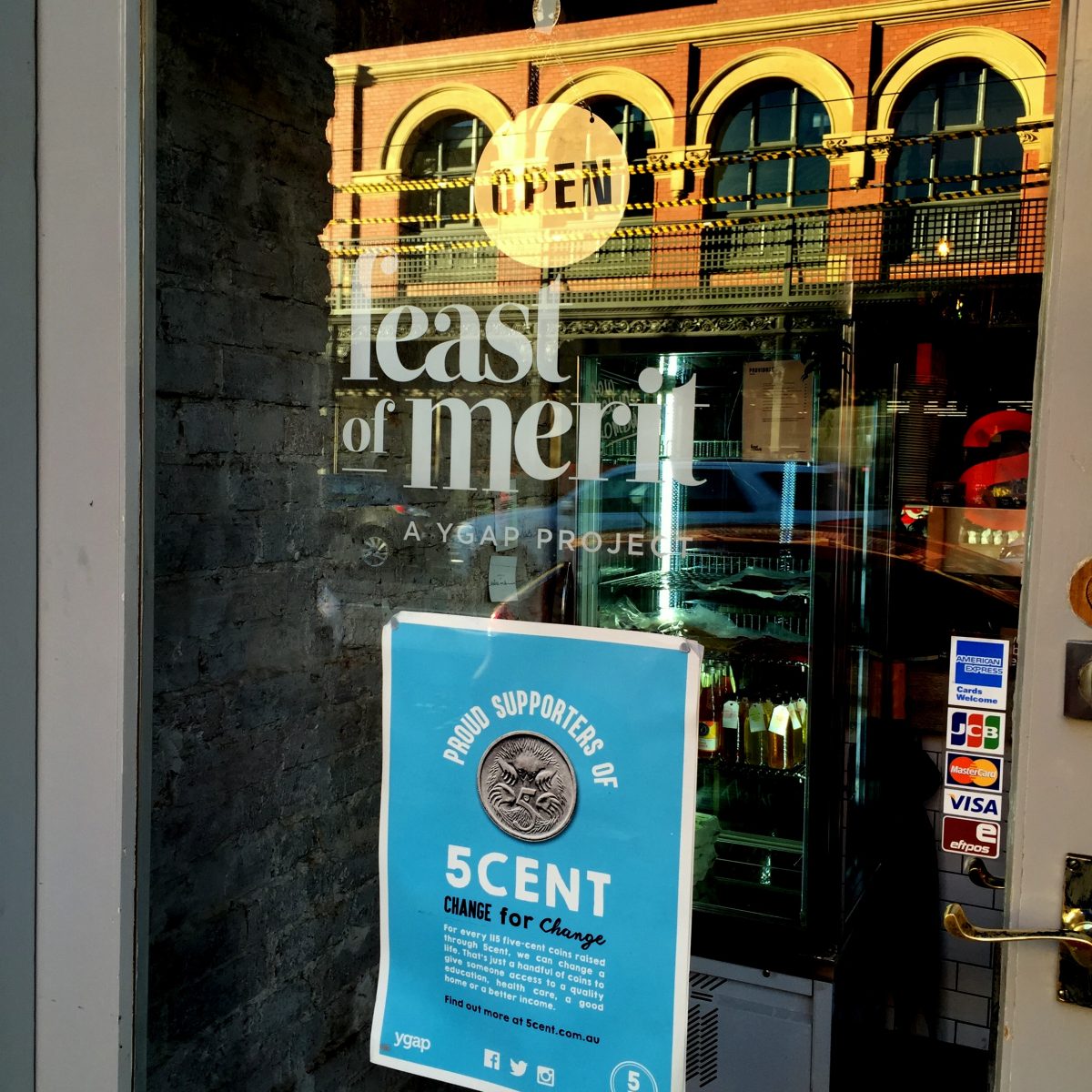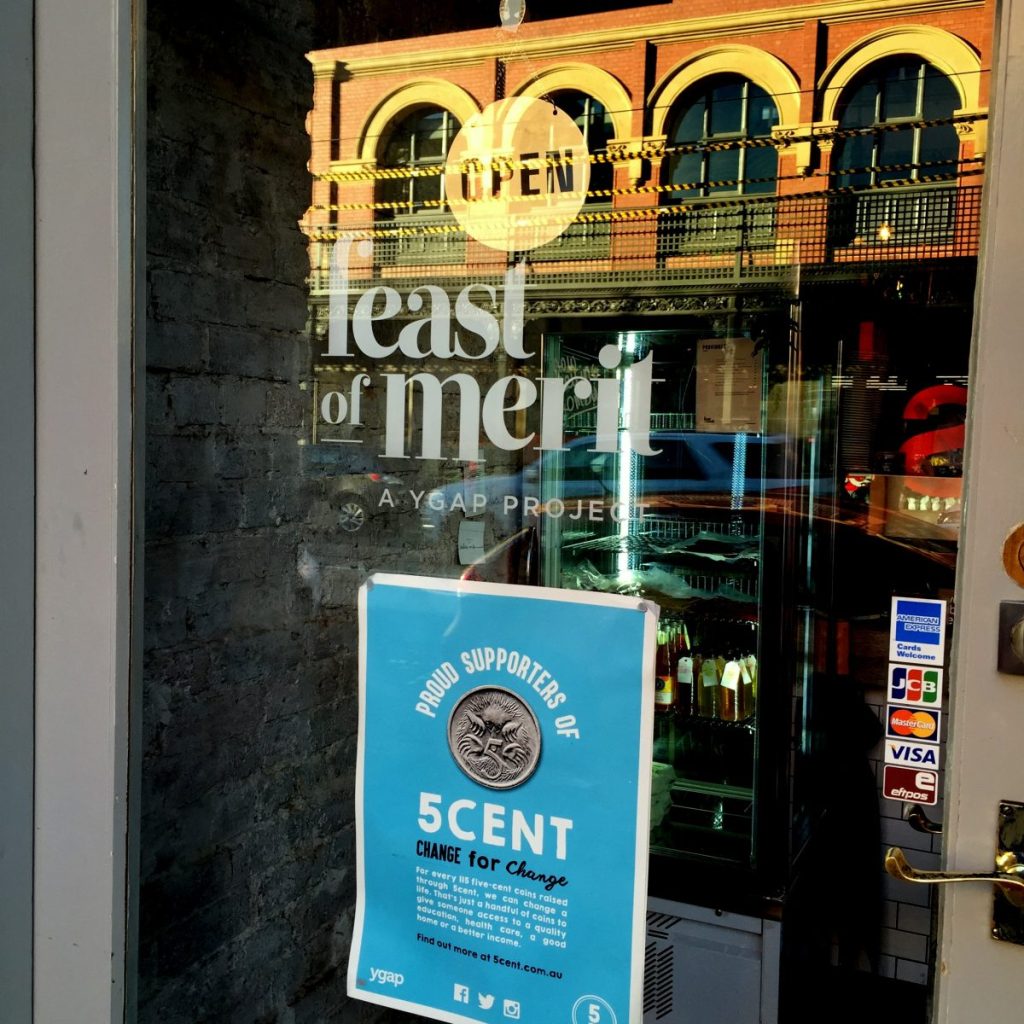 Enter Swan Street and you are spoilt for choice when it comes to food.

There are so many cuisines to choose from, interesting looking cafes and restaurants, quirky spaces, hot spots…plenty to choose from which can be a bit daunting. But if you are willing to take a chance and follow your instincts, then you are likely to end up with some great food and equally great experiences.

That is exactly what happened last week while we were out shopping in Richmond. Seeing the number of choices, our first instinct was to pull out our phones for the Zomato app and check for good restos which we did too. But then it got a bit overwhelming because of the vast number of choices so we decided to do our random test. Walk into a place that catches our fancy, an experiment of sorts guided by our instincts.

And that's how we ended up outside Feast of Merit; a quick look at its front door and we decided that this was the place for us.
Stepping inside Feast of Merit was like stepping inside another world. From the din and bustle of the outside world, the ambience of this restaurant offers you an escape into a relaxed, peaceful and content atmosphere. There is a distinct charm to the place that comes collectively from the décor, service, food and drinks.

We came to learn that Feast of Merit is a communal dining space and a YGAP initiative. YGAP is a social organization that focuses on education and youth programmes in several different countries like Bangladesh, Cambodia, Ghana, Rwanda, Malawi and Australia.
The concept of a communal dining space was inspired by a practice called 'Feast of Merit' practiced in Nagaland, a state in North East India. There is a beautiful hand written board inside for the readers to understand more about this concept and what it means.
Since we walked in early evening, the staff informed us that lunch time was over but there was a small snacks menu that we could choose from. We were comfortably seated though we would have preferred a larger table; when the dishes eventually came, there was a fair bit of juggling happening.

There is a well stocked bar with a really good mix of both alcoholic and non-alcoholic drinks; also on the menu were healthy options like smoothies (for breakfast) and kombucha.

The menu at Feast of Merit is predominantly Middle Eastern with a touch of Modern Australian; a delicious combination I must say.

Sam opted for the Bicycle Beer while I chose a glass of '14 Alta 'for Elise' Pinot Noir Rose. The wine was refreshing, light and went beautifully with the snack menu while Sam couldn't stop raving about the bee.
From the snacks menu, we opted for a couple of dishes since the portions were small. The first to arrive was za'atar flatbread with hummus and beetroot dip. Oh my! Delicious is the word. I fell in love with the bread which was soft, generously spiced with za'atar and olive oil. I make a great hummus myself so was impressed with the quality of this one too. But it was the beetroot dip that stole my heart. Luscious, sweet and spiced just right to bring out the sweetness of the beets.
The next dish we ordered at Feast of Merit was the soup of the moment (like the surprise factor!), again served with the delicious za'atar flatbread. The soup turned out to be a delicious carrot soup, yet another dish to fall in love with. Luscious, creamy, sweet and spicy, I totally recommend this one if you are a soup lover.

Next was the Makaneh sausage with tahini labneh and pickled onions. Absolutely delicious, this one took me back to my childhood, the aroma of old Dubai. There is a fair bit of spice in the sausage which goes beautifully against the labneh; another great dish to sample.

And finally came the triple cooked spiced lamb croquettes with whey dressing….yet another delicious dish to complete the meal. We also got a plate of pickled vegetables to accompany this amazing feast. The croquettes were crispy with a delicious lamb filling and spiced just perfectly.
Overall, an amazing experience. We thoroughly enjoyed the food and drinks at Feast of Merit making it a point to visit again for lunch or dinner. The prices are on the slightly higher end but with a good cause being supported, we were only glad to contribute. A place I would totally recommend to all those who love Middle Eastern flavours.

And an event to attend if any of you are interested;


Feast of Merit
117 Swan Street
Richmond
Melbourne, Victoria

Find lots of interesting restaurants to dine at in Melbourne.