When I landed up outside Sandra's warehouse converted apartment nestled unassumingly on a side street in Richmond, little did I imagine that I am about to experience a real taste of Italy, right in Melbourne!
La Cucina di Sandra is an Italian cooking school run by the very charming Sandra del Greco. I was invited to attend one of her cooking classes to understand and learn real Italian cooking and also experience a taste of the same through a delicious 4 course meal which included finger food and a glass of wine.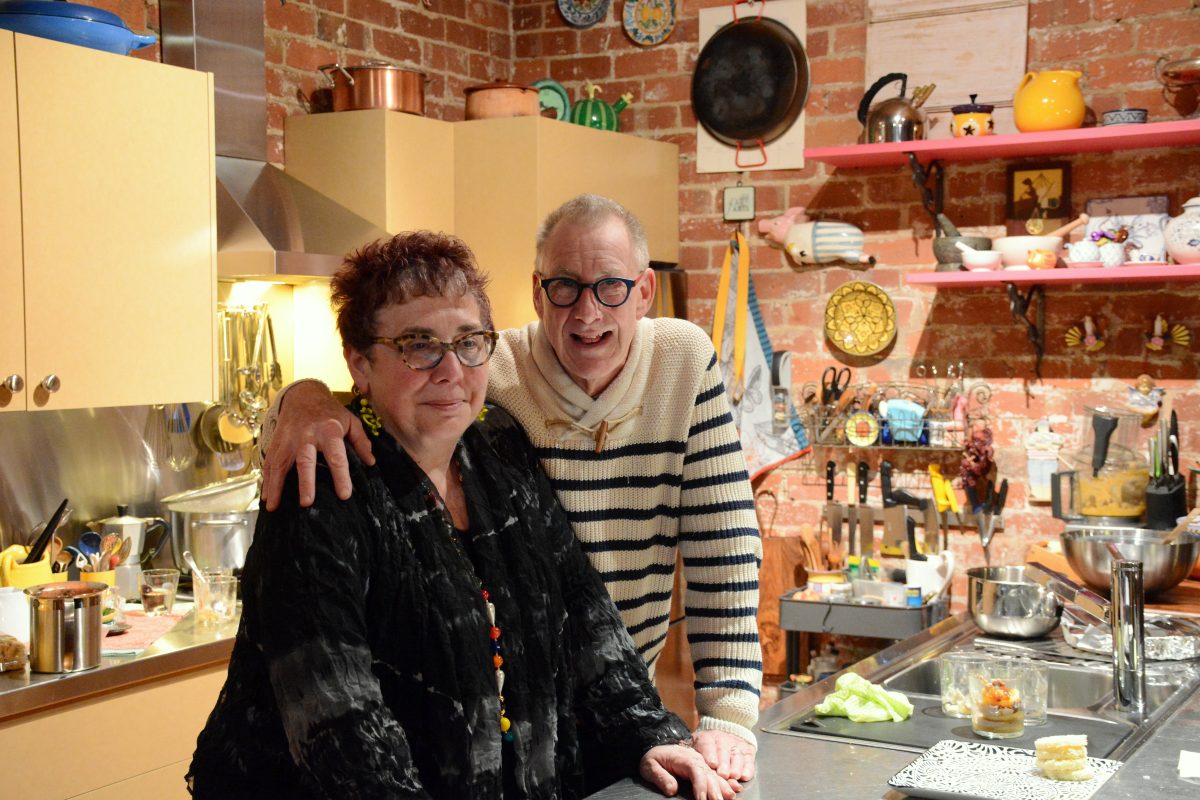 Sandra's home is warm, inviting and beautifully decorated. Her love for her home country and Italian cooking is obvious from the numerous cookbooks and travel books lined and stacked all over the house. A beautifully laid out table adjoining the kitchen is where all the delicious action happens. Decorated tastefully with colourful linen and cookware, Sandra's kitchen is a prop lover's paradise.
La Cucina di Sandra was born out of Sandra's love for cooking, both traditional and modern Italian cooking. She has great respect for tradition and has always enjoyed cooking and entertaining for her friends and family. So in late 2014, she decided to leave her accounting profession and make her lifelong dream of a cooking school come true.
Sandra wants her guests to experience Italian cooking and hospitality at its truest, which is why she decided to hold the cooking classes in her home itself. Walking into La Cucina di Sandra is like being a guest in any normal Italian household. It is a whole package; great food in an equally great ambience with exceptional hosts.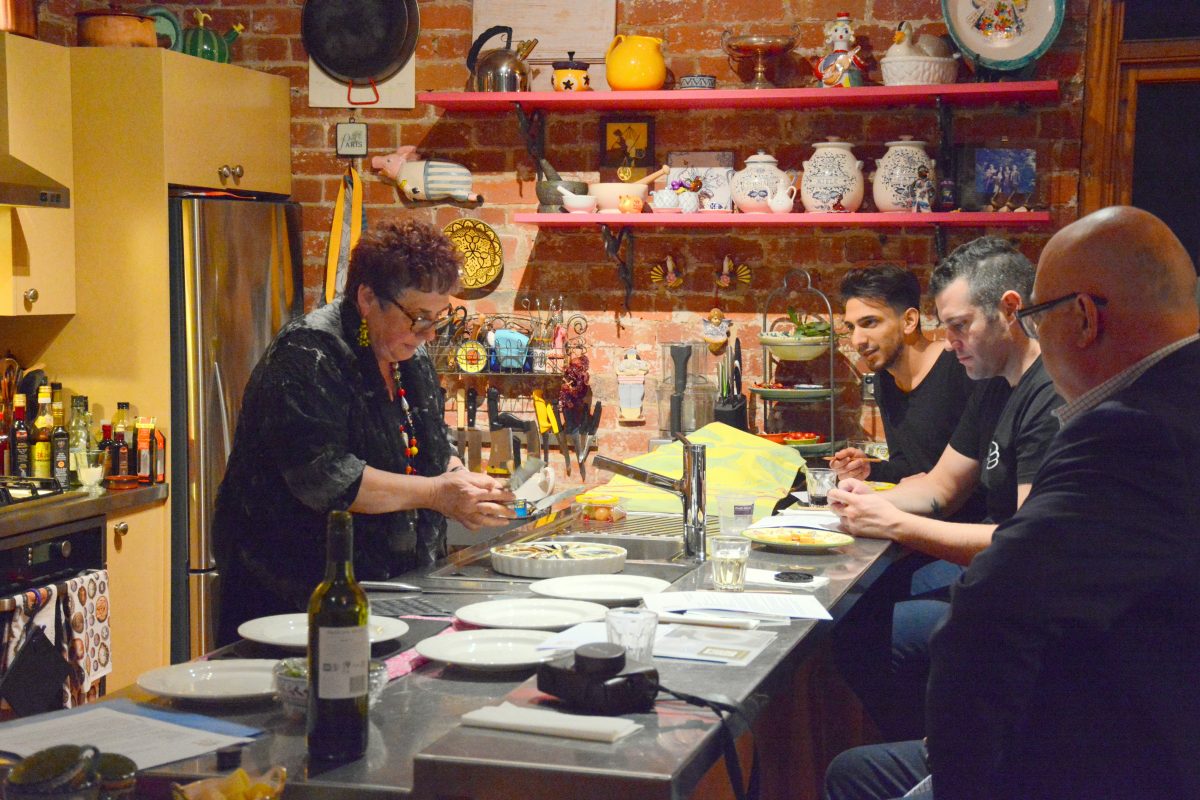 There are a variety of classes on offer at La Cucina di Sandra. There are both regional Italian cooking classes and customized bespoke private classes. The classes run for about 4 hours are either focused around specific ingredients like the pasta masterclass or around regions of Italy like Sicily, Sardinia, Abruzzo etc….
And if you are not interested in learning to cook, Sandra is more than happy to just feed you. A great alternative to going out to a restaurant….
All the cooking action happens at the kitchen bench. I loved the way Sandra explained each and every detail, also allowing plenty of time for me to clear even the silliest doubts so that I could replicate every dish back in my kitchen. After every course is prepared, it is bought out to the dining table to be enjoyed.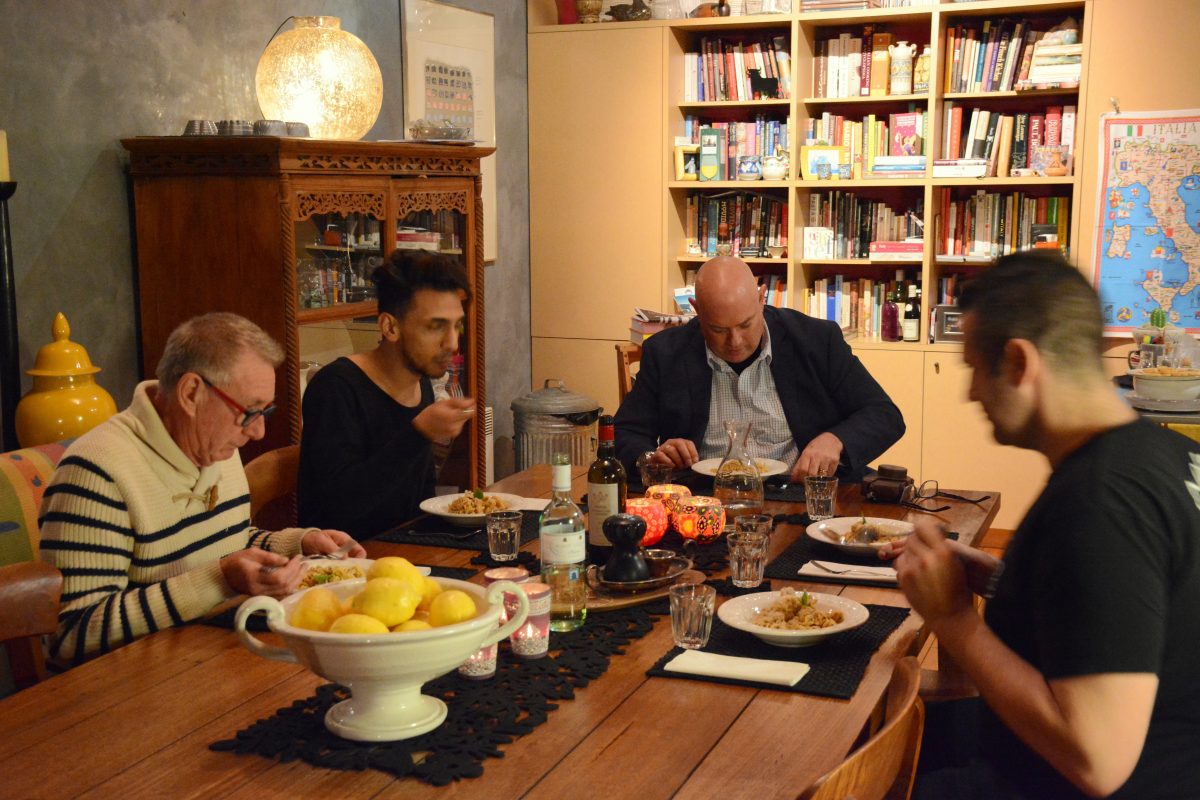 Our evening began over a glass of wine and a plate of Biscotti al Parmigiano (Parmesan biscuits). While we snacked over these delicious and simple to make biscuits, Sandra briefly explained about her native Abruzzo, how the cuisine varies across different regions of Italy which I believe is the foundation to a real understanding of the cuisine.

For the first course, we learnt to make Gazpacho Siciliano or the Sicilian style gazpacho. Spanish gazpacho is a constant in my kitchen so imagine my surprise at learning the Sicilian style. Though the base is same, the flavours are so different especially with the addition of a 'secret ingredient' and crushed almonds. I don't think I will be going back to the Spanish version anytime soon.
The second course we learnt to cook was Tortino di sarde alla Trapanese (sardine flan). This dish was a revelation for me and perhaps the biggest surprise of the evening. I am a huge sardine lover but a sardine flan was something that I have never read about or experienced before. A real gem of regional Italian cooking, I was so happy to learn this one. And loved every bit of it!
For most of us, an Italian meal cannot be complete without a pasta dish. Sandra seemed to have read my mind as the third course for the evening was Gragnano al pesto Siciliano (Pasta with Sicilian pesto). Before demonstrating the dish, Sandra gave us an intro into the vast world of pastas…..the varieties, difference between handmade and store bought, brands to buy etc….. And once again, the Sicilian pesto was a surprising one; I have never made or eaten a tomato based pesto so this was a great recipe to learn. Sandra also taught us the right way to cook pasta and mix it with the sauce, which most of us seem to get wrong at home. Learnt some great tips….
On request, Sandra agreed to share this recipe with all my readers. So scroll to the bottom for the recipe of Pasta with Sicilian pesto.
And the night ended on a very sweet note with this impeccably delicious Cassata Siciliana In singoli bicchieri (Sicilian cassata in individual glasses). Indulgent…that's the only word for this beauty. Layers of sponge soaked generously in Grand Marnier with interludes of creamy dark chocolate ricotta and candied fruit finally topped off with homemade apricot marmalade. The layers….the flavours….the aftertaste. Sigh!
Address:
La Cucina di Sandra
62 Lyndhurst Street
Richmond
Victoria 3121
Phone no: 03 9421 1883/0419 503 805
Email:
[email protected]
Website: http://www.lacucinadisandra.com.au/
Facebook Page: https://www.facebook.com/lacucinadisandraau
Sandra also shares several recipes on her
blog
, so make sure to check it out too.
Pasta with Sicilian Pesto
Ingredients:
1. 280 to 320 gm pasta (large shape)
2. 500 gm Pomodorini/cherry tomatoes; very ripe
3. 150 ml extra virgin olive oil
4. 1 garlic clove
5. 100 gms Italian Pecorino cheese; finely grated
6. Freshly milled black pepper
7. Salt, to season
8. 50 gms blanched, dry toasted and chopped almonds
9. Half a bunch of basil; chopped roughly
10. 150 gm fresh ricotta
Method:
1. Blanch the tomatoes in hot water; peel skin and deseed.
2. In a food processor or stick blender bowl, add the tomatoes, basil, chopped almonds, garlic, Pecorino and ricotta.
3. Pour half of the extra virgin olive oil and mix at low speed. Add more oil if necessary to get a creamy mixture. Increase speed if you need more smoothness. Season with salt and pepper. Taste and adjust seasonings.
4. Boil the pasta in salted boiling water and according to packet instructions. Cook the pasta just one minute short of the mentioned cooking time.
5. Just as the pasta finishes cooking, ladle a spoonful of pasta water into a mixing bowl, transfer the pesto into this.
6. Then drain the pasta and add directly to the pesto. Mix well to combine.
7. Serve hot with grated pecorino and a few basil leaves.
Note – If the tomatoes are not ripe enough or lack intensity in flavour, add 1-2 tbsp of good quality tomato passata.
You can use pine nuts instead of almonds or both.
Pecorino can be substituted with Parmesan.