2015 has been an incredible year so far.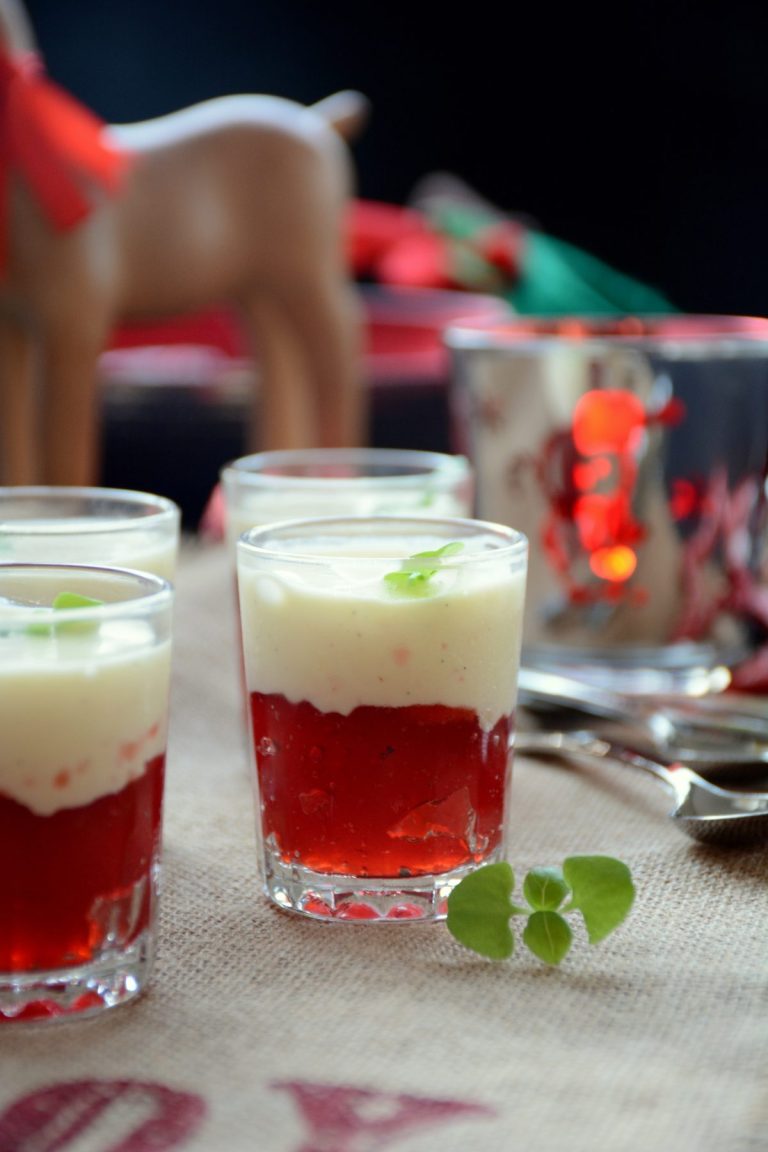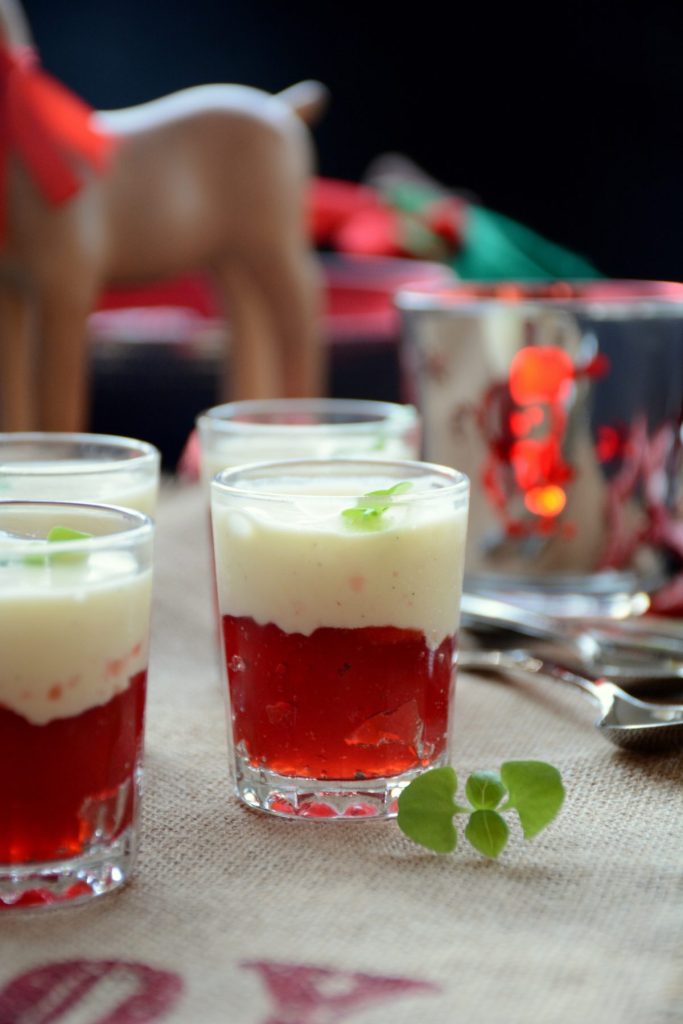 The first post of the year was this berrylicious semifreddo and in all likelihood, today's semifreddo might be the last post for this year. Not at all planned and a big irony that both the dishes turn out to be desserts.

A fellow foodie recently asked me, 'aren't you making any cakes or cookies for Christmas? The entire blogging fraternity seems to be doing so.' I am quite un-Christmassy in that regard! But I still wanted to make a dessert that is reminiscent of the season, something light and refreshing after a heavy meal, especially keeping in mind the soaring temperatures here.

It must have been the crates and crates of strawberries at our local market that sparked off the thoughts of a strawberry jelly. Also the fact that I wanted to master homemade jelly after years of eating the packet ones.

After much internal debate along the lines of strawberries and cream, here is what I came up with…….Strawberry Jelly (with Chambord liqueur) and Vanilla Semifreddo Custard.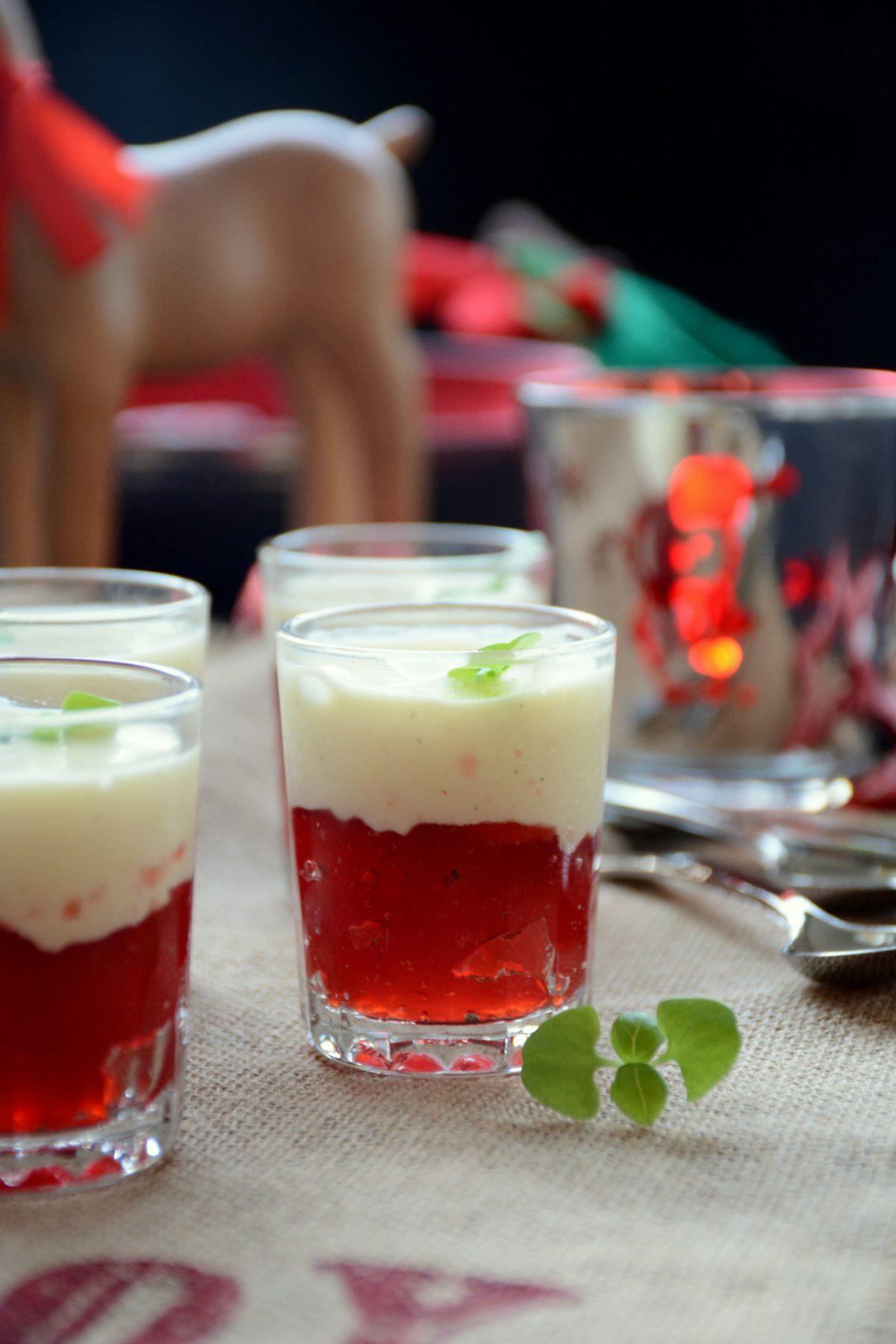 The strawberry jelly is really easy to make, a tad bit time consuming though. But the good part is, it can be made much ahead of time especially if you are making it for a party. I added a dash of Chambord liqueur to the jelly for that hint of raspberry flavour. But it is entirely optional or you can add any liqueur of your choice.

And to accompany the jelly, a delicious and creamy Vanilla 'Semifreddo' Custard. Well, who am I kidding! It's not really custard but a semifreddo which is not completely frozen. We tried both the frozen and semi-frozen semifreddo with the jelly and the unanimous decision was that the latter tasted better.

There's so much you can do to personalize this recipe. Use any berries in season; raspberries would be great! Can't bother to make semifreddo? Just get a tub of your favourite vanilla icecream, I bet it will be as delicious. Or add a bowl of chopped summer fruits…..perfect if you are hosting a lunch party!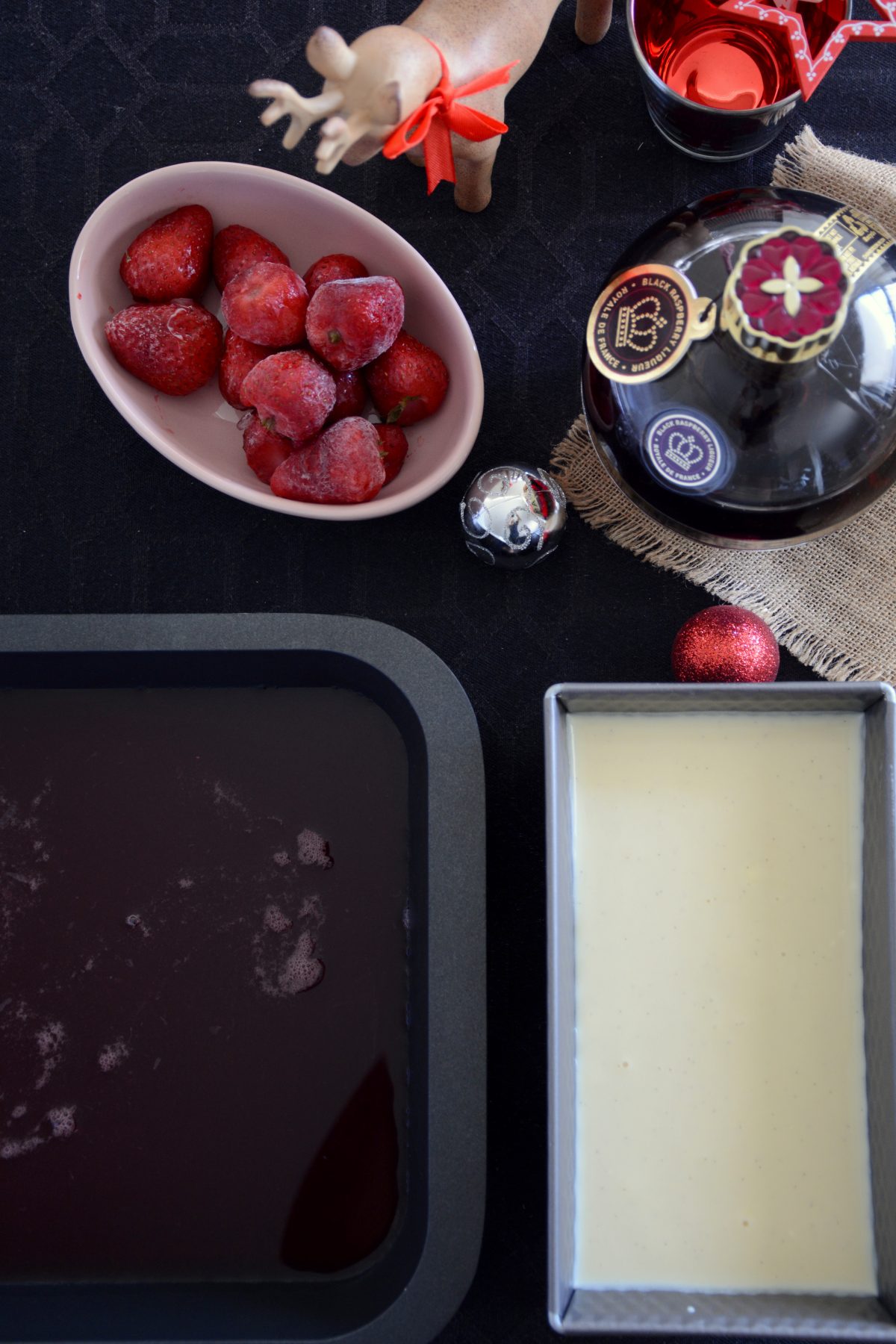 I set the jelly in a flat tray to cut out some stars for the kiddos and the rest in shot glasses. After a heavy meal, most of my guests hardly have any room for dessert and these shot glasses are the right size. But you can use any type of mould, glass or bowl to set the jelly in.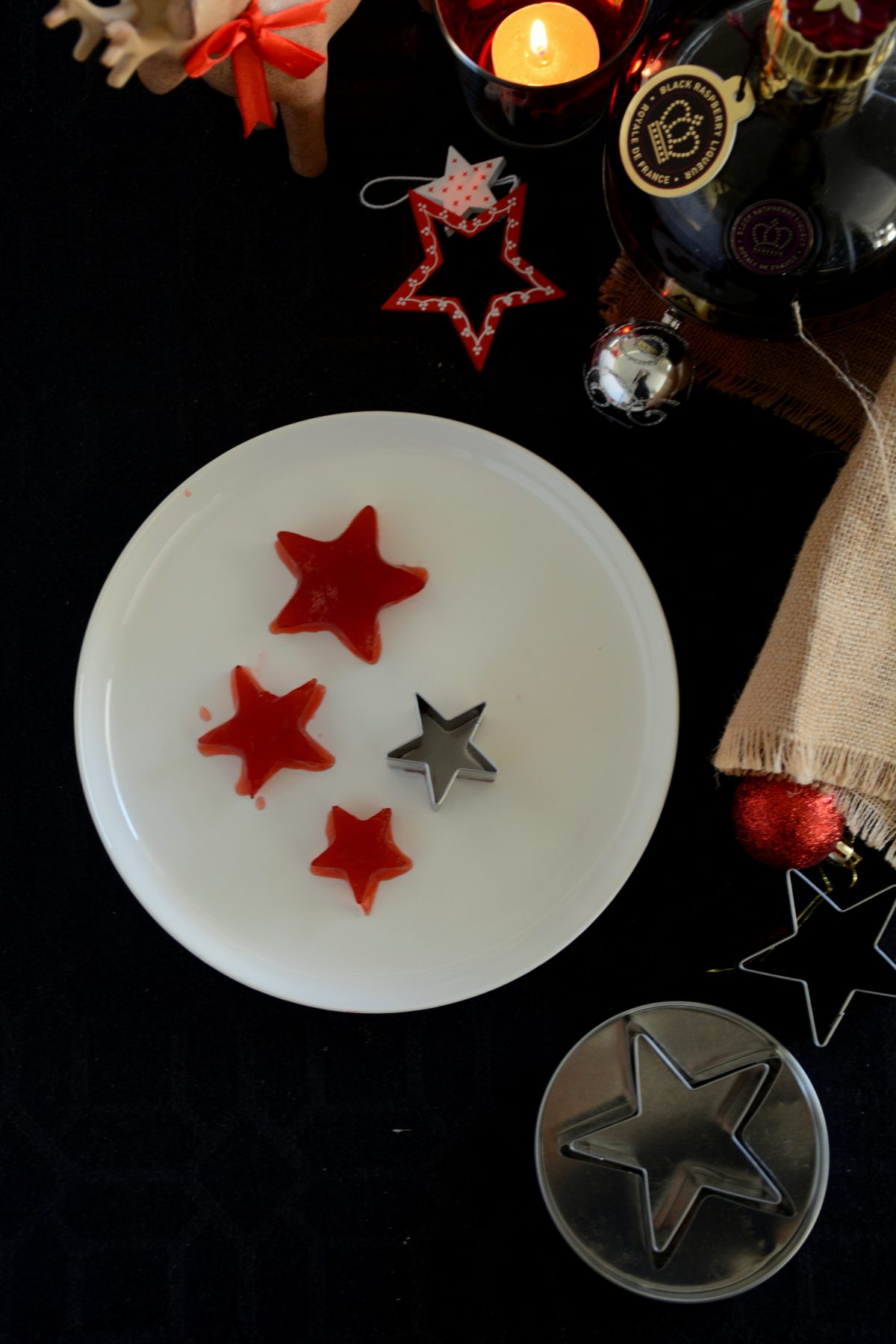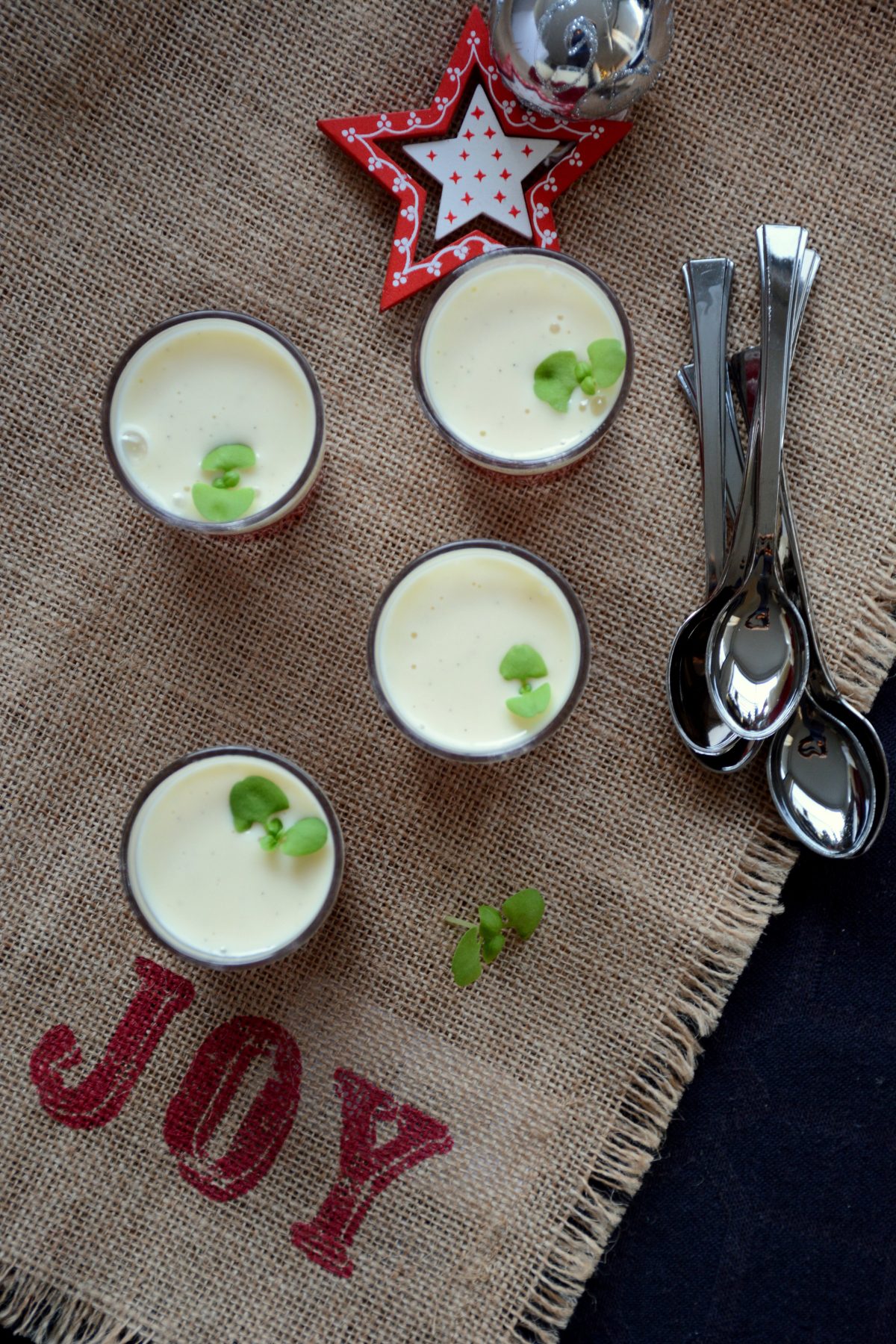 Strawberry Jelly (with Chambord Liqueur) and Vanilla 'Semifreddo' Custard – my kind of Christmas in a plate shot glass!

Merry Christmas folks!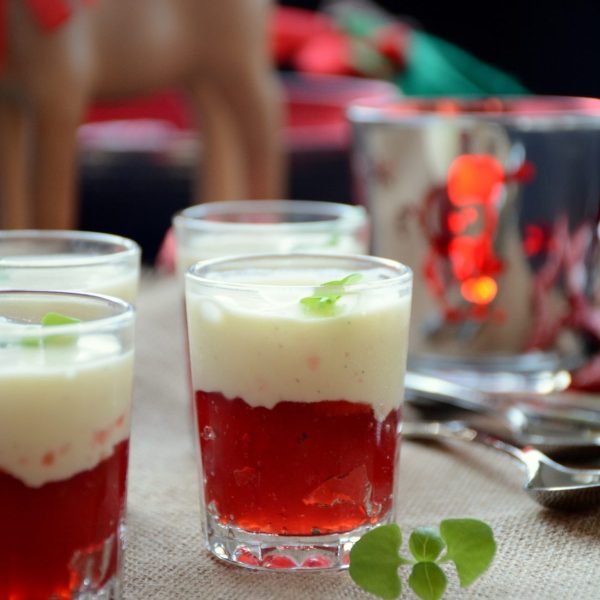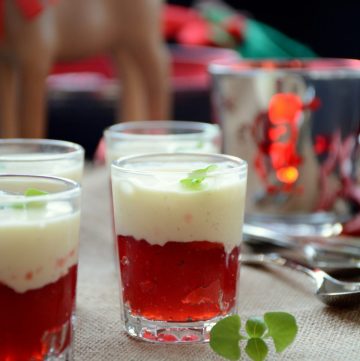 Print Recipe
Strawberry Jelly with Vanilla Semifreddo Custard
Ingredients
Strawberry jelly:
1

kg

strawberries; hulled and halved

1

tbsp

lemon juice

60

ml

Chambord liqueur

70

g

caster sugar

15

g

gelatin leaves
Vanilla Semifreddo:
400

ml

full cream milk

400

ml

condensed milk

A pinch of salt

1

tsp

pure vanilla extract

250

ml

heavy cream
Instructions
Strawberry Jelly:
Place the strawberries in a large heat proof bowl and cover tightly with plastic wrap. Place over a pot of simmering water and allow to cook for 1 ½ hours to extract all the juice from the fruit.

Line a sieve with muslin or cheese cloth and place over a large bowl. Pour the cooked strawberries with all the juice into the cloth and allow to drain for 30-45 minutes. Do not press the fruit as this will make the jelly cloudy. Discard the pulp.

Soak the gelatin leaves in cold water to soften.

Pour the drained juice into a measuring jar and add lemon juice and liqueur. Make up the volume to 600ml with water and transfer to a pan. Place over heat and add the caster sugar, stirring to dissolve. Remove from heat.

Add the gelatin leaves to the warm liquid and stir until completely dissolved.

Pour into moulds and allow to cool for about 15 minutes. Refrigerate for 2 hours or until set.
Vanilla Semifreddo:
Place the milk, condensed milk and salt in a pan and bring to boil; stirring continuously. Reduce heat and add the vanilla paste.

Continue to cook for another 10-12 minutes, stirring often, till it reaches the consistency of a thin custard. Allow to cool and then chill in the fridge.

Whip the cream into soft peaks and then fold into the chilled milk mixture.

Line the tin with baking paper and pour the mixture into the tin. Freeze for at least 3 hours for a semi-frozen texture or 4-5 hours for a frozen one.

Serve the jelly along with the vanilla semifreddo and garnish using a baby basil or mint leaf. Enjoy!
Notes
Buy the ripest strawberries you can find; don't go looking for the perfect, beautiful ones. The lightly mashed up ones are the best.
As mentioned, use any liqueur of your choice. If you do not want to use any, make up the extra volume with water itself.
Add half the quantity of sugar, taste and keep adding as all strawberries might not have the same sugar content.
Rinse the moulds before pouring the jelly, helps it come out easily.