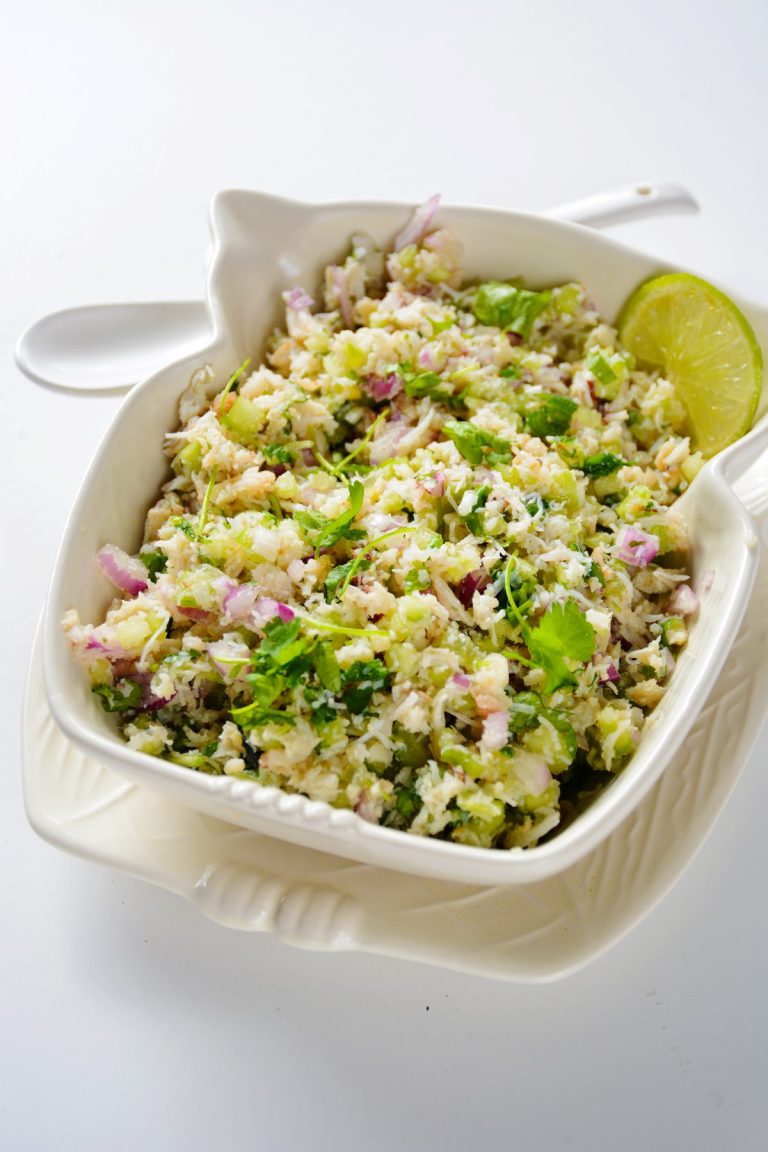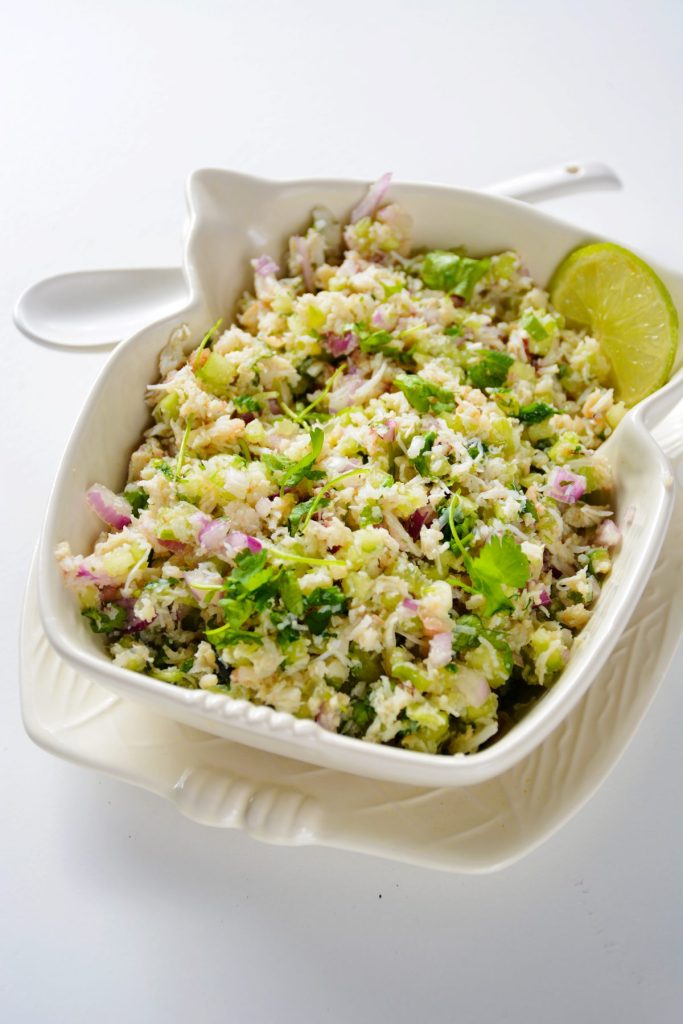 It's been a pretty 'meh' week so far and I can't wait for it to get over. My health took a beating and what followed were days of extreme fatigue and tiredness. And I think when women fall sick, we tend to suffer more emotionally than physically.

The week actually started off on a really good note. On Monday, I went on an impromptu lunch date with two of my girlfriends and we had a really good time. Those stolen couple of hours for ourselves were a blessing in our otherwise harried lives. But the euphoria didn't last long because by the end of the day, I started feeling weak and terrible.

I hardly got any cooking done, surviving on takeaways and basics the whole week. I am quite behind on deadlines but I really couldn't care less. A big lesson I have learnt is to listen to your body and slow down when it tells you to and I am doing just that. And since I hadn't tried out anything new, I decided to share with you guys a gorgeous salad that I did a while ago for a client – a Crab Salad with Asian Herb Dressing.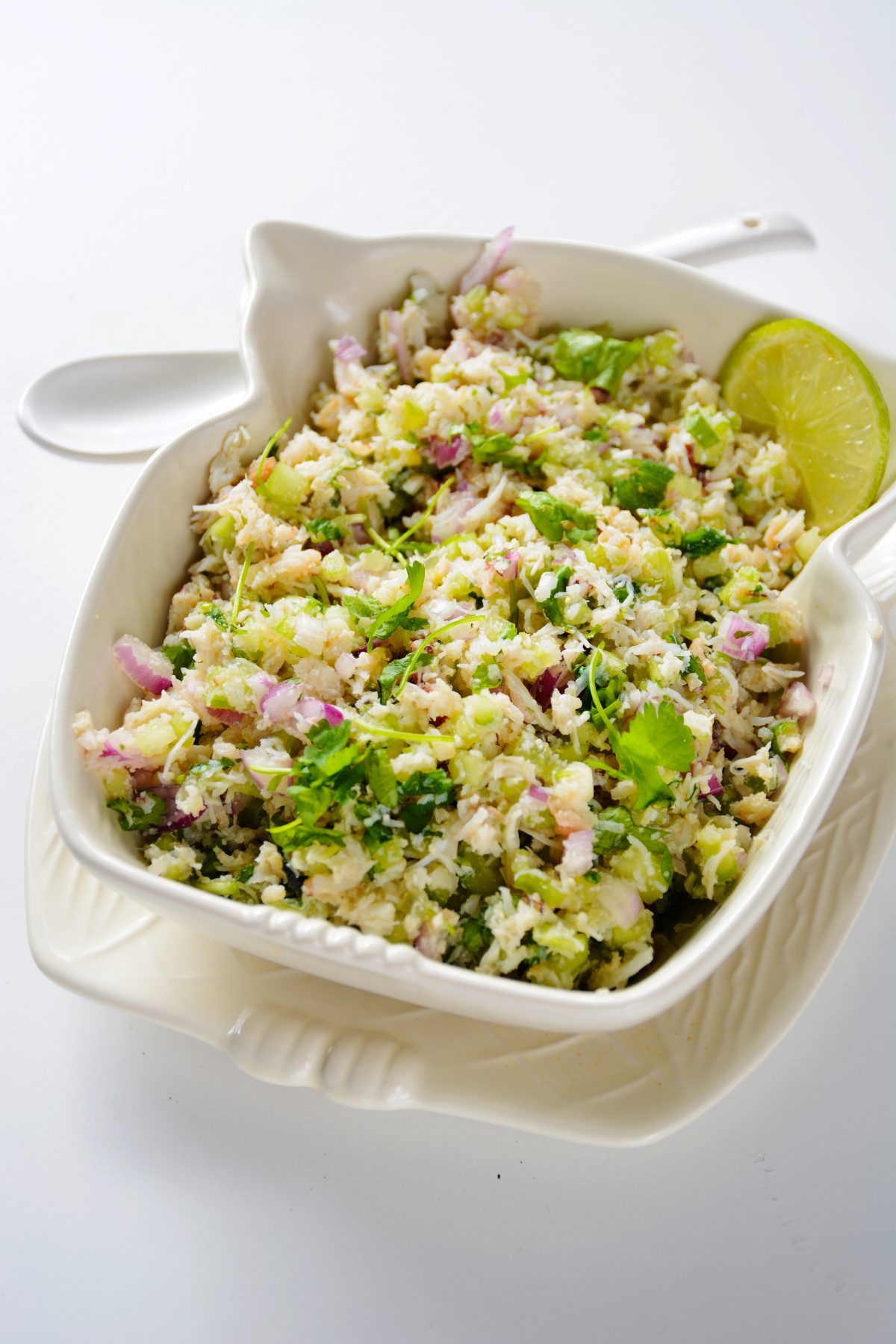 If you like delicate flavours, then you will love this crab salad. It's light and summery with a hint of heat from the chillies and aromatics. And that fresh herb dressing only adds to the sweetness of the crab meat.

Purchasing crab meat can be an expensive affair and I would recommend getting those huge mud crabs and taking the meat out yourself. A bit time consuming but way more affordable. And if you have kids, get them onto it…will keep them silent for a while though you might end up with shells all around.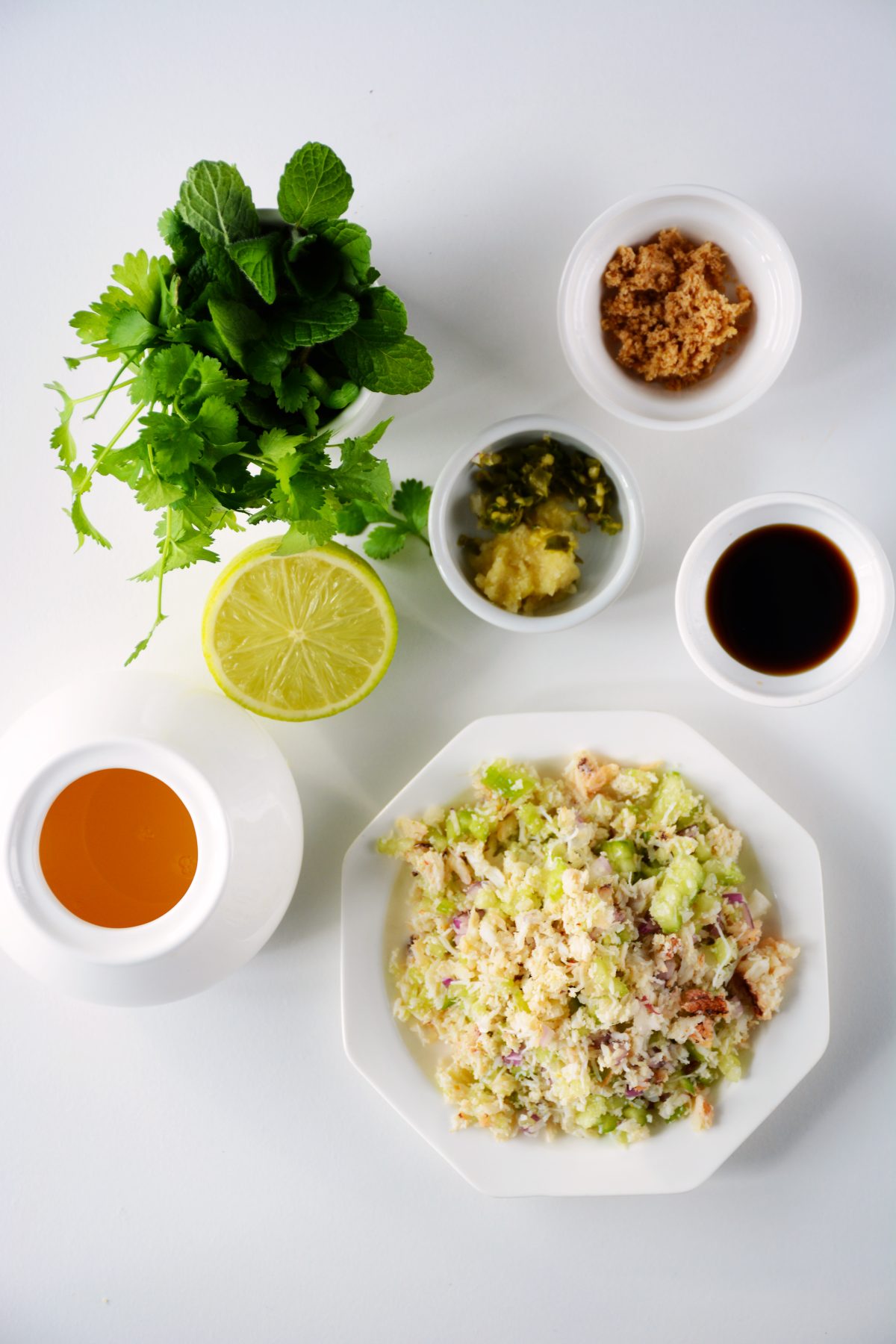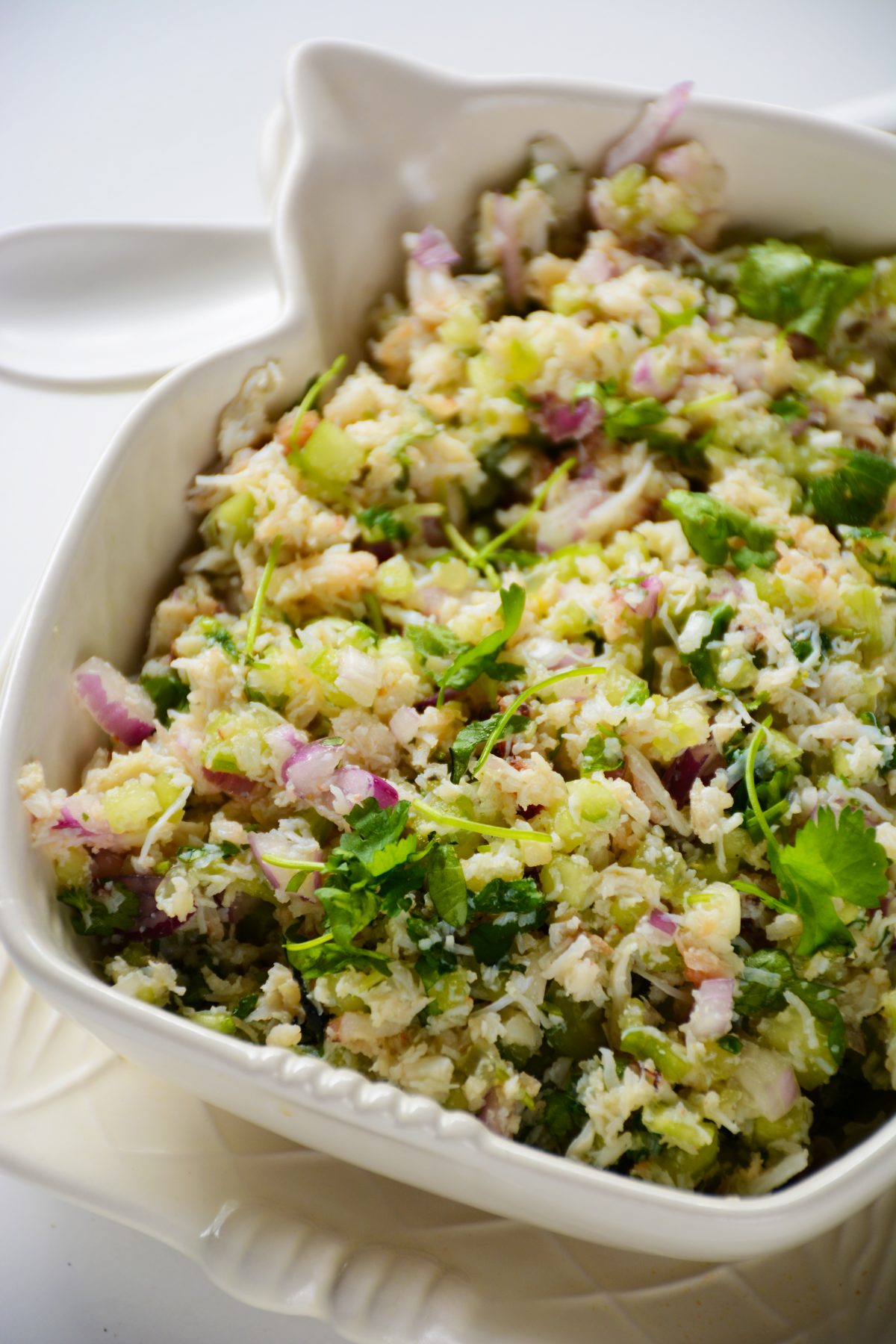 Excellent as a refreshing salad on its own, but it can become the most gorgeous looking party canapé just as easily. I used fried Indian pappads to become a crunchy vehicle for this beautiful salad. You can find all sorts of small sized pappads in Indian stores (sometimes in major supermarkets too). I used the masala pappads for that extra dash of flavour but you can use plain/pepper or cumin studded ones. Generally as an accompaniment, I tend to roast the pappads but for a canapé, I prefer fried as it stays crisp for longer.

You could also opt for crackers or mild flavoured potato crisps….anything crispy that doesn't overtake the sweet freshness of the salad. A glass of sparkling and this pretty canapé is bound to get conversation flowing….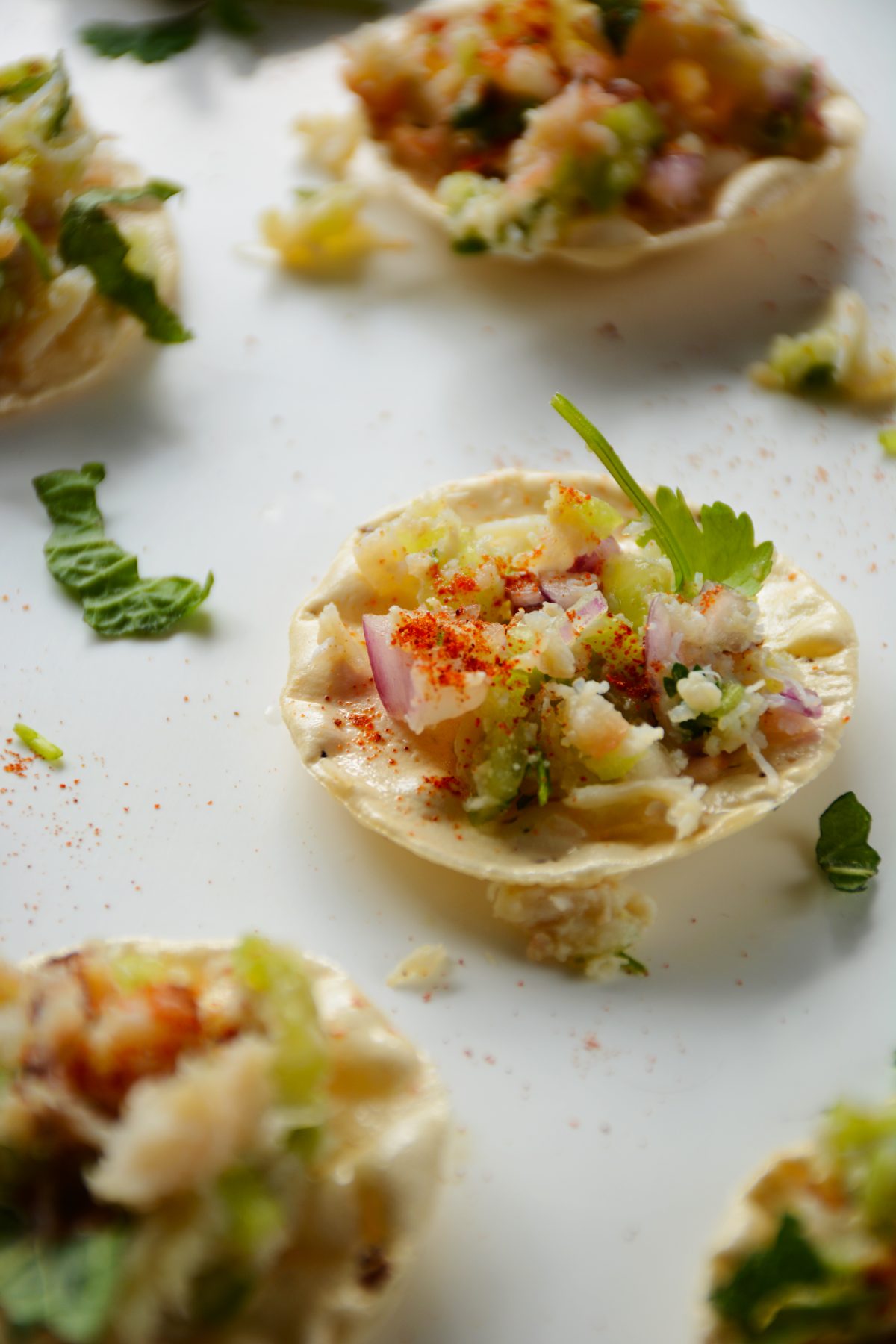 And as always, I love to hear from you when you have tried any of my recipes. Feel free to drop a comment, mail or share on social media (remember #thespiceadventuress so that I will not miss it). Have a great weekend folks!

Ingredients:
400gms white crab meat
1 small Lebanese cucumber; chopped finely
Read the full recipe here…..

Recipe developed, styled and shot for Supreme Seafood.