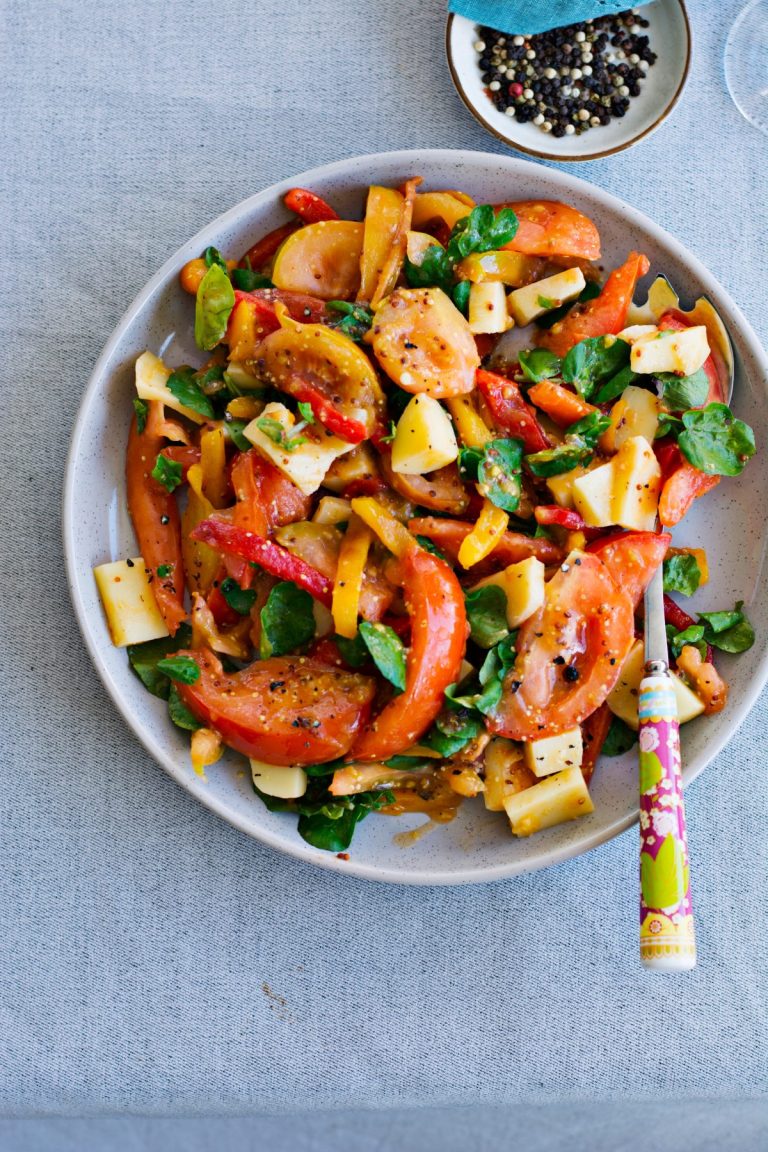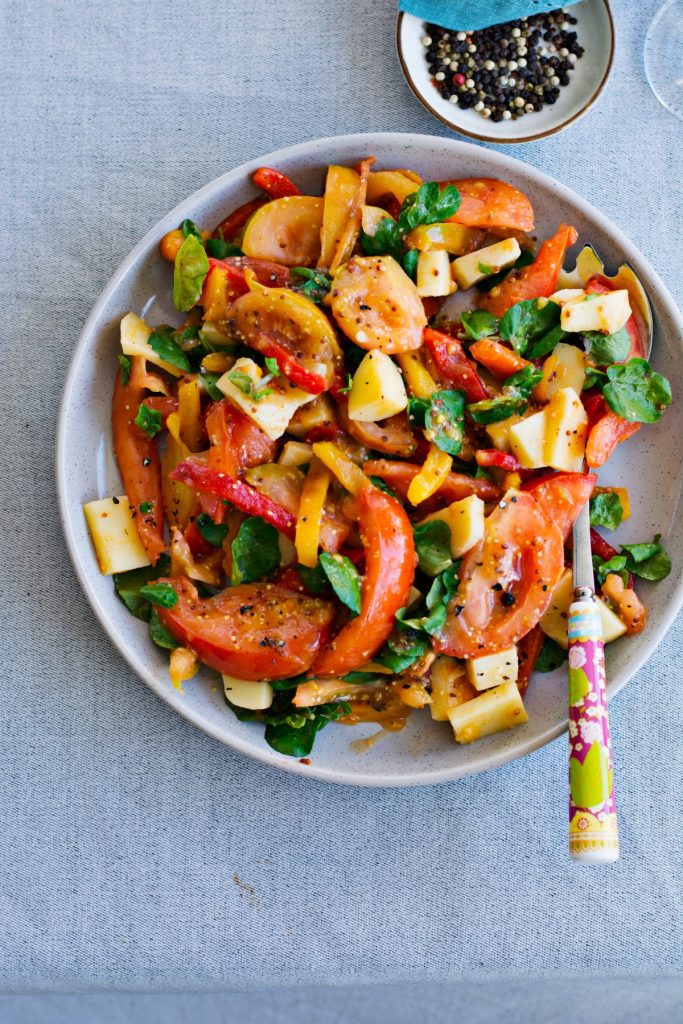 If you follow me on Insta stories, you would have seen my weekly cookbook series. I do not have a huge collection but a handful of old, new and trusted ones that I cook from often. And last week, I had spoken to you about 'The Food & Wine Lover's Guide to Melbourne and Surroundings'.
Whenever we take a holiday in and around Melbourne, I always try to incorporate a bit of food wine experience into it. A visit to a farm, local food store, farmer's market, restaurant or winery….something unique that celebrates the region. And this book has come handy on so many occasions for this purpose.
The book also features a few recipes from Chefs, restaurants and food producers of different regions. This salad really stood out to me because of the combination of flavours. Tomato and mozzarella is a classic combination but the addition of fire roasted bell peppers, watercress and the mustard dressing takes it to a whole new level.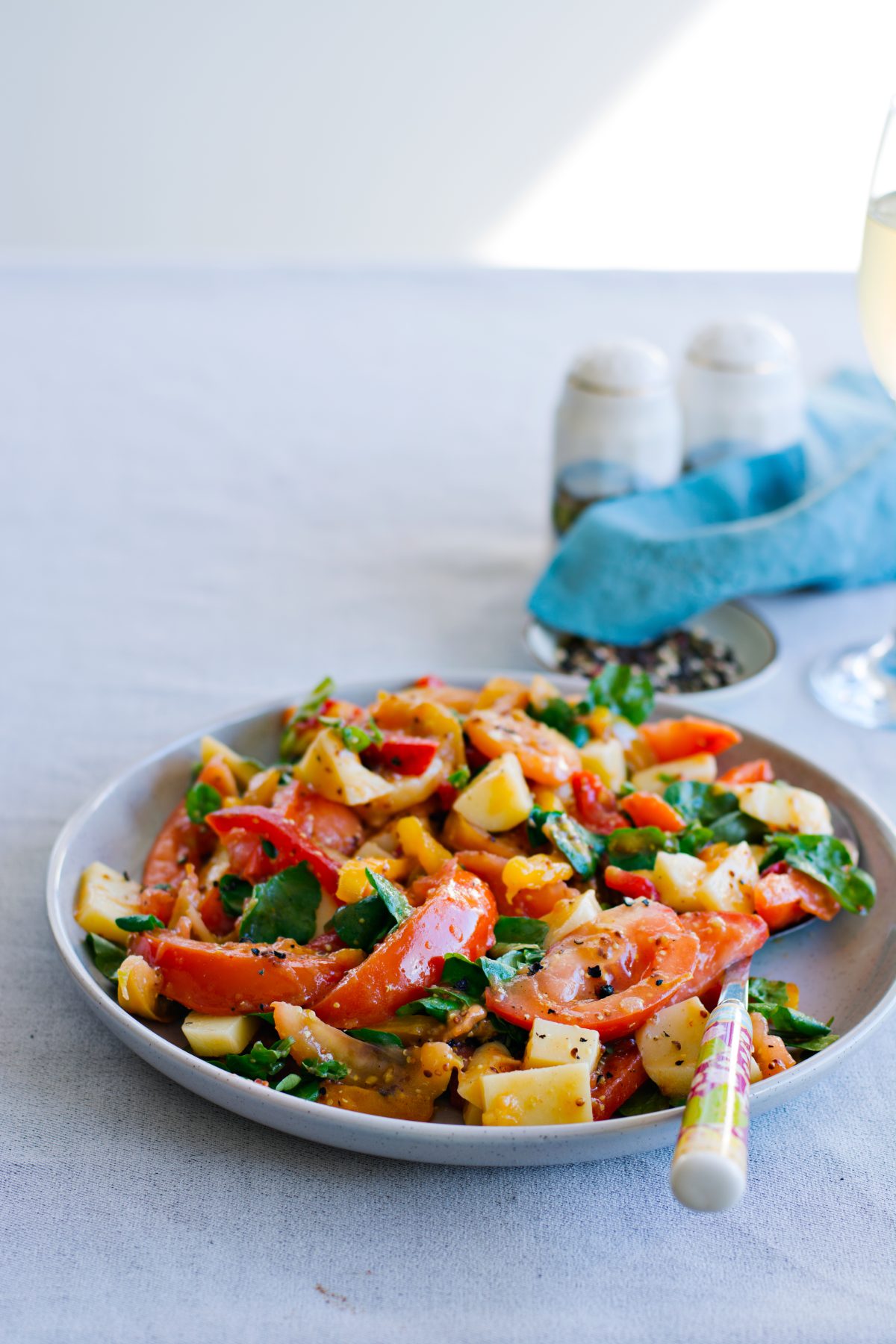 What I loved most about this dish is that it can be served as a salad or as a side dish to grilled fish, meat or perhaps some grilled paneer/tofu. It's warm and so full of flavour that makes it a delight even during the colder months. We enjoyed it as a salad with our Indian thali and also as a side with grilled fish, both times equally enjoyable and delicious.
This salad is all about the freshness and quality of ingredients. And using different varieties of tomatoes makes it all the more delicious. If you have a local deli nearby, then that's probably the best place to get your hands on the buffalo mozzarella. I prefer fire roasting over oven roasting whenever possible; that burnt smoky flavour is hard to replicate completely inside an oven. But you can roast the bell peppers any way you wish to. Roast just enough to char the outsides but the flesh inside still has a bite to it.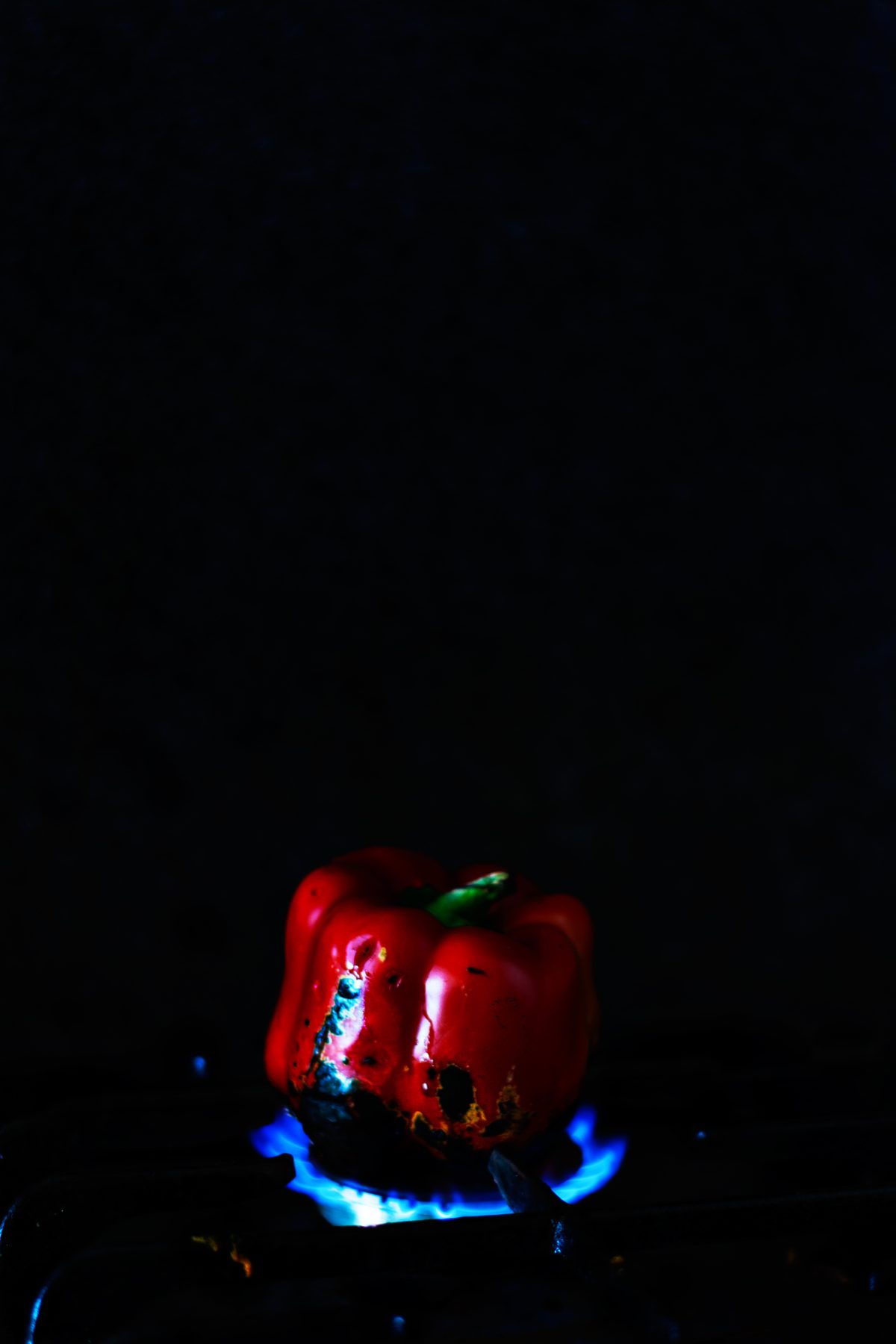 Enough said! Let's get on with the recipe….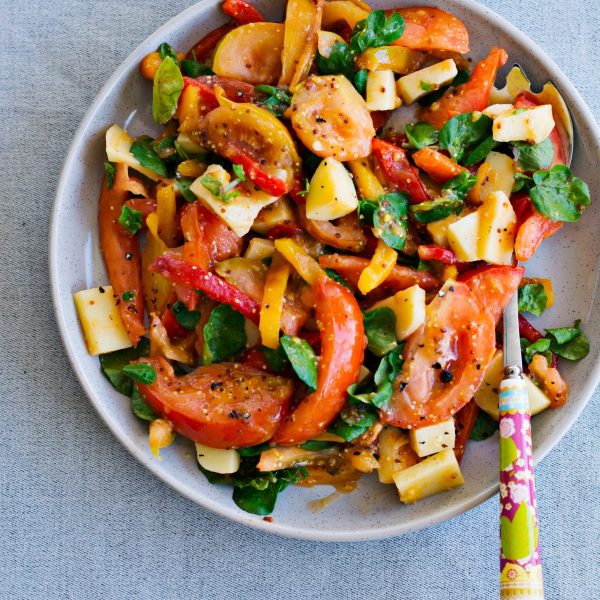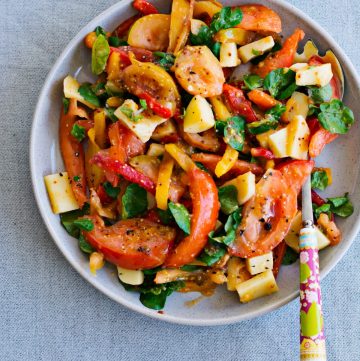 Print Recipe
Fire Roasted Bell Peppers, Tomato and Mozzarella Salad
Ingredients
1

heirloom tomato; sliced

1

ox heart tomato; sliced

1

medium red bell pepper

1

medium yellow bell pepper

1

large mozzarella ball

½

cup

picked watercress

1

tsp

seeded mustard dressing

Olive oil

1

tbsp

balsamic vinegar

Salt

to season

Freshly milled black pepper; to season
Instructions
Roast both the bell peppers over an open flame till nicely charred all around. Cover with a cloth for a few minutes before peeling off the skin (this makes the process easier). Deseed the bell peppers and slice into thin strips. Alternatively, oven roast the bell peppers and then do the same.

Cut the mozzarella ball into wedges and keep aside.

In a bowl, add the sliced bell peppers, mustard dressing and watercress.

Heat olive oil in a pan and flash fry the sliced tomatoes for a few seconds, season with salt.

Cool slightly and add the tomatoes to the bell peppers along with the mozzarella wedges.

Season with salt and pepper, drizzle balsamic vinegar and toss lightly.

Serve immediately.