Christmas is just around the corner and most of us are still scrambling around to find the perfect gifts for our friends and loved ones.
My foray into the food blogging world got me hooked onto the idea of edible gifts and hampers for special occasions and Melbourne has so many amazing brands where you can get be-spoke and customized hampers for all occasions and budgets.
And one such amazing brand is 'The Sweet Poppy'
The brainchild of Chetana Suvarna Ganatra, a qualified Chef and Pâtissier, The Sweet Poppy is a home based business that focuses on high quality, consistent and great tasting food, baked goods and hampers.
'Our philosophy is to provide our clients a bowl of local produce dusted with professionalism, along with a pinch of creativity blended with our passion and drizzled with love'.
Chetana's foray into the food world was no accident. Growing up and married into a family of foodies, her passion for food soon led her to pursue it as a full time career. After arming herself with certificate courses in commercial cooking and patisserie from Holmesglen, she along with her family launched 'The Sweet Poppy'.
Recently, I had the opportunity to experience one of her be-spoke gourmet hampers, The Great Gatsby. A special release for the festive season, this is truly an indulgent and luxurious edible gift hamper.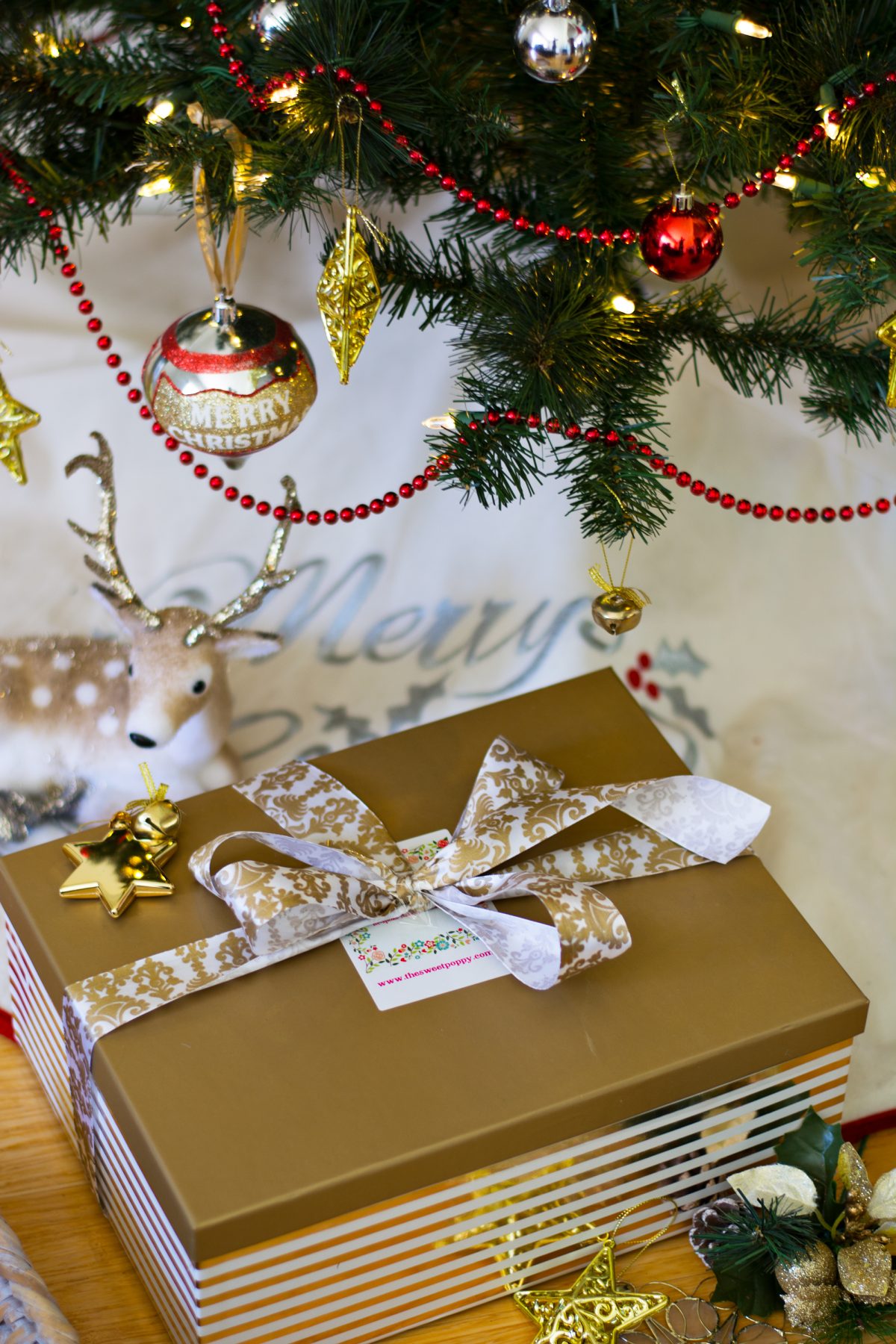 The hamper came beautifully packaged in a gold toned box, elegant yet festive. After all, first impressions are really important when it comes to gift hampers.
This exclusive, deluxe hamper has the finest, handmade sweet treats along with other special goodies that are perfect for the festive season. It contains;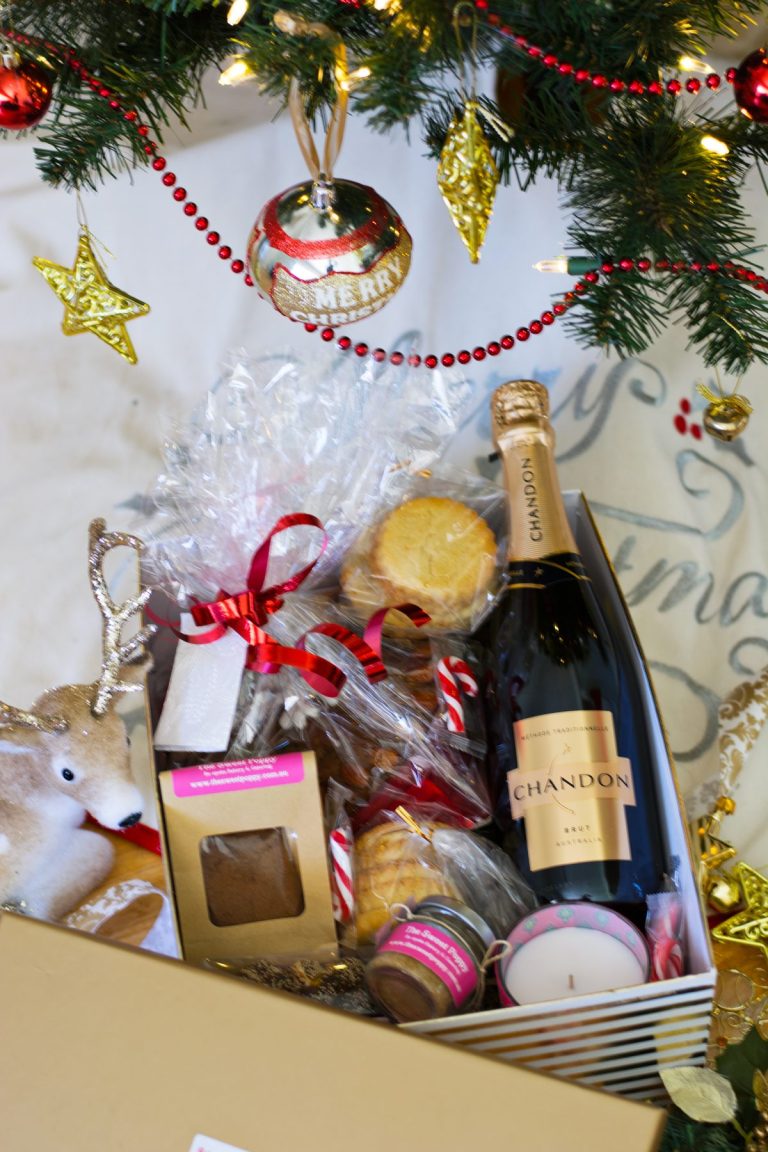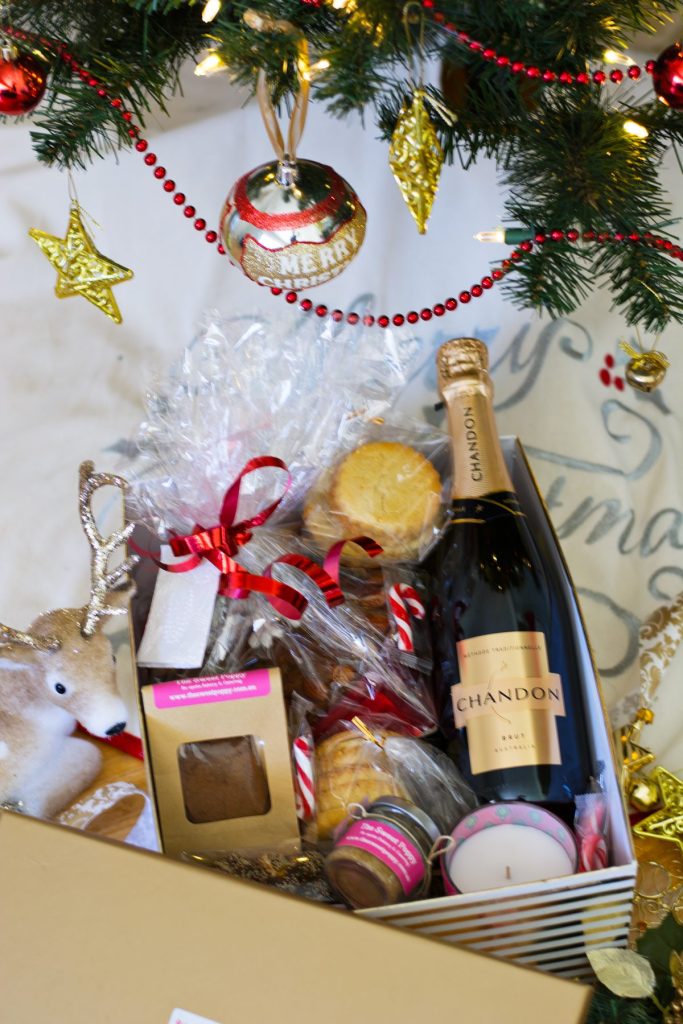 The flamboyant Chandon Brut 750 ml
Scented Soy Candle in a glass jar
Rich Fruit Cake/Mud Cake 750 gm
Melt in the mouth Rosewater infused Coconut Bites 150 gm
Sugar-free Mejdool Date & Nut Roll 150 gm
A very buttery Lemon infused Almond Cookie 6 pieces
Chai Masala 50 gm
BBQ (Tandoori) Spice-rub 75 gm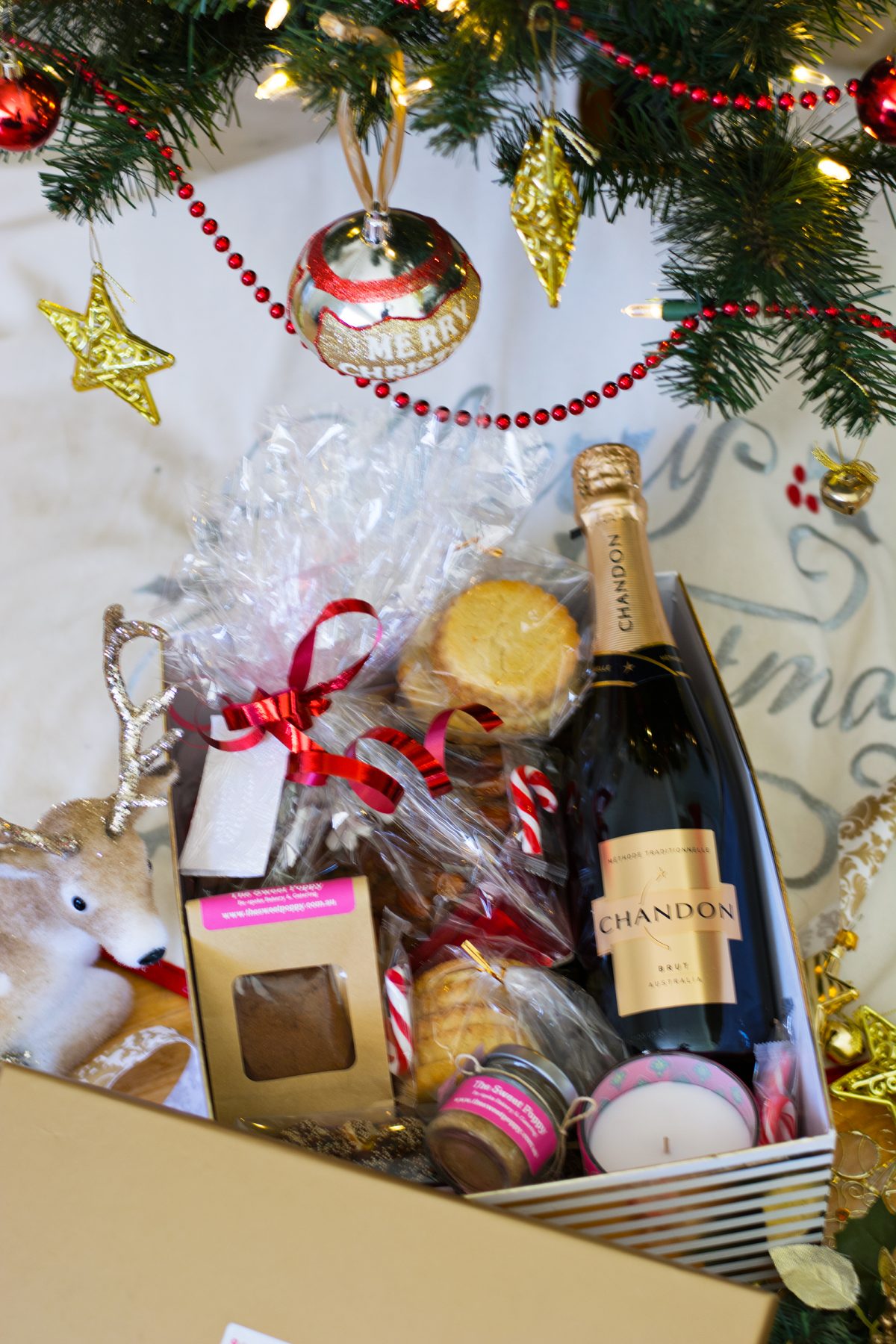 Let me begin with the Rich Fruit Cake…..because it was easily one of the most delicious fruit cakes I have had in a long time. Most of you would know by now that I am not a big fan of sweet treats, often preferring the savoury flavors. But this fruit cake would be an exception, because the flavours were perfectly balanced. It was not too sweet, moist, rich yet delicate and a big splash of St.Helena Brandy/Old Monk Rum soaked nuts and dry fruits make it an absolutely spectacular Christmas treat.
A glass of the Chandon Brut and a slice of the fruit cake – all that you need to make the festive season extra special!
If not the hamper, the rich fruit cake on its own would make an excellent gift or a delicious treat for your home or office party.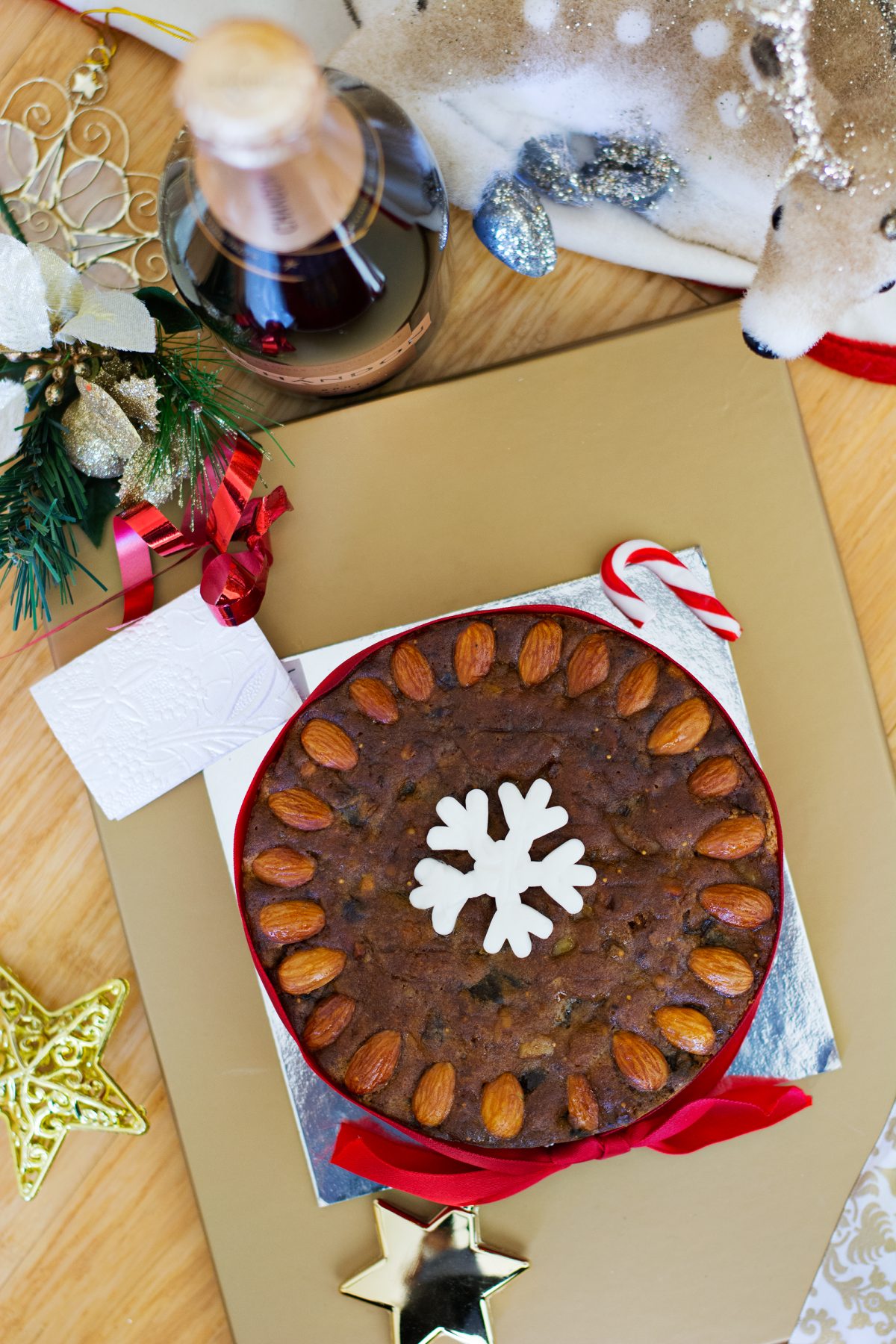 The rosewater infused coconut bites were melt-in-the-mouth deliciousness. Again the subtle flavours made these an excellent sweet treat to share or simply enjoy yourself. My son's favourite was the sugar-free Mejdool date and nut roll; a treat he insisted should be a part of his school snack.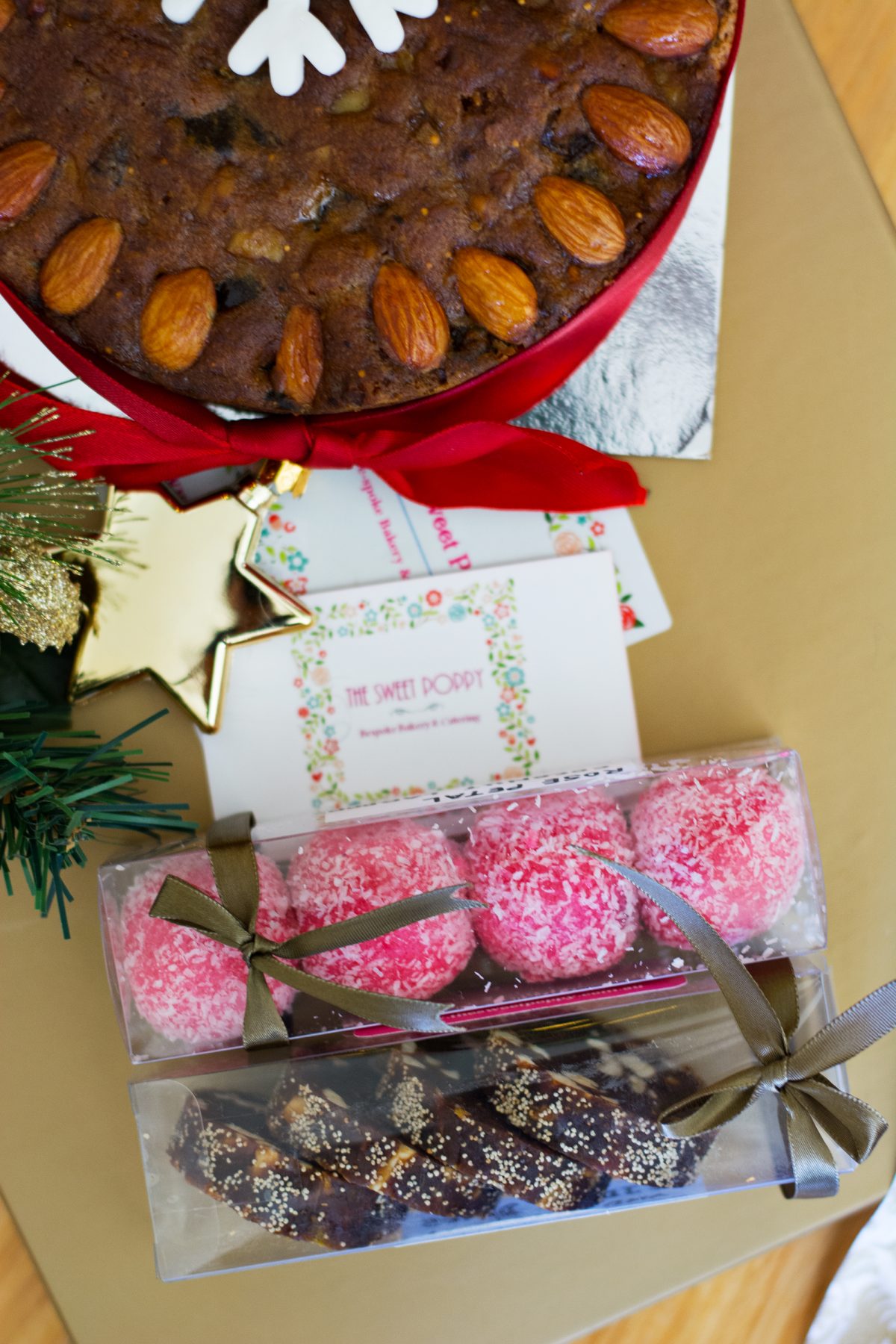 The lemon infused almond cookies were also a great hit at home. Buttery and delicious, the hint of lemon added an extra zing of freshness that is particularly enjoyable on hot days.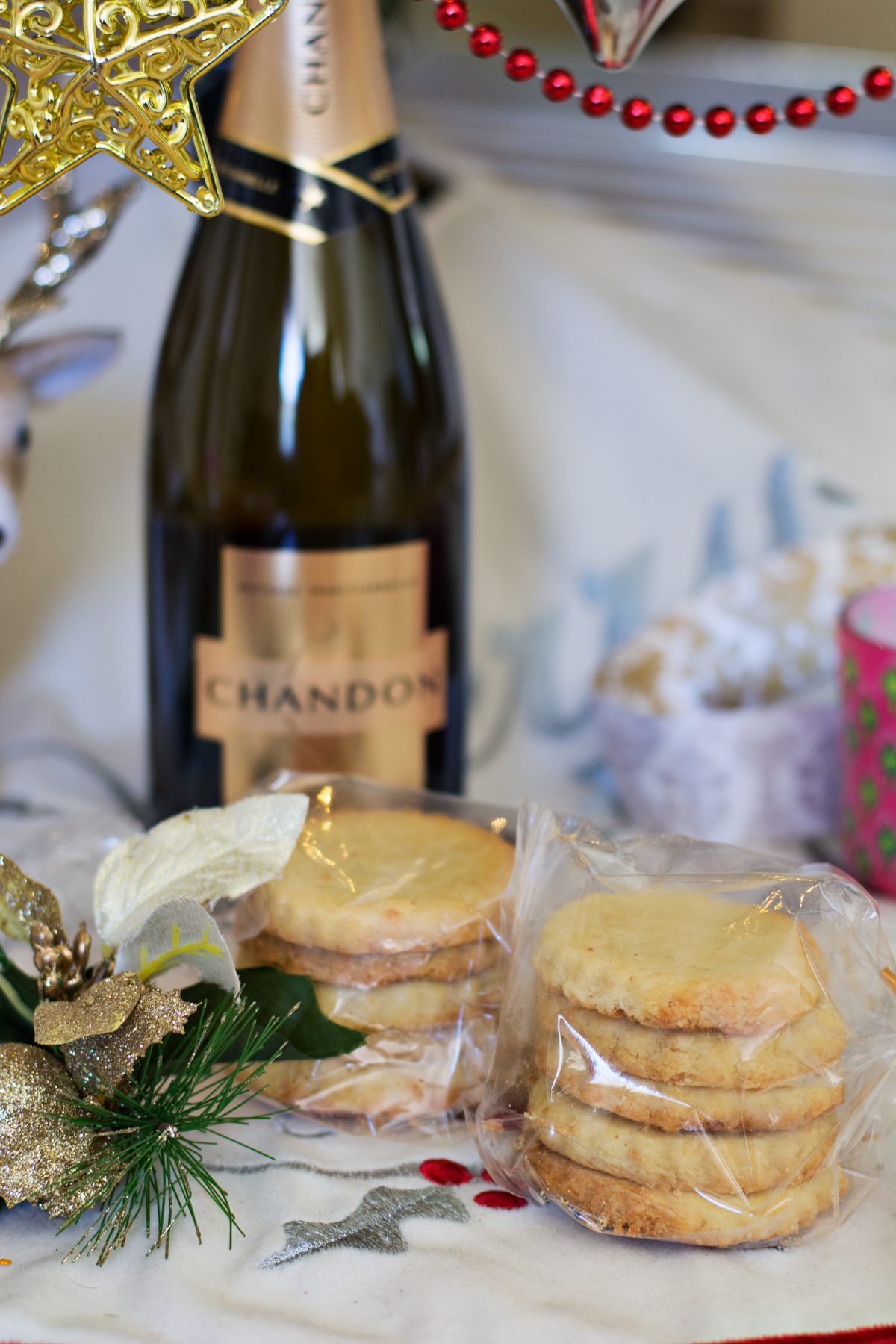 I am a huge fan of homemade spice mixes, which all of you know by now. And I was delighted that the hamper had two favourites of mine – Chai Masala and the Bbq spice rub. While I haven't tried out the chai masala yet, I did use the bbq spice rub to marinate and grill some chicken thighs. Freshly pounded spice blends are always more flavourful than store bought ones and this one didn't disappoint either.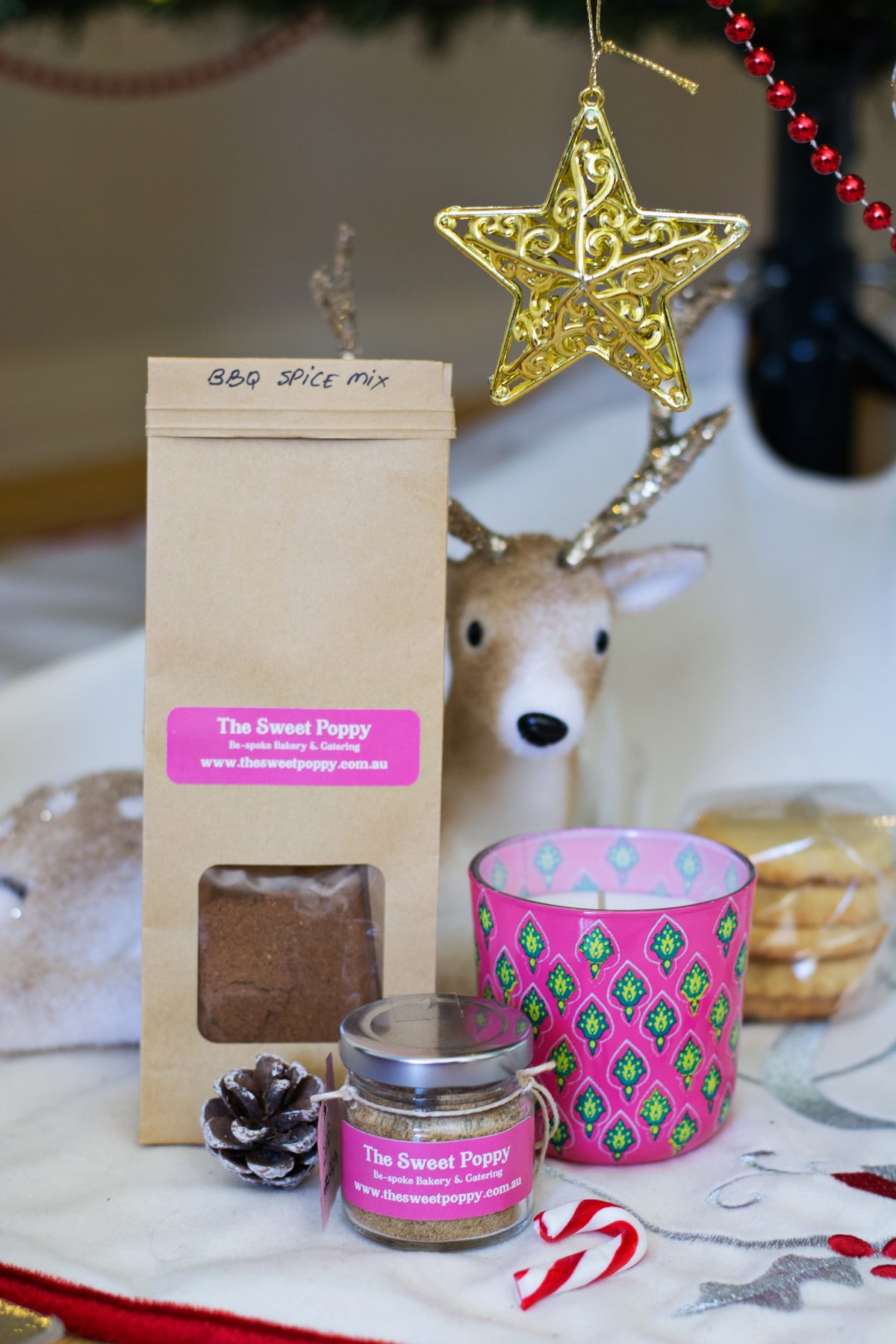 The Great Gatsby is definitely one of the most indulgent edible gift hampers I have experienced and it felt extra special because most of the products were small batch, homemade ones which speaks volumes about its quality.
The Sweet Poppy also offers two other preset hampers, The Classic and Bombay Velvet. But you can create your own customized hampers according to the occasion and budget in consultation with the brand.
Apart from gift hampers, The Sweet Poppy is also a one-stop destination for all your party food including baked treats like customized cakes, cupcakes etc… and also catering for all events, big or small.
To find out more about the products and services, visit The Sweet Poppy.

Disclaimer – This post has been brought to you in collaboration with The Sweet Poppy, but all the opinions and musings are entirely mine.