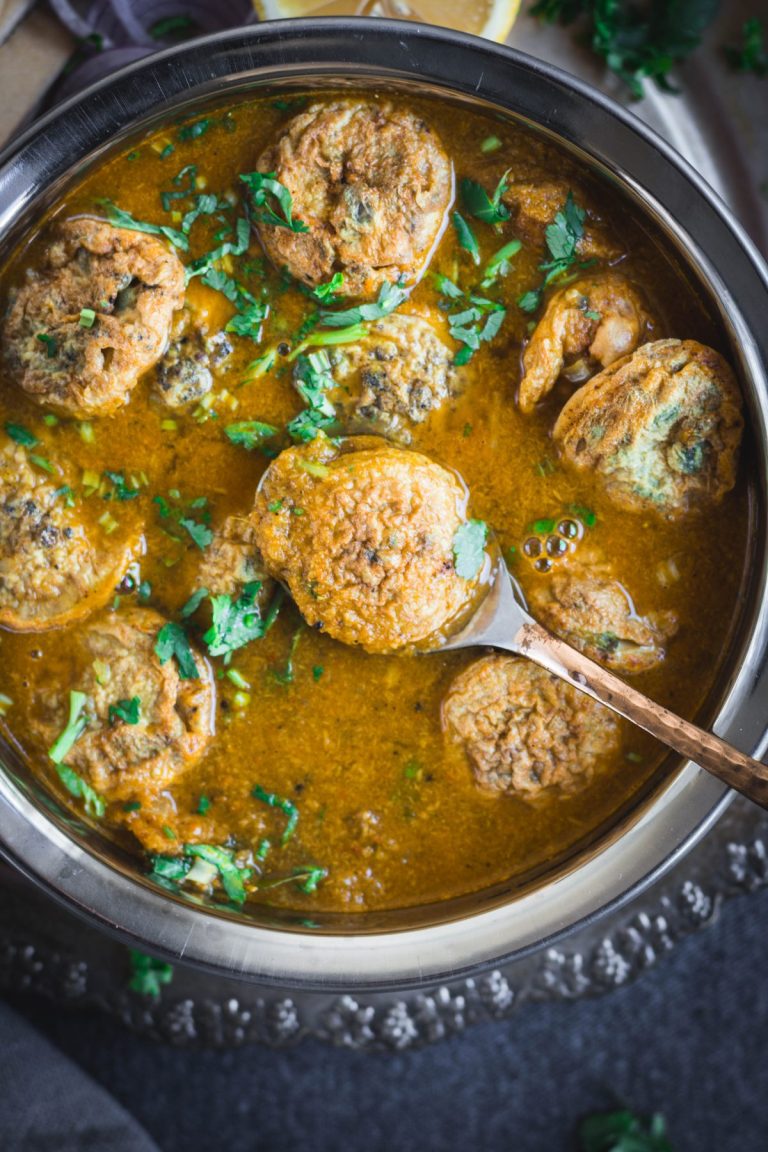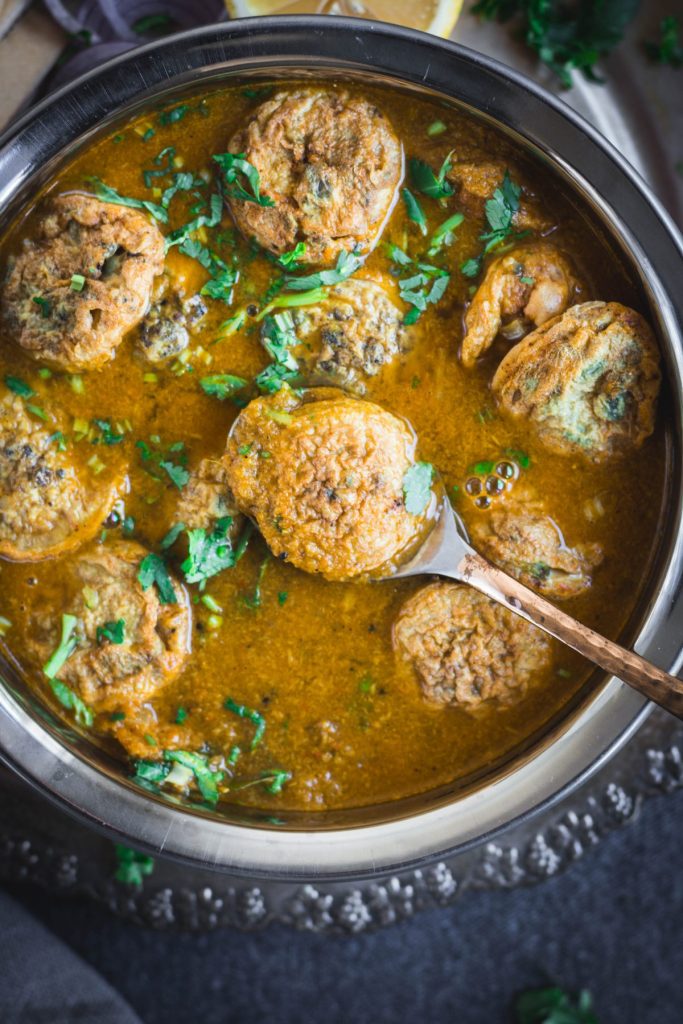 Naming this dish was a challenge and after a lot of deliberations, I decided to call it the Egg Paniyaram Curry. Let me explain…..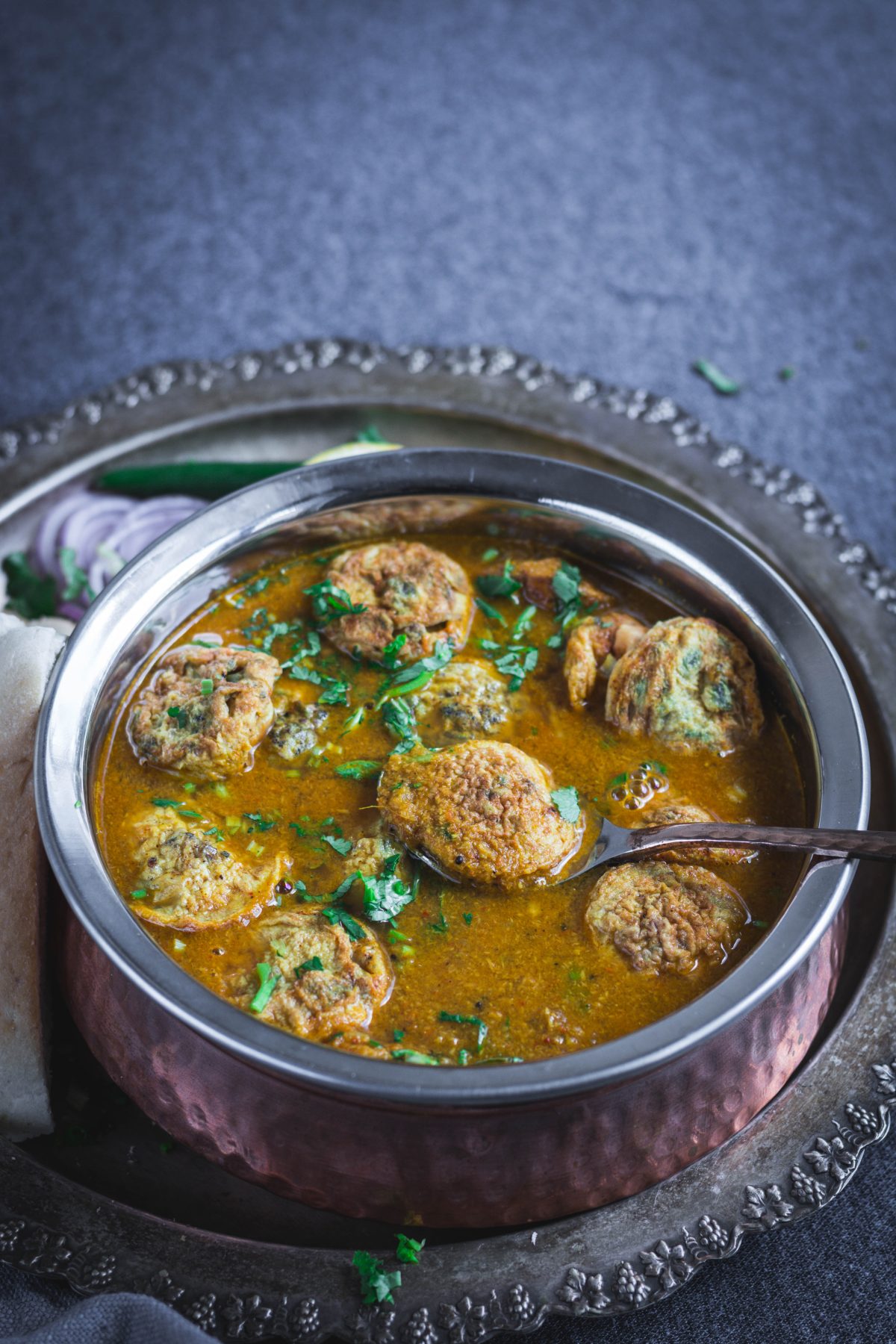 Technically a 'paniyaram' is a sweet or savoury snack that's very popular in South India and it's usually prepared from idli/dosa batter, whole wheat flour batter etc…..
Then came versions of egg paniyaram which is an adaptation of the traditional ones; beaten egg is added to the dosa batter to make a delicious snack for the egg lovers. In my version, there is no batter. Just beaten egg flavoured with onions and spices (like an Indian style omelette) and then cooked in the paniyaram or appe pan to create fluffy eggy balls of deliciousness.
The inspiration for this dish came from another traditional egg dish from Tamil Nadu called 'Karandi Mutta Kuzhambu (ladle egg curry)'. In this dish, the eggs are cooked one by one in a ladle and then added to the curry base. Now I wanted to prepare the same curry base but didn't want to bother cooking each egg one by one. That's when I thought of making egg paniyarams and adding to the gravy instead.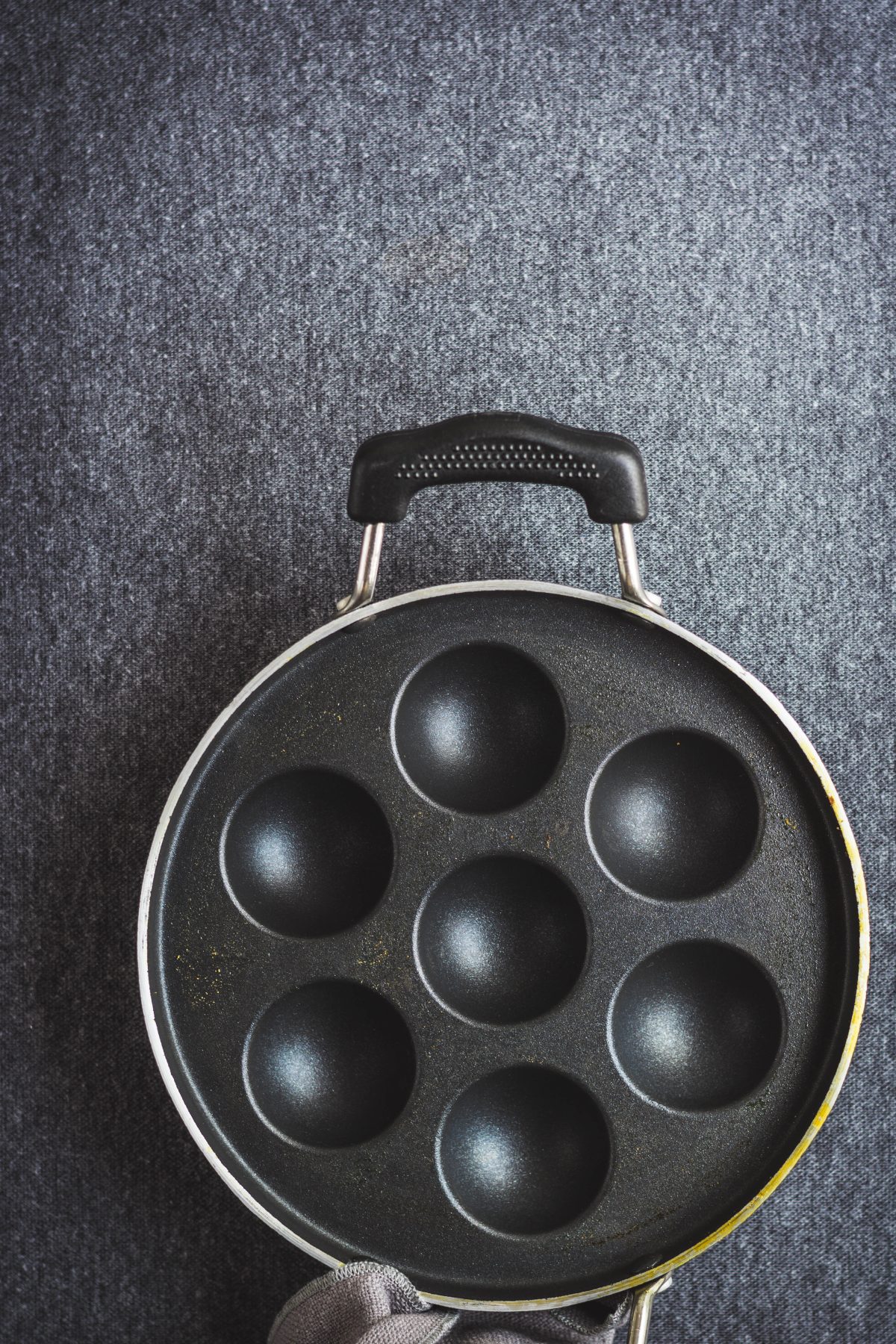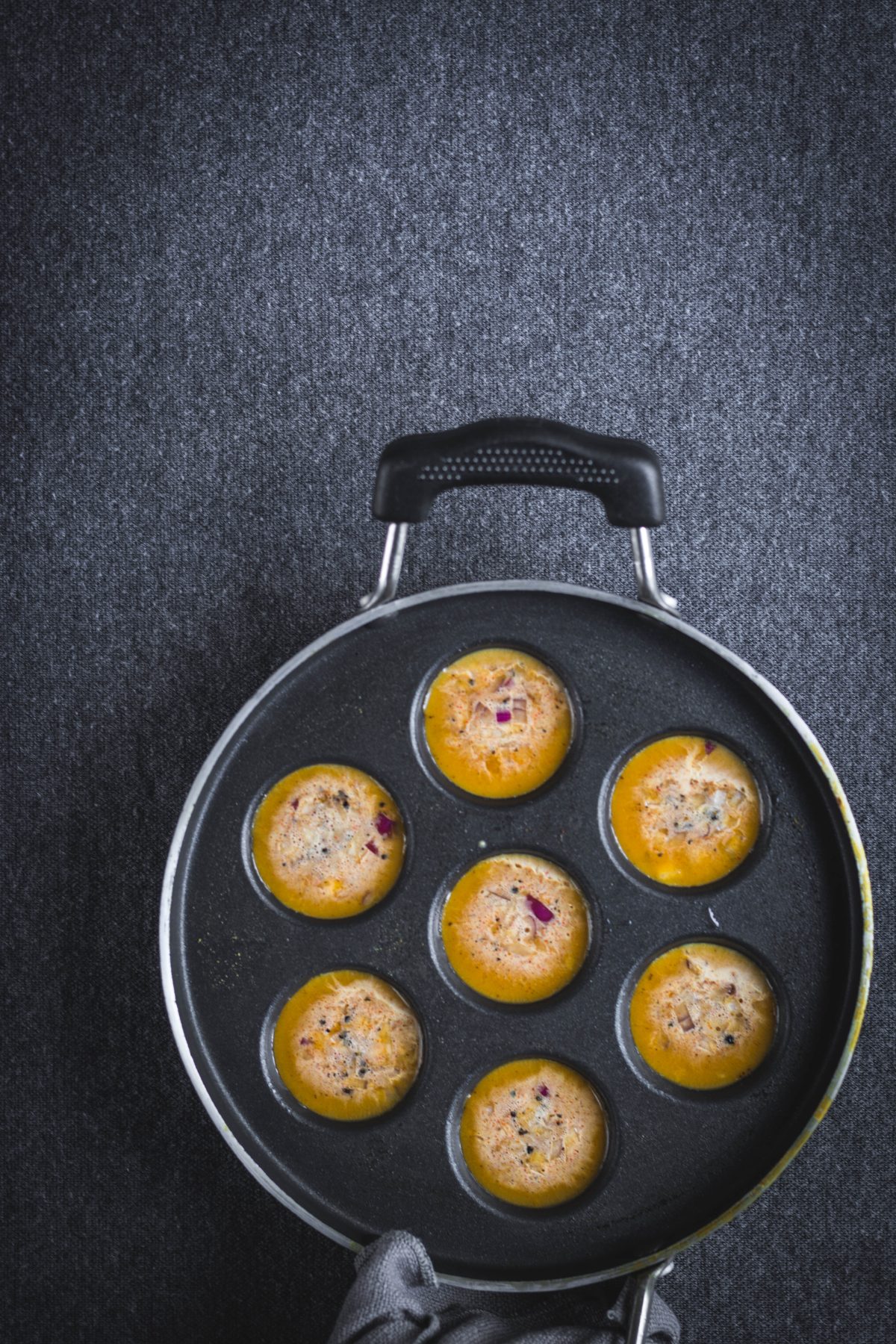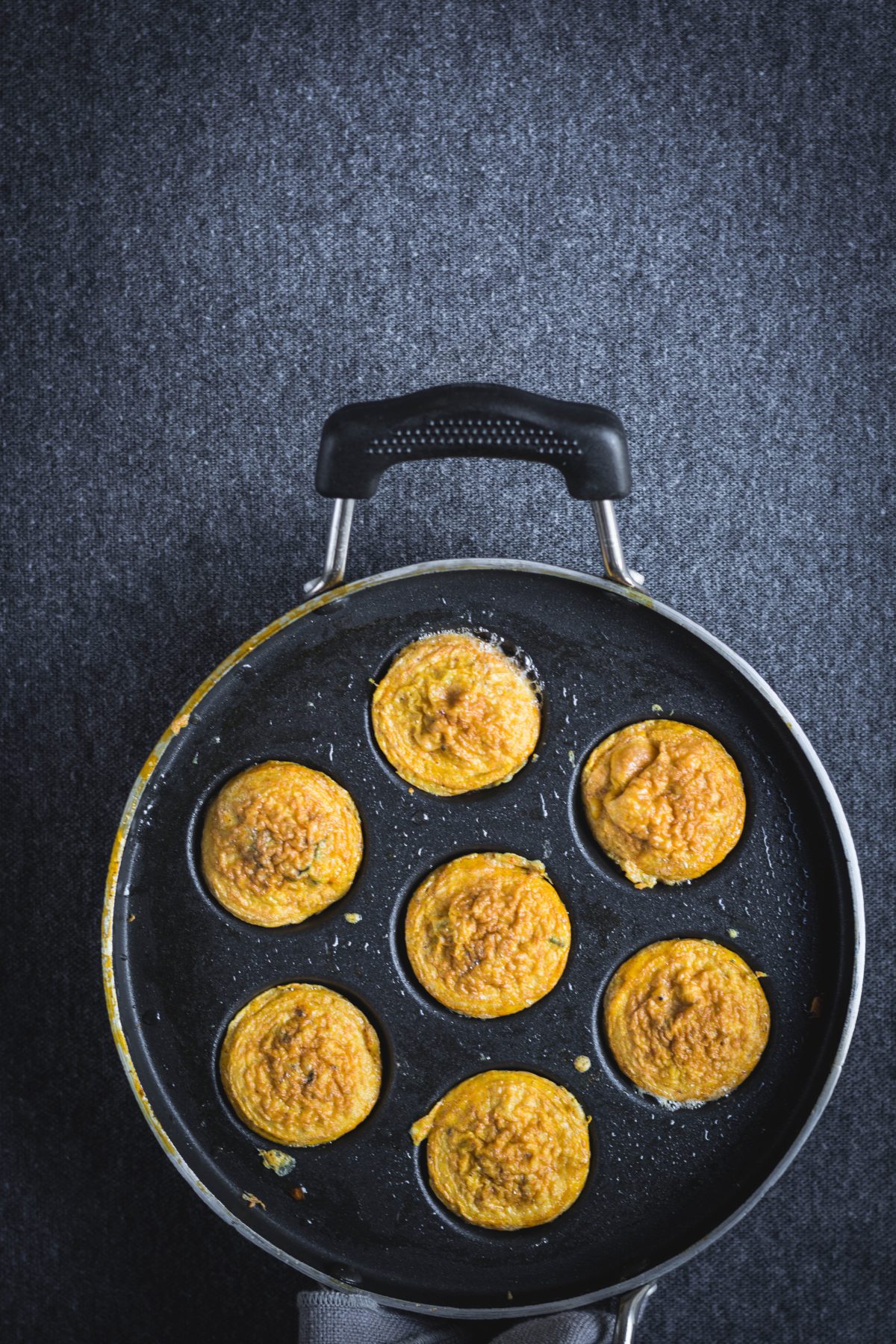 Now once this idea came to my mind, I was so ecstatic thinking this might be a totally unique dish that no one else has thought of before etc….. And so I made the dish, got the photography done, the family approved the taste; I liked it too so finally sat down to write the post.
After a lot of deliberations, I decided to call this dish as Egg Paniyaram Curry.
As I was writing this post, it occurred to me that I must do a Google search and find out what shows up when I type in egg paniyaram or egg paniyaram curry. To my surprise, there was no dearth for recipes under both terms. And for thinking, I was the creator of something unique. Sigh!
Well now that we have established my 'Egg Paniyaram Curry' is nothing unique, let's just move onto the fact that it is damn delicious.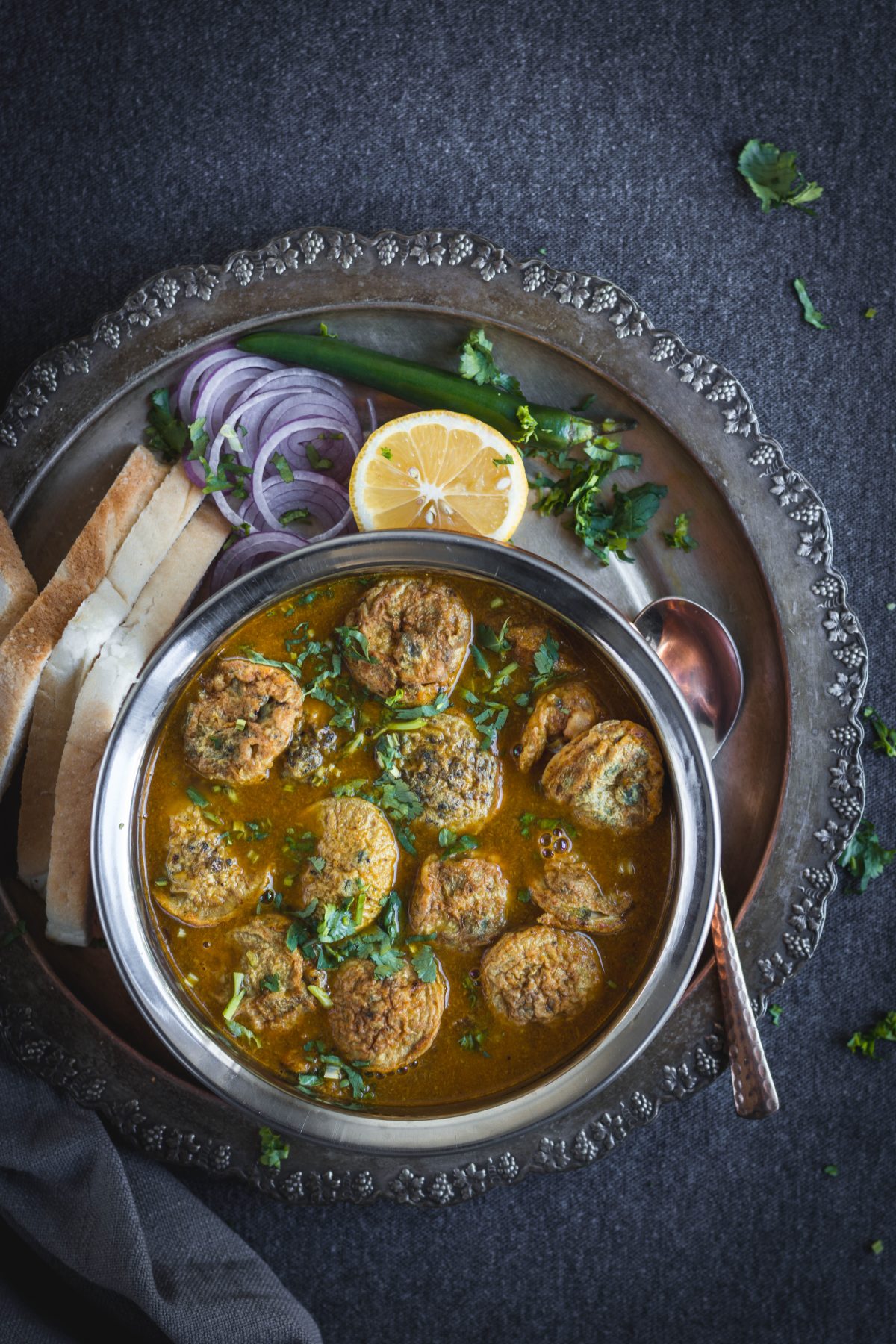 Just imagine fluffy egg paniyarams simmered in gravy made from ground coconut, aromatics and spices. If that has got you salivating, then check out the method and get cooking.
(Note – For those of you who do not own a paniyaram/appe pan, then you can easily find one on Amazon if you search for 'Dutch Poffertjes pan'.)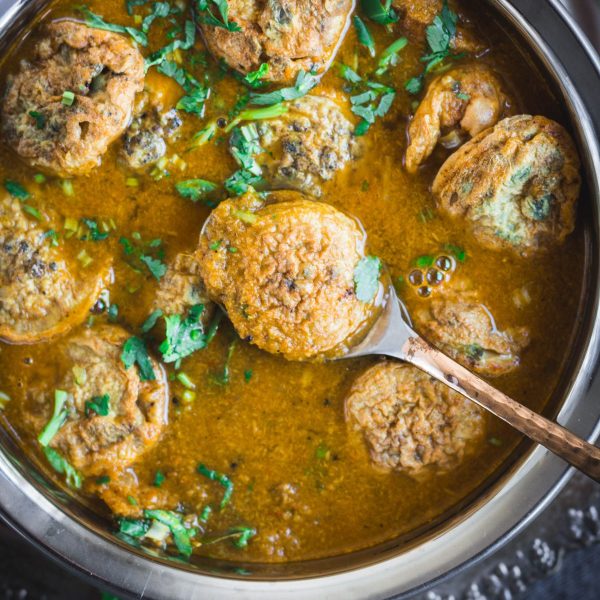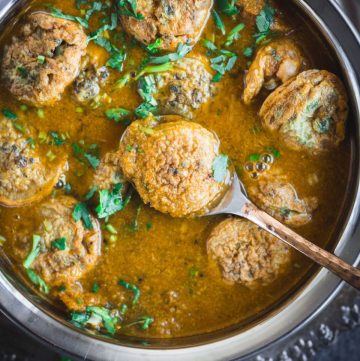 Print Recipe
Egg Paniyaram Curry
Ingredients
For the egg paniyaram:
7

eggs

makes about 20-21 paniyarams

1 ½

tbsp

onion; finely chopped

Salt

to season

¼

tsp

turmeric powder

¼

tsp

black pepper powder

¼

tsp

red chilli powder

A pinch of garam masala

1

tbsp

milk
For the coconut paste:
2

medium onions; chopped

2

medium tomatoes; chopped

½

cup

grated coconut

3

dried red chillies

2

tbsp

fresh coriander leaves
For the gravy:
1

tsp

mustard seeds

½

tsp

fennel seeds

2

sprigs curry leaves

½

onion; finely chopped

2

garlic cloves; grated

½

inch

ginger; grated

½

tsp

turmeric powder

½

– 1 tsp red chilli powder

vegetable oil

salt

to season

fresh coriander leaves; for garnish
Instructions
For the egg paniyarams:
In a bowl, whisk the eggs well with all the ingredients mentioned.

Heat the paniyaram/appe pan and brush well with oil.

Pour the egg mixture into each well (fill only 3/4ths as the egg mixture will expand on cooking).

Cover and cook on one side well before turning over.

Likewise, cook the entire egg mixture and keep aside.
For the curry:
Grind all the ingredients given under coconut paste; keep aside.

In a pan, heat 2-3 tbsp oil and add mustard seeds.

Allow to splutter and then add the curry leaves, garlic, ginger and onions. Sauté till the onions are light brown.

Next add the ground coconut paste and cook on low heat till the rawness of the ingredients goes away; mix frequently and take care not to burn.

Then add the turmeric powder and chilli powder; mix well and add 2 cups water. Season with salt and bring to boil; cook for 2-3 minutes and add more water if required.

Add the egg paniyarams, check seasoning and cook for another minute.

Remove and garnish with fresh coriander leaves.

Keep for at least 30 minutes before serving for the flavours to develop.
Notes
If you are using the pan for the first time, then you can find YouTube videos which will demonstrate how to use the pan and make the paniyarams.