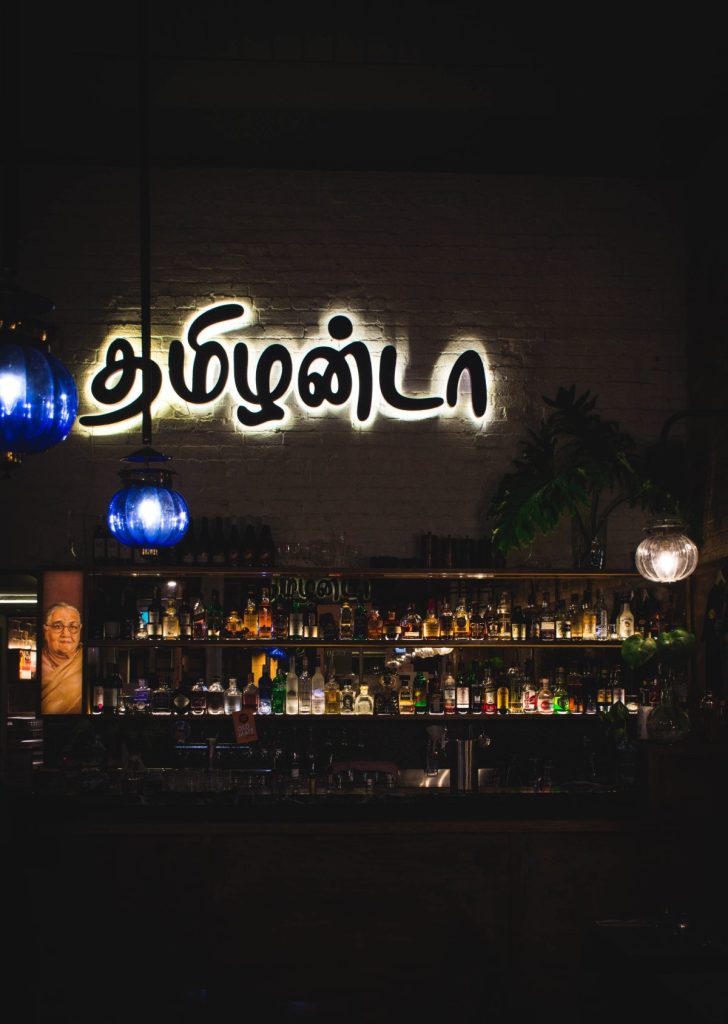 Authentic Tamil eatery & bar…that's the tagline of Madras Bros, and they seem to have largely nailed that claim!
Situated on Smith Street, Madras Bros is a fun, quirky, vibrant space that pays homage to the cuisine of Tamil Nadu (South India), especially the cuisine of Madras (Chennai). The décor is classic Fitzroy, modern yet peppered with traditional touches that makes it warm and inviting.
The staff is friendly, ready to have a chat in Tamil (if you know the language) or happy to guide you through the menu, culture etc….
As I mentioned, Madras Bros focuses on the food that's native to Madras/Chennai. While some of the dishes are traditional to the Tamilian cuisine, there are some others that are unique to the city. The names of the dishes are interesting too using references to many local places and spots in the city famous for those dishes. Names like Marina sundal, Alsa Mall's Bombay sandwich, Buhari's chicken etc… will definitely put a smile on your face if you have lived or spent time in Madras.
There are also thali options named after the Kollywood biggies!
For drinks, we ordered the Neer Mor (a spiced buttermilk drink) for Adi. We love this drink and make it especially in summer so to find a delicious version at the restaurant was a bonus. A must try, especially if you have never had it before.
We also ordered two cocktails, Kashmiri Martini (white light vodka, apple schnapps, apple juice, cinnamon syrup) and Tamarind Sour (Dewars whiskey, tamarind extract, lemon). Both were unique and excellent; the fusion of flavours so balanced and smooth.
There's a brunch and a dinner menu at Madras Bros. So if you are looking to have dishes like dosas, idly etc… then you need to visit in the morning/afternoon when the brunch menu is served. We had visited during dinner time so it's a different menu which showcases more dishes from the region.
Started with the Sowcarpet Pani Puri (little fried puris stuffed with a spicy potato herb mixture served with sweet'n'sour mix). The North Indian settlers bought pani puri to Madras and the city adapted it as its own street food. The version at Madras Bros is delicious; the puris fried and crispy, the stuffing and flavoured water mix well balanced.
Next we ordered the Kal Dosai (savoury Indian rice pancakes) served with chutney and gravy. It was really delicious especially with the chutney and polished off in no time.
We also tried the Ratna Café Idli Sambar; mini idlis dunked in a flavourful sambar so that it absorbs all the flavour of the curry. While I enjoyed the flavours, the sambar felt a tad bit too thick and also would have preferred a good drizzle of ghee on top as it's traditionally served back home.
The next dish to arrive was the Kulipaniyaram (Fermented batter made from rice and lentils spiced with tadka, formed into poffertjes and served with fresh coconut chutney). Again a good dish, not the best I have had but a really good starter for those who are looking for something light.
How could we not order the famous Buhari's Chicken 65 (spicy fried chicken)? And so glad we did, because it was really delicious, even better than the original if I may say so as the chicken was so juicy and tender, with the spices beautifully coated through. A must try!
From the mains, we tried the Meen Kulambu (traditional fish curry with tamarind, tomato, onion and garlic) along with steamed rice. This is perhaps the only dish that I didn't like much. The curry was a bit too sour and I felt that the balance of tamarind to spices was a bit off.
And of course the Biryani; the one at Madras Bros didn't disappoint at all. The Madras style biryani is not my favourite but still it tasted delicious; the rice and meat was cooked well and had a good balance of flavours.
In short, Madras Bros is a place I would totally recommend for a real taste of Chennai/Tamilian cuisine out here in Melbourne.
Madras Bros (Fitzroy, Melbourne)
No. 129, Smith Street, Fitzroy,VIC 3065
Phone no: +61 3 9416 2767
Timings:
Monday – closed
Tue-Sun – 5.30pm to 10pm