The new 'smart and intelligent' food steamer from Morphy Richards is a game changer in your kitchen!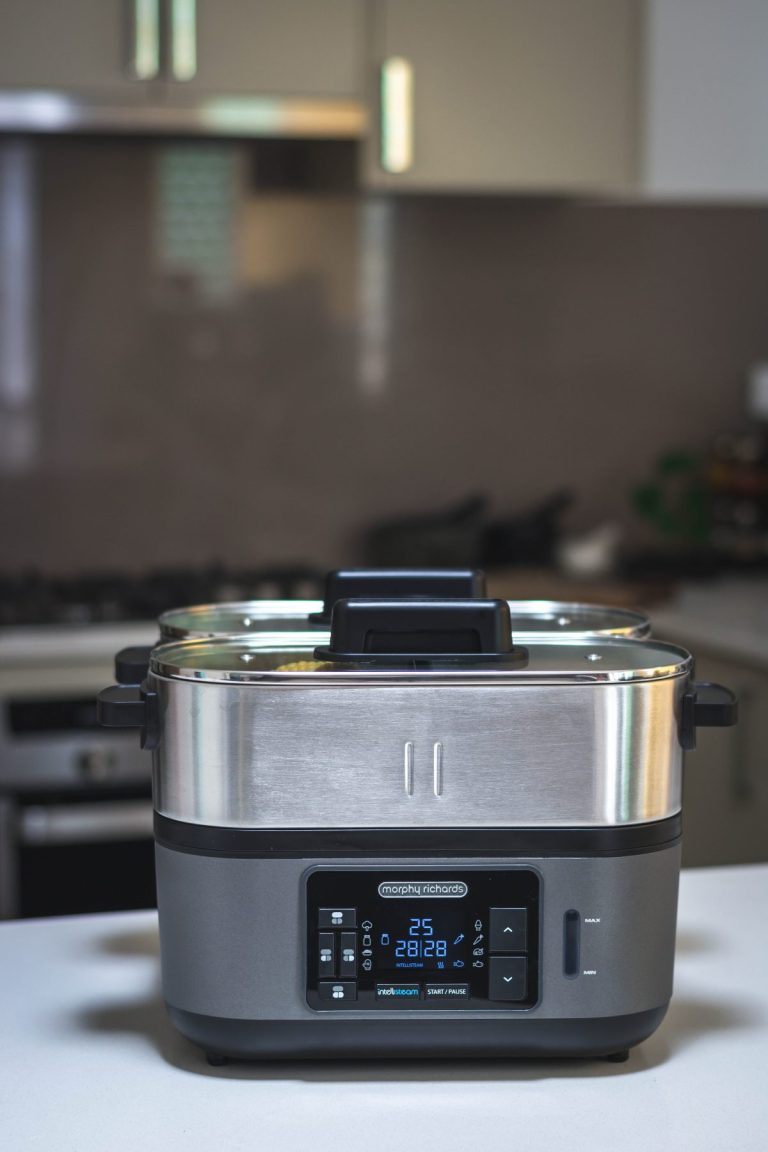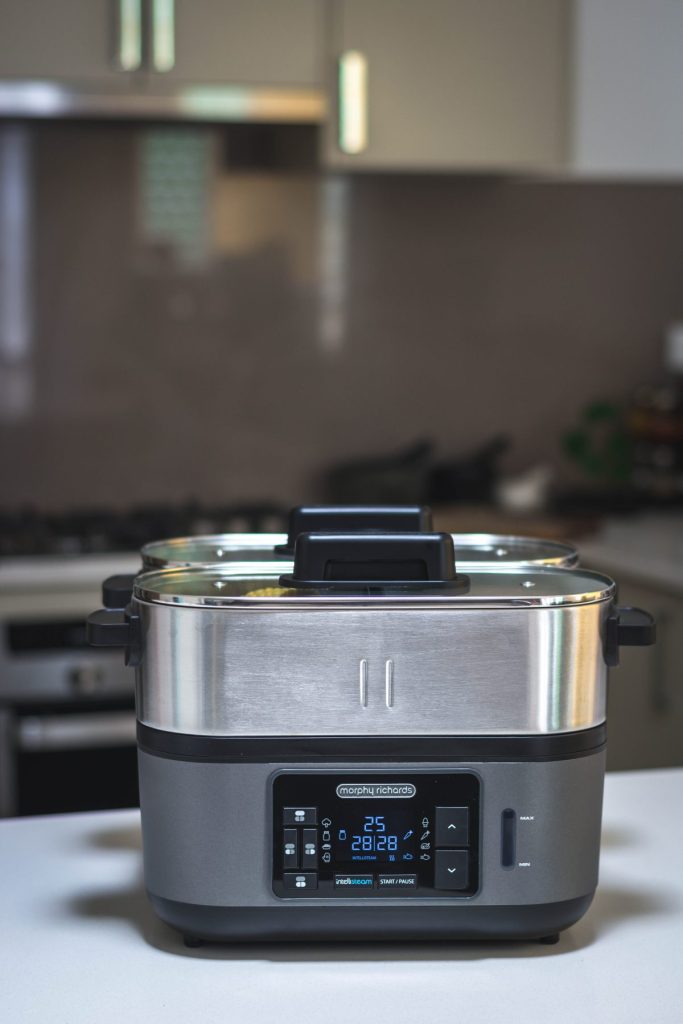 A good food steamer is an integral tool for my daily cooking needs. For years, I had been using a basic steamer which got the job done but with a lot of functional difficulties. So when I was approached by Morphy Richards to review their new Intellisteam (Intelligent Food Steamer), I got quite excited especially after reading all the smart features incorporated in this appliance.
Let's take a detailed look at the features;
3 individual stainless steel chambers with glass lids; also comes with BPA-free steaming accessories so that an entire meal can be cooked at the same time. The accessories include steaming shelf, rice tray/bowl, 2 sauce bowls.
All the food gets ready at the same time – the chambers/components have different controls which mean that you can set a different time for each and hence all the food finishes cooking at the same time.
6.8L capacity – the large capacity ensures that an entire meal can be cooked for an average sized family.
Keep warm option – The digital control panel allows you to set your own cooking times or you can use any of the pre-programmed options including the 'keep warm' option. No more cold dinners or re-heating required!
Dishwasher safe – Except the base, all the individual components, chambers and accessories are easy to clean and dishwasher safe.
Lightweight and compact – It was surprisingly lightweight with a compact design that made it convenient whether displayed on the kitchen counter or stored away in a cupboard.
Easy to use – The instructions provided in the manual are clear and concise which makes the Intellisteam very easy to use. I personally dislike appliances that are not straightforward but no such complaints with this one.
The new Morphy Richards Intellisteam also comes with a handy Recipe e-book to get you started especially if you are new to this way of cooking.
When compared to a traditional food steamer, the fact that I could use Intellisteam in multiple ways at the same time made it a clear winner. Even when not cooking a whole meal, I could steam dumplings for an after school snack while steaming fish for dinner and also cooking some veggies for next day's lunch. Imagine the convenience and time saved!
And I can cook eggs too; both soft boiled and hard boiled. Isn't that awesome?
While the recipes in the e-book are really great, I wanted to create and share another special recipe with you – Blue Grenadier with Creole Sauce.
Creole and Cajun cuisine is a really exciting one; it is the food of New Orleans and the surrounding southern Louisiana countryside. French in origin but these cuisines incorporate elements of Spanish, Native American and African cooking which makes it vibrant and colourful. Both these regions are a melting pot of cultures which is reflected well in the food too.
For this dish, I have incorporated a bit of both the cuisines in the form of Cajun spice blend and Creole sauce. The recipe has been adapted and changed slightly from the traditional style to suit cooking in the Intellisteam.
Blue Grenadier is a delicious white fish, the fillets of which are excellent for steaming. The fish fillets are marinated with the spicy and fiery Cajun spice before steaming and then topped with the rich, vibrant Creole sauce. Serve with steamed corn like I did (also cooked in the Intellisteam) or some coconut rice for the perfect spring/summer meal. A glass of chilled white of course to complete the experience!
Since I love to make spice blends at home, I have used a homemade Cajun spice mix but you can use a store bought one too. The recipe provided below will make more than you need; the remaining can be stored in an airtight container and can be used as a seasoning for steaming/grilling/baking seafood, meat or veggies.
The Creole sauce is traditionally a stove-top preparation but I have adapted it to be cooked in the Intellisteam. You can also make this in larger quantities and store for upto 4 days in the refrigerator; an excellent sauce for seafood and meats.
So let's get steaming….Blue Grenadier with Creole Sauce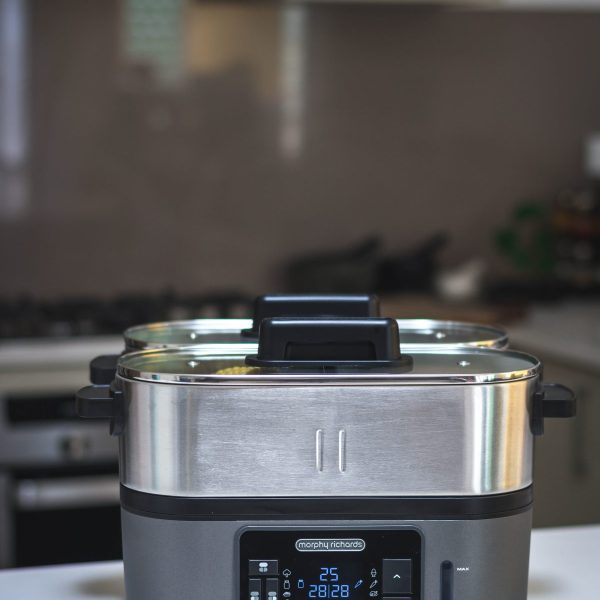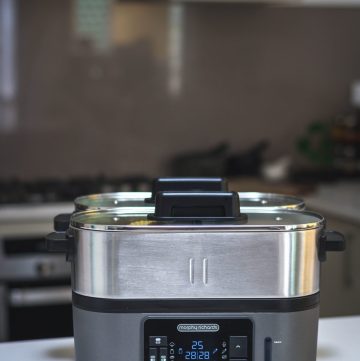 Print Recipe
Blue Grenadier with Creole Sauce
Place one fish fillet on a plate and spoon over the sauce and garnish with chopped parsley leaves. Serve the corn cob on the side with a sprinkle of Cajun spice seasoning. Enjoy!
Ingredients
2

large Blue Grenadier fillets

approx 300gms; skinless

1

tsp

Cajun spice

2

tsp

olive oil

Salt

to season

2

tbsp

parsley; chopped

for garnish

1

large corn cob; divided into 2 small pieces
Cajun Spice Mix:
30

gms paprika

15

gms black pepper

1

tbsp

cayenne

1

tbsp

garlic powder

1

tbsp

onion powder
Creole Sauce:
1

small onion; finely chopped

2

small garlic cloves; grated

½

green bell pepper/capsicum; finely chopped

1-2

celery sticks

approx 50gm; finely chopped

2

large ripe red tomatoes; chopped

canned tomatoes can also be used

½

tsp

Cajun spice mix

½

tsp

dried thyme

1

tsp

dried basil

if fresh, use 4-5 leaves

1

tbsp

red wine vinegar

½

tsp

Tabasco/hot sauce

optional

Salt

to season
Instructions
Clean the fish fillets; remove skin and bones if any. Pat dry.

Add the Cajun spice, oil and season with salt. Rub well all over the fish fillets and keep aside for 10 minutes.

Place the fillets on aluminium foil and cover to create a packet (preserves juices and keep fish moist) and then place inside the rear container in the steam tray.
Cajun Spice Mix:
Combine all the spice powders thoroughly and store in an airtight container. Keeps for atleast 3 months when stored in a cool, dry place.
Creole Sauce:
Finely chop all the ingredients either using a food processor or by hand and place in a non-reactive bowl.

Add the seasonings; Cajun spice, thyme, basil, red wine vinegar, salt and Tabasco; mix well to combine.

Place the mixed ingredients in the sauce bowl.

Keep the sauce bowl in the left side of the divider wall in the front container.
Intellisteam settings:
Set time for the fish in the rear container using the fish preset (20 minutes)

For the sauce in the left side of the front container, set time using the sauce preset (30 minutes)

For the corn in the right side of the front container, set time using the root vegetables preset (28 minutes)
Notes
Store the excess Cajun spice mix in an airtight container
Disclaimer – This post has been bought to you in collaboration with Morphy Richards. All the musings, opinions, recipe and photographs are entirely mine.