Thai style Steamed Mussels – another delicious dish made in my new Morphy Richards Intellisteam that's perfect for Australian summer!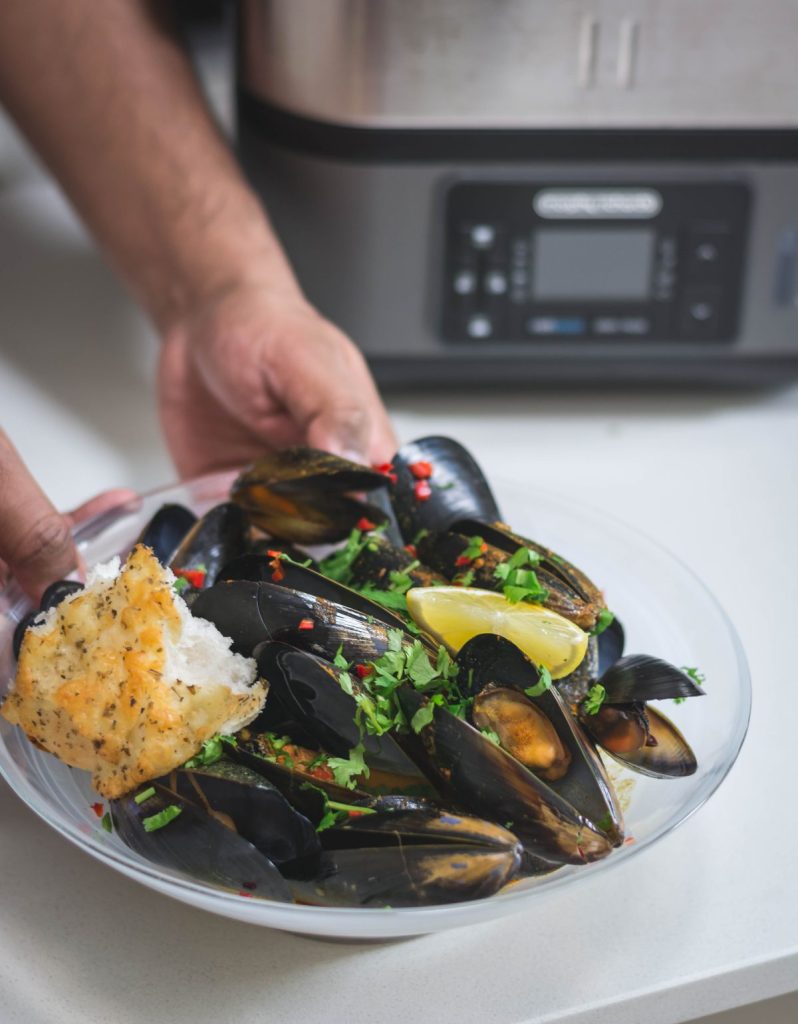 I received a lot of DMs and messages regarding the new Morphy Richards Intellisteam after the review post was published. Haven't seen it yet? Then you must definitely check out this post and then head back here to get the recipe for another delicious dish that you can make in the Intellisteam.
Even though I have provided a detailed review of the Intellisteam in my previous post, let's take another look at its key features;
3 individual stainless steel chambers with glass lids; also comes with BPA-free steaming accessories so that an entire meal can be cooked at the same time. The accessories include steaming shelf, rice tray/bowl, 2 sauce bowls.
All the food gets ready at the same time – the chambers/components have different controls which mean that you can set a different time for each and hence all the food finishes cooking at the same time.
6.8L capacity – the large capacity ensures that an entire meal can be cooked for an average sized family.
Keep warm option – The digital control panel allows you to set your own cooking times or you can use any of the pre-programmed options including the 'keep warm' option. No more cold dinners or re-heating required!
Dishwasher safe – Except the base, all the individual components, chambers and accessories are easy to clean and dishwasher safe.
Lightweight and compact – It was surprisingly lightweight with a compact design that made it convenient whether displayed on the kitchen counter or stored away in a cupboard.
Easy to use – The instructions provided in the manual are clear and concise which makes the Intellisteam very easy to use. I personally dislike appliances that are not straightforward but no such complaints with this one.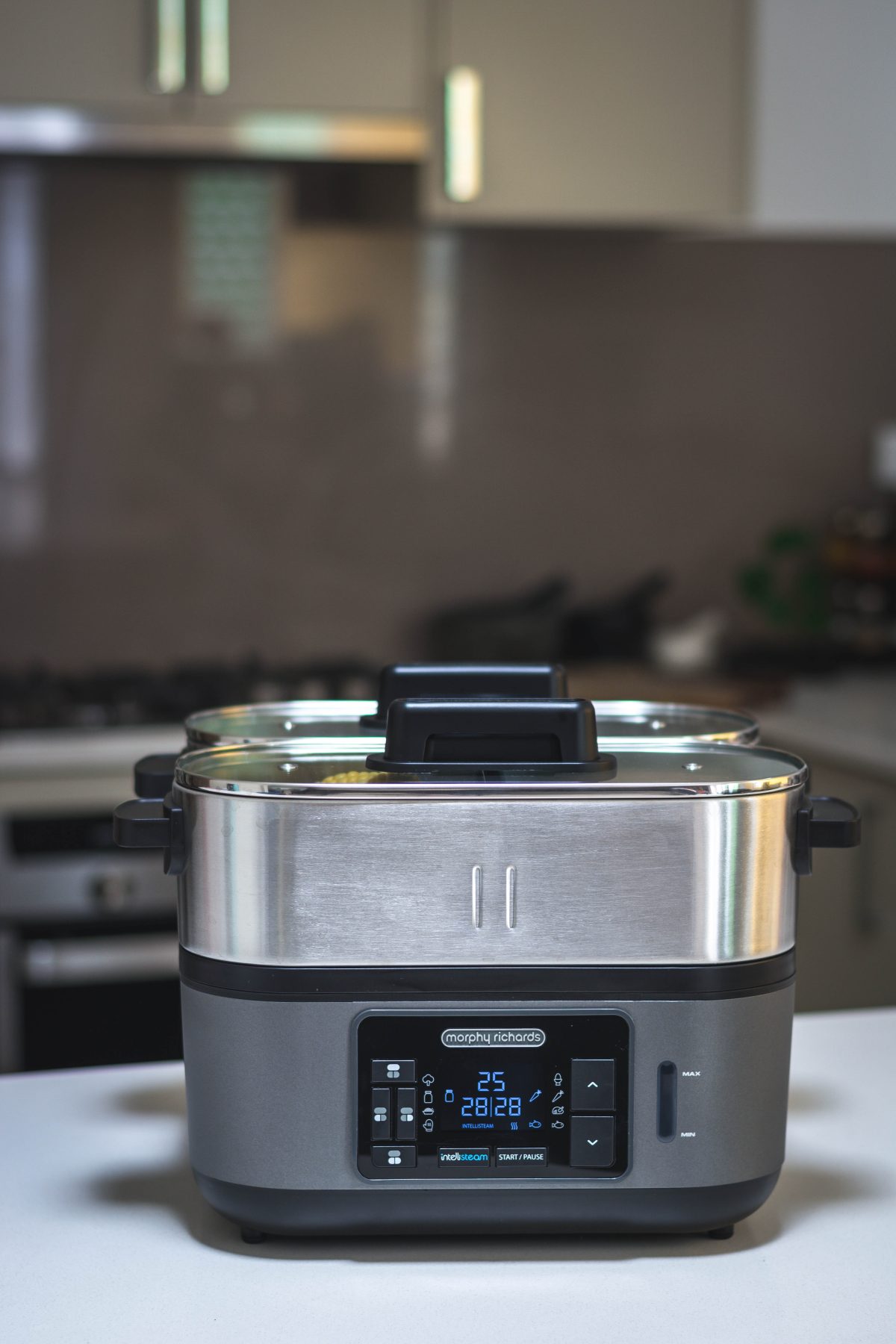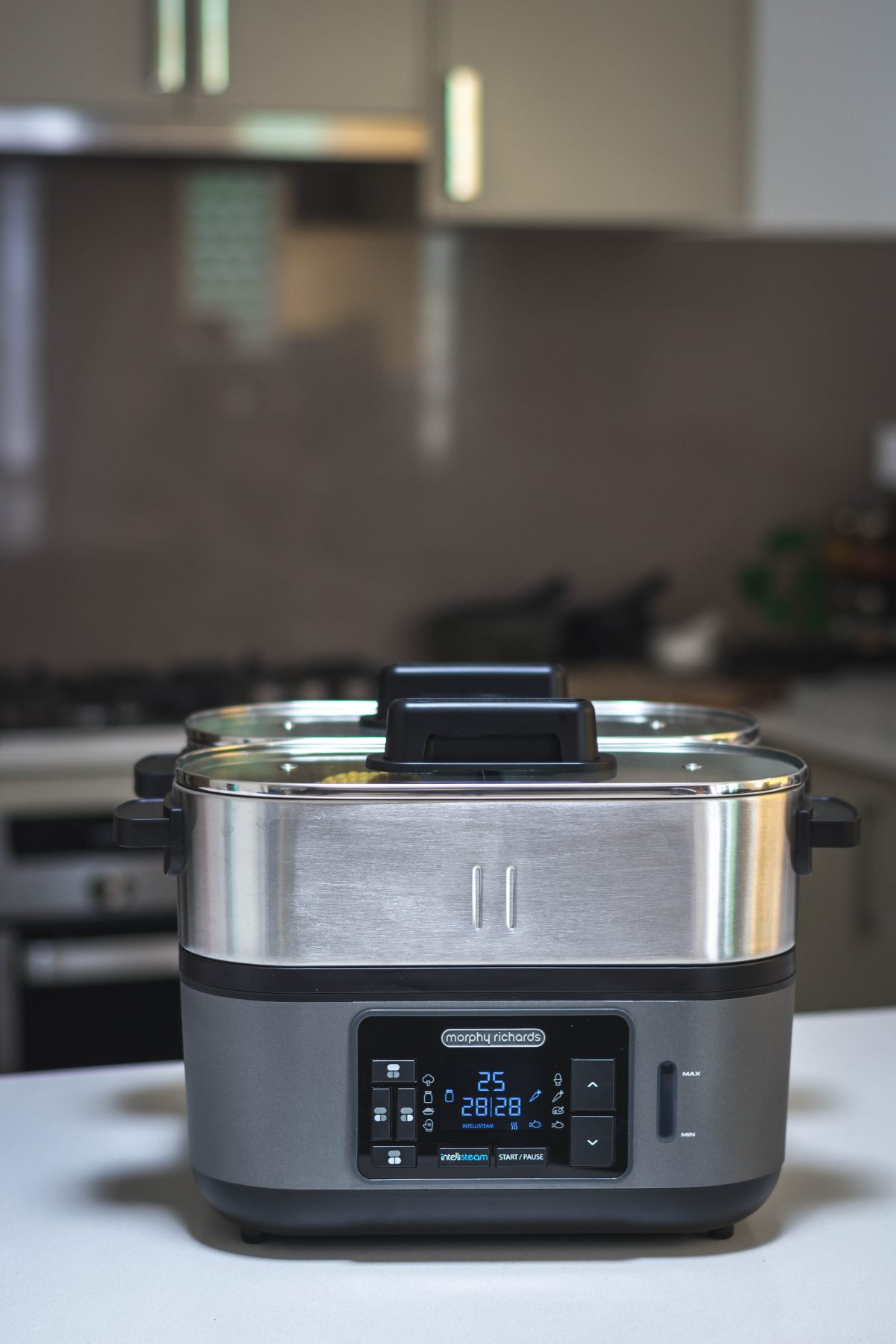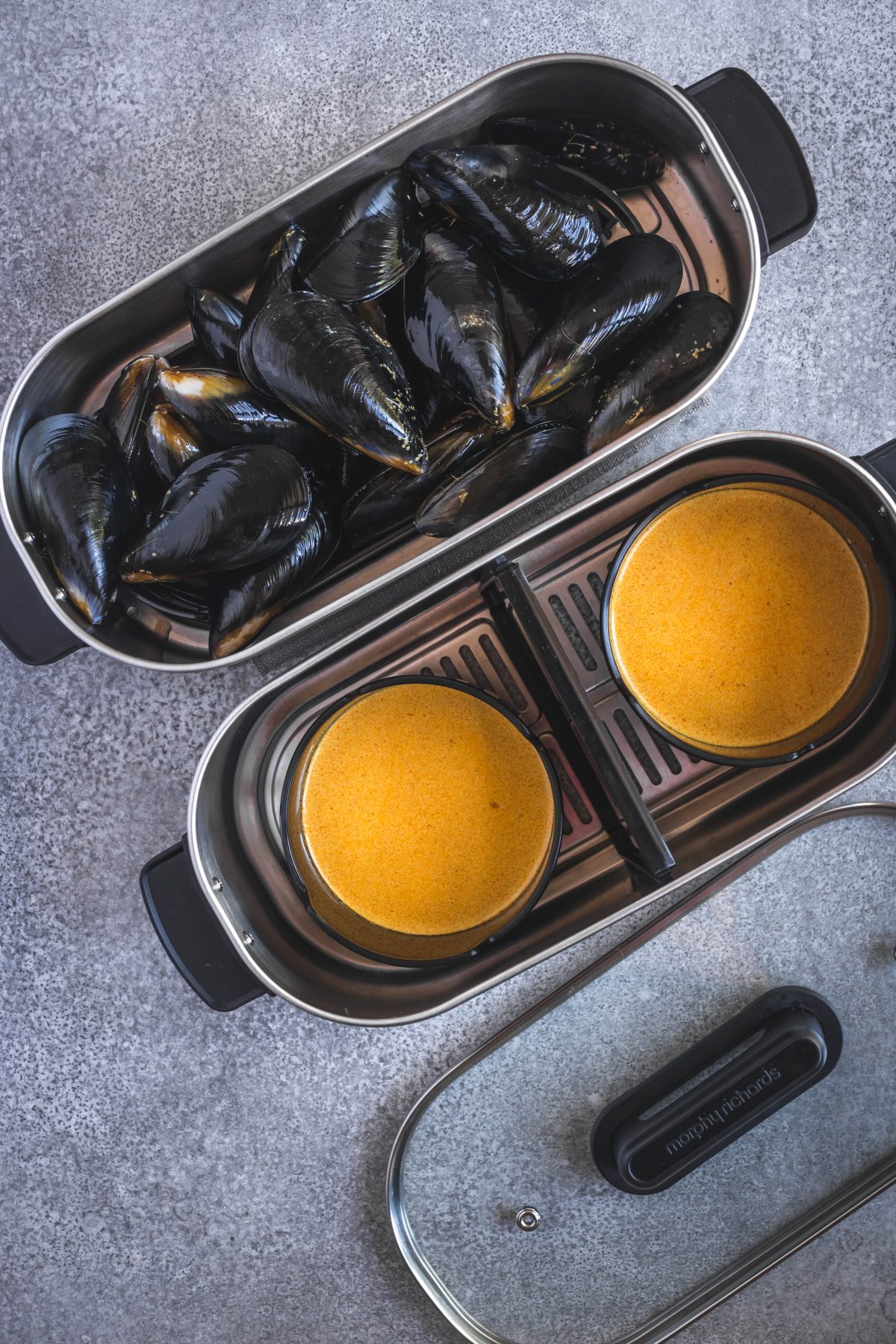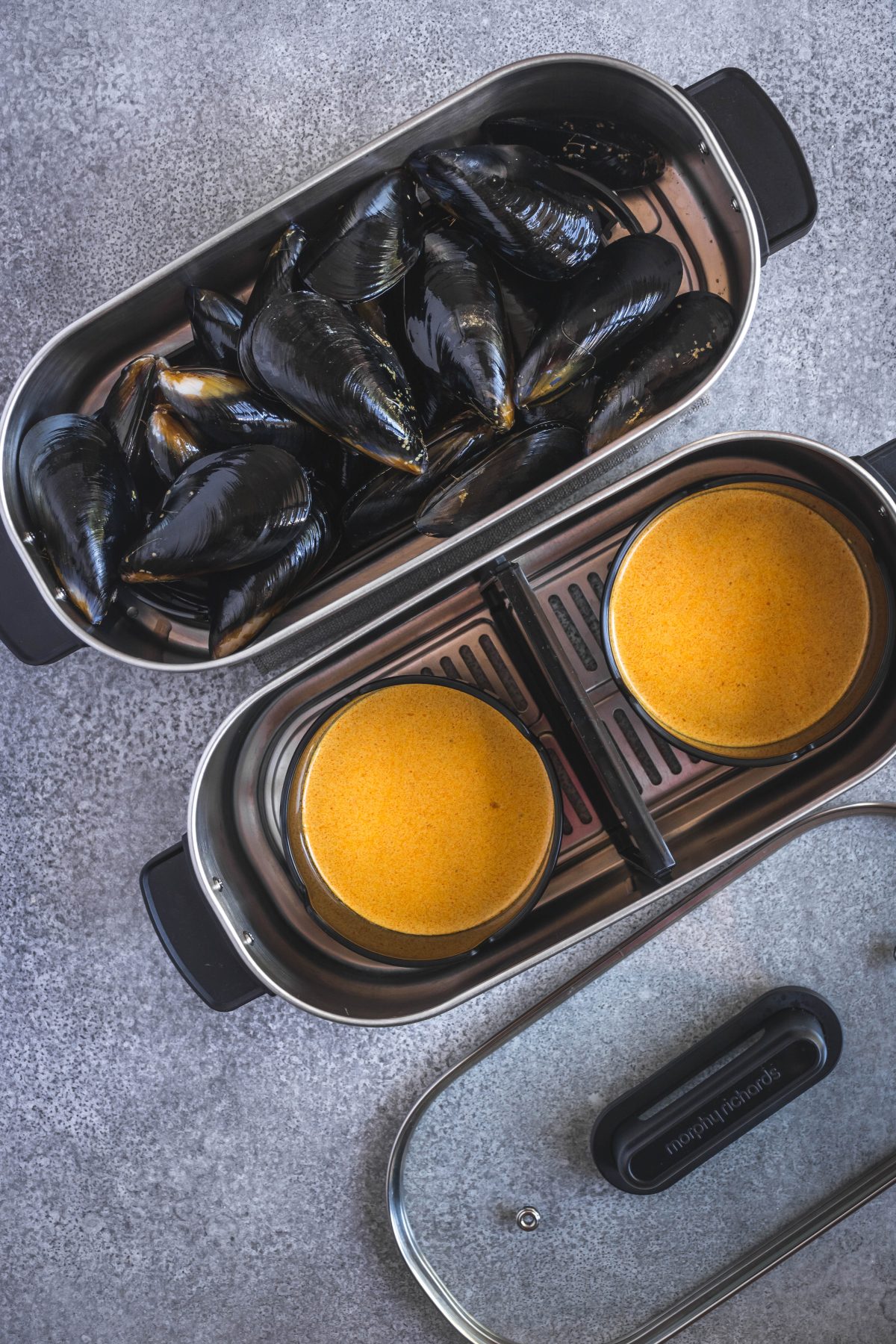 Apart from cooking full meals, the Intellisteam is a great time-saver when used in combination with other cooking methods too.
As part of my weekly prep, I steam a variety of different vegetables, meat and seafood to be used in different dishes. The large capacity ensures that I can get the job done faster and using just one appliance rather than several different pots and pans.
Plus we all know the benefits of steaming foods!
Getting to today's dish, I love steaming all kinds of seafood but I especially enjoy steaming shellfish like mussels, clams, pippis etc….
With Christmas and the holidays approaching, there is an abundance of fresh Australian mussels in the market and I decided to make full use of it and make these Thai style Steamed Mussels.
This is an extremely simple recipe, in fact one of the easiest that you can make in the Intellisteam. Unlike a traditional Thai preparation, this one comes in under 30 minutes. You can use a homemade yellow curry paste or a good quality store bought one.
The only thing to take care while making these Thai style Steamed Mussels is not to overheat the coconut milk sauce or it will curdle. The default sauce setting on the Intellisteam is 30 minutes but for this dish, you only need 6 minutes; essentially just warming the sauce through.
You can use this same recipe for clams and pippis also…will be just as delicious. Don't forget some fresh bread to accompany to enjoy the delicious sauce. Some chilled beers also to accompany these Thai style Steamed Mussels.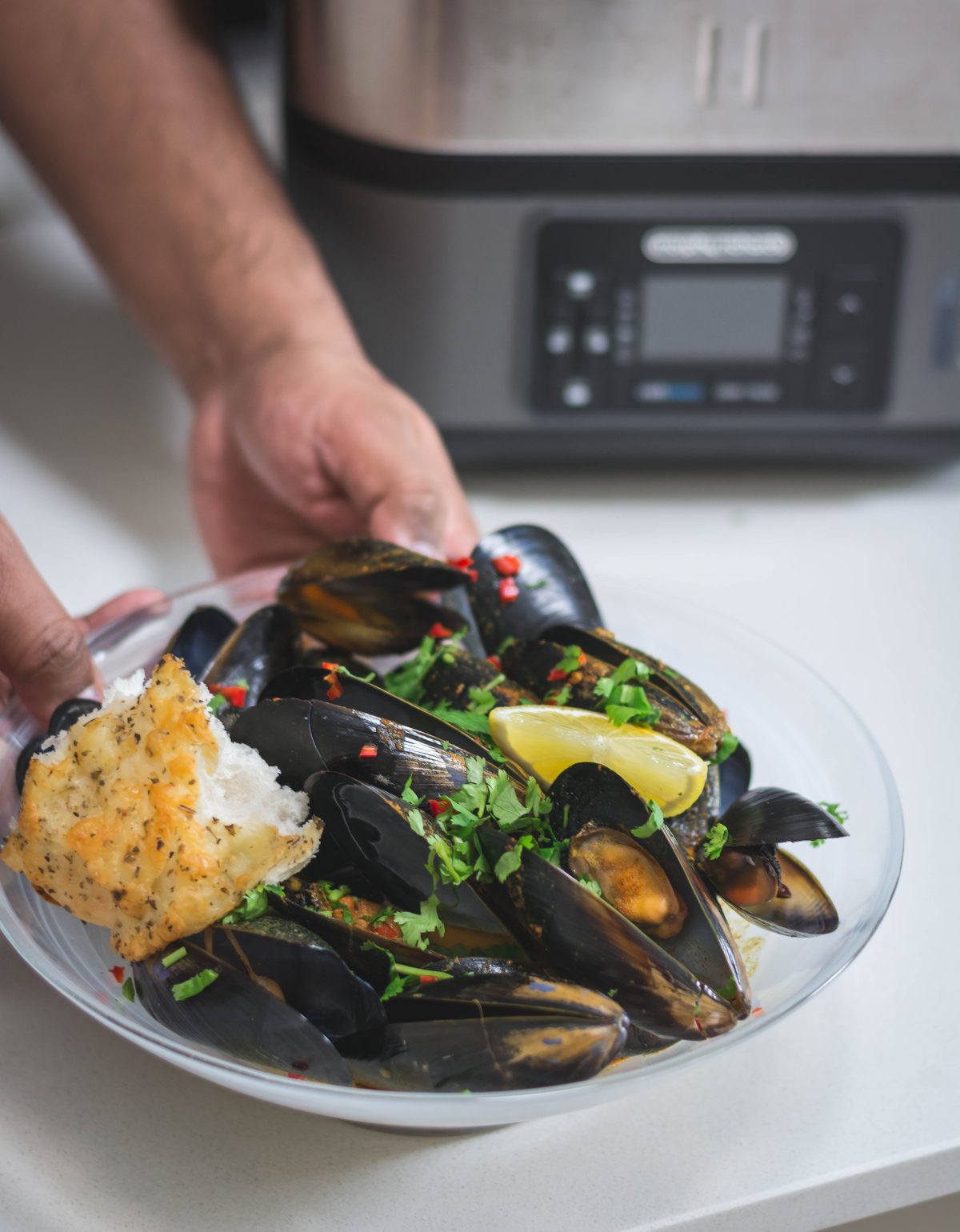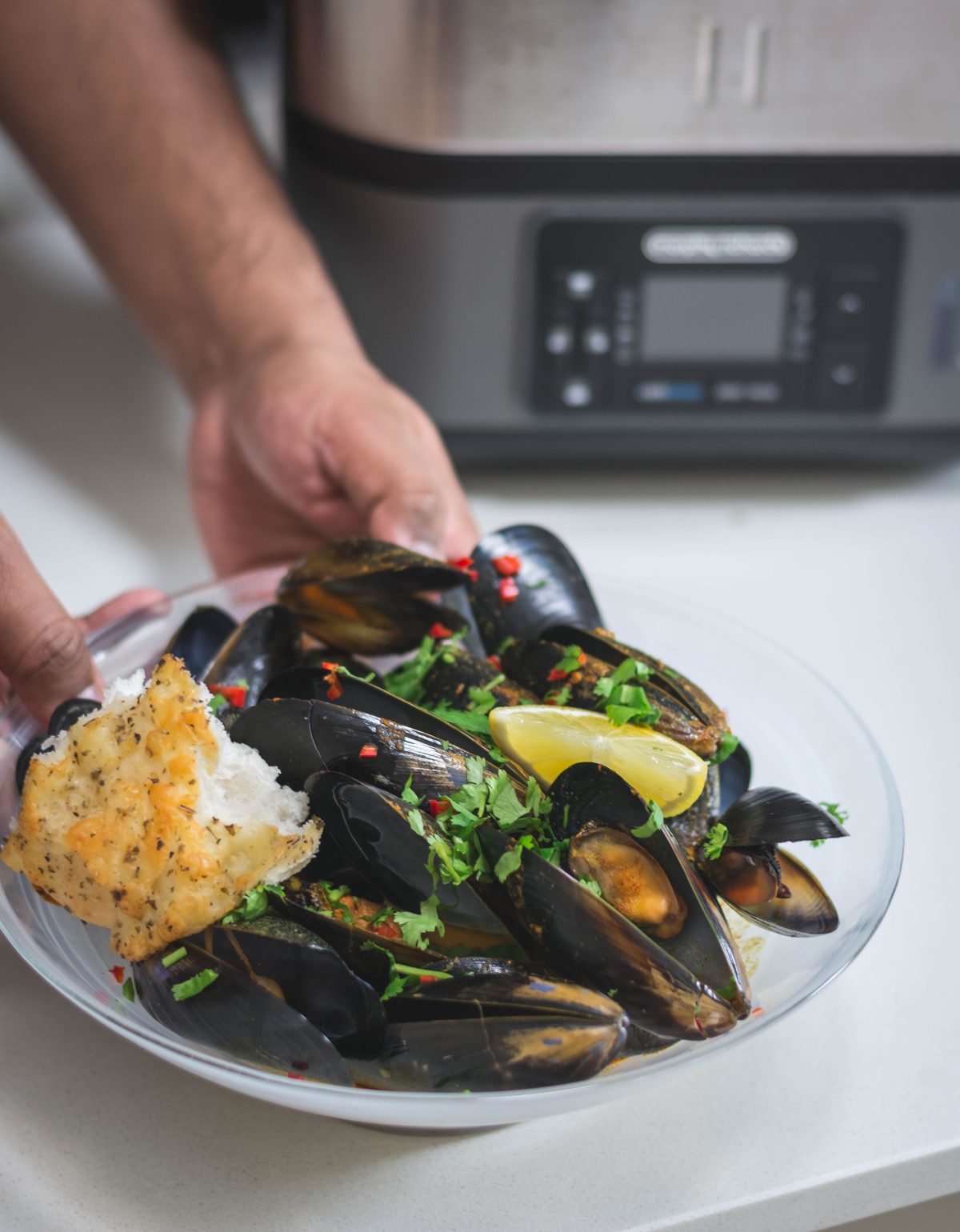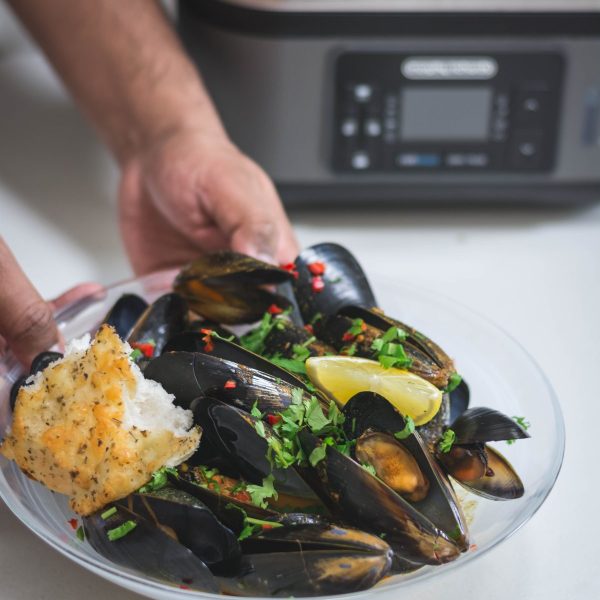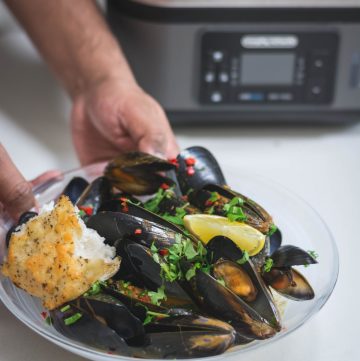 Print Recipe
Steamed Mussels with Thai Yellow Curry Paste
Ingredients
1

kg

mussels

2

tbsp

Thai yellow curry paste

1

can coconut milk

400 ml

Fresh coriander leaves; finely chopped for garnish

1

red chilli

less heat variety; finely chopped for garnish

A wedge of lemon
Instructions
Sort and clean the mussels well. Scrub the shells if any dirt is present, remove the beards if any and also discard any mussels with shells broken. Wash and drain well.

Mix the yellow curry paste in the coconut milk till dissolved well. Divide equally between the two small pots and place into the front container.

Place the mussels in the rear container.

Set the time for the mussels using the fish preset (20 minutes) and adjust to 17 minutes.

Set the time for the coconut sauce using the sauce preset (30 minutes) and adjust to 6 minutes.

When ready, discard any mussels that have not opened. Transfer the remaining to a bowl.

Pour the sauce over the mussels and garnish with chopped coriander, chillies and a wedge of lemon.

Serve with crusty bread to mop up all the delicious sauce.