My desire to experience and try out international cuisines stem largely from the curious travel bug inside me. Both me and my husband are avid travelers though we really haven't seen/travelled as much as we like. But we are always planning about the next trip; both of us love visiting places and experiencing the culture, traditions, history and culinary delights of the region.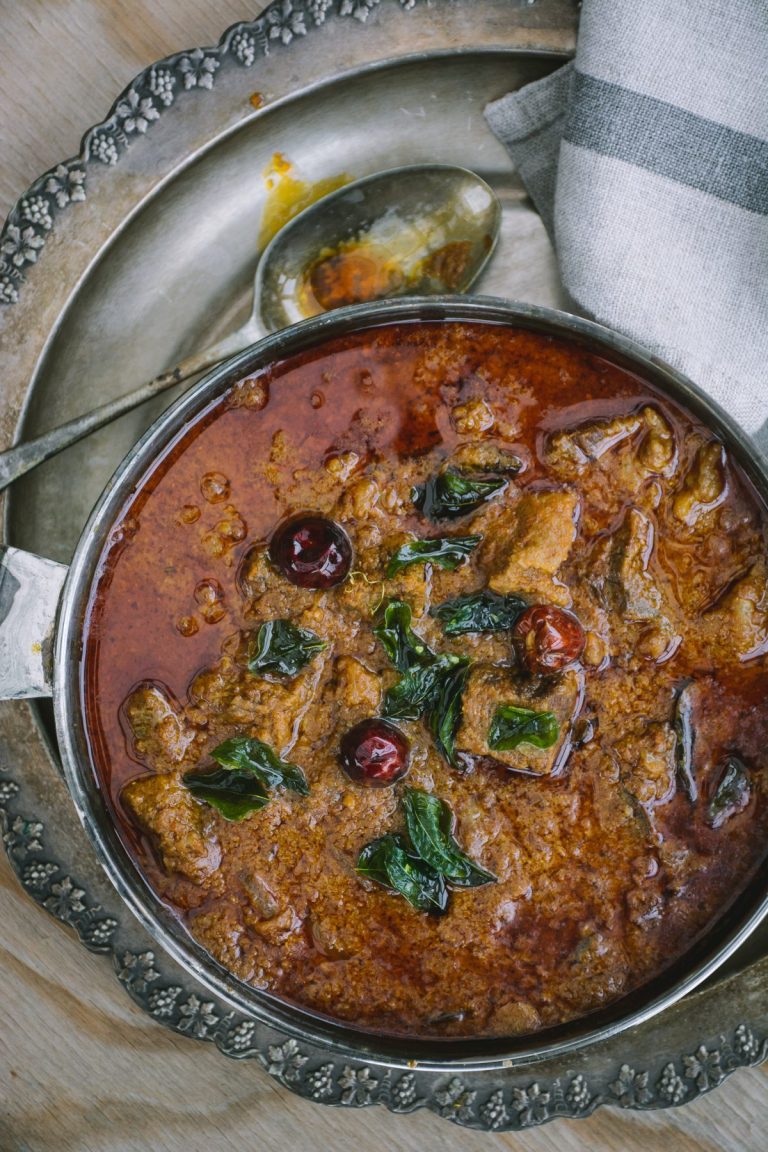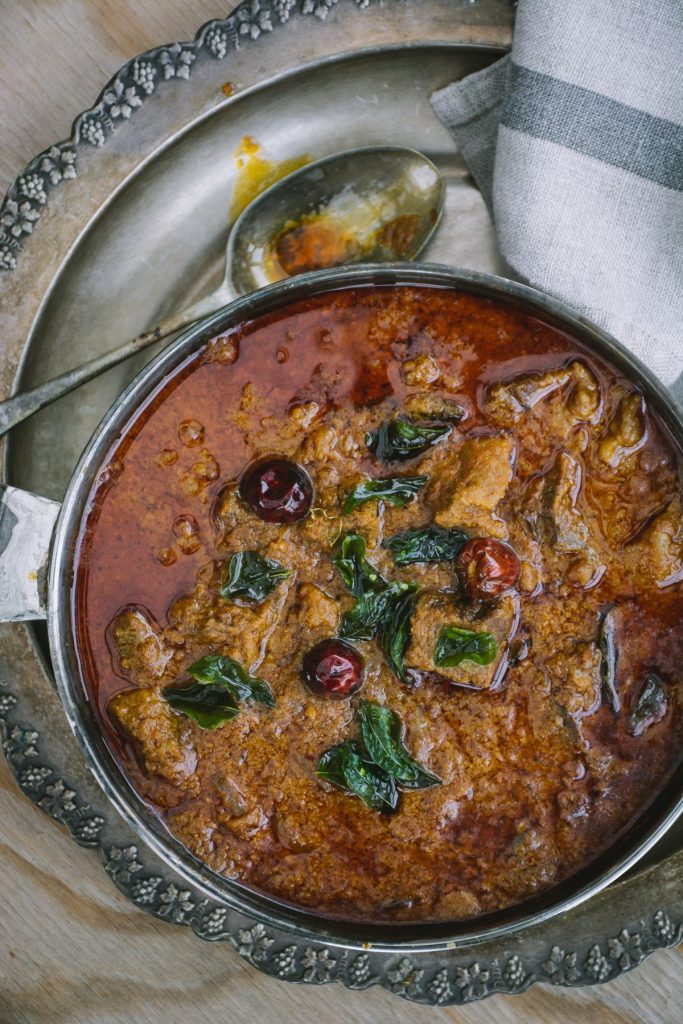 Right now, having just migrated to a new country, we have put our travel dreams on hold for a while. And this is why I am constantly looking for international cookbooks in the library – books which will not only give me a glimpse into the food but also the history and culture of a particular region or country.
During my last trip to the library, I came across a cookbook focusing on Botswana and sub-Saharan African food culture. The book 'Mma Ramotswe's Cookbook' by Stuart Brown weaves the different foods from the region as a narrative through the eyes of Mma Ramotswe, a colourful lady detective who believes in being 'traditionally built'. Now I scoured through the book wanting to re-create a dish from the region but to my surprise, this is the dish that caught my attention the most – A Madras beef dish in an African cookbook. It's a small world indeed!!
There is no way I was not going to make this dish at home…and so here it is. This beef dish is spicy, tangy and sweet – the typical Madrasi flavours! And this is the first beef dish I have done in my life which uses tamarind.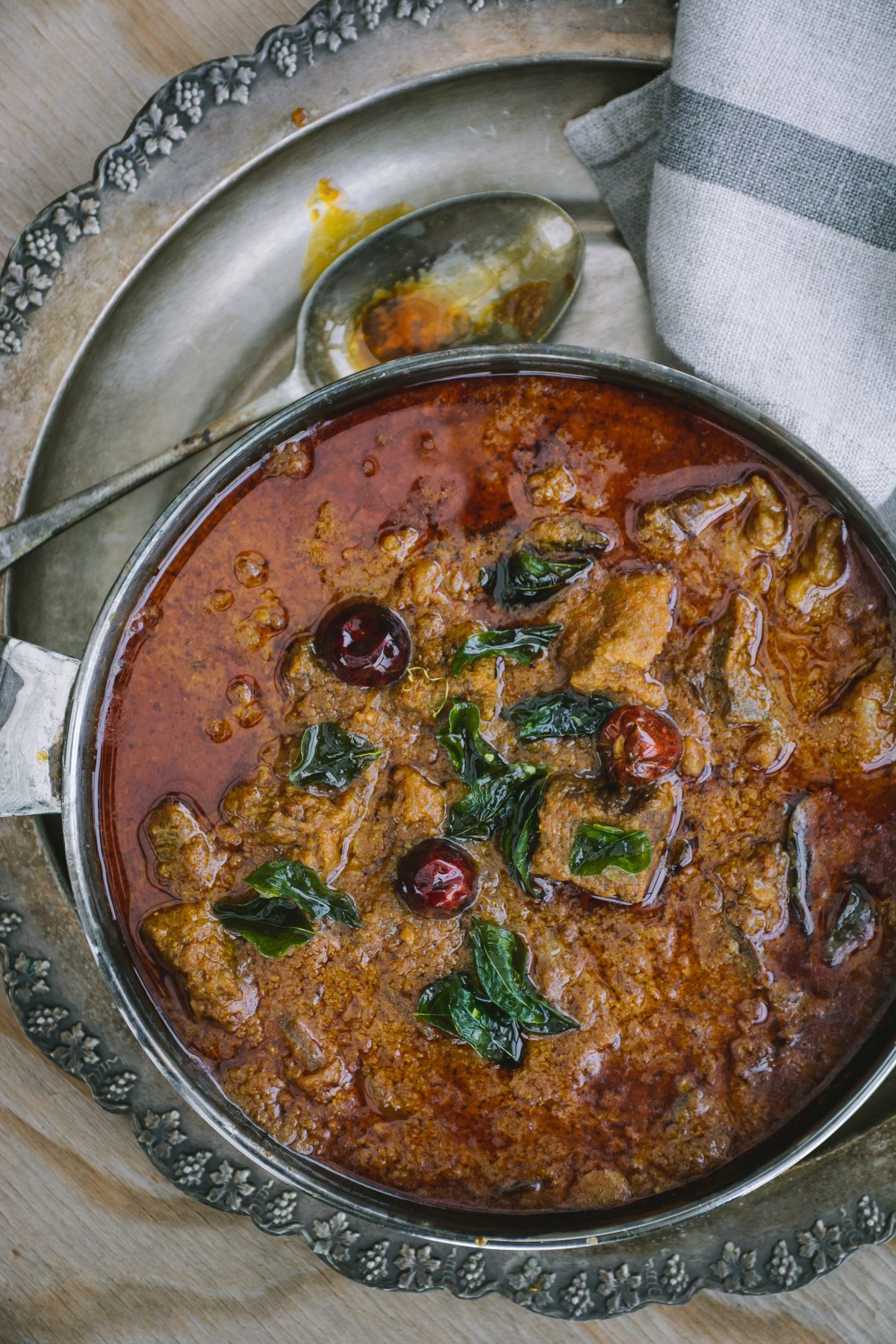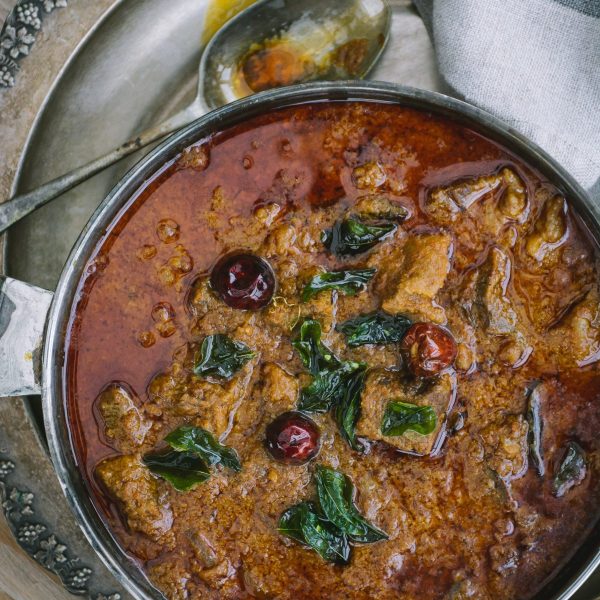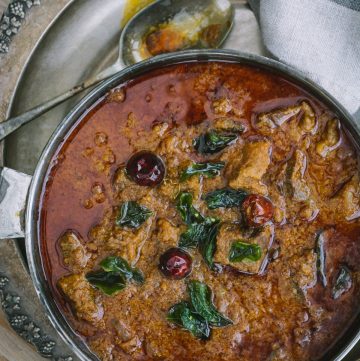 Print Recipe
Dr. Moffat's Beef Madras
Ingredients
Diced beef – 500 gms

Fresh coconut – 1 cup

grated

Ginger – 1 tbsp

grated

Onion – 2 large

sliced finely

Tamarind concentrate – 1 tbsp

Cumin powder – 1 tsp

Coriander powder – 2 tsp

Smoked paprika

if not, use kashmiri chilli powder – 2 tsp

Tomatoes – 2 ripe

diced

Mustard seeds – 1 tsp

Vegetable oil – 2 tbsp

Garlic – 3 cloves

crushed

Turmeric powder – ½ tsp

Red chilli powder – 1 tsp

Curry leaves – a big handful

Salt

to season
Instructions
Blend coconut, tomatoes, ginger, mustard seeds and tamarind into a paste.

Heat oil in a large heavy bottomed vessel and sauté the onions and garlic till light brown.

Add the spices and cook till the rawness goes and oil clears.

Add curry leaves, beef, coconut mixture and enough water to cook the beef.

Close the lid and cook for 1 to 1 ½ hours till the beef becomes tender and juicy. Stir occasionally and check for water content. The final dish must have a thick gravy consistency.
Notes
You can prepare this dish in a pressure cooker also. Carry out steps 1-4 in a PC, close the lid and cook for 4-5 whistles or more till the beef is tender. Add only 1 cup water if cooking in a PC.