When you open a bottle of Eat me Chutneys, you not only open a bottle of deliciousness but also sustainability, fairtrade and social ethics.
Meet the Chopras – the tour de force behind this epic social project.
Jaya Chopra is Mom and the self-professed chutney queen who along with her husband (who is often dubbed the labelling machine but is actually the herb grower for the project and her son Ankit Chopra, the corporate world drop out turned Michelin trained chef.
Most of you who have been following my blog for a while know how much I appreciate and encourage small local businesses like these. So it's not fair that only I get to enjoy these gorgeous chutneys; let me share their story with you folks too.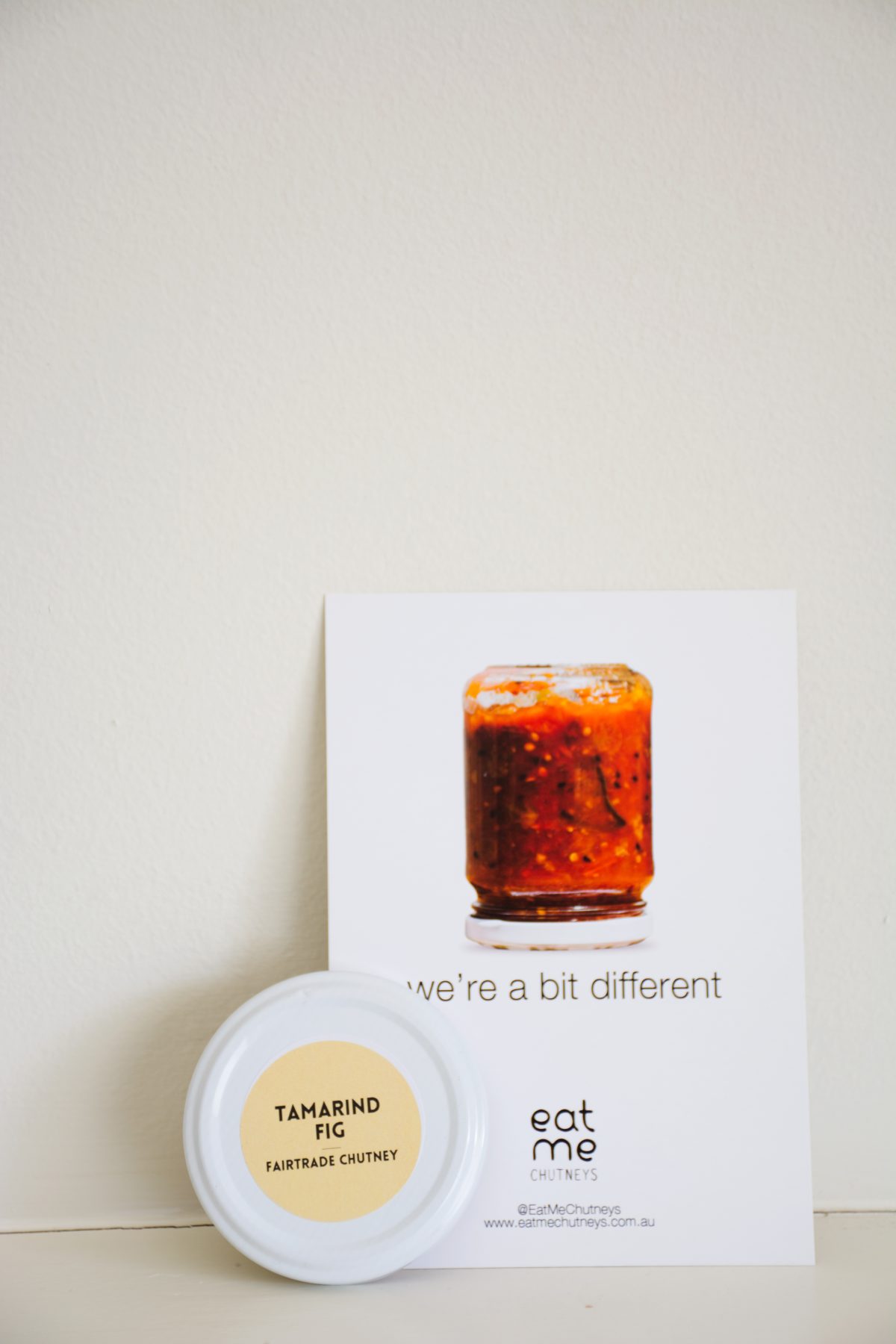 The logic behind Eat me Chutneys is a simple one. Rescue all those bruised, overly ripe or what-we-call-ugly fruits and veggies from local vendors and convert it into lip smacking chutneys and preserves. But in the process, they manage to do a whole lot of other things which is what makes this company rather unique.
Now you guys know that I will not make a recommendation without trying out the product. So I purchase two chutneys from the range – Tomato + Kaffir Lime and ofcourse, Tamarind + Fig Chutney.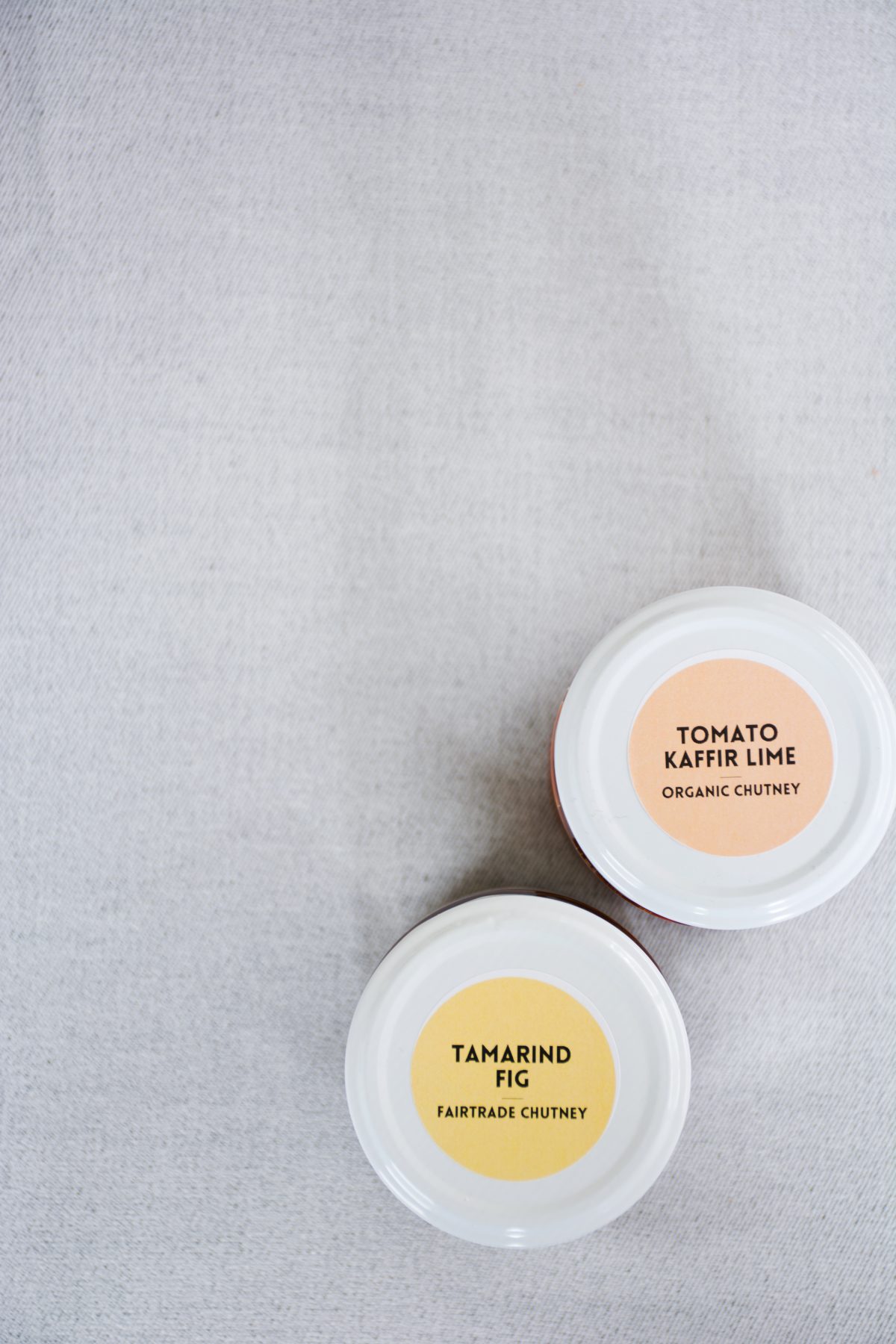 And yes, both of it appealed to the chutney lover in me but I must say I am bit partial towards the tomato one because that's one of my favourite chutney flavours (can't help it!). We enjoyed the chutneys in many different ways – with regular Indian meals, as a topping, sandwich spread, on the cheese board etc…

The story of Eat me Chutneys began when Ankit's mom decided to kickstart her retirement plan of making and selling her signature Tamarind + Fig chutney. What started as basic research for procuring their raw produce eventually turned into a project for understanding where the ingredients were coming from and who were growing it. And eventually they made the switch to Fairtrade and organic – in fact, their tamarind chutney is Australia and New Zealand's first and only fairtrade chutney!!
Impressive, isn't it? Excerpts from my interview with Ankit……
Research for a project like this would have been immense; how did you go about it?
More than research, we'd like to refer to it as following our intuition and exploring things that make sense to us. Looking for organic alternatives for sugar and spices was not because we wanted to craft organic chutney from the get go. It was more to do with our belief that organic/biodynamic farming are better alternatives to conventional farming and ultimately better for the planet. Similarly in other facets of the business, having a core value behind every decision makes us follow through with our research very easily in spite of the time it might take. Everything just happened organically .
A Michelin-trained chef making chutneys is not the most common sight. Do you think the chef training has helped you in this journey?
The discipline, thought process and techniques that I learnt in the kitchens in Paris especially at the 3 starred Michelin restaurant I trained at is all somehow creeping into the chutney jars. In addition, the work ethic of the chefs in France is crazy. Whilst the world around us sees plenty of chefs jump onto book and TV deals some of the chefs I worked for, never left a single service. Pure poetry! However, something even more important is the work ethic that mum and dad have instilled in us – that wisdom passed down generations; those old school ways of doing things and the buy once and use it for a long time attitude. These somehow round up what makes Eat Me Chutneys, the little adventure it is.
'She is mum and she is the Chutney Queen' – so how is it working with the queen bee?
In fact, I'll extend the question to how is it like working with mum and dad, as co-founders of Eat Me Chutneys. Of course with mum, I'm learning the art of handling spices with restrain. She's been passed down our heirloom recipes that I am lucky to learn. As for Dad, he still grows herbs for our chutneys and so the appreciation for growing our own food comes from him. These two things easily make it bloody exciting for me and at times downright entertaining.
Are all recipes developed by your mum or do you don the Chef's hat from time to time?
Most chutney recipes are in development phase for weeks till we settle on something that we all think is epic. We may start with a French technique for say 30kgs of quinces and end up using one or two spices to go in it. Or we may start with a style of preservation that mum's mum taught her and the French training in me will morph it to something quite funky. It's all a bit of everything and there is no set process either. Happy days.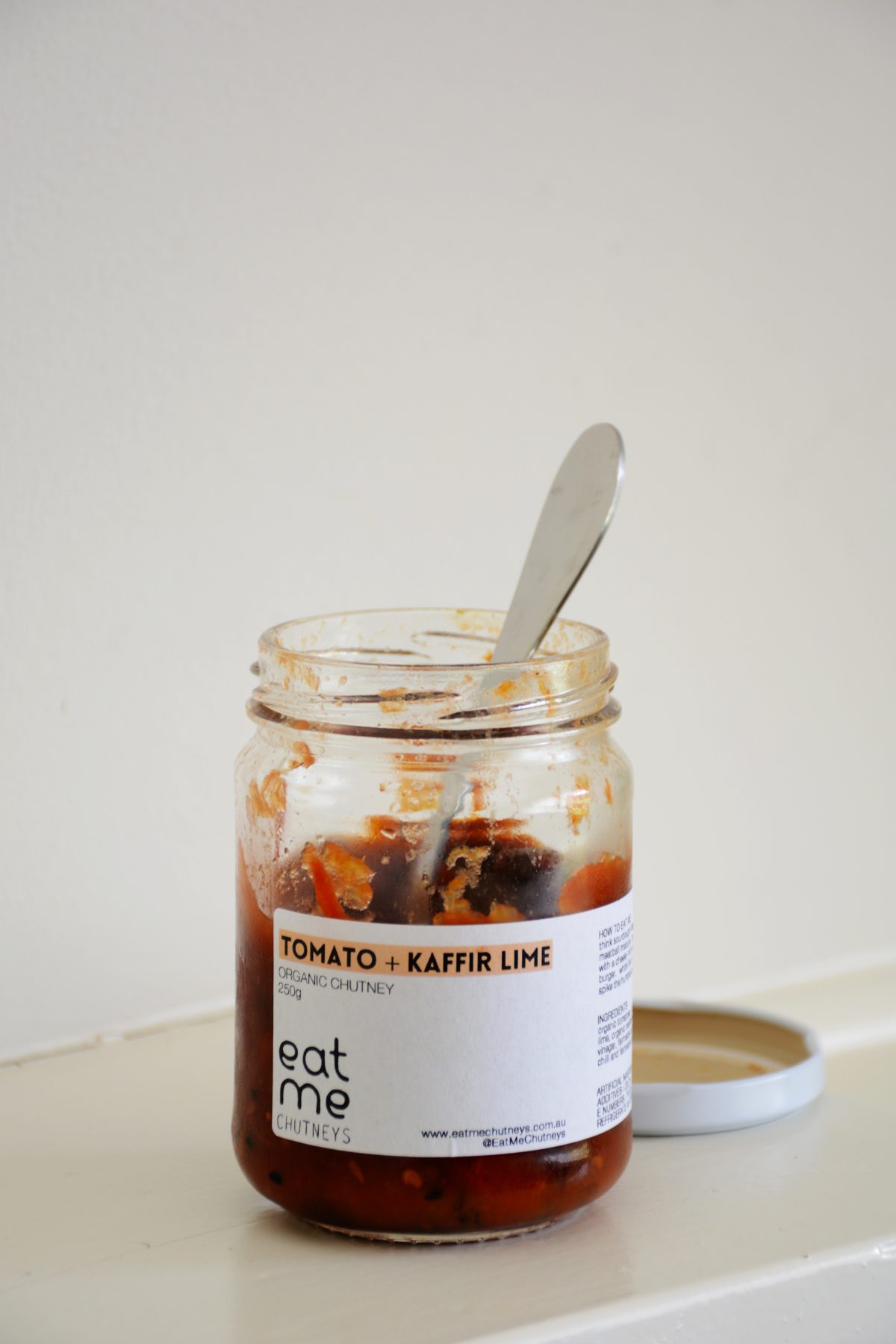 Where do you source the 'wonky' yet gorgeous produce from?
We work with numerous farmers that provide all the gorgeous produce for the chutneys – without epic produce there will be no chutneys. So really the heroes are the farmers.
Fairtrade is a term that we hear quite often these days. But most of us aren't still aware of what it truly means or its significance in everyday life. Can you elaborate a bit and what makes Eat Me Chutneys a Fairtrade business?
Fairtrade is about stable prices, decent working conditions and the empowerment of farmers and workers in developing nations – it's about supporting the development of thriving communities and protecting the environment in which they live and work.
Much the same way that we as manufacturers are required by Fairtrade certification system to hold up to complete transparency in our supply chain and annual audits, the Fairtrade farmer co-operatives that supply the ingredients are held to equally high standards of transparency. This is what makes the Fairtrade movement thrive.
For our Tamarind chutneys since all ingredients were imported we spent nearly a year exploring where the ingredients were actually coming from, how the farmers behind these ingredients were being treated etc. This research phase allowed us to switch to Fairtrade and organic equivalents and in the process made our Tamarind chutneys Fairtrade certified – only company in Australia/New Zealand with certified Fairtrade chutneys.
What were the challenges that you faced in this journey?
Like any other small business, we've had our fair share however one that is worth highlighting is when we started out we called our chutneys, rescued chutneys. This took some dialogue and conversations with our customers to explain what we meant by rescued. It's been a glorious journey and more than challenges they've all been learning experiences.
While there are several stockists in Sydney, there are only a couple in Melbourne? Any particular reason for this?
Nope, just that we are a small team and it's easier to reach out to folks in Sydney and go meet them personally. We love meeting everyone that is ever involved with our jars of goodness. We visit all farmers and meet all potential stockists to ensure we all care for similar things. There's School of Life, Craft and Co and The Epicurean folks that have our chutneys in their shops. Yay!
Why is it small local businesses find it so hard to retail at mainstream stores or supermarkets?
Ah, this is a fun one. Perhaps the big stores are not for everyone. A company's ethos will dictate where they might want to head and how. Some companies are perfectly ok to stay niche and never go to the supermarkets. Other than that, the sheer scale of fulfilling their orders and working on their terms can be daunting I'm sure .
There are so many unique flavours in your range. Which is your best selling one? And which is your family favourite?
Without missing a beat, it will have to be mum's Tamarind + Fig chutney!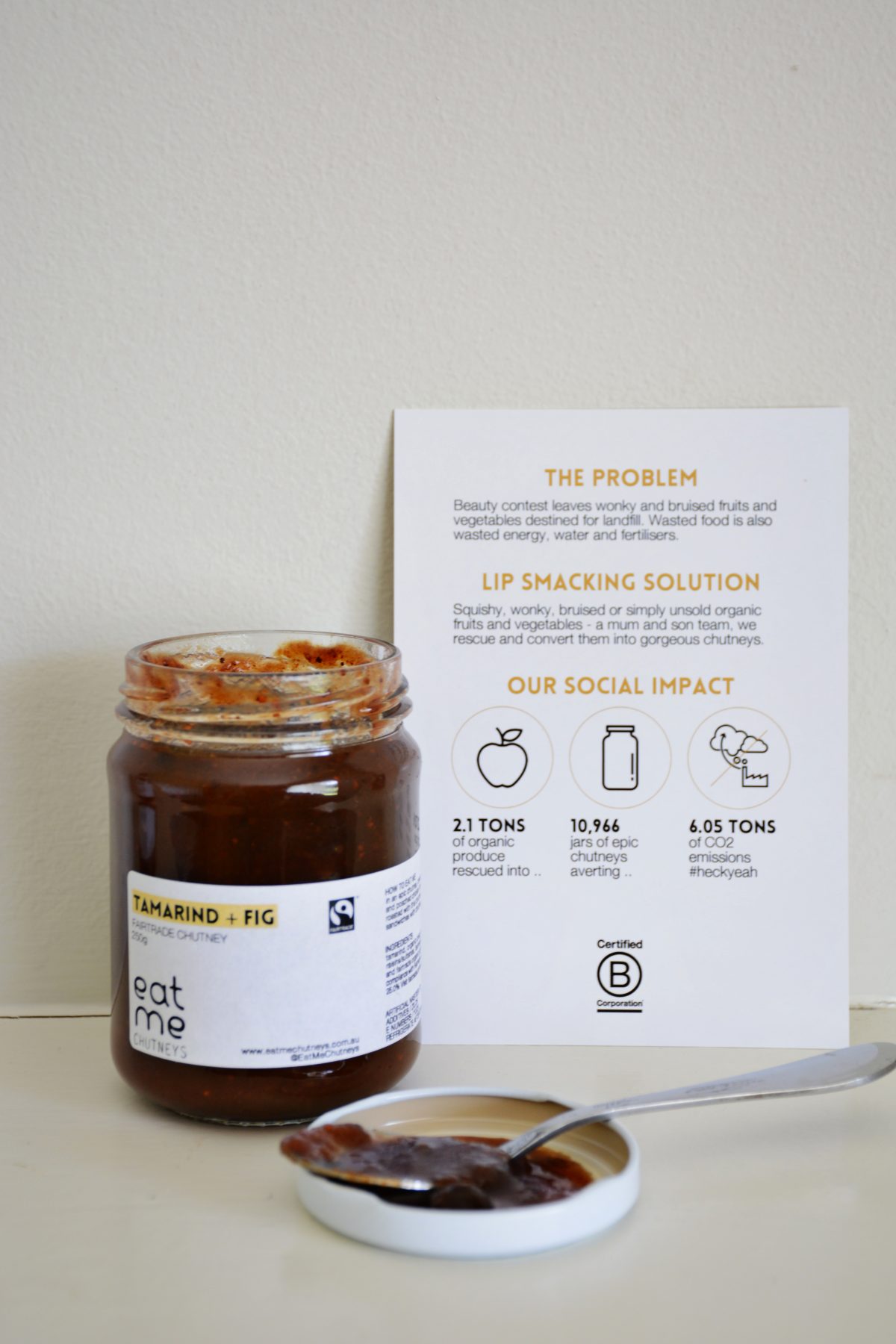 Could you tell us a bit about your cooking classes and what is the best way to get more information about the same? Are these held only in Sydney?
Education plays a huge part in our tiny company. Mum's a primary school teacher by day and she also runs volunteer taste sessions at numerous primary schools whilst I run chutney demo classes with councils here in Sydney. It allows us to show people how chutneys are one way of converting the season's bounty (no matter how ripe or wonky it might be) into something delish, it lets people ask questions, debate and discuss the food system with us and even suggest a flavour combination or two. Such fun!
What are the future plans? More products or expansion plans?
It's all about food waste and how we can use business to tackle this – lots more chutneys and lots more classes and simply lots more fun.
Words of advice to new and upcoming small business entrepreneurs especially those choosing the sustainable route?
Good things take time and awesome even longer – it took us nearly a year of calling folks around the world, trying to translate from say Singhalese to English using Google translator to finally arrive at a point when we got the tamarind chutneys Fairtrade certified. Nothing amazing is quick and overnight, ever.