Have you ever tasted roasted garlic?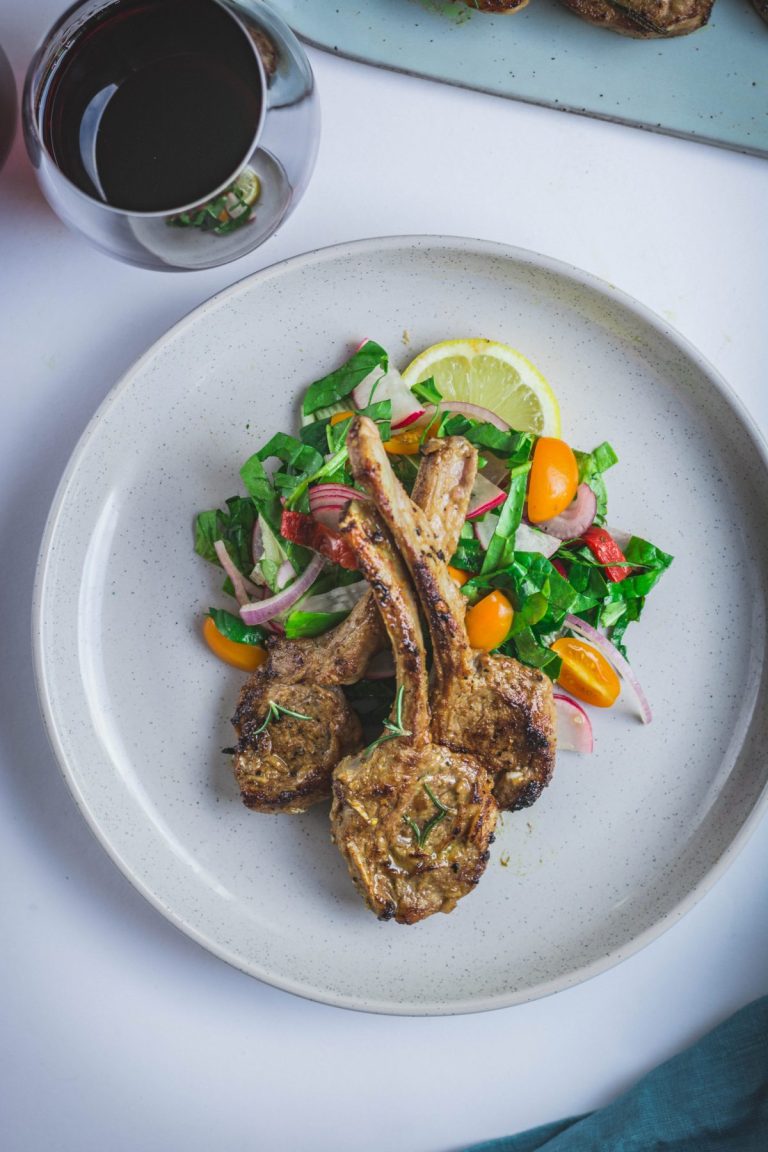 If you haven't, then let me tell you that you haven't experienced one of the most delicious tastes of life.
Roasted garlic is nothing like raw garlic; it's sweet, caramelized, smoky and a whole lot of other flavours that I do not know how to explain. It is still pungent and garlicky, but with a softness that does not burn your tastebuds, instead caresses it and makes it come alive.
It's one of the easiest things to make; place a couple of whole heads of garlic drizzled with olive oil in a baking tray and roast long and slow. No peeling required too; just pop out the roasted garlic from its skin.
Whole or cut garlic heads can be added to roasting trays of veggies or meat for that hint of garlicky flavour without actually putting any into the dish. But today, the roasted garlic pods are used to make a quick marinade that I used to flavour some lamb chops before pan grilling.
Ever since I found the recipe for this roasted garlic marinade on the Whole Foods website, I have wanted to try it out as a marinade and not a dressing (which I have tried before with a simple salad). I did change the recipe a bit to make it more suitable as a marinade, especially for lamb chops.
Lamb chops are one of our favourite cuts of meat; slightly on the expensive side so it's an occasional indulgence. But it has such amazing flavour that can only be enhanced with this roast garlic marinade. As I mentioned, this marinade is a versatile one so you can use it with any kind of meat or a medley of vegetables too; in fact roast veggies tossed in this marinade would be such a delight to tuck into during the colder months.
(Here's another lamb chops recipe that you must try out!)
These grilled lamb chops are an excellent choice for parties as a starter. The roasted garlic marinade can be prepared ahead of time and chops can be marinated overnight. So all that you need to do is grill it just before the guests arrive. The best way to cook lamb chops is to sear or brown on both sides and then finish off in the oven or use just the pan grill for a medium rare finish.
So let's get grilling! And if you try out this recipe, do let me know your thoughts and feedback.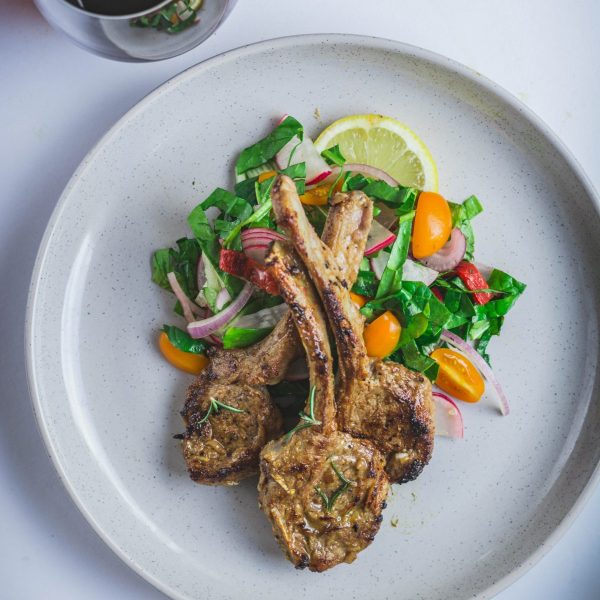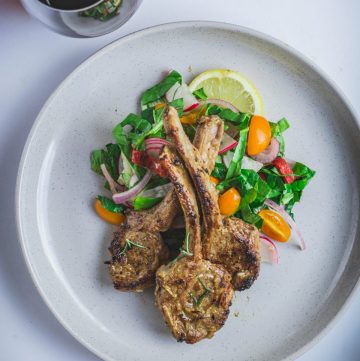 Print Recipe
Lamb Chops with Roasted Garlic Marinade
Ingredients
12

lamb chops

1

large head of garlic

if small, use 2 heads

2

tbsp

olive oil

2

medium shallots; finely chopped

1

tbsp

lemon juice

Salt

to season

1

tbsp

balsamic vinegar

2-3

sprigs fresh rosemary

Freshly crushed black pepper

to season

Vegetable oil; for grilling
Instructions
Preheat the oven to 170°C

Place the garlic head in a baking tray, drizzle with olive oil and cover the tray tightly with foil. Roast for 50 minutes to 1 hour till tender (do check in between).

Allow the roasted garlic to cool lightly and then squeeze out from the skins into a bowl.

Using a fork, mash the roasted garlic well to form a coarse paste. To this add the shallots, lemon juice, balsamic vinegar, rosemary and mix well to combine.

Place the lamb chops in this marinade and season with salt and pepper. Keep for at least 2 hours before grilling.

Preheat the oven to 180°C if using both the pan and oven method.

Heat a grill pan to high and season with oil. Grill the lamb chops (in batches) on either side for 1 minute and then transfer to an oven proof baking tray.

Cook in the oven for another 1 minute for juicy and succulent chops with a blush of pink inside. If using only the pan method, cook the lamb chops for 1 ½ -2 minutes one either side.

Rest the lamb for 5 minutes before serving.