One of the most exciting things that I was looking forward to in 2020 was re-starting my cooking classes in association with Foodie Trails. I was really thrilled about the fact that I could cook and share my knowledge of Indian food with other food lovers.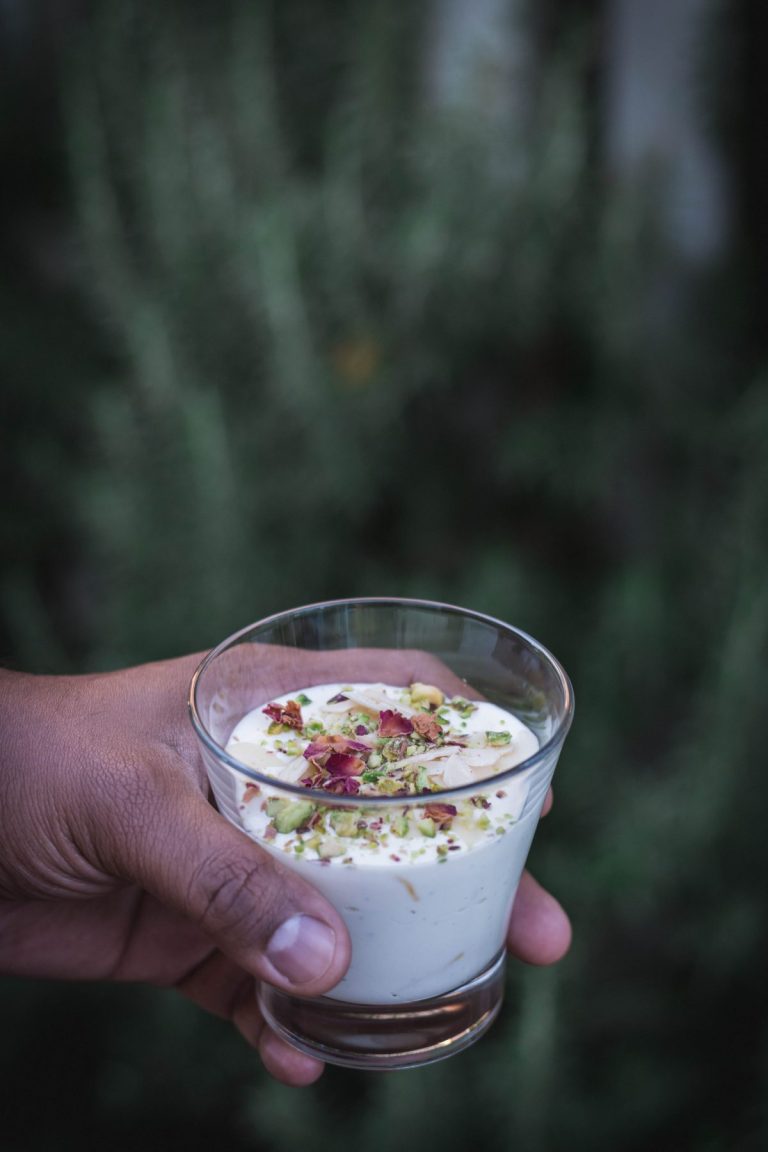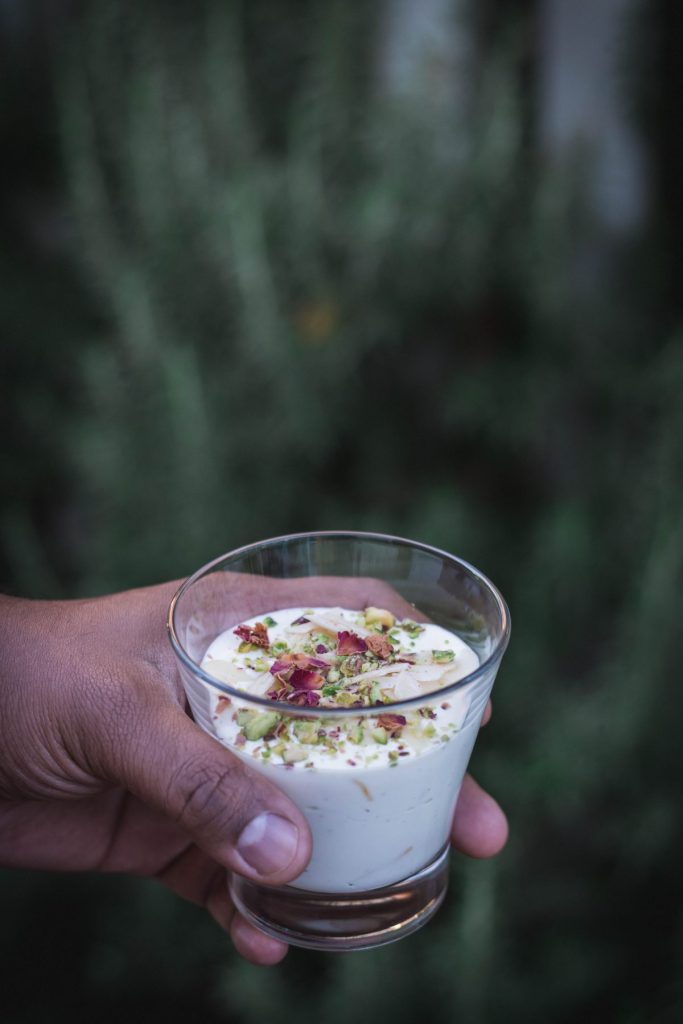 Then the pandemic struck.
It was a difficult pill to swallow initially as I had planned a roadmap of how to take my professional work forward this year. But as they say…."Man proposes, God disposes"
But this also taught me that when one door closes, many others open if we are willing to knock. After a bumpy start, my work took off much better than I expected working with brands and clients that I never thought possible. Many delicious recipes were tested, cooked and photographed, all of which allowed me to share my love and passion for food.
I will definitely start taking classes again but not sure if I will go back to it next year as my professional goals have once again changed directions. So I decided to share one of my favourite recipes from the class with all of you – Kesar Shrikhand.
Kesar Shrikhand, loosely translated as saffron infused hung yoghurt is a traditional Indian dessert. It's one of the creamiest, dreamiest desserts and a personal favourite of mine as it is not too sweet, light, refreshing and easy to prepare. It's heavenly as a summer dessert which is why I thought I will share this recipe with all of you today.
There's one singular ingredient that's critical to making a Kesar Shrikhand and that's hung yoghurt.
Hung yoghurt is nothing but yoghurt drained of all its water content which results in a creamy smooth texture. Greek yoghurt comes a close second to hung yoghurt but I would still strain it to remove the last bit of water.
Making hung yoghurt at home is super easy. There are several ways to do this, let me outline my method. Place a large strainer over a glass bowl and place a muslin cloth/cheesecloth inside the strainer, the ends of the cloth hanging out. Pout the yoghurt inside the muslin cloth and then gather the ends of the cloth and twist to form a tight bundle. Place this inside the refrigerator for 8 hours or overnight to get creamy thick hung yoghurt.
Several flavours can be infused into the hung yoghurt to make a Shrikhand. I have kept it simple and classic, hence a saffron or Kesar Shrikhand. Mango is an amazing flavour too especially if you are making it as a summer dessert.
The garnishes take the humble Kesar Shrikhand to a whole new level and I have used a mixture of almonds and pistachios, also topped with dried rose petals which provide aroma, taste and that exquisite look making it a showstopper dessert.
Hope all of you will try out this simple dessert out this summer….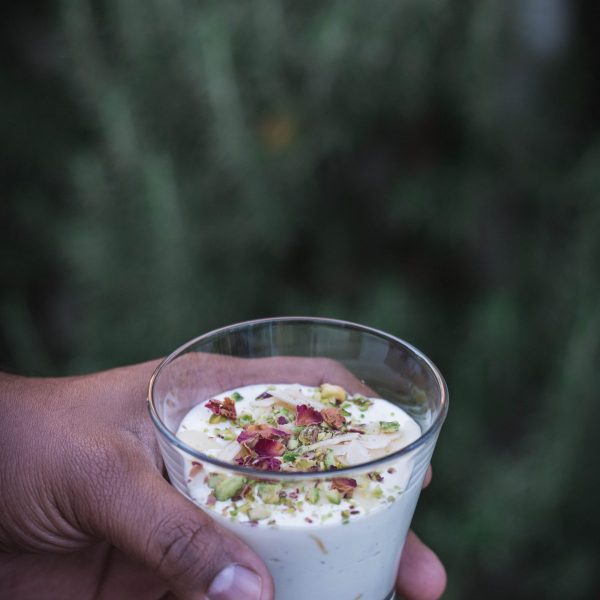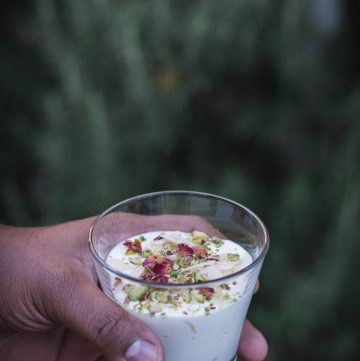 Print Recipe
Kesar Shrikhand
Ingredients
1

kg

plain yoghurt

¾ to 1

cup

caster/powdered sugar

¾ to 1

tsp

powdered green cardamom seeds

6-5

saffron strands

soaked in 2 tbsp water

Almond flakes; to garnish

Crushed pistachios; to garnish

Dried rose petals; to garnish

Cheese cloth
Instructions
Place the cheesecloth inside a large strainer; place this over a deep bowl. Pour the yoghurt into the cheesecloth; gather the sides of the cloth, twist it lightly to facilitate draining and place the bowl inside a refrigerator. Allow to drain overnight.

The following day, transfer the thick hung yoghurt into a glass bowl. Using an electric beater or hand held whisk, whip the yoghurt for 2 minutes.

Add half of the sugar and continue whipping till dissolved. Taste and add sugar as required (the amount of sugar will vary according to the sourness of the yoghurt).

Next, add the crushed cardamom seeds and the saffron along with the soaking water. Whisk again till blended in thoroughly.

Spoon the yoghurt into glasses and chill till serving time.

Garnish with almond flakes, crushed pistachios and rose petals.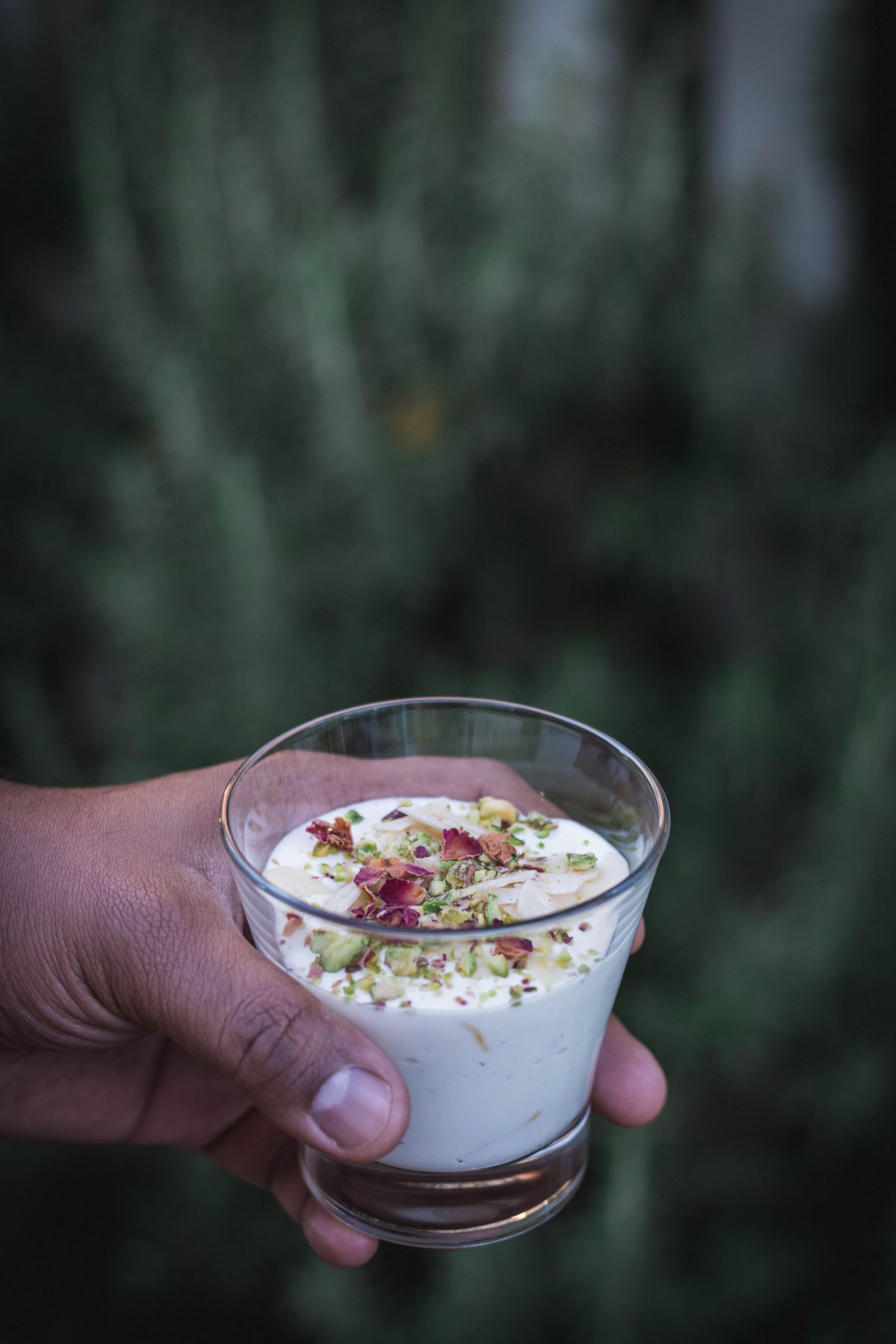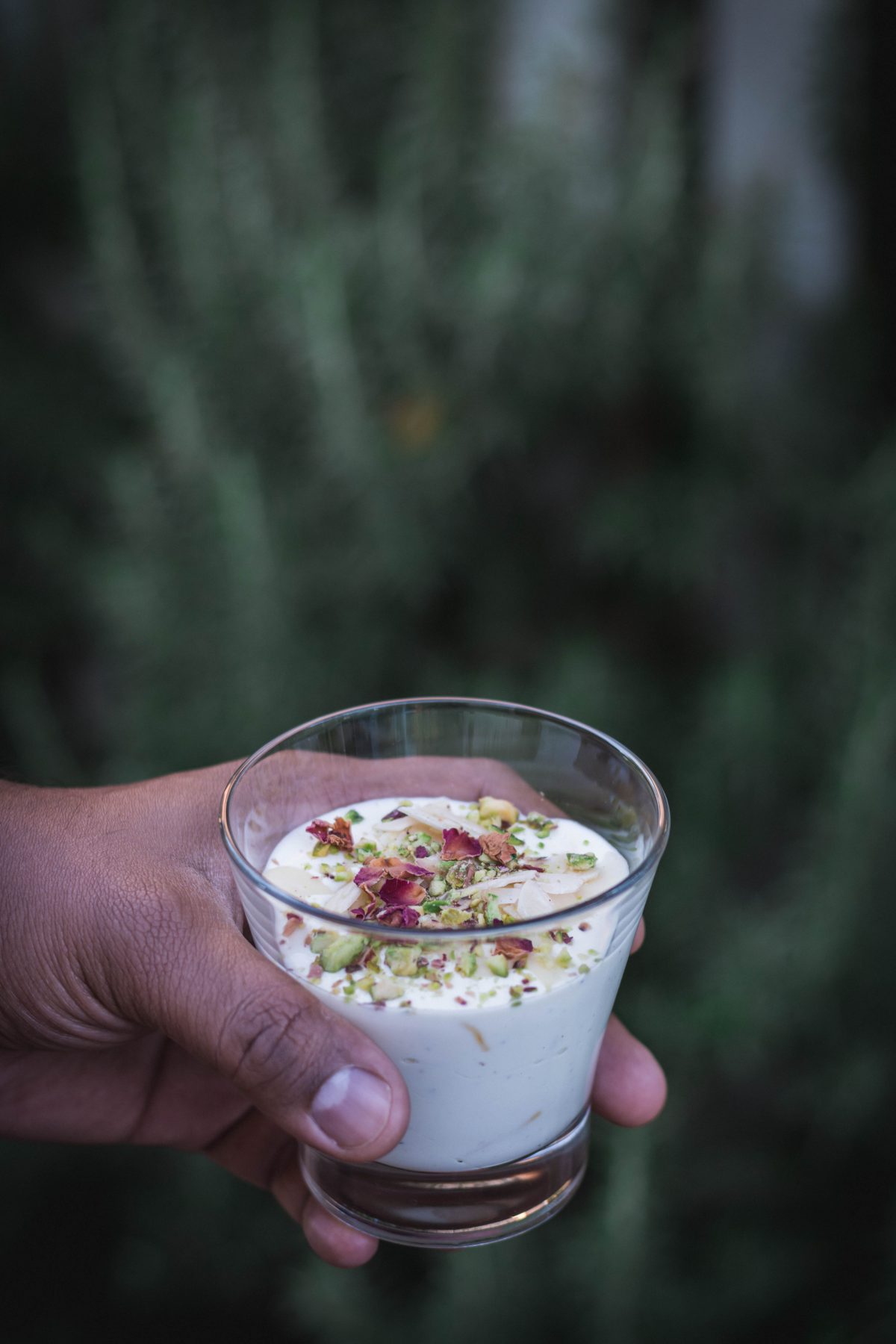 Hope most of you have read my review of the new Intellisteam – a 'smart' food steamer from Morphy Richards.
I use it almost every day, immensely useful when it comes to prep work and I can do it all with just a single appliance. So if you are planning on upgrading your food steamer, then Intellisteam is the one for you.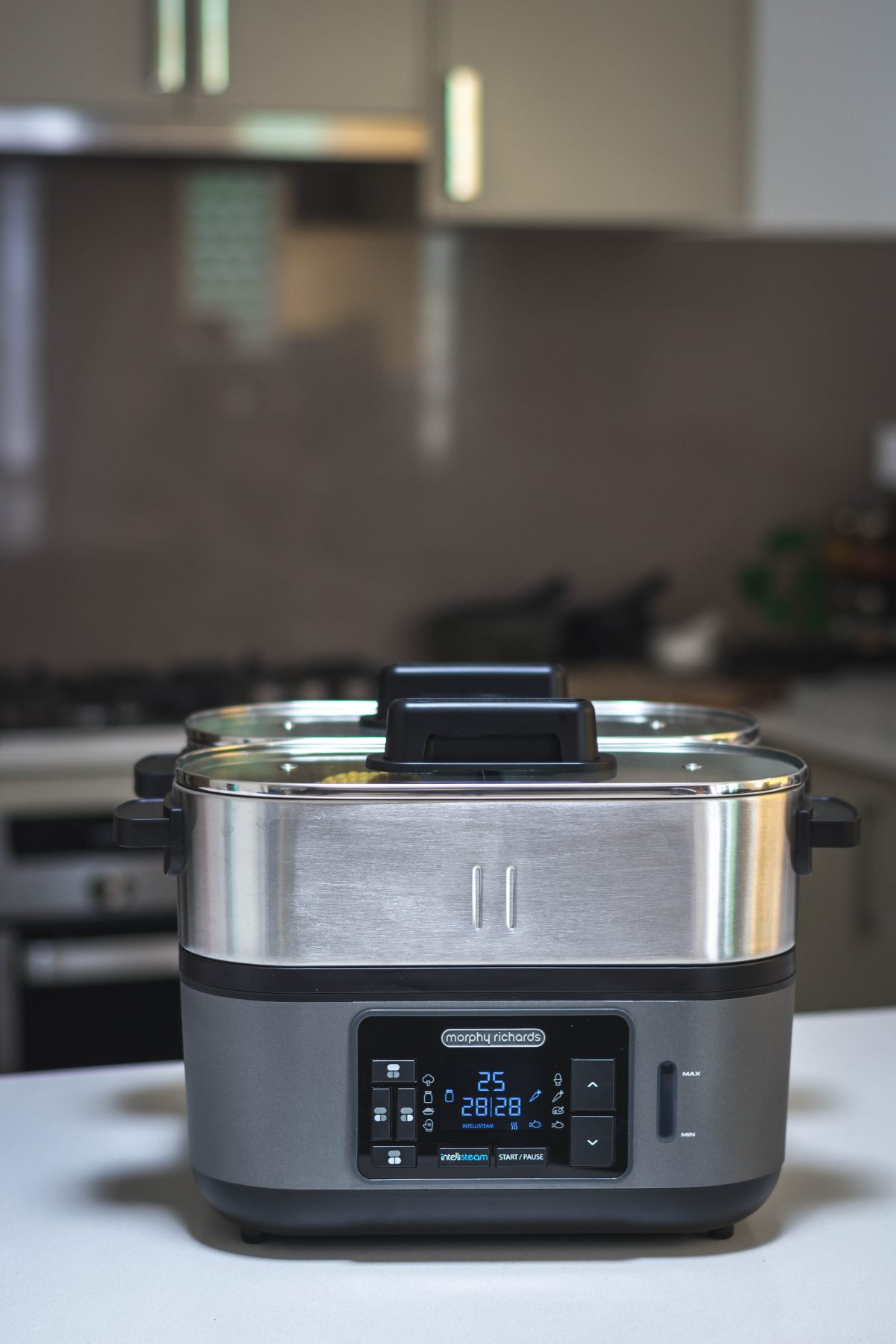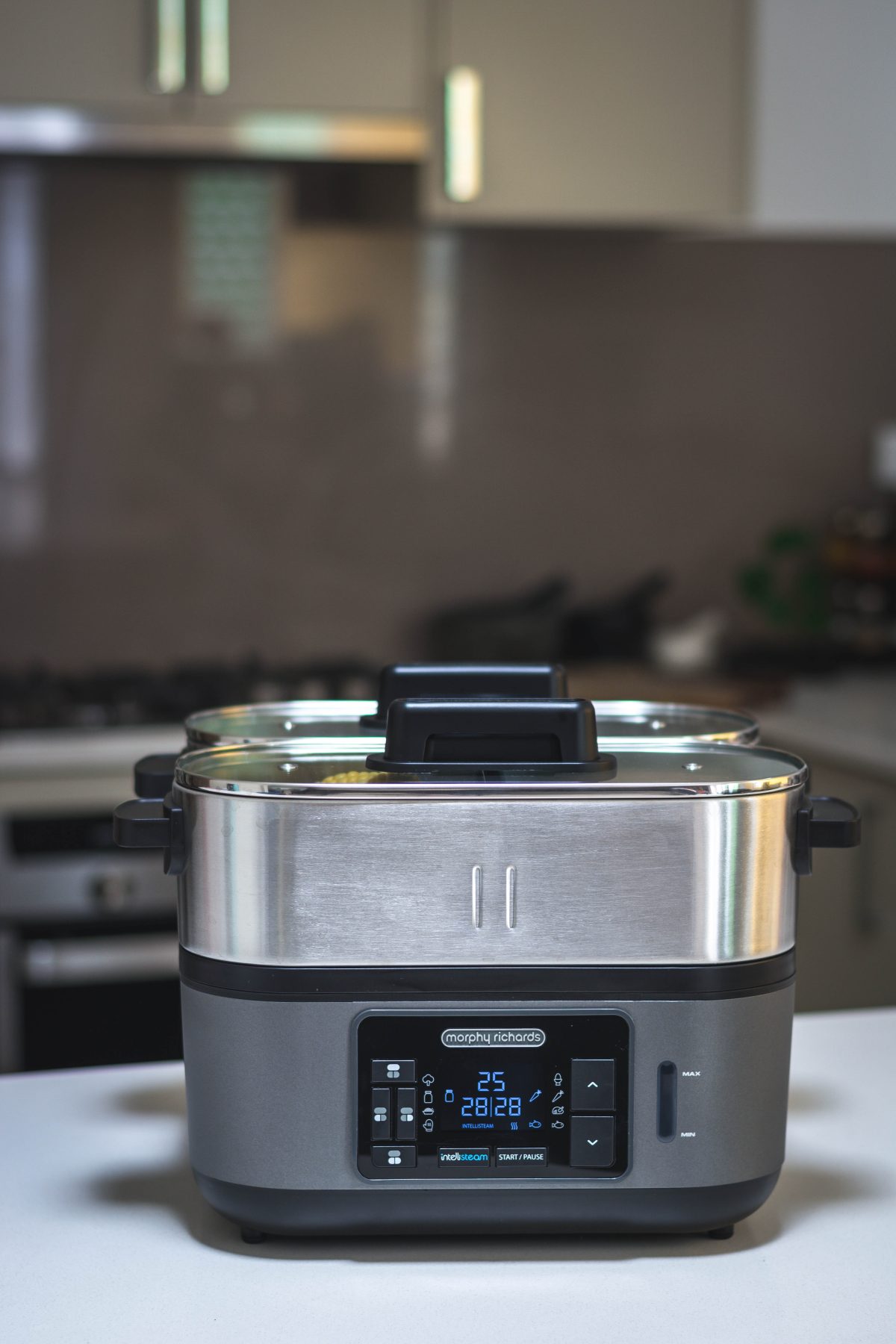 Other Favourites…..
Food
This barbecue chicken salad is perfect to take to potluck parties over the holidays.
Dehydrated citrus wheels – great for garnishing cocktails, cakes, desserts. Learn how to make these….
Garlic, herbs and mushrooms are a match made in heaven, which is why you need this pasta recipe in your life.
Salmon papillote, a delicious steamed preparation that's perfect to cook in my new Morphy Richards Intellisteam
I could put this tomatillo salsa verde on anything, not just tacos
Christmas gifts:
You can find some beautiful and unique Christmas ornaments at West Elm this year.
Cute Advent calendars for the young ones!
The new Robert Gordon range of homewares and serving ware on Domayne is just stunning. Perfect for your holiday parties or for gifting.
Click for Vic – a unique enterprise by Visit Victoria to boost and support Victorian business owners and food producers. Let us all take a pledge to shop local this year and support our economy.
Inspired by traditional Venetian glassmaking, designer Katie-Ann Houghton's range of barware is just exquisite. Something to gift yourself this season!
Sue puts together the best foodie gift hampers for Christmas featuring some of her best sellers too.
A good cookbook is one of the best gifts for a foodie friend. There's an amazing collection at Books for Cooks for all kinds of cuisines.
Pandora is a brand I always turn to for Christmas shopping.