September was a mixed bag of emotions!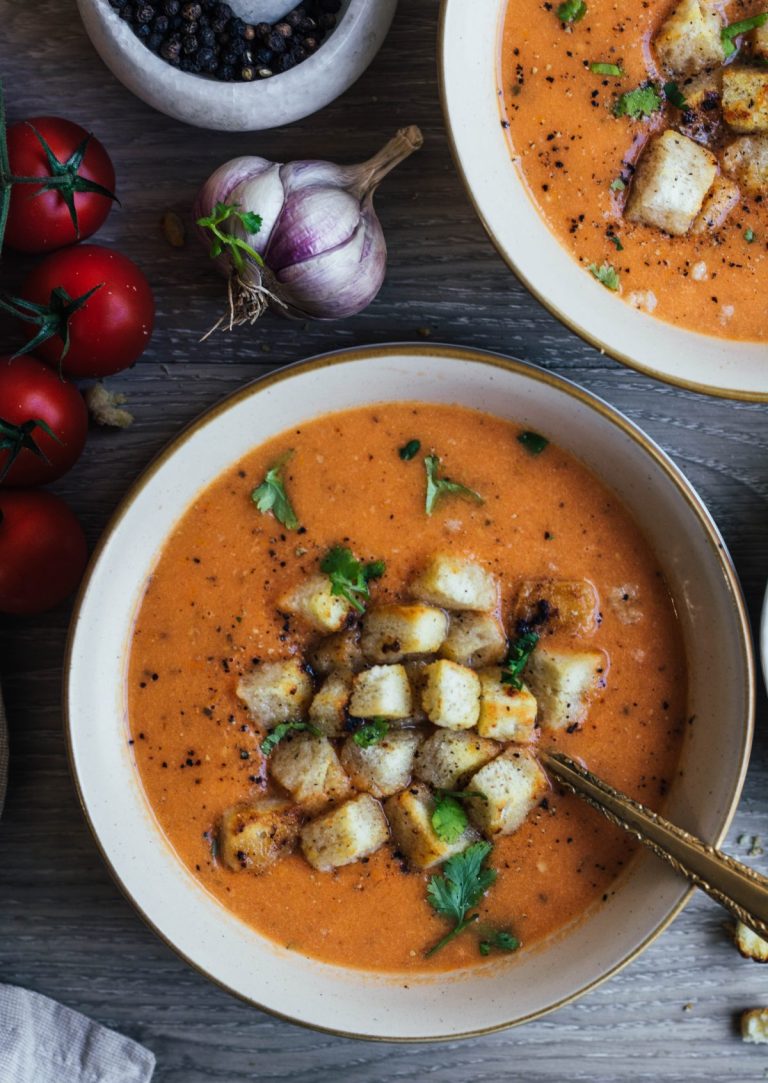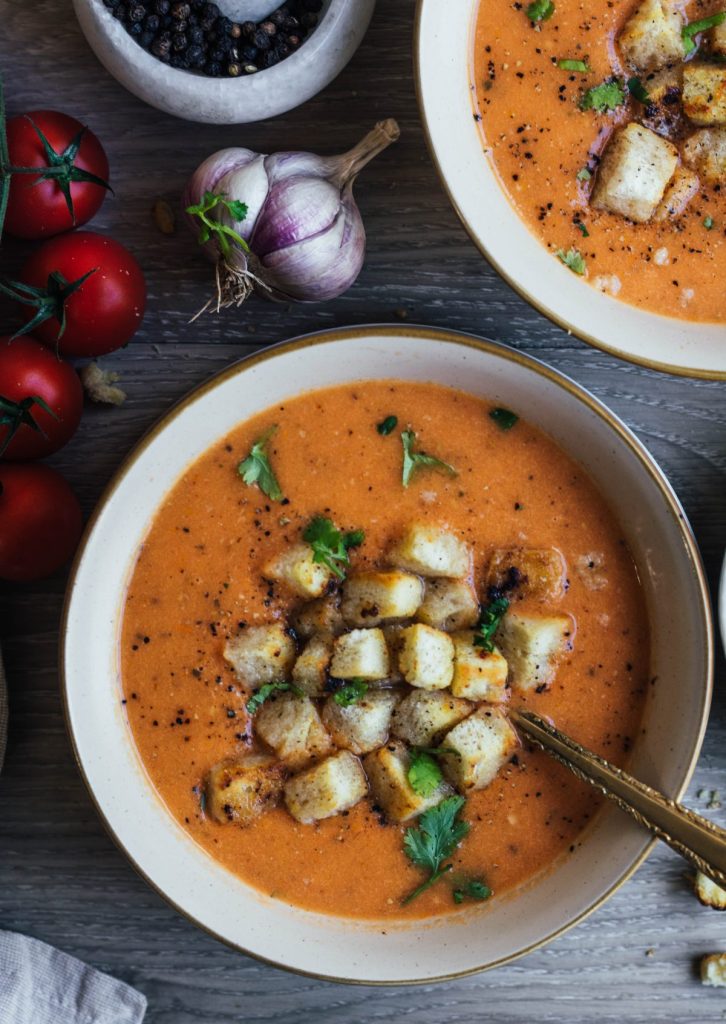 It was a beautiful start to the month. In spite of the lockdown, we treated ourselves to a delicious Father's Day dinner from Lucy Liu via Providoor.
Providoor is one of the best businesses to come out during the lockdown period. The brainchild of Chef Shane Delia, it is a game changer to the whole home dining scene. You might not get the same ambience or hanging out with friends' opportunity but you can definitely enjoy an outstanding restaurant quality meal from the best restaurants in Melbourne.
The best part is that all the prep work has been done meticulously by the Chefs and you get to finish off the meal in your kitchen. Which feels great for a foodie like me, almost a feeling of working out of a restaurant kitchen.
If you enjoyed dining out before the lockdown, then Providoor is definitely something you need to try out.
For our Father's Day feast, we ordered a special package that was curated for the day from Lucy Liu. It included;
Kingfish sashimi (green nam jim, coconut, thai basil)
Green papaya salad
Pork and ginger dumplings (sesame, red vinegar, chilli oil)
Stir fried Asian greens
Steamed jasmine rice
1.4 John Dee Wagyu Rib Eye (Japanese mustard mayo, baby cos, seaweed dressing, toasted nori)
Needless to say, the star of the meal was the Wagyu rib eye…..hands down, the best steak I have had in my life so far. And the meal paired with Ox Hardy wines.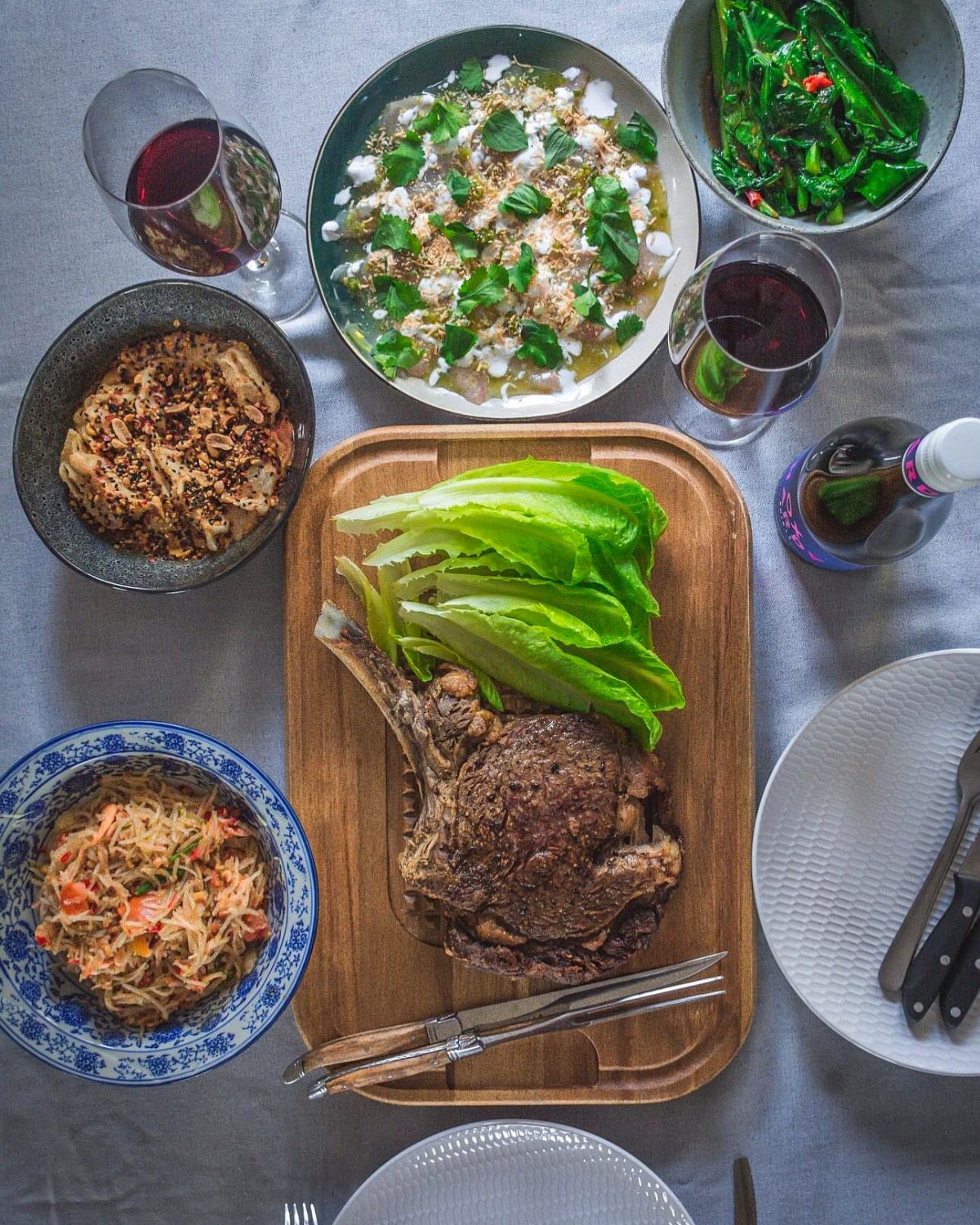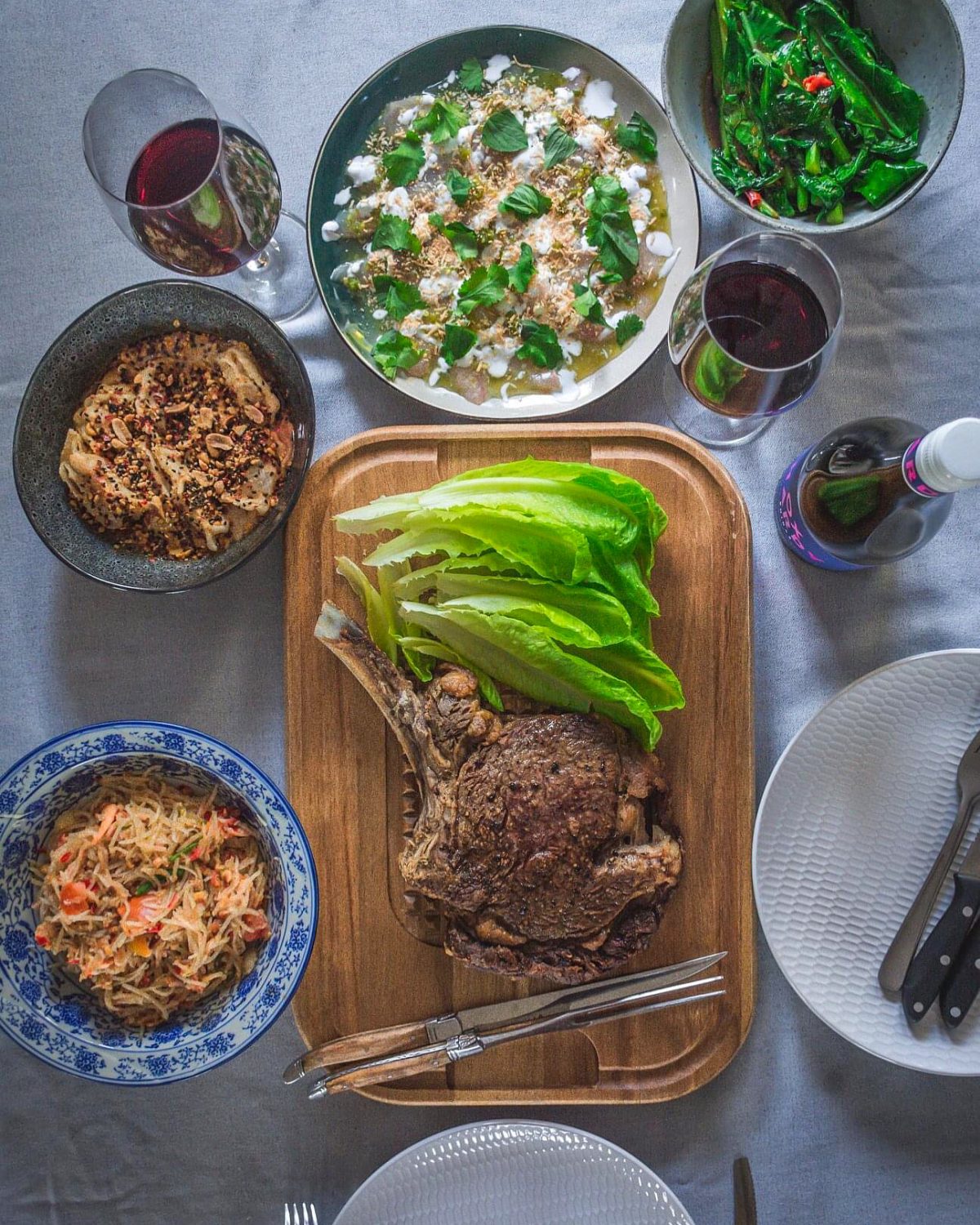 But as the month progressed, the lethargy that comes with the dull monotonous routine of the lockdown reared its ugly head again. Combined with my poor sleep habits (for which I have only myself to blame), I was in no mood to create. It would be ideal to say that I zombie walked through the latter half of the month.
And then some good news! It was announced that the schools will re-open in October which was received with a welcome sigh of relief. I felt that a better routine can be established and hopefully find my mojo back. And thus September came to an end with the promise of better times ahead.
On the weather front, it's a crazy mix of sun and rain…well that's Melbourne spring. So while some days are sunny and glorious, some are just wet, cold and depressing. That's when I start craving soup.
So I made this simple, no frills Tomato Soup or Shorba as often called in India. It's one you will find on the menu of any restaurant that features a 'soup' section. Very common and distinctly Indian from its use of spices.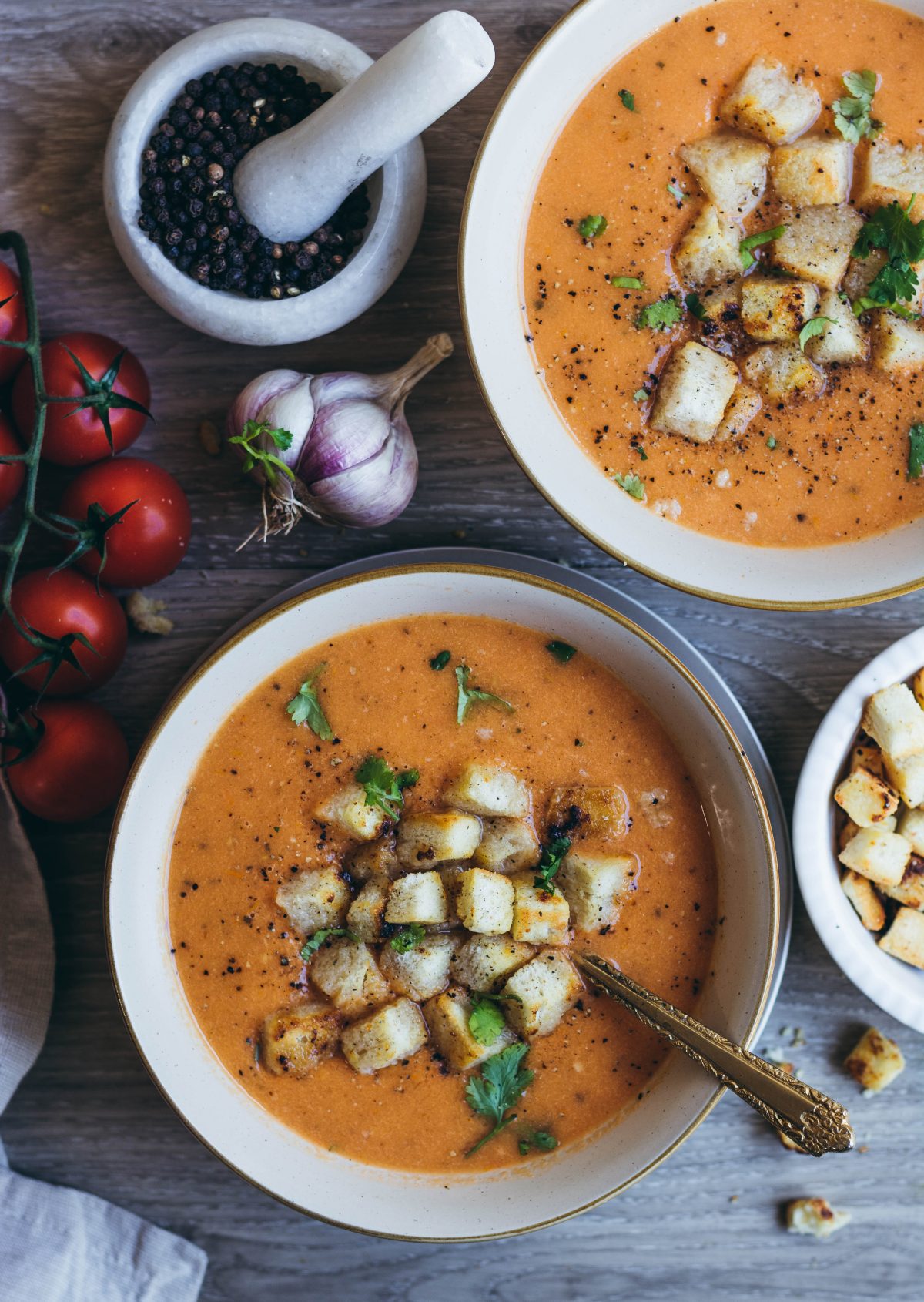 But what really elevates this humble tomato soup are the garlic butter croutons. Crispy toasted garlicky buttery bread croutons add such a textural delight to this smooth creamy soup. Also garlic, butter and tomato is a match made in flavour heaven!
And if you like tomato soup, I have another awesome recipe (Creamy Tomato Soup with Brown Butter Croutons) on the blog. It's very different to today's soup but just as delicious; especially more if you are a cheese lover.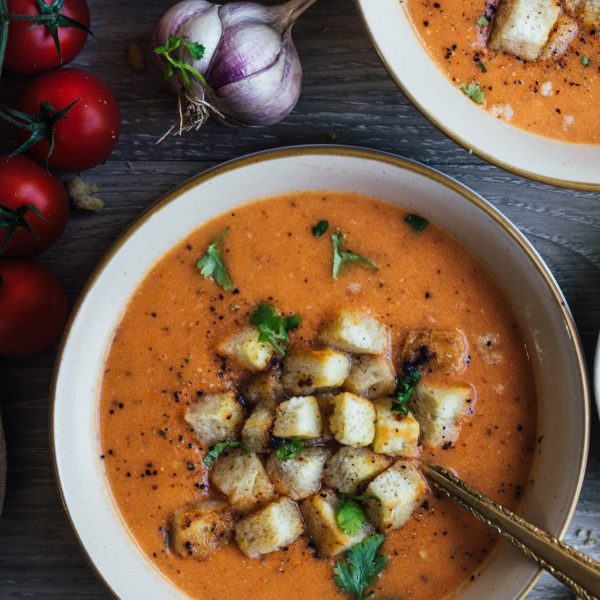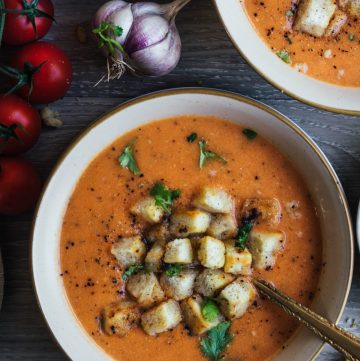 Print Recipe
Tomato Soup/Shorba with Garlic Butter Croutons
Ingredients
For the soup:
4

large tomatoes; diced

2

tbsp

vegetable oil

2

dried bay leaf

1

tsp

cumin seeds

½

inch

cinnamon bark

1

tsp

garlic; chopped

1

tsp

ginger; chopped

¼

tsp

sugar

Salt

to season

1

tsp

black peppercorns

650

ml

chicken stock

or veg stock

1

tbsp

fresh coriander leaves; for garnish
For the croutons:
2

slices

white bread; cut into even sized squares

2

tbsp

butter

2

garlic cloves; grated
Instructions
To prepare the soup:
Heat oil in a heavy bottom pot and add bay leaf, cumin seeds and cinnamon bark. Fry for a few seconds till aromatic.

Next add garlic and ginger; sauté till the rawness goes away and then add the tomatoes along with sugar. Mix well and cook on medium heat till the tomatoes are soft.

Next add the stock along with the peppercorns. Taste and season with salt. Bring to boil and then simmer on low heat till the tomatoes are cooked through and mostly broken down.

Remove from heat and allow to cool completely.

Remove the bay leaf and cinnamon sticks; blitz the remaining contents till you get a smooth creamy soup.

Return the soup to pan and heat up just before serving.

Garnish with coriander leaves, croutons and crushed black pepper while serving.
To prepare the croutons:
Add the butter and grated garlic to a pan and then place on low heat allowing the garlic to infuse into the butter.

Add the bread pieces and mix well to coat. Toast on low heat till crispy and golden.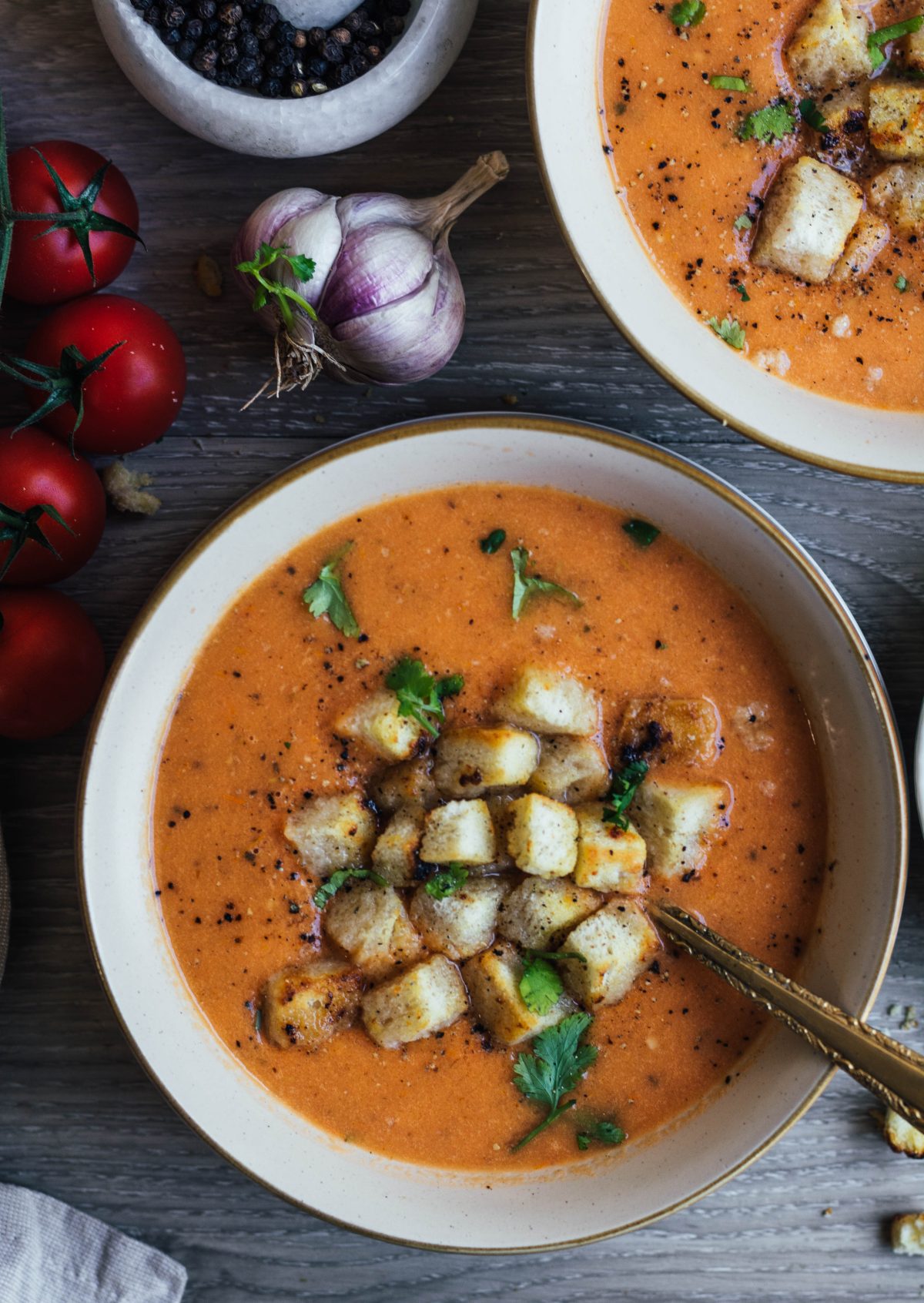 Inspiration and favourites from around the globe…..
I love to try out new cocktails especially during spring/summer. And one I am keen to make is this Pear and Elderflower Collins.
The idea of eating raw fish dishes might make you feel queasy if you have never had it before. But if you are inclined to try, then start with a good ceviche….it will blow your mind away.
A simple Japanese style tomato salad; need to find some fresh heirloom tomatoes for this one.
I love kanji, a type of fermented rice dish that's common in Kerala. But I was delighted to find out more about Tangalanna, the Mangalorean variant which is slightly different but nevertheless just as delicious.
Prawns are going to be a regular feature at home with the warmer season setting in. These charred prawns are perfect to inaugurate the barbecue season, and hopefully start having friends over too.
Another summer dish that I am going to try out is this prawn risotto with saffron and zucchini flowers. Just waiting for this 5km restriction to ease so that I can start visiting farmers markets again.
Have you seen these photographs from the 2020 Comedy Wildlife Photography Awards? If you haven't, then please do as these are going to crack you up.
Time to clear up those weeds and do some spring planting. So planning on getting this Kitchen garden box from A fresh legacy.
Planning on a bed linen upgrade and this rust coloured quilt set looks outstanding.