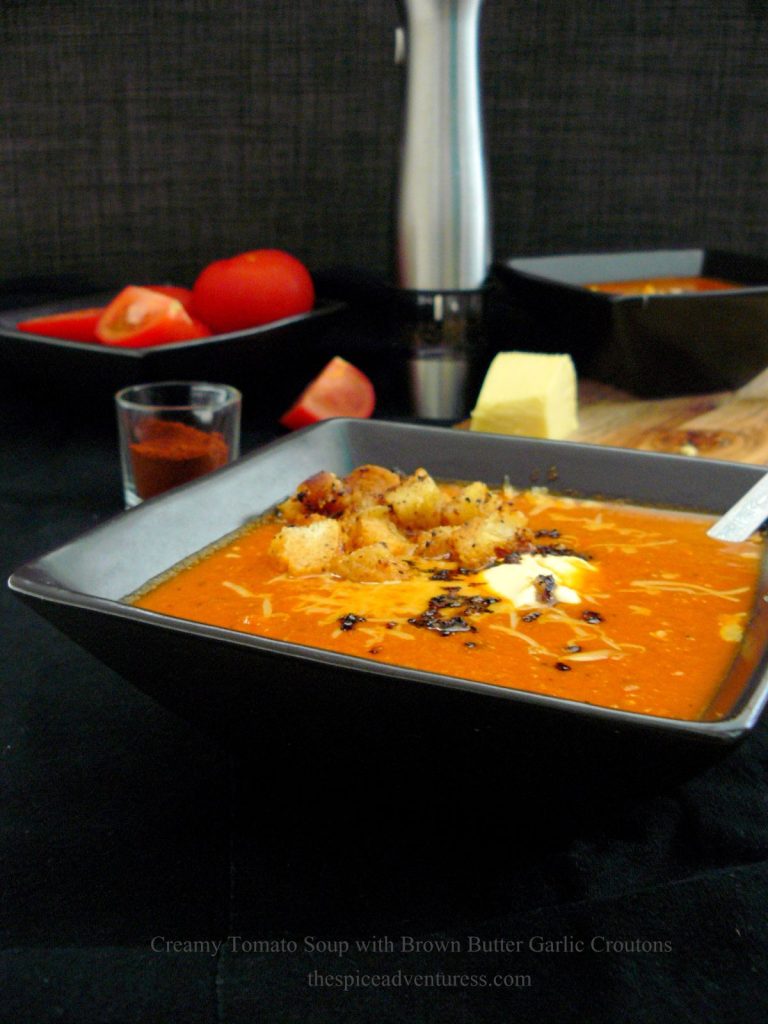 Some days my photography really suffers and today is one such. No matter how much I tried, the photographs refused to come to life. Frustration soon reared its ugly head and I quit trying.

Frustration – the enemy that silently creeps in when we are trying so hard at something. He comes in and soon takes over us, whispering words of despair and that we are anyway bound to fail, so why try?

And we all struggle with him, reasoning out that we ought to work harder, try harder and then success would come.
And he would hush it all up, waging war with commonsense in our heads and he wins, most often……

Frustration blocks our ability to push ourselves, to step over that boundary that seems so near at hand. We know that there is light at the end of the tunnel, we have come so far and there's only a bit more to go. But frustration tells us that it is not meant to be. Give up…..it's so easy, he says.

And give up I did.

These photographs are going to remain here as a memory of the time I let frustration control me. Instead of trying harder a couple more times, I kept the camera down and quit.

The only saving grace is this tomato soup!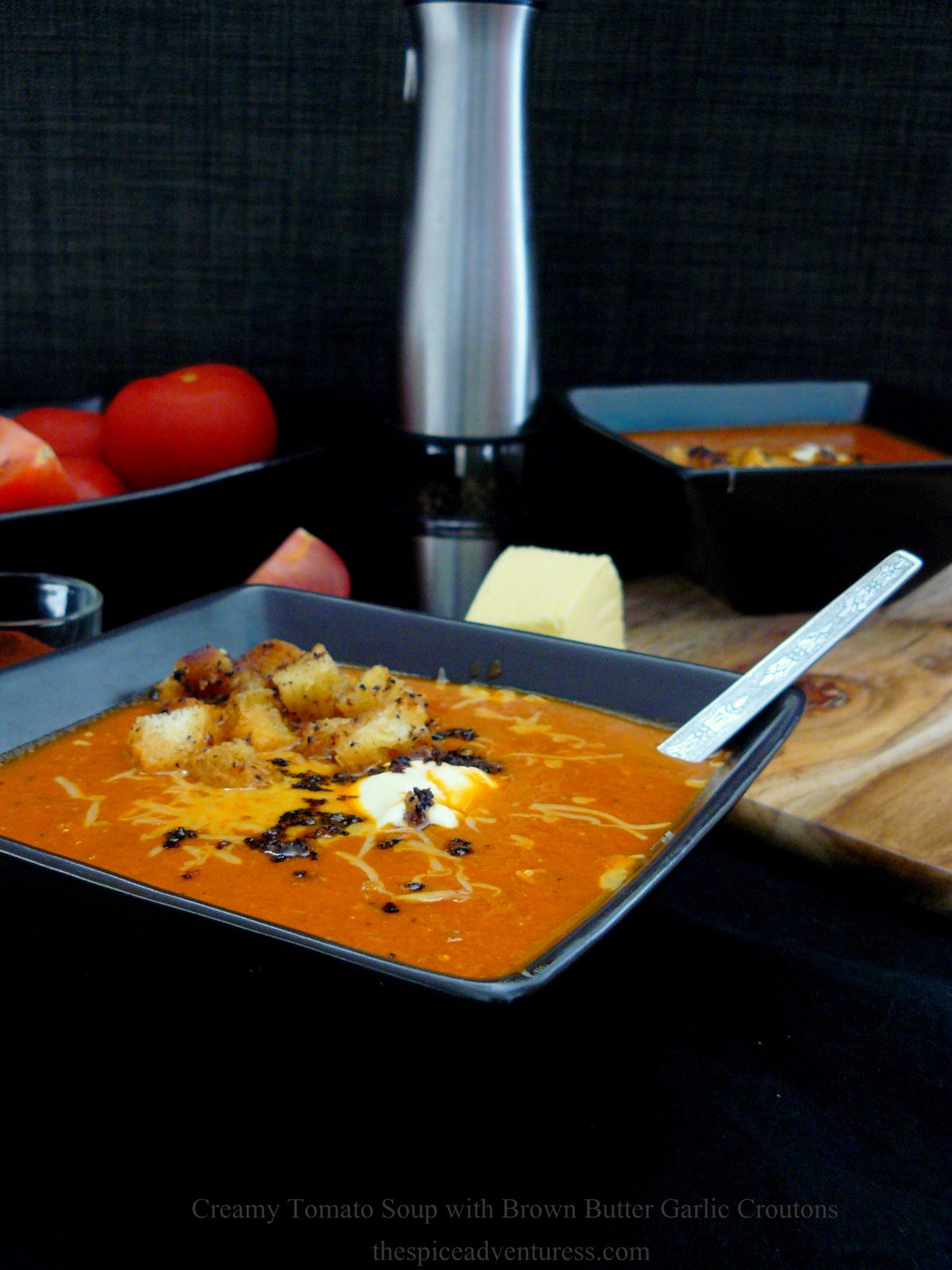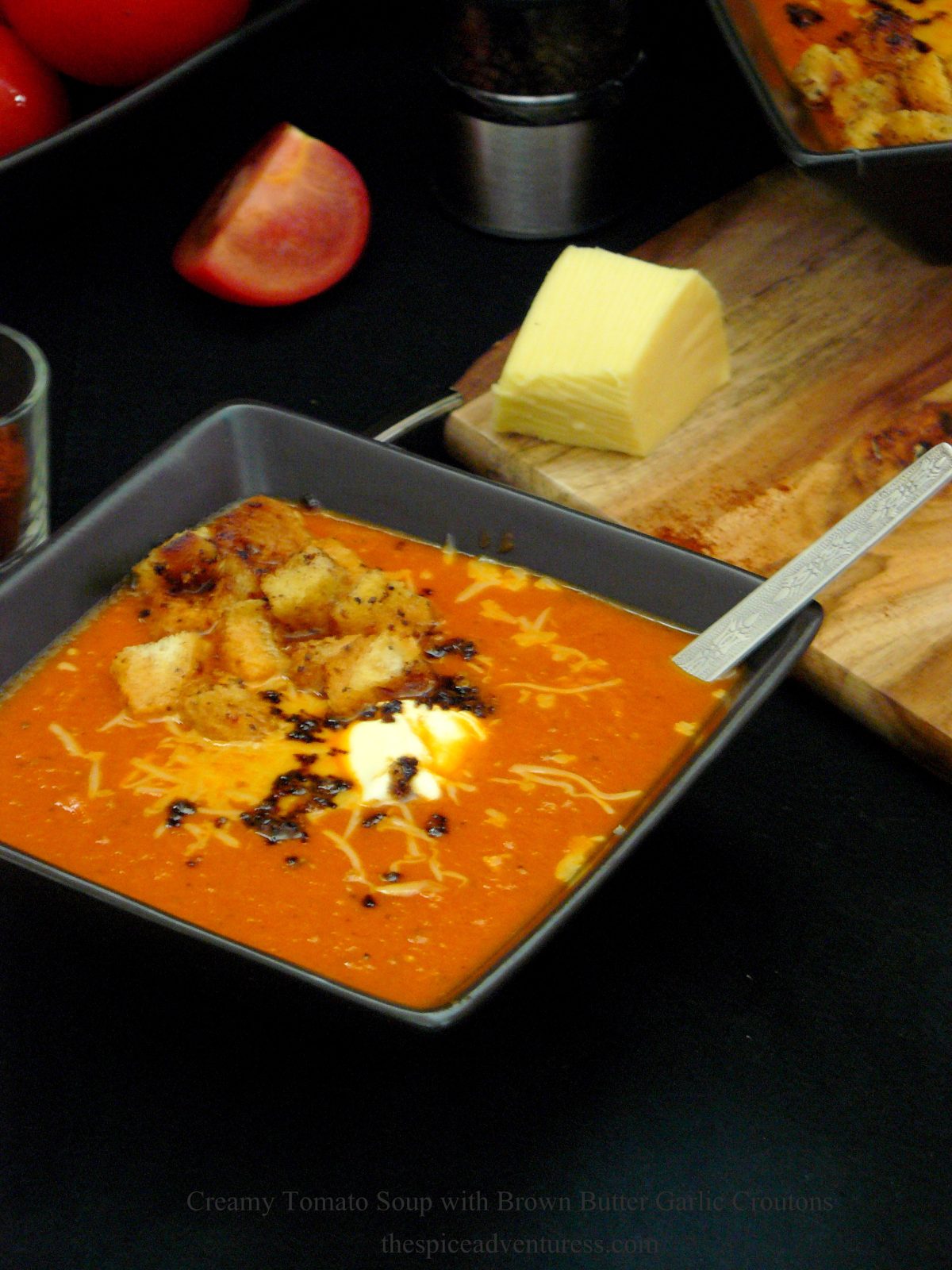 No, it's not a rustic, humble tomato soup; this one's creamy and luscious with havarti and mascarpone and crunchily garnished with brown butter garlic croutons.

For those who haven't experimented much with cheese, here are two varieties to try – havarti and mascarpone. Why haven't I dared to try havarti before? It's creamy yet firm, delicious – I can't even begin to describe it. Now a participant on my cheese board, always.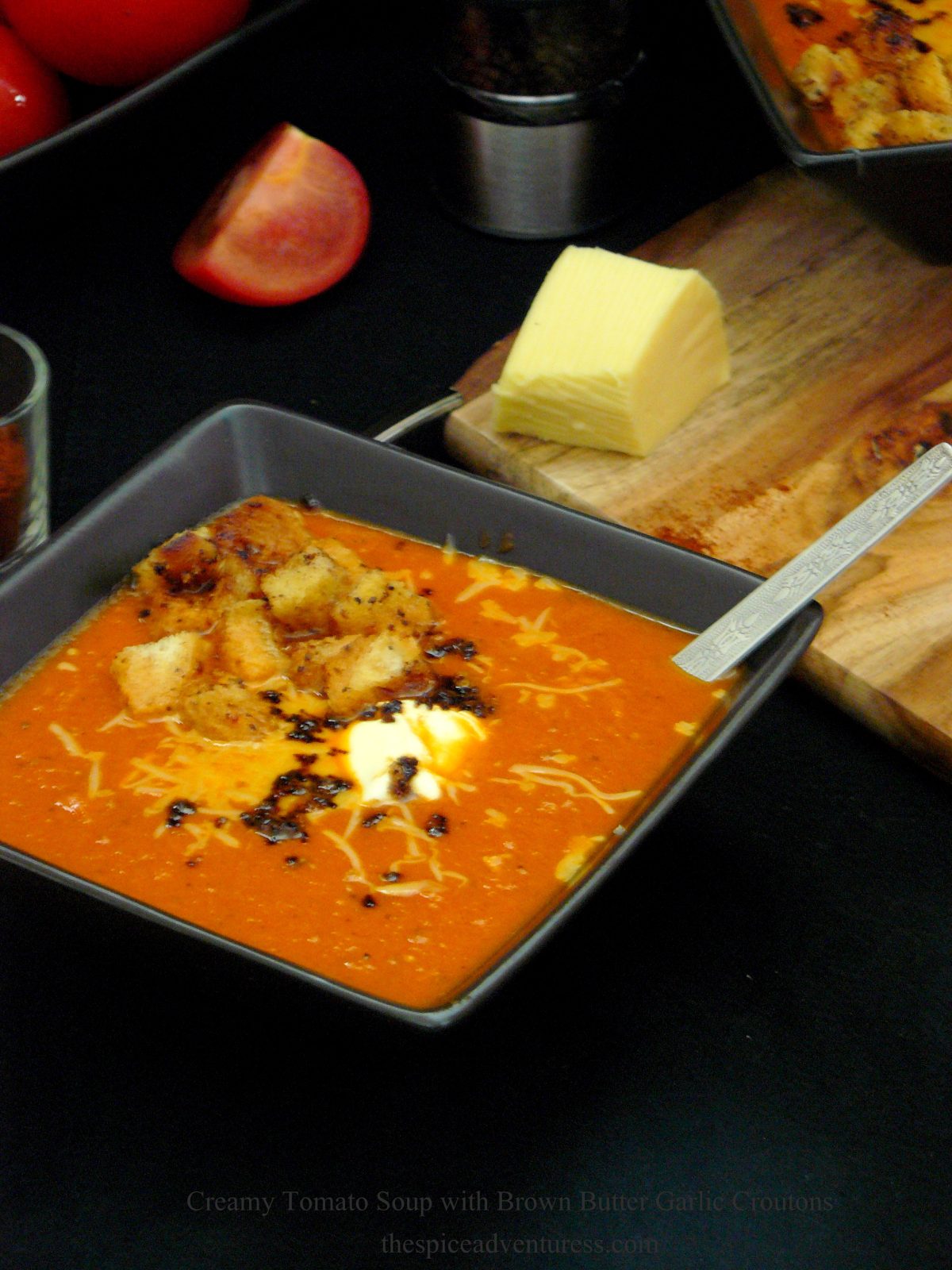 This tomato soup is happiness in a bowl…..and you can join in the happiness too. Here's how…..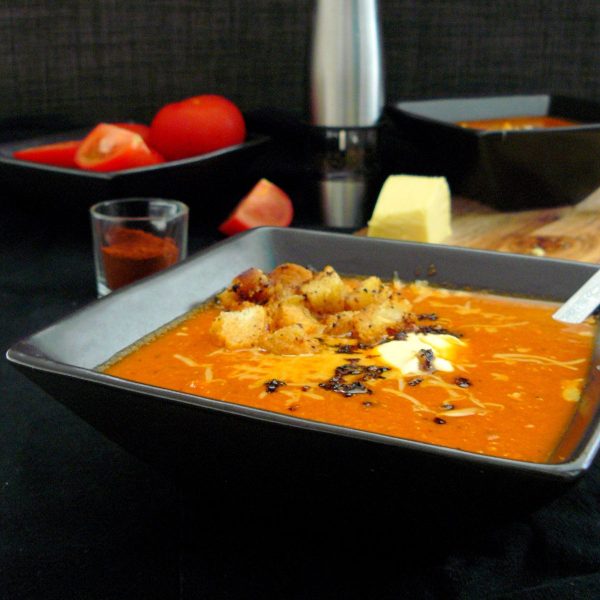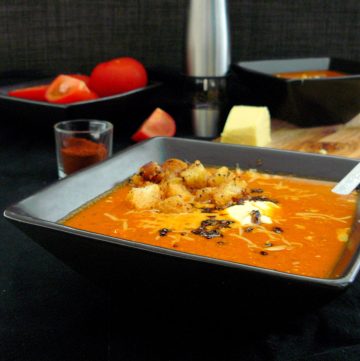 Print Recipe
Tomato Soup with Brown Butter Garlic Croutons
Ingredients
For the soup:
2

tbsp

olive oil

2

tbsp

unsalted butter

1

yellow onion

chopped finely

salt

to season

freshly milled black pepper

to season

1/4

th tsp dried basil

1/4

th tsp dried oregano

1/4

th tsp dried thyme

1/2

tsp

smoked paprika

3

garlic cloves

minced

3

tbsp

tomato paste

5

large ripe

red tomatoes (use canned ones if you would like to)

1/3

cup

mascarpone cheese

1/3

cup

freshly grated havarti cheese
For the croutons:
2

cups

white bread

cubed

Brown butter

2

garlic cloves

finely minced
Instructions
To prepare brown butter:
Place a saucepan on low heat, and add the butter. Allow it to melt slowly on low heat stirring continuously. As soon as you notice brown flecks beginning to appear at the bottom of the pan, remove from heat and continue to stir. The butter continues to brown due to residual heat. (Make sure to remove the pan from heat at the right time or you could end up burning it).
To prepare the croutons:
Preheat the oven to 180°C.

Add the minced garlic to the brown butter, mix and allow to sit for a minute.

Place the cubed bread pieces in a large flat bowl, pour the butter/garlic mixture over top, lightly toss through and bake for 8 to 10 minutes or till the bread pieces get golden.

Make sure to check in between and toss through to ensure even cooking.

Keep aside to cool.
To prepare the soup:
In a large pot, heat oil and butter. Saute the onions with the herbs, paprika and season with salt and pepper.

When the onions are translucent, add the garlic and tomato paste. Cook for another 6-8 minutes.

Add the chopped tomatoes and bring to boil.

Then lower the heat and simmer for about 45 minutes, occasional stirring to break any lumps.

Turn off the heat and cool lightly.

Puree the soup in a blender (remember it's still hot!) or use a stick blender.

Return the soup to heat and add the mascarpone and havarti, stirring continuously till the cheese has completely melted.

Check seasonings and adjust.

Serve hot with a dollop of mascarpone and brown butter garlic croutons.
Notes
The croutons can be prepared ahead and stored in an airtight container. If you do not have an oven, dry toast the bread pieces in a pan on the stove top for 3 minutes and then pour the butter/garlic mixture on top. Continue to toast till the golden colour is achieved.