Unakka Sravu Chammanthy, loosely translated as dried shark chutney/sambal is a traditional dish consumed in the southern regions of Kerala. Often enjoyed with rice, gruel or steamed tapioca, the salty hit from the dried fish paired with green chilli and freshly grated coconut makes it fingerlickin' good.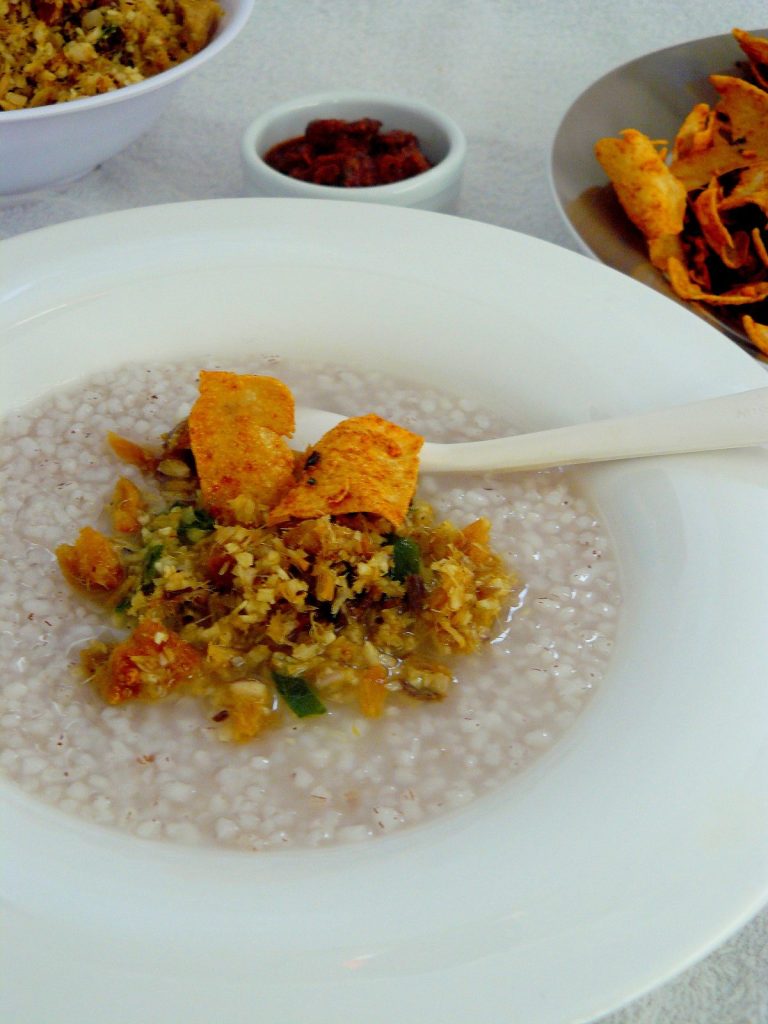 A taste of my childhood…..

While the title may sound like gibberish to most of you, it is actually Malayalam, my native tongue. And for my international readers, Malayalam is the language of Kerala – the state often referred to as 'God's own country' residing at the southern tip of India.

I contemplated, pondered and procrastinated a lot about posting this recipe or rather this meal. The bulk of my readers will not connect with it in any manner or attempt to make it even. But this is a meal, so reminiscent of my childhood that I felt it must be a part of my space……a way of capturing or leaving behind snippets of my life for the future generations.
Even though I grew up in the Middle East, my mom made sure that we were exposed to all types of Indian food during our childhood. So while many of my friends struggled to settle in India post teens or while attending college, our integration into the Indian way of life happened almost seamlessly. Food can really affect your life!

Rice gruel is the humblest of dishes from India especially South India; often labeled as peasant food. Today, very few savour this and often prepared only when one is convalescing and is forced to eat bland foods. But rice gruel can be incredibly delicious when paired with the right dishes, so full of carbohydrates that it is an instant energy boost.

Though rice gruel is prepared using all varieties of rice, my favourite is the one made using broken red rice. The whole red rice has large, plumper grains that may not be enjoyable to many but this broken variety (available at Indian stores) has a texture that is almost like eating quinoa or bulgur wheat.
Unakka sravu chammanthy is another traditional dish which is consumed in the southern regions of Kerala. It's really hard to come up with an English translation to chammanthy but it's something like a dry chutney. Often had with rice, gruel or steamed tapioca, this chammanthy is prepared using dry shark and other types of dry fish.

The dried shark chammanthy is a good example of how food evolves in a particular geographical region from what's available locally. Dried fish is plenty especially around the coastal regions as a means of preserving the surplus; coconut is another staple of Kerala and combine these two to get this wonderful chammanthy.
Personally, I hardly eat shark anymore these days due to sustainability issues. Most of the time, the shark that reaches our table is sourced unethically. I have not had a shark based dish for the last 15 years and do not intend to make it a practice either. This lot of dried shark came from a nearby Indian store with origins in Srilanka, I believe.
There was not much of information on the packet to know more about the catch. But there are stores and seafood dealers who engage in ethical fishing of shark varieties that are not harmful to the species or environment. But if you do not want to use shark, use any other dried fish if you wish to replicate this dish.
Pappadoms or Poppadoms (as many call it), have quite a cult following in the West. Chilli pappadoms are my favourite way of eating this Indian accompaniment. Blame on it my 'chilli obsession', but a dash of red chilli powder, crushed garlic and curry leaves can take the humble pappadoms to a whole new level.
So here's my complete meal – Podi ari kanji (red rice gruel) with unakka sravu chammanthy (dry shark chammanthy) and mulagitta pappadom (chilli pappadom).
Are you a dried fish fan? Then this Onakka Chemeen Fry/ Dried Shirmp Fry is a must try.