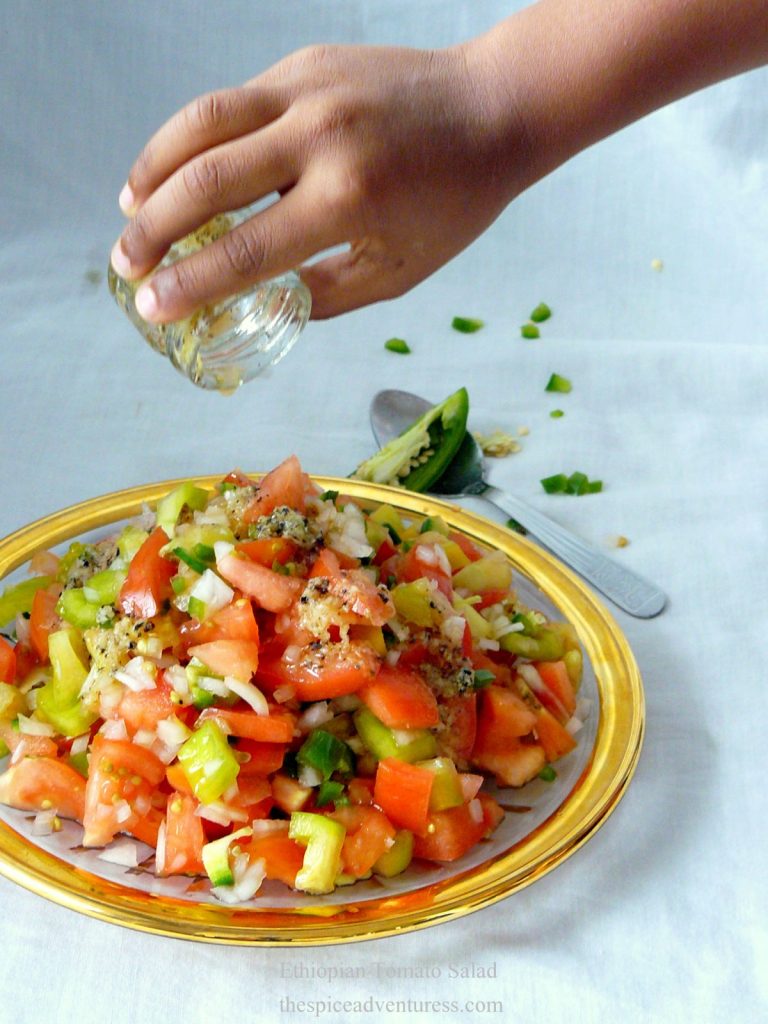 There's a new salsa in town!

Yes, I am talking of this humble Ethiopian tomato salad which has become our homestead's current salsa fixation.
Similar ingredients…yet not similar flavours, the signature flavour that marks this tomato salad different from a traditional salsa is ginger.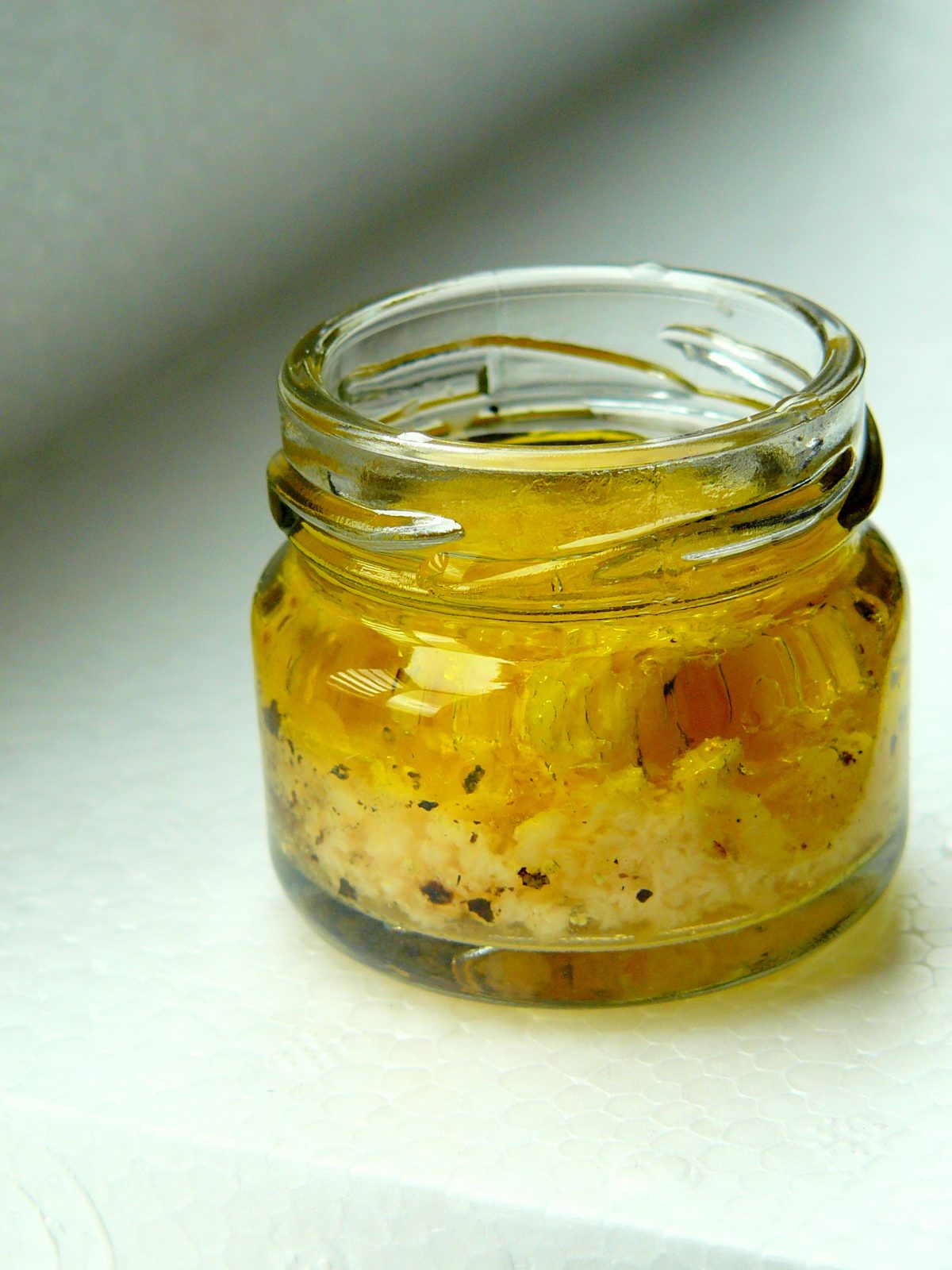 Vegetarian meals are quite common in Ethiopia; simple and humble meals yet packed with flavour making the best use of ingredients available locally. Some of the common dishes that make up a traditional Ethiopian vegetarian platter is the yemisir wot – an oily red lentil stew generously spiced, yekik alicha – a yellow split pea stew flavoured with turmeric, tikil gomen – carrots, potatoes and cabbage simmered in a turmeric sauce.

Simple salads are also an integral part of the platter, this Ethiopian tomato salad being an example. And of course, no meal is complete without the breaking of the injera.

Much like the Indian style of eating, Ethiopians believe in a communal meal – friends and family coming together around the food. And fancy cutlery has no place here, pieces of injera are broken and the fingers are deftly used to scoop up the lentils, stews and salads. Eating with your hands might seem like the most natural thing for those who are used to it but for our Western counterparts, this can often be the most challenging part of a meal.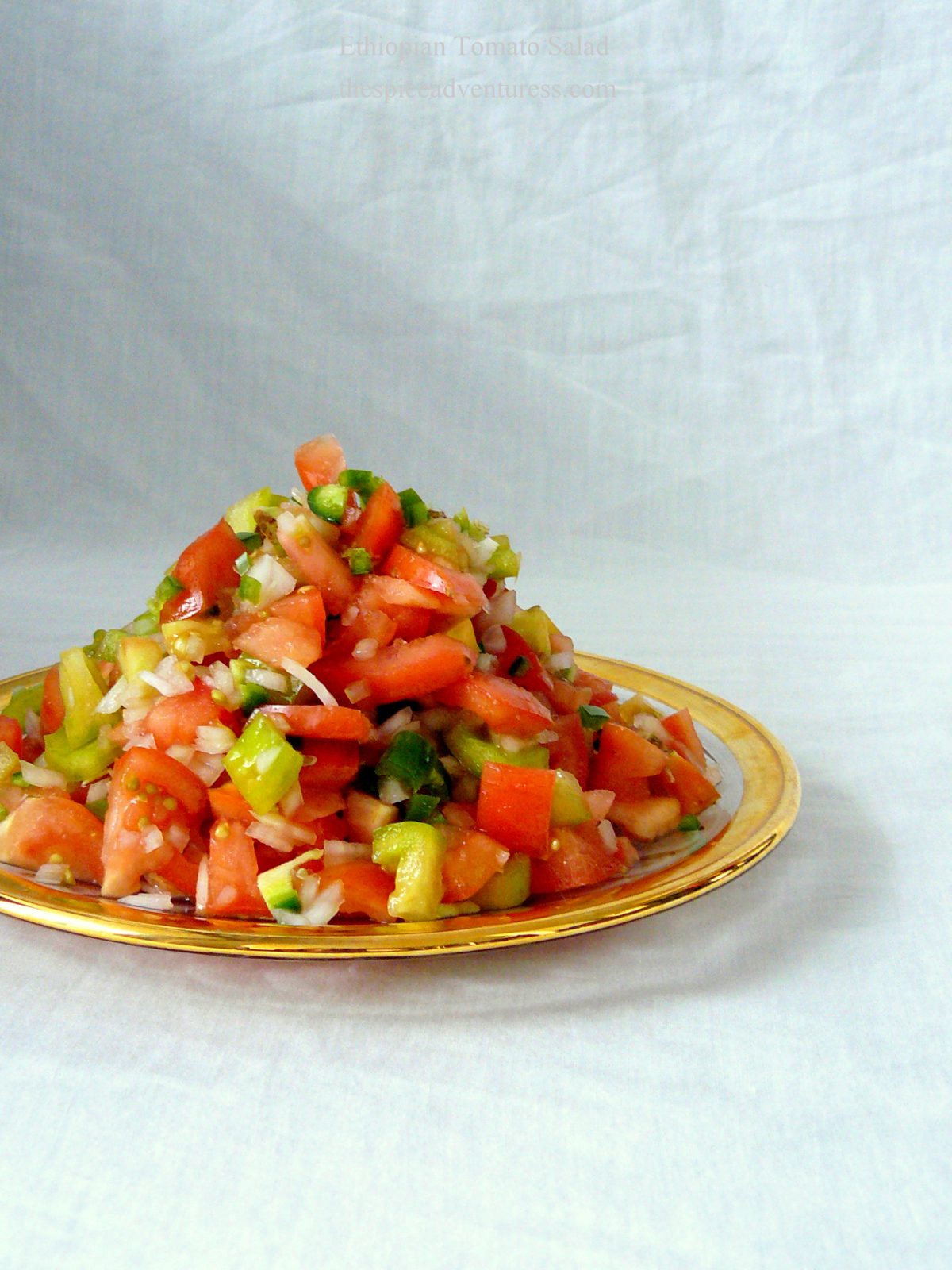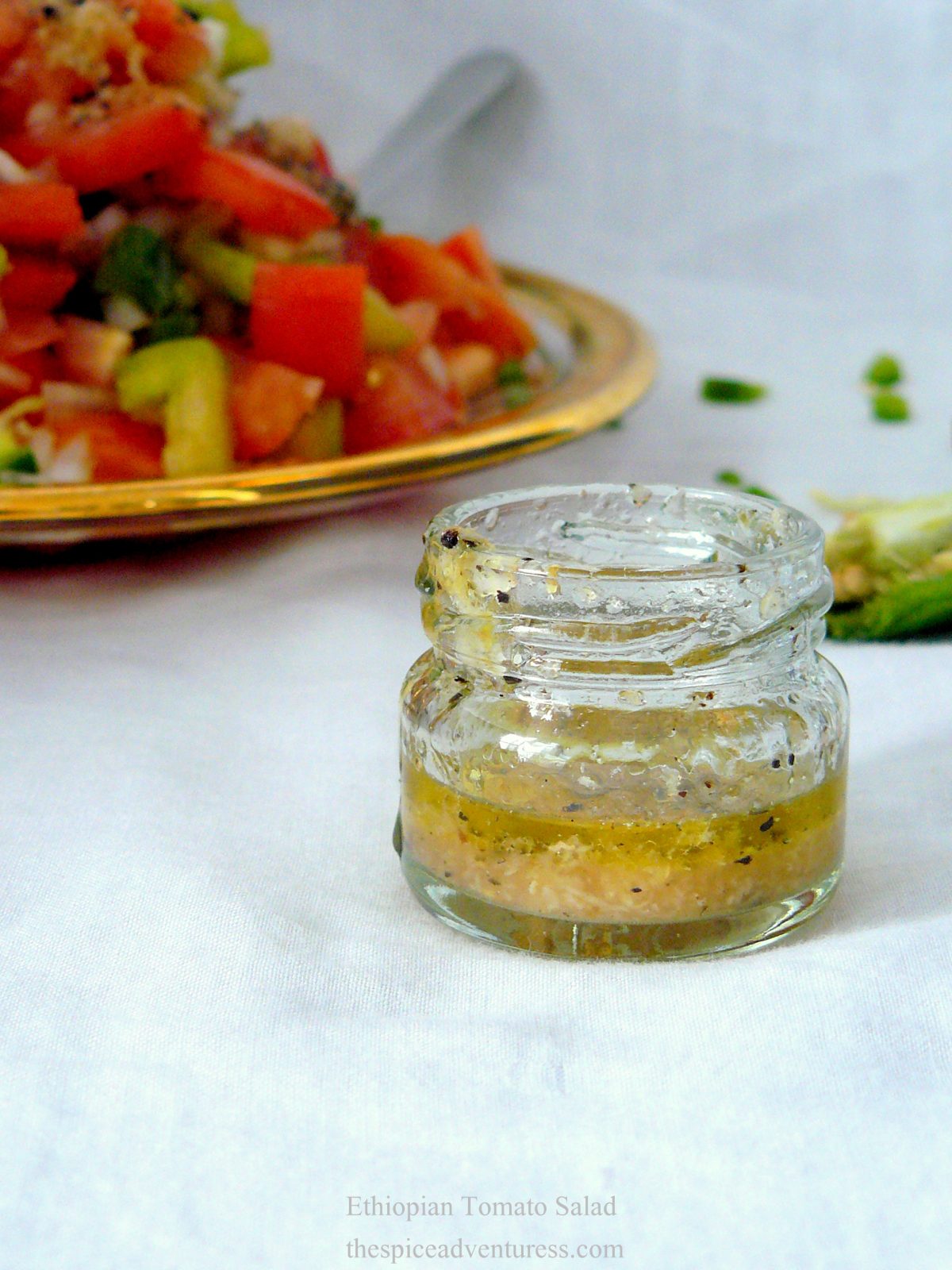 I found some gorgeous heirloom tomatoes at the market and used these for this salad. I used both the green and red varieties but you could use just regular tomatoes. Also, I love chunky pieces of tomatoes in my salsa/salad instead of the saucy types so I went for a rough chop.
Like I mentioned, the signature or defining flavour of this Ethiopian tomato salad comes from ginger. Grated ginger is added to olive oil, vinegar, salt and pepper to make a flavourful dressing for the tomatoes. And for that touch of heat, chopped yellow onions and fresh jalapenos!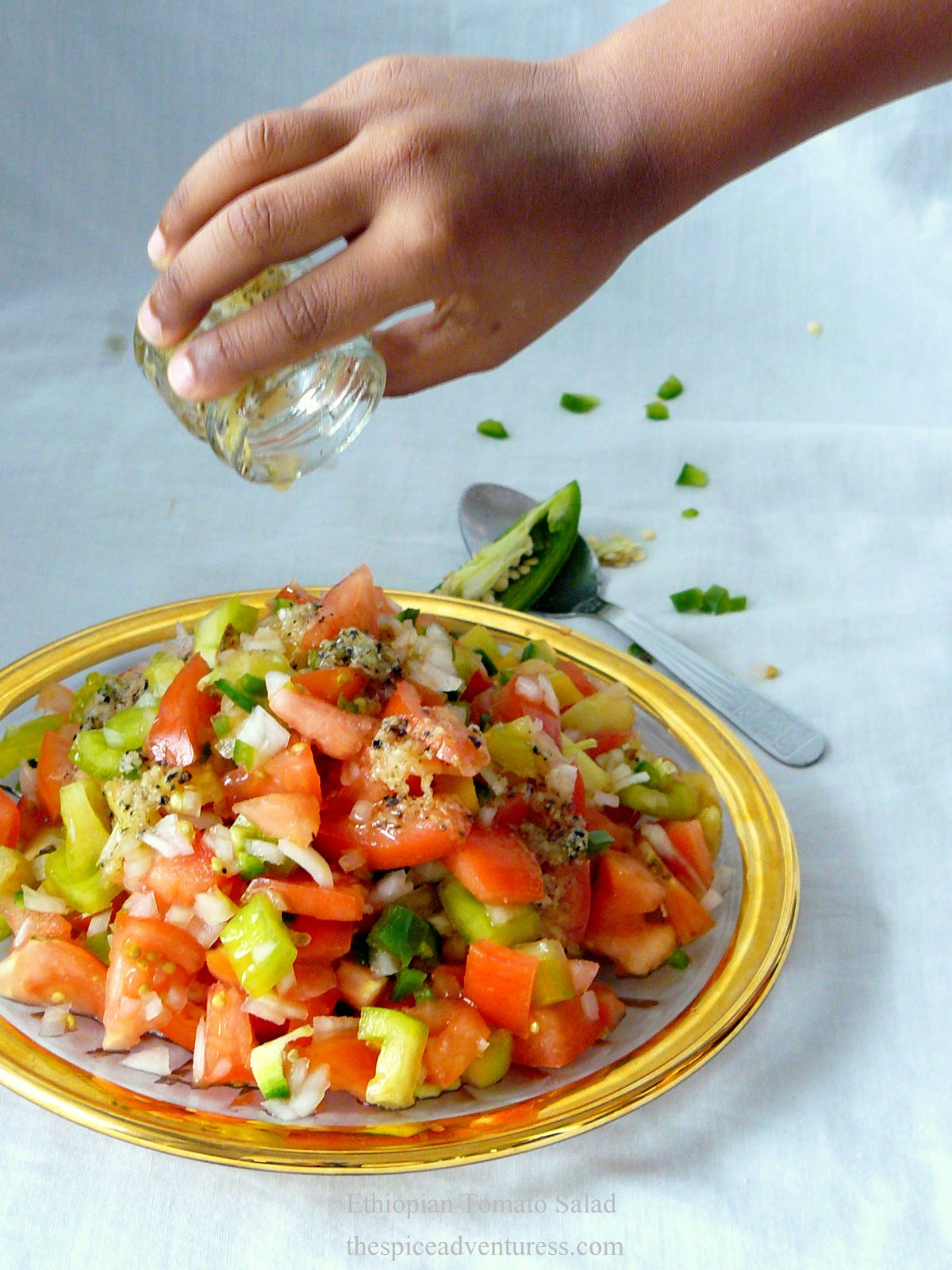 This Ethiopian tomato salad recipe comes from here.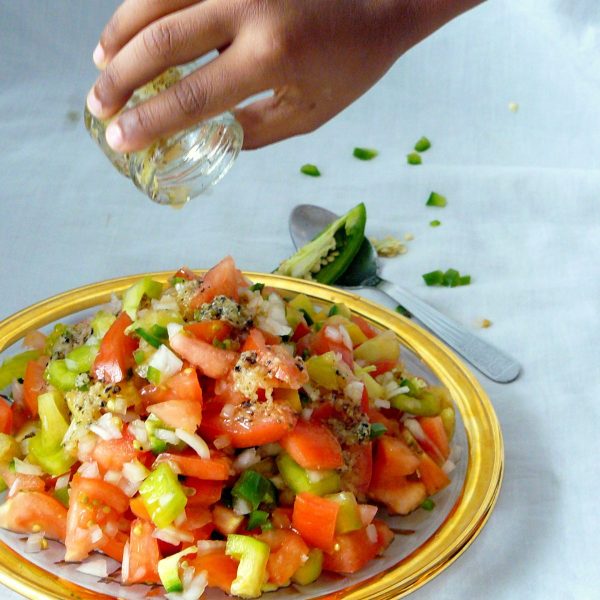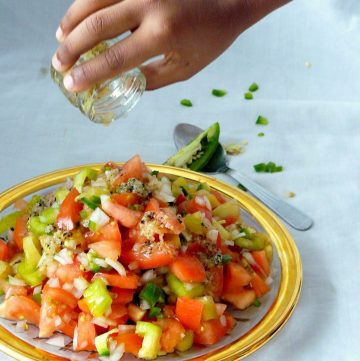 Print Recipe
Ethiopian Tomato Salad
Ingredients
3

large heirloom tomatoes; roughly chopped

1

medium yellow onion

finely chopped (use white or red if you cannot find yellow)

2

fresh jalapenos

finely chopped (deseed if you wish to)

For the dressing:

3

tbsp

extra virgin olive oil

2

tbsp

white wine vinegar

1.5

tsp

grated fresh ginger

Salt

to season

Black pepper

to season
Instructions
Whisk together all the ingredients for the dressing and keep aside.

Mix the chopped tomatoes, onions and jalapenos in a large bowl.

Add the dressing and mix well just before serving.