Creamy, delicious, mildly spiced Chettinad Egg Kurma, a perfect weeknight dinner recipe for the whole family. Pair with steamed rice, flatbreads or appams/hoppers.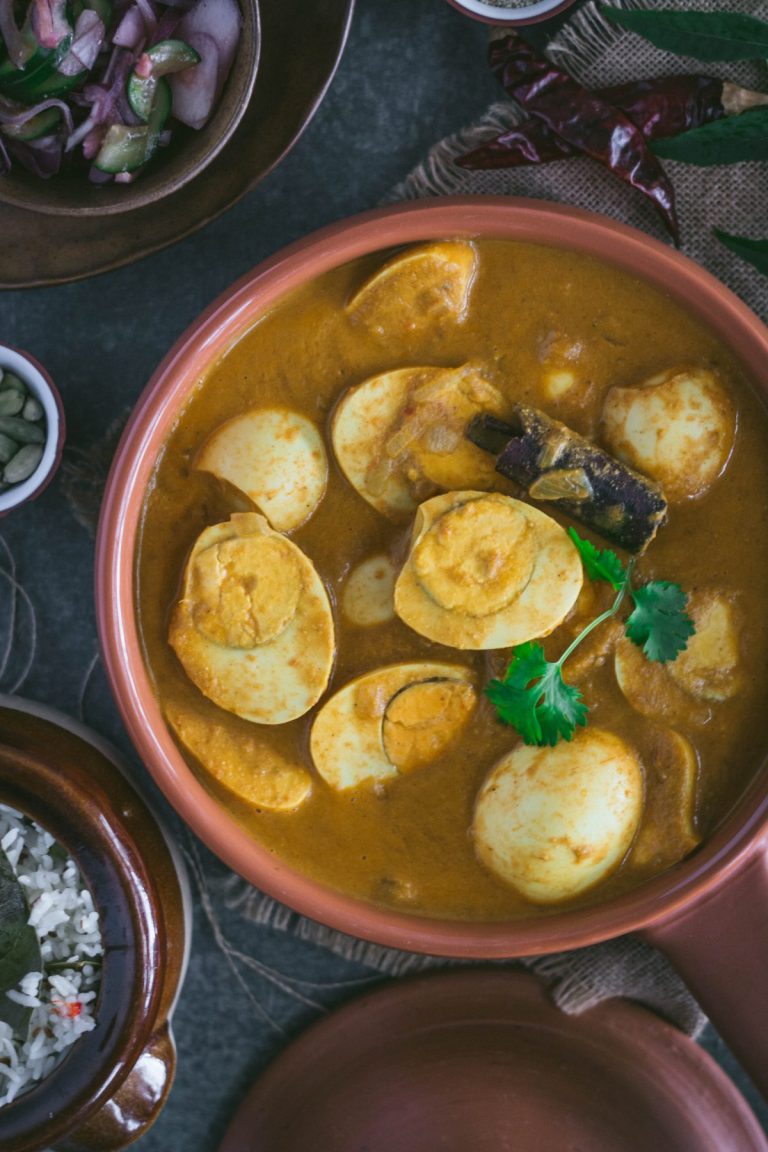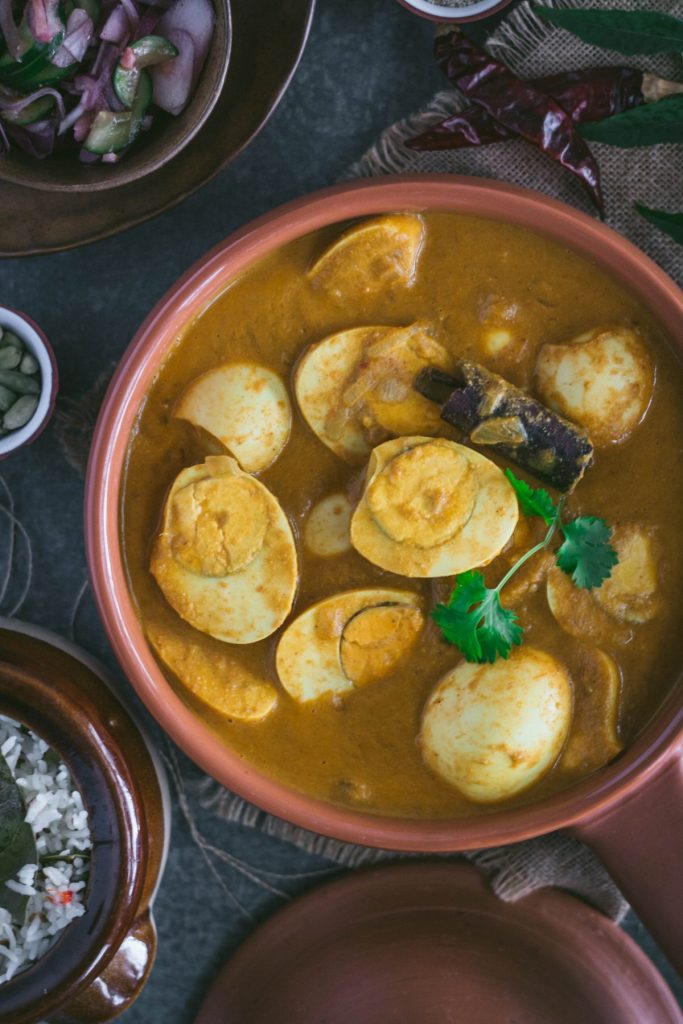 Egg curries are a staple in our household. And because of that reason, I try and experiment with different kinds of curries so that we don't get bored of having the same thing.
Today's dish is a Chettinad Egg Kurma.
Kurma, also referred to as Korma/Qorma is a traditional Indian curry that has a creamy consistency from the use of yoghurt, spices and aromatics. The preparation of a kurma varies between regions; the North Indian versions often use cream or nut pastes (cashewnuts, almonds) for richness and this also adds to the creaminess of the final curry. But in the Chettinad version (quite similar to other South Indian versions), the yoghurt and cream gets omitted and instead replaced by coconut to achieve that creamy consistency.
This Chettinad Egg Kurma also uses poppy seeds, which was a surprise ingredient for me. A bit of research later, I realised that poppy seeds are commonly used in many Chettinad curry pastes for its unique nutty flavour.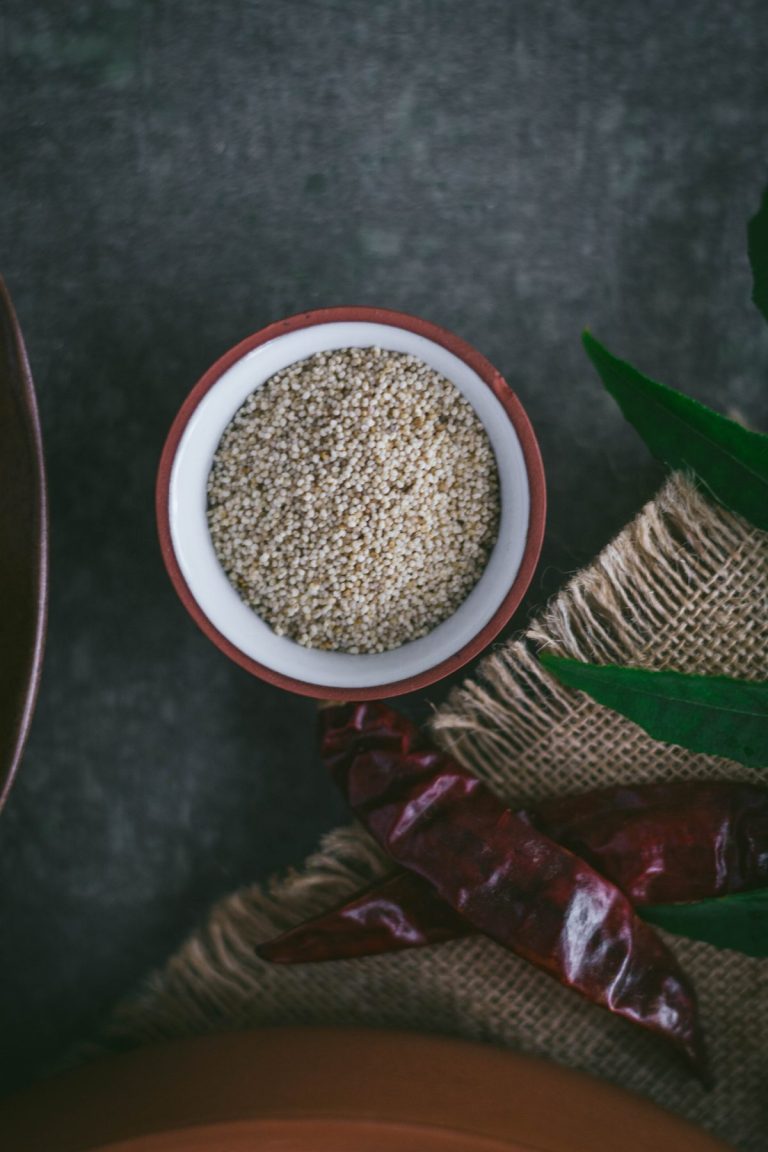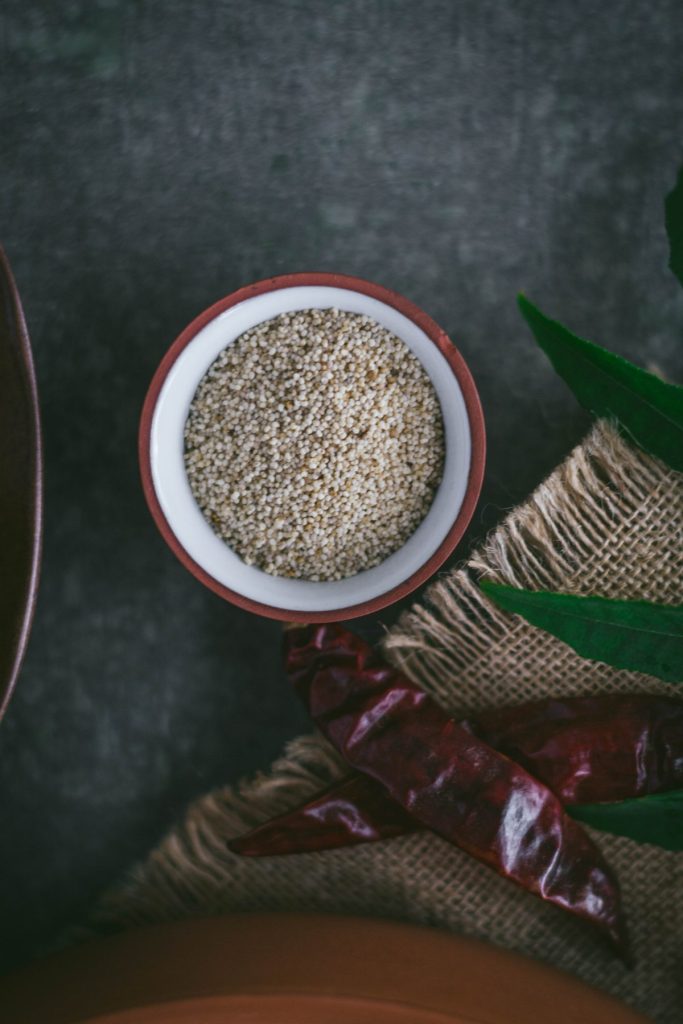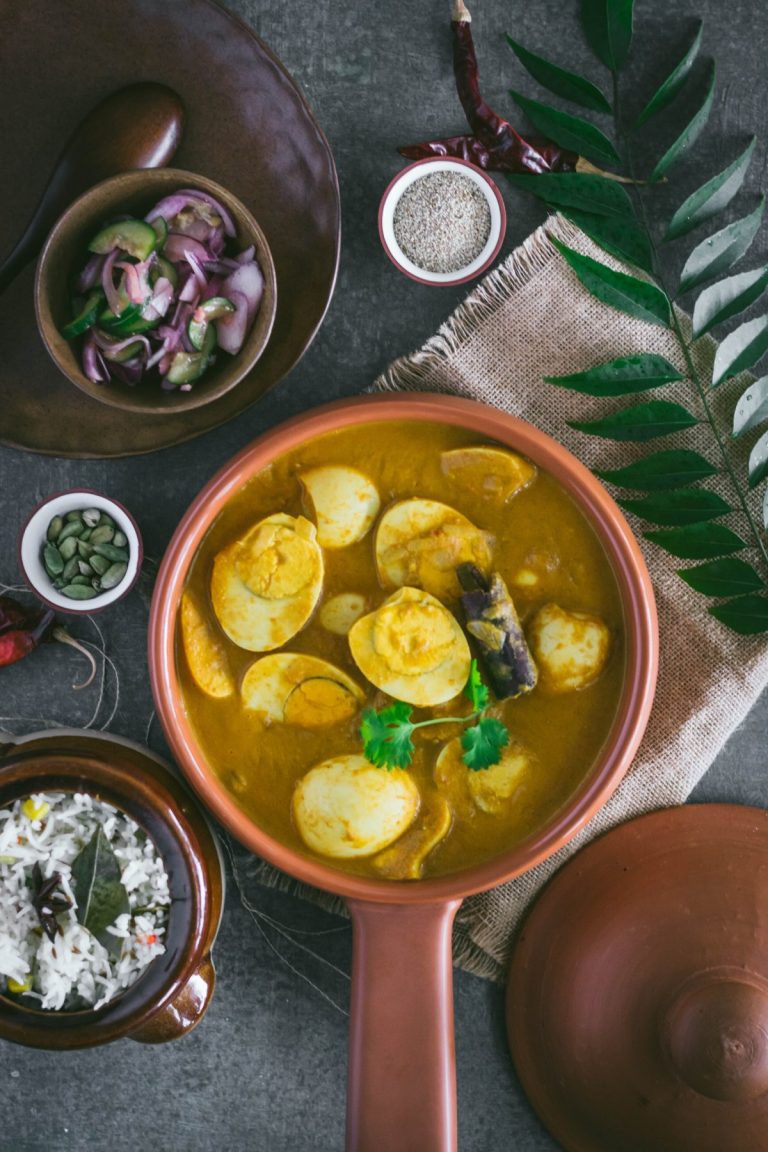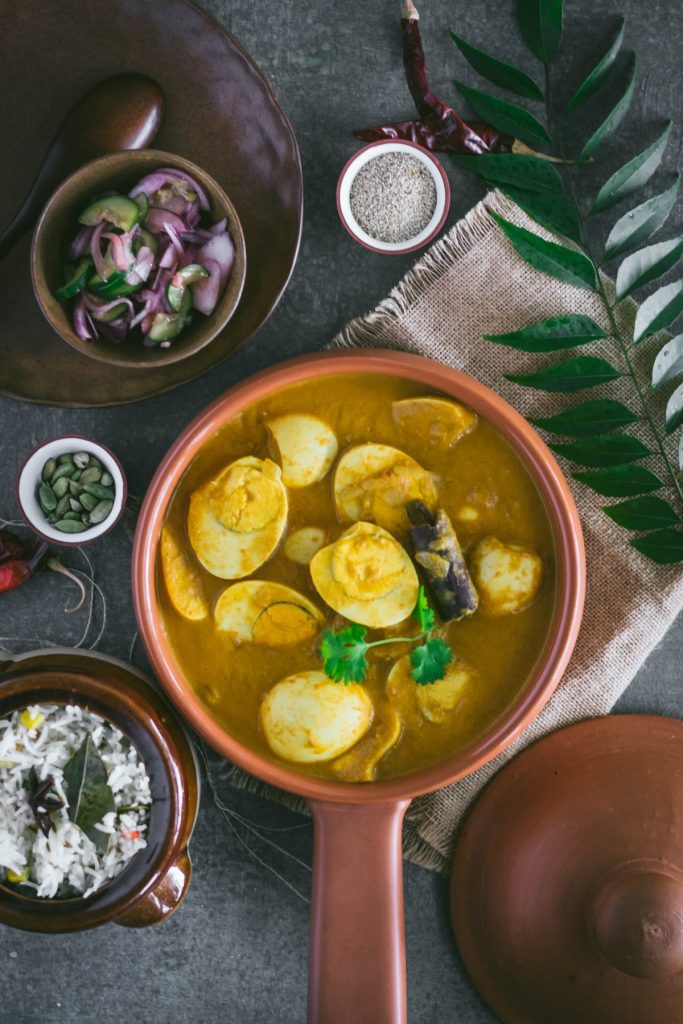 The key flavours of this Egg Kurma are in the wet paste. The spices, aromatics, poppy seeds and coconut are slow roasted to draw out the flavours and then ground to a paste. This is the only step that requires care as to not burn the spices or coconut. The rest of the recipe is super simple and straightforward.
When making a curry using hard boiled eggs, a good tip would be to slit the hard boiled eggs into halves or to score the eggs lightly lengthwise (if you prefer to keep the eggs whole) which allows the eggs to absorb the flavours from the gravy. Egg yolks when drenched in the curry sauce are just out of this world!!
If eggs are a staple ingredient in your household, then do check out my entire category of recipes 'Eggs'. But some of my staunch favourites are;
This Chettinad Egg Kurma can be paired with all kinds of Indian flatbreads like chappathis, rotis, naan etc… but it is best with different types of rice preparations like tomato rice, cumin rice or with appams (rice pancakes) or hoppers.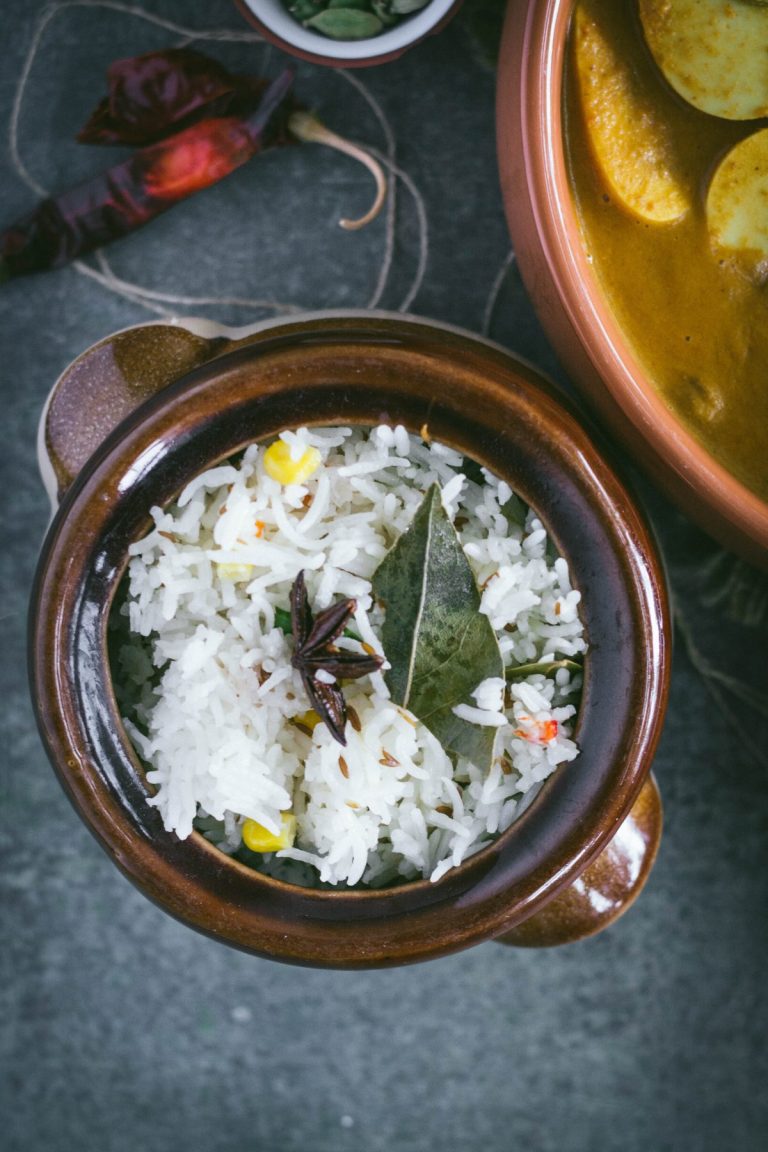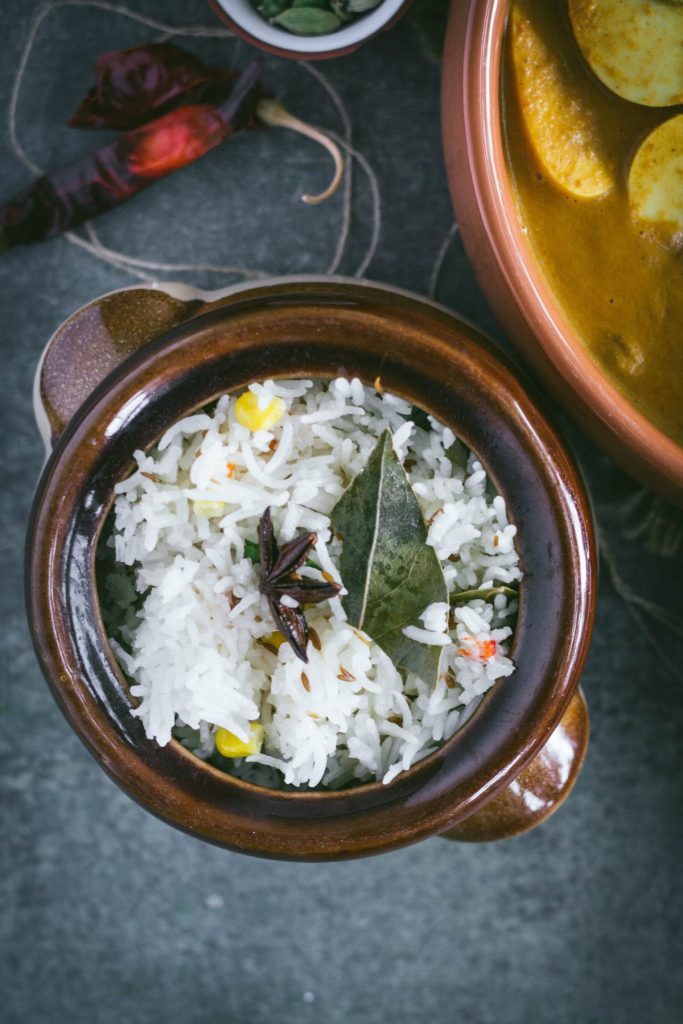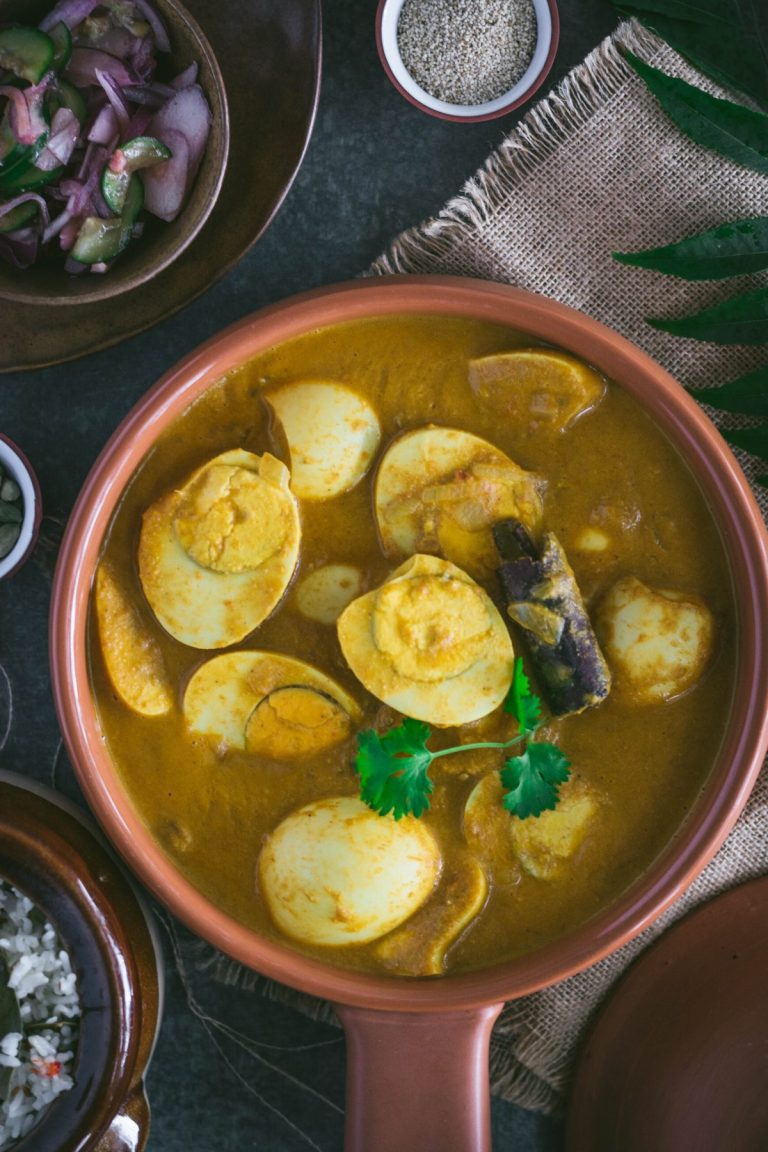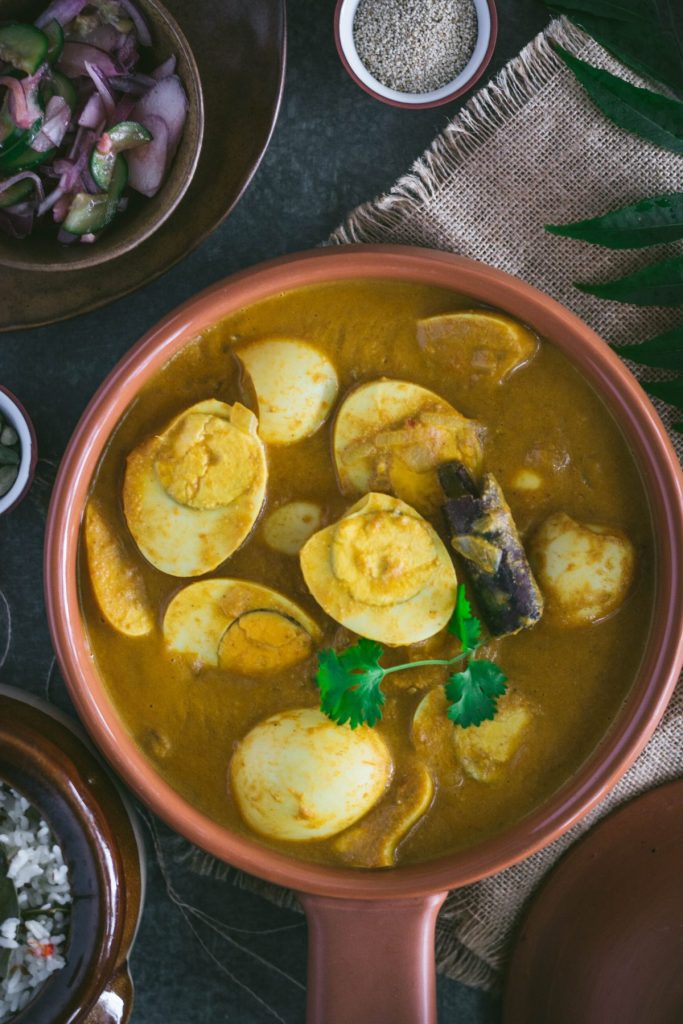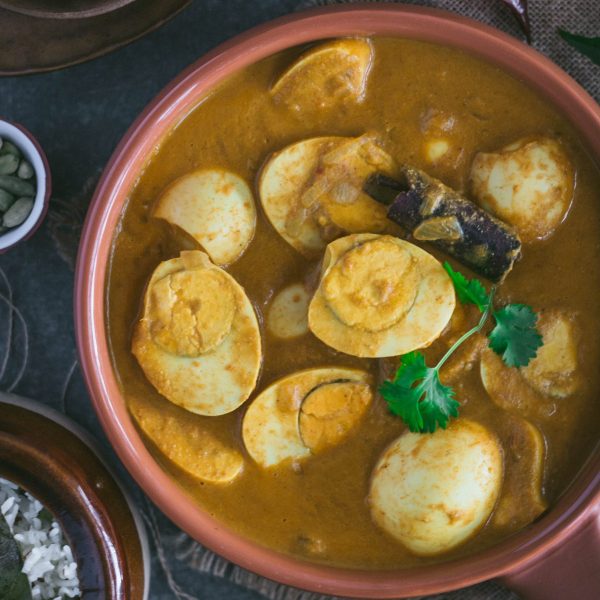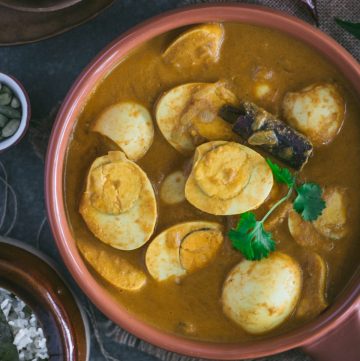 Print Recipe
Chettinad Egg Kurma
Ingredients
10

eggs; hardboiled and each egg slit in half

3-4

tbsp

vegetable oil

1

tbsp

ghee/clarified butter

2

inch

cinnamon bark

5

green cardamoms

2

small red onions

100gm; finely chopped

½

tsp

turmeric powder

2 to

matoes

approx 1 cup; pureed

Salt

to season

Wet paste:

2

tbsp

vegetable oil

1

tbsp

fennel seeds

¾

tbsp

cumin seeds

3

green chillies; slit

5

medium garlic cloves; coarsely chopped

1

inch

ginger; coarsely chopped

2

tsp

white poppy seeds

1

tbsp

roasted Bengal gram; split

10

unsalted cashewnuts

¾

cup

grated coconut
Instructions
Hard boil the eggs; remove shells and slit in half lengthwise. Keep aside.

To prepare the wet paste, heat oil in a large kadhai/wok and when medium hot, add the fennel seeds, cumin, chillies, garlic, ginger and poppy seeds. Fry lightly for 30 seconds to a minute till you begin to get the aroma of the spices.

Next add the split Bengal gram, cashewnuts and coconut; continue to fry on low to medium heat stirring constantly till the coconut starts to get light brown.

Remove from heat and allow to cool. Grind with a little bit of water to get a paste like consistency.

Heat the remaining oil and ghee in the same kadhai/wok and when medium hot, add cinnamon and cardamom.

When the cardamoms turn plump, add the onions and sauté till translucent. Then add the turmeric powder and continue to sauté for another minute.

Pour in the tomato puree and the ground wet paste; season with salt and mix well to combine. Cook on low heat till the oil has separated from the masala.

Add enough water to get a thick gravy, mix well and continue to cook for another 2-3 minutes.

Finally add the boiled eggs and turn carefully to coat well with the masala. Remove from heat and keep for at least 15 minutes before serving.