Flavourful and deliciously creamy Andhra Egg Curry that's a perfect accompaniment to rice, flatbreads or hoppers/appams.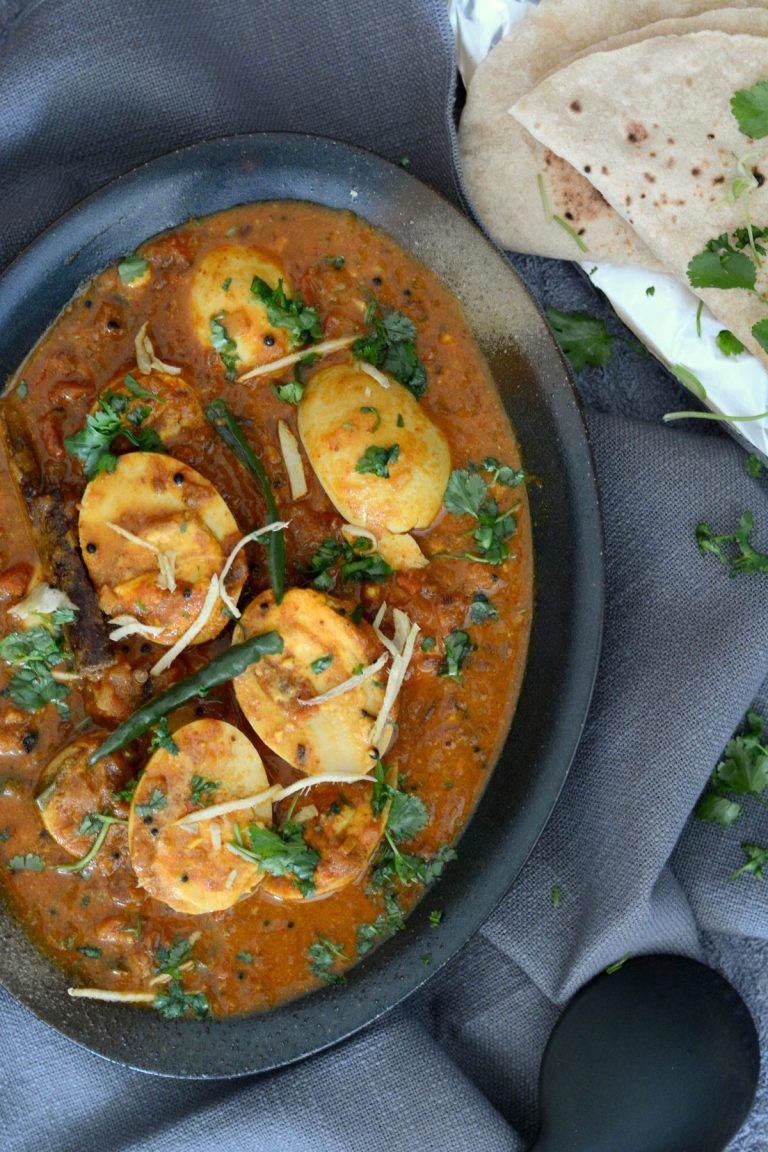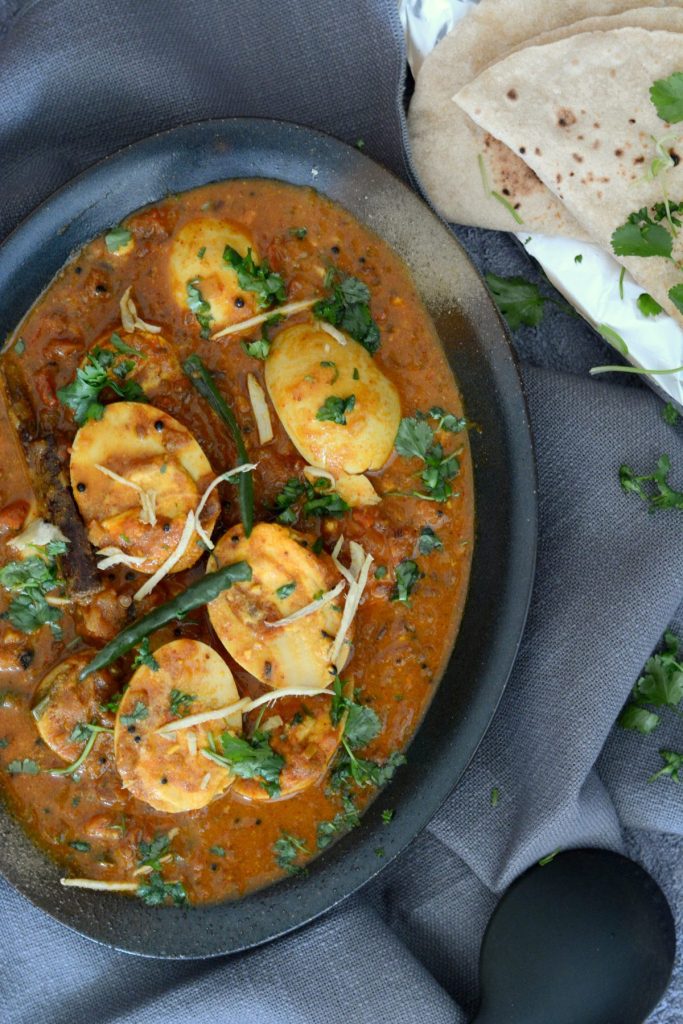 I have begun to read a lot more cookbooks these days compared to a couple of years ago.

Earlier, cookbooks were like glossy magazines to me. Filled with mouthwatering, high quality images, a cookbook was only to gaze at and sigh. In fact it seemed like a distant, unknown world to me akin to reading a film or lifestyle magazine.

But this journey of food blogging has exposed me to the behind-the-scenes part of a cookbook. Today, I understand food in its entirety. Now when I read a cookbook, I try to find the author in every page of the book. What is the author trying to tell me through the book? What is his or her food philosophy? I am finally able to see the blood, sweat and tears that go into collating recipes, cooking all the food, styling, photographing, printing, publishing…..the whole journey flashes through my mind which makes me appreciate it and look much more beyond the glossy pictures.

The recipe for this Andhra egg curry comes from a cookbook I have begun to admire much. 'Indian Kitchen (Secrets of Indian Home Cooking)' by Maunika Gowardhan is exactly my idea of an Indian cookbook. In fact, if anyone ever gave me an opportunity to create an Indian cuisine based book, it might look very similar to this one.
Indian Kitchen is a perfect tribute to the vastness and rich culinary heritage of Indian cooking. The book does not focus on a single region; it showcases the gems (some forgotten ones) of traditional Indian cuisine from across the country. Maunika has picked out classics from every region and presented it to us in the most beautiful manner.

And according to me, the ultimate compliment you can give to a cookbook author is to actually cook from her book and that's what today's dish is all about.

The Andhra egg curry is one of the dishes featured in the Indian Kitchen. In spite of being quite familiar with the cuisine and flavours of this South Indian state, I have never made an egg curry from this region before. The final flavour of the dish was exactly as I imagined while reading through the ingredients.
While I have followed the same recipe, adjustments have been made to quantities of spices and aromatics. And I would strongly urge you to do the same if you are trying out my recipe too since the flavours would depend a lot on the brand of spices and ingredients that is used.

Extremely flavourful and delicious, this Andhra egg curry is a wonderful accompaniment to steamed rice, rotis, naan, string hoppers, appams…..just about anything that can soak up the richness of the gravy.

And remember if you try out my recipes, I would be overjoyed to see the pictures and please tag using #thespiceadventuress so that I would not miss it.
If you love eggs, then you must also try out this delicious Chettinad Egg Kurma.
Let's get cooking this tangy, spicy, moreish Andhra style egg curry.