Spring is here!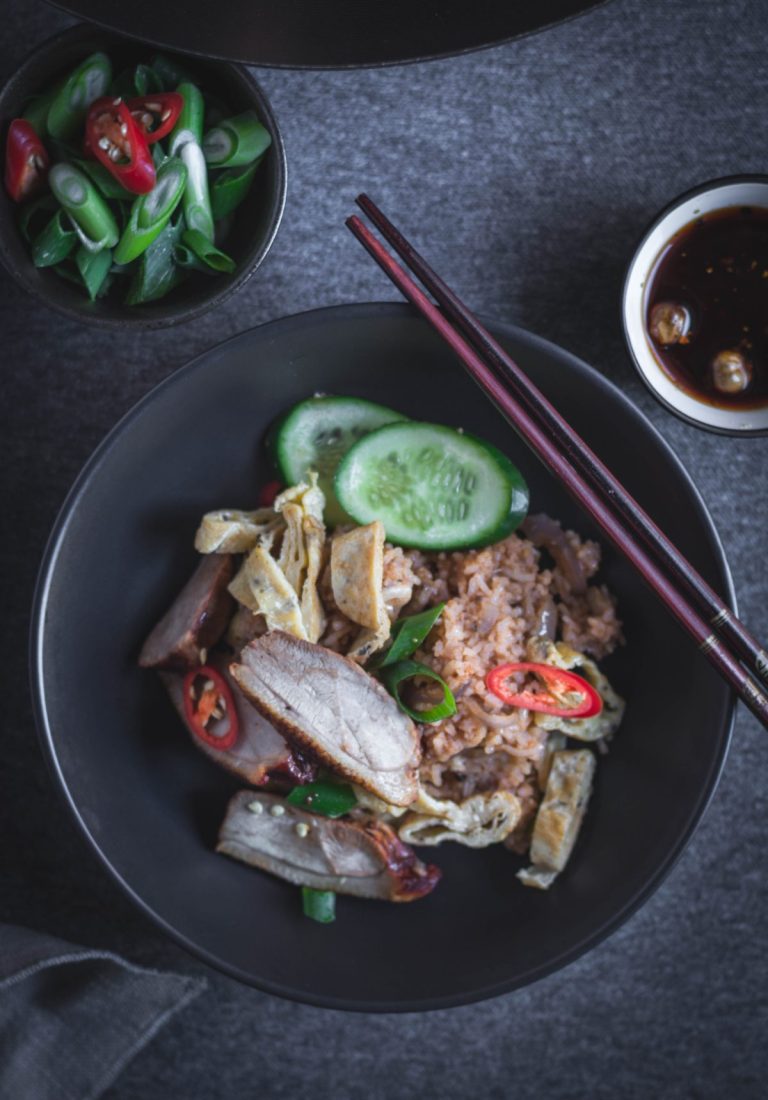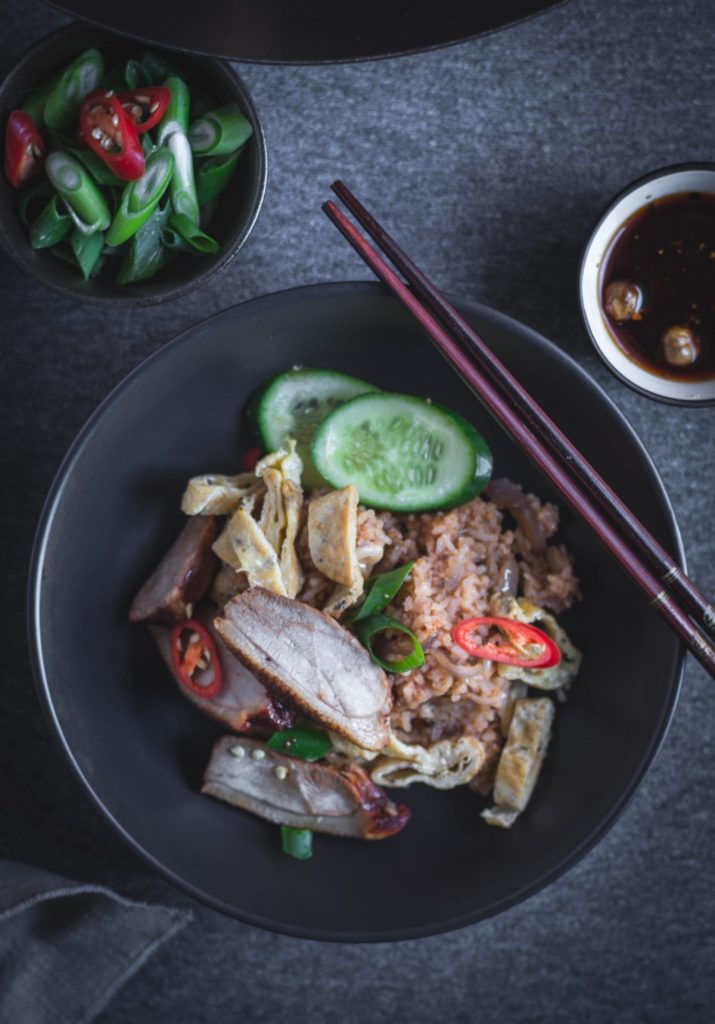 It wasn't a bad winter this year actually, not that it would have made much of a difference as we were all holed up at home. Inspite of the fact that the lockdown period has been extended, the sudden burst of spring blossoms on barren tree branches brings me such joy. It's a sign of new life, hope and renewal….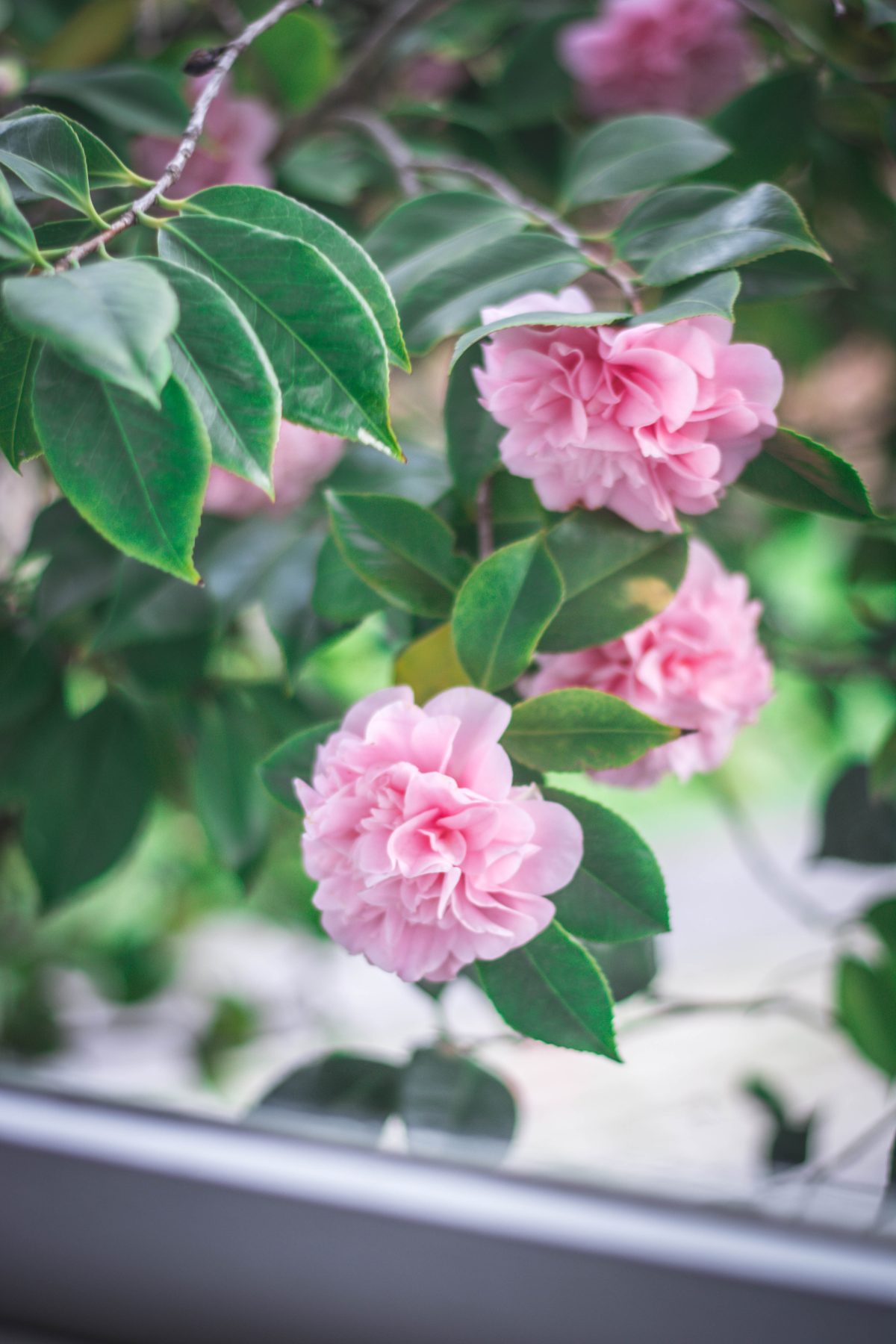 One of my favourite dishes to cook when I want a one wok meal is fried rice. Sometimes I like to whip up a traditional style drawing inspiration from the Asian subcontinent but sometimes, it's just a "finish what's in the refrigerator" sort of fried rice. And with some fried eggs, the dish is complete. Yes ofcourse, I need a generous drizzle of chilli oil too!
Today I am sharing the recipe for this delicious Thai style fried rice with duck and eggs.
This Thai style fried rice can be made with any kind of protein like chicken, lamb, beef, pork etc…. If you don't eat meat, substitute with just eggs or maybe tofu or a medley of vegetables you like for a vegetarian version.
There are two important factors to consistently make delicious fried rice every time.
One is the wok….invest in a good quality, hardy wok. And by good quality, I do not mean expensive; instead look for one that's made from materials like carbon steel, cast iron etc… that can be heated up to high temperatures and also maintains the heat it to get the right texture of the final dish.
Carbon steel woks are inexpensive; I usually rotate between two that I picked up at a local homewares store and from ALDI. Cast iron can be expensive and heavy but are extremely long lasting. Both require maintenance, nothing too hard though. Do not scrub with harsh abrasives or sponges; just soaking in soapy warm water often does the job. And once the wok is dry, rub a light coating of oil before storing away.
The second factor is prep….since there isn't a long cooking time involved in making a Thai style fried rice, it's important that all the ingredients are prepped and ready to go before starting the cooking process. This ensures that you are in control of the cooking time of each ingredient so nothing is soggy but stir fried and delicious.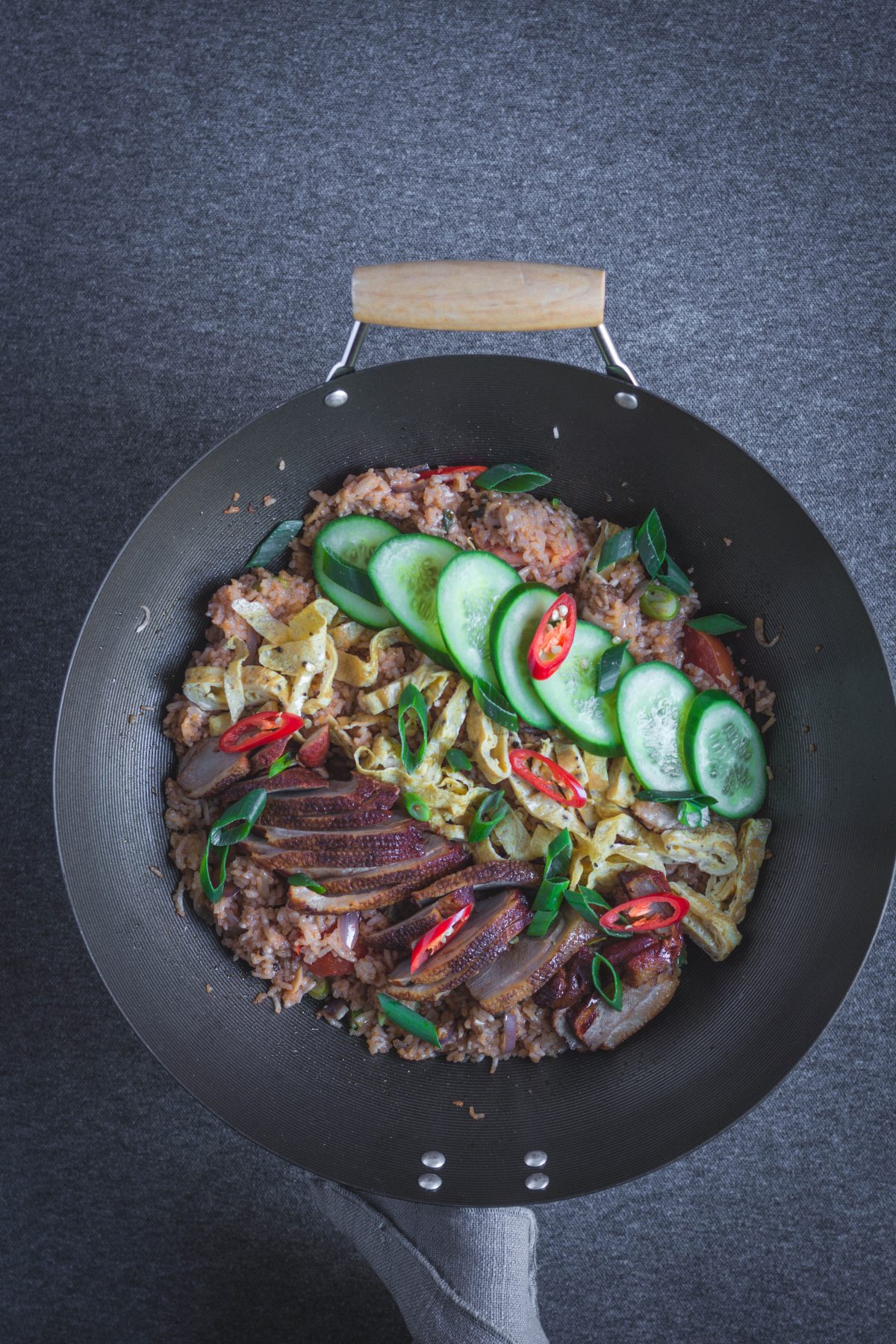 For this dish, I used Luv-a-Duck's Peking style duck breasts. Since it's pre-marinated, adds an extra level of flavour to the whole dish. But you can use any kind of duck meat, no pre-marination is really necessary.
A day old rice is often considered best for Thai style fried rice preparations. But this is not a rule I strictly adhere to as it is not always practical. As for variety, jasmine rice if the preferred one but you can use any variety that you enjoy or have in your pantry.
So let's hop on to the recipe for this Thai style fried rice with duck and eggs.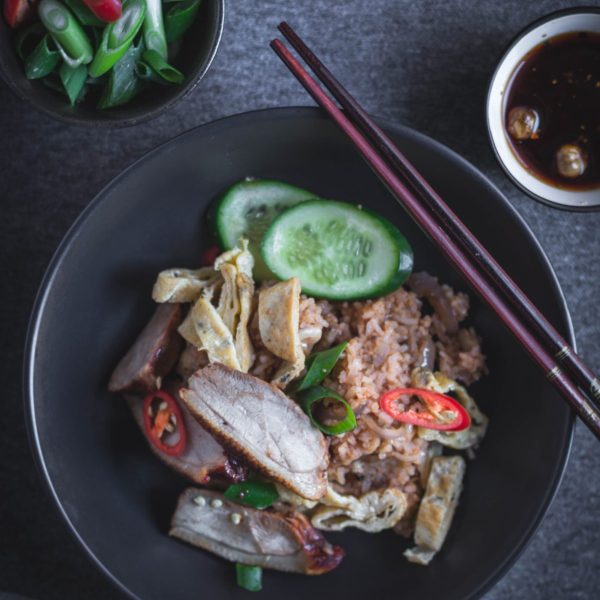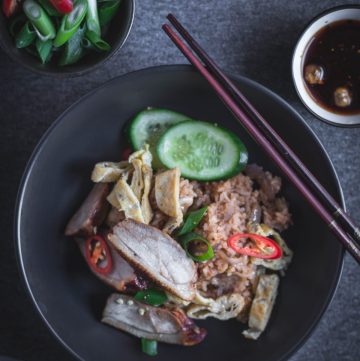 Print Recipe
Thai style Duck Fried Rice
Ingredients
500

gms jasmine rice

3

eggs; beaten

2

duck breasts

approx 350gms; thinly sliced

7-8

tbsp

Vegetable oil

2

medium onions; sliced

4

medium garlic cloves; sliced

1

long red chilli

medium heat; sliced diagonally

5

green onions; trimmed and sliced diagonally

2

tbsp

soy sauce

1

tbsp

oyster sauce

1 to

mato; cut into wedges

Salt

to season

Crushed black pepper; to season

2

Lebanese cucumber; sliced

to serve

1/3

cup

Thai basil leaves

optional
Instructions
Cook the rice as per packet instructions; drain and keep aside.

Season the eggs with salt and pepper; whisk well and keep aside.

Heat 2-3 tbsp oil in the wok; when smoking hot, add the duck slices. Season with salt and pepper, cook till the duck pieces are done but juicy and tender. Remove and keep aside.

Heat 1 tbsp oil in the same wok and tip in half of the whisked egg mixture. Rotate the wok quickly to make a thin omelette; cook for 30 seconds and then remove onto a chopping board. Repeat for the remaining egg mixture. Roll the omelettes and slice into thin strips. Keep aside.

Heat the remaining oil in the same wok and add the garlic, onions and chillies; stir fry for a minute or till the onions are just beginning to soften.

Add the duck pieces followed by half of the green onions, soy sauce and oyster sauce; mix well to combine and cook for a minute.

Then add the cooked rice and fry for a minute or two; taste and season with salt and black pepper. Toss well to combine.

Finally add the tomatoes and remaining green onions, mix and remove from heat.

Serve warm topped with omelette slices, cucumber and basil leaves.

A drizzle of chilli oil would be amazing (optional).
Notes
The colour of my fried rice looks slightly reddish because I used Peking flavoured duck breasts.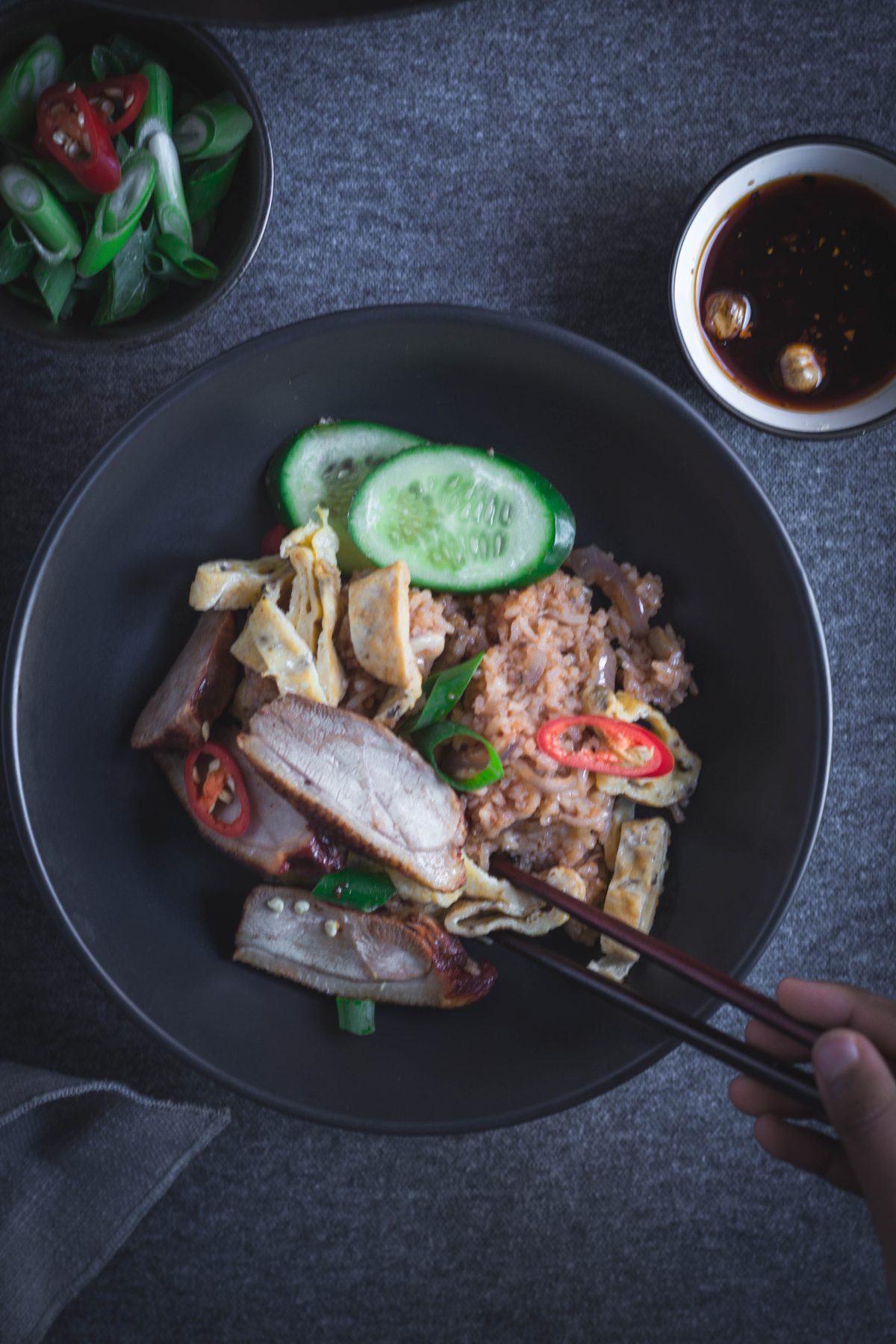 And now it's time to share other top picks for the month of August;
A fun, colourful, interesting watermelon punch. Just wish that the current restrictions ease and I could serve these during my backyard parties.
This grapefruit paloma is so refreshing.
One of my favourite brunch spots in Melbourne is Hardware Societe…and their version of baked eggs with chorizo is simply outstanding. Now you can make it at home too.
Chickpea salads are very healthy and delicious. But with Greek flavours, even more delicious….
This tuna nicoise is a great spring-summer salad. Perfect for long relaxing lunch breaks with friends and a glass or two of chilled white.
Our household is big on all things pickled. So apart from cucumbers, radish, jalapenos, it's time to pickle some carrots too.
Buffalo chicken sandwiches with gorgonzola slaw; you know this is going to be a delicious mouthful!
Did you check out my recent Taiwanese style Pipis recipe? Here's another delicious clams recipe for you….
Punjabi Tariwala Murgh….a rustic, wholesome chicken curry. Need I say more?
Lamb and okra is such a classic combination in many cuisines. Here's an Ethiopian style and an Indian style.
A no churn coffee icecream….the coffee lover in me is so thrilled to try out this one.
I enjoy baking when its simple and wholesome recipes like this bundt cake.