Lamb and potatoes – for many years, I thought that was the only combination that would work in terms of taste and texture. After my marriage into a Tamil Christian household, I realized that lamb can be 'quite successfully' teamed up with many vegetables like okra (lady's finger, drumstick, white radish etc.) And recently, I also discovered that pairing lamb with okra, brinjal or green beans is common in the Meditteranean and Middle Eastern cuisine as well.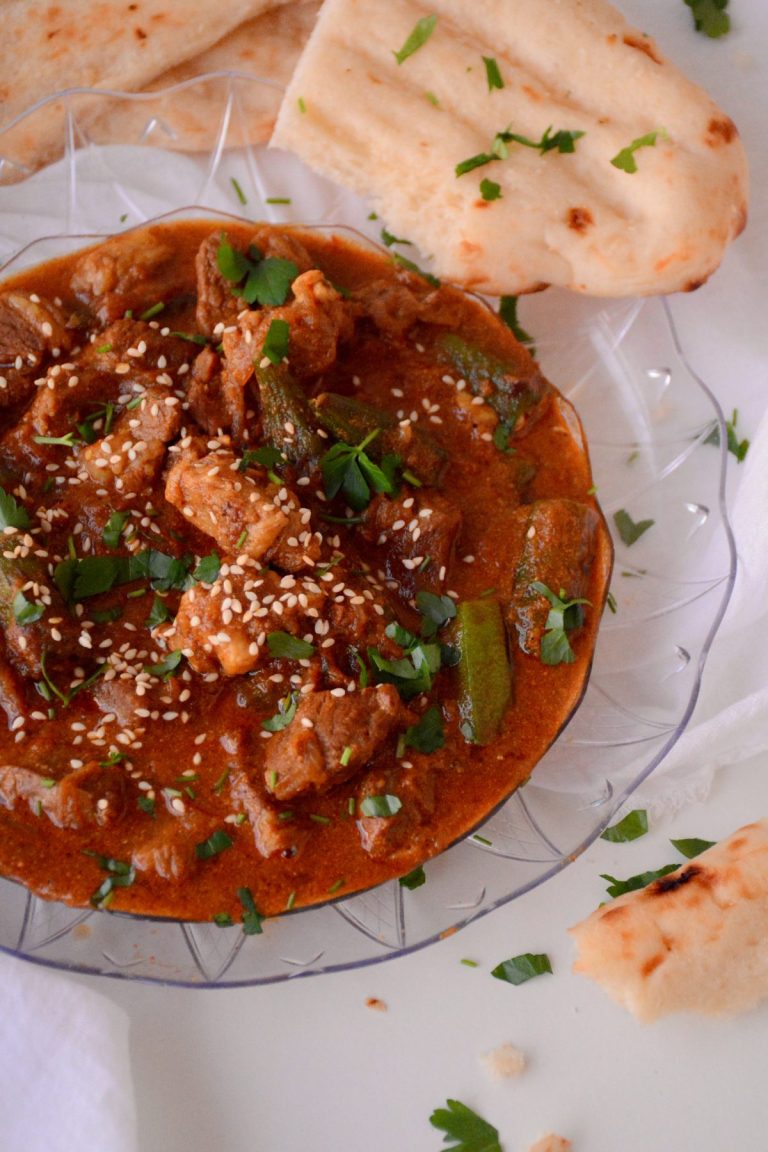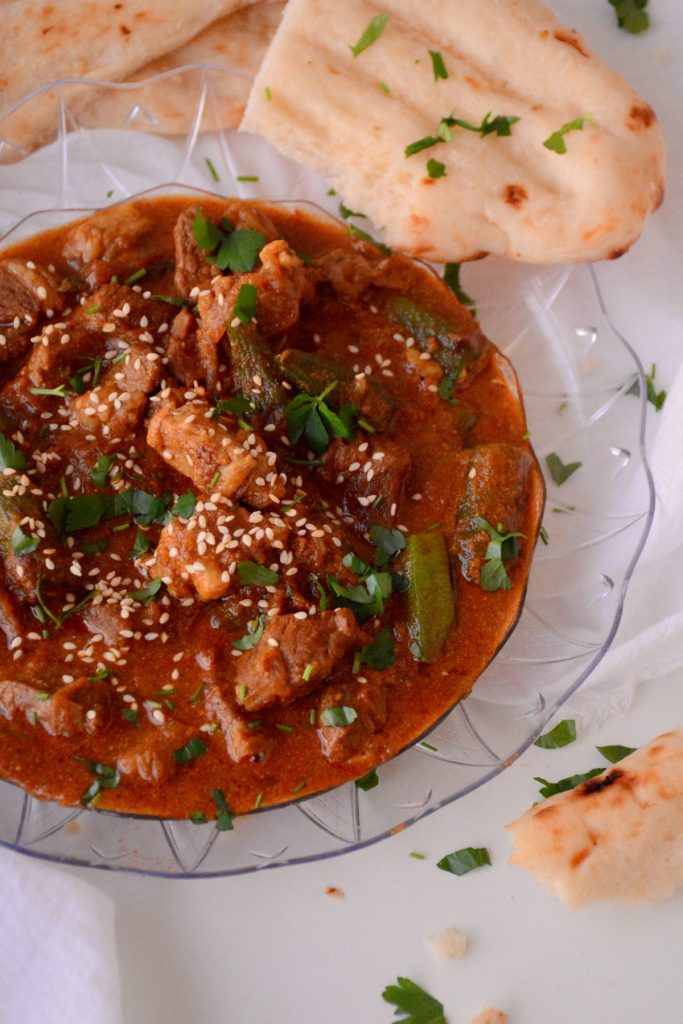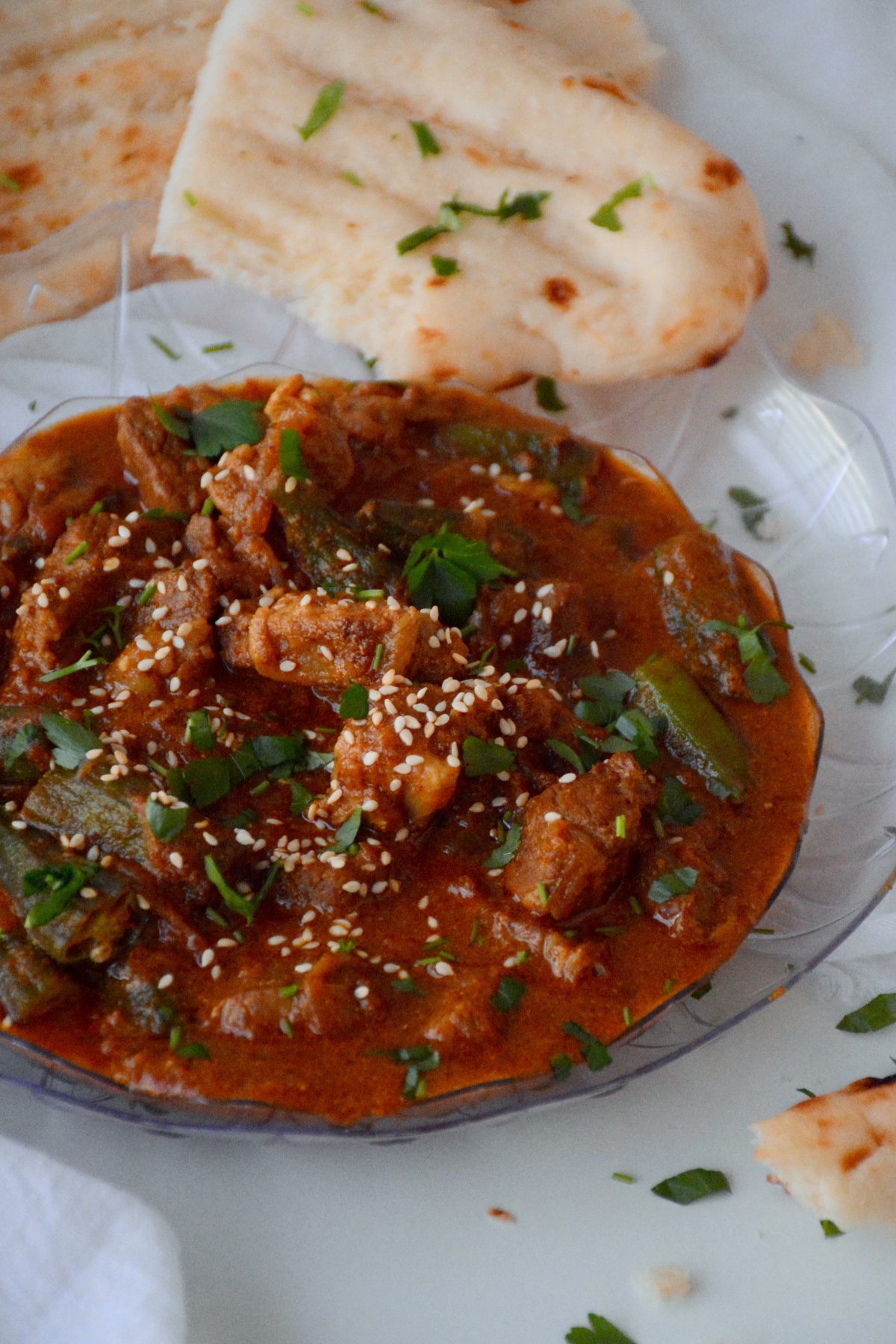 My mother-in-law makes and awesome lamb with drumstick dish which I simply love and the recipe below is my interpretation of her dish. I used the lamb/okra combination – my 2 favourite ingredients!

A warm casserole style dish that can be served with steamed rice, rotis, breads….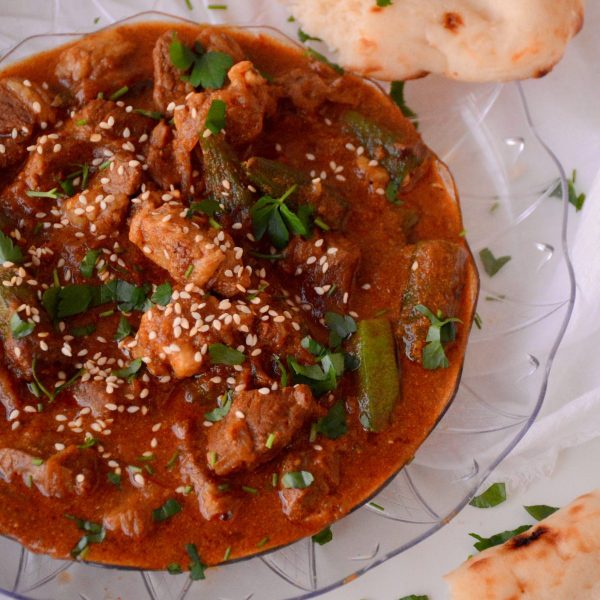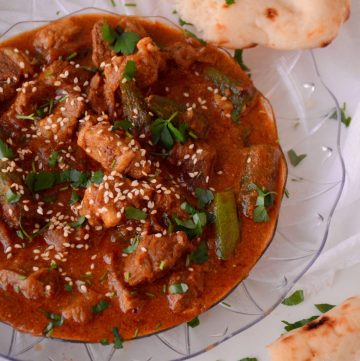 Print Recipe
Lamb with Okra
Ingredients
Mutton

lamb – 1 kg

Okra – 10

cut in half

Vegetable Oil – 4-5 tbsp

Onions – 2

sliced finely

ginger paste – 1 tbsp

garlic paste – 1 tbsp

turmeric powder – ½ tsp

red chilli powder – 1 tsp

garam masala – ½ tsp

coriander powder – ½ tsp

curd – 1-2 tbsp

tamarind water – 2-3 tbsp

salt – to season

coriander leaves – chopped

for garnish

sesame seeds – for garnish
Instructions
1.Cook the mutton pieces with salt and keep aside.

2.Heat oil in a pan and lightly fry the okra and keep aside.

3.In the same pan, add a little more oil and sauté the sliced onions till golden brown. Add ginger and garlic paste along with turmeric powder, red chilli powder, salt and sauté again. Then add enough water.

4.Add the cooked mutton pieces and then add tamarind water and curd. Add water if necessary and cook to bring it all together. Add okra at the end so that it does not become soggy and gloopy. Garnish with coriander leaves and sesame seeds.
Notes
If you prefer the meat to be slow-cooked, then add the washed mutton pieces after step 3. Slow cook till the meat is soft and tender and then proceed to step 4.