My love for soups is legendary, something which sometimes irks my hubby especially when we are dining out. I tend to spend more time choosing the soup rather than the other courses. I prefer hot soups over the cold ones and among the hot ones, I love the clear soups – and so, chicken clear soup with loads of black pepper remains my all time favourite.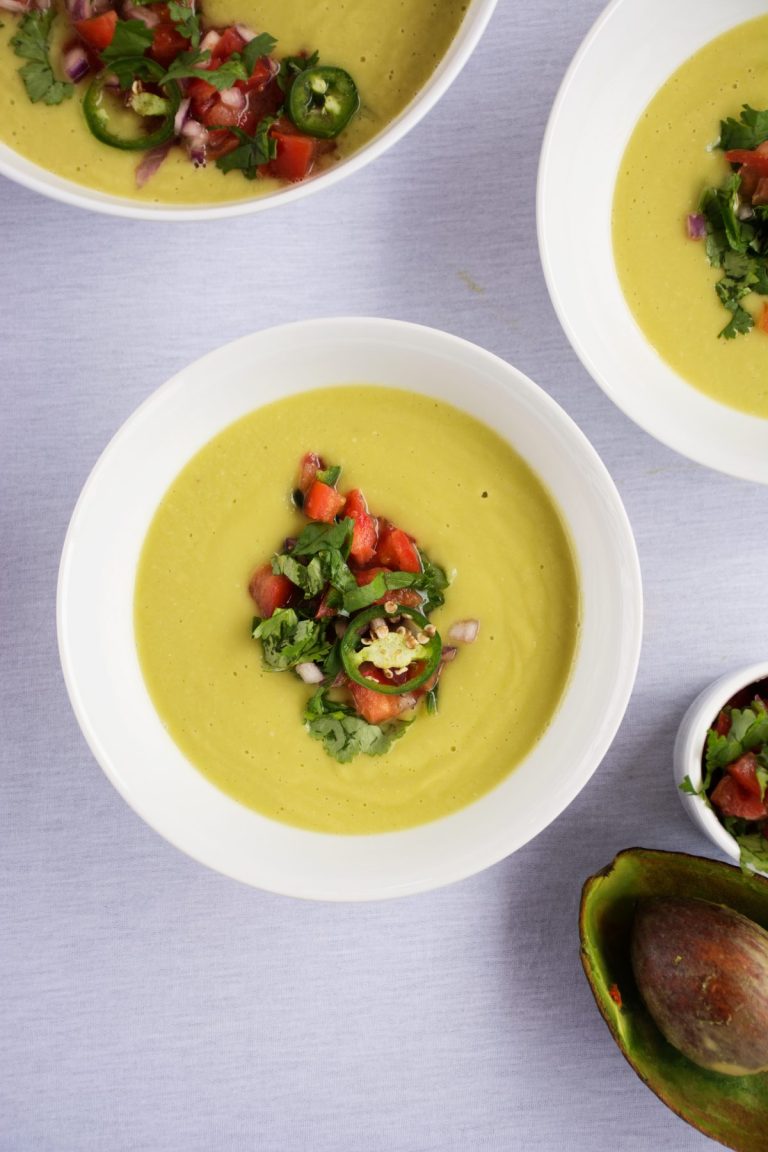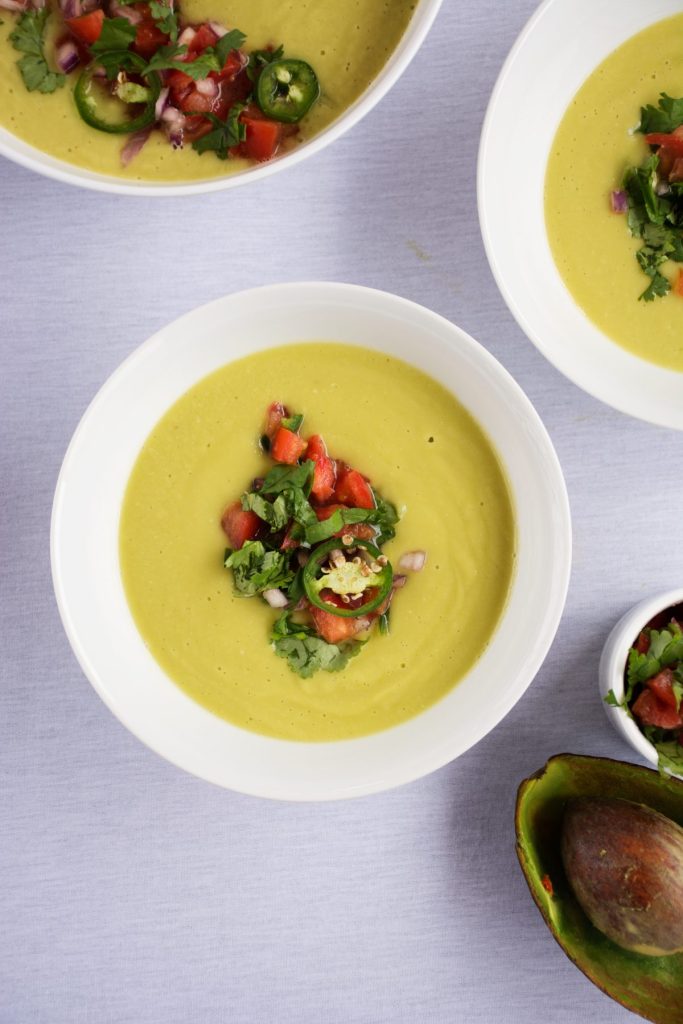 Back in India, I hardly made any soups at home; the 'Knorr' ones were enough to keep me happy. But after coming to Australia, I started experimenting more with making soups as I wanted to cut down on packaged food as much as possible. And this led to following and researching recipes for wholesome soups, especially vegetable based ones.

And today it's the turn of the mighty avocado!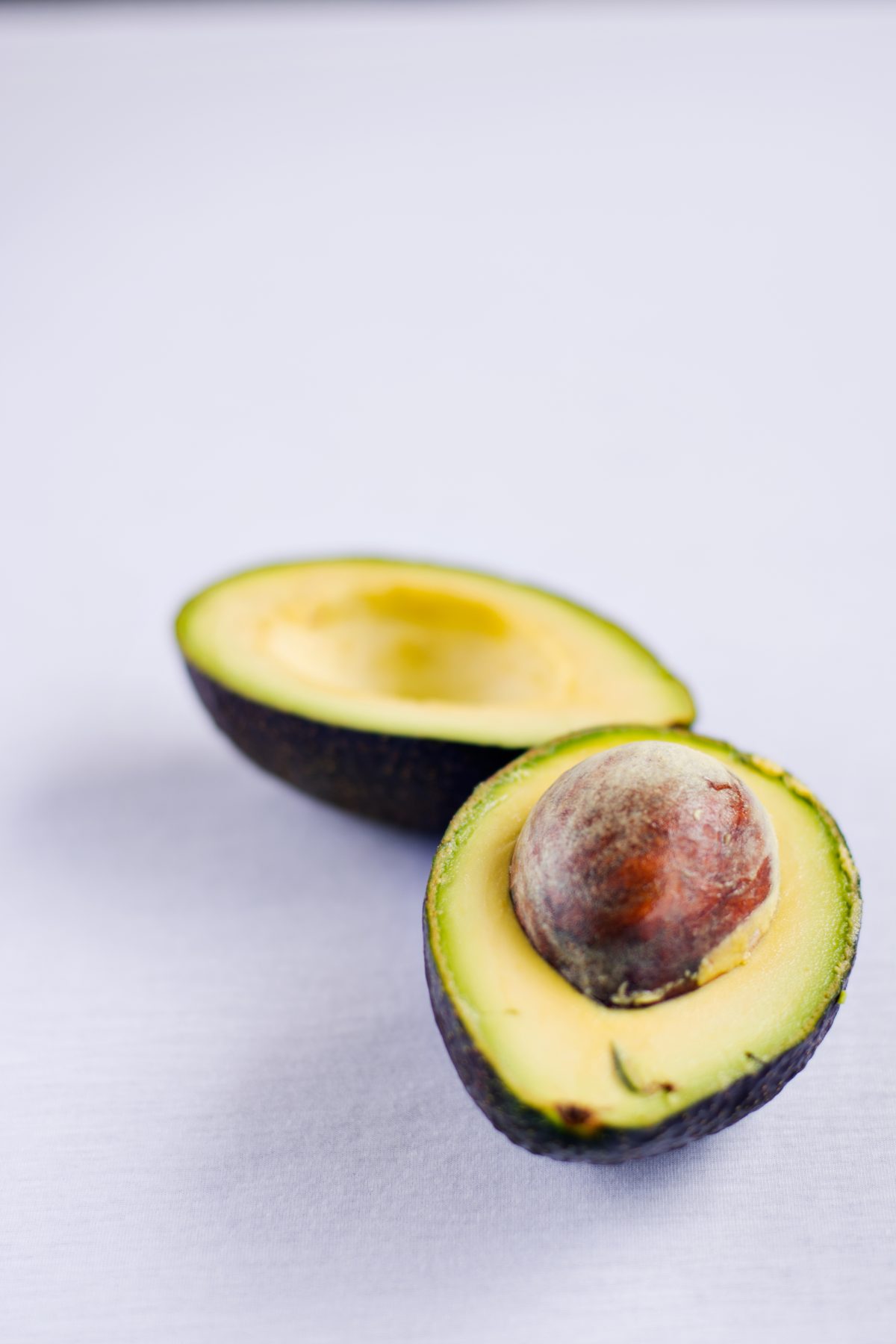 I found this avocado soup with spicy salsa on a website while reading an article dedicated to Vikas Khanna who (in my opinion) has really upped the standards of Indian food abroad. Though largely North Indian, I really enjoy making his recipes and this one (this is more fusion, though) is just proof of that. You can also find this recipe in his new cookbook – a simple, wholesome avocado soup with a tinge of chilli for our Indian taste buds.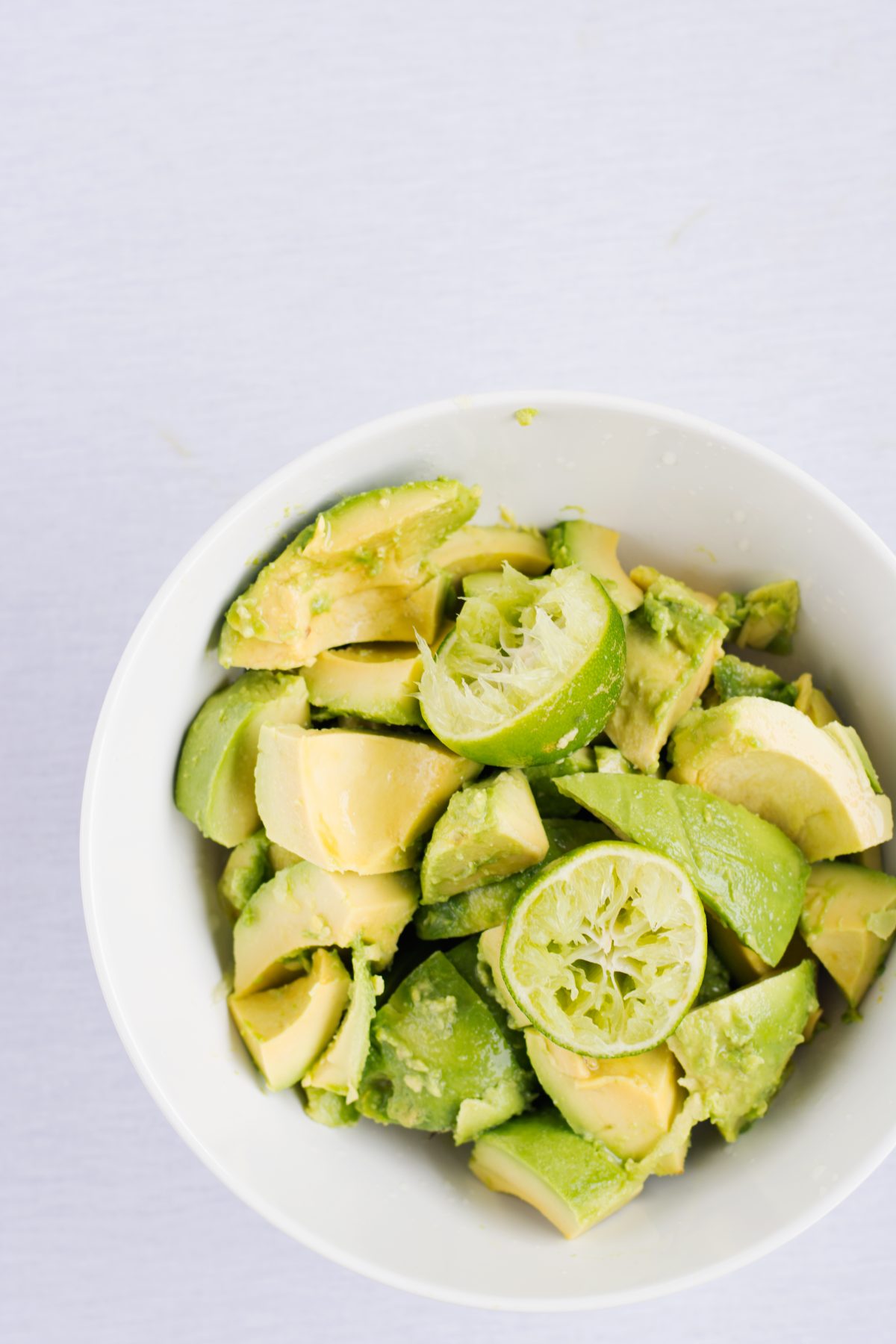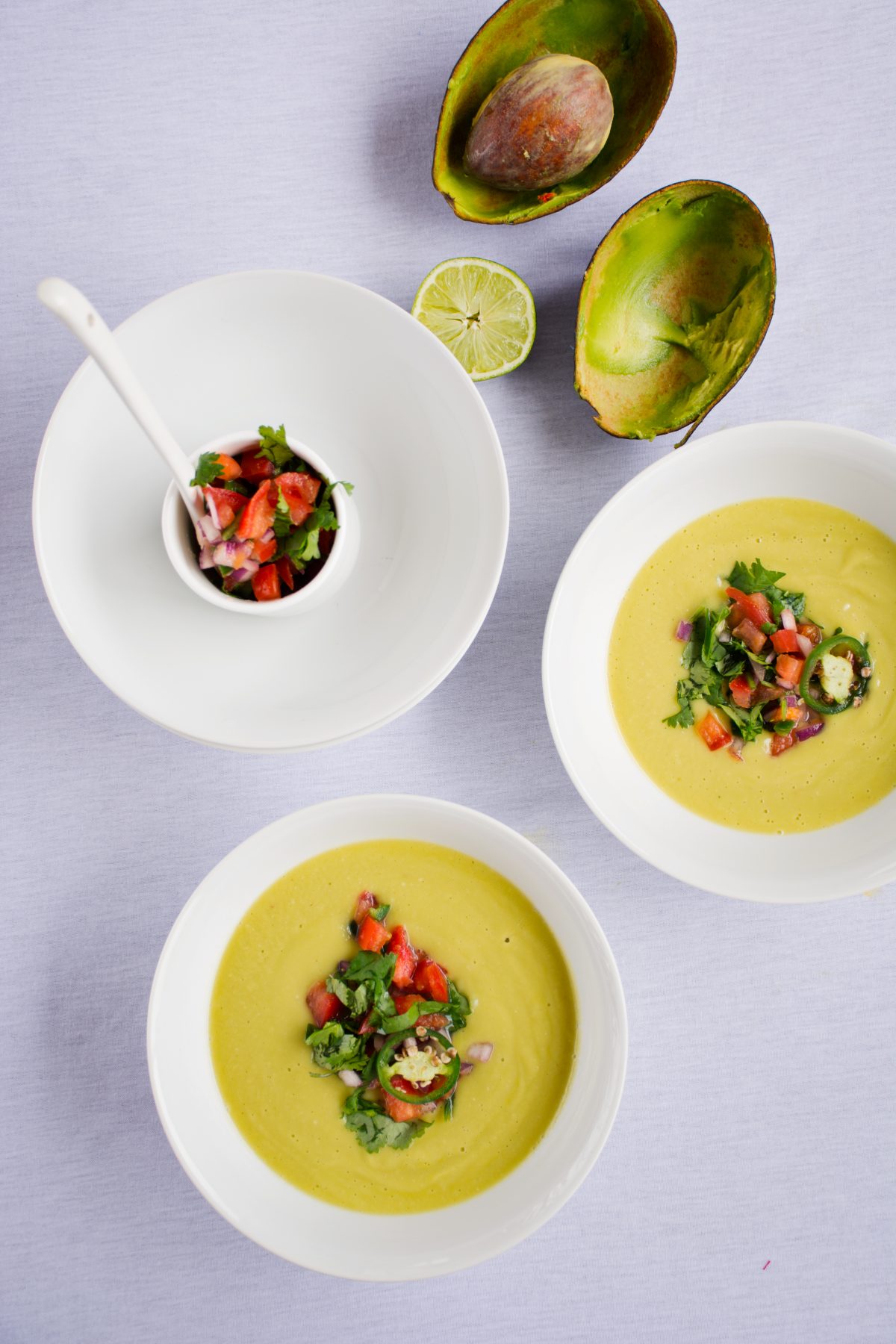 Adapted from Chef Vikas Khanna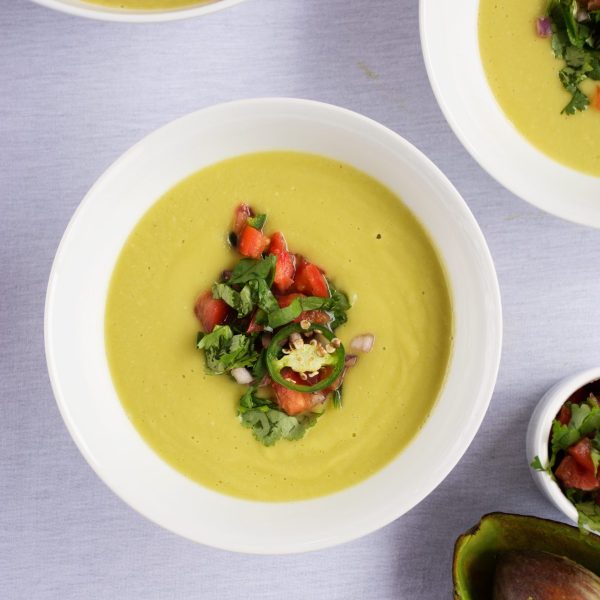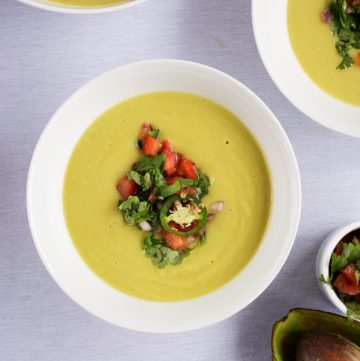 Print Recipe
Avocado Soup with Spicy Salsa
Ingredients
Red tomato – 1; finely chopped

Spanish red onion – 1 medium

finely chopped

fresh cilantro/coriander leaves – 2 tbsp

coarsely chopped

Serrano or jalapeno chili – 1

seeded and chopped

Lemon – juice of 2

Chaat masala – ½ tsp

Himalayan black salt/kala namak – ¼ tsp

Shallots/small onion – 4-5; finely chopped

Gwen avocados – 3

peeled, pitted and cut into chunks

Olive oil – 2 tbsp

garlic – 3 cloves

chopped

vegetable stock – 1-quart; more

if required

Salt – to season

1

jalapeno – to garnish; sliced
Instructions
In a non reactive bowl, add the tomatoes, chopped onions, cilantro, jalapenos and half the lime juice. Season with chaat masala, black salt and regular salt. Mix well to combine and refrigerate.

In a large non-reactive mixing bowl, toss the avocados with the remaining limejuice until evenly coated.

Heat the oil in a large saucepan over medium to high heat and add the shallots, garlic and sauté until the onions are translucent.

Add the avocados and stock; season with salt and mix well. Bring to a boil, then reduce heat and simmer for 8 to 10 minutes. Remove from heat and puree in a blender, adding more stock if the mixture is too thick.

Refrigerate and serve chilled, topped with spicy salsa and sliced jalapenos.
Notes
Chaat masala is an Indian spice blend available at most Indian stores.