This Chickpea or Chana biryani is a delicious one pot meal that's perfect as a mid week treat for the whole family.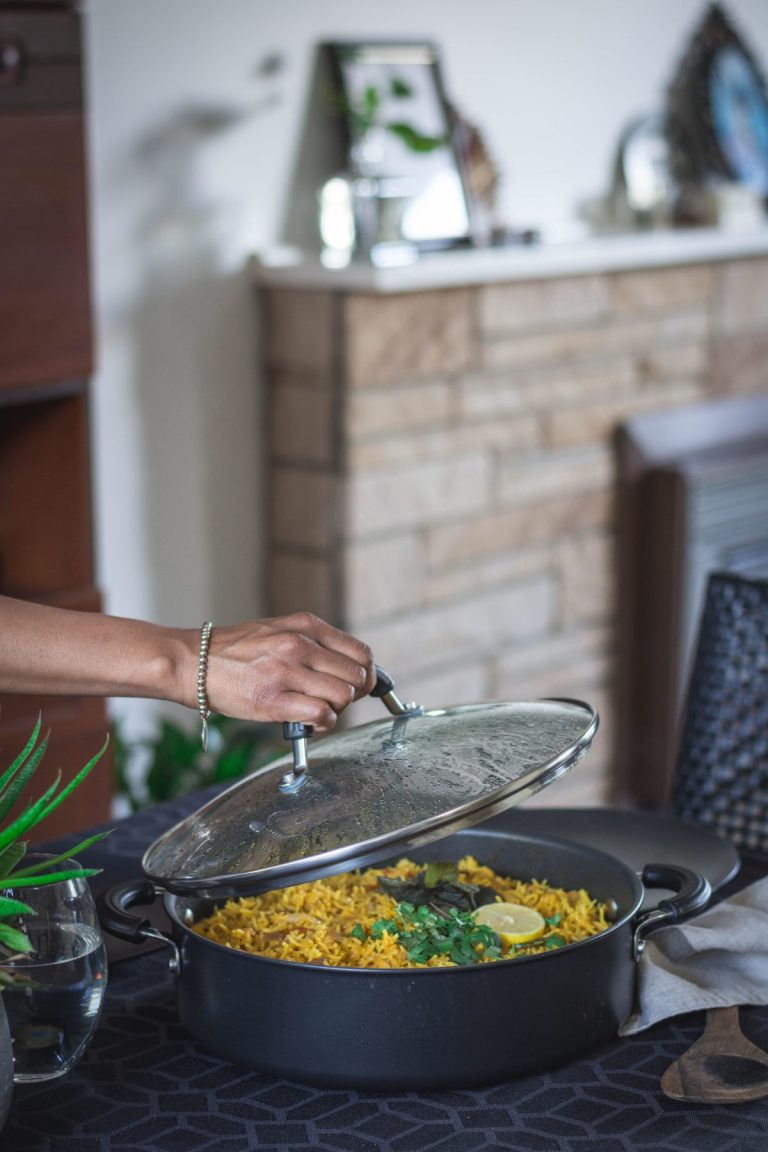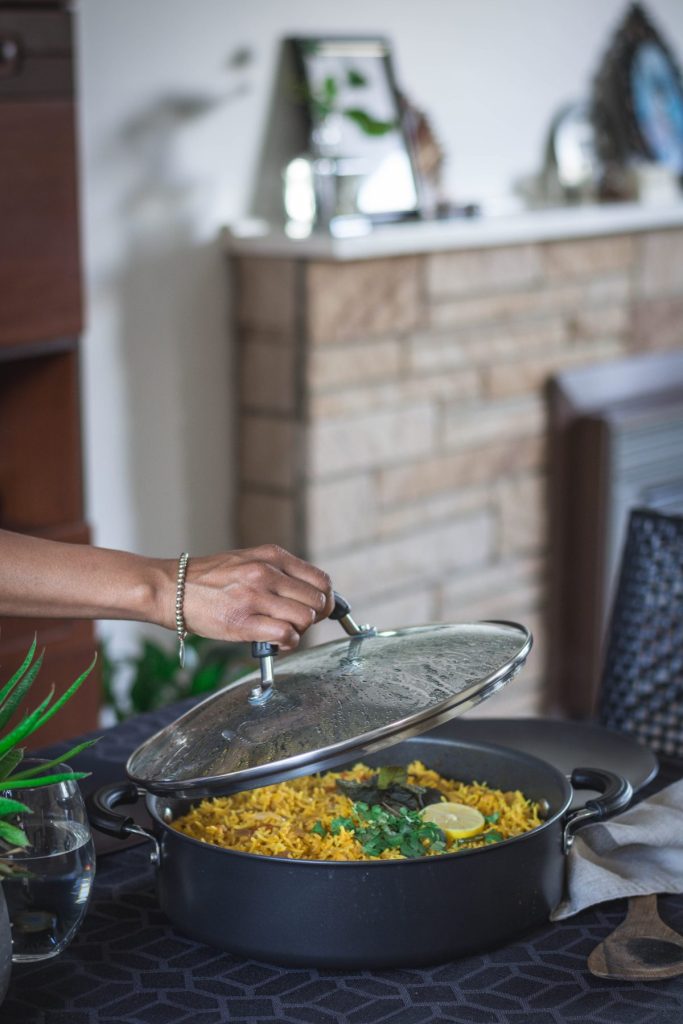 The first time my mum made this chickpea biryani, I was a little skeptical as to how it would turn out (blame it on my lack of culinary skills at that point). But years later, when I became interested in cooking, this was one of the first recipes I learnt from her. Simply because, it is one of the easiest dishes to cook when the biryani craving hits.
I know for a lot of people, biryani has to be with meat; anything else is considered a sacrilege.
But I disagree. Meat based biryanis are delicious ofcourse, but a well made vegetarian biryani can be just as delicious and enjoyable. It's all about infusing maximum flavour into the rice. And for chickpea lovers, this is real treat.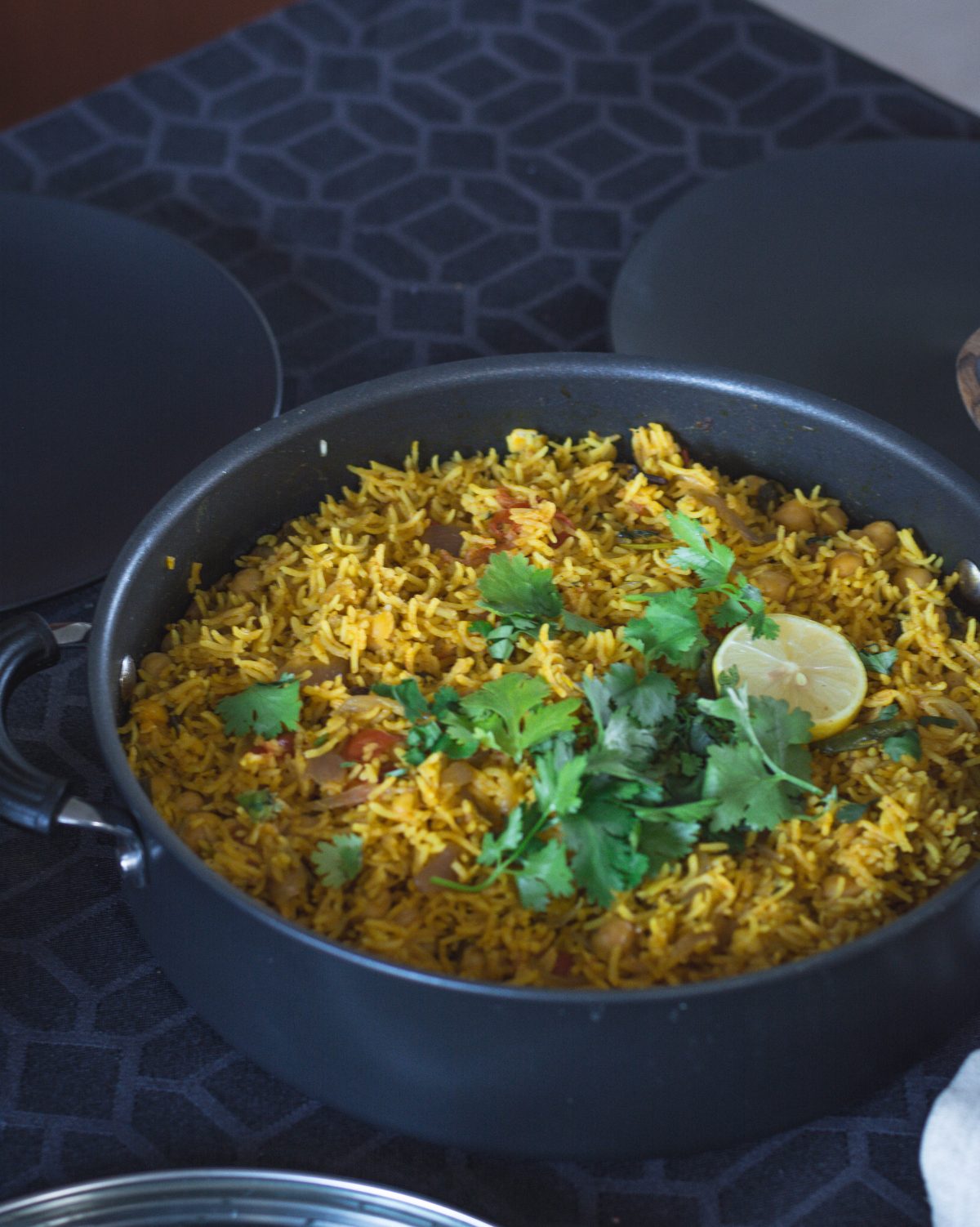 Long grained or basmati rice is best suited for this style of biryani. The rice has to be rinsed a couple of times but make sure to do so gently to avoid breaking the grains. Drain well in a colander to remove excess water.
The starting point of any biryani is frying the whole spices in ghee/clarified butter and the aroma that fills your kitchen at this point is enough to get everyone drooling.
If using canned chickpeas, this is a one pot meal. Else, you will need to cook the chickpeas before adding it to the biryani. This chickpea biryani is perfect as a weeknight meal or when you have vegetarian guests over; team it up with a raita of choice and some pickles to complete the experience.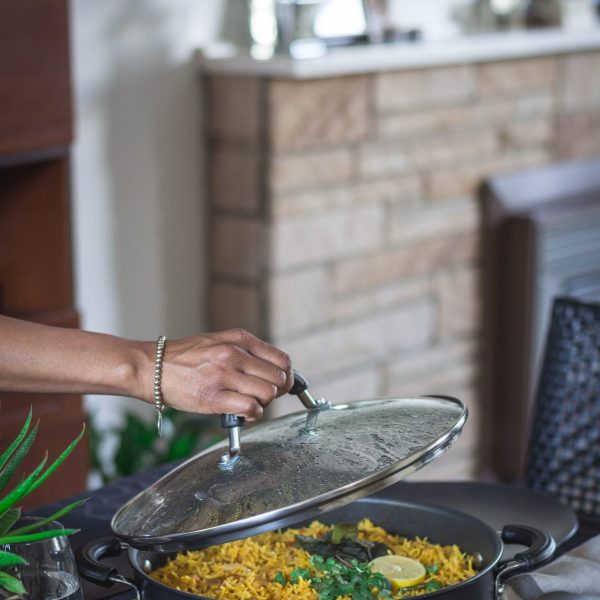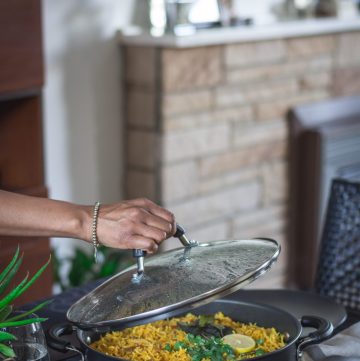 Print Recipe
Chickpea (Chana) Biryani
Ingredients
1

cup

dried chickpeas

soak overnight or in warm water for at least 1-2 hours

2

cups

basmati/long grained rice

soak for at least 30 minutes

2

tbsp

ghee/clarified butter

2

tbsps

vegetable oil

3

cloves

2

bay leaf

½

inch

cinnamon bark

4

green cardamom

2

large garlic cloves; grated

½

inch

ginger; grated

2

large red onion; finely sliced

2-3

green chilli

depends on the heat of the chilli

2

large ripe red tomato; finely sliced

¾

tsp

turmeric powder

1

tsp

red chilli powder

¼

tsp

garam masala

Salt; to season

½

cup

fresh coriander leaves ; finely chopped

4

cups

water
Instructions
Wash and soak the rice, drain and keep aside.

Cook chickpeas in salted boiling water till just done. The chickpeas must still have a bite so take care not to overcook or it turns mushy when cooked again with the rice; drain and keep aside

Heat ghee and oil in a large heavy bottom pan and add the whole spices. Fry on low heat for a few seconds.

Then add the garlic, ginger and sliced onions; sauté till the onions turn light brown.

Next add the chillies and tomatoes; sauté till the tomatoes are broken down and mushy.

Add the turmeric powder, garam masala and red chilli powder; mix well to combine. Also add half of the coriander leaves and cook for another 30 seconds.

Add 4 cups water; season with salt and bring to boil.

Then add the rice and cooked chickpeas (chana); mix, taste and adjust seasoning.

Cook covered on medium heat till most of the water has been absorbed. Then lower the heat and cook till all the water has been absorbed and the rice has cooked through.

Garnish with the remaining coriander leaves and serve warm.
Notes
Soaking the rice and chickpeas enables faster cooking.