Our lunchbox favourite! Stir fried noodles with chicken and mushrooms is delicious, quick, healthy and perfect for quick lunches.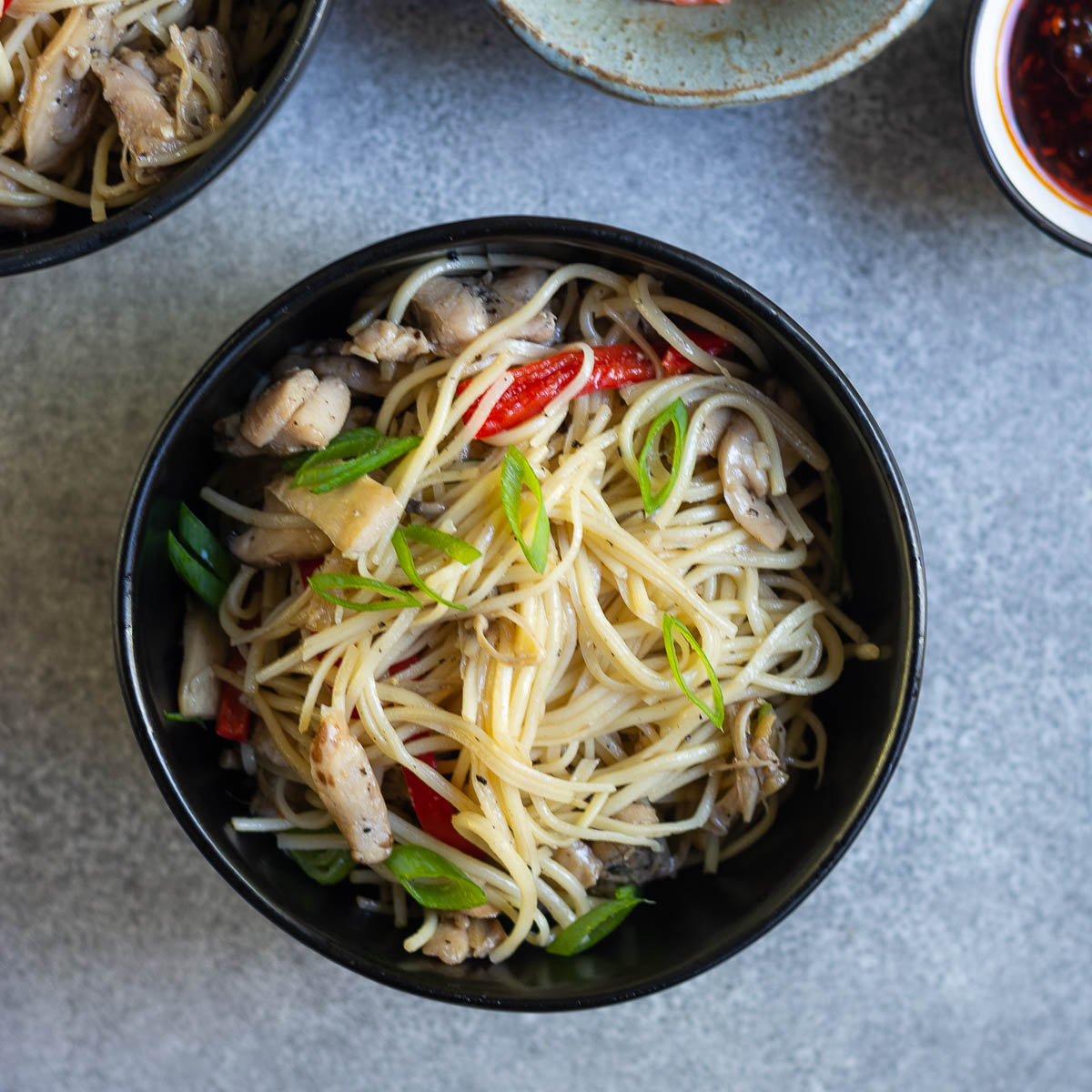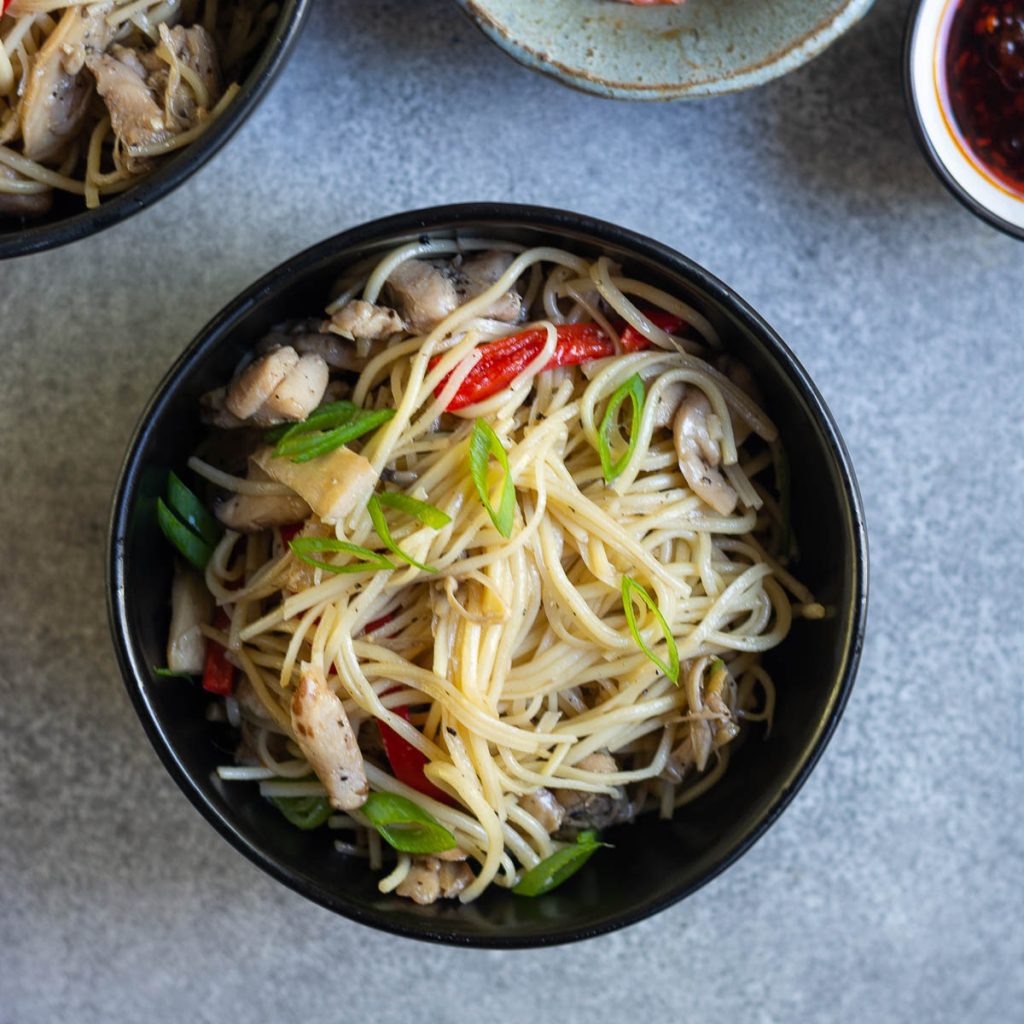 After a decade of eating Indo-Chinese food, true Chinese flavours were a culinary revelation for me. The flavours are so different, a stark contrast to the chatpata and spicy Manchurians and Schezwans! But I must admi,t I did like the authentic flavours too though most Indians actually find real Chinese food bland.
The Chinese love their sauces – soy sauce, oyster sauce, fish sauce…the list is endless. I am slowly grappling and trying to comprehend the different flavours and how to incorporate these sauces along with the sugar and spices. Chinese food is all about balance, very much like their philosophy of yin and yang.
Today's dish is a simple stir fried noodles with chicken and mushrooms. It's what I call a beginner's dish if you are starting to experiment with Chinese flavours.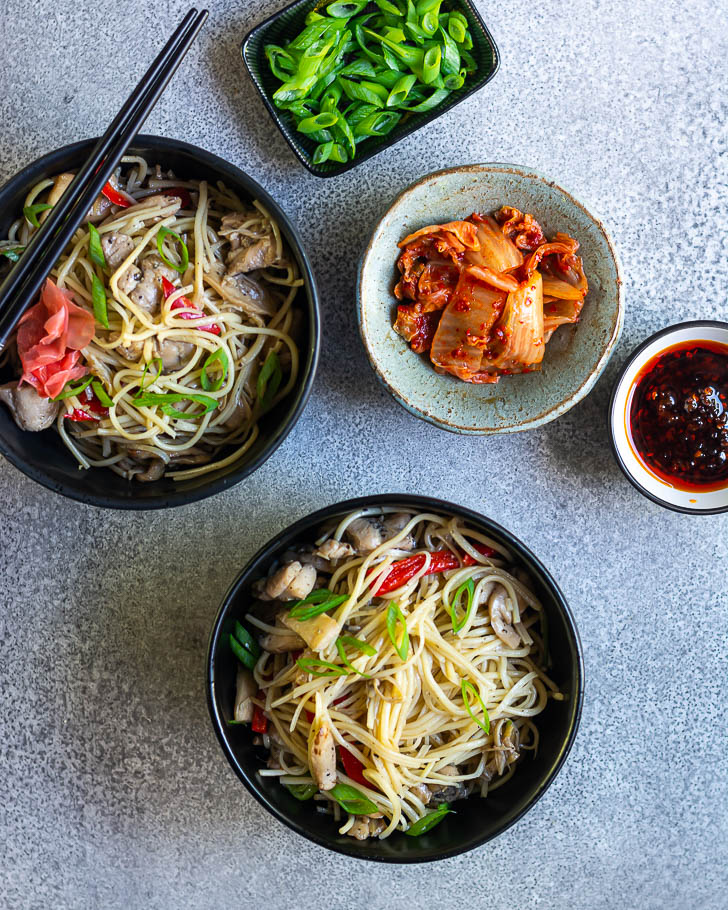 What you need to make this delicious stir fried Noodles with Chicken and Mushrooms:
Noodles:
Of course! I used egg noodles, but it can be replaced with any kind of noodles of your choice. It's best to use the thin/medium thickness varieties; I find it easier to stir fry when compared to the thicker or flat varieties.
Protein:
Boneless chicken thigh was my protein of choice but any type of meat or seafood like prawns can be used instead. You can also make a vegetarian version using paneer or tofu instead.
Mushrooms:
Mushrooms are really the star of this dish. I used a medley of different mushroom varieties like white button, swiss brown, oyster, shitake and enoki. Of course you can use just one variety but using a mix adds more flavour and deepens that earthy umaminess.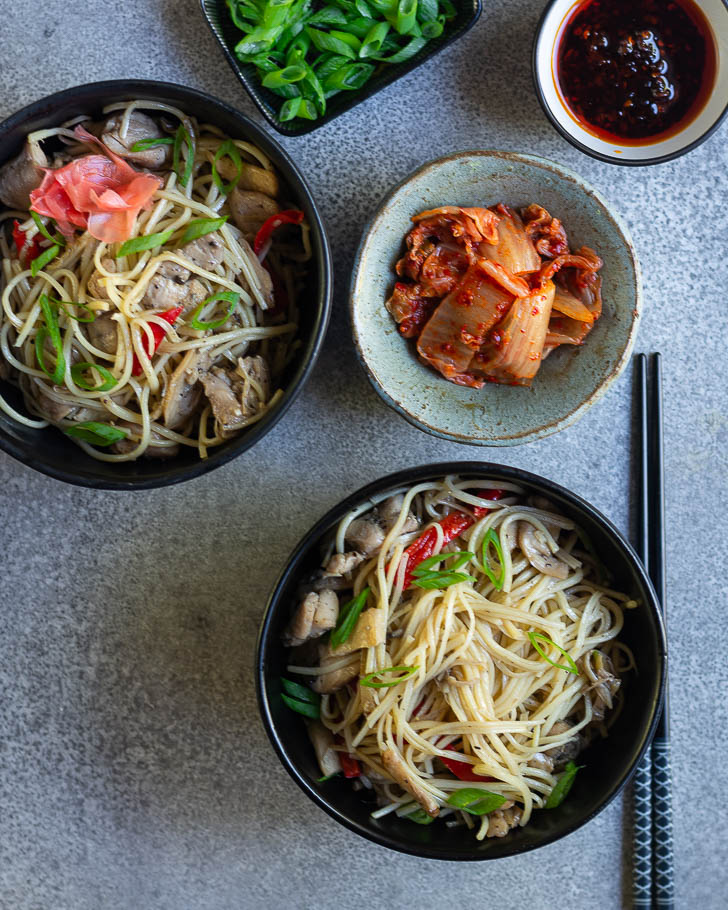 No accompaniments or side dishes are required with this dish. This noodles with chicken and mushrooms is perfect on its own which is what makes it an ideal lunch box dish.
But you can add condiments like we often do. Adi prefers a side of pickled sushi ginger while I pair it with chilli oil and kimchi.
You must also try out my recipe for Soba noodles with salmon and snow peas. Another household favourite!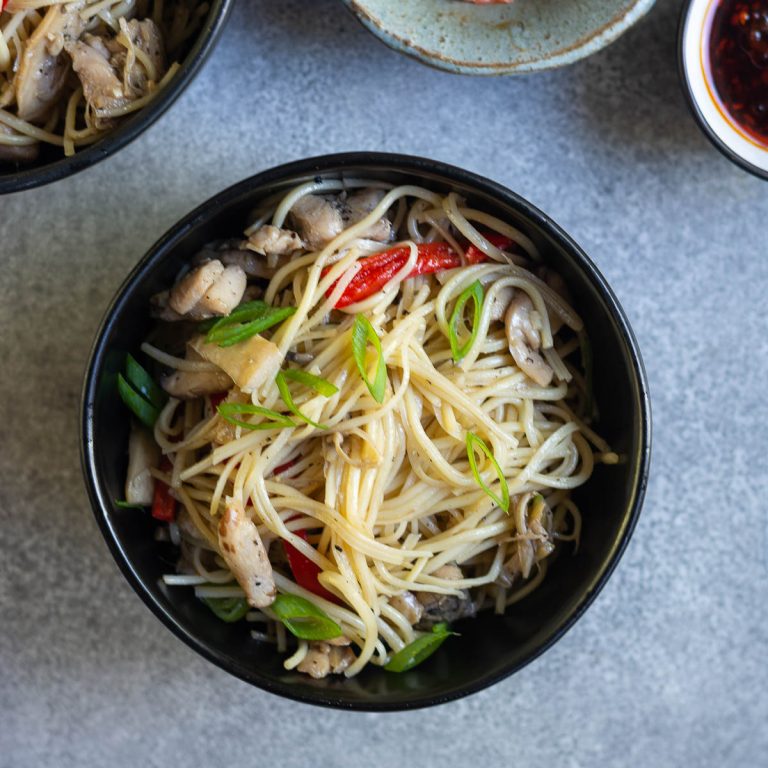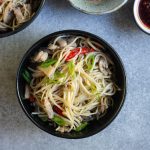 Print Recipe
Noodles with Chicken and Mushrooms
Ingredients
Egg noodles – 400gms

Chicken thigh

boneless – 250 gm, cut into small slices

Mushroom medley – 200gms; sliced lengthwise

Red capsicum – 1

thinly sliced lengthwise

Soy sauce – 3 tbsp

Fish sauce – 1/2 to 1 tsp

Salt – to season

Pepper – to season

Ginger – 1 tbsp

grated

Vegetable oil – 4 tbsp

Spring onion – for garnish
Instructions
Cook the noodles in salted boiling water as per packet instructions, drain and rinse with cold water to stop the cooking and remove the stickiness. Drain well.

In a large wok or pan, heat 2 tbsp oil and add the chicken pieces along with half of the grated ginger and 1 tbsp soy sauce. Also season with salt and black pepper. Stir fry on medium heat till the chicken is cooked through. Remove and keep aside.

Add the remaining oil to the wok and when smoking hot, add the mushrooms. Sauté on high heat for a minute and then add the capsicum, chicken and remaining ginger.

Mix well and season with soy sauce, fish sauce and black pepper. Toss well and add the cooked noodles. Toss well on high heat.

Check seasoning and adjust salt if required.

Garnish with spring onions and serve hot.