A deliciously tangy, spicy tomato rasam made with freshly ground spice paste.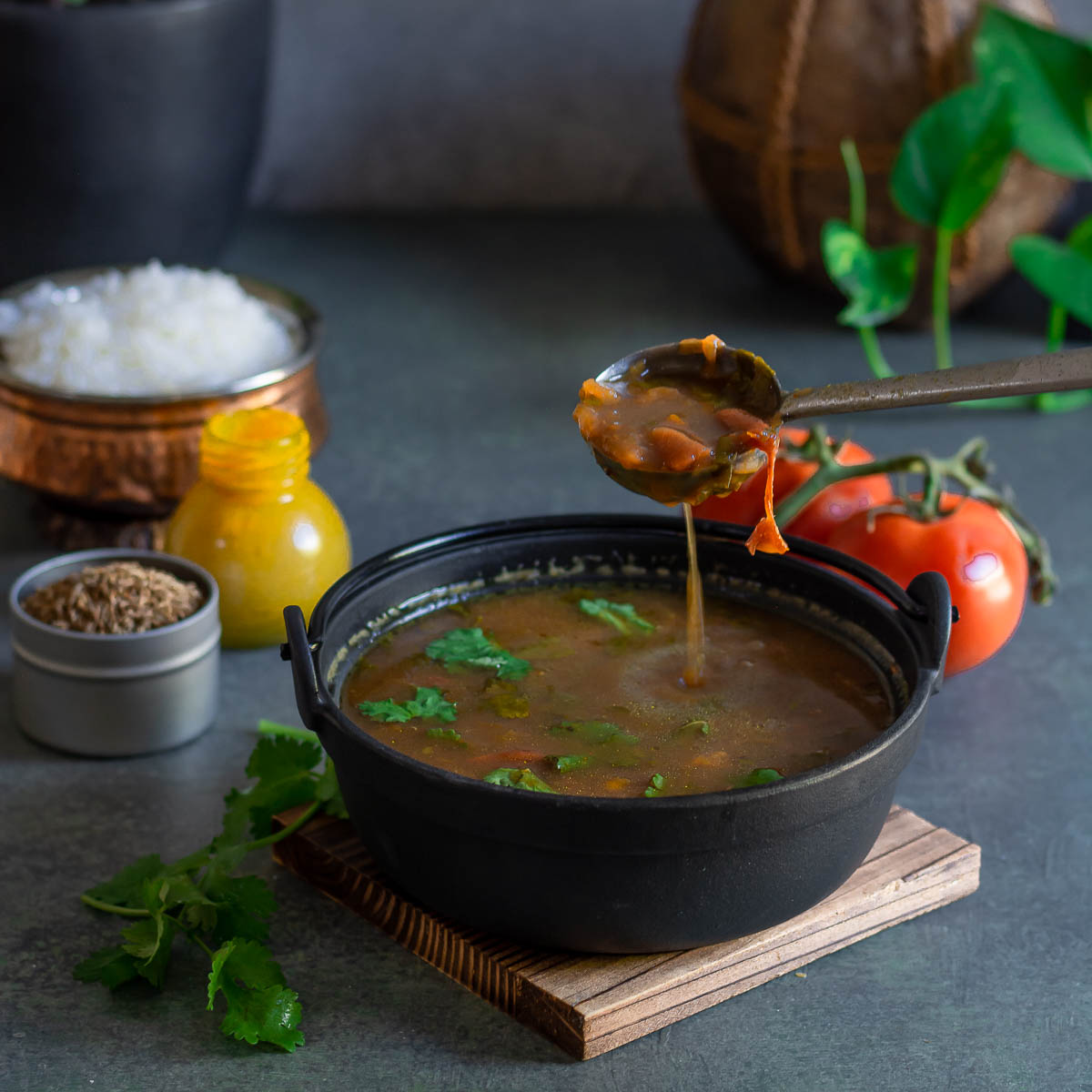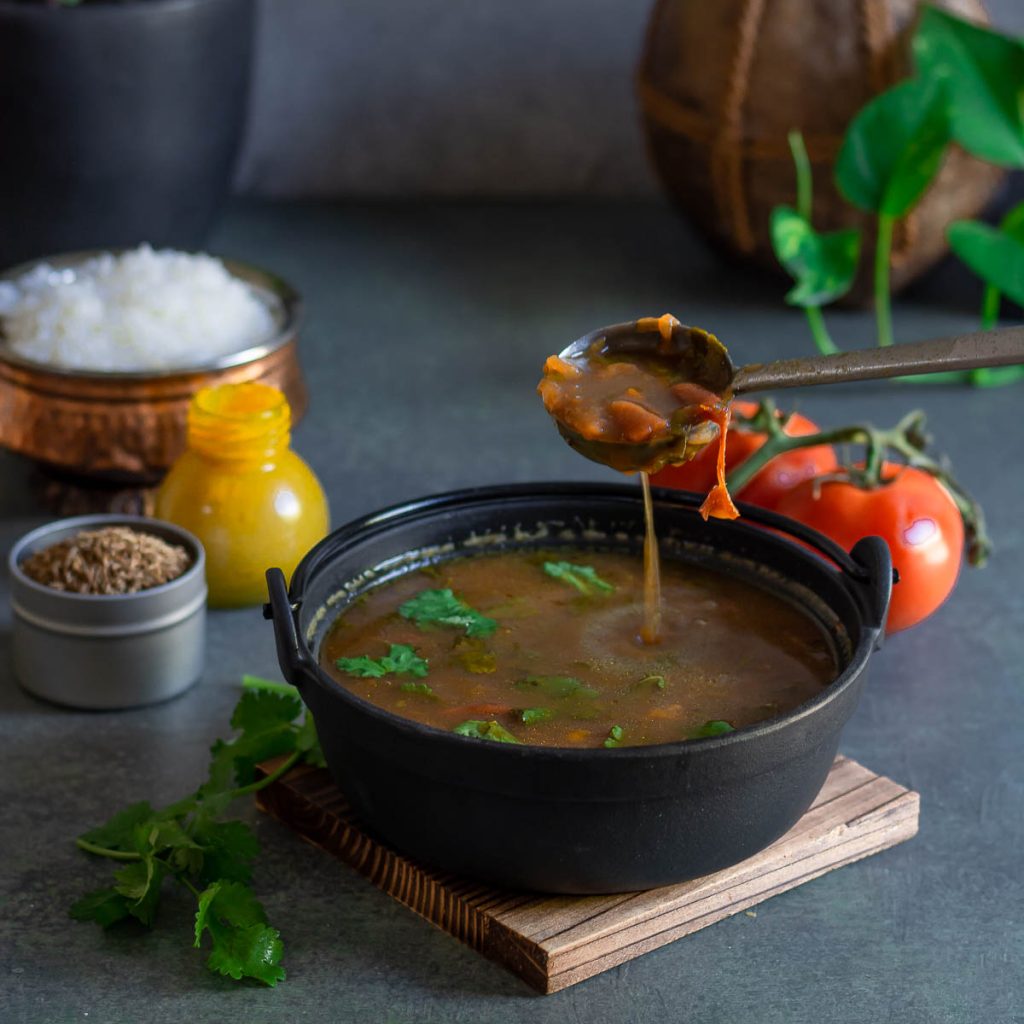 Rasam is what I used to call my 'troublemaker' dish!
In spite of the best recipes and hands-on training by both my mothers, I was simply not been able to master this dish to my satisfaction. The balance between the tanginess and spice is the key factor in any type of rasam which is precisely what I used to struggle with.
But over time and experience, I can now make a delicious tomato rasam (atleast I think so!)
It's only after marriage into a Tamilian household that I learnt that there are several different types of rasam. Not all rasam preprations use tomatoes but you can use different types of fruits especially tangy citrus ones. But even with tomatoes, the variations are plenty.
Today's recipe for tomato rasam is one such variation and an interesting one because there is no garlic or black peppercorns used in this.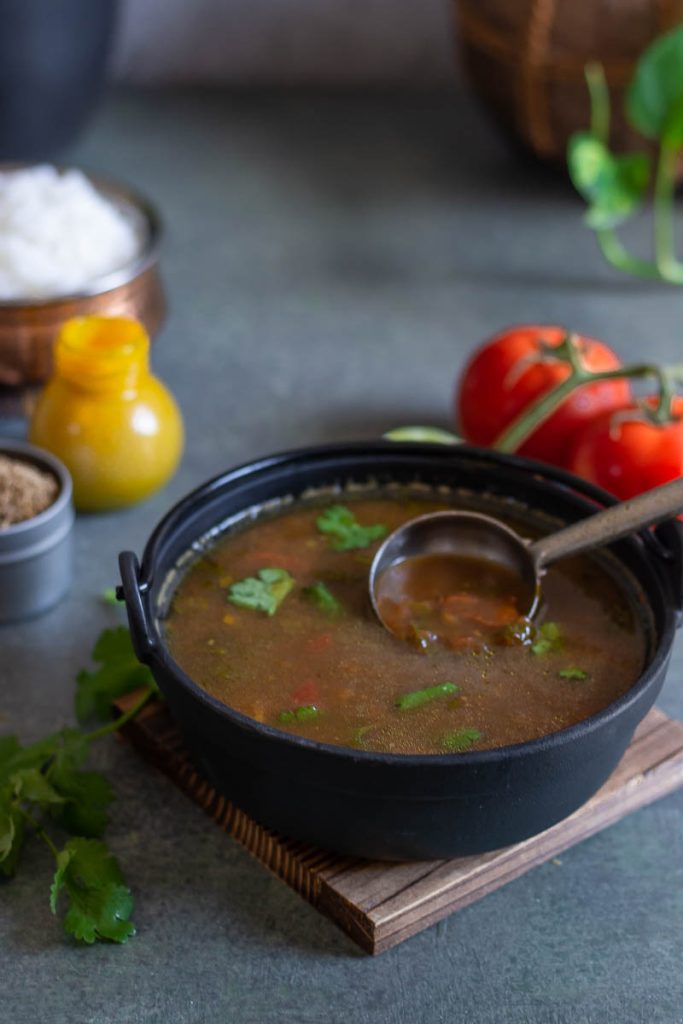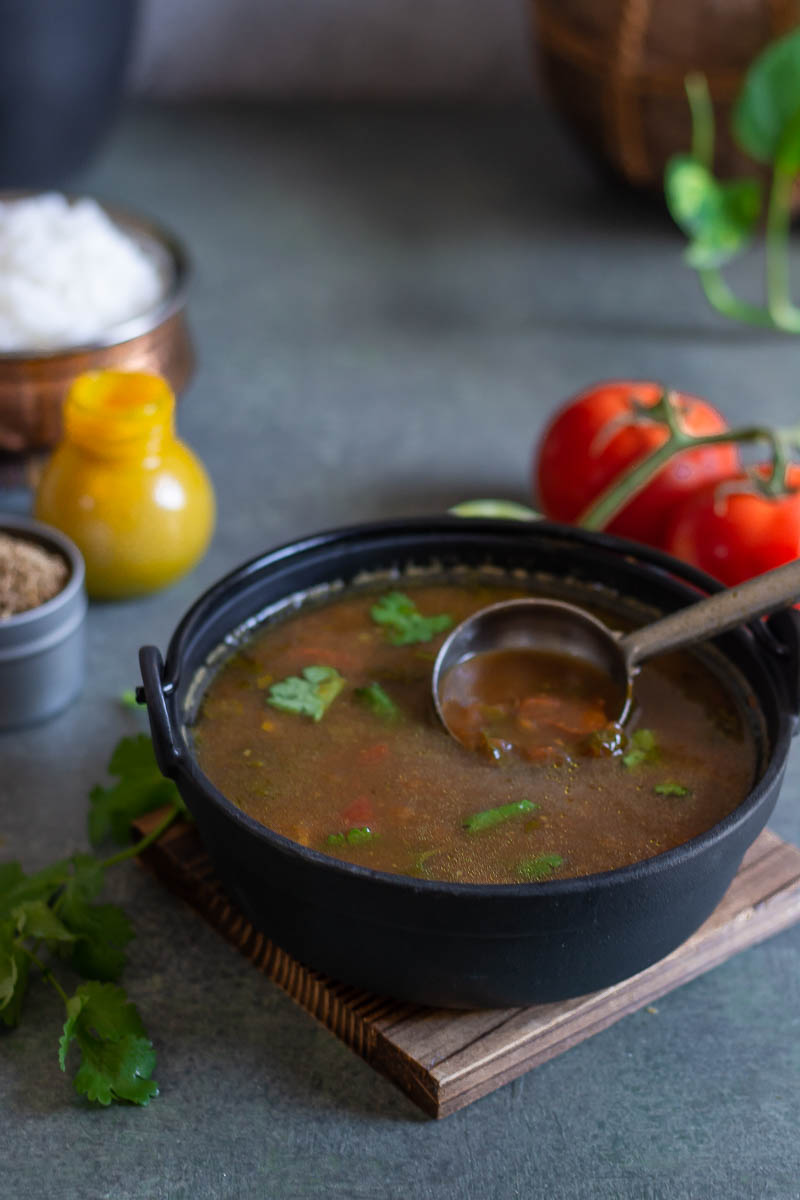 This recipe is also a special one. When the idea of starting a food blog first entered my mind, I wanted to get some sensible, no-nonsense advice from somebody who has been doing the same (and quite successfully too!). So I scoured through all the food groups that I was a part of looking at several different blogs and finally chose to ask advice from Nivedita of Panfusine. In spite of not knowing me personally, she gave me real good advice on how to go about my research and some key aspects to food blogging. A big thank you to Niv, and what better way to give her tribute other than by trying out a recipe from her blog.

So, coming back to this tomato rasam – it will always be one that tops my list every time I prepare south Indian food. And there's only one way to have rasam….poured liberally over steaming hot rice.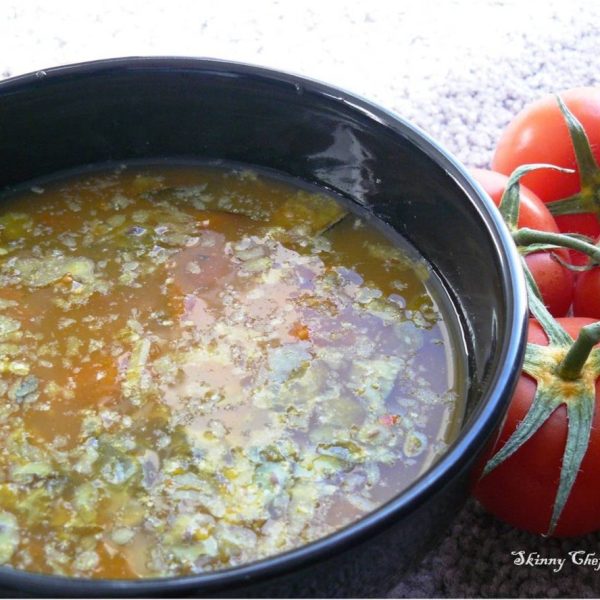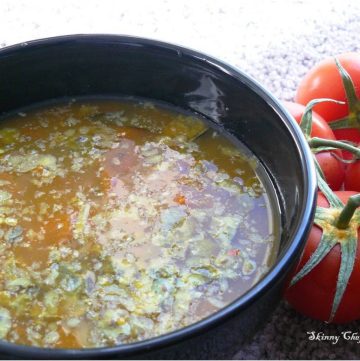 Print Recipe
Rasam with Fresh Spice Paste
Ingredients
Tamarind extract – 1 tbsp

refer notes

Asafetida/hing – a pinch

Turmeric powder – ¼ tsp

Curry leaves – 5-6

Ripe red tomatoes – 3

Water- as needed

Salt – to season

Coriander leaves/cilantro – a good handful

chopped
Fresh spice paste
Coriander seeds – 2 tsp

Cumin seeds – 1 tsp

Red arbol chillies

or use dry red chilli – 2

Toor dal – 1 tbsp
For tempering
Ghee – 1 tbsp

Cumin seeds – 1 tsp
Instructions
Soak all four spice paste ingredients in scalding hot water for about 20 minutes until soft. Grind to a fine paste with as little water as possible. Set aside.

Combine the water, tamarind, tomatoes, asafetida, turmeric and salt with the water and bring to a boil. When the tomato has cooked down, add the torn curry leaves along with the spice paste. Allow to simmer until the spices appear to have lost the raw smell. Remove from the stove top.

Heat the ghee in a small skillet until it just begins to smoke. Toss in the cumin and allow the seeds to split. Pour the sizzling mixture over the rasam. Garnish with coriander leaves prior to serving.
Notes
• The amount of tamarind extract depends on the sourness and tartness of the tomatoes. If the tomatoes are not too sour, increase the quantity of the tamarind extract till the desired taste is achieved.
• Fresh red chillies are recommended but if not available, dry red chillies can also be used.
What is your favourite rasam recipe?