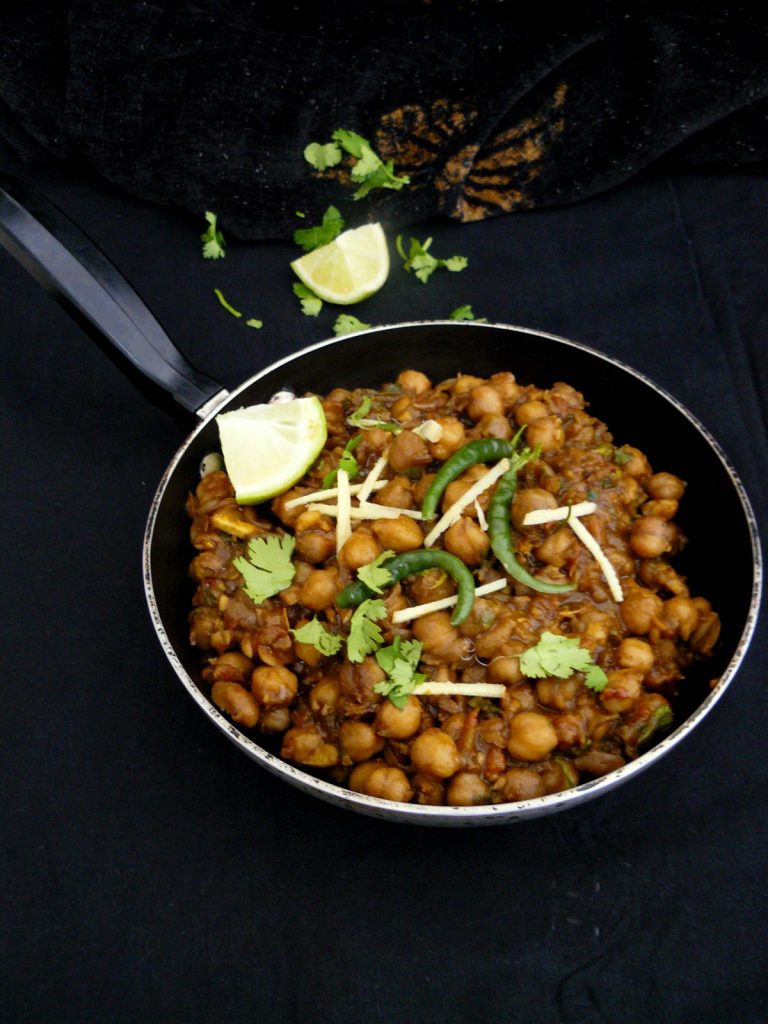 I have eaten this dish a couple of times from dhabas (roadside Indian eateries) and thoroughly enjoyed it each time. Initially, I thought it was just a variation of the regular chana masala but finally, when I got my hands on the recipe, was fascinated to find out that this was a totally different dish.

Originally known as Rawalpindi (pindi) chole / chana, as this dish originated in the Rawalpindi province which is a part of present day Pakistan. The two main highlights of this dish are the deep, brown colour of the chickpeas and the use of pomegranate seeds or anardana as known in Hindi.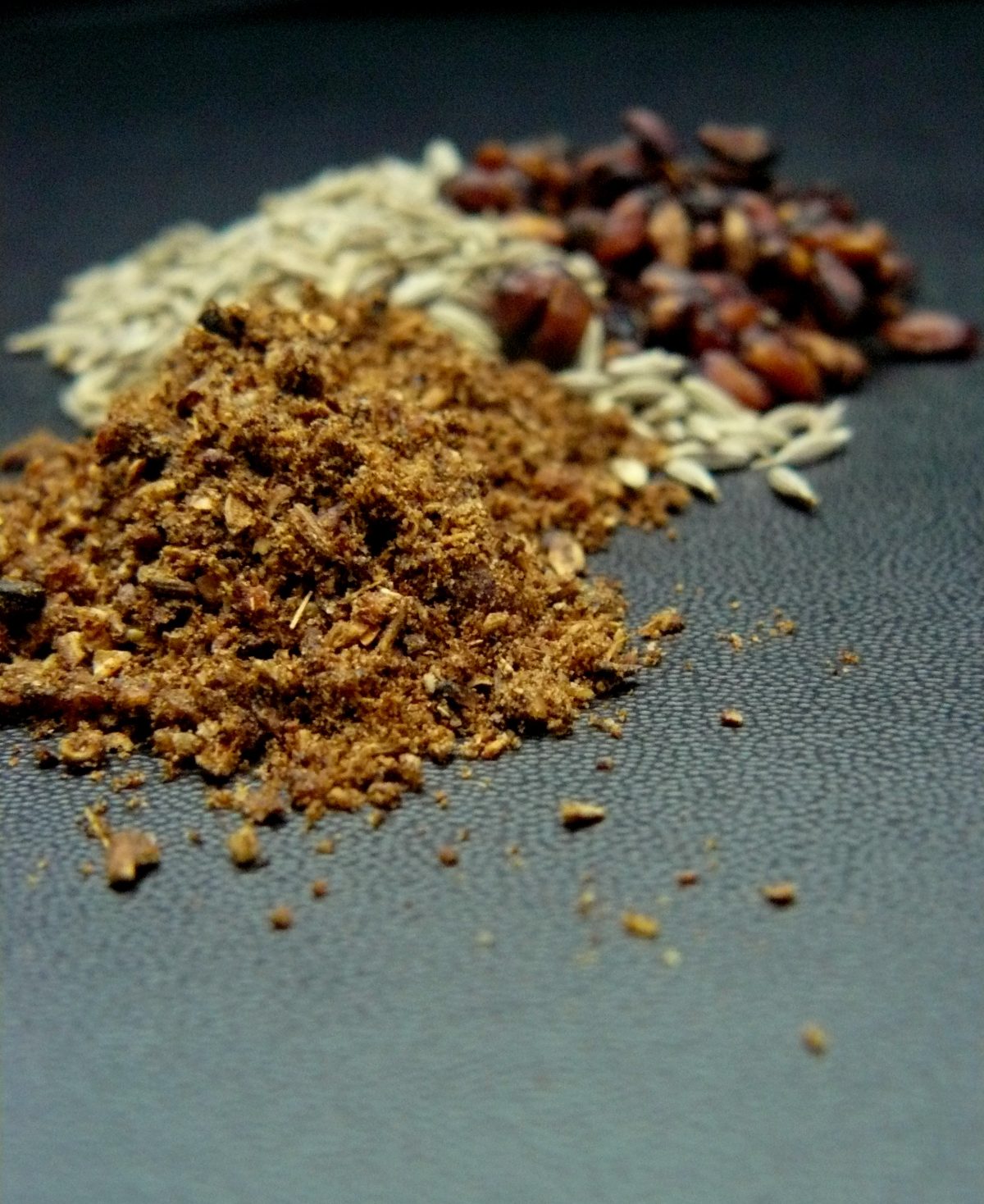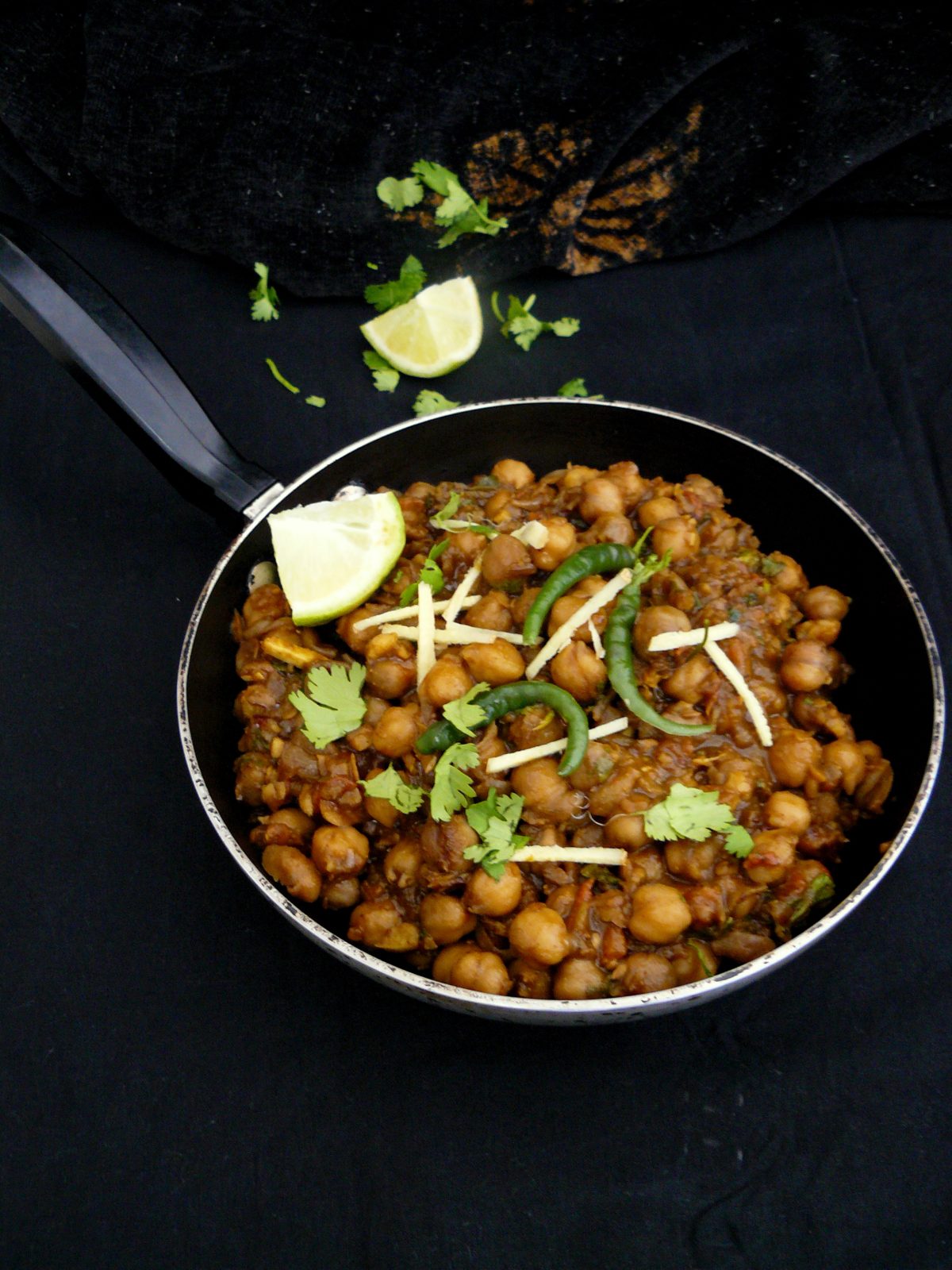 The best way to achieve the deep brown colour to the dish is by the use of teabags while cooking chickpeas though there are other ways too. I find it much easier to throw in a tea bag – if you think that this can affect the flavour of the dish, you are wrong. The tea lends a deep colour but the flavours are so subtle that you really won't taste any difference. But make sure that you use a regular tea flavour and not any fancy green tea or fruity or herbal ones.
Pindi chole is more of a semi-dry dish. The use of roasted pomegranate seeds and cumin seeds lends an earthy flavour to the dish and a squeeze of lemon at the end helps to lift and lock in all the flavours. A wonderful, mildly spiced yet flavourful chickpea dish, you ought to try out this one.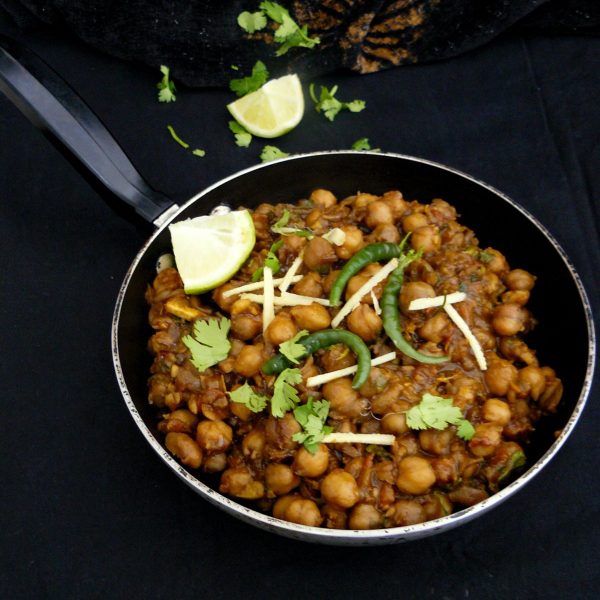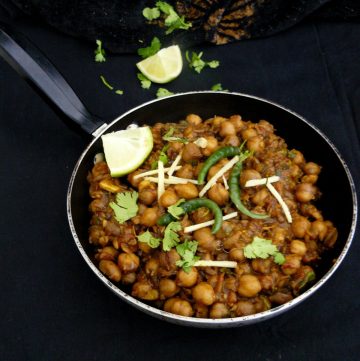 Print Recipe
Pindi Chole
Ingredients
Chickpeas – 4 cups; washed

soaked overnight, drained

Pomegranate seeds/anardana

available commercially or roast seeds at home – 2 ½ tbsp

Cumin seeds/jeera – 2 tbsp

Coriander powder – 2 tbsp

Red chilli powder – 1 tsp

Turmeric powder – ¼ tsp

Garlic – 1 tbsp

chopped

Green chillies – 2

slit

Ginger – ½ inch

julienned

Vegetable oil – 2-3 tbsp

Red onion – 2 medium

finely chopped

Tomatoes – 2 medium

finely chopped

Salt – to season

Lemon – 1

cut into wedges

Coriander leaves – ½ cup

chopped

Tea bag / tea leaves tied in clean muslin cloth
Instructions
Cook the chickpeas either in a pressure cooker or deep pot till soft with enough water, salt and the tea bag. Open, remove the tea bag and let cool.

Dry roast pomegranate seeds and cumin seeds; pound or grind to a rough powder.

Heat oil in a pan, sauté the onions till soft and translucent. Add the pomegranate/jeera powder and sauté till the onions turn dark brown. Make sure that you stir constantly; caramelize the onions well but do not burn.

Add the rest of the spice powders, garlic, salt and tomatoes; sauté on medium heat and mix well to combine. Squash the mixture well using the back of your ladle.

As the oil clears, add the cooked chickpeas along with a little of the cooked water.

Cook on high heat till the water evaporates and gravy thickens coating the chickpeas well.

Add ginger, coriander leaves, squeeze in half a lemon and the slit green chillies.

Garnish with lemon wedges and onion rings.