A guest post a month – that was my New Year resolution for my blog. The first one was a huge success and encouraged by that, I invited another friend to my blog for a guest post for this month. So here is Nanditha with her awesomely simple 'Nutella and Almond Puff'.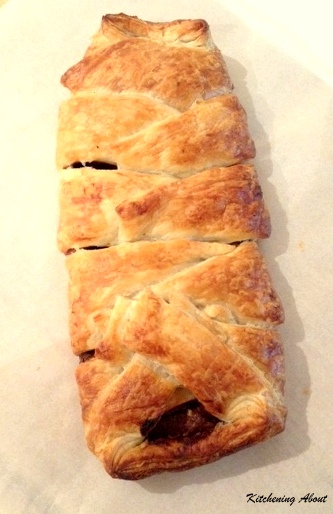 This month's guest blogger, Nanditha, is a firm believer in healthy and clean eating. And I love this because she posts simple yet delicious homemade soup recipes, healthy drinks and salads amidst plenty of other recipes, all of which you can find on her facebook page. I am particularly obsessed with her soups, having tried some of them and experienced the wholesome taste and goodness. In fact, I have posted some of her recipes here on the blog which I have personally tried out.
And like the last post, I requested a 'sweet' recipe from Nanditha too, since it is a category which sorely lacks on my blog. She very kindly obliged and sent me this one. So without much further ado, I will let Nanditha tell you about this recipe.

'This is a quick and indulgent nutty-chocolaty dessert that is simple to make and so delish that it is hard to stop at one. The tasty puffs are filled with gooey Nutella and crunchy roasted almonds. With every bite you are treated to chocolatey goodness, with a hint of almond encrusted by the flaky pastry making it oh-so-yummy!'