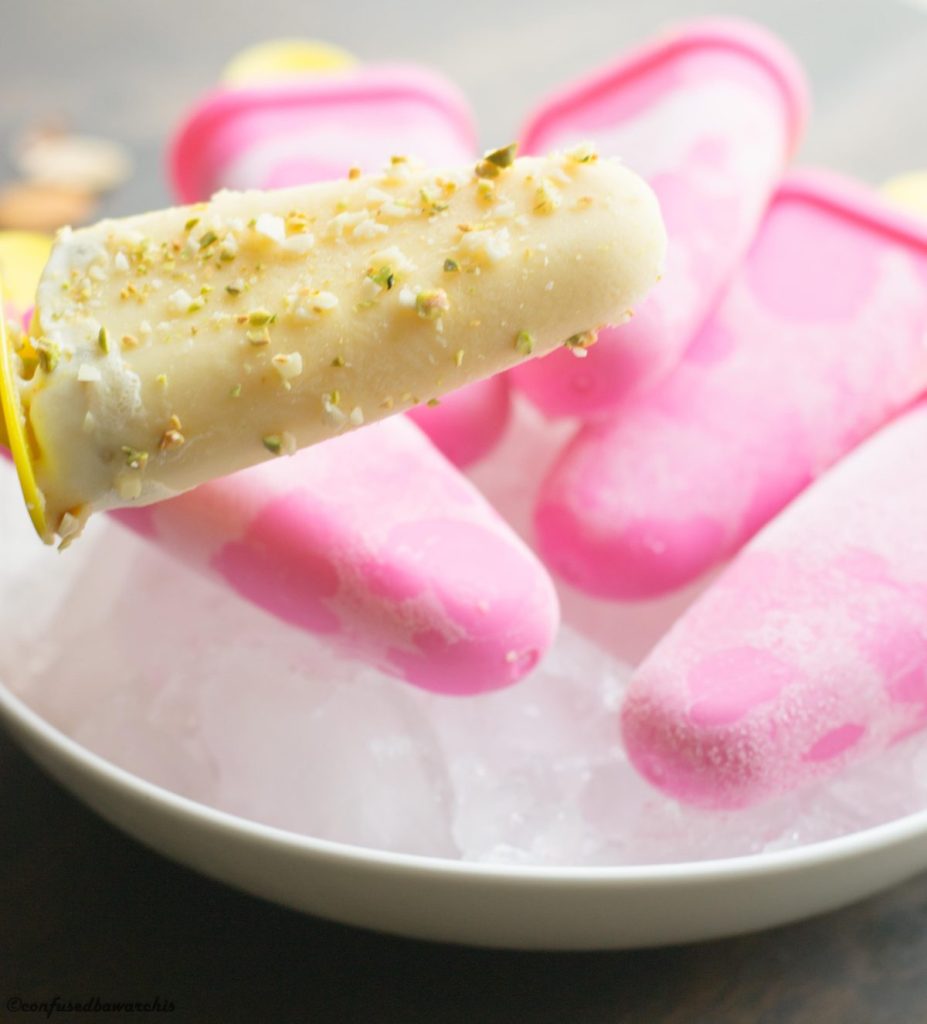 Yet another month has gone by and once again, it is time for a 'sweet' guest post. This time, my invitation went out to Aditi and Nikhil of The Confused Bawarchis.

The eclectic food style of this couple comes through on their blog and wow, what a name…confusedbawarchis. Aditi and Nikhil live in Cincinnati and started their blog a year ago. Both of them love to cook, yet have their own specific culinary domains. While Aditi is the master baker and the Indian cuisine specialist, Nikhil is more experimentative trying his hand at other cuisines and coming up with his own fusion dishes. Aditi refers to him as the 'silent blogger husband'; mostly behind the scenes, Nikhil handles the technical side of the blog along with the photography while she regales us with her writing skills.

As always, I requested them for a dessert/sweet dish and I was immensely happy with the dish they chose to present us. An almond pistachio kulfi – rich, decadent and indulgent. Personally, I think this dessert is a winner; simple and easy to prepare and delish for sure. This is the kind of recipe that even a novice like me can try out confidently. It is also the perfect party dessert as it can be prepared in bulk and frozen ahead of time and seriously, who can say no to a kulfi.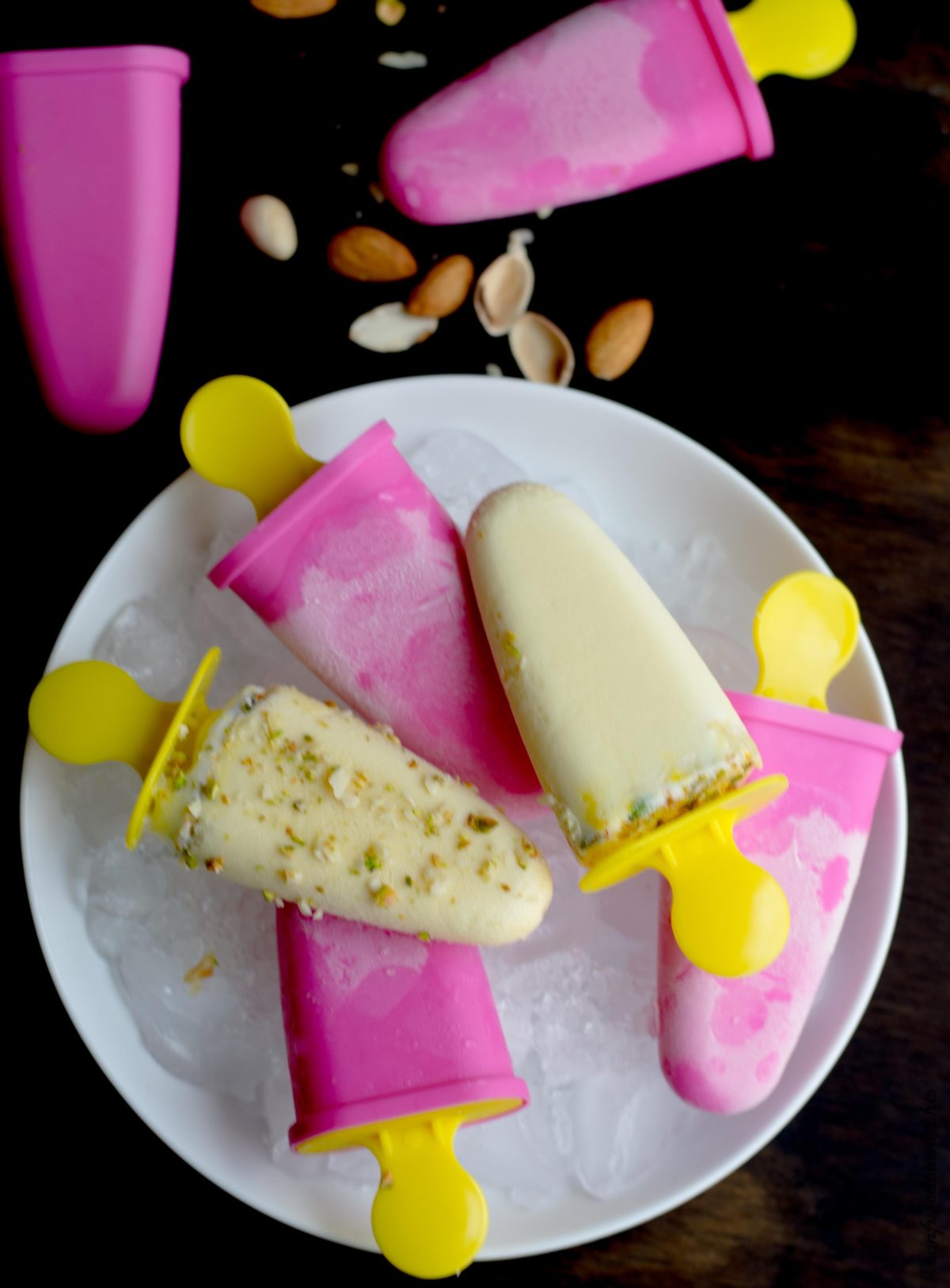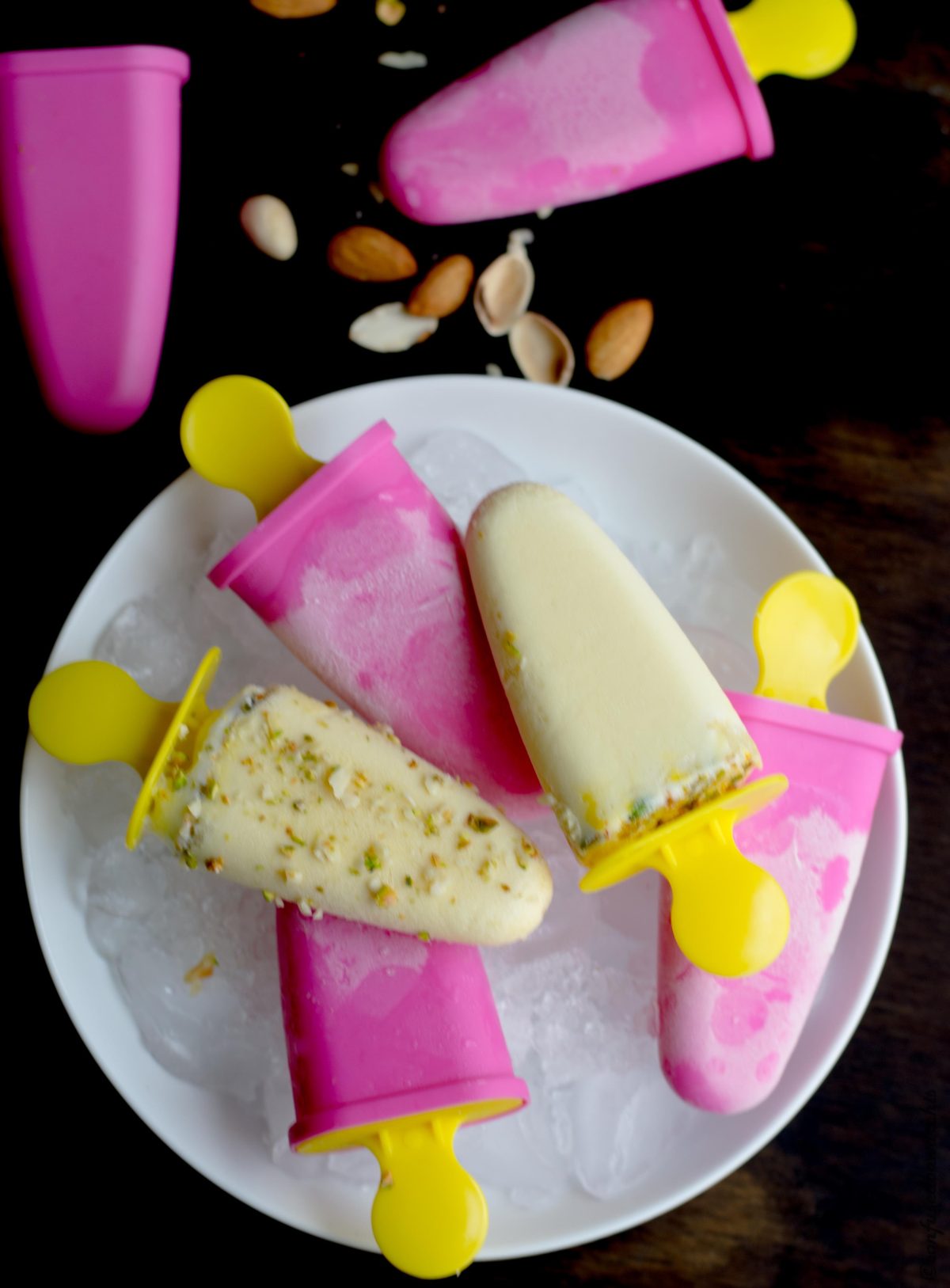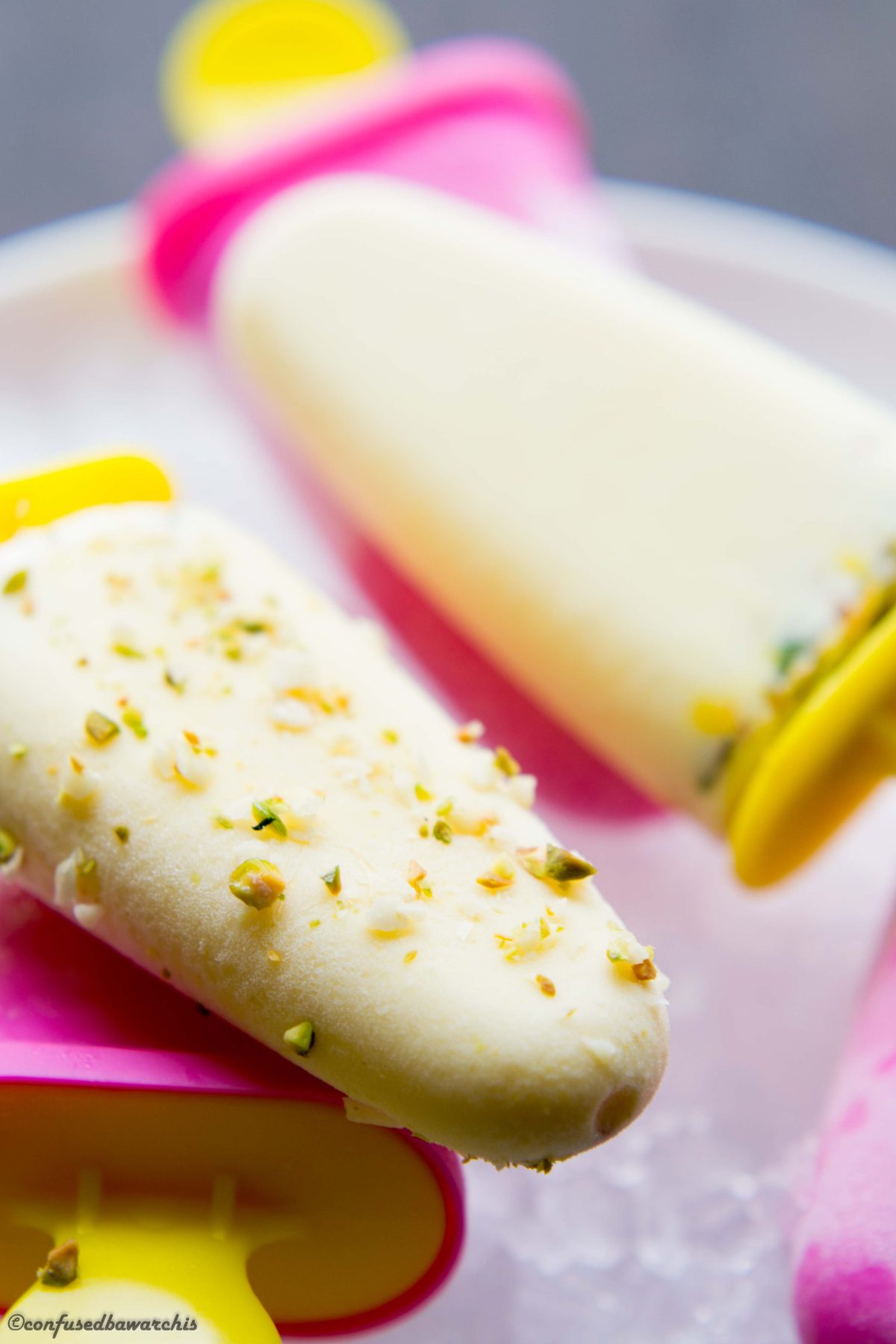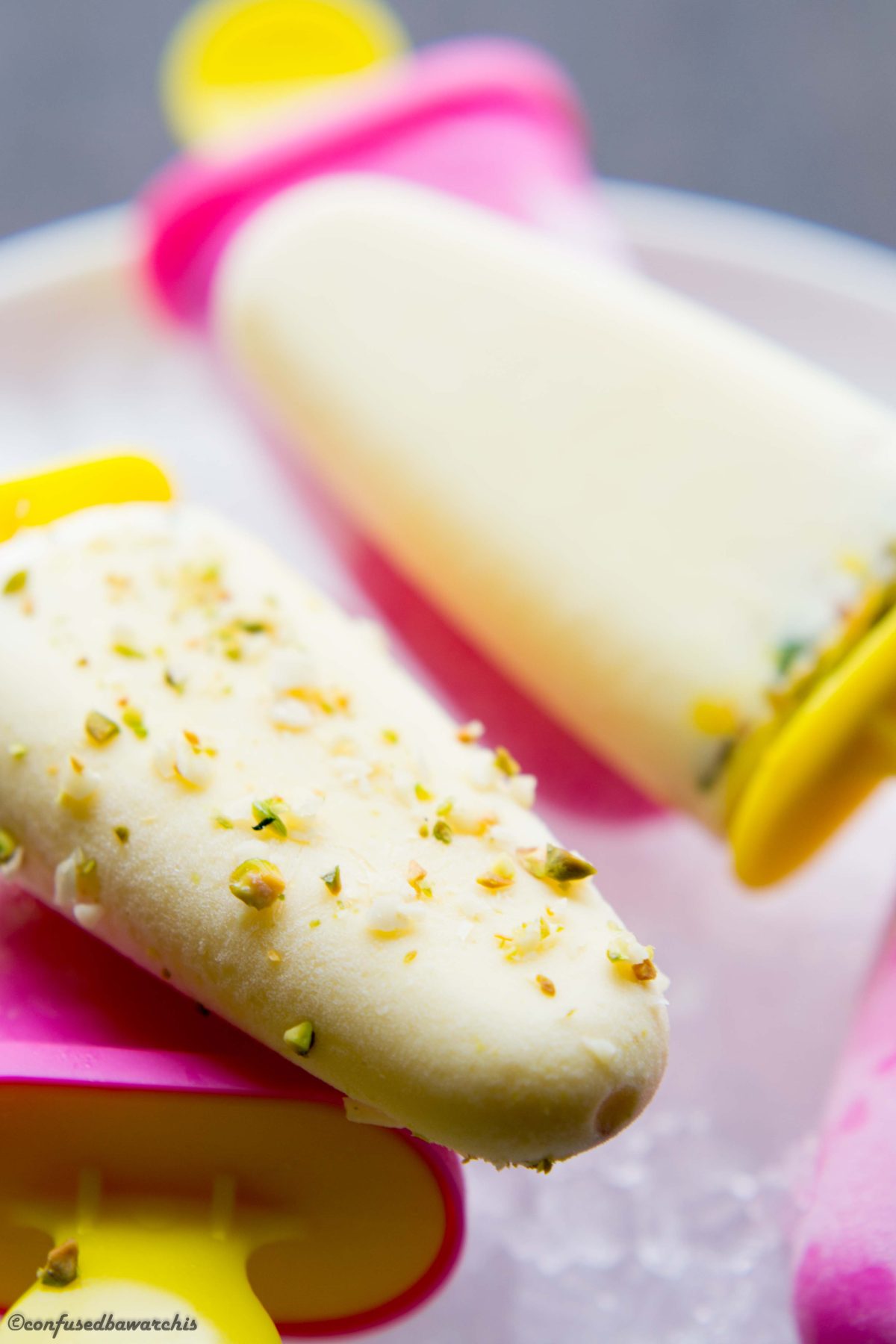 Handing over the baton to Aditi and Nikhil;

'Everyone should have one quick & easy summer dessert recipe at hand. By quick we mean something that does not require you standing in a hot kitchen, is easy to put together and does not require too many ingredients, yet is refreshing & delicious.

With the summer having made itself comfortable in this part of the world we thought an easy Almond Pistachio Kulfi recipe can only do good for us!

For those unfamiliar with "Kulfi", it's an Indian frozen dessert, much like an Indian version of "ice-cream". It's creamier than regular ice-cream, has a distinct flavor, has a bite to it and doesn't melt as quickly as regular ice-cream. There are different variations of recipes for Kulfi some using different kinds of ingredients and others using a different method of cooking.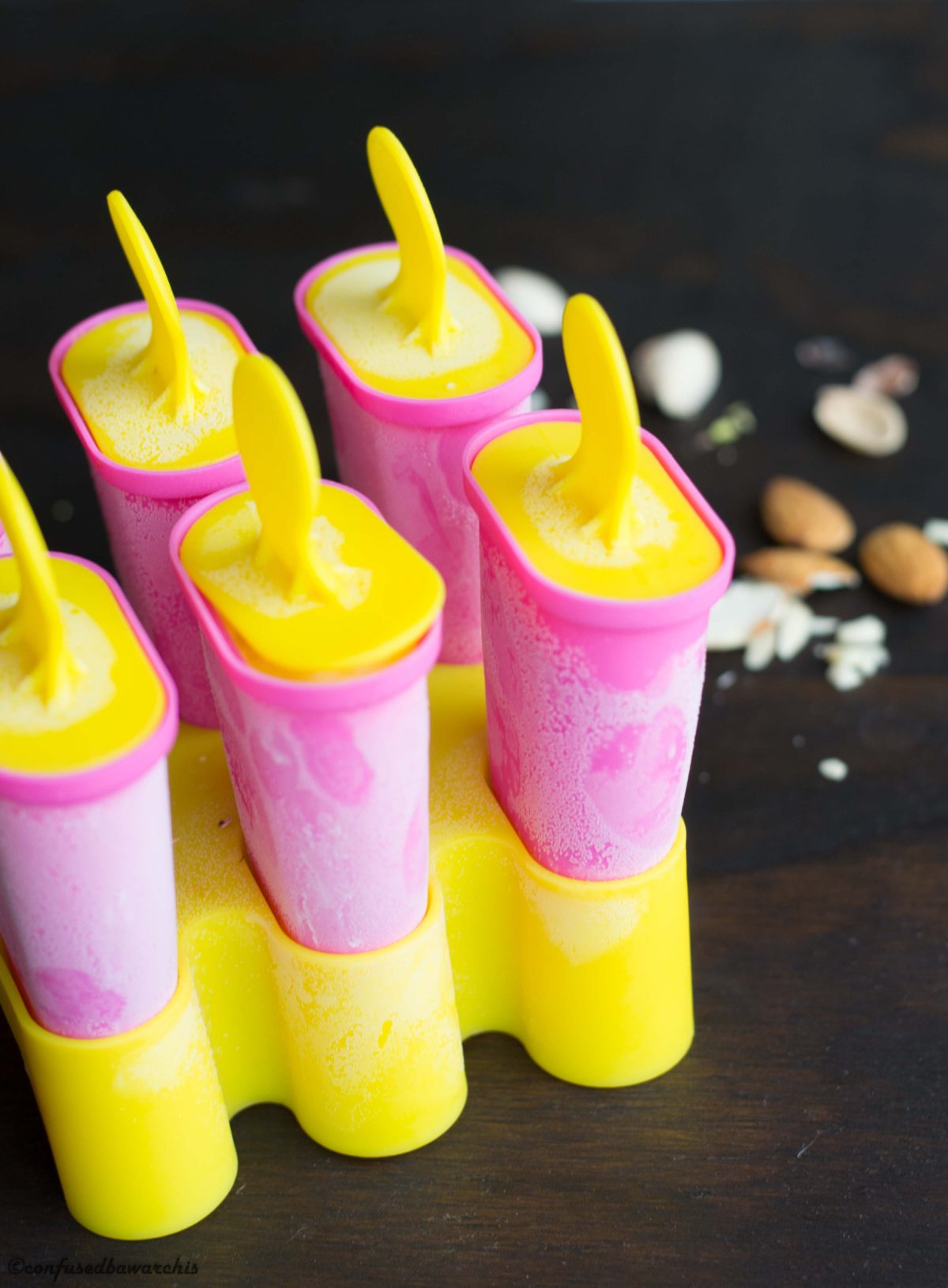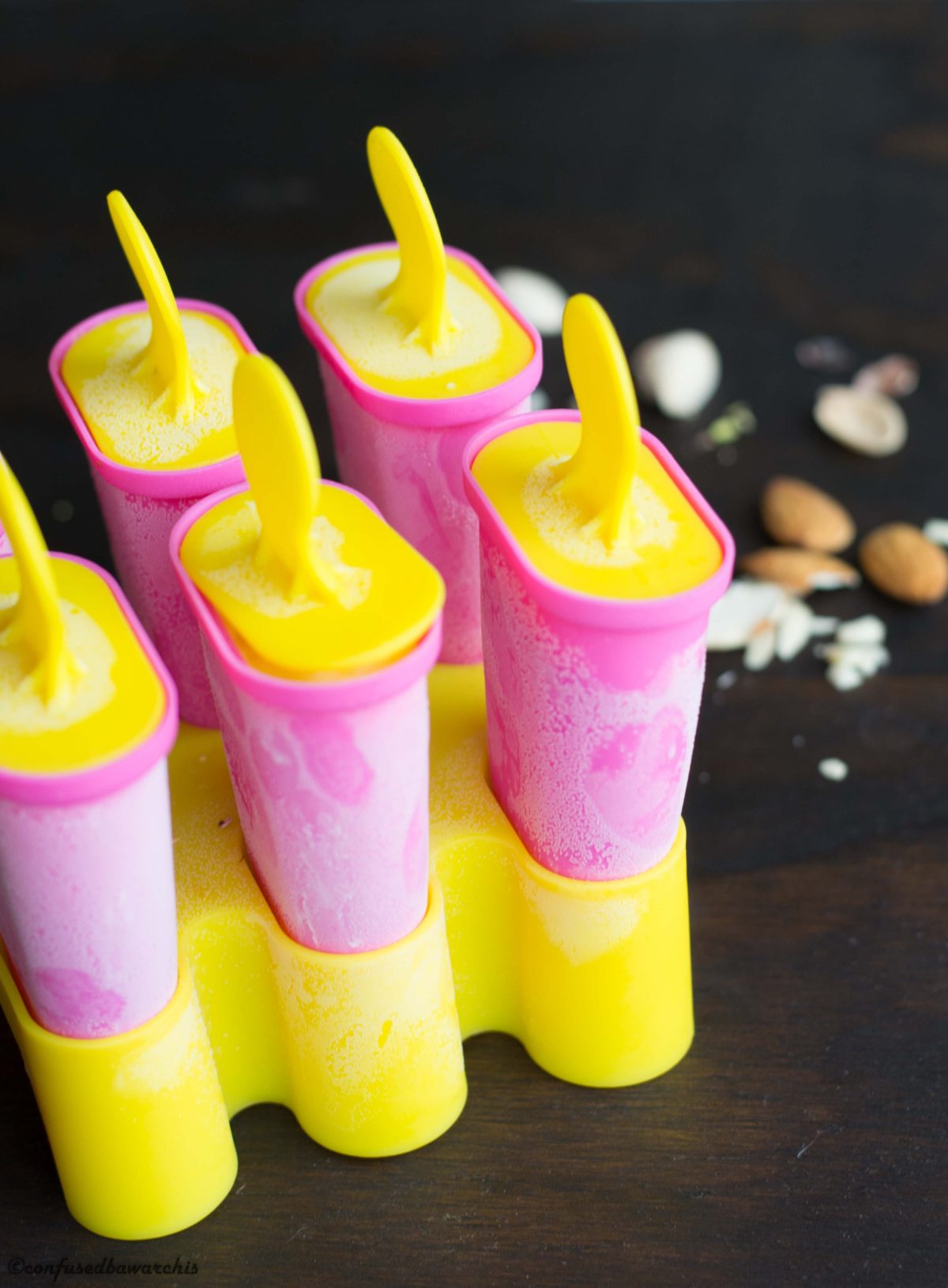 Well, this one is from my mum's recipe book and has the easiest ingredients one could think of and you'd mostly find in your pantry – milk, sugar, saffron cardamom & nuts! We gorged on two of these at one go. Does that not tell you how good this is?

Without further ado, here is how we made it;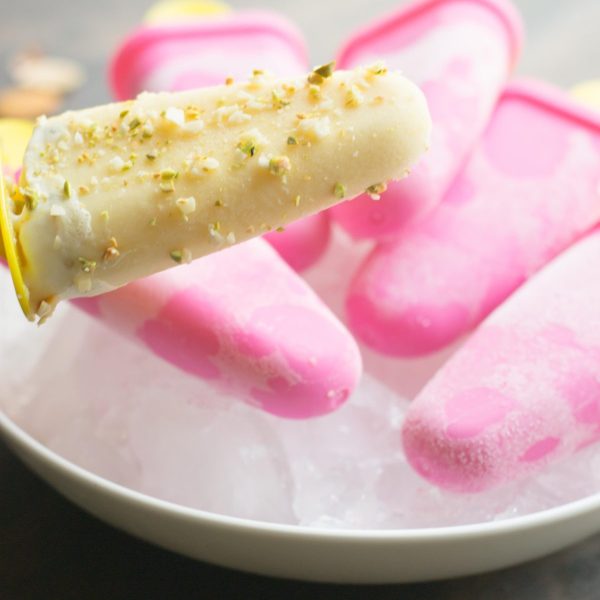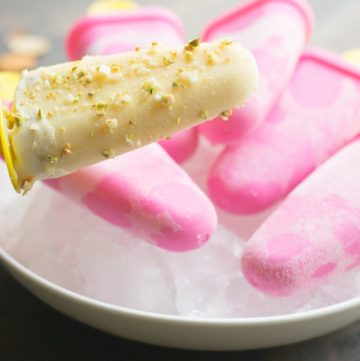 Print Recipe
Almond Pistachio Kulfi
Ingredients
3

cups

milk

1

tablespoon

sugar

you may need to add more if you like it more sweet

a pinch of saffron

½

teaspoon

ground cardamom

a small handful of chopped pistachios & almonds
Instructions
Put the milk in a heavy bottom pan on low heat and let it simmer.

Keeping the heat low, allow the milk to reduce to half stirring every 5-7 minutes. Make sure it reduces to half and the consistency is thick. It should take about 30-40 minutes for it to reduce to half.

Next, add in the sugar, mix well and turn off the heat.

Add in the saffron and cardamom powder and set it aside at room temperature to cool.

Once the mix has completely cooled, churn this in a blender for about 30-40 seconds (you may also use your hand blender).

Take the popsicle moulds and add in some of the chopped nuts.

Then, pour the kulfi mixture into the popsicle moulds and top these off with some more nuts.

Close the moulds with their lids and freeze until these are set. We kept these in the freezer to set overnight but otherwise, you should set these for at least 4-6 hours.

To serve, sprinkle some finely chopped nuts all over the popsicles or just enjoy plain!