When the head's gone blank and you have no clue how to start a conversation, you talk about the weather. And that's what I am going to do…..
Summer is almost over; it was a peek-a-boo show this year which was rather disappointing. The cold, winds and rain are almost setting in which deports me to a hibernous mental state. I have started craving for hot, spicy food; my fiery curries, rich stews and all things warming.
Having readers from around the globe is a heady feeling but a lot of work. Often, I have to keep in mind the climate of the rest of the world and try to put up recipes and dishes that would suit them too.
And since summer has not hit hard yet, these malai kebabs are perfect as these are rich and heavy, drenched in cream, spices and a whole lot of deliciousness.


The recipe for this Malai Kebab comes from one of the best cookbooks I have read in my lifetime – The F-Word by Mita Kapur. The only cookbook from which I would cook every single day of my life. The book is a beautiful narrative of the culinary adventures of Mrs. Kapur and her family, the food they like to eat and cook daily in their home. A review of this book will soon follow, so I am not saying more here.
Tikka, Kebab…the name is much interchanged these days. History states that kebabs first came into being during the Ottoman times when travelling soldiers used to roast chunks of meat on their swords over the fire; this continued till someone invented skewers thus making this dish a household one. And with time, the kebabs travelled to the Mughal kitchens where minced meat began to be used instead of chunks of meat for the old, toothless emperors and this came to be called tikkis or tikkas. But today, it is much interchanged and you simply cannot go by the name.
Any type of meat can be used for the kebabs, though lamb is used traditionally. I decided to go with chicken for its mass appeal. Good quality mince would make a lot of difference to the texture of the kebabs, which should ideally be melt-in-the-mouth. So select the boneless chicken pieces and ask your butcher to mince it separately for you.
To prepare these malai kebabs, you need to make the flavourful patties first resplendent with aromatics and spices; followed by drenching it in sour cream and finished off with chillies and coriander.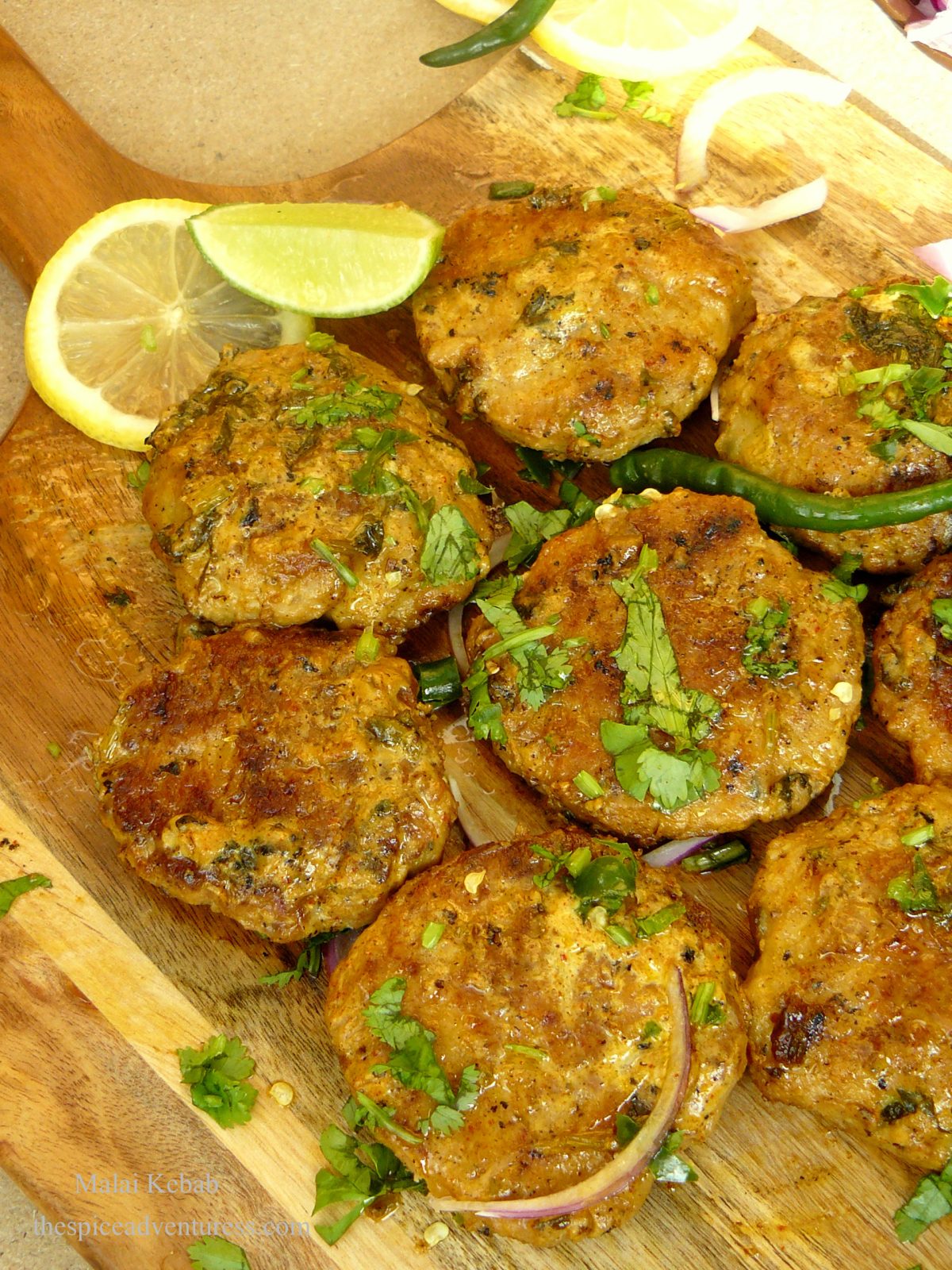 Delicious and indulgent; these malai kebabs are definitely conversation starters!
Ingredients:
1. 250 gm chicken mince
2. 1 slice white bread, soaked in milk
3. ½ onion, finely chopped
4. 2 green chillies, finely chopped
5. ½ tsp red chilli powder
6. ½ tsp garam masala
7. 1 tsp coriander powder
8. ½ egg
9. 1 tbsp fresh coriander, finely chopped
10. ½ inch ginger, finely chopped
11. Salt, to season
12. Plain flour, optional
13. Ghee/clarified butter, for shallow frying the patties/kebabs
14. 150ml sour cream
15. ¼ tsp garam masala
16. ½ tsp red chilli powder
17. 1 green chilli, finely chopped
18. 1 tbsp fresh coriander, finely chopped
Note – With the above proportions, this dish is medium spicy; so adjust the quantity of spices and chillies to suit individual taste.
Method:
1. Mix the first 11 ingredients and knead the mince well till combined. Divide into equal parts and shape the mince into roundish, flat cakes and keep aside. The mixture will be slightly wet and if shaping is an issue, dust the cakes in plain flour. But this is optional; I did not use the flour.
2. Heat ghee in a flat non-stick pan and shallow fry the kebabs till browned on either side. Make sure to turn over only after one side is done well to prevent breaking. Drain on kitchen paper.
3. In the same pan, add the sour cream, garam masala and red chilli powder. Place the kebabs carefully back in the pan and cook covered on low heat for about 6-8 minutes, turning once in between. Season with salt if necessary.
4. Remove from heat and garnish with chopped green chillies and coriander just before serving.
5. Eat this hot!