I have had many fleeting associations with Bengal, its people and cuisine over the years but never a deep-seated one, enough to understand the fundamentals of this region and its food.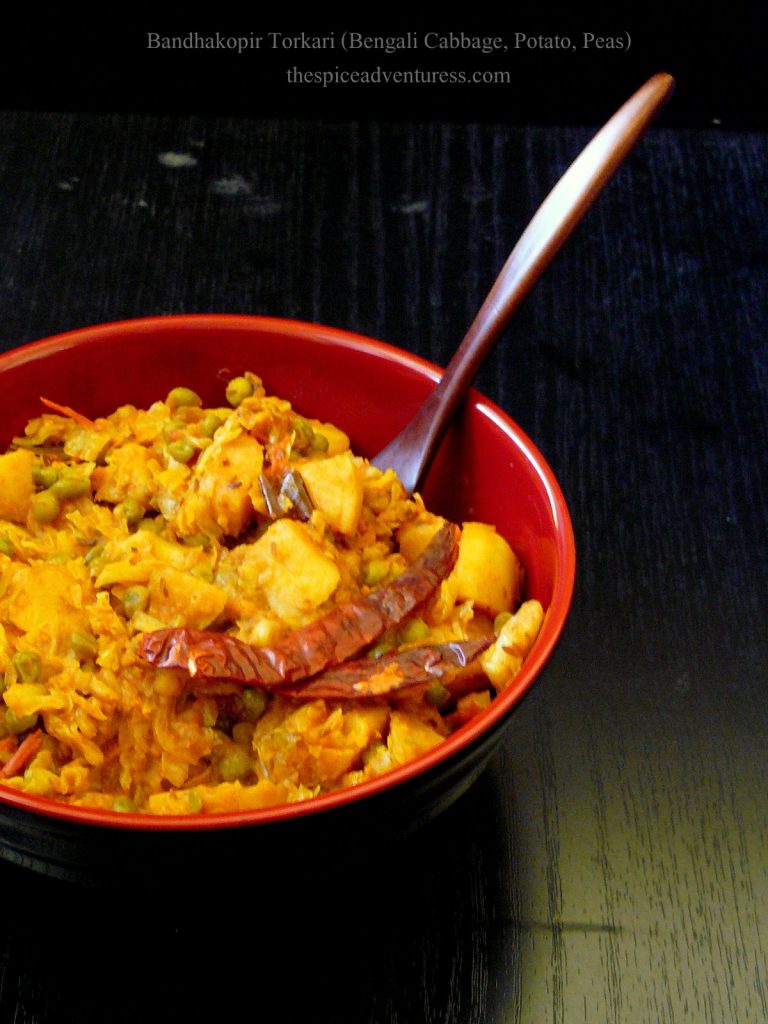 My foray into the food blogging world introduced me to many fellow bloggers of Bengali origin and through their blogs and associations, I am beginning to learn more and more about the rich and varied cuisine of this region.

Bengal has always been a prominent part of India, especially in its role as the capital before Delhi took over the mantle. Rich in culture, traditions, history, cuisine, Bengal has much to offer to its residents and the many travellers to the region. I have always said that I hate being a 'tourist' anywhere; I like to absorb the region and go beyond the surface and this lady 'here' is the best person to follow if you are bitten by the travel bug.

I have been taking baby steps into the vibrant and colourful Bengali culinary fare…slow, but steady ones which has amazed and delighted me making me keep trying for more. Today's recipe, Bandhakopir Torkari or loosely translated as Bengali cabbage, potato and peas curry is one such dish.
I do not cook much with cabbage; tend to eat it in a raw manner or just stir fried most of the time. Cooked cabbage has always tasted bland and soggy till the Bandhakopir Torkari happened to me.

This dish is packed with flavour from the spices, especially cumin. No onion, no garlic….just a handful of spices that does its job beautifully.
Bandhakopir Torkari pairs beautifully with rotis; a humble vegetarian dish that is so flavourful and delish that you will keep coming back for more. So go ahead..make it…enjoy it!