I love walking into random restaurants and cafes, without any prior reviews or suggestions, and willing to get surprised. More often than not, it has been a disappointment but sometimes, I end up finding little gems (which I hear that Melbourne has a lot) along the way.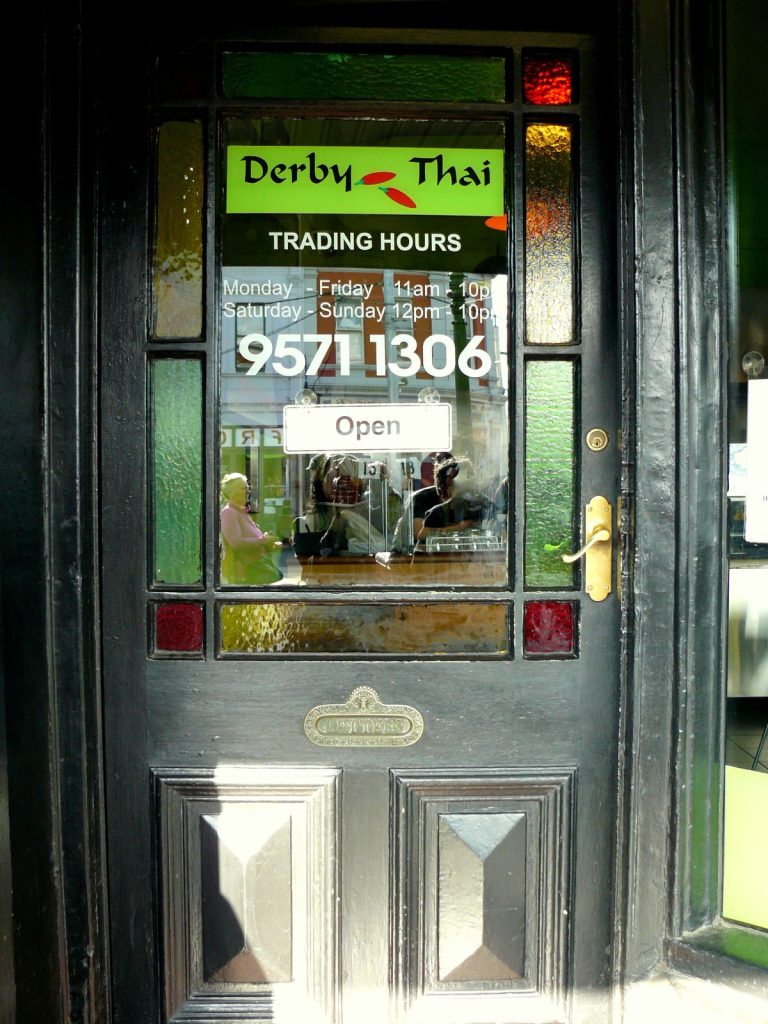 I wouldn't call Derby Thai a gem but it didn't disappoint either. Our visit here was totally random; we were on our way to the CBD by the Metro but due to technical issues, the trains were stopping at Caulfield. We were advised to proceed to the CBD by trams and that's how we ended up outside Derby Thai. It was lunch time and we were ravenous, so instead of catching a tram to the city, we paid a visit to this Thai eatery.
Derby Thai is a small, unassuming restaurant but given its location right opposite the Caulfield railway station and a stone's throw away from the Monash University campus, it enjoys quite a crowd following.

Walking in, you notice that there are just 5-6 tables so takeaway is greatly encouraged which works well with the University students. There were free tables when we walked in but within 5 minutes, the place got filled up. So be prepared to wait for a table especially if you are visiting during the lunch hours.
We started with the fish cakes which are basically fish patties blended with curry and spices, served with a sweet chilli sauce. The fish cakes were good and flavourful but nothing to rave about. A decent starter to the meal.
Next, was the Tom Kha which is a spicy, hot and sour coconut milk soup (ordered the prawn version; chicken and seafood combo are the other alternatives). The Tom Kha was delicious, just as I prefer a coconut milk based soup. Fresh, spicy, hot yet with a balance of all flavours. Totally recommend this one. On a less hungry day, this could be a meal in itself for me as it came loaded with prawns and veggies.
For mains at Derby Thai, we went with the Thai beef fried rice. Again a good dish but nothing spectacular. It was more of a fusion fried rice which appeals to the masses here rather than a traditional Thai rice. Again, the quantity was good and could be a meal in itself with a dash of chilli on the side.
To go with the rice, we also got a Thai green curry (chicken; alternatives are beef and pork) which like the Tom Kha ticked all the right boxes for me. The heat was perfect and there was a good balance of the flavours in a delicious coconut milk base. Again, came loaded with veggies and chicken.
The prices were good and service was fast and efficient.

In short, Derby Thai is a good place for a quick lunch if you are in the area or a student at the nearby Monash University. I would go back again for the Tom Kha, loved it.

Derby Thai
4 Derby Road, Caulfield East 3145