Kangaroo….yes, I finally did it.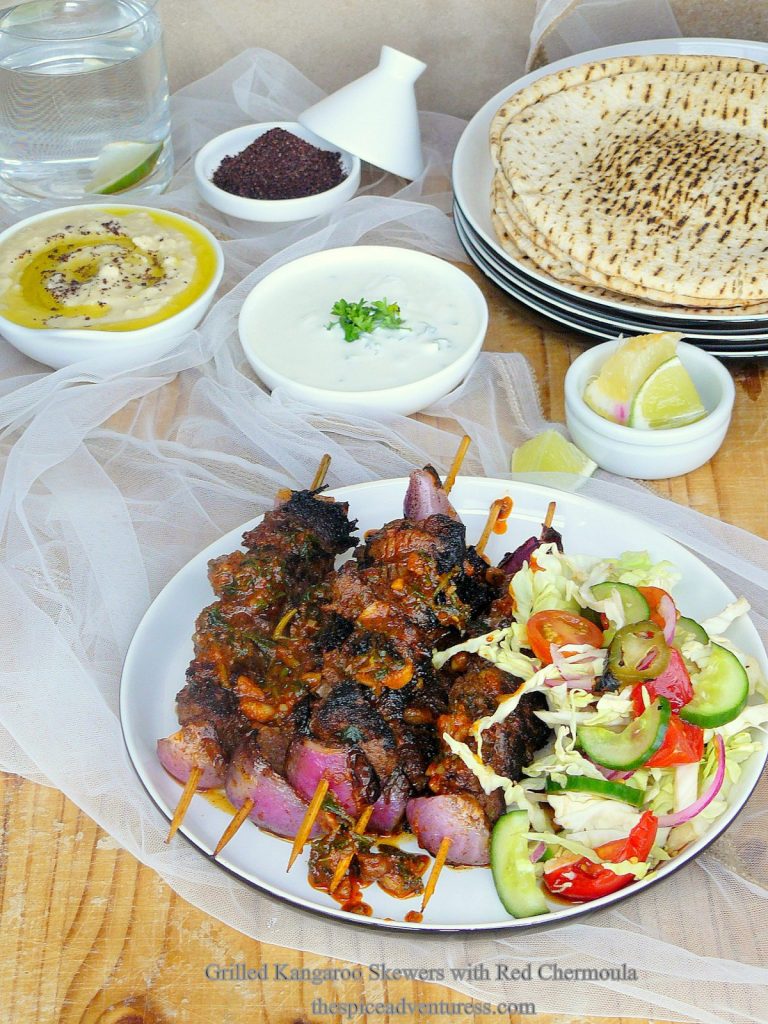 And I can hear friends and family teasing my full fledged Aussie….ness now. But guys, not all Aussies eat kangaroo!
Well, it had been in my mind for the longest time to try out this meat ever since Masterchef happened to me. A lot of 'ifs' and 'buts' later….here I am with grilled kangaroo skewers marinated with red charmoula.
Red Chermoula is an incredible Moroccan condiment with North African origins; it has a ton of flavour, very vibrant and can be used in so many different ways in the kitchen. There is the green variant too; the green chermoula – the basic difference being the presence of paprika in the red one.
As Mourad Lahlou puts it in his book, 'New Moroccan' (from where the recipe for this red charmoula is adapted), chermoula should be seen as a defining Moroccan flavour rather than just labeling it as a marinade, dip or condiment.

Understanding the flavour profile of the chermoula will enable you to use it in multiple ways in your kitchen. Mourad has outlined plenty of ways in which you can put the red charmoula to use. But I decided to test it out with kangaroo.
Kangaroo meat is extremely low in fat and quite high in protein; so it has to be taken care, not to overcook the meat. This lean, red meat has many nutritional benefits like omega-3s, B group vitamins and also a good source of iron and zinc.
If you are buying kangaroo meat or for that matter any meat, make sure it comes from a sustainable and animal-friendly source. I bought mine from Gourmet Game; they also retail at most of the big supermarkets.
Being an extremely lean meat, it's important not to overcook the meat. I bought the fillets which were cut into medium-sized cubes for the skewers. A few minutes on each side are all that you need with this meat.

Now, I do understand that many of you might not get kangaroo meat easily in other countries or would hesitate to consume it for various reasons. But that does not mean that you cannot enjoy the flavours of the charmoula. This recipe can be adapted to any meat and even to vegetables. Get as creative as you want!

And staying with the Moroccan/Middle Eastern theme; the kangaroo skewers with red chermoula were paired with pita bread, hummus, jajik (Turkish cucumber yoghurt dip), salad with lemon and sumac on the side. If you need a good hummus recipe, then I have one right here.