Inspired by the classic, these Chilli Chicken bites are sure to be a hit at your next party, especially among the tiny tots. Mildly spiced, unlike the name, these are crunchy morsels of deliciousness.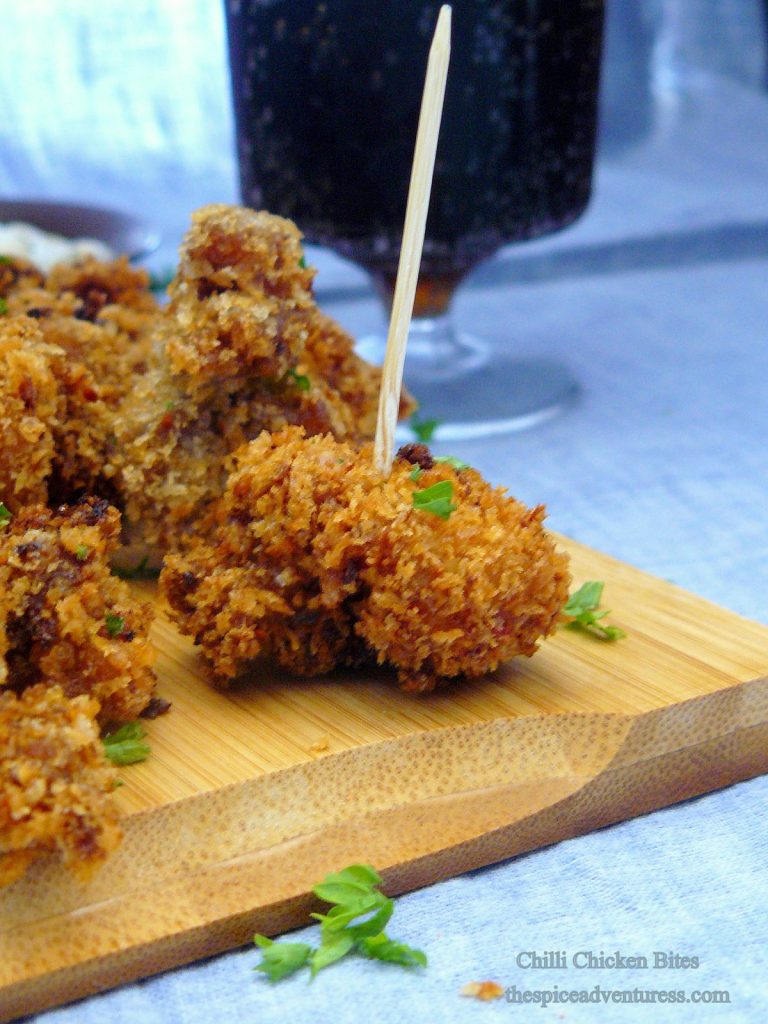 Yet again, food has opened my world to a whole new bunch of friends in Melbourne.

I have been part of a growing food group called Chef at Large on Facebook for quite a while now. A couple of months ago, a bunch of us belonging to the group and residing in Melbourne decided to meet up for a coffee. And the only thing that we knew about each other – food makes our world go around!

And that friendship has blossomed over the months with regular meet-ups, coffees, pot lucks, family gatherings etc….

Our recent meet was a potluck party at a nearby farm where we had a whale of a time sampling each other's dishes, rambling, laughing….all the good things of life. Apart from all the food and fun, we had also decided to swap an ingredient each and come up with a recipe featuring the same.

I was given the round, dry red chillies, which are hugely popular in the South Indian region. Also known as 'Gundu Milagu; these chillies are small and round with bright, shiny, deeply red skin. It is extensively used in the Chettinadu style of cooking apart from being used for tempering traditional Indian dishes like dals, sambar and rasam.
Chillies are always looked upon as a source of heat and very rarely, as a source of flavour. When used in the right manner and the right quantities, you can enjoy the flavour profile of each chilli without making the dish fiery or hot. Today's recipe, chilli chicken bites, is an example….

Chilli chicken is a classic Indian starter but I decided to give it my own twist to make it appealing to all taste buds, especially as a snack for children.

The marinade used for these chilli chicken bites is a medley of red chillies, cumin, fenugreek, cloves and coriander along with aromatics like ginger and garlic. The chicken pieces can be marinated and frozen for upto a month which makes this dish a handy one when you have parties or gatherings. You could also freeze this in small portions and use in lunch box recipes like I do. Sandwiches, wraps, snacks…..my son loves the chilli chicken bites in his lunch box.
So, here's the recipe for chilli chicken bites – a classic example of why you should love chillies!