Beer, cheese (loads of it), bacon, jalapeno, cream….no, this soup is not for the faint hearted or the calorie conscious!!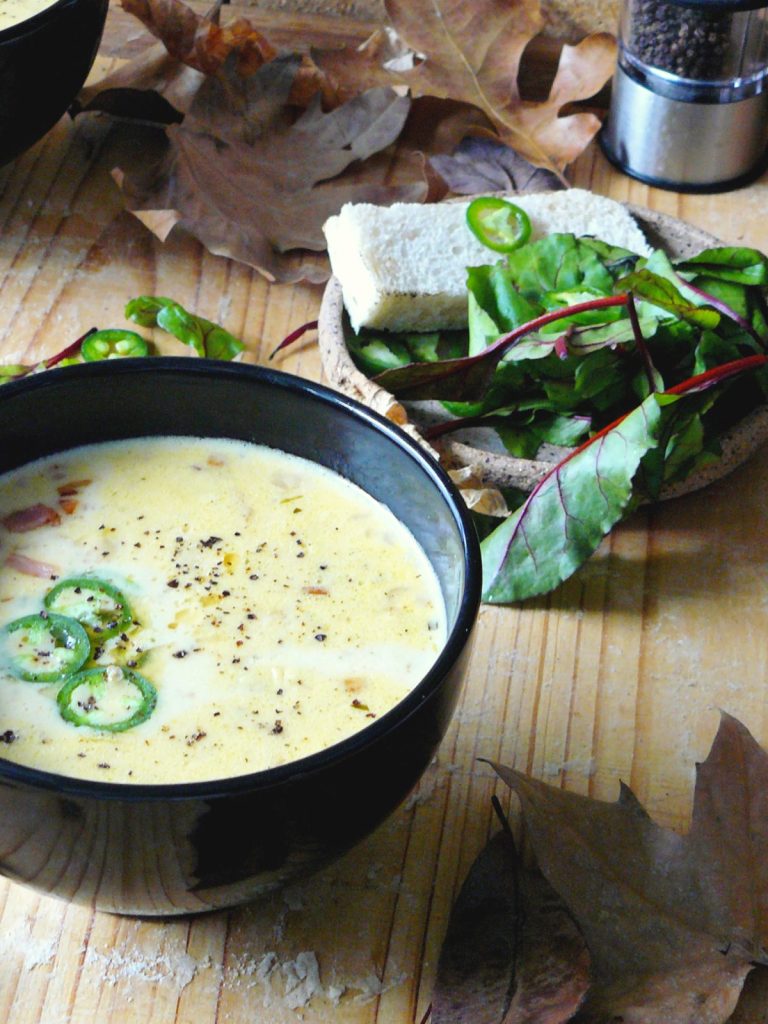 The idea of making a beer and cheddar soup originated on a Facebook group discussion. I had posted a dish with red wine and thus began the conversation of cooking with alcohol. While I may have a bit of experience cooking with wine, I am practically a newborn when it comes to cooking with other forms of alcohol. But the beer soup came highly recommended from a bunch of food buddies who seem to understand my sense of flavours. And so of course, I had to give it a go!

Now, I am not really fond of alcohol especially beer. I have an intense dislike for its bitter flavours. Beer aficionados are not going to take this line easily! But I have never been able to stomach its taste; so how do I cook with it?

I remembered the time when I used beer to make the batter for fish and chips; that was a delicious experience. Though this was nothing remotely similar, I still decided to give this soup a try….after all, there's plenty of cheese and bacon in it right!

And my…what a delicious experience was it! All my skepticism vanished with the first taste of the soup. My 6 year old absolutely loved it; he called it the best soup ever. Don't worry about giving it to your children; most of the alcohol is cooked off so you are not feeling boozy or tipsy drinking this one.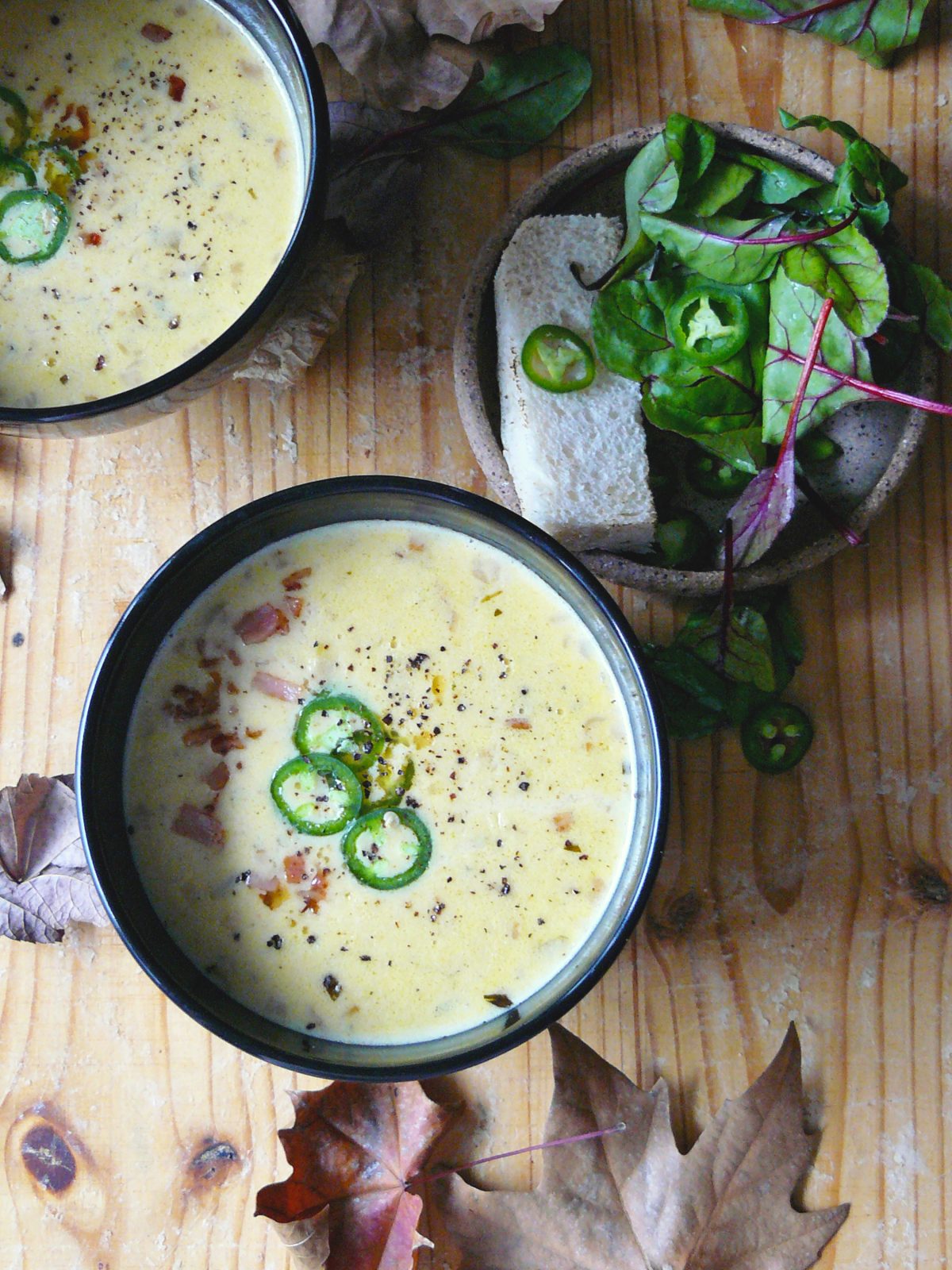 This beer and cheddar soup is autumn in a bowl. Flavours that are strong yet comforting……

Good quality cheddar can make a huge difference to the flavours of this soup. I used a mixture of vintage cheddar and flavoured cheddar (onion and chive). But it is not necessary to stick to these flavours; the only important thing is to use one or two types of real good cheddar with at least one being vintage or aged cheddar for that sharp punch.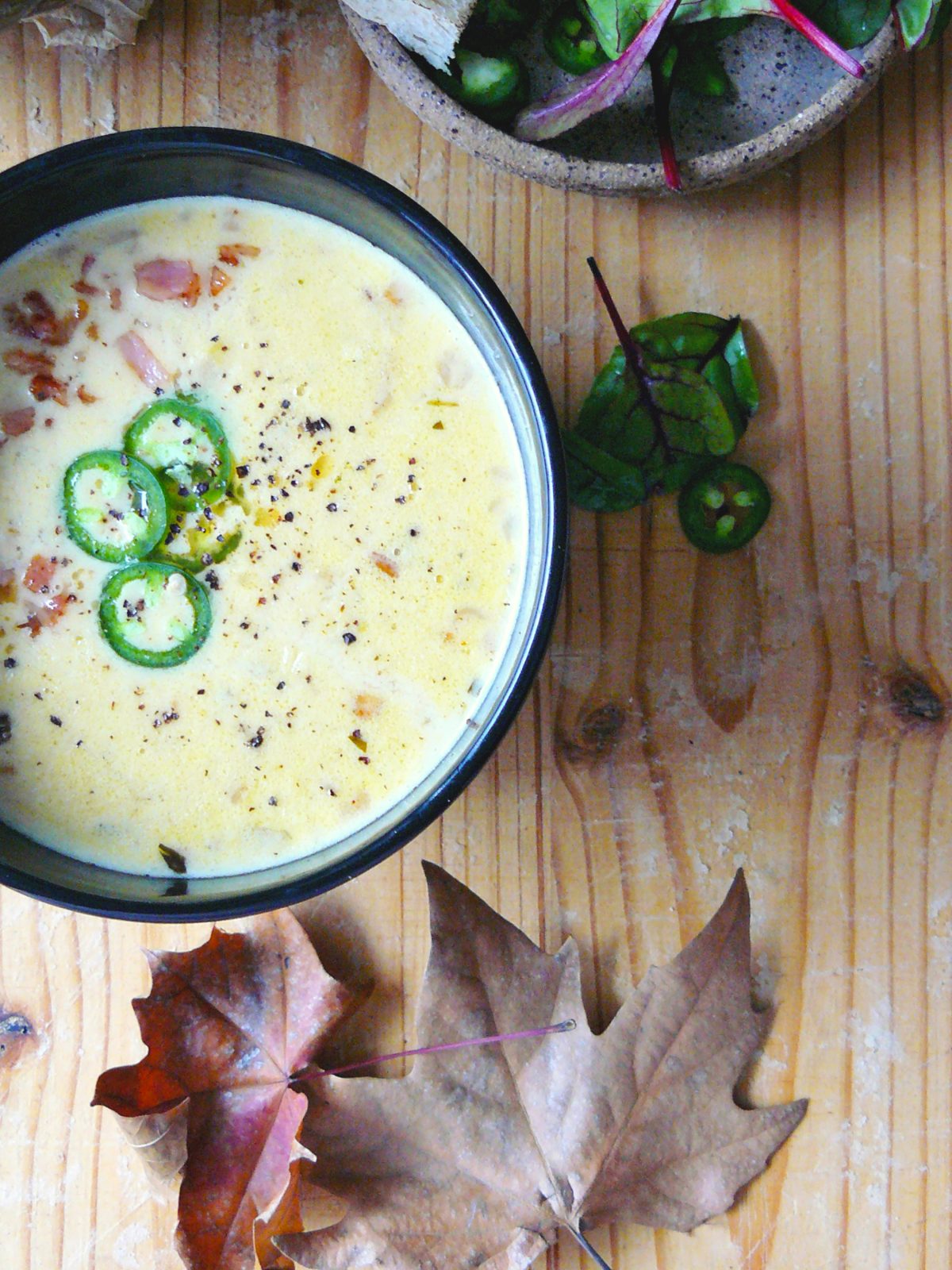 This beer and cheddar soup is not just about flavour, it's also about texture. Every spoonful gives you the soft onions and celery along with the salty, delicious bits of browned bacon. And just when you are lulled into a safe sense of flavour, the fresh jalapenos pop up for that vibrant heat which explodes on your taste buds.

Like you figured, I can rave about this soup but you know what….let's just get cooking.

Recipe adapted from this site.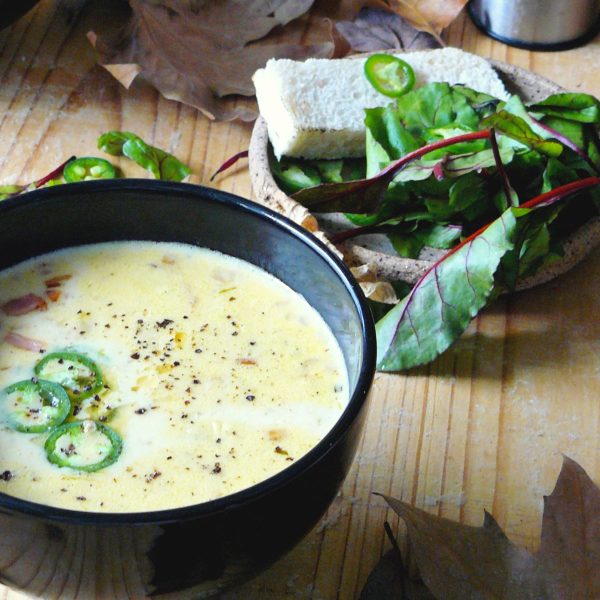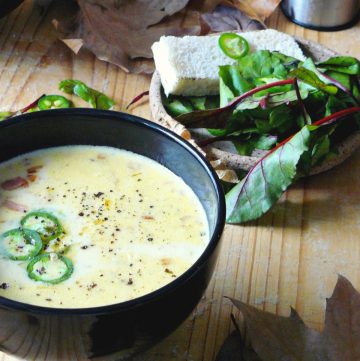 Print Recipe
Beer and Cheddar Soup
Ingredients
150

gm bacon

chopped

2

celery stalks

finely chopped

1

onion

finely chopped

1

jalapeno

finely chopped

2

garlic cloves

finely chopped

2

sprigs thyme

finely chopped

1

bottle pilsner

300 ml

2 ½

cups

chicken stock

4

tbsp

unsalted butter

¼

cup

plain flour

250

ml

cream

100

gm flavoured cheddar

onion and chive, grated

150

gm vintage/aged cheddar

grated

Salt

to season

Freshly milled black pepper

to season
To serve:
Garlic toasts

1

jalapeno

finely sliced into discs

Browned bacon
Instructions
In a large pot, cook the bacon pieces till browned. There is no need to add any extra oil as the fat of the bacon will render and crisp up the pieces. Remove and keep aside leaving the remaining oil in the pot.

To the same pot, add the chopped onions, celery, jalapenos and thyme. Cook till softened which should take around 8 – 10 minutes.

Once the veggies have softened, add the beer and cook till the liquid has been reduced by half; this will take you around 5-7 minutes.

Then add the chicken stock and continue to simmer on low heat.

In another pan, make the roux by melting the butter and whisking the flour into it. Whisk till the mixture has lightly browned and then add this to the stock and mix well to combine.

Continue to cook till the stock has thickened and then add the grated cheese and cream.

Cook for another 5 minutes and then add the bacon (reserve 2 tbsp for garnish); taste and season with salt and pepper.

Serve warm with garlic toasts
Notes
I used pilsner, but you can use ale also.
Do you cook with alcohol? I would like to learn more about your experience……