All of us have preconceived notions when it comes to cooking and eating dishes from other cuisines, especially those which we are not very familiar with. For me, this has been the case with Bengali cuisine….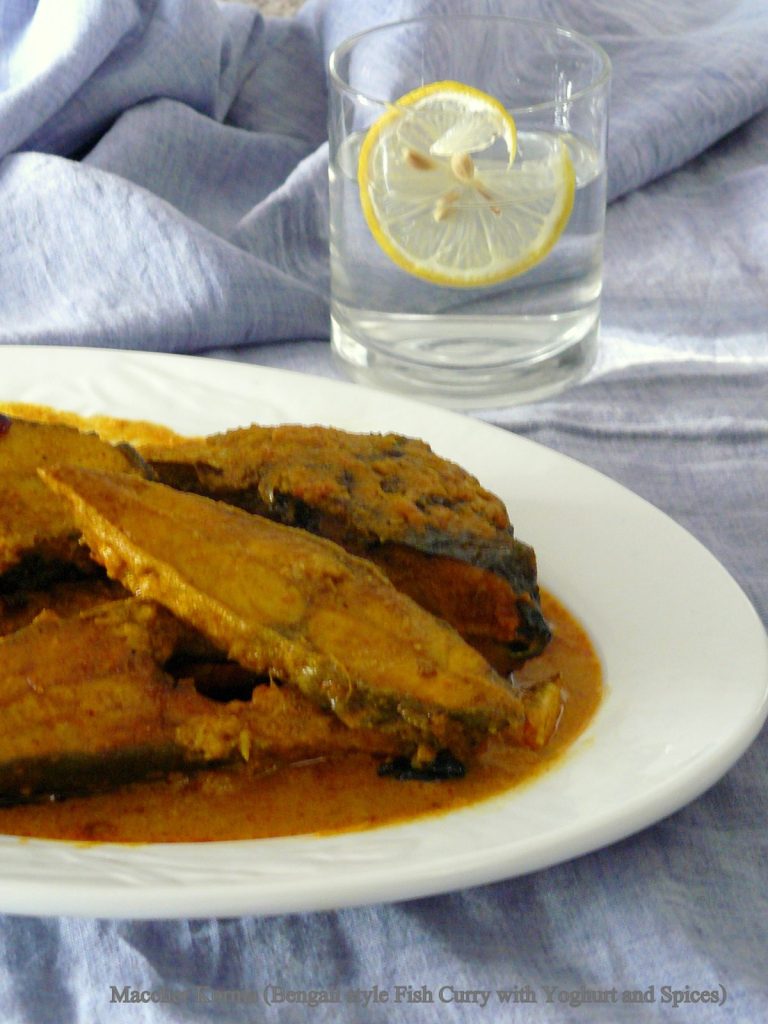 For the longest time, I avoided eating or cooking Bengali food simply because of the notion that I would not enjoy the flavour of mustard oil. It's true that mustard has a pungent aroma and flavour but if used in the right manner and with the right flavour combinations, it can be an amazing ingredient to work with.

I was in for a delicious surprise when I finally gathered the courage to cook Bengali dishes. Now, a month does not go by without trying a dish from the region.

The Bengalis' love for seafood is legendary which identifies well with me because I am a huge seafood lover too. And so this Maccher Korma or fish curry with yoghurt and spices ticks all the right boxes for me.
All of us are familiar with a korma. Dating from the Mughal era, the korma is a rich, creamy dish usually made using meat or vegetables. But in Bengal, you will find a seafood version of the korma which is a much loved dish in most households.

I have used white pomfret to prepare this maccher korma. Pomfret is not the preferred variety traditionally but I am all for local and seasonal catch. And moreover, I am a big fan of white pomfret…..especially the fish head. Are you a fish head lover?
This Bengali fish curry or maccher korma is deliciously creamy, fragrant and spiced perfectly to enjoy over a bowl of steamed rice. Though you might think the ingredients are many, the dish is rather simple to prepare.

So bring home the seasonal catch from your market and let's get cooking this cracker of a dish….Maccher korma or Bengali style fish curry with yoghurt and spices.

Recipe adapted from this blog.

Ingredients:

1. 1 kg pomfret, cut into medium slices
2. To grind:
• 4 tbsp freshly grated coconut
• 1 tbsp poppy seeds
• 5 cashewnuts
To view full recipe, click here.
Recipe developed, styled and shot for Supreme Seafood