A visit to this restaurant has been on the cards for a long time as one of our friends had been there and suggested it's a good place to try North Indian and Pakistani cuisine.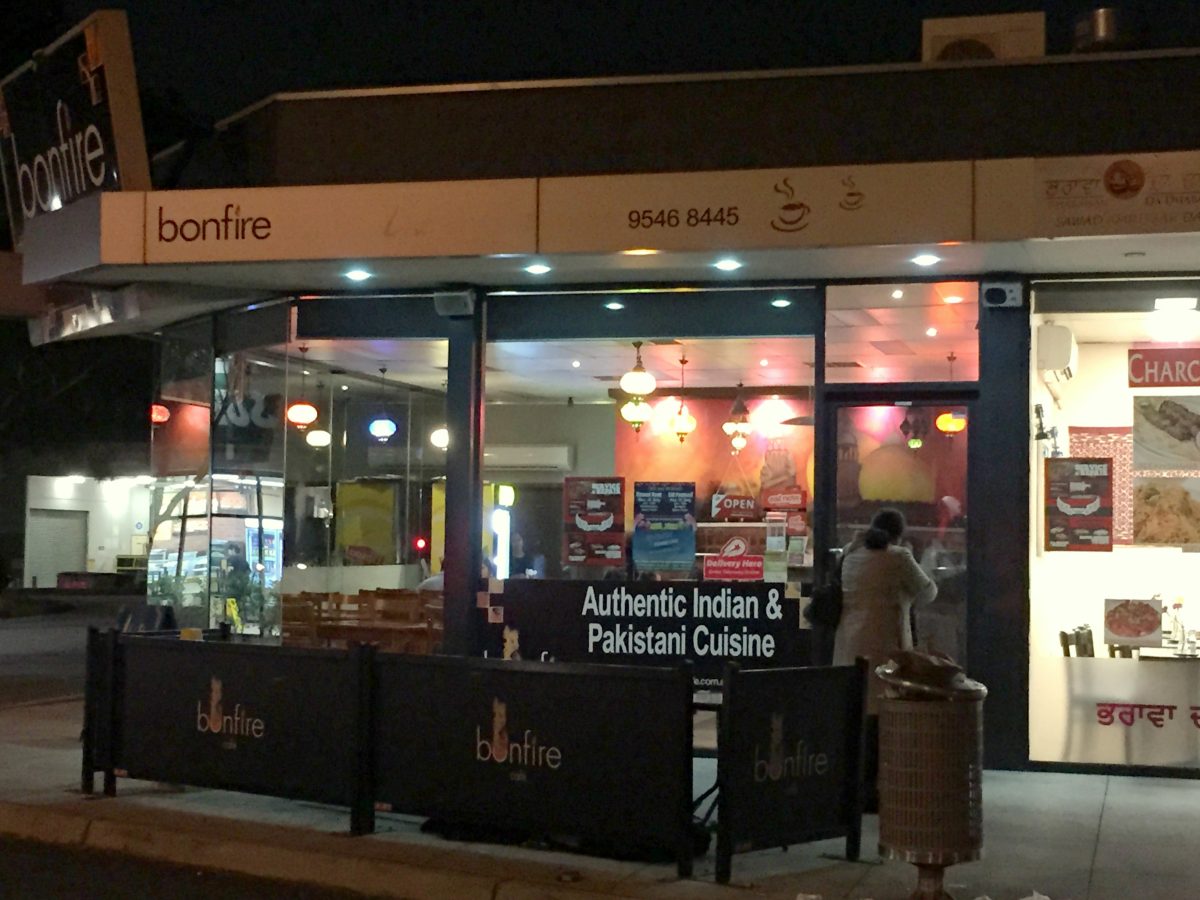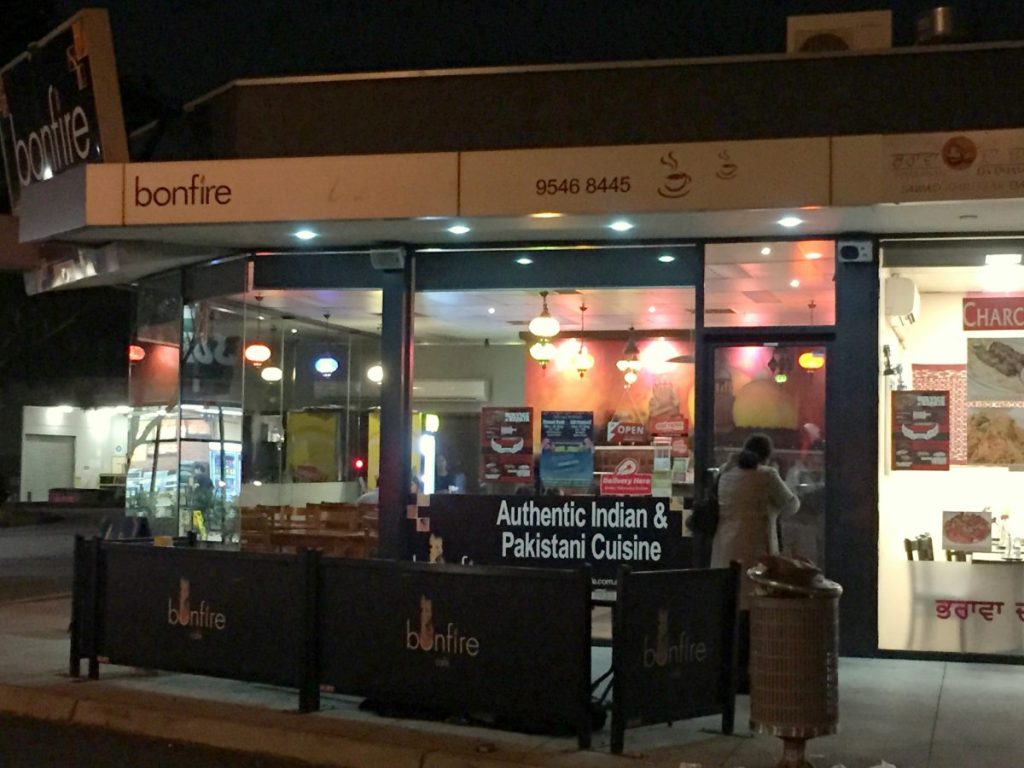 The Bonfire Cafe is located in Springvale and is a rather small place nestled among many other Indian, Asian and fast food joints. The place is more famous for takeaways rather than dine-in due to the small space and not so appealing service. The food leans more heavily towards Pakistani style of cooking which is rather similar to the cuisine of old Delhi and parts of Punjab and North Frontier.


We arrived there around 8.00pm on a Saturday evening and the place was only half full. Since it's mostly a takeaway joint, you are likely to find place even on weekends but if you are part of a large group, I totally recommend calling ahead of time as the place can get really cramped, even with a few diners.

Though I have read mixed reviews about Bonfire Cafe on Zomato, I kept an open mind and not get influenced by what I have read. The menu was refreshingly different and did not offer the same kind of dishes that are offered by most Indian restaurants. Like I said, this was because the menu leaned towards the Pakistani style of cooking; so that expectations were really high as I know that Pakistani cuisine is an incredibly delicious one, rich and packed with flavour.
Since there were very few diners, we got seated fairly quickly and the menus were bought out. There was a good variety of dishes across all categories and I liked the fact that each dish carries a little note about the origin or history of the dish along with a description of the actual dish. This can be really helpful for those who do not understand the traditional names and can get confused on what to order.

For starters at Bonfire Cafe, we got the Chapli Kebabs which is a specialty of the region; lamb mince kebabs flavoured with coriander and dry pomegranate seeds. The kebabs were served with a mint raita and sliced cucumbers. Absolutely delicious and a must try…unanimously voted as the best dish of the day by all of us. There is a strong coriander flavour just as the description mentioned but it was beautiful and not too hot.
We also got a piece of Chicken tikka for the non-lamb eater in the group. Unlike many other restaurants where tikka is served as skewers, here you get a quarter piece of chicken marinated with a flavourful tikka sauce and a generous squeeze of lemon. Well cooked, not too dry with good flavours.
Next, we ordered some flatbreads/Naan along with a vegetarian and non-vegetarian side. For vegetarian, we chose the Paneer Jalfarezi and Beef Nihari for the non-vegetarian option. The flatbreads were a bit dry to my liking but not too hard. A bit of butter would have helped. The Paneer Jalfarezi at Bonfire Cafe was delicious and mopped up in no time at all. It is an excellent choice for vegetarians and also for anyone who is looking for a less spicy dish.
Though I have heard plenty about Nihari (a traditional dish dating from the 18th century Mughal cuisine and now considered to be the national dish of Pakistan), this is my first time actually experiencing the dish. Since I have no prior experience, I won't claim it to be authentic etc…simply because I do not know. But what I do know is that it was delicious with the most tender and succulent pieces of beef I have ever eaten. The only complaint was that there were very few beef pieces and plenty of gravy. But nevertheless, a good dish.
The final dish we ordered at Bonfire Cafe was the lamb biryani. Of course you have to sample the biryani when out at an Indian restaurant and this one didn't disappoint. The Pakistani style of biryani is much lighter than the typical Indian version; it is more flavourful but less spicy. And this makes it perfect as it does not fill you up completely allowing room for other dishes to be sampled. I wouldn't say this was a great biryani; average but not disappointing.
If there's anything to fault with this place, it's the service. There's none to speak of……

If you live nearby, a takeaway from Bonfire Cafe would be ideal if you do not wish to experience the non-existent service. For others, if a good meal counts over the service, then you will want to give it a go.

Bonfire Cafe
Shop 1
27-31 Springvale Road,
Springvale
Victoria