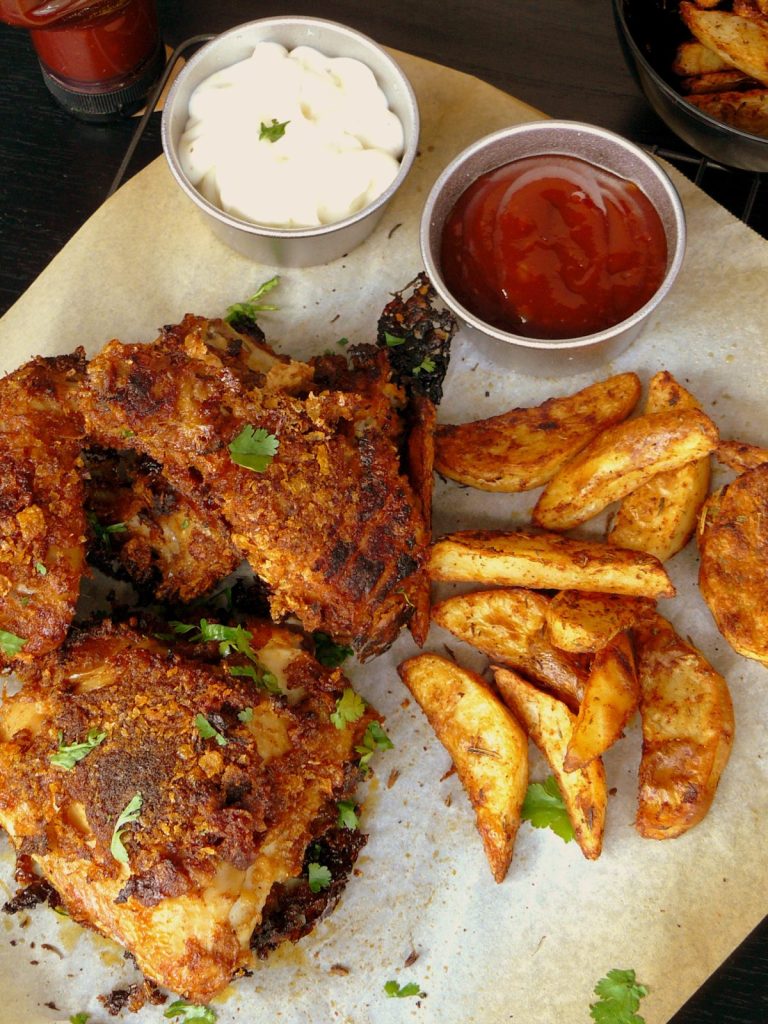 Fried chicken – The ultimate global comfort food!

I remember vividly of a childhood eating my fair share of KFC (Kentucky Fried Chicken, is there anyone who doesn't know it!). It was the only form of fast food that was welcome in our house simply for the fact that fried chicken was the only thing that my dad would eat outside South Indian cuisine.

Without going into the debate of health and junk food, I did enjoy the flavours of KFC, at least till I learnt to make a decent version of fried chicken myself. What can get more comforting than biting into a crispy chicken leg that eventually melts in your mouth. And accompany it with fries and ketchup…..greasy but good for the soul!

As my cooking skills strengthened and so did my knowledge of oven cooking, I learnt of ways to achieve a similar texture and flavour of fried chicken without actually deep frying. The fries got replaced with wedges and the store bought mayo slowly gave way to homemade aioli.

And of all the different varieties and styles of fried chicken, this Southern version staunchly remains my favourite just because it has liberal amounts of my favourite ingredient in it….spices.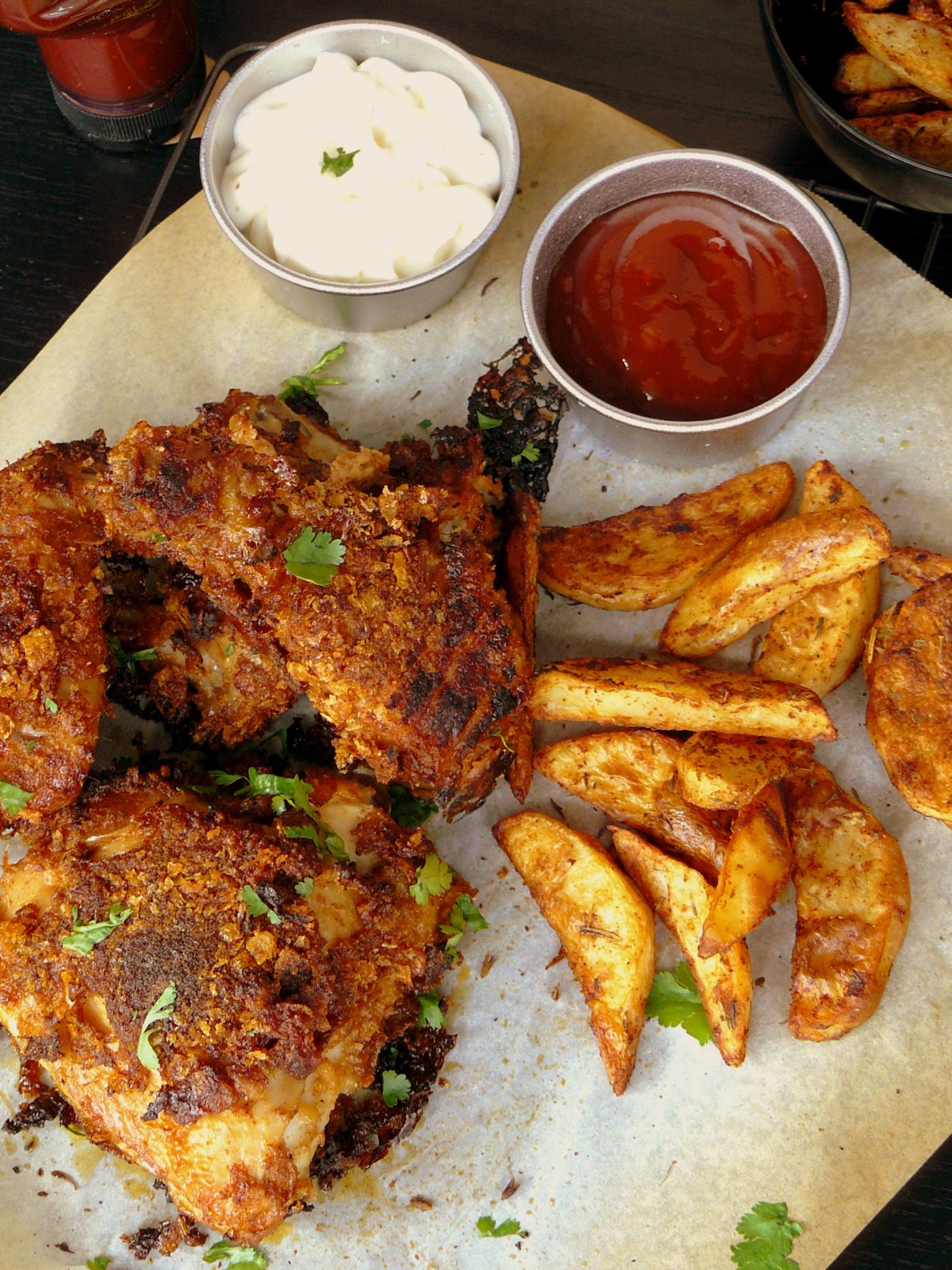 Southern fried chicken is another comfort food offering that originated in the US. The chicken pieces are tenderized by marinating in buttermilk and then coated with flour mixed with spices like cayenne pepper. But today, I am adding more crunch to the coating in the form of crushed cornflakes and Panko breadcrumbs. And we have not just cayenne for the chilli kick, but smoked paprika and Indian red chilli powder because I like it hot!

If you have an oven, then ditch the fryers and skillets; spray some oil and oven bake at high temperatures to get the same crispy exterior and your stomach will thank you for it. We also have paprika wedges instead of classic fries to accompany this Southern fried chicken. Homemade mayo and barbeque sauce complete this comfort food package making my weekend a delicious affair.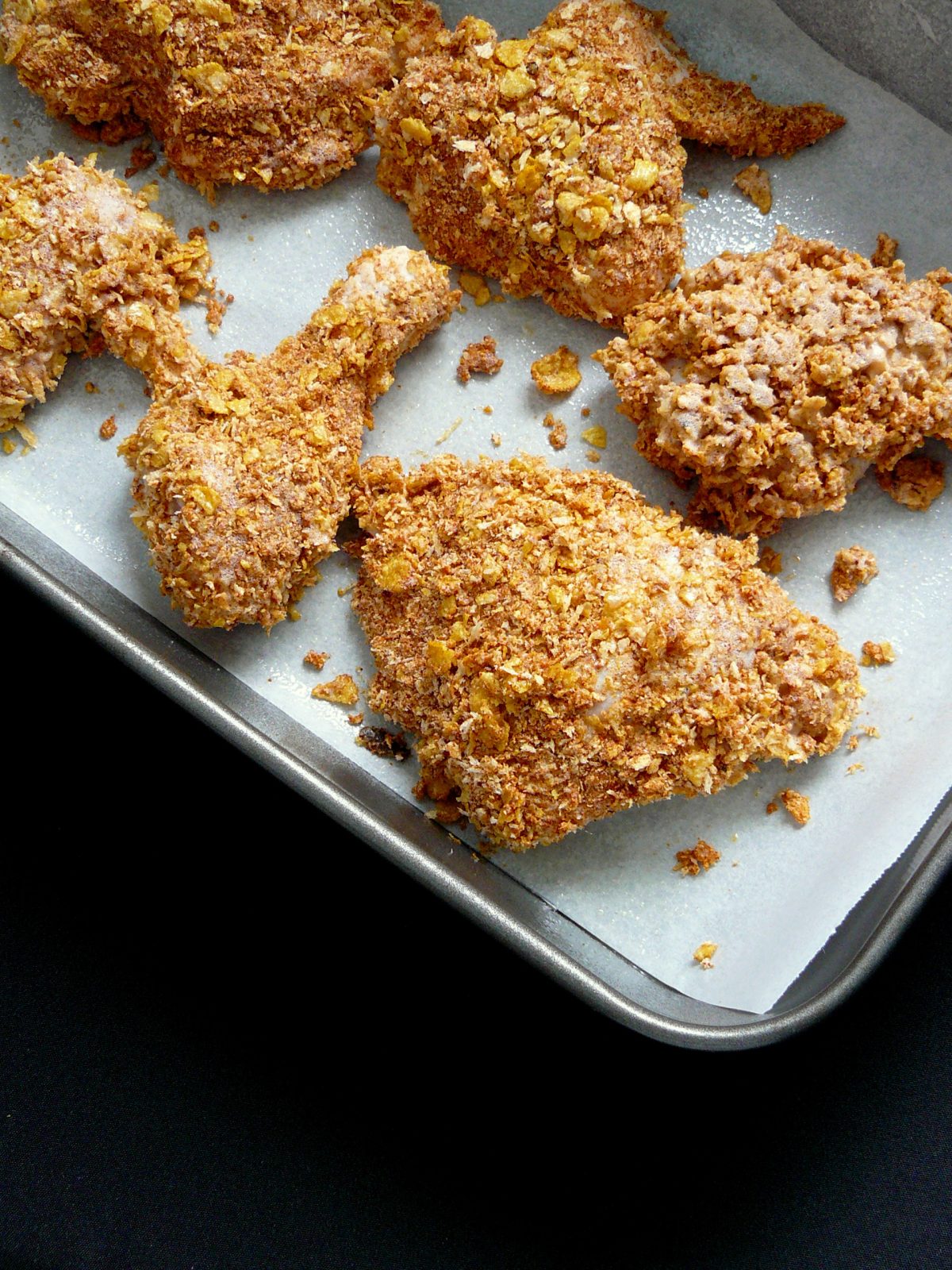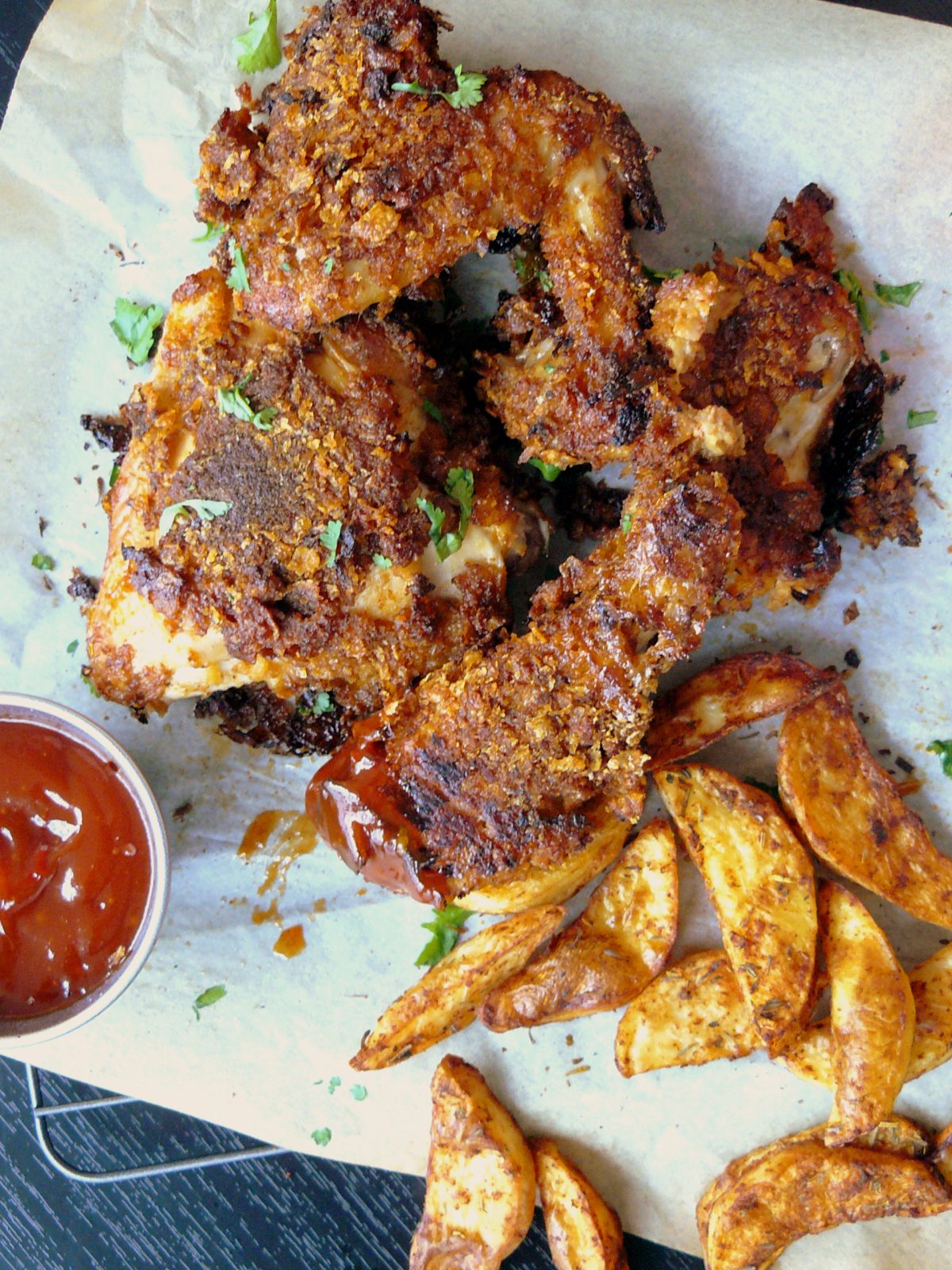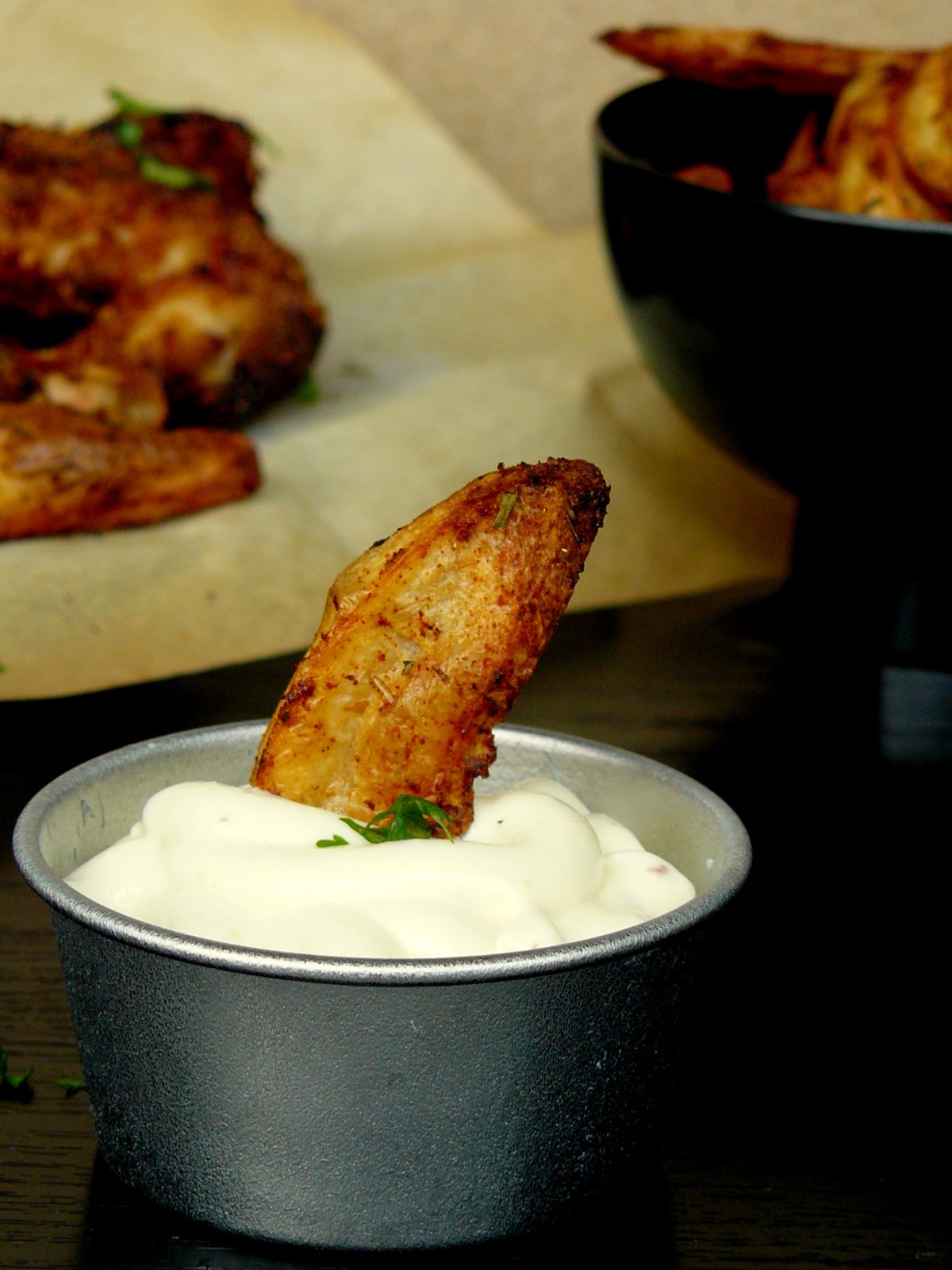 Why don't you make yours delicious too?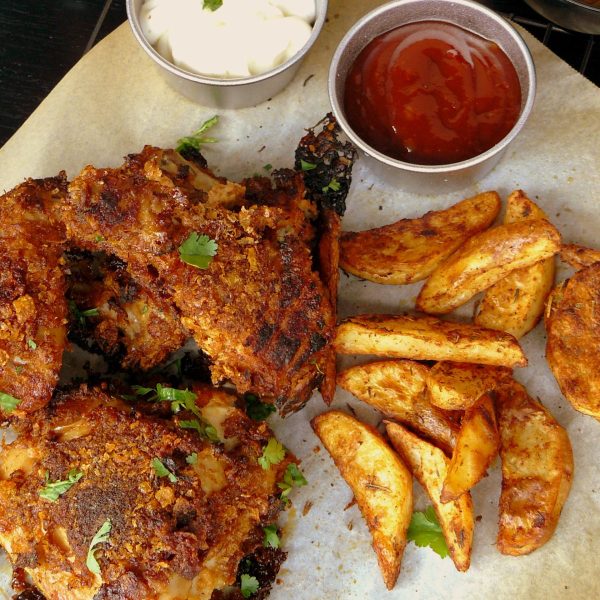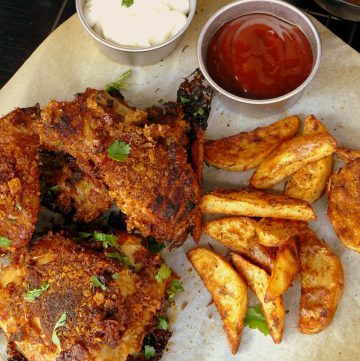 Print Recipe
Southern Fried Chicken
Ingredients
For the chicken:
1

kg

chicken; broken into 6 pieces

2

cups

buttermilk

3

tbsp

barbeque sauce

2

cups

crushed cornflakes

1

cup

Panko breadcrumbs

use ordinary crumbs if you do not have Panko

3

tbsp

wheat flour

1

tbsp

smoked paprika

1

tsp

red chilli powder

1

tsp

cayenne pepper

2

tsp

onion powder

½

tsp

garlic powder

Salt

to season

Freshly milled black pepper

to season

Vegetable oil
For the wedges:
4

medium potatoes

½

tsp

paprika

¼

tsp

Italian herbs

Salt

to season

2-3

tbsp

vegetable oil
Instructions
To prepare the chicken:
Place the chicken pieces in a large bowl, pour the buttermilk and barbeque sauce on top. Season with salt and pepper; keep aside for at least 2 hours or overnight as time permits.

Preheat the oven to 250°C. Line a tray with baking paper and lightly brush or spray with vegetable oil.

In a bowl, mix the cornflakes, Panko crumbs, flour, cayenne, red chilli, paprika, onion powder, garlic powder and season with salt and pepper.

Remove each piece of chicken from the buttermilk and coat with the cornflakes mixture. Press gently so that the crumb adheres to the chicken and place it on the baking tray. Repeat for all pieces. Make sure that you do not crowd the tray; if necessary, prepare in batches or on 2 trays.

Lightly spray or drizzle the chicken pieces with oil and bake for 10-12 minutes at 250°C. Then decrease the heat to 200°C and bake for another 10-12 minutes. Keep an eye on the chicken and take care it does not burn.

Flip the chicken pieces over gently, lightly spray or brush with oil and bake again at 200°C for another 15-20 minutes or till done. Check after 10 minutes to see if any pieces are done (the wings may cook faster than the breast pieces) and remove if necessary.
To prepare the wedges:
Peel the potatoes, cut into wedges (leave the skin on if you wish to) and parboil in salted boiling water for 8 minutes.

Drain and allow to air dry.

Preheat the oven to 180°C (fan forced). Line a tray with baking paper.

In a bowl, mix the potato wedges with paprika, herbs and lightly season with salt (remember you cooked it in salted water). Drizzle a bit of oil and line the wedges on the tray without crowding too much.

Roast in the oven for 15 minutes turning once in between or till golden brown and done.