A visit to Afghan Rahimi has been on the cards for such a long time, but it didn't quite happen till now. Guess Melbourne has too many good food joints that a lifetime does not seem to be enough!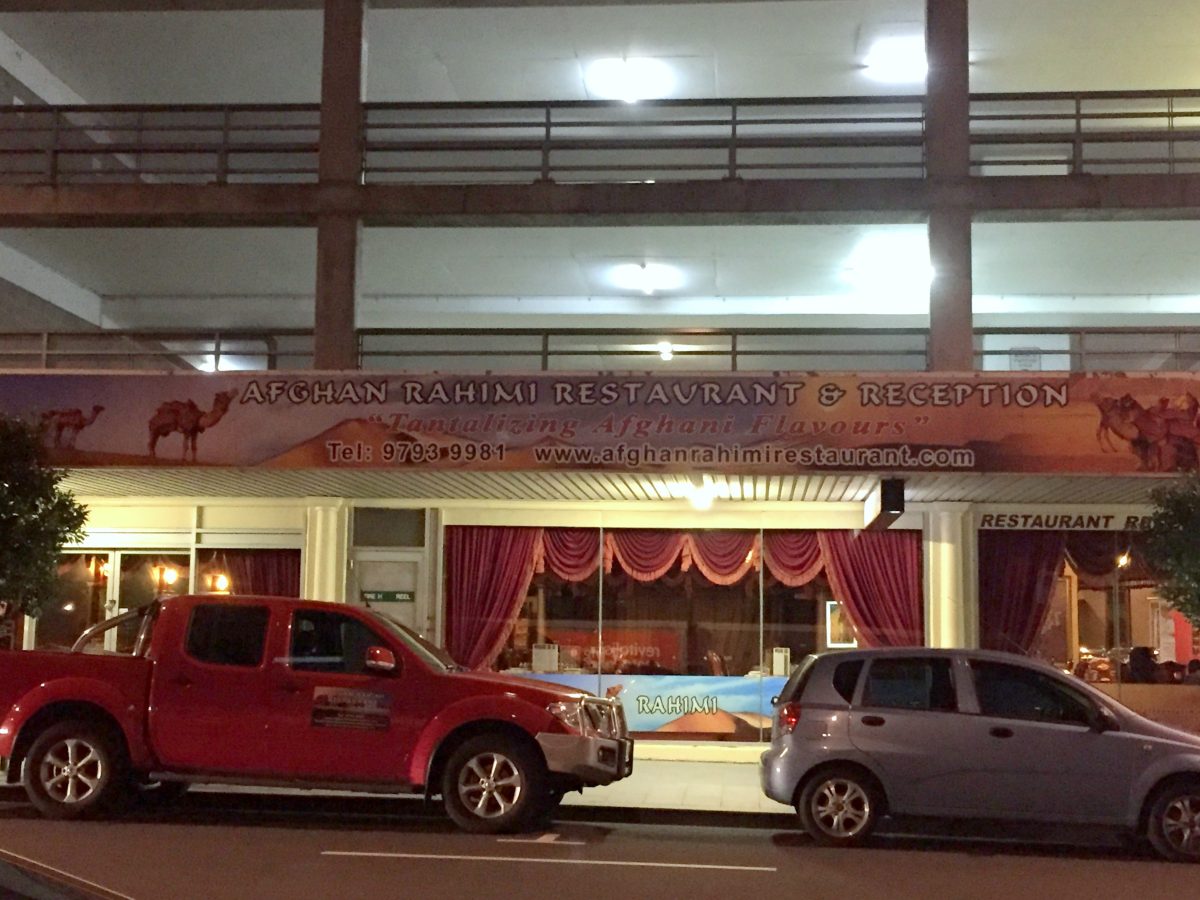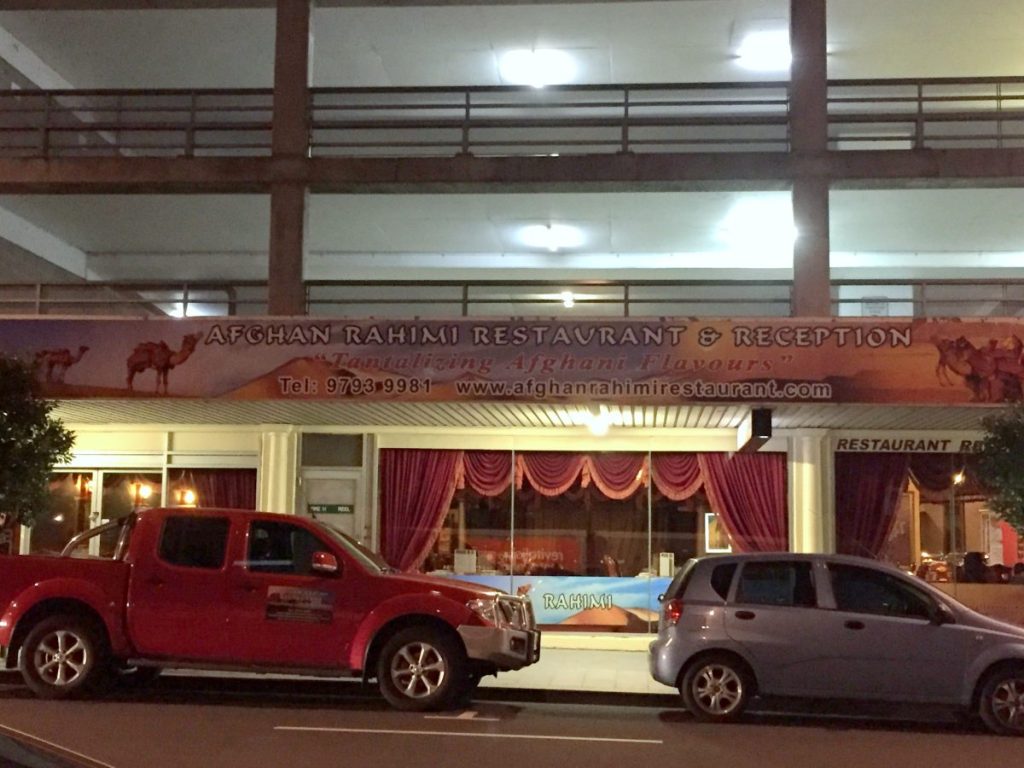 This restaurant is a stone's throw away from where I live and pass by the place almost every week. But the realization that this is one of the best Afghan restaurants to dine in Melbourne came after reading a review by Matt Preston (Masterchef fame).
The first thing that struck me walking into the restaurant was the ornate décor….. deep red brocade curtains, richly decorated wooden tables and chairs set in a large space and the low lighting which set a very inviting ambience to the whole place.
Rahimi Baryalai, the owner of Afghan Rahimi, greeted us on entering and after enquiring specifics, we were seated and the menus bought out. While there are many a la carte dishes, it was the banquet option that caught my eye. And I would totally recommend this to anyone who is visiting Afghan Rahimi for the first time. Very reasonably priced, there are several banquet options ranging from $35 to $55 depending on the number of dishes and people; this is the ideal way to experience the best dishes that the restaurant has to offer.

We went for Banquet 3 (Afghani) priced at $45.00 which is a five course meal. The dishes are bought out one by one to the table and soon you have a banquet to feast on.

The bread and dips arrived first. I don't think I have appreciated Afghan bread so much before (have had plenty of it); it was soft and the perfect carrier to scoop the dips and chutneys. There was a simple tomato and cucumber salad, a carrot based dip, a cucumber based yoghurt dip and a chutney. The perfect way to start off a meal exciting your tastebuds for the remaining meal….

The next dish to arrive was Mantu (Traditional Afghani dumplings steam cooked, made from pastry, mince and onions topped with yoghurt and tomato gravy). Perhaps, the most famous dish at Afghan Rahimi and Matt Preston's absolute favourite. I don't think words do any justice to what these dumplings do to your tastebuds. Melt-in-your-mouth, soft, creamy, juicy….oh, it's an experience. Get yourself to Rahimi just for this.

Next came a plate of Borani Banjan (Fried eggplants covered with a fresh tomato and yoghurt sauce). I am not too fond of eggplants but this dish has converted me. The flavour was so bespoke that I happily forgot that I was eating eggplants.

The Afghani traditional rice came next. Now I have seen a zillion recipes claiming to be Afghani rice on the Internet; if you want to experience the real deal, visit Afghan Rahimi. Perfectly cooked rice with a generous topping of carrots and raisins with a subtle hint of spices.

Along with the rice came Meatball/Kofta curry (Lamb mince marinated with diced onions and herbs, curried in a delicious tomato and pea gravy). Yet another delicious dish; I think I have repeated delicious enough number of times by now and I don't intend to stop.

Next to arrive was the Chicken Tikka and Lamb backstrap skewers. Loved the flavour on these meat skewers and it was delicious but would have preferred the meat to be slightly more tender.

Followed soon by the fried fish preparation (I couldn't get the name of this one). Mr. Baryalai personally bought it to our table saying that it is a special preparation that he enjoys very much. Now most of you know my obsession with seafood but it would be perfectly fair to say that I have not eaten a more beautifully cooked fish preparation before. Subtly spiced and absolutely succulent and flaky fish; it is to be experienced at Afghan Rahimi.

The meal ended with a glass of traditional green tea that was flavoured with organic saffron and cardamom accompanied by gulab jamun (Dough balls are fried and soaked overnight in a sugar syrup) and another milk based sweet (which we call 'peda' in India but couldn't get the Afghan name) and a bowl of vanilla icecream drizzled with honey for my little one. He got the ice cream for being a wonderfully behaved child and eating all his food. What a little personal touch…this is what customer service is all about.

Reading so far, you would have an idea of why this spread is called a banquet. A thoroughly delicious experience, one which I will want to return to over and over again.

The customer service at Afghan Rahimi is exemplary; to have the owner of the restaurant taking care of every need of yours is not a common thing. Mr. Rahimi was telling us about how the popularity of his restaurant has gone up which makes it a hot destination for those living far but the locals of the suburb seem to have forgotten the place. You would easily find cabinet ministers and the elite dining at the next table to yours at Rahimi.

Quality food at an affordable price for all to enjoy is what Afghan Rahimi is all about. Perhaps the closest that many of us would get to experience true Afghan hospitality and the richness of the cuisine.

Afghan Rahimi Restaurant and Reception
23/29 Walker Street
Dandenong
Victoria
Phone no: 03-97939981