The first time I heard of Tulsi Indian Restaurant was in 2014. Tulsi had just won the distinguished Victorian Award of Excellence 2014 by Savour Australia Restaurant & Catering HOSTplus Awards for Excellence and I had the opportunity to write a feature about the restaurant and the team behind it for Indian Link.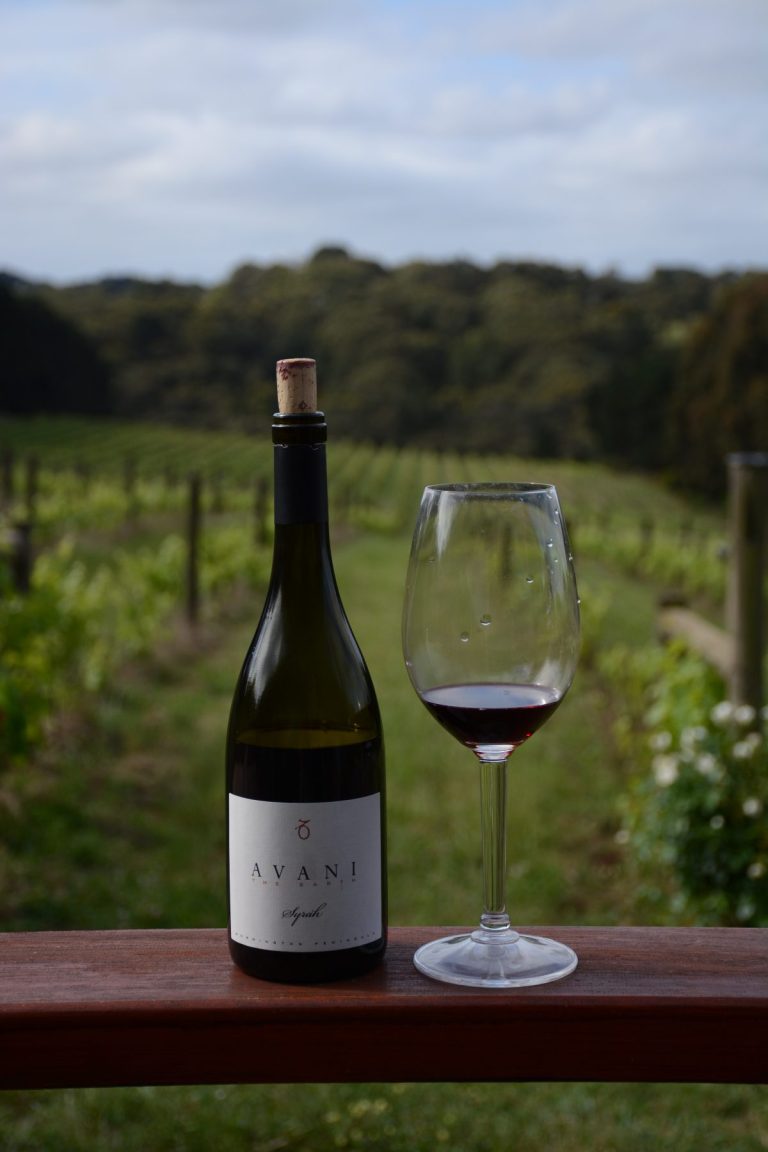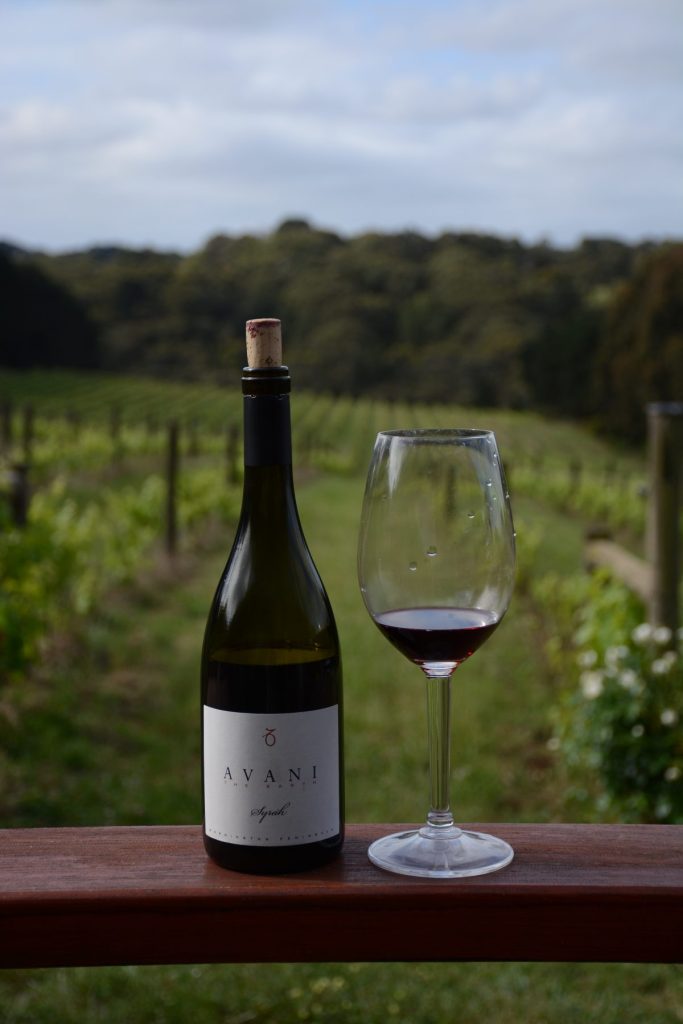 During the course of research and writing the feature, I got to know more about Chef Devendra and his wife Shashi Singh, their love for food and also their passion for representing India's rich culinary heritage through Tulsi.

But the surprise factor for me was Shashi Singh, who also happens to be a winemaker; one of the few Indian-origin winemakers in Australia. She owns and operates Avani (The Earth) Syrah, located at Red Hill, Mornington Peninsula.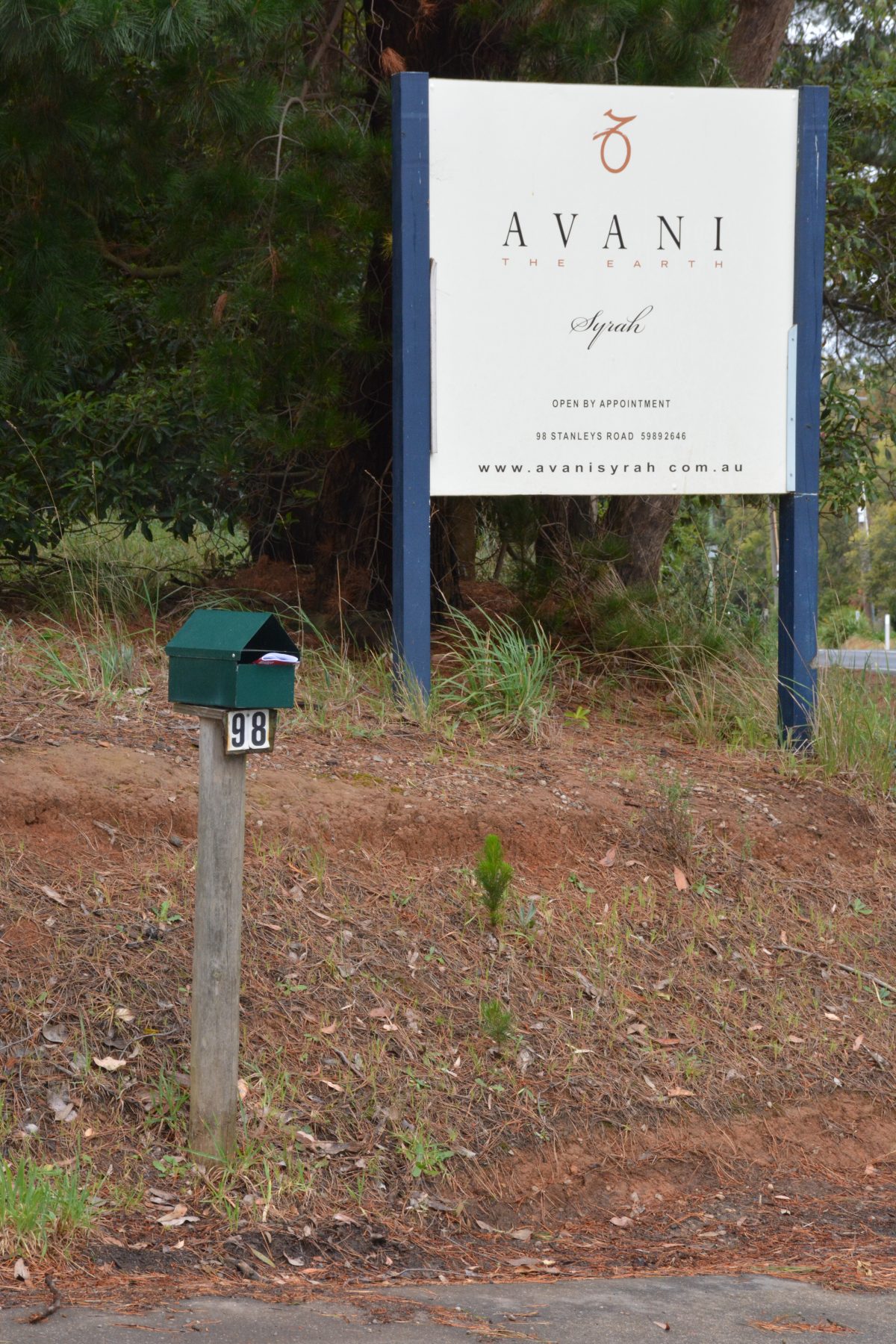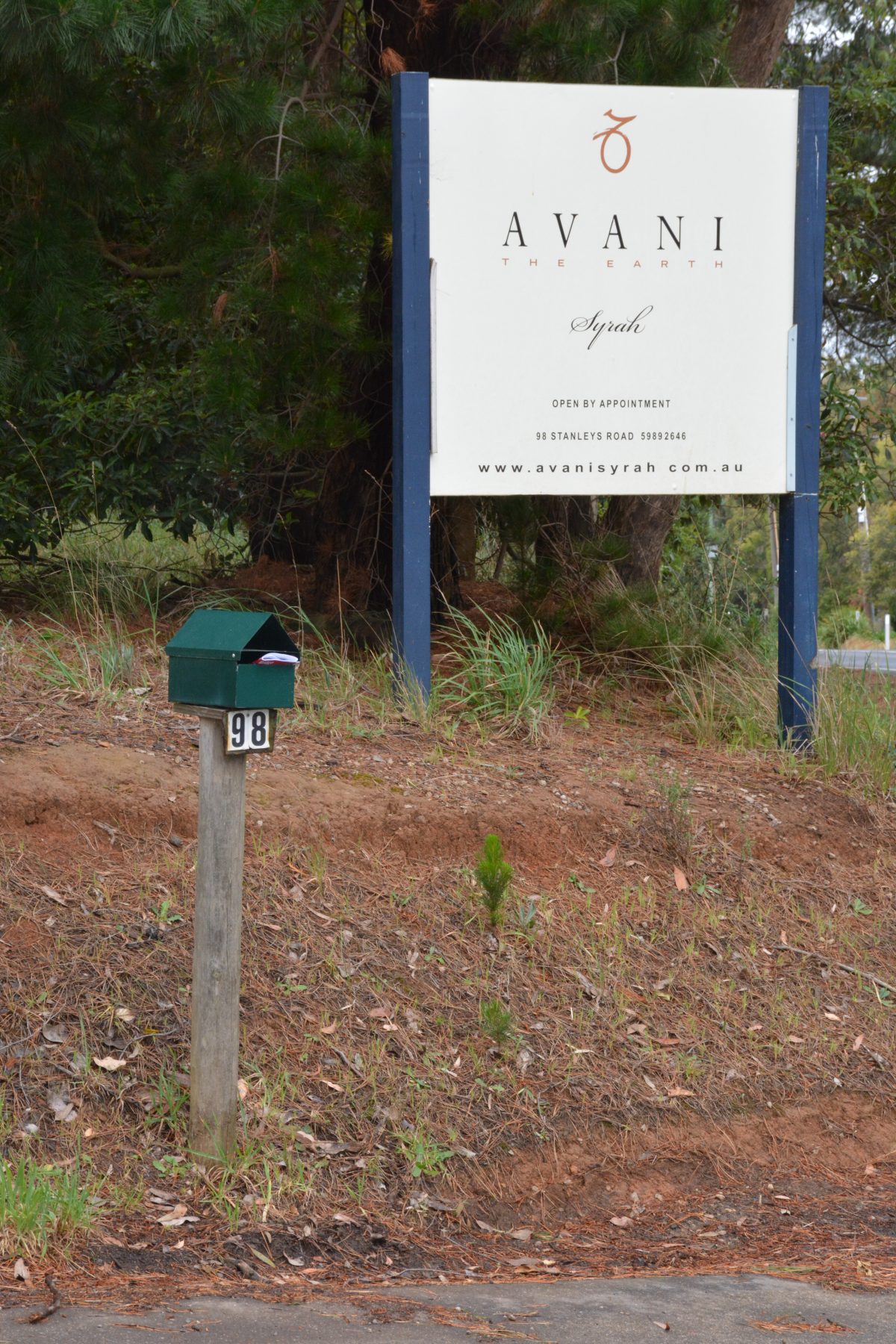 I got an opportunity to meet Shashi again early this year at the 'Spice and Wine' Masterclass held as part of the Melbourne Food and Wine Festival. Along with Chef Adam D'Sylva of Coda and Tonka, she took us on a learning process of how to match Indian spices and flavours with wine. The first thing that struck me about Shashi was her friendliness and down-to-earth approach. She was so welcoming when I requested that I would love to have a personal tour of her winery.

And that wish of mine was finally fulfilled a couple of weeks ago when I visited both Avani and Tulsi as part of my Mornington Peninsula holiday.

Shashi's home is situated on the vineyard itself; infact, you look out of her living room and you see the vineyard stretching out like a green panorama as far as eyes can see. Totally addictive!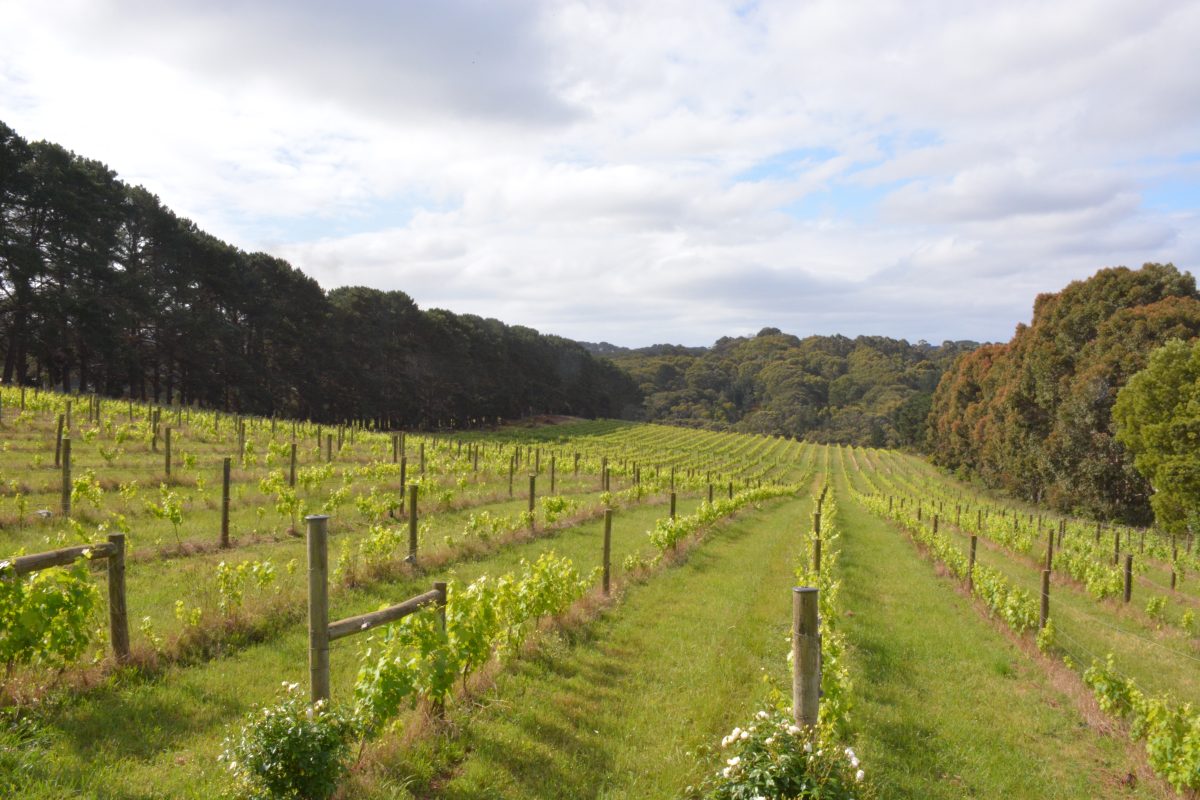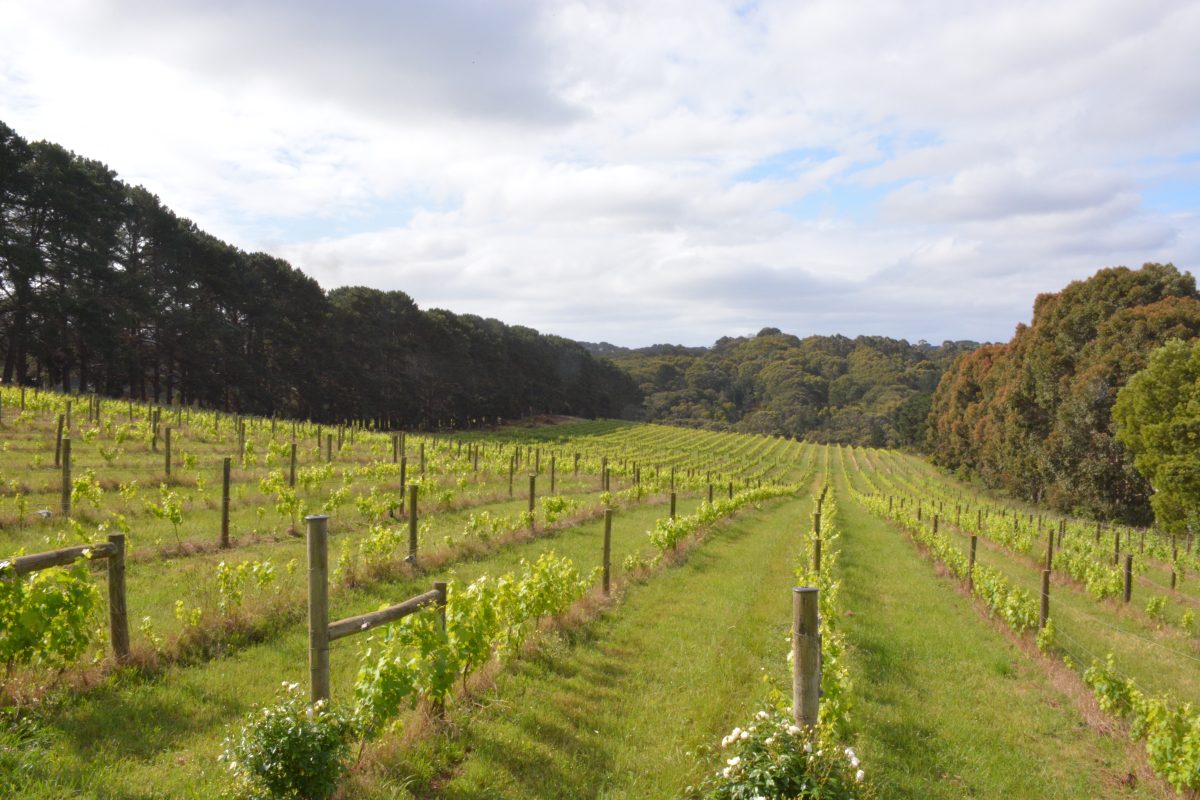 We had a small wine tasting session at Avani, a very personal one as Shashi believes in small, intimate groups rather than large, commercial ones. I totally agree with her viewpoint especially after visiting a lot of wineries in Australia where sometimes the tasting session becomes so stuffy and formal. Shashi is happy to answer all your questions and she puts you instantly at ease that you would open up and ask the most basic things you want to know about wine and pairing with food.
Apart from the Avani Syrah, we also had a taste of the 2015 Pinot Grigio which is yet to be bottled. She was so enthusiastic about this one and wanted us to have a taste. And I am so happy she did. For the first time, I understood what 'spicy tones in a wine' means. She later told me that she is planning on calling it 'Amrit' (the names of her wines are all Sanskrit and so brilliantly apt).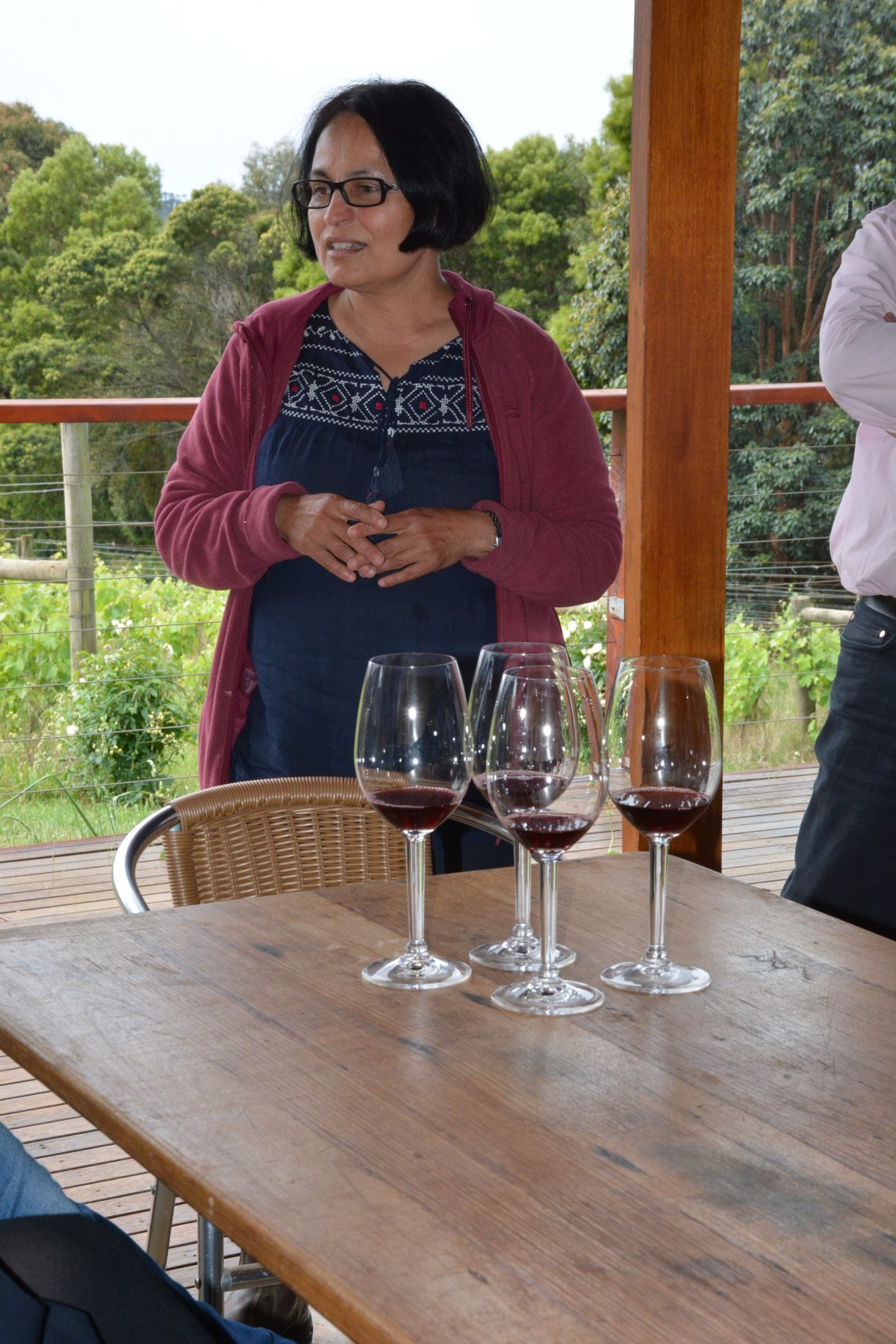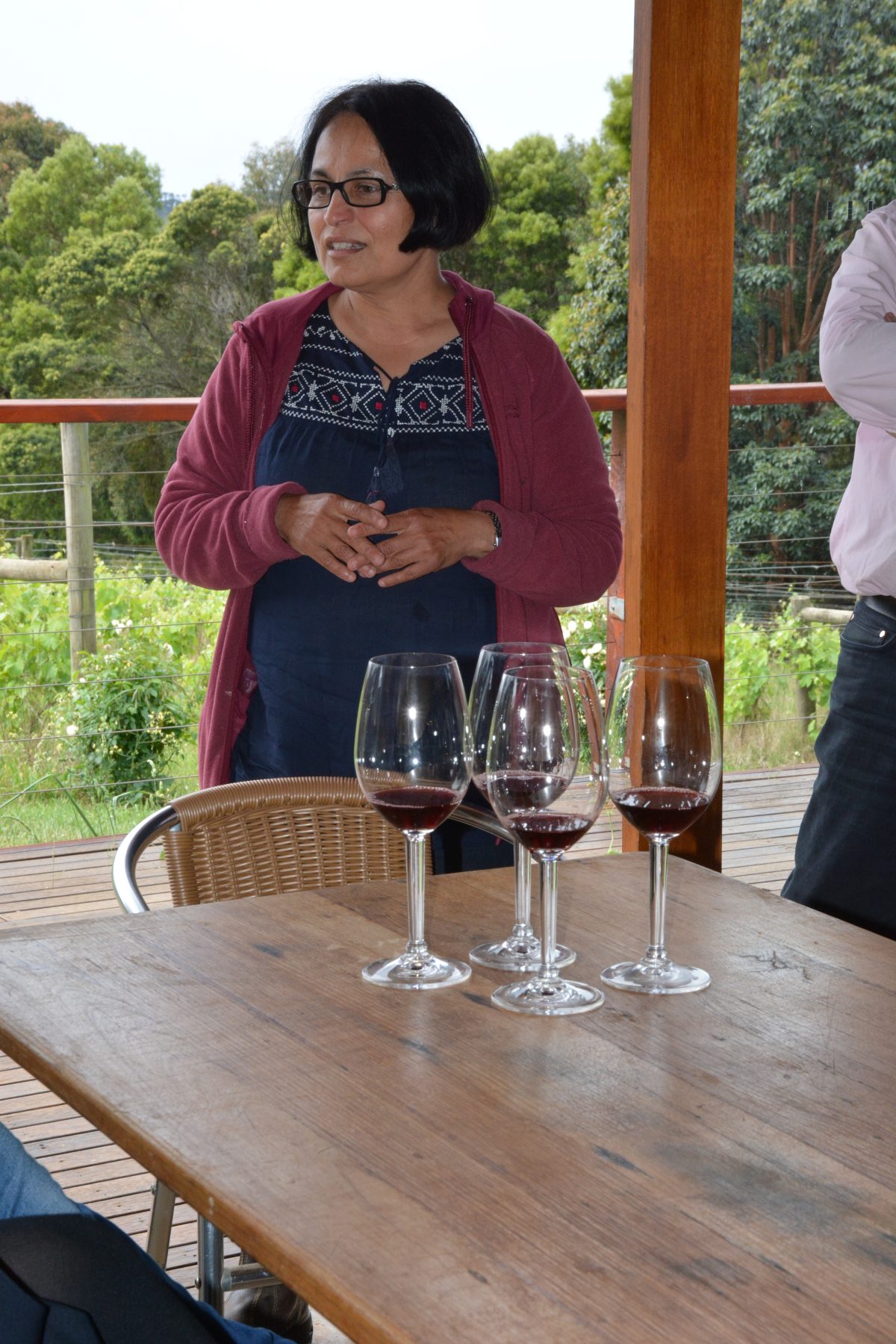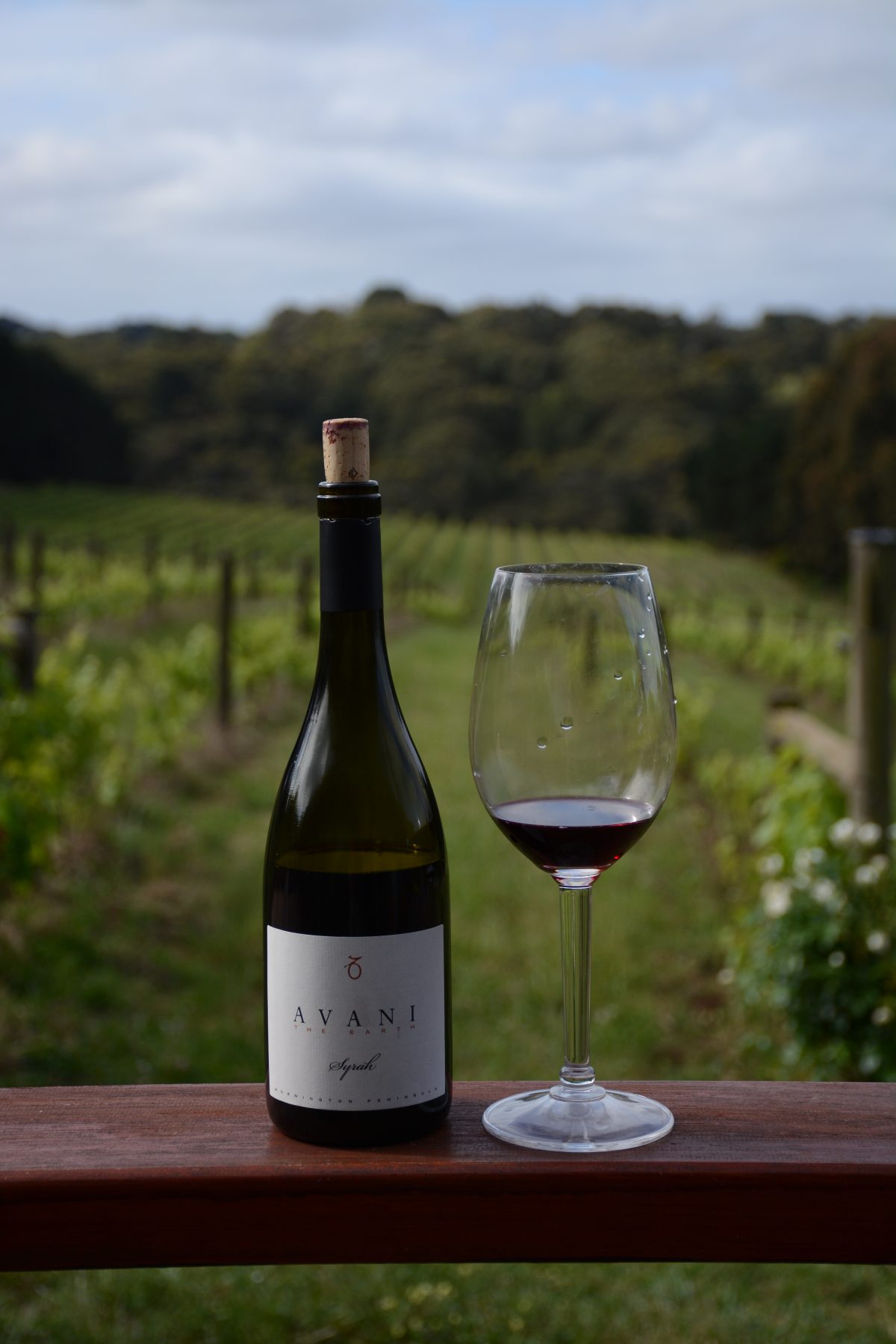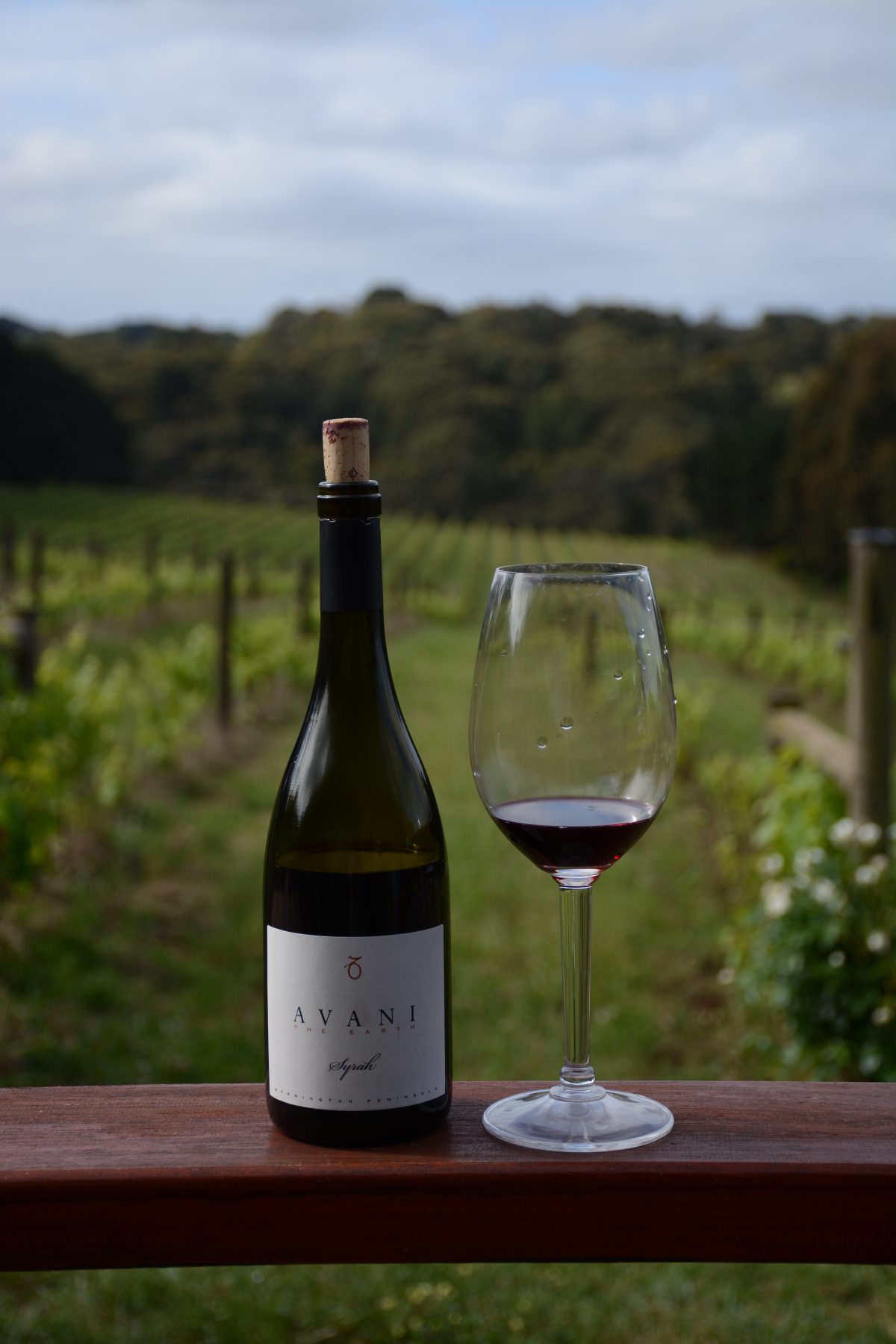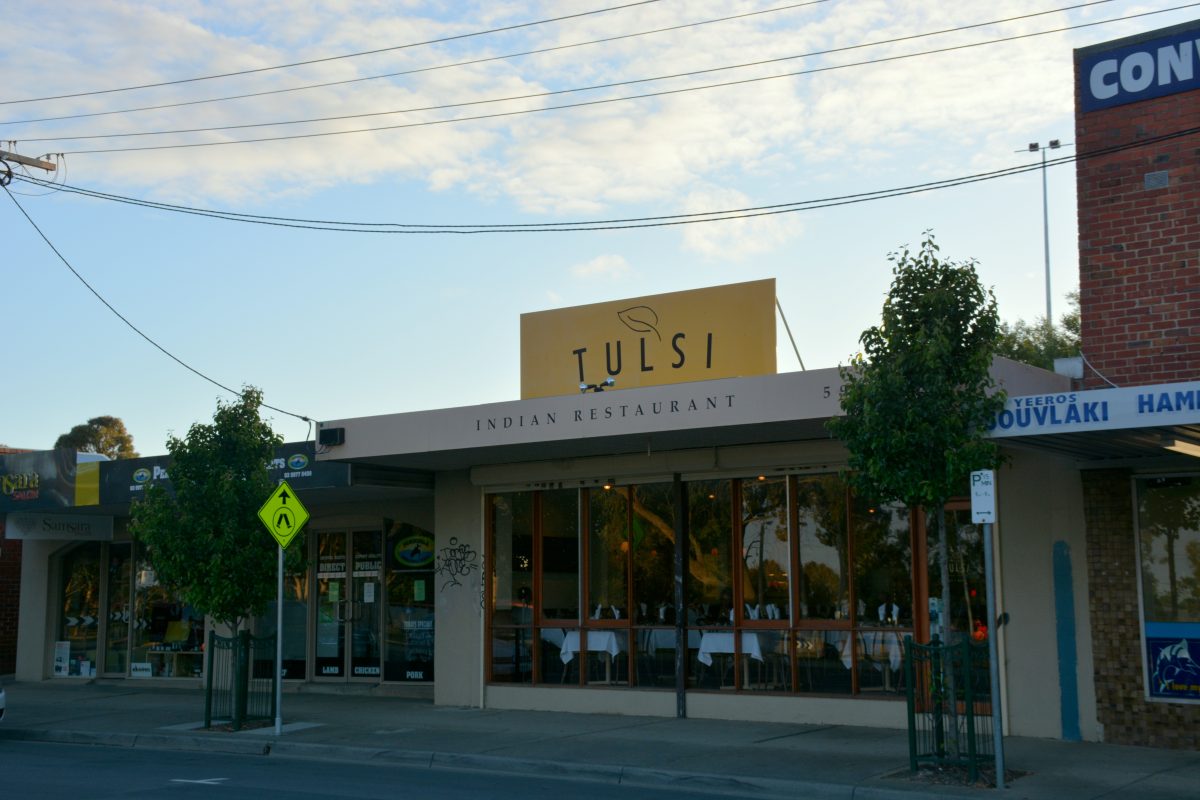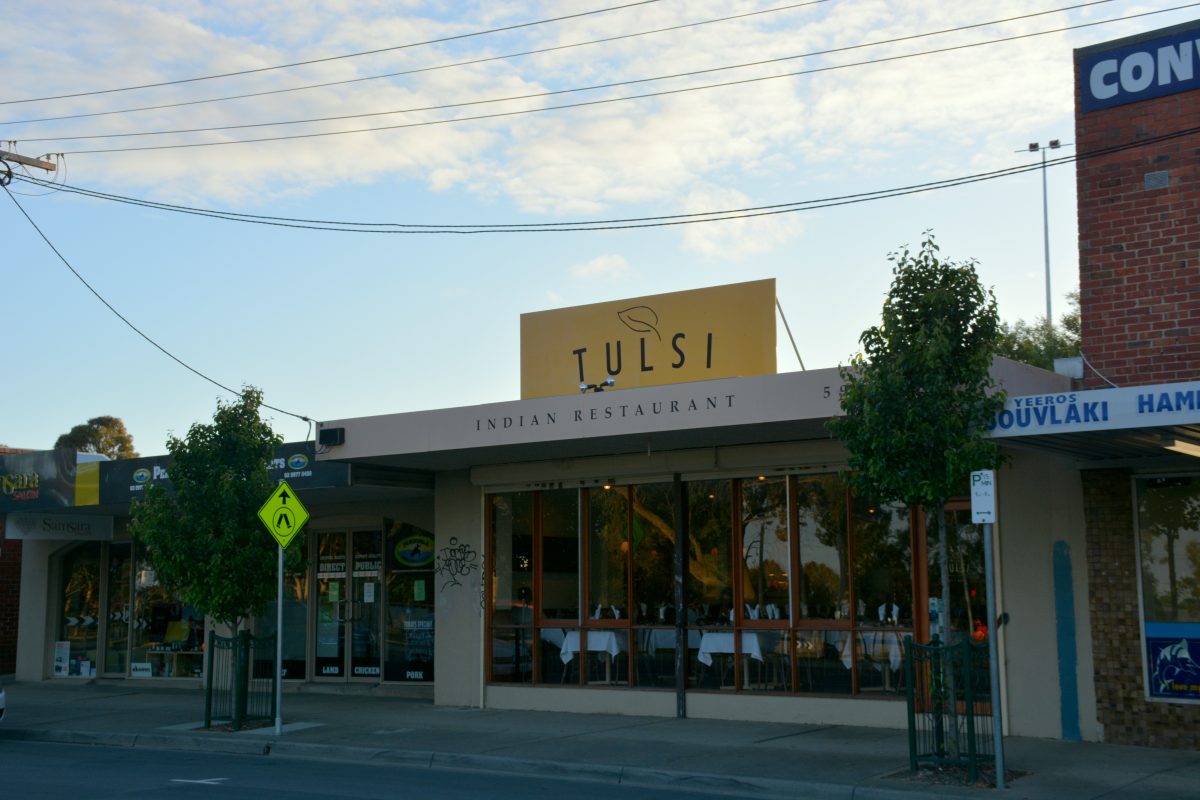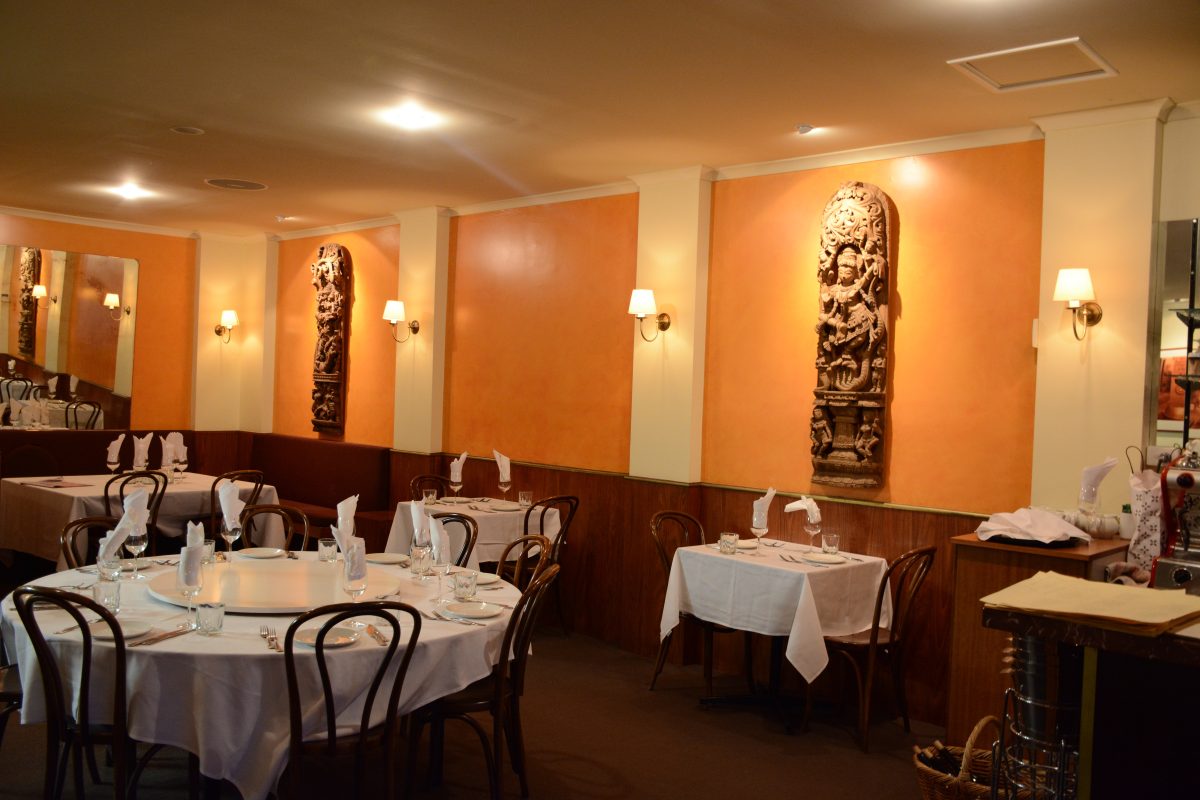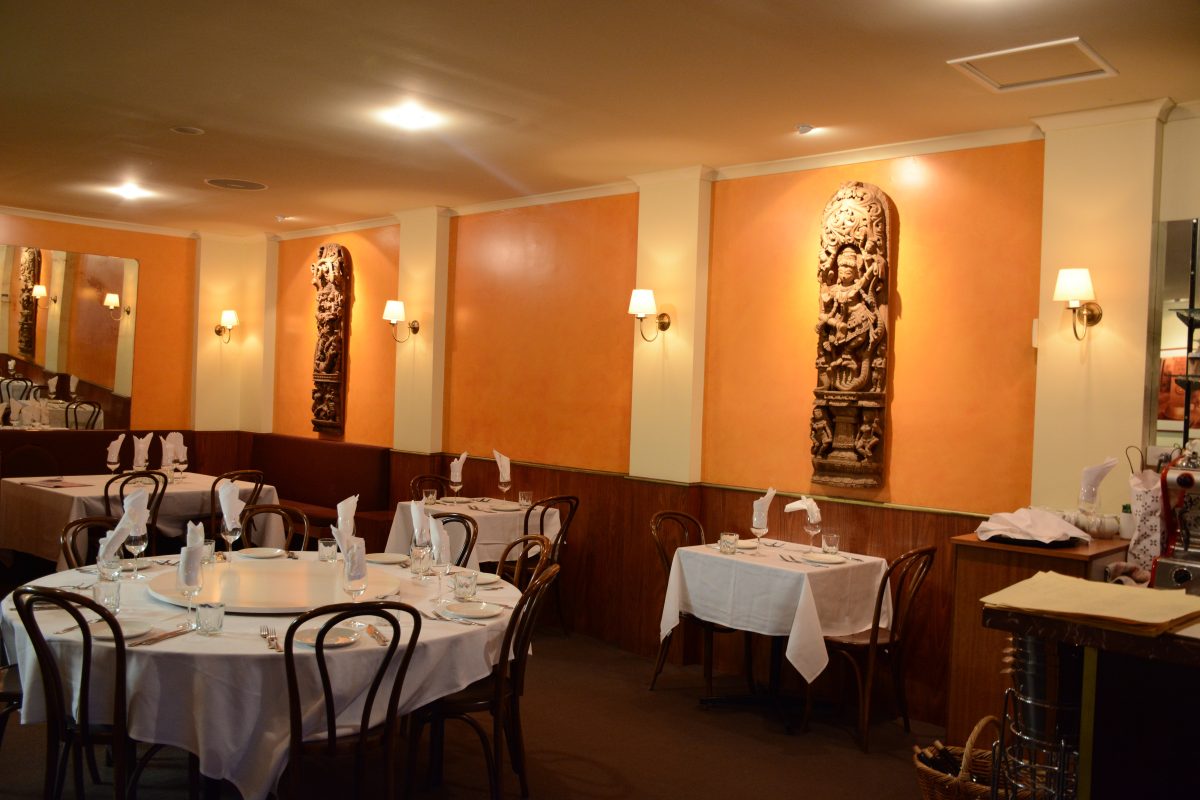 After spending some time at the vineyard, we decided to visit Tulsi for dinner and more of the Indian food and wine pairing experience.

Situated in Somerville, Tulsi might come across as a regular suburban Indian restaurant. But the minute you step in, you realize that this is not your average, pedestrian Indian curry house. The décor is classic contemporary with definite Indian touches in the form of wooden artwork and photographs.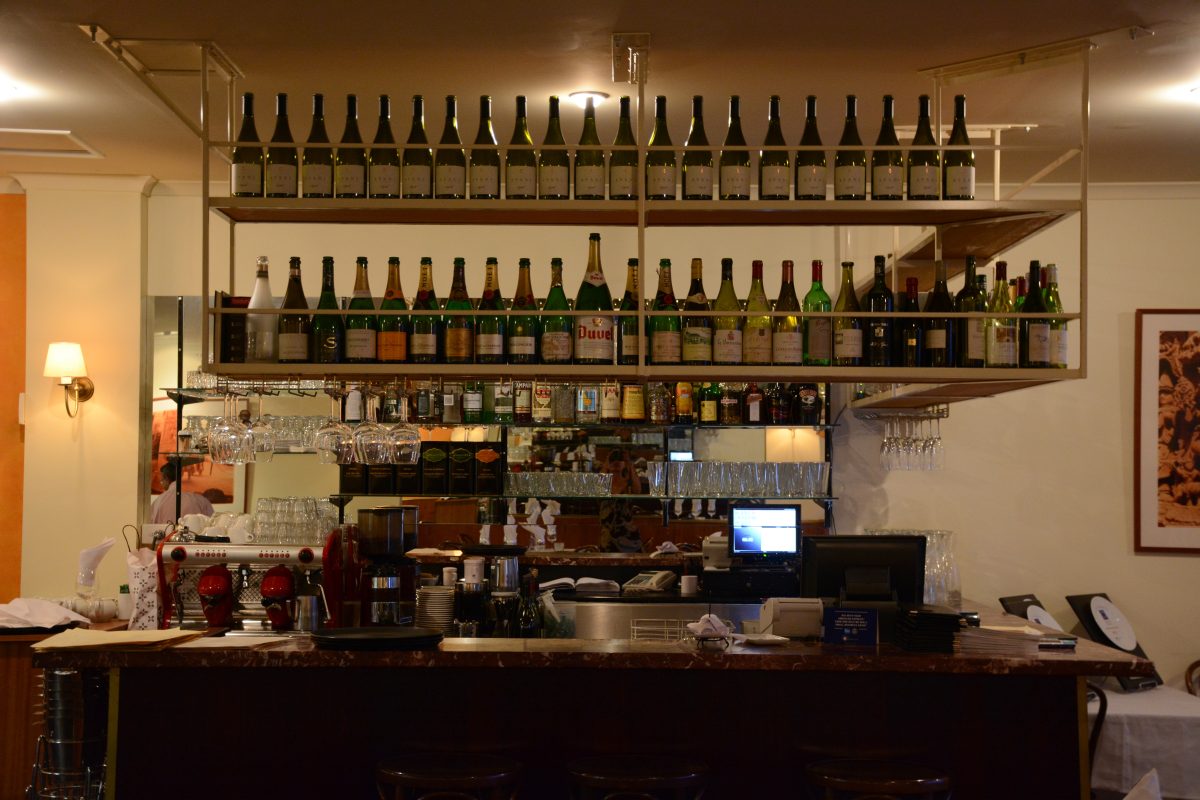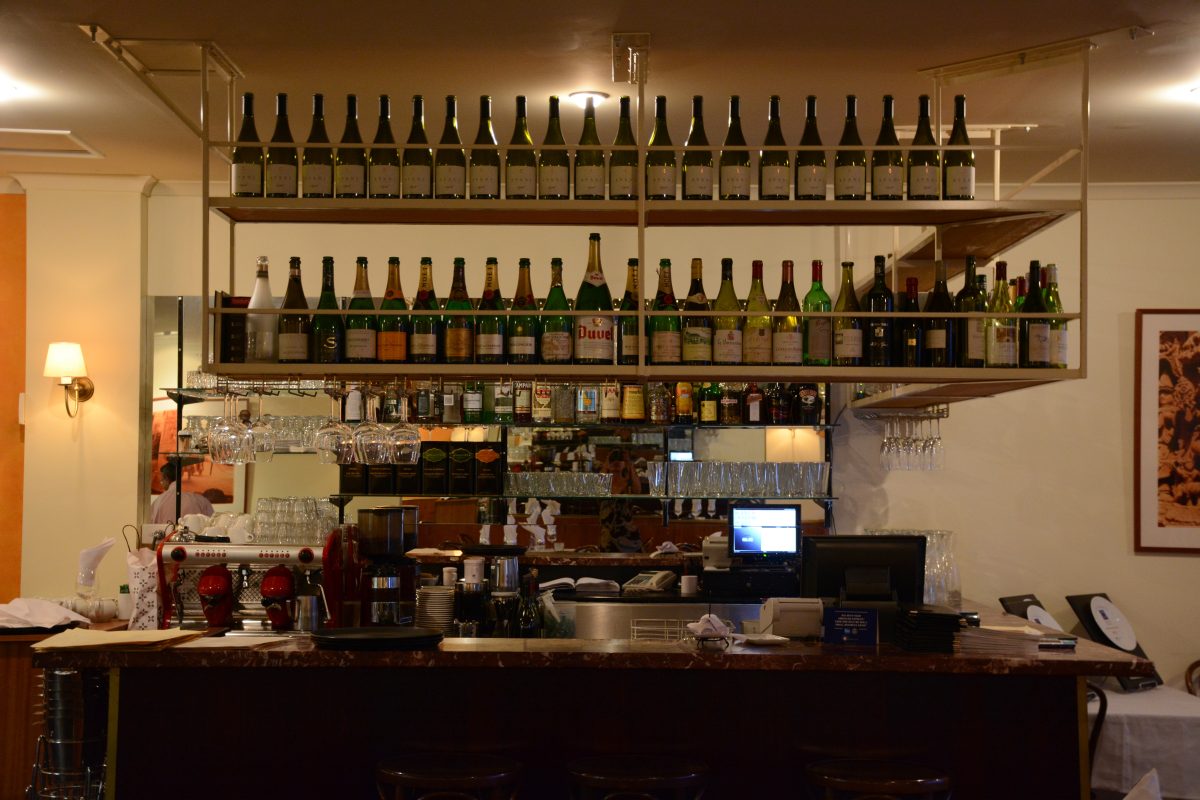 The service is extremely professional yet friendly. A relaxed ambience with a view into the open kitchen where you find calm and composed chefs going about their business of sending out delicious food.
There is a good wine list which includes ones from their vineyard; you can also request for matching wines for each course. The dinner menu is a short and limited one unlike many of the Indian restos where you can usually find pages after pages of dishes; a matter of quality over quantity.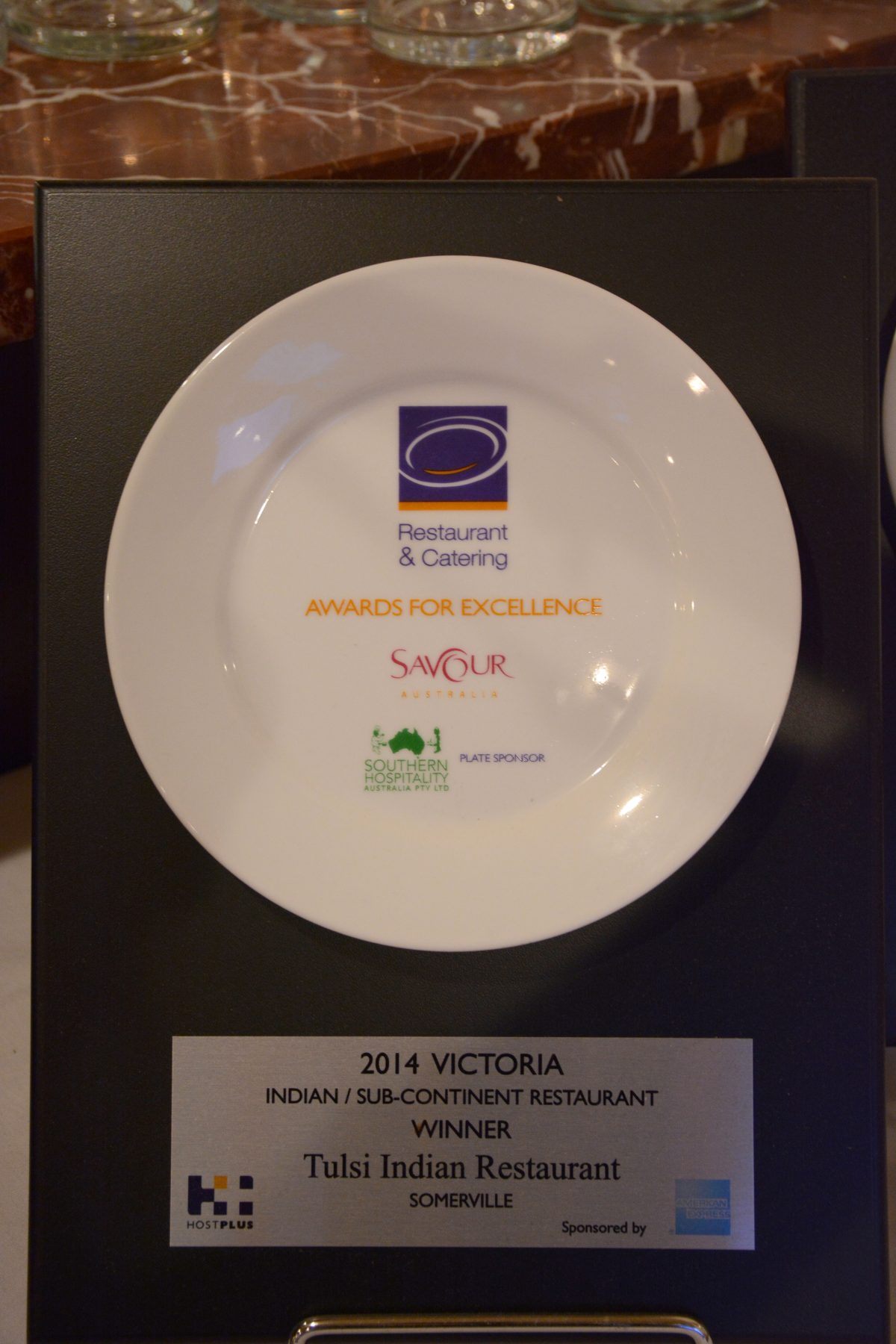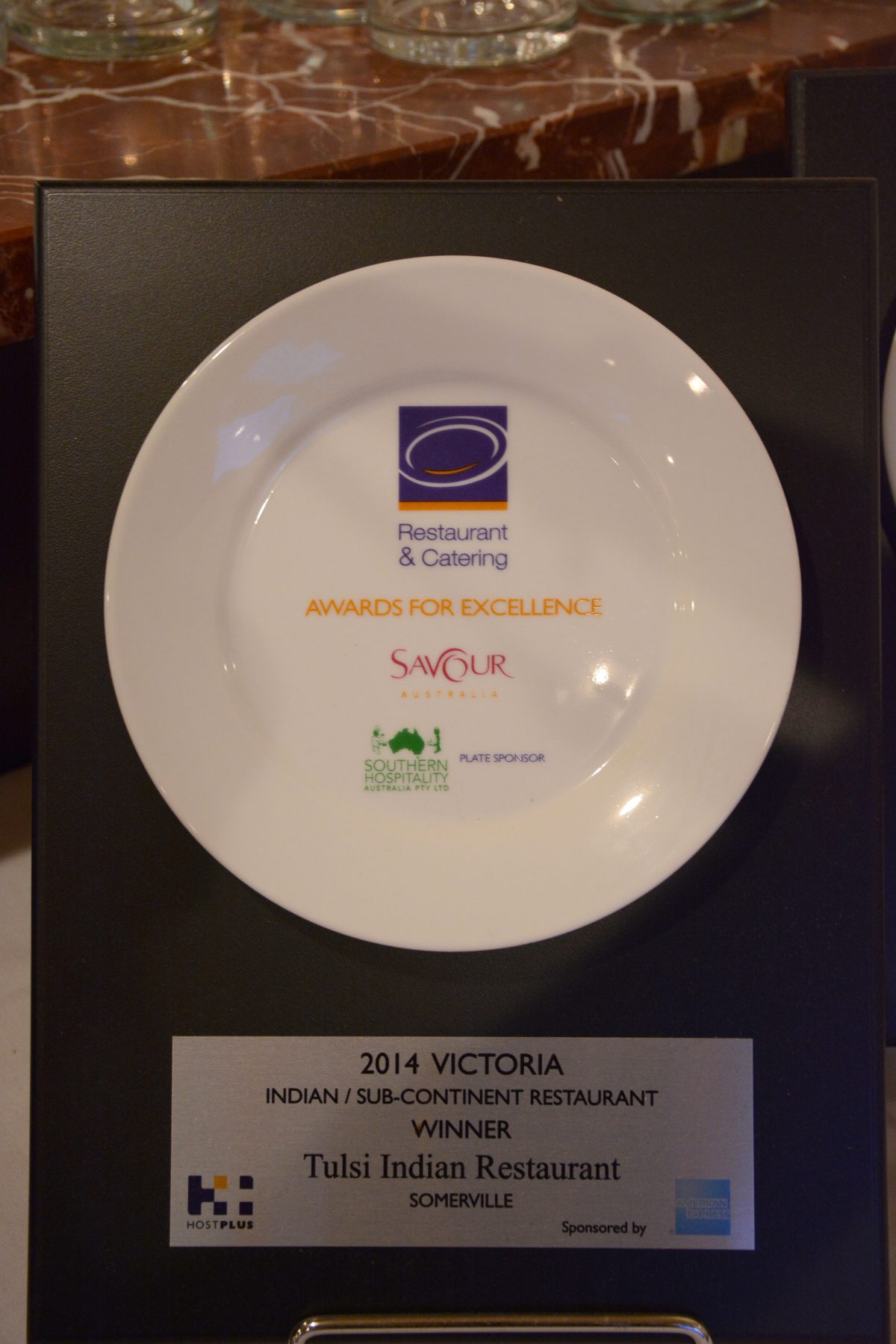 We started off on hot, piping samosas filled with a savoury peas and potato stuffing. Now, I have had plenty of samosas in my lifetime but what made this one stand apart is its buttery, flaky shortcrust pastry which is really hard to find in Melbourne.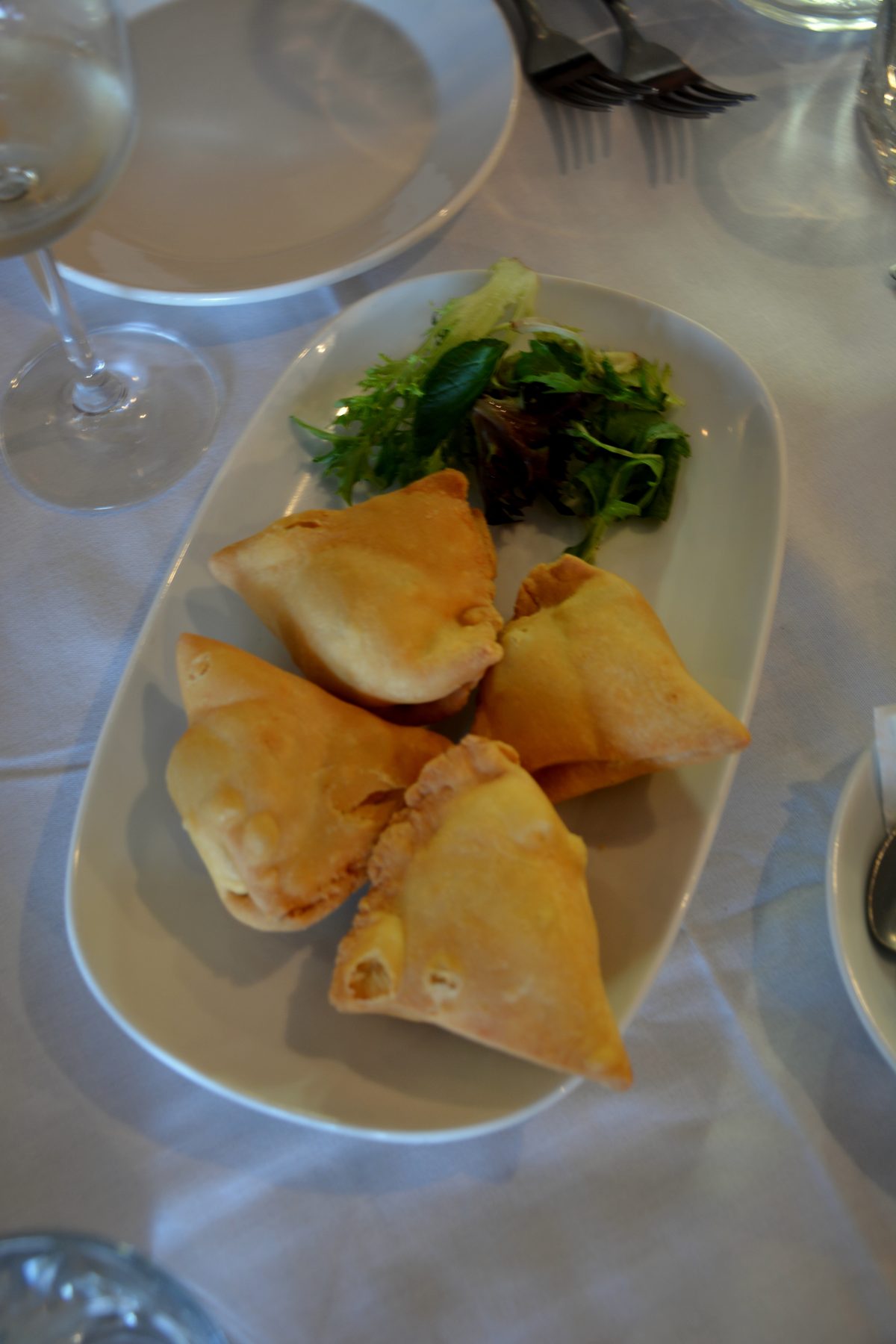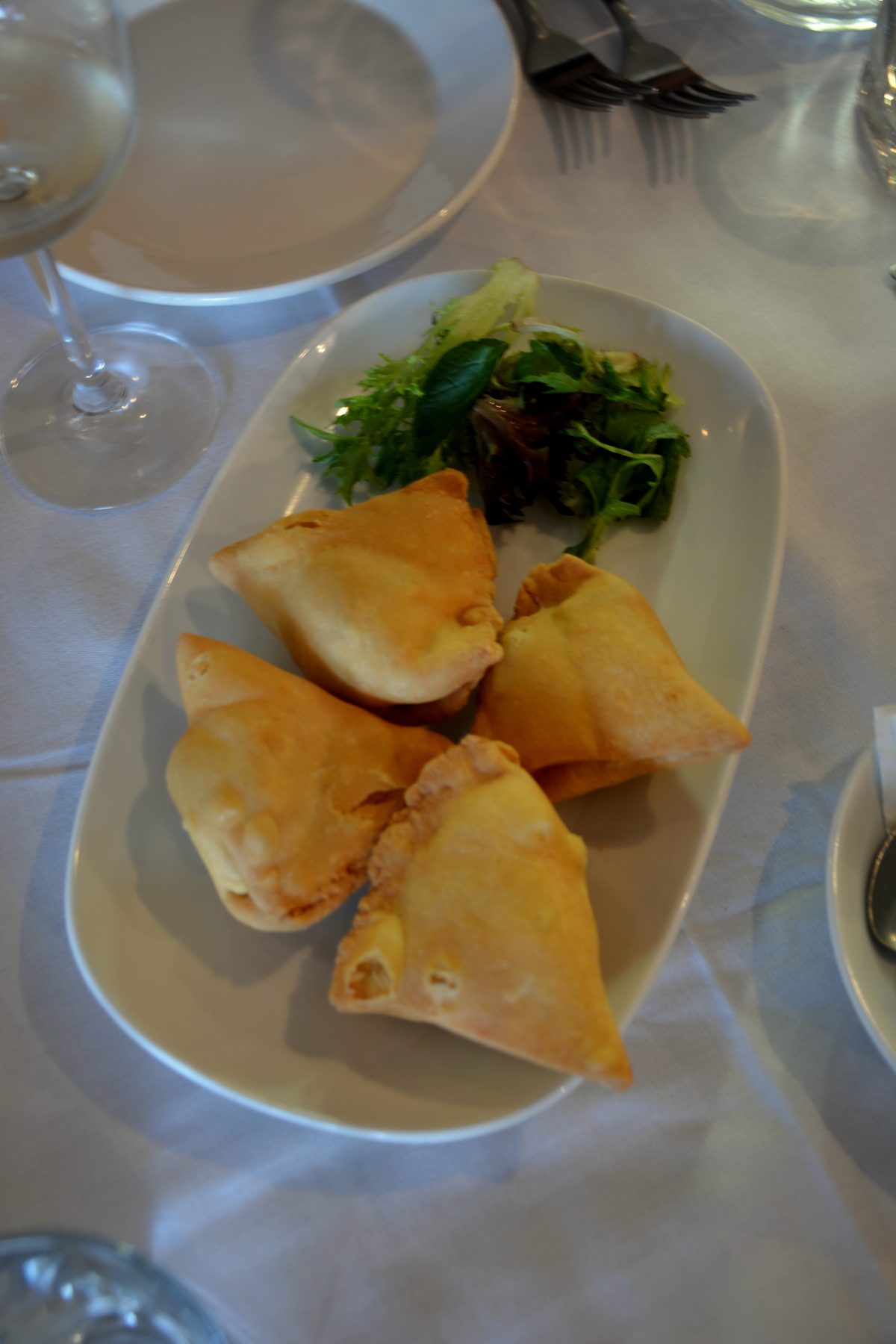 Next, we had the Kesari Murgh Tikka; melt-in-your-mouth chicken morsels with subtle yet flavourful marinade of spices and saffron. It wouldn't be wrong to say that this is the best chicken tikka I have had for a really long time especially in Australia. No artificial colours and absolutely juicy chicken bites. Highly recommended. Matching wines from Avani and other local wineries were an integral part of every course.

We also had a tasting of Tandoori Champ or marinated racks of lamb. Delicious with the cooking of the lamb spot on.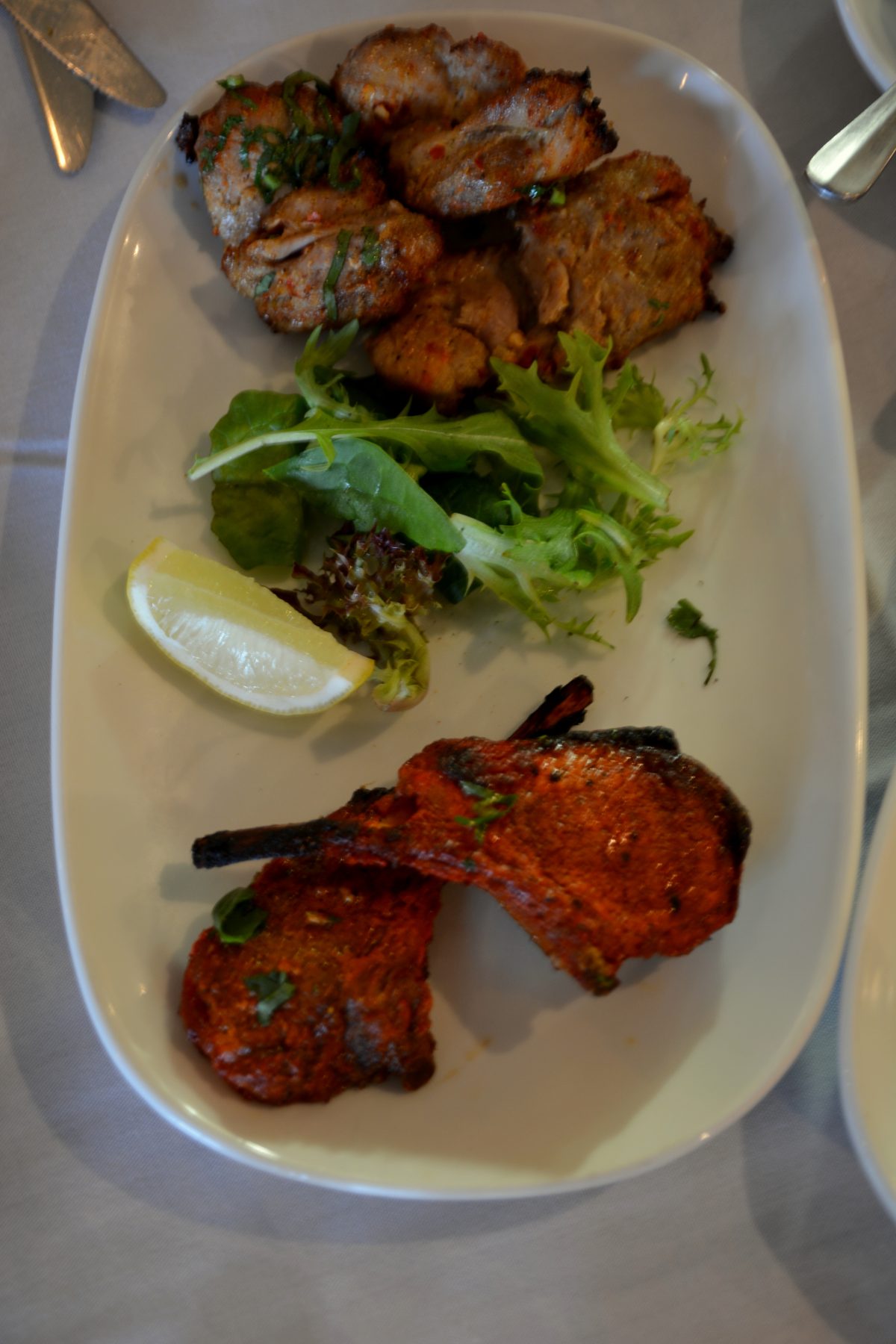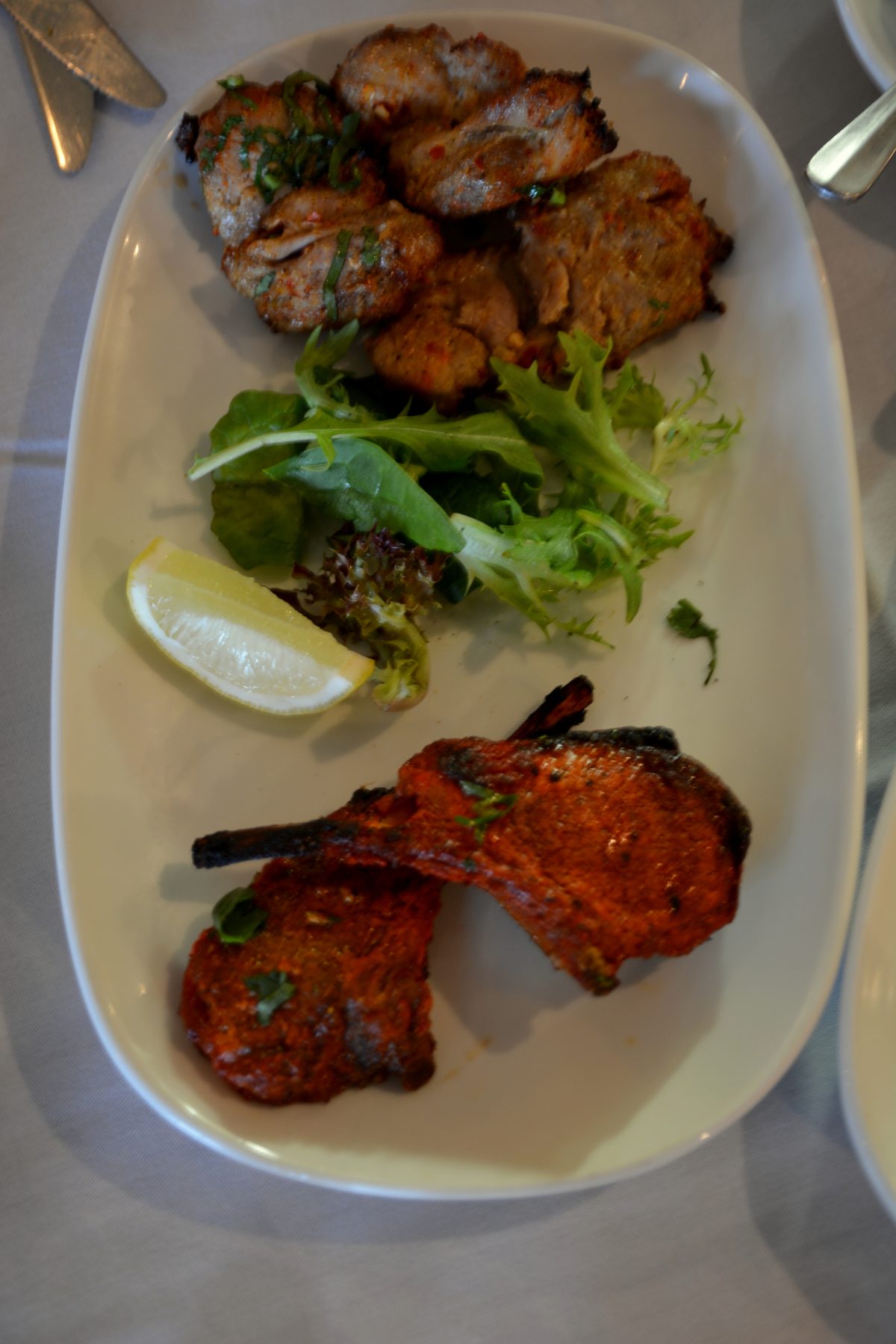 For the mains, we had steamed basmati rice and naan/bread accompanied with Saag Paneer (cottage cheese and spinach curry) and Jheenga Nariyal (King prawns cooked with coconut and spices). I hardly ever talk about the naan I eat at the Indian restaurants here but at Tulsi, you will want to. And that's probably because of the slight twist, the bread is finished off in an oven instead of a tandoor which makes it soft and pillowy, the perfect carrier for scooping the curries.

I am usually not a big fan of saag but this one was delicious primarily because of the quality of the cottage cheese. Anyone who is familiar with paneer or Indian cottage cheese would be able to say that this one is prepared in house as it is soft and crumbly. The dish was mild just as it is prepared in Northern part of India. Definitely recommended for paneer lovers.

And I will not be able to stop talking about the prawn curry. Perfectly cooked king prawns in a luxuriously creamy coconut gravy with just the right hint of spices. Again, totally recommended!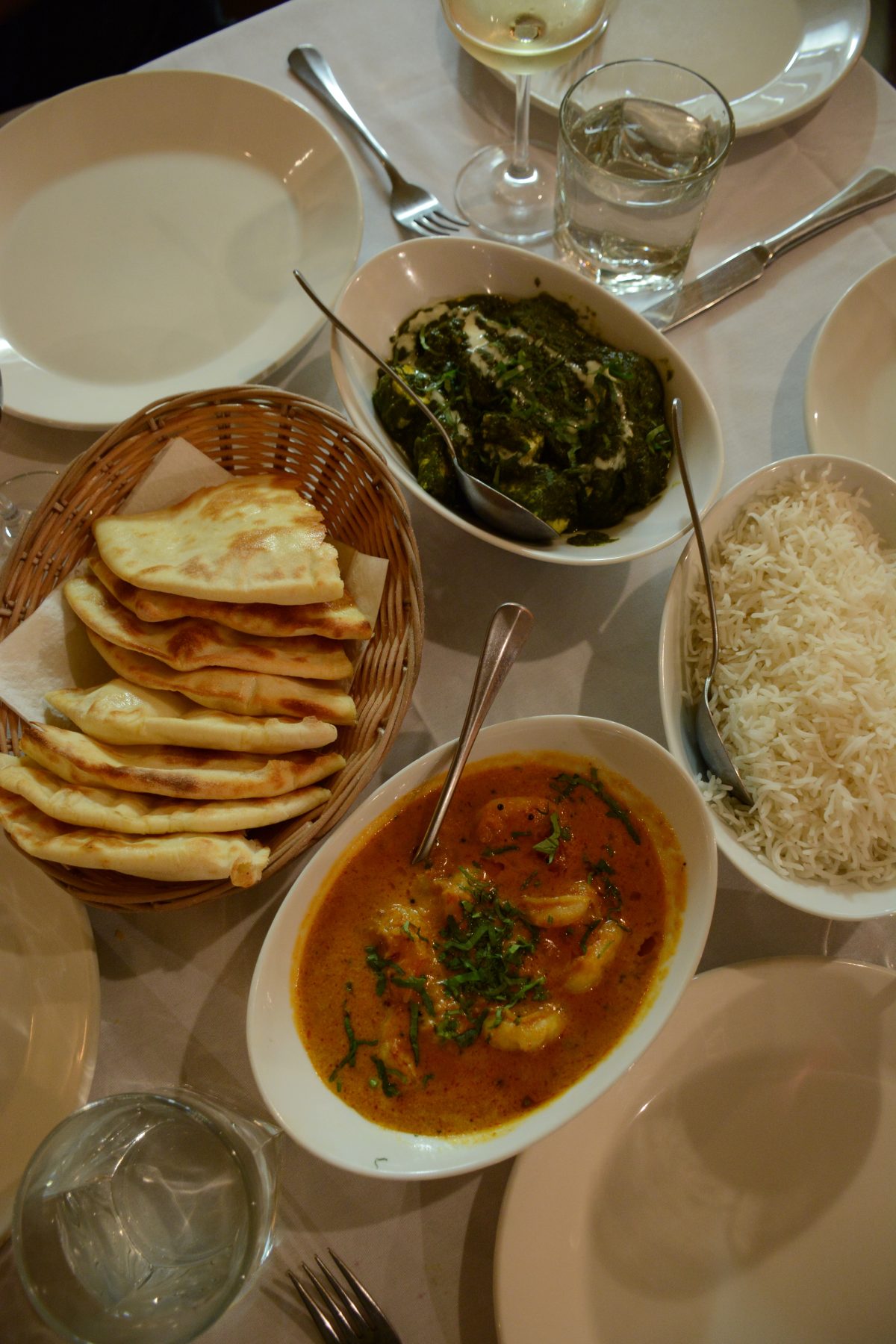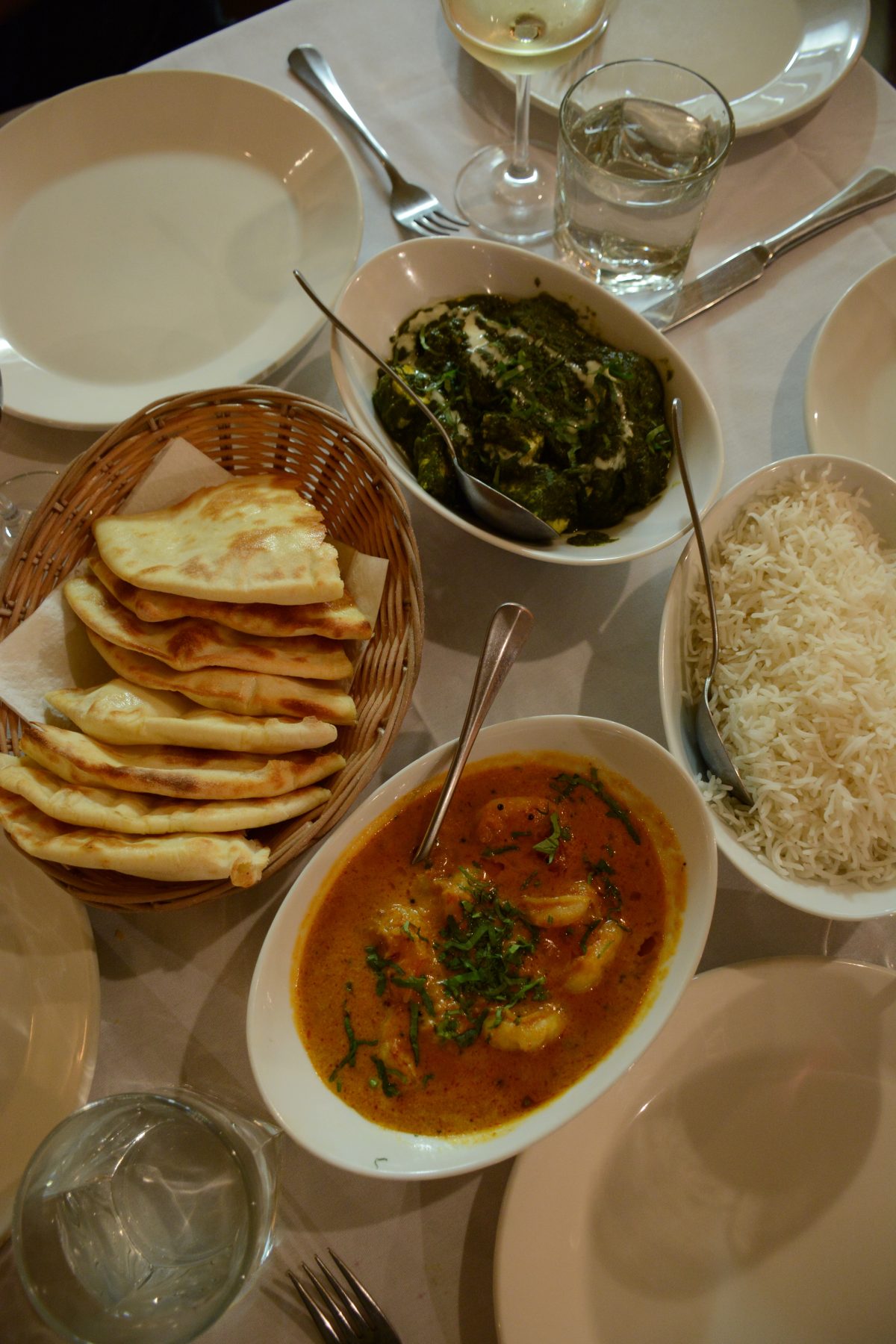 Finished the meal with gulab jamuns (dumplings in golden sugar syrup) with a side of mango ice-cream. The jamuns were warm and fresh but could have been a tad bit softer but paired beautifully with the mango ice cream.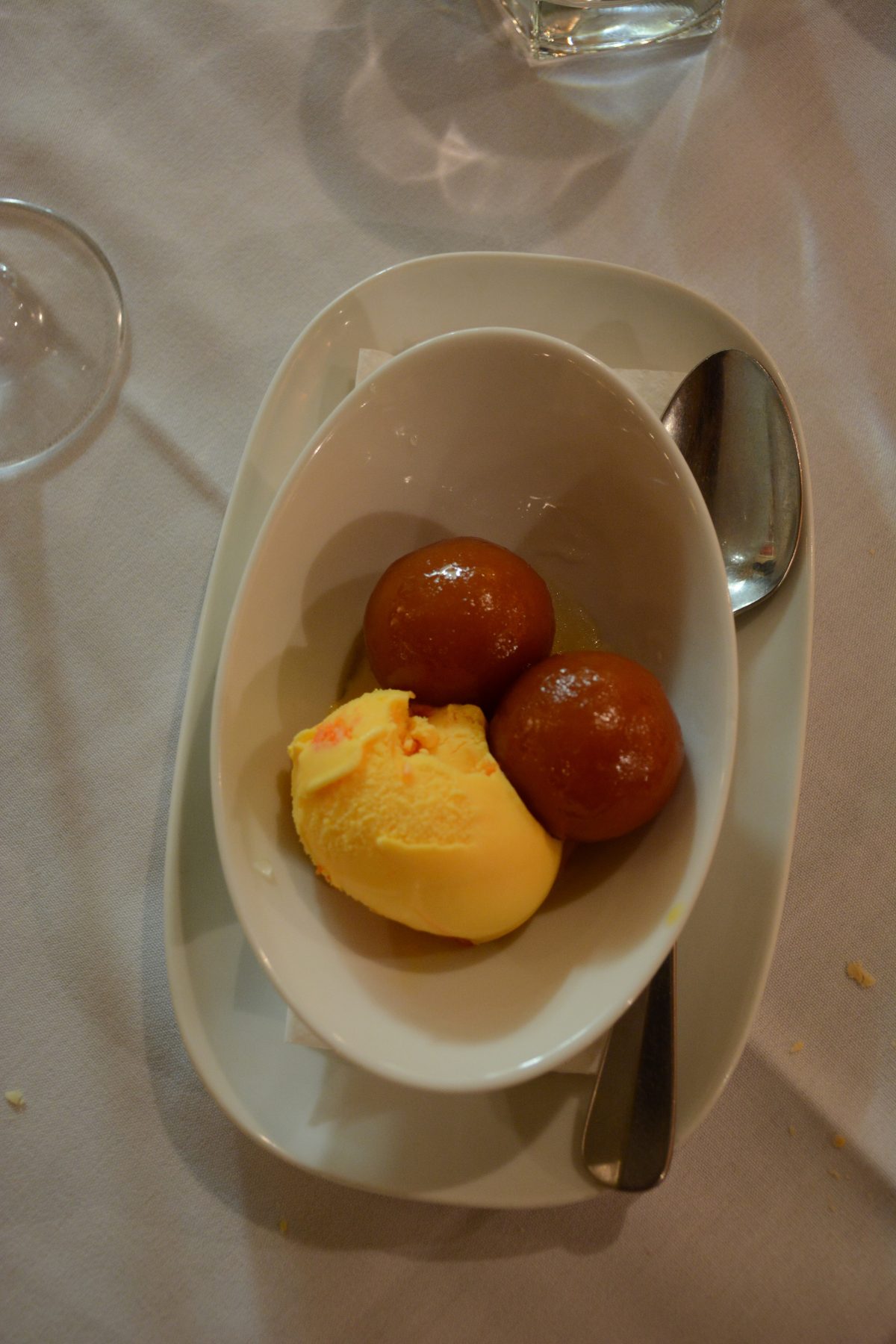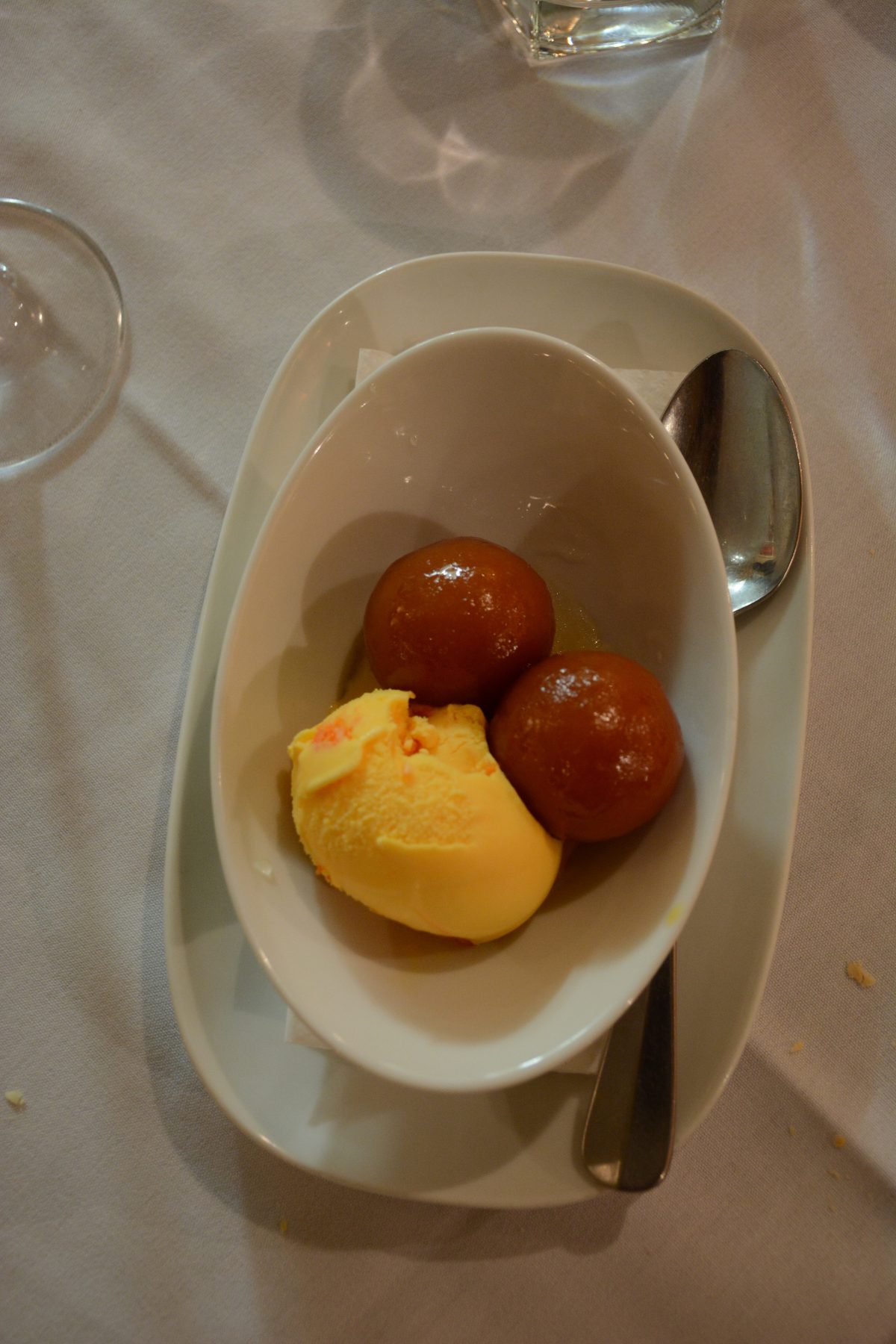 Now I know the post is getting longer but the experience at Tulsi cannot be complete if I do not talk about another dining opportunity I had at the restaurant. Three days after I visited, Tulsi was hosting a special Diwali dinner series specially curated and prepared by Chef Balaji who specializes in South Indian cuisine.

It was a three course meal with matching wines from Avani. The restaurant was beautifully decked with traditional earthen lamps (diyas) and rose petals.

The first course consisted of Kerala Pan Seared Salmon, Pepper studded Vadai, Madras style Calamari and a shot of peppery Rasam. The accompanying wines from Avani were two different types of Pinot; the first one a 2015 Pinot (Amrit) – with spicy notes which matched perfectly with the South Indian spices. The second was a limited edition 2015 Pinot fermented with the skins on which gave the wine a nice rosy hue and a refreshing lightness.

I loved the salmon; crispy skin and perfectly flaky flesh with a subtle hint of spices. Loved the calamari too which was served on a bed of lettuce and sautéed onions. The vadai was delicious but I would have preferred it warm and slightly crispier but then, that's the South Indian in me talking. All finished off with a shot of rasam, high on flavour and packed a punch.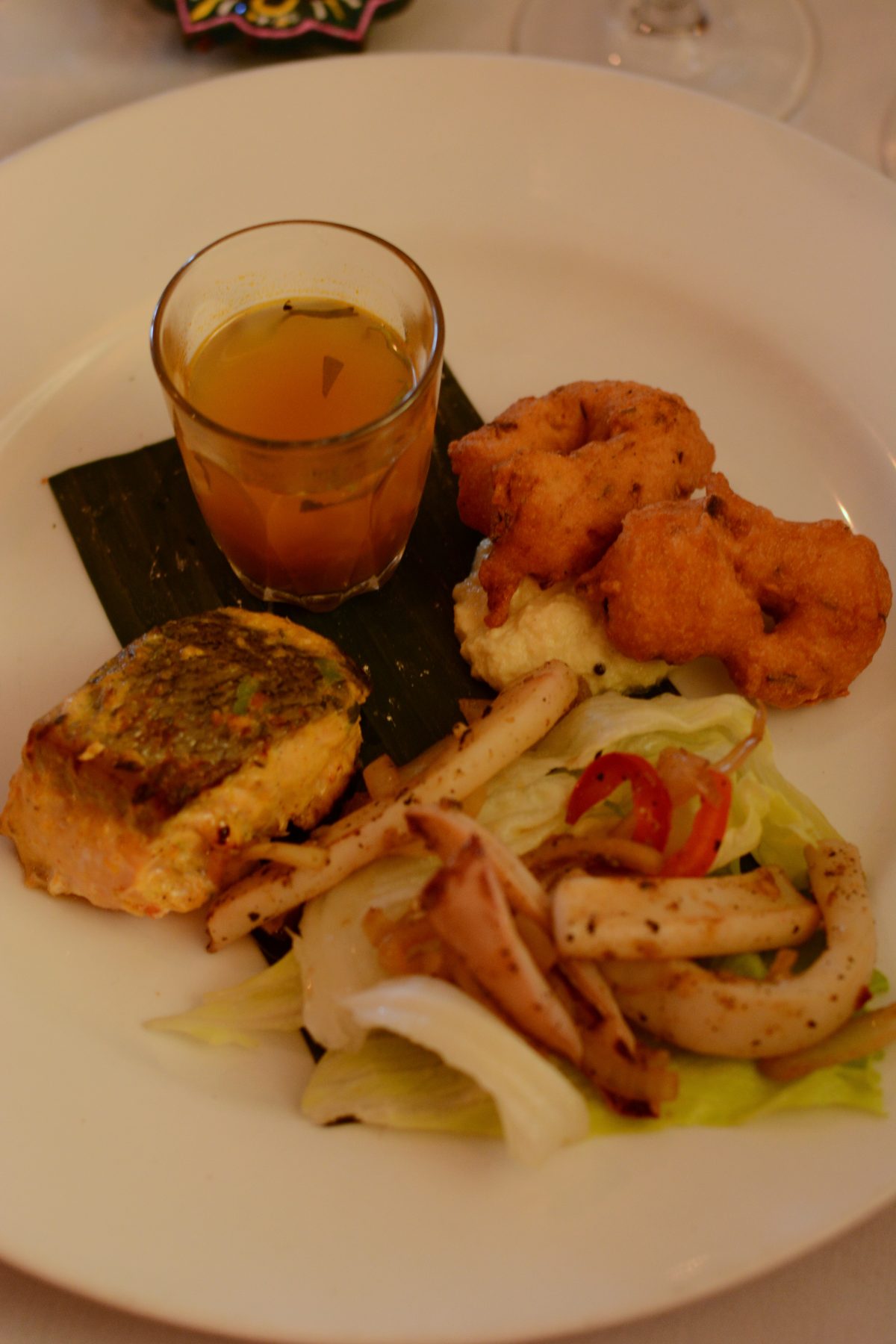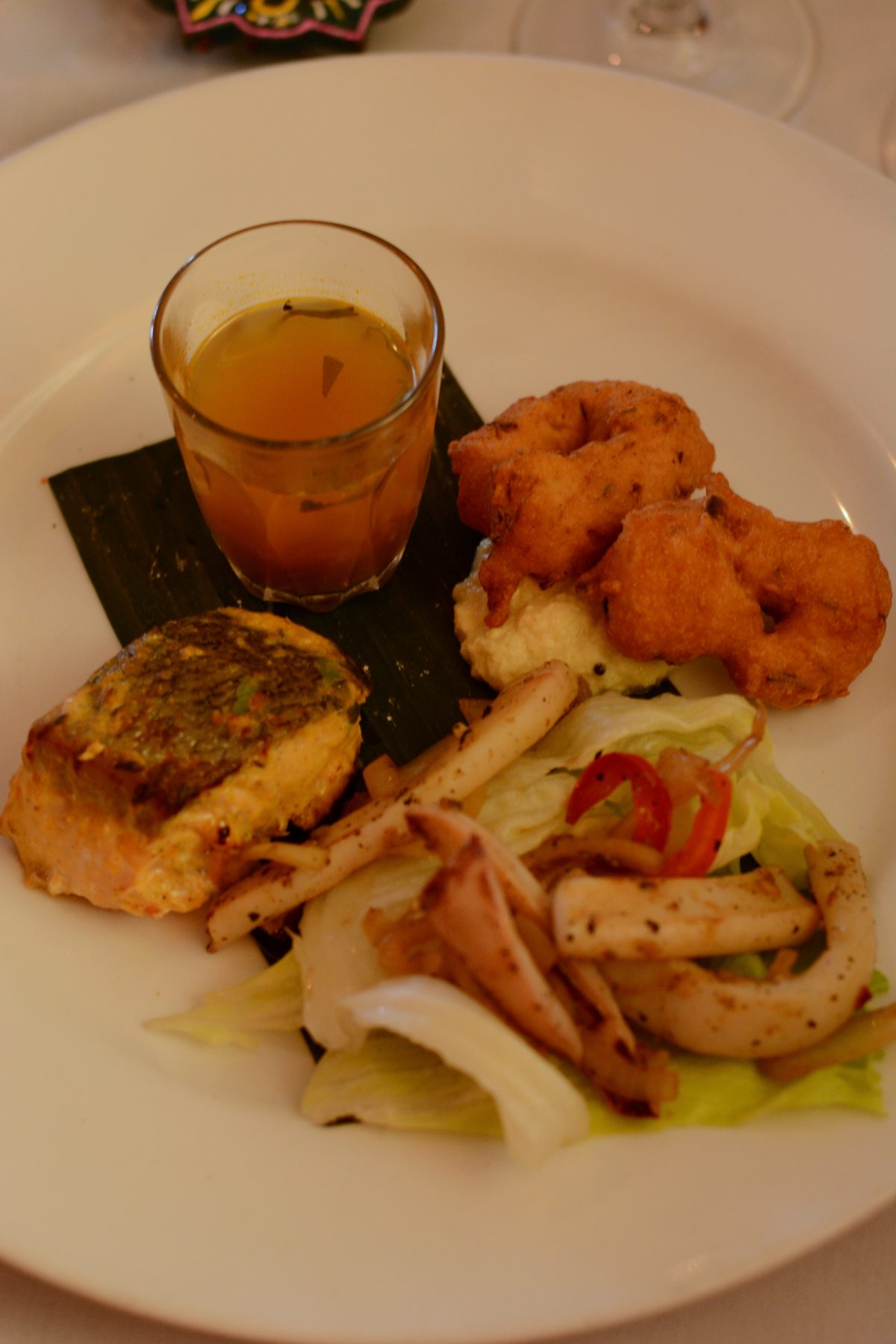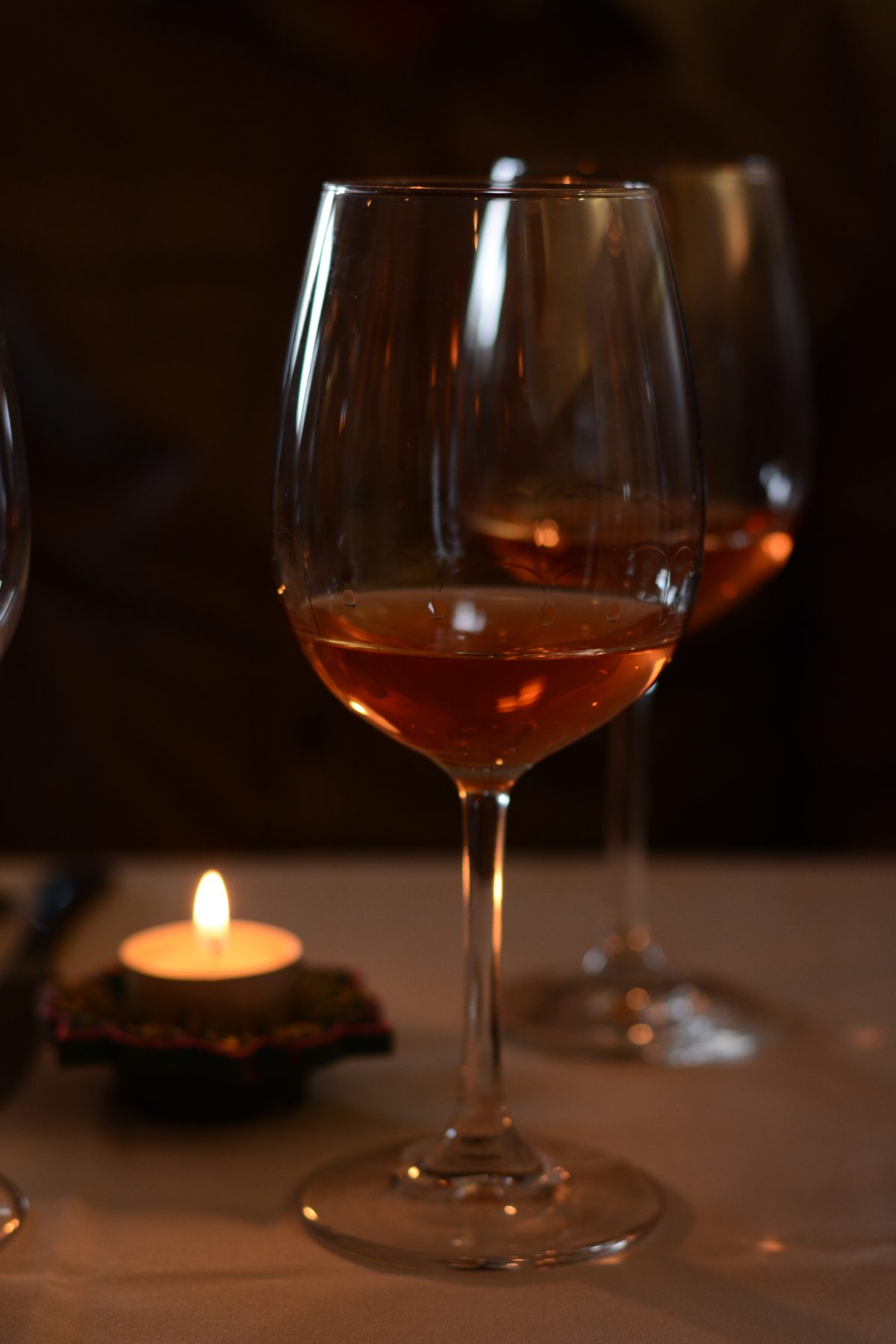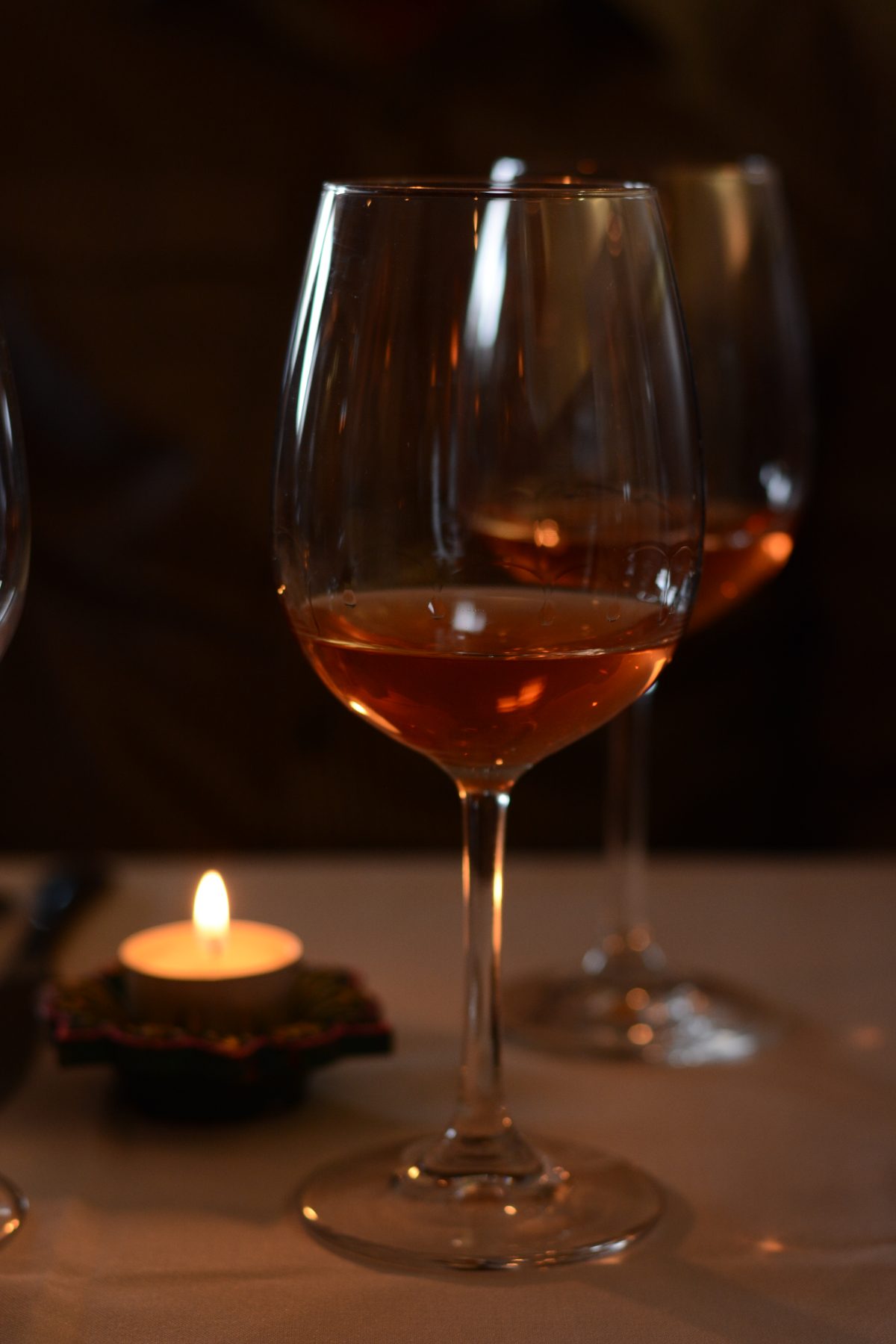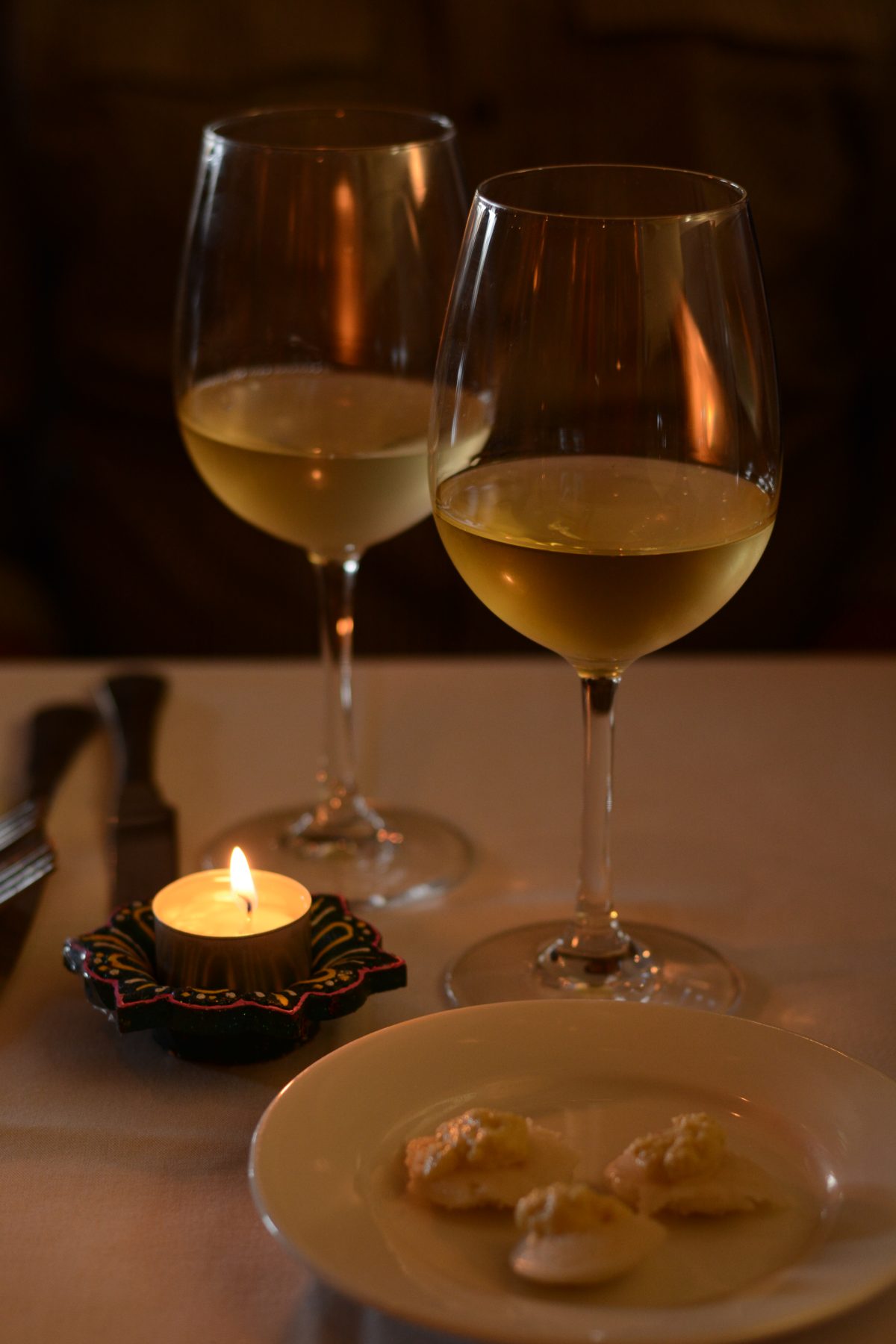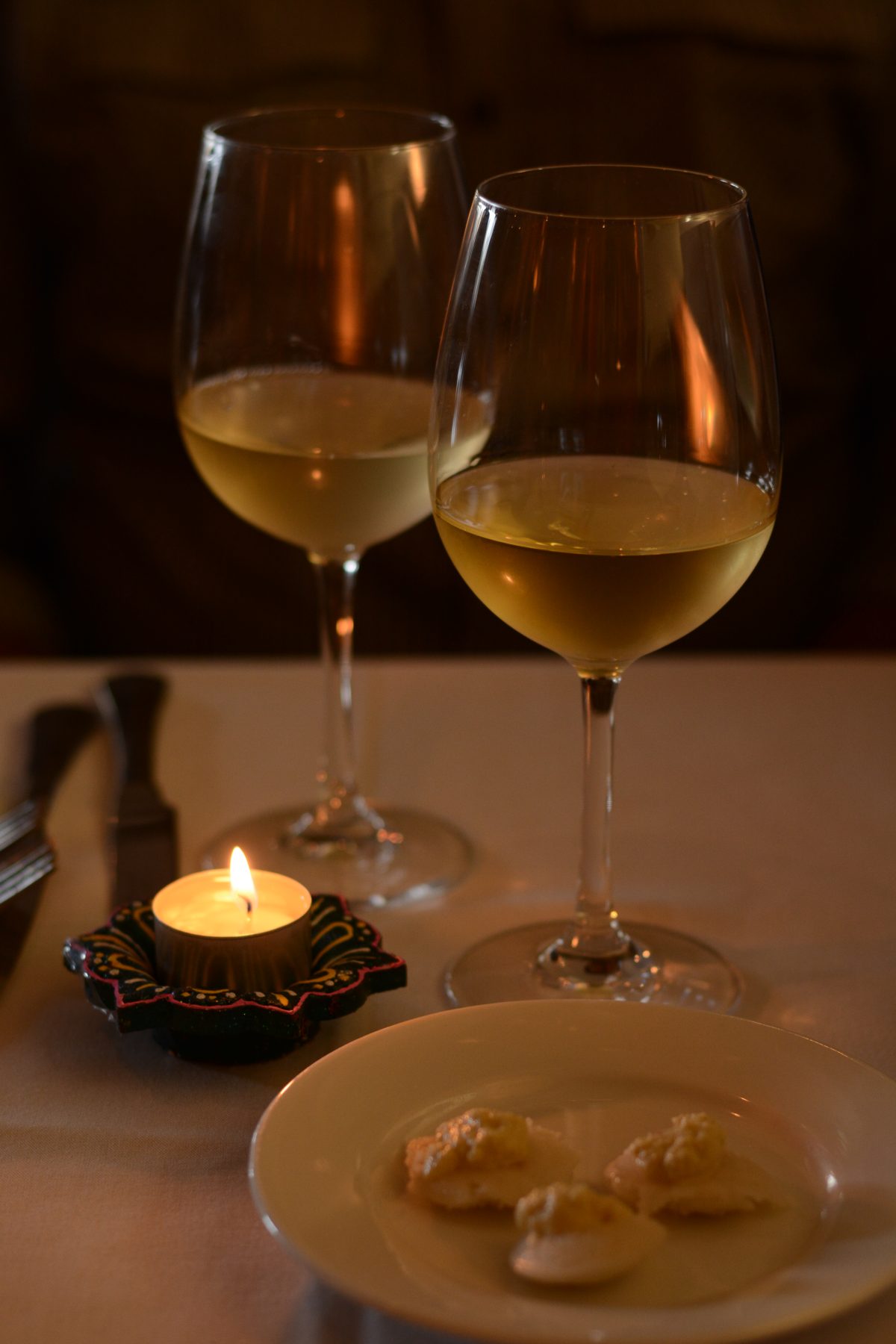 The second course was Kozhi Vartha or Oven Roasted Chicken with Coconut served with Hyderabadi Pilaf and Long Beans Poriyal. Paired with a 2013 Avani Syrah which matched beautifully with the spices in the chicken. The meat was tender and served with a flavourful savoury tomato sauce with the pilaf subtle but delicious.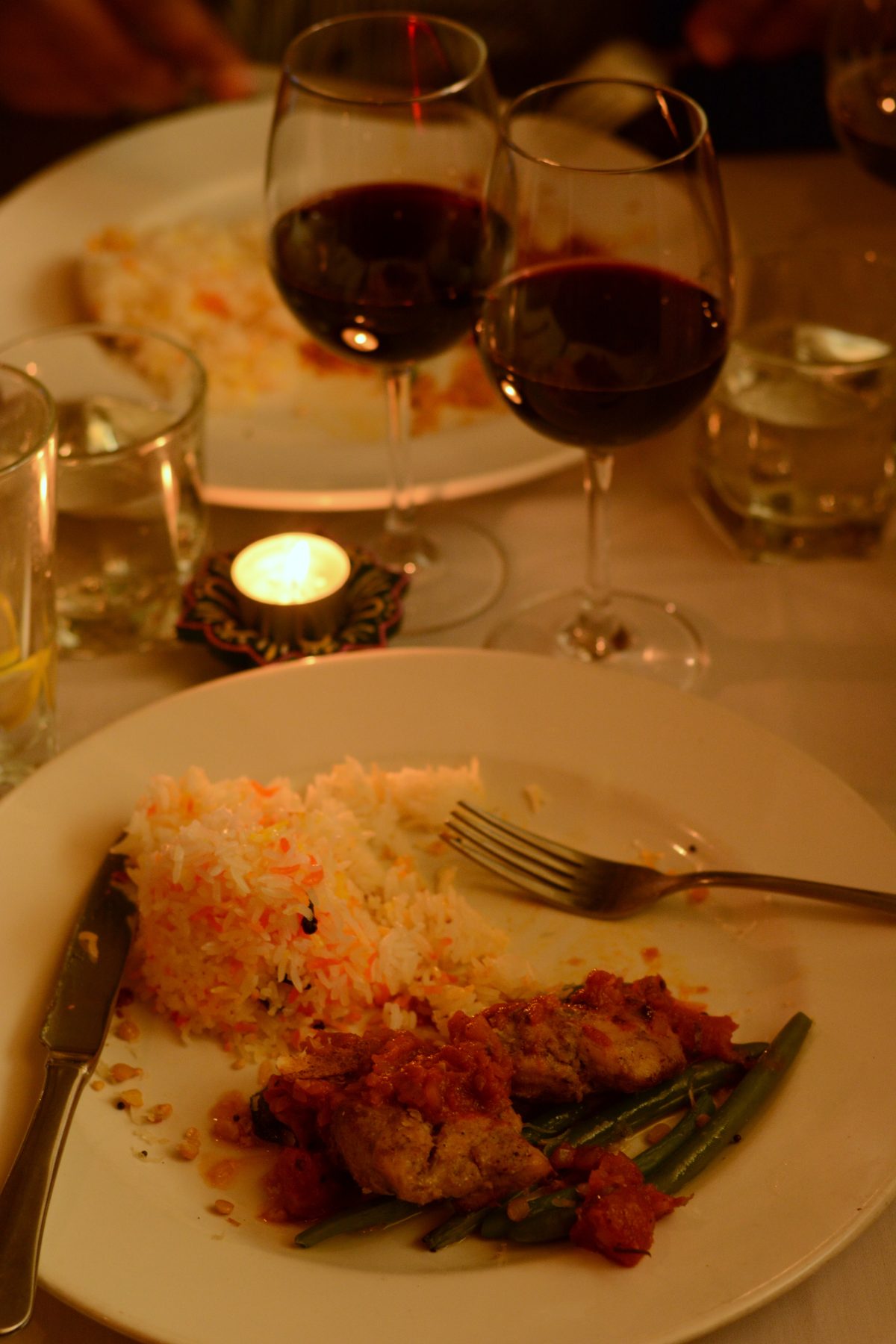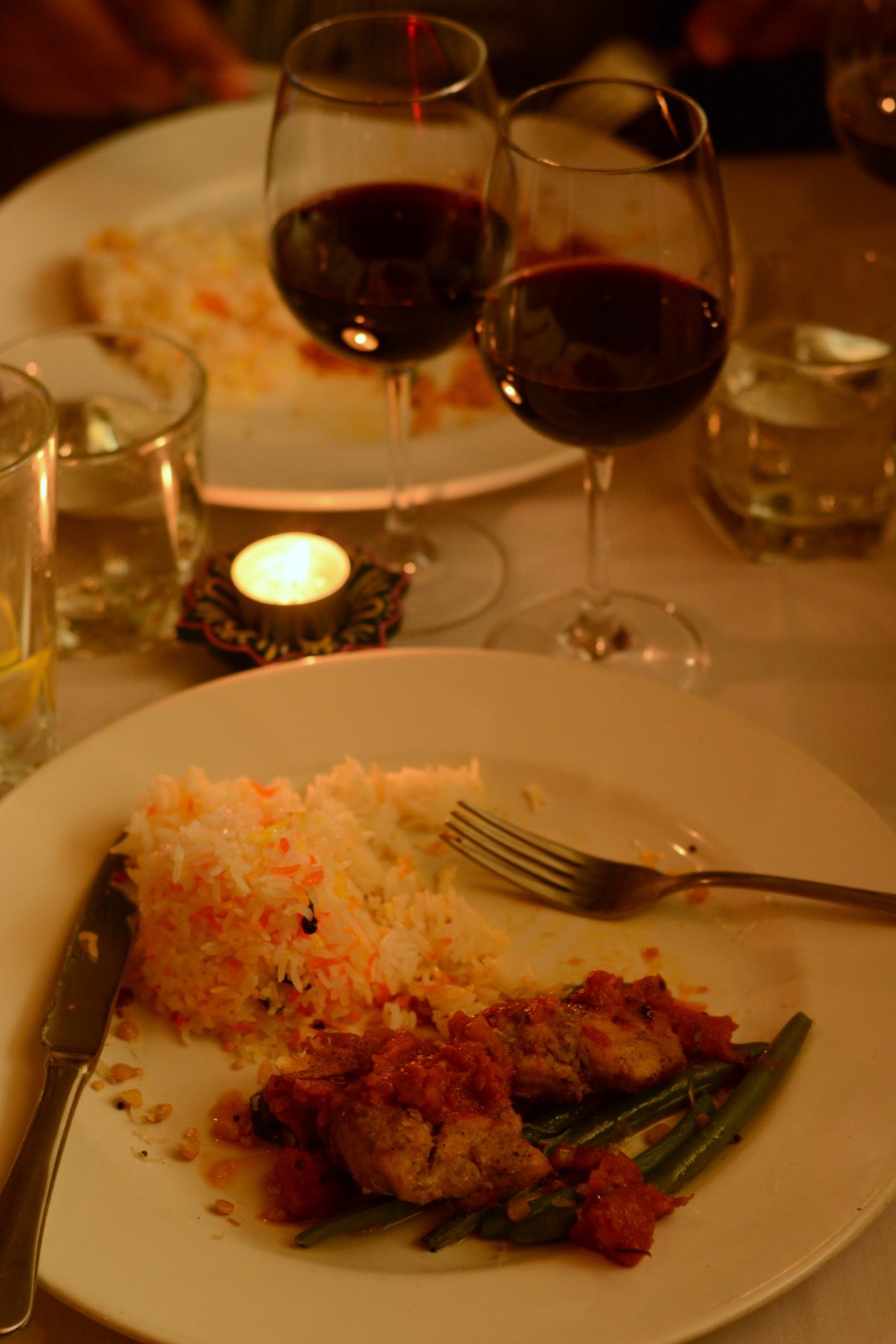 And the final course was dessert which was the most delicious rice and saffron kheer and jalebi which I have ever had. I am usually not the person to rave about desserts but this one was outstanding. The kheer was light, not very sweet to match the sticky, syrupy sweetness of the jalebis. Absolutely brilliant.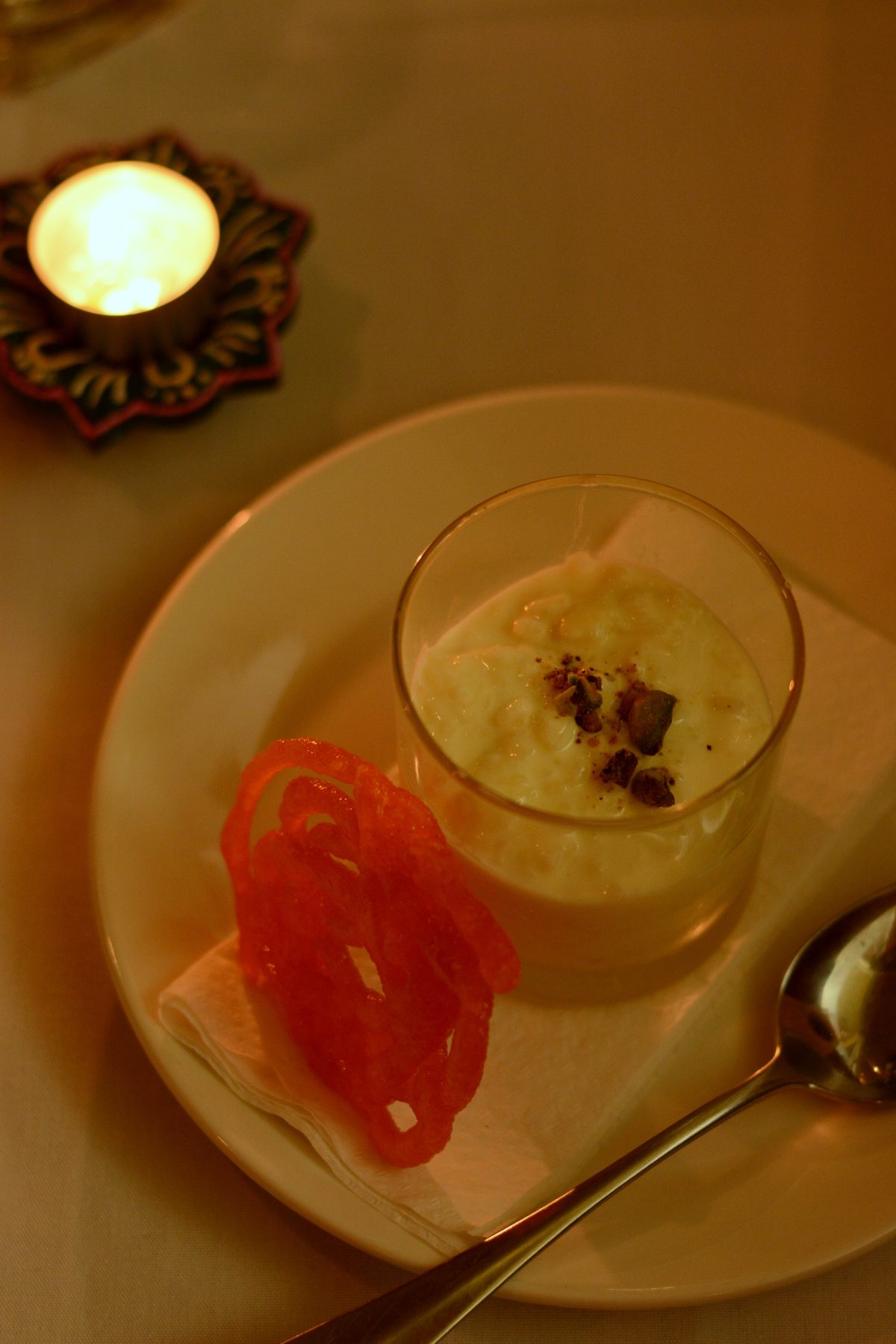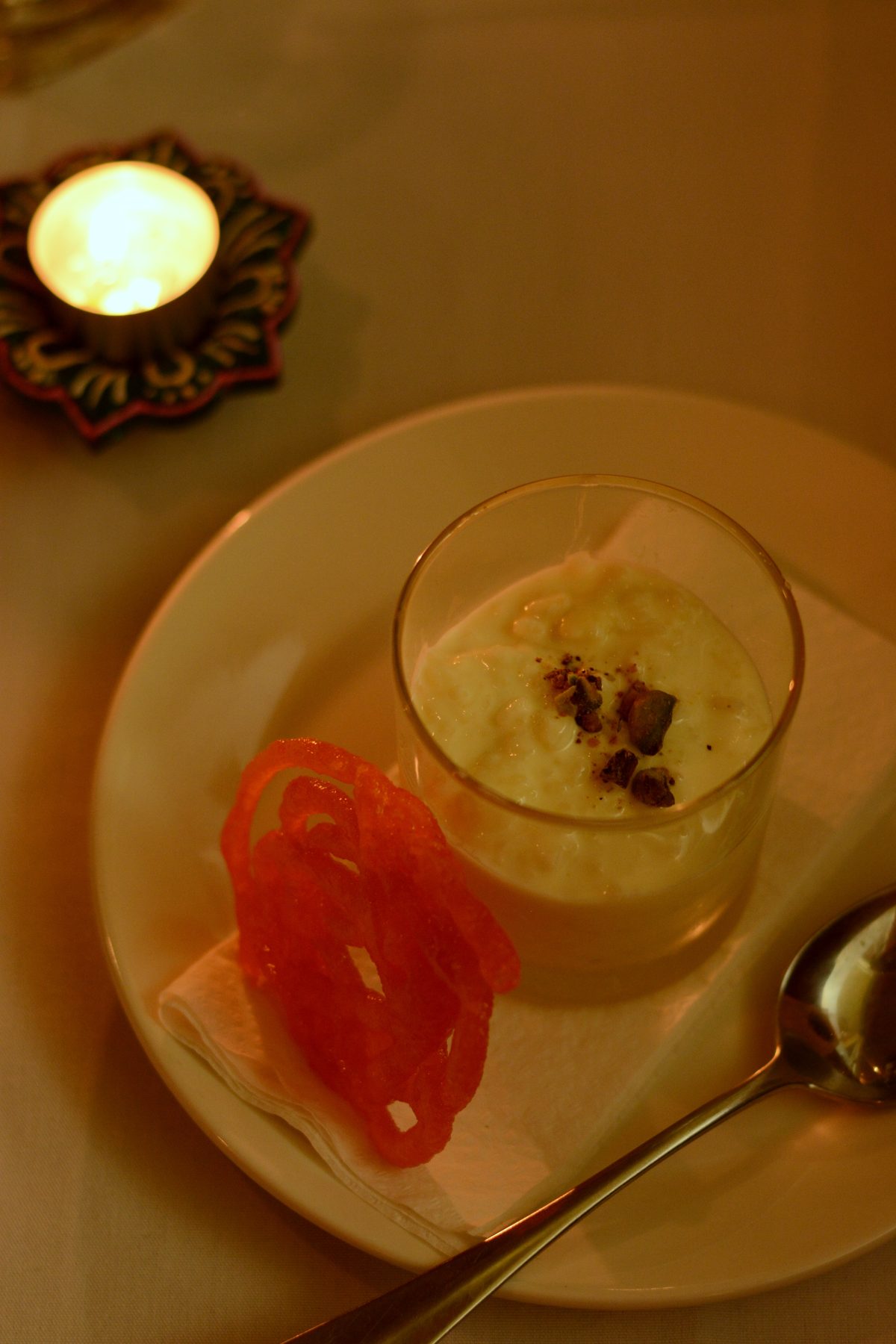 Tulsi was a delicious experience and a clear stand out among the mediocre Indian restaurants out here in Melbourne. Each dish is carefully prepared with the best quality ingredients and a true understanding of the cuisine which translates into a delicious and memorable experience for the diner.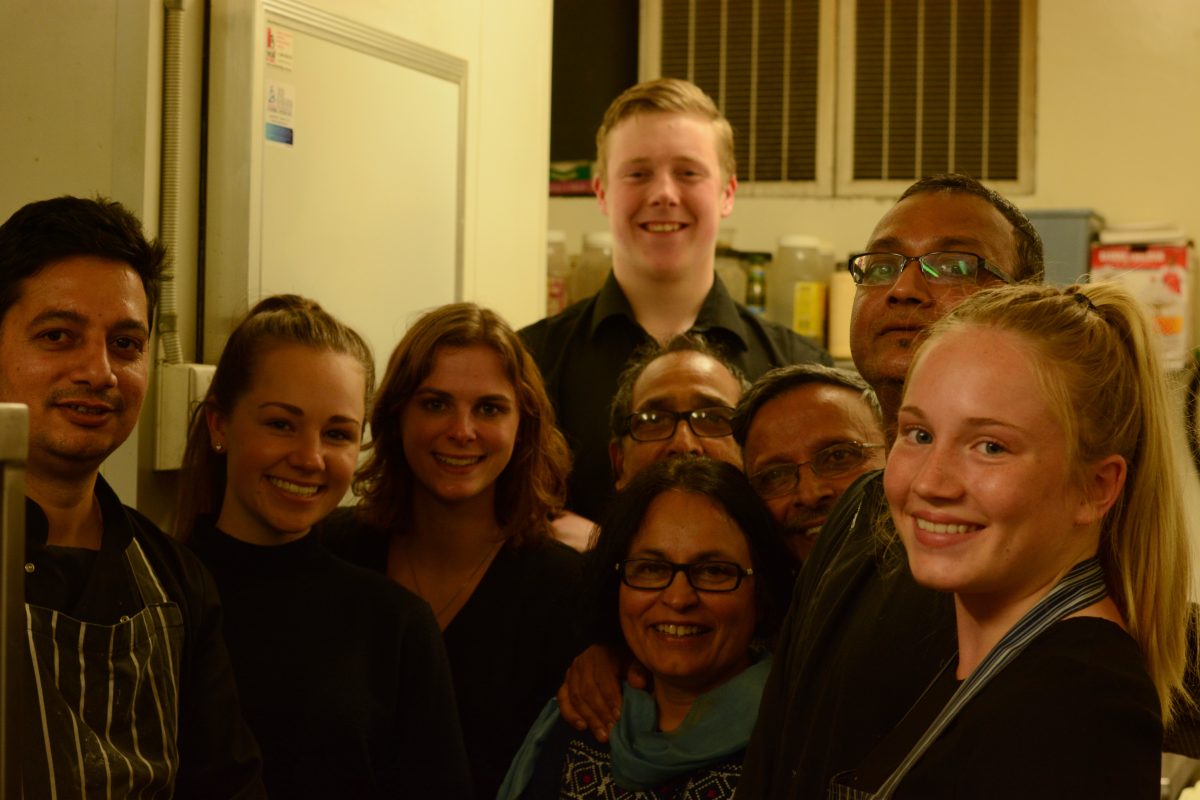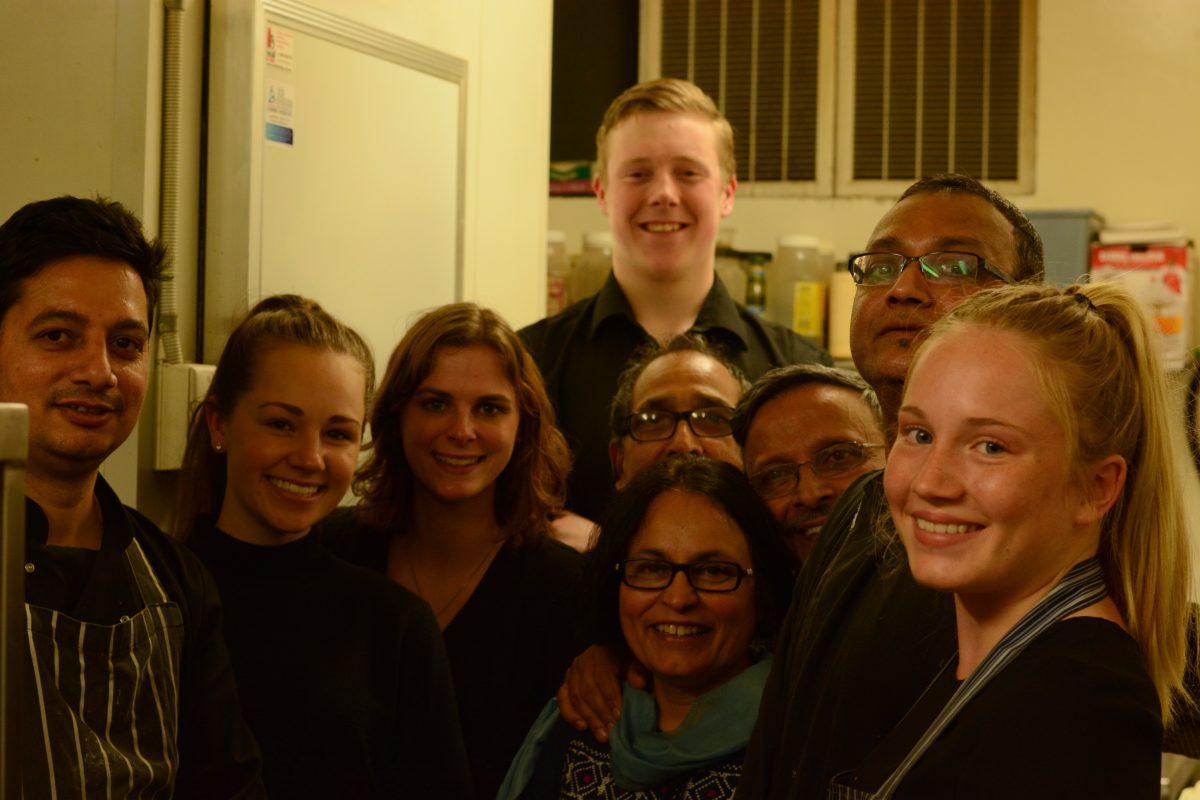 Making a reservation ahead is advised especially for weekends. Also sign up to the Tulsi newsletter for special dinners, wine matching events and degustations.


Tulsi Indian Restaurant
74 Station Street
Somerville
Victoria 3192

Avani Winery
98 Stanleys Road
Red Hill South, VIC, 3937


Disclaimer – We were guests at Tulsi on both occasions but all the views and opinions expressed here are entirely mine.