Vegemite Masala – my boldest Indo Australian fusion dish to date.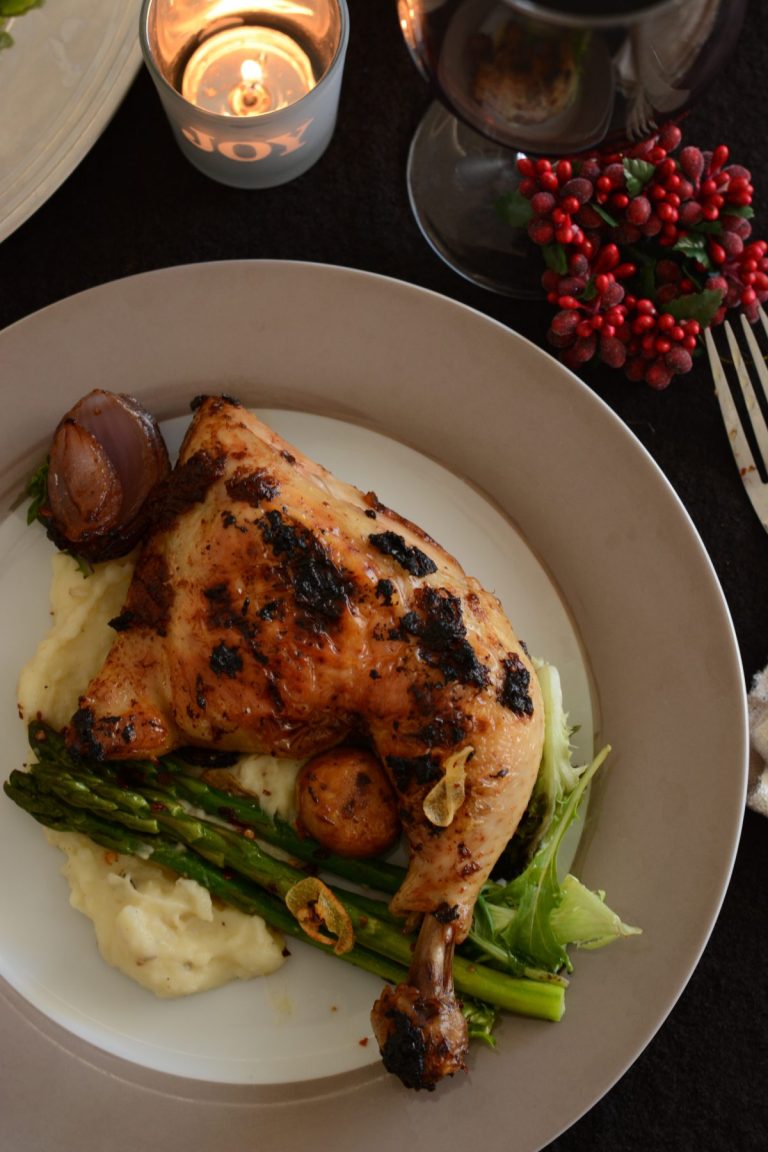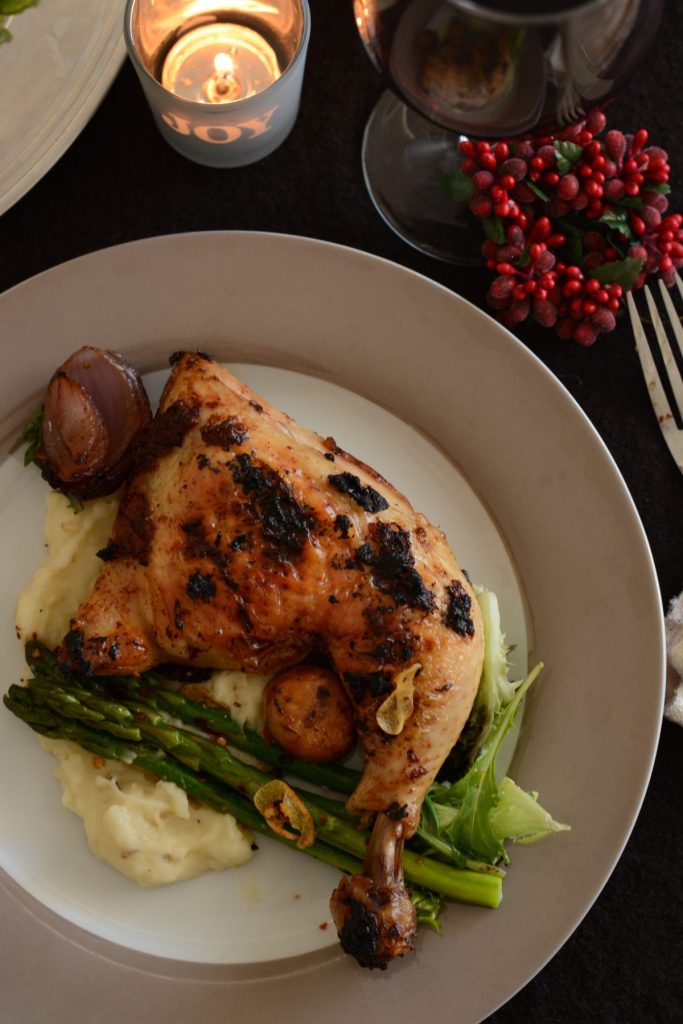 This dish was sparked off by a conversation I had a couple of months ago with a friend based in the Middle East. She inboxed me asking about interesting ways to use Vegemite, a bottle of which was gifted to her husband by an Australian client visiting his company. I told her I had no clue as I had never used it before and not a big fan of it either (inspite of it being an Aussie icon).

A couple of days later, I receive another message from her saying how her husband used it to make roast chicken which turned out quite delicious. Well, I asked her for the recipe and poor thing had no clue. Of course we know how it works – the man would enter the kitchen once in a blue moon, dish out something that turns out great and then no end to the bragging. Sigh!

To cut a long story short, I was left with no recipe but a fantabulous idea which I been toying with for the past couple of months. Finally here it is, after much refinement – Roast chicken with vegemite masala served with chilli garlic asparagus and cumin spiced mashed potatoes. Our early Christmas dinner!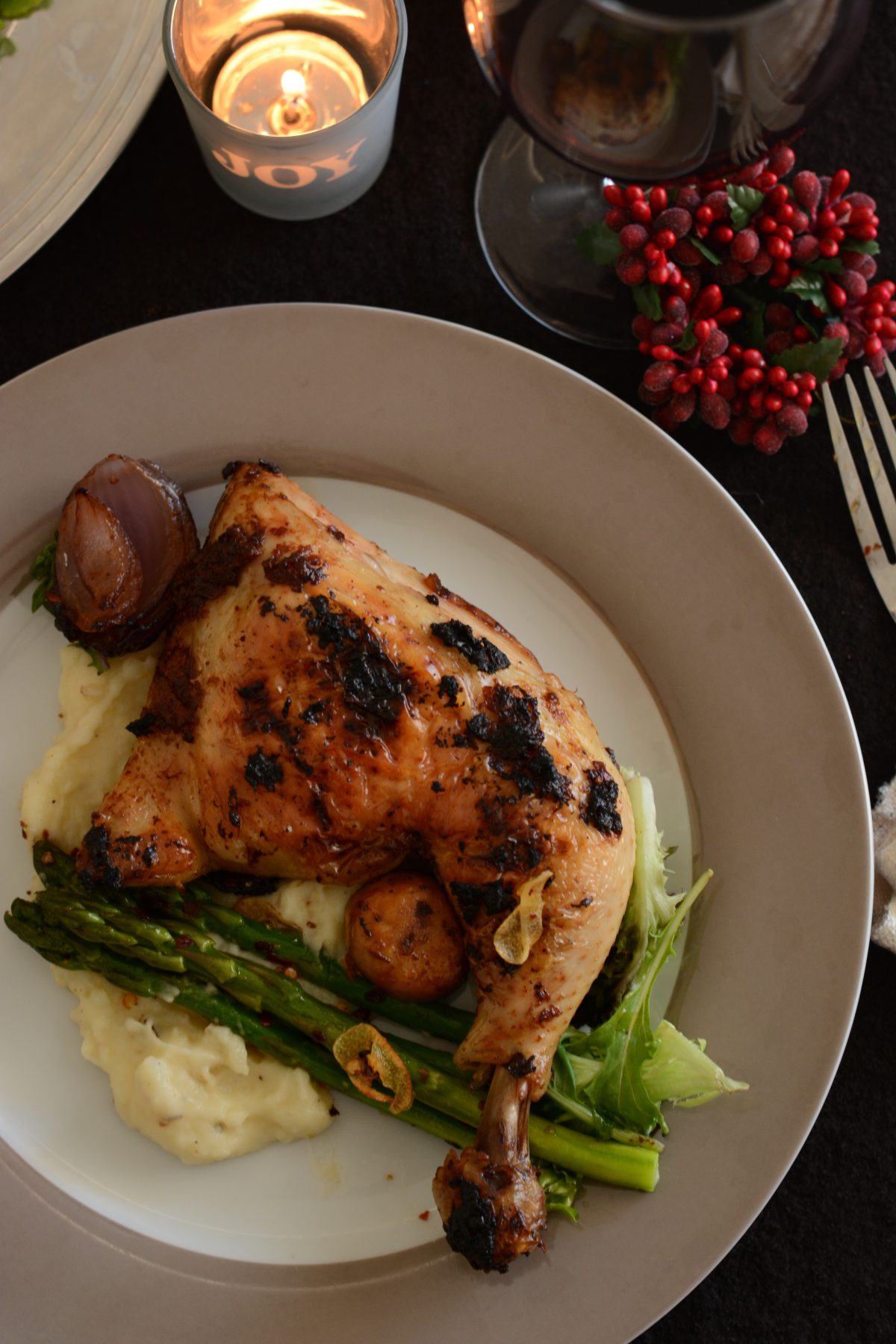 My son who usually agrees to eat anything I put on his plate vehemently opposed to picking a bottle of Vegemite off the supermarket shelf. Well for the hubby, he just smirked his face knowing well how crazy I have gone these days.

Well, the thing with vegemite is that is a rather strong yeasty flavour and smell. So the challenge was to draw out the rich flavours masking the unpleasant ones. And what better way to do the job than spices!

So I combined the most traditional Indian curry base with vegemite to create a spicy marinade which was then generously massaged onto the chicken Maryland and then roasted. By the way did you know that in Australia, chicken Maryland is a butcher's cut as opposed to America where it is the name of traditional dish.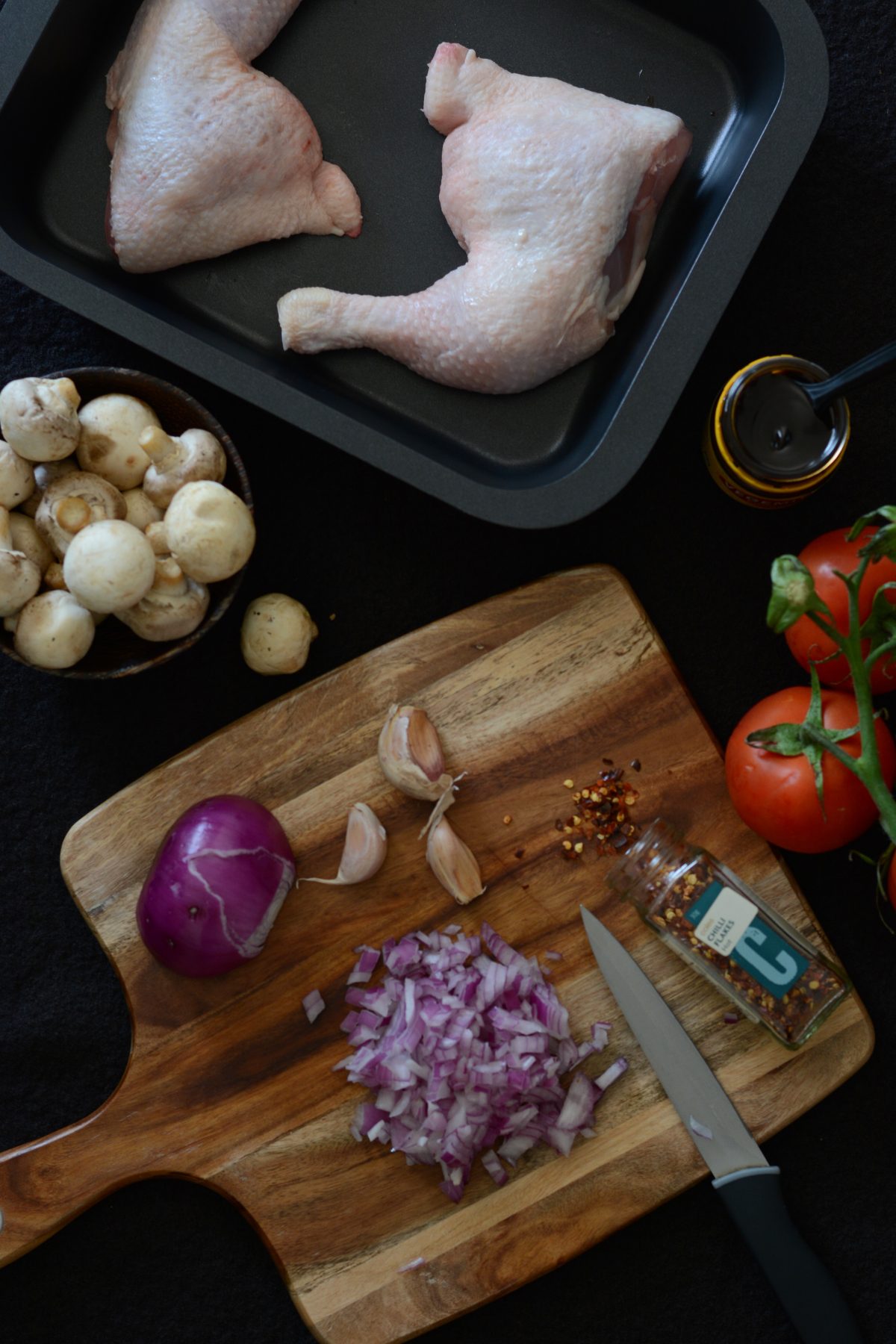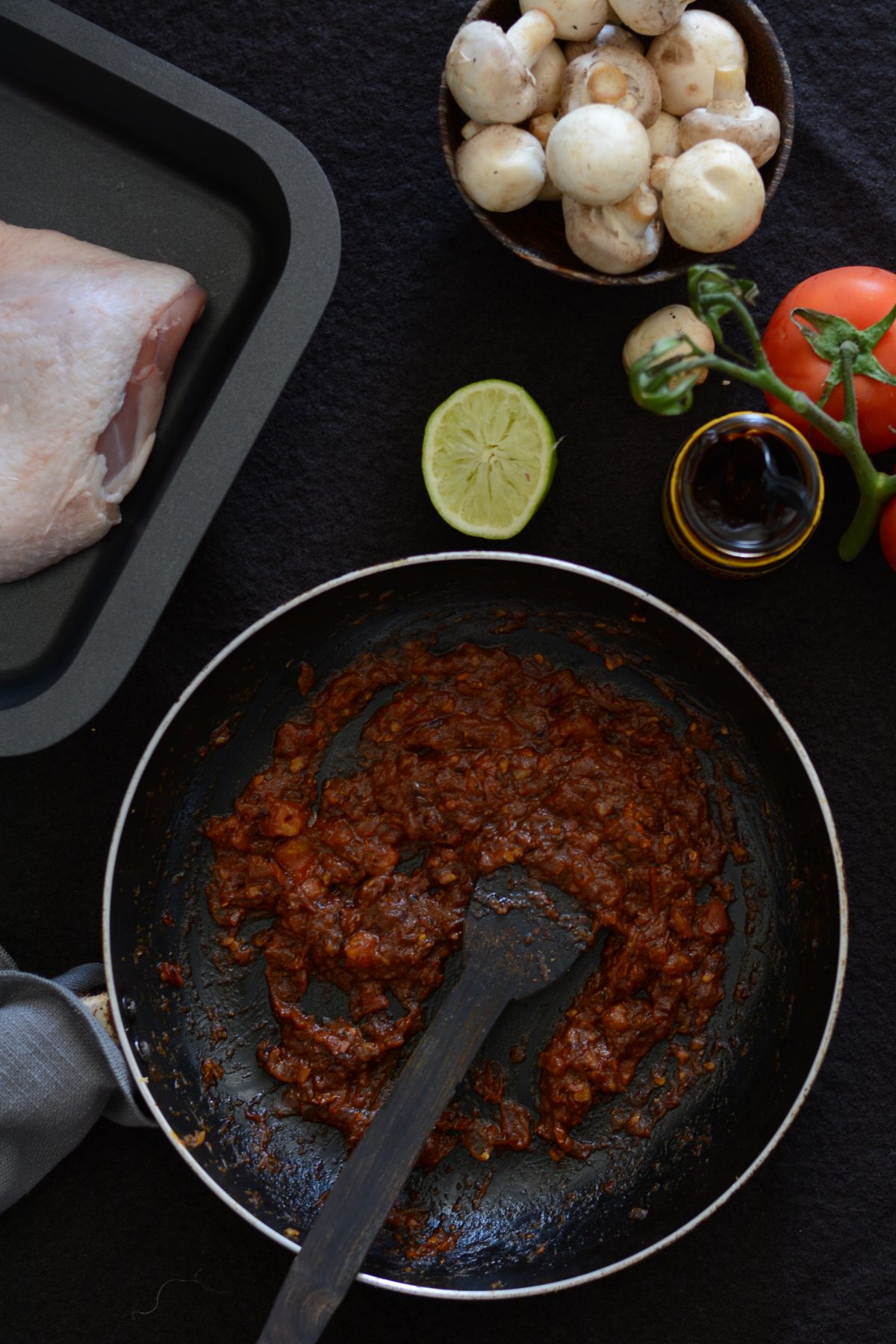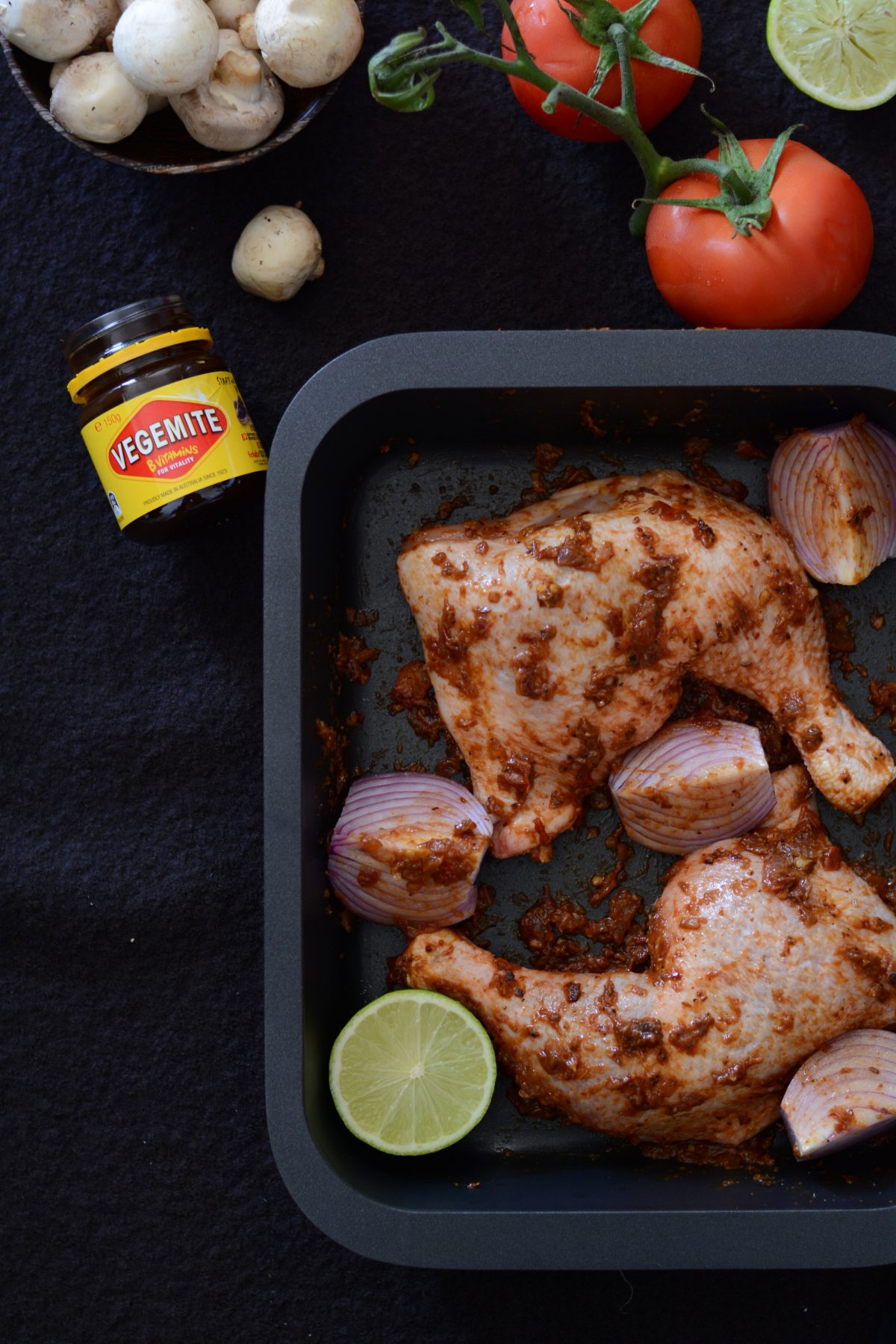 Chicken Maryland is a great option for smaller families who do not want the tedious job of roasting a whole chicken. This is affordable, easy to roast and no leftovers.

To go along with the vegemite chicken, I pan roasted asparagus with a bit of butter, chilli and garlic. Yum!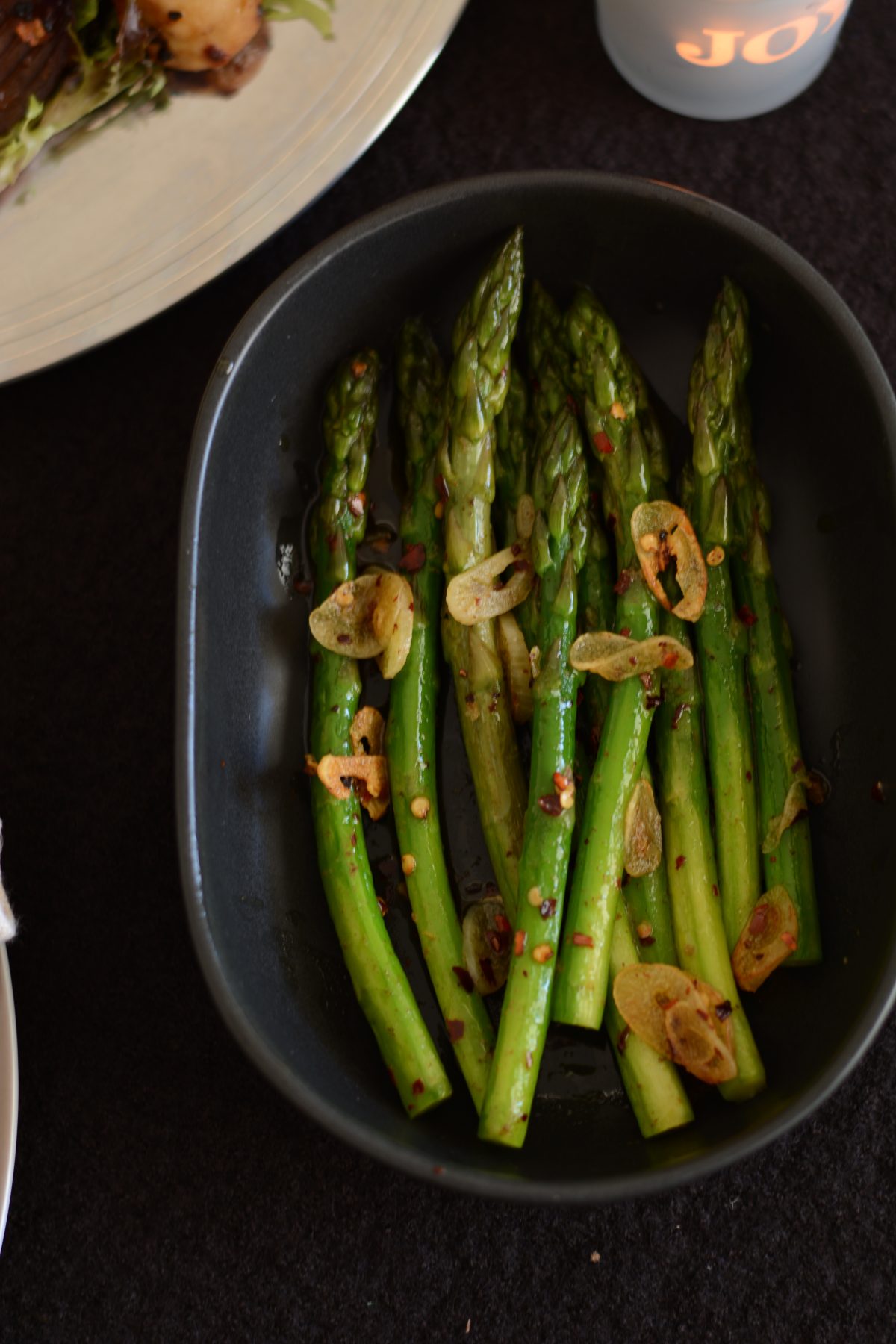 And of course there's no roast chicken without mashed potatoes; so check out my version of garlicky potatoes spiced generously with cumin and caraway seeds.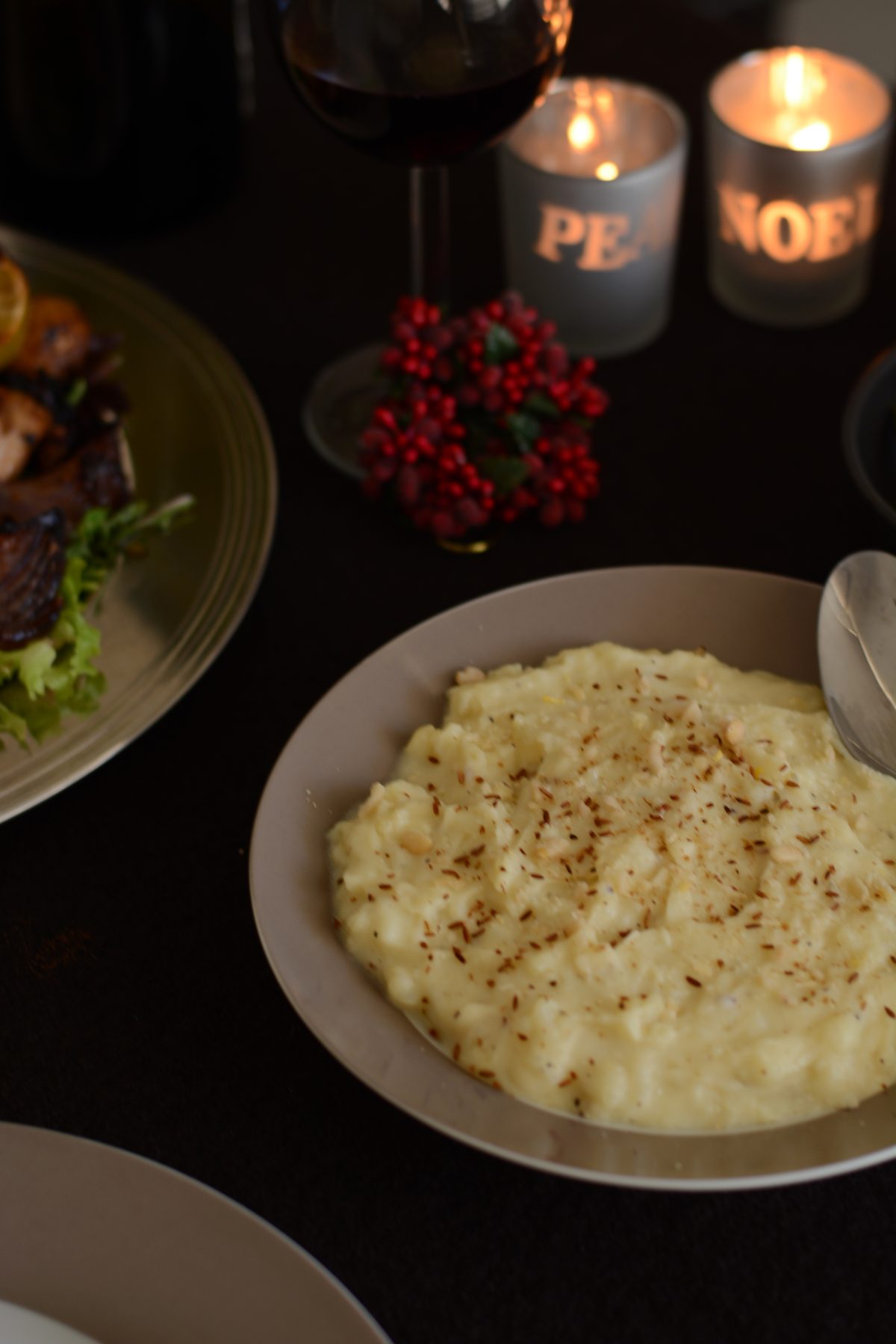 Believe me when I say that this is delicious and do give it a shot. But if this sounds too crazy or you cannot get vegemite in your part of the world, just omit it and you will still have a delicious roast chicken recipe.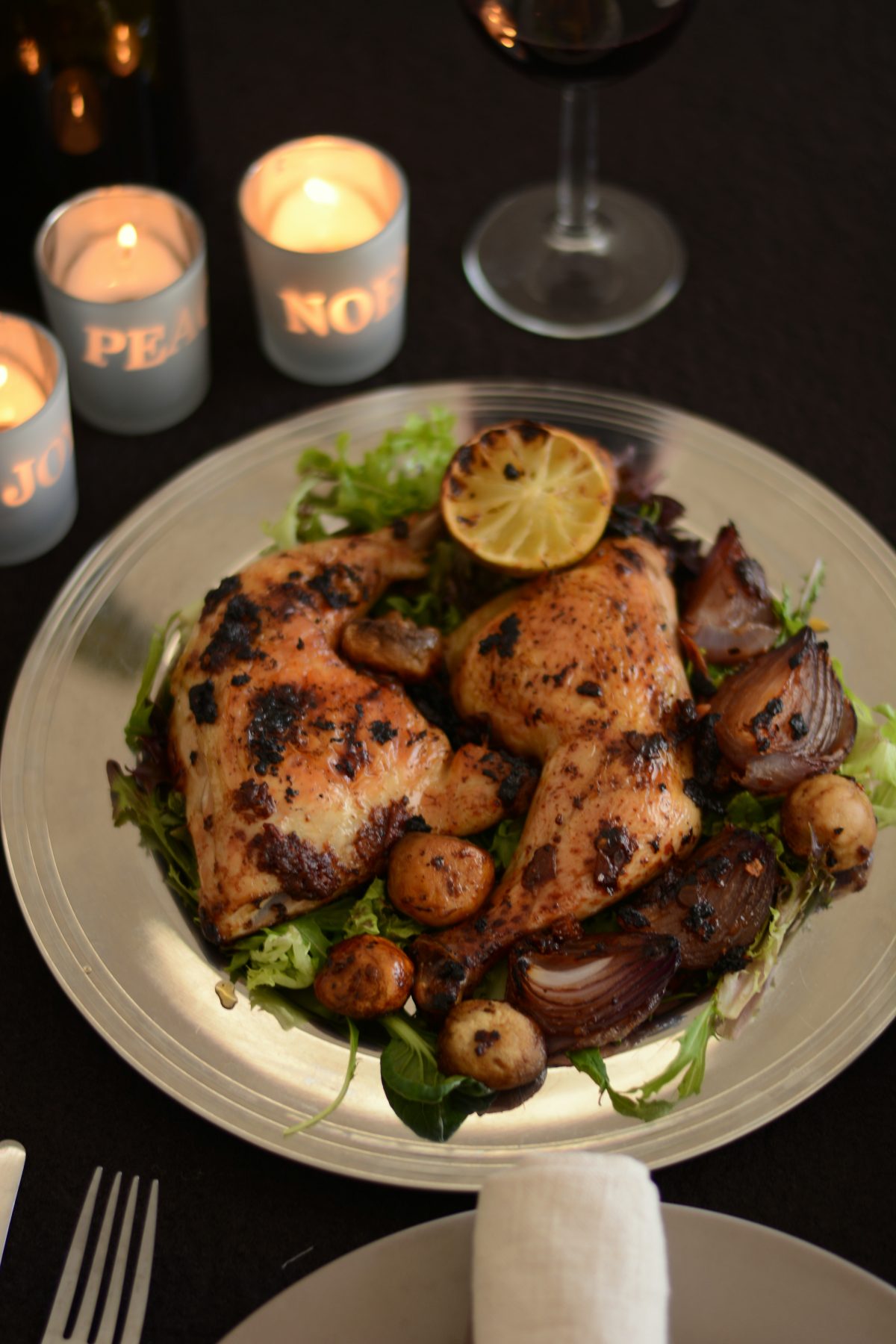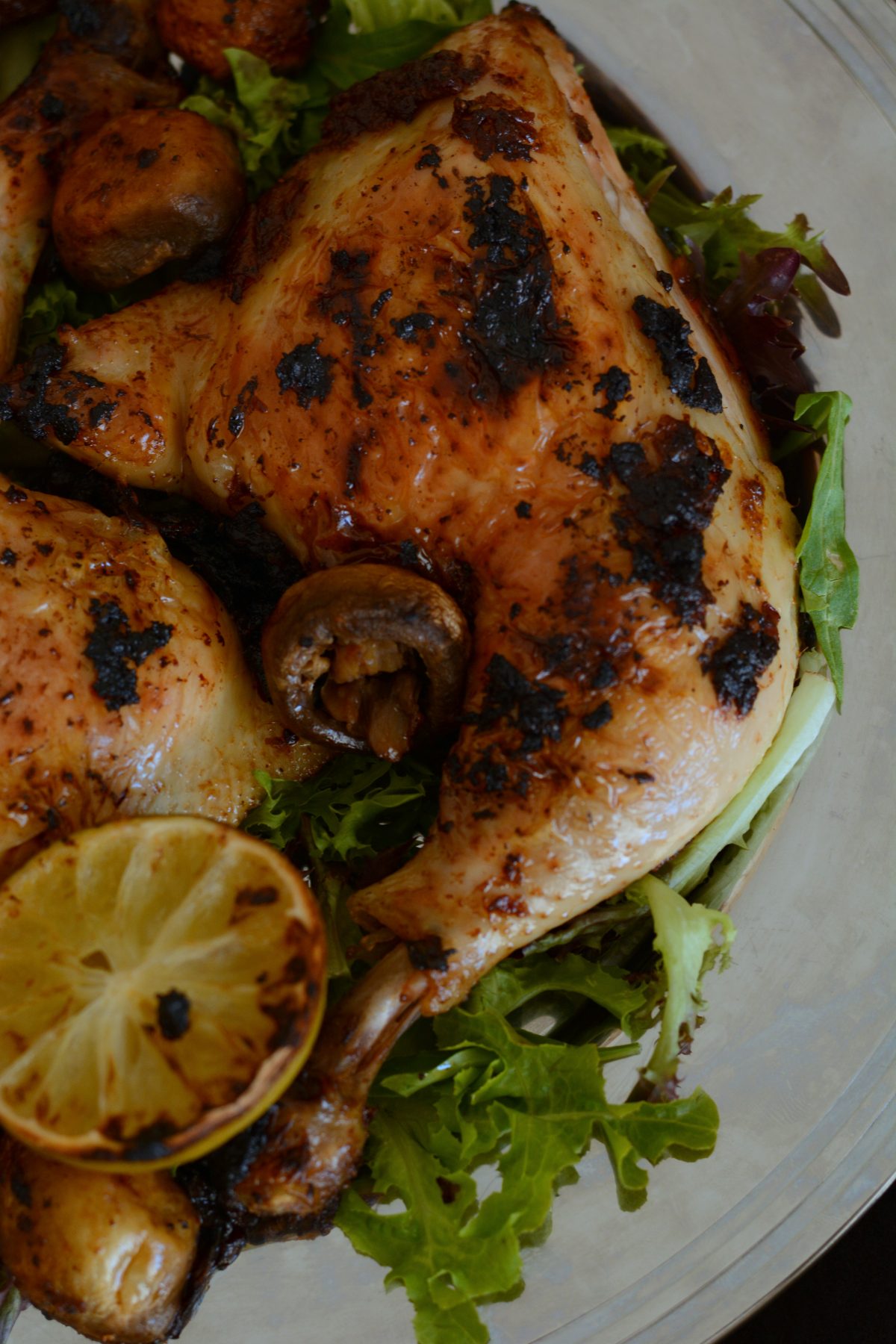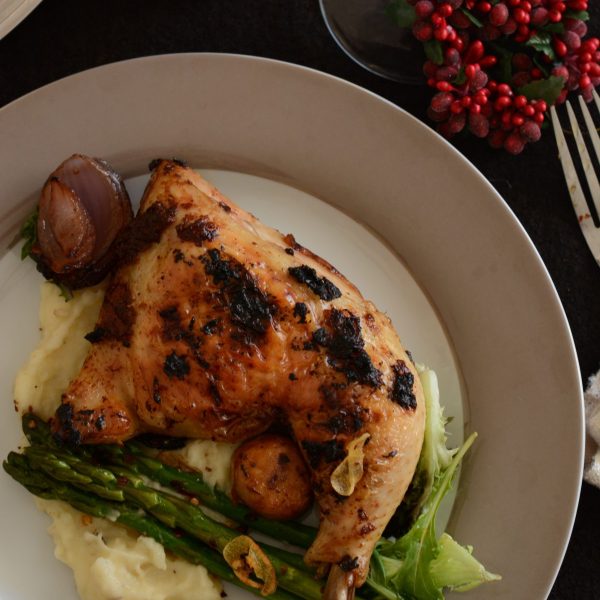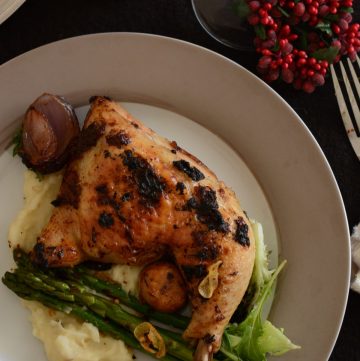 Print Recipe
Roast Chicken with Vegemite Masala (Asparagus, Mashed Potatoes)
Ingredients
For the chicken:
2

Chicken Maryland

with skin

1

large onion; cut into large cubes

1

cup

white button mushrooms

1

lime; halved

2

tbsp

unsalted butter

1

medium red onion; finely chopped

2

small ripe tomatoes; finely chopped

3

garlic cloves; finely grated

1

inch

ginger; finely grated

1

tsp

red chilli flakes

½

tsp

caraway seeds

½

tsp

cumin powder

½

tsp

fennel powder

½

tsp

freshly milled black pepper

Salt

to season

1

tbsp

vegemite

Juice of ½ lemon
For the asparagus:
12

green asparagus

1

large garlic clove; sliced finely

½

tsp

chilli flakes

1

tbsp

butter

Salt

to season
For the mashed potato:
500

gms potatoes

I used russet but you can use any which lends a creamy texture

2

large garlic clove

5

tbsp

unsalted butter

½

cup

milk

1

tsp

dried oregano

1

tsp

cumin seeds; coarsely crushed

Salt

to season

Black pepper

to season

1

tsp

toasted pine nuts; crushed coarsely
Instructions
For the roast chicken:
In a pan, heat butter and add the onions. Sauté till light brown and then add the garlic and ginger.

Sauté for another 2-3 minutes and then add the spices except salt. Mix well and cook on low heat for another minute and then add the tomatoes.

Increase heat and continue to sauté till the tomatoes have turned mushy and the whole mixture begins to come together.

At this stage add vegemite; mix well, taste and then season with salt as the vegemite is naturally salty.

Balance flavours with lemon juice and remove from heat. Allow to cool.

Rub the chicken pieces with salt and pepper; apply the prepared masala (reserve a little) liberally all over the chicken pieces and refrigerate for at least 30 minutes or as long as you can. Bring to room temperature before roasting.

Heat the oven to 200°C (fan forced) and line an oven proof tray with baking paper. Place the chicken pieces inside (skin side facing upwards) along with the diced onions. Apply a bit of the reserved vegemite masala over the onions and sprinkle with salt.

Roast for 15 minutes and then turn the chicken pieces over; add the mushrooms at this stage. Apply the remaining masala over the chicken and roast again for another 10 minutes.

Turn the chicken pieces over again, increase heat to 220°C and cook for another 5 minutes (or till done) to brown the skin.

Remove from oven, keep covered and allow to rest for at least 10 minutes before serving.
For the asparagus:
Trim the thick ends of the asparagus (an inch from bottom) and peel the skin off at the lower end of the asparagus.

Blanch the asparagus and keep aside.

Add butter to a pan and add the garlic cloves; cook on low heat till the garlic takes on a light brown colour, then add the chilli flakes.

Immediately add the asparagus, season with salt and stir fry on high heat for about 15 seconds.
For the mashed potato:
Cook the potatoes in salted boiling water till soft.

Add 2 tbsp butter to a small pan along with the garlic; cook on low heat till garlic turns golden. Remove from flame and add the crushed cumin seeds and oregano. Keep aside.

In another pan, place the potatoes, milk and remaining butter. Mash and cook on low heat whisking continuously till you get a smooth, creamy mixture.

Season with salt and pepper; remove when desired texture has been achieved. If you want super creamy texture, pass the mashed potatoes through a sieve (I didn't do this, though).

Add the melted garlic infused butter to the mashed potatoes and stir through.

Garnish with toasted pine nuts.
To serve:
Place some mashed potato in the middle of the plate; create a sort of depression or well with the back of a spoon and place the roast chicken on top. Place 3-4 asparagus on one side of the chicken and finish off with a sprinkle of salt and pepper.

Serve with love and gratefulness in your heart!