Today, I am going to tell you a story….my love story!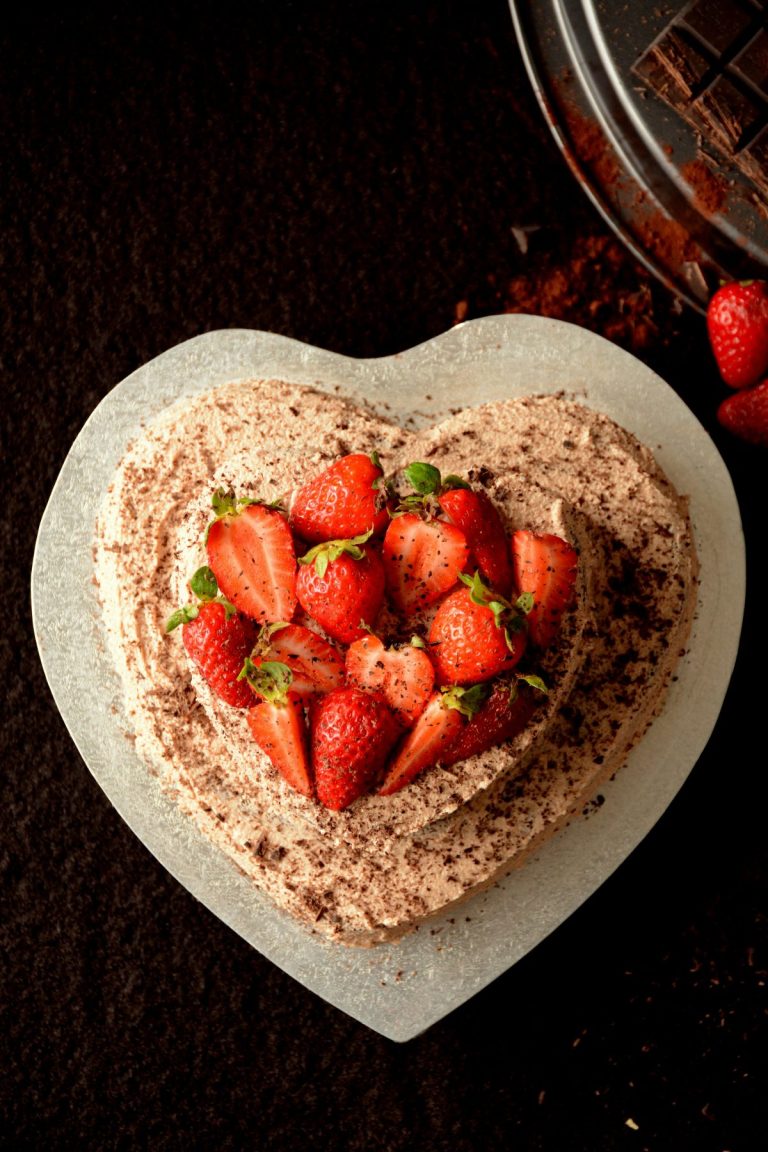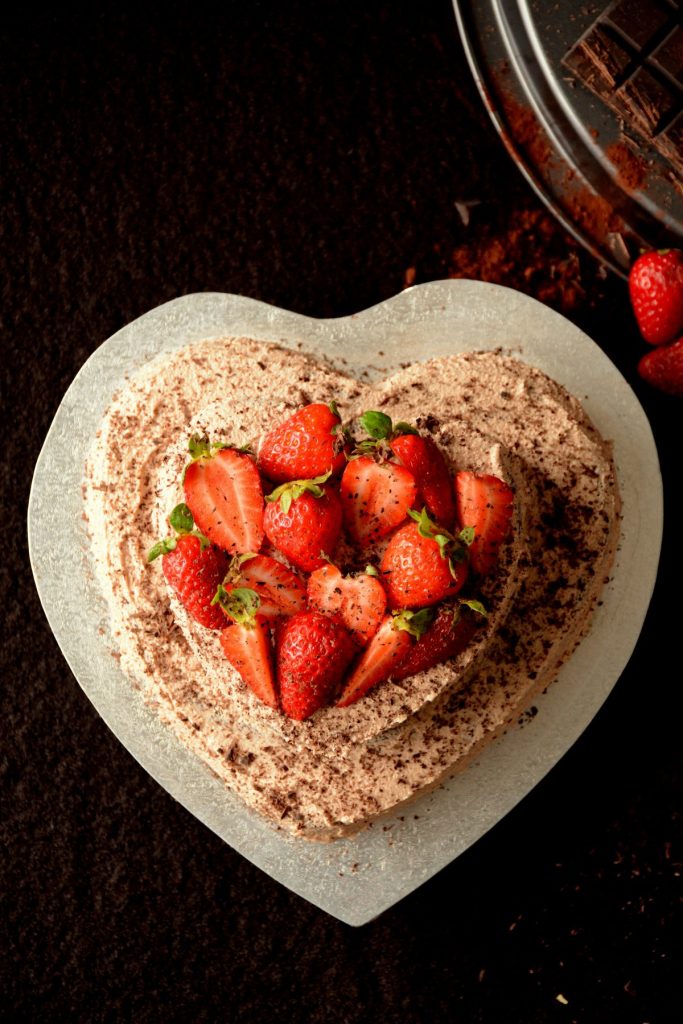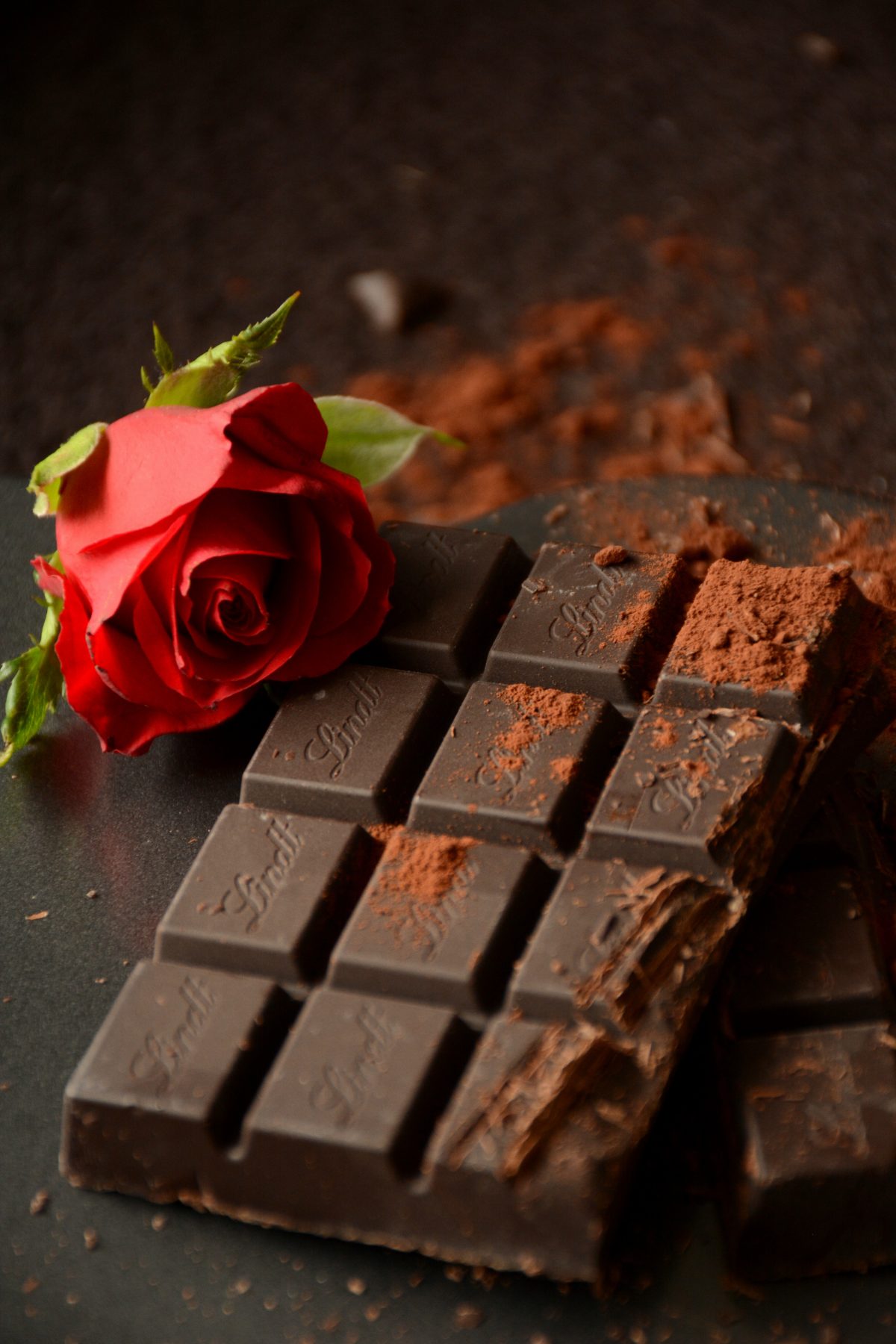 I met Sam while at college. To be more specific, while doing my graduate programme in lab sciences. I was an extremely gawky, nerdy looking, fresh out of school teenager with a funny hairstyle and thick glasses that drowned out my eyes. And he was this stick thin, equally gawky fresh out of school teenager who thought a bit too much of himself. And we became friends.

It was an easy friendship. Though we appeared to be very different people outwards, we had very similar views on relationships and life in general. For me, he was this guy who was easy to talk to, non-judgemental and someone who truly respects women. So time went on…..with a lot of studies and a whole lot of fun too and before we knew it, four years had passed and it was time to say goodbye.

The goodbyes were difficult since we were a close knit class of 12. But with the promises of keeping in touch always, we parted ways to embrace life the way it takes us. For me and Sam, it meant working for mission hospitals for the next two years. We did keep in touch as promised…..those were the days of beautiful handwritten letters unlike the instant chat messengers of today. And over those two years and innumerable letters, we became best buddies.

Destiny crossed our paths again when both of us became classmates once again when we decided to pursue our Master's. Perhaps we were meant to be together because there is no other explanation on how we ended up in the same institution. A completely random event that changed our lives forever.

Somewhere along the first year, we both realized that our relationship had changed. It was more than a friendship now; it had become a desire for happily ever after.

It became increasingly difficult to keep our true feelings hidden but yet we were so scared of the changes that this admission would bring. We valued our friendship much more than anything, even more than being together as a couple. But one fine day, the beautiful lyrics of an English song paved the way to finally admit what we were hesitant to say out loud to each other all along.

Every love story has hitches and we had our fair share too but here we are today. Married for close to ten years with a beautiful precious boy who is the living testimony of our love.

And ofcourse you would have guessed the reason I am sharing this story….it's a Valentine's Day dedication!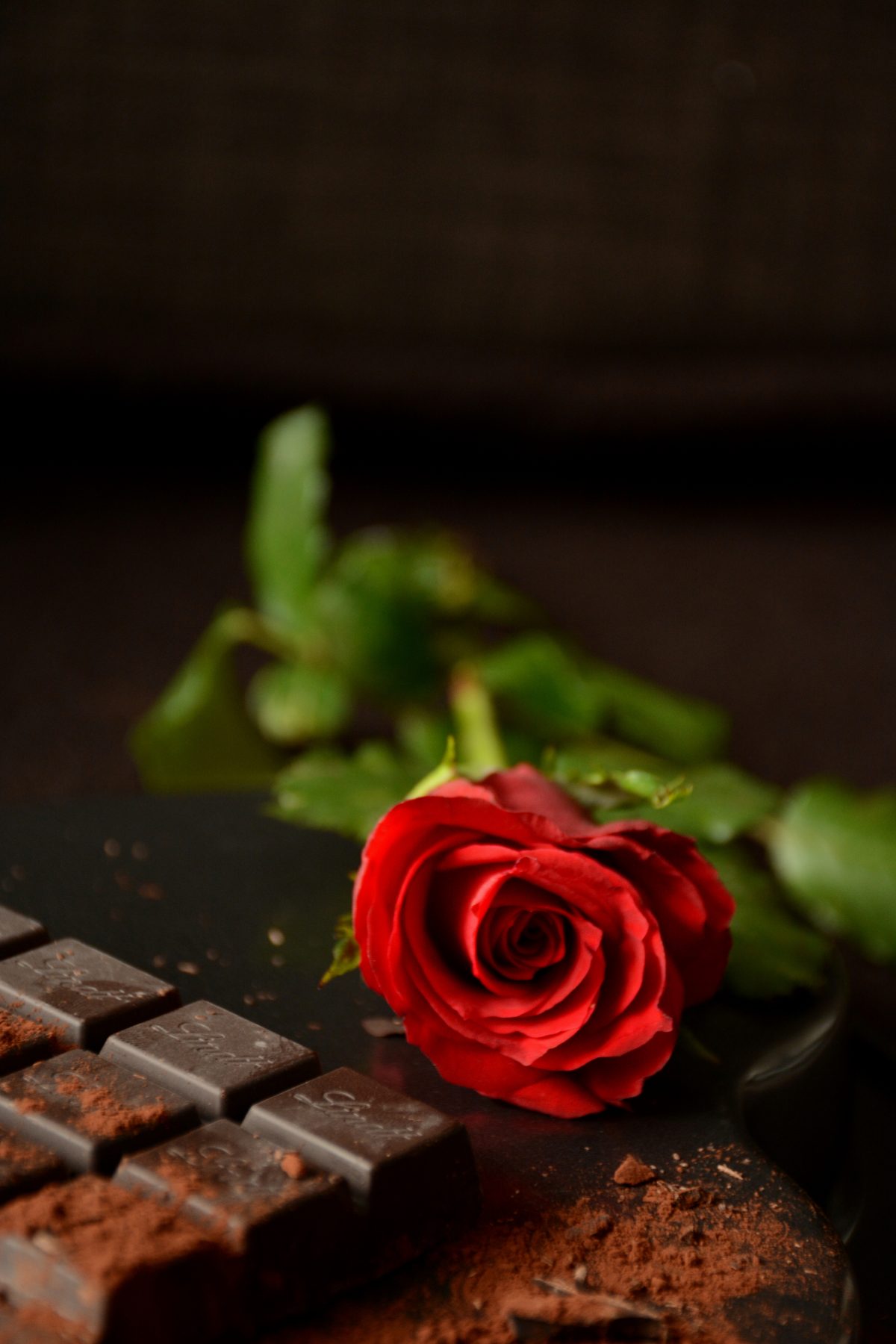 Frankly, I don't celebrate Valentine's Day. Chocolate and roses are not really my thing too. But this year, I wanted to dedicate a post to my beautiful readers who have asked me over the past two years for the same.

So here I am, taking the classic route with this intensely rich Chocolate Fudge Cake with Milk Chocolate Buttercream and Fresh Strawberries – saying 'I love you' to my precious little family and to each one of you too for being there for me unconditionally.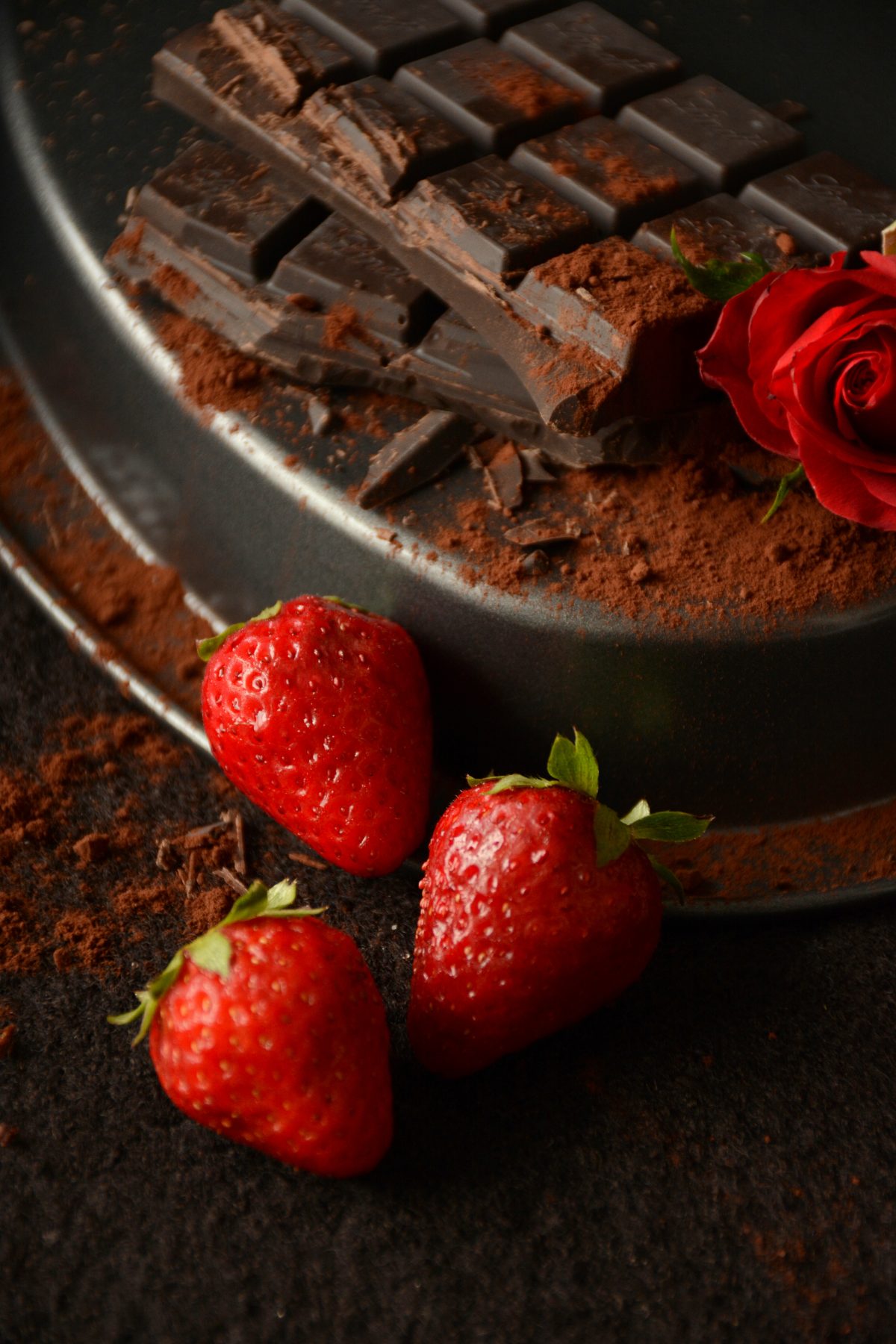 Let me admit, it's not a perfect looking cake; I am not a baking pro and you guys know it by now. But it more than makes up in the taste department even though not by looks. It's fudgy, chocolatey, rich with that silken, even more chocolatey buttercream and finally the refreshing sweetness from the strawberries.

I had these heart shaped baking tins which is why I ended up using it but you can a regular round tin. Again, this cake works great as a single layer too but making it two-tier or three-tier makes it extra special with all that buttercream that gets layered in between.

The fresh strawberries are essential to cut through the richness of the cake and make sure you get ones that are sweet and not too tangy.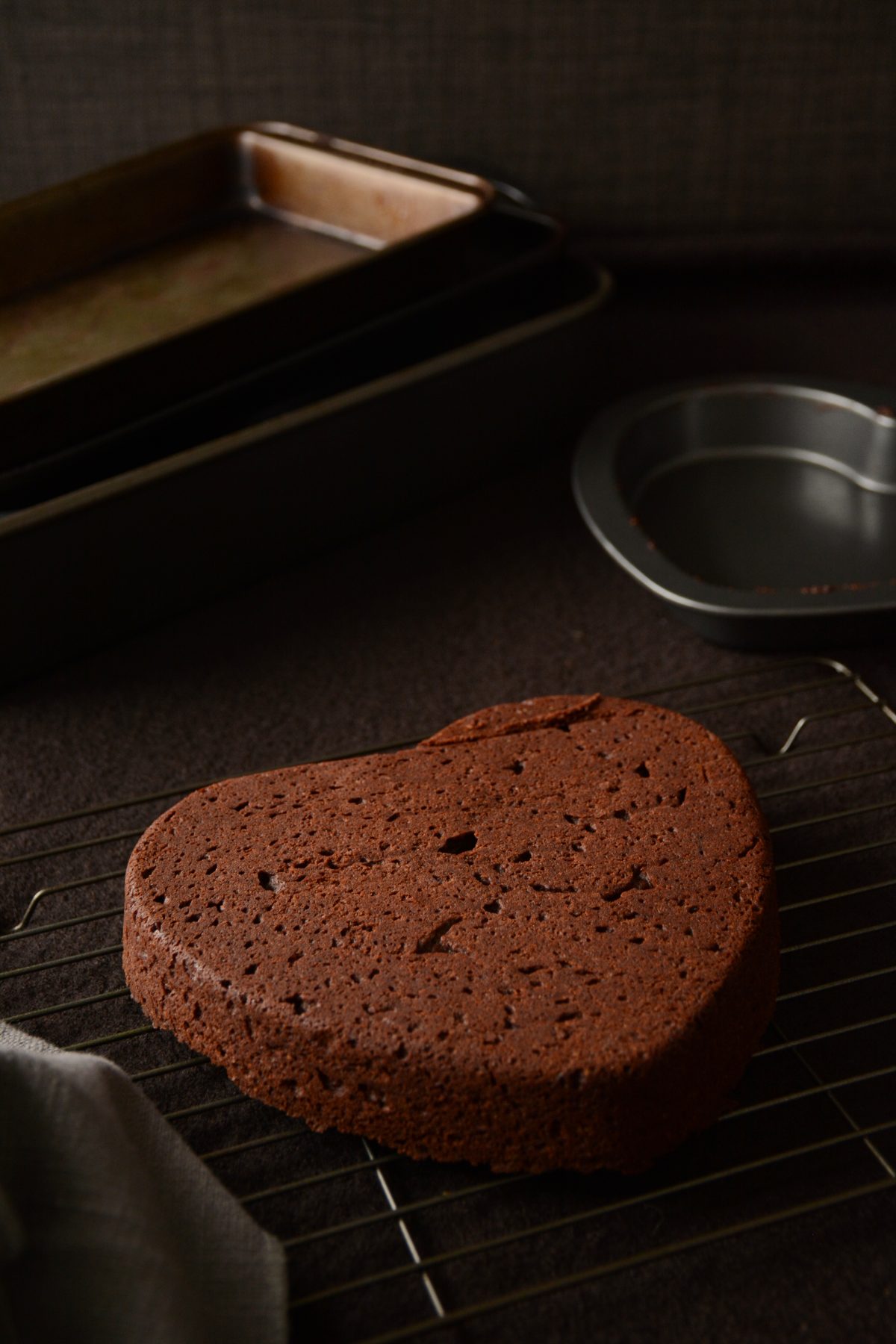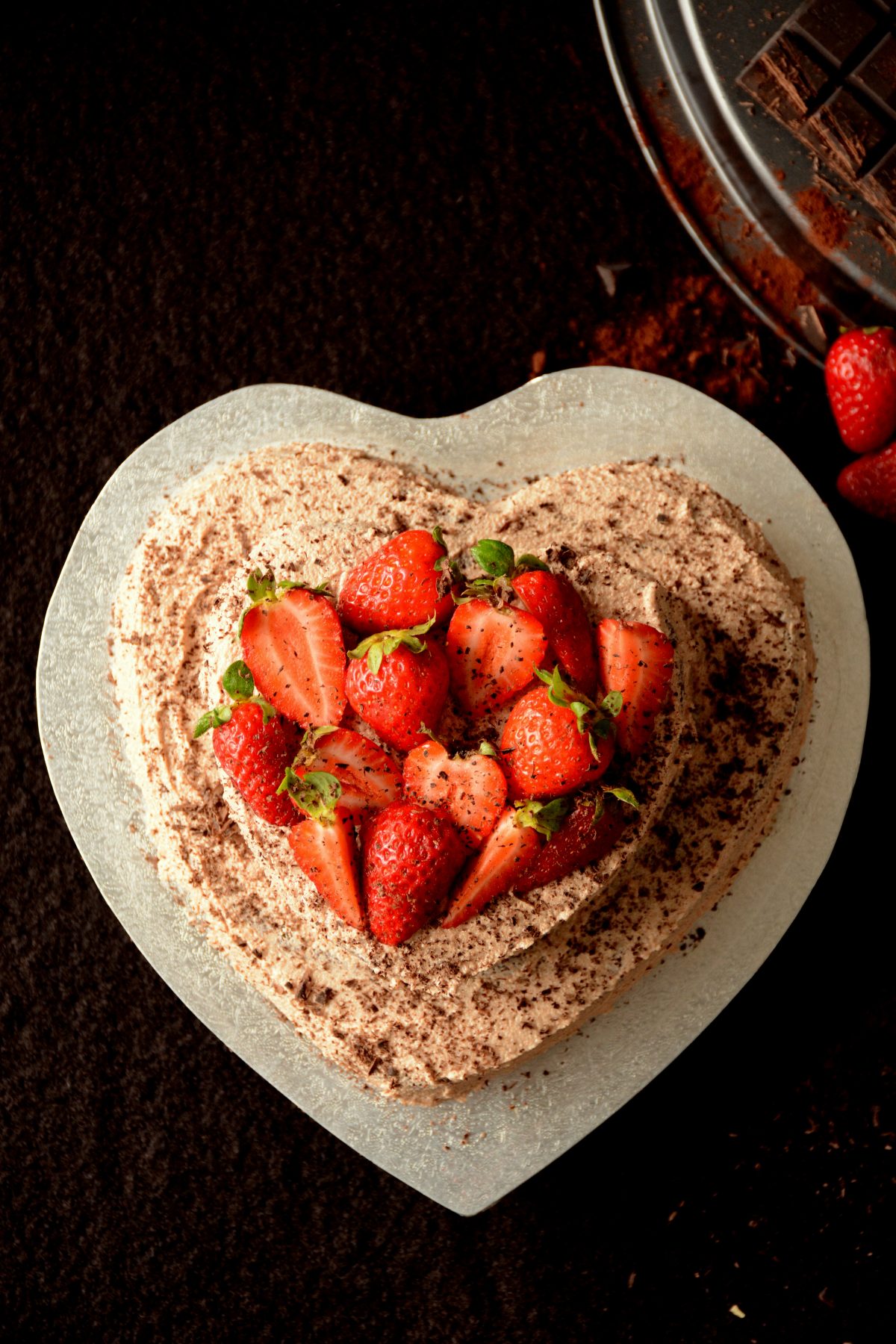 So here we go – my Valentine's Day special Chocolate Fudge Cake with Milk Chocolate Buttercream and Fresh Strawberries.

Recipe for Chocolate Cake adapted from Sugar et al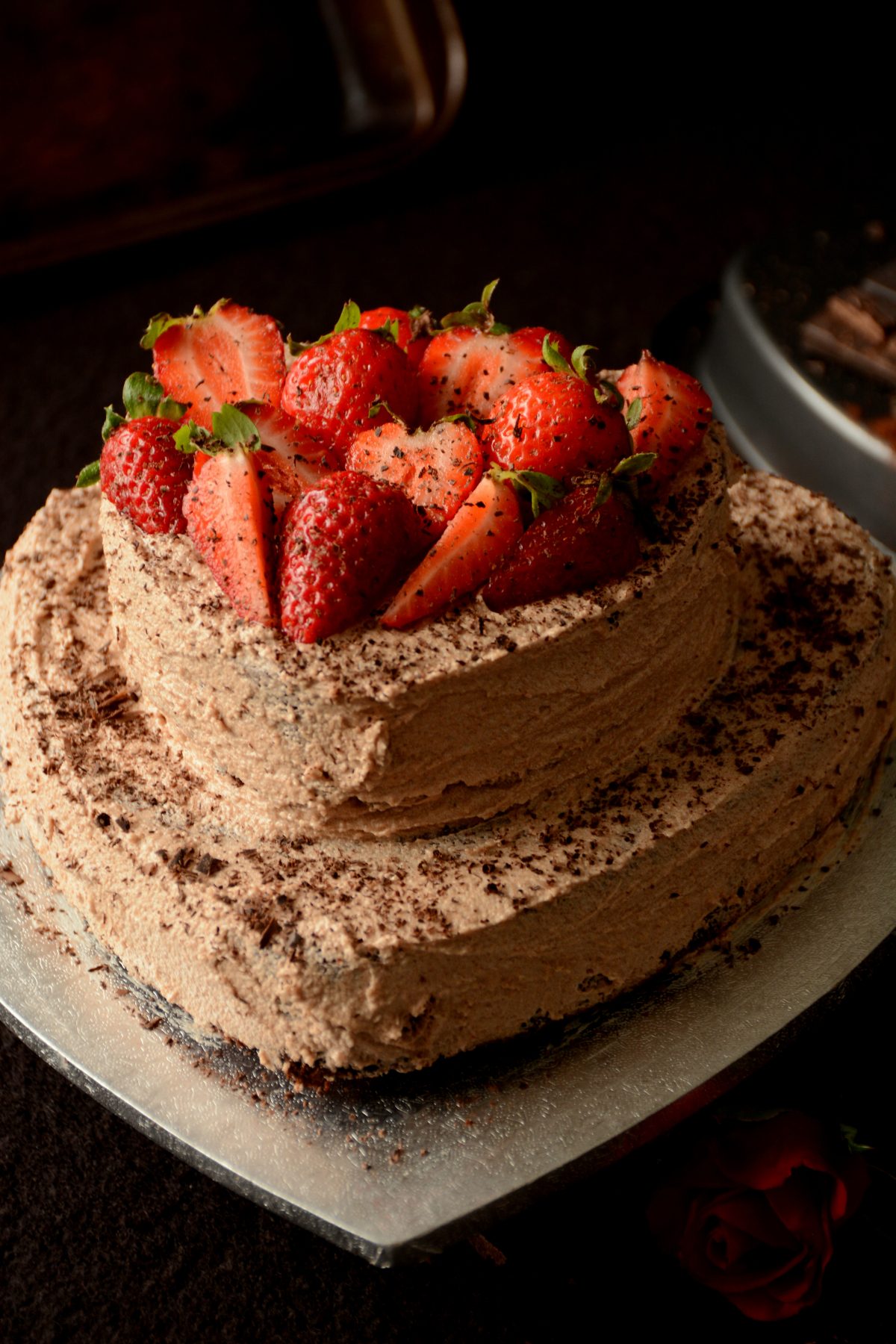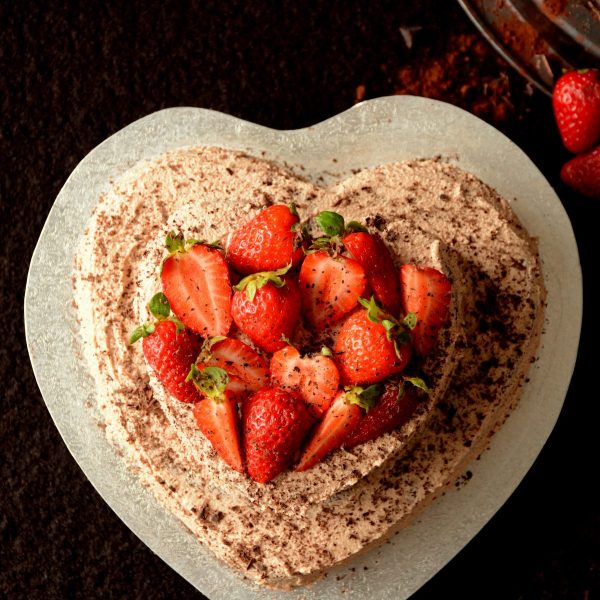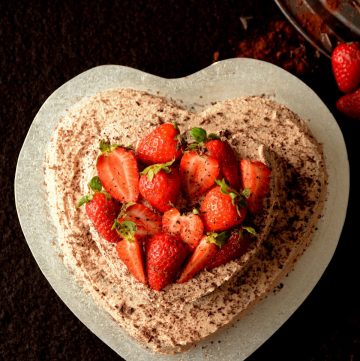 Print Recipe
Chocolate Fudge Cake with Milk Chocolate Buttercream
Ingredients
For Chocolate Fudge Cake:
200

gm unsalted butter

at room temperature

1

cup

firmly packed powdered brown sugar

150

gm dark chocolate

70% cocoa; melted and cooled

2

eggs

at room temperature

280

gm self raising flour; sieved

100

gm almond meal

¾

cup

buttermilk

35

gm cocoa powder
For Milk Chocolate Buttercream:
125

gm unsalted butter

at room temperature

300

gms icing sugar

50

gm milk chocolate; melted and cooled

½

tsp

cocoa powder

1

tbsp

milk
To assemble:
1

cup

fresh strawberries

Chocolate shavings; for garnish
Instructions
For the Chocolate Fudge Cake:
Preheat the oven to 140°C (fan forced); line the base of the tins with baking paper and grease well with butter.

Beat the butter and sugar till pale and creamy using an electric beater.

Pour in the melted chocolate and eggs; beat till combined and creamy.

Fold in the flour, almond meal, buttermilk and cocoa powder till well combined. The mixture is slightly thicker than regular cake batter.

Pour into tins and smooth the surface. Bake the medium tins for 35 minutes and the small one for 20 min or until a skewer inserted in the thickest part of the cake comes out clean.

Slightly cool before transferring onto a wire rack. Cool completely before applying the buttercream.
For Milk Chocolate Buttercream:
Using an electric beater, cream together butter and half of the icing sugar. Once creamy, add the remaining sugar and beat till fluffy and creamy.

Add the melted chocolate, cocoa powder and milk; beat well till a thick, creamy consistency is obtained.

Add more milk if the mixture feels too thick.
To assemble:
Once the cakes have cooled completely, apply an even layer of the chocolate buttercream on the larger cake.

Then place the smaller cake on top and cover it with an even layer of buttercream.

Cut some of the strawberries into halves. Decorate the top surface of the smaller cake with both whole and halved strawberries.

Garnish with chocolate shavings.
Notes
Makes 2 medium and 1 small heart shaped cake. Makes 2, if using regular circular tin
If using a conventional oven, you will need to increase temperature by 15-20°C. The timings may need to be changed to suit the mould and size of cake you are making. So keep an eye once in the oven.
I have used only 2 cakes to assemble though I made 3.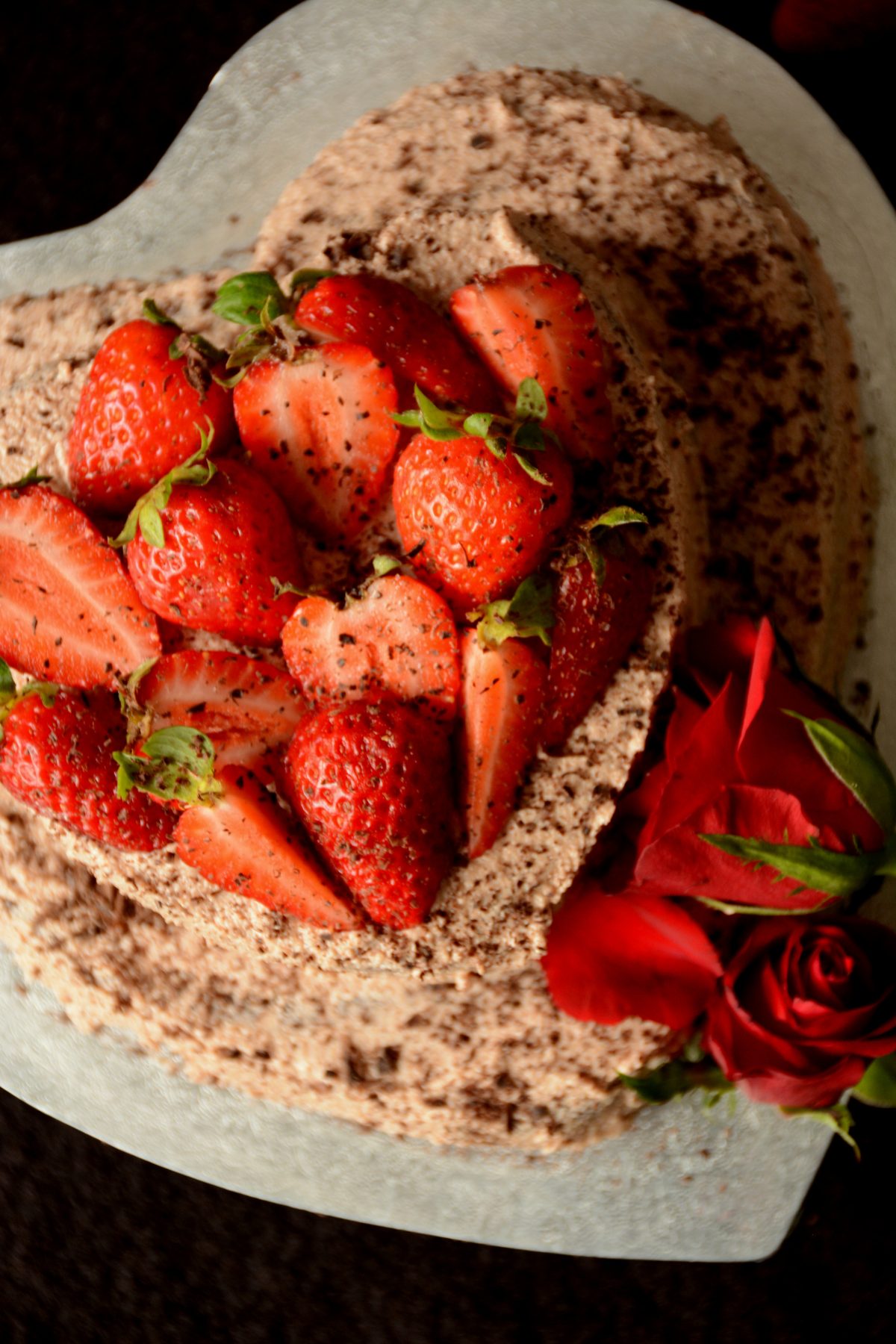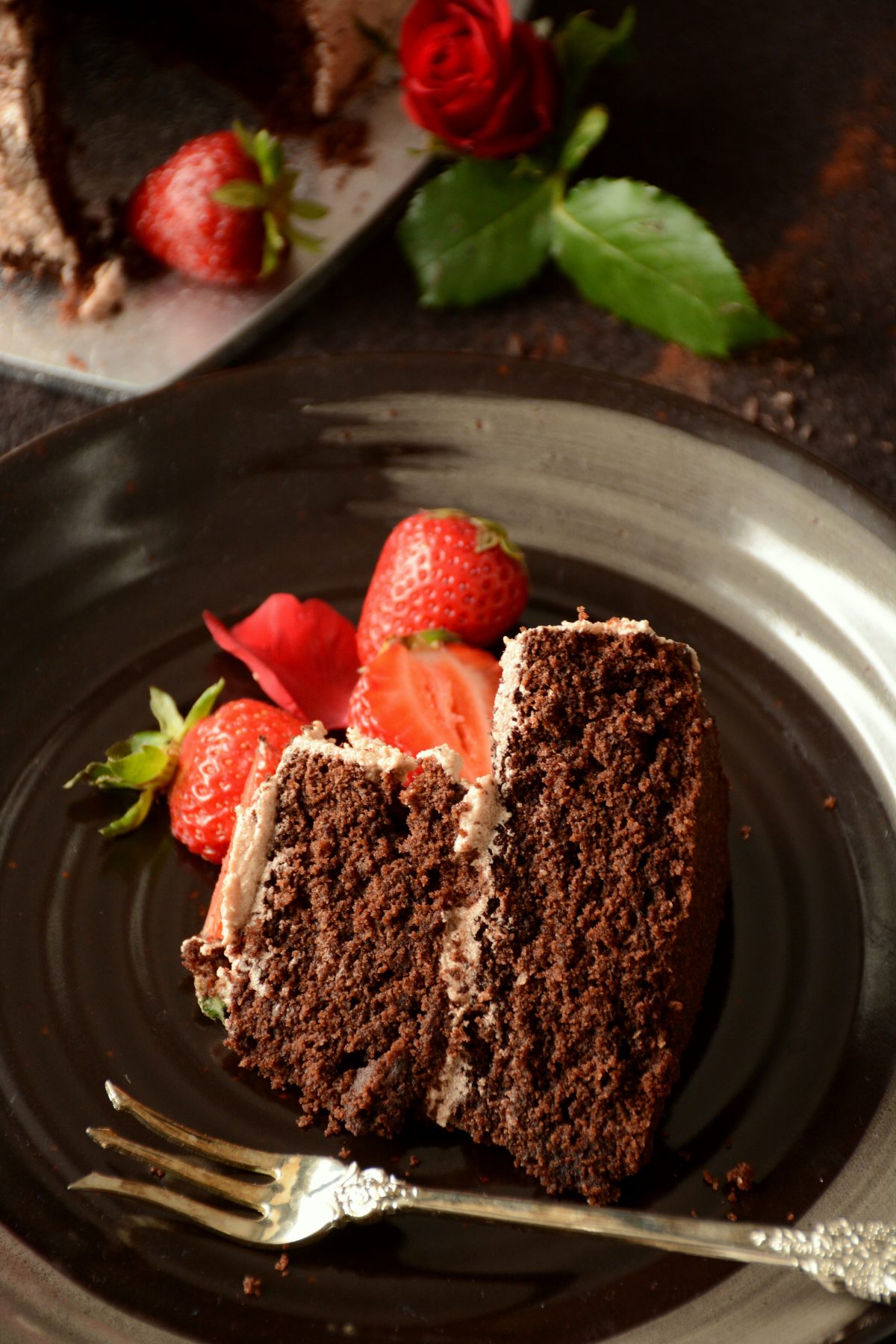 Have you got any plans this Valentine's Day?