Salmon Sliders with Chilli Mayonnaise are fun and exciting as party snacks, enjoyable to both the young and old alike.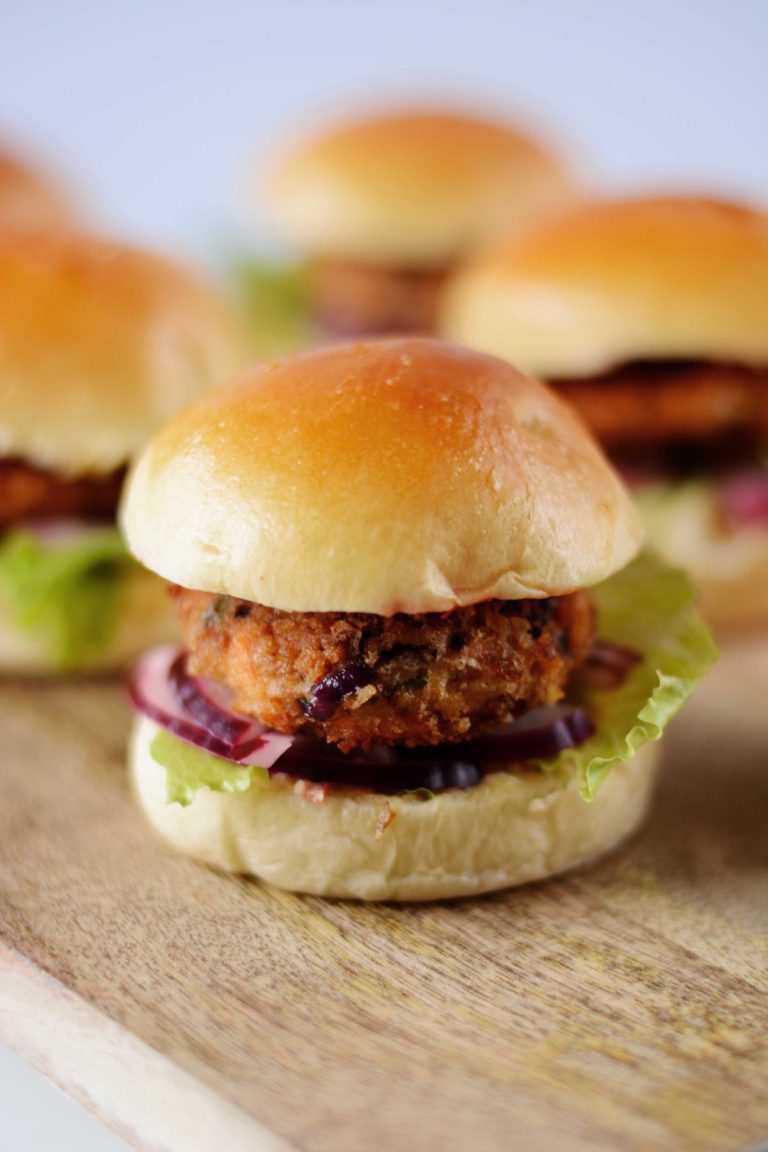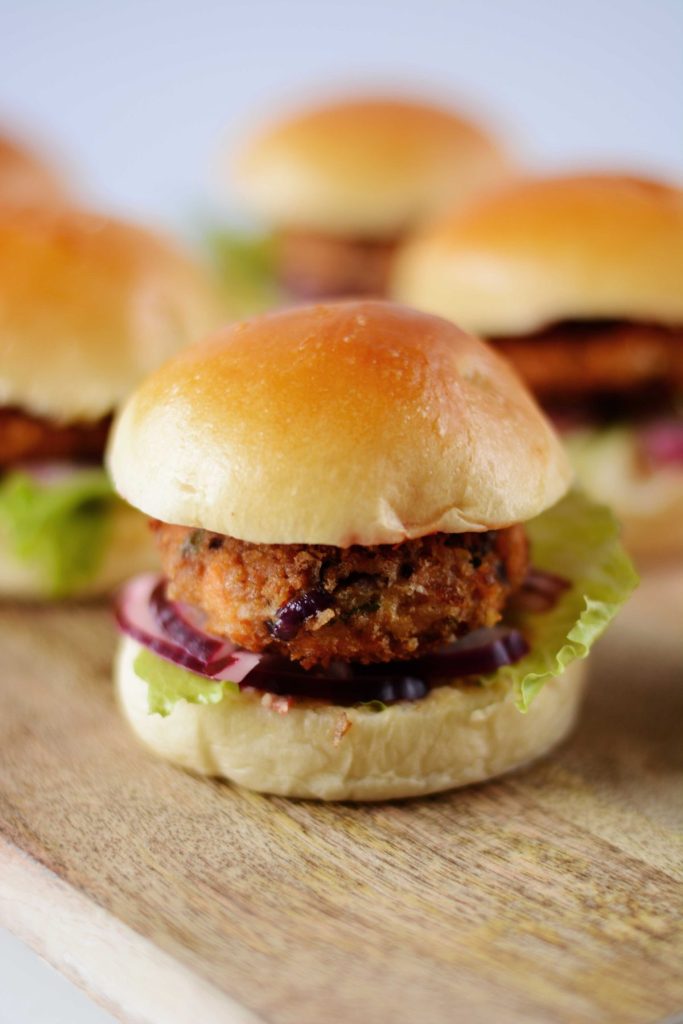 I enjoy sliders more than full sized burgers simply for the fact that most often, I cannot finish a burger by myself. But sliders are like little morsels of deliciousness that are the right size for smaller human beings like me.

Also sliders are fun and exciting party food, perfect for any kind of season. Most of the elements can be prepared ahead of time which leaves you relaxed on the day. Paired with a creamy homemade mayonnaise with the vibrant flavour from Kashmiri chillies, this is a party canapé like none other.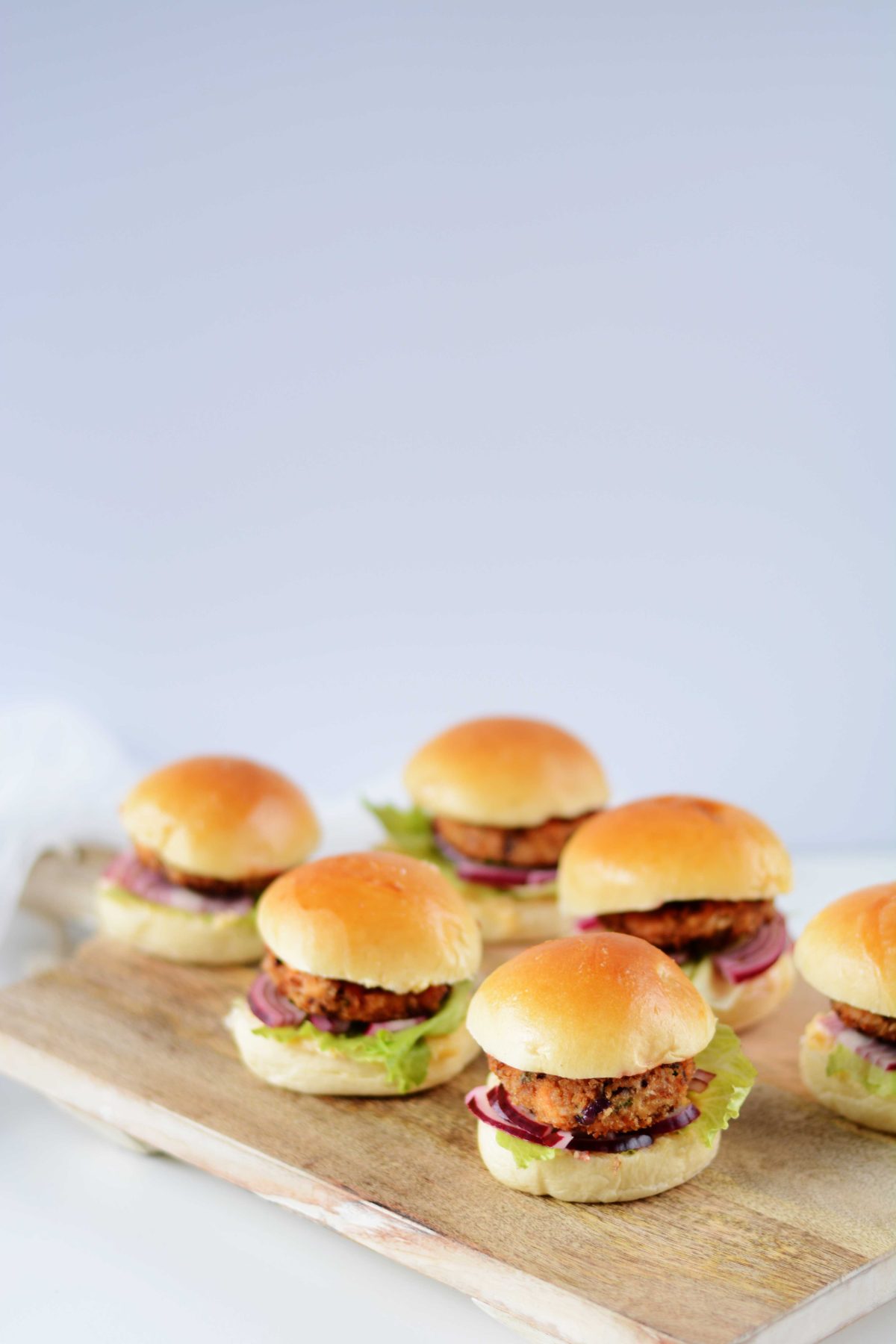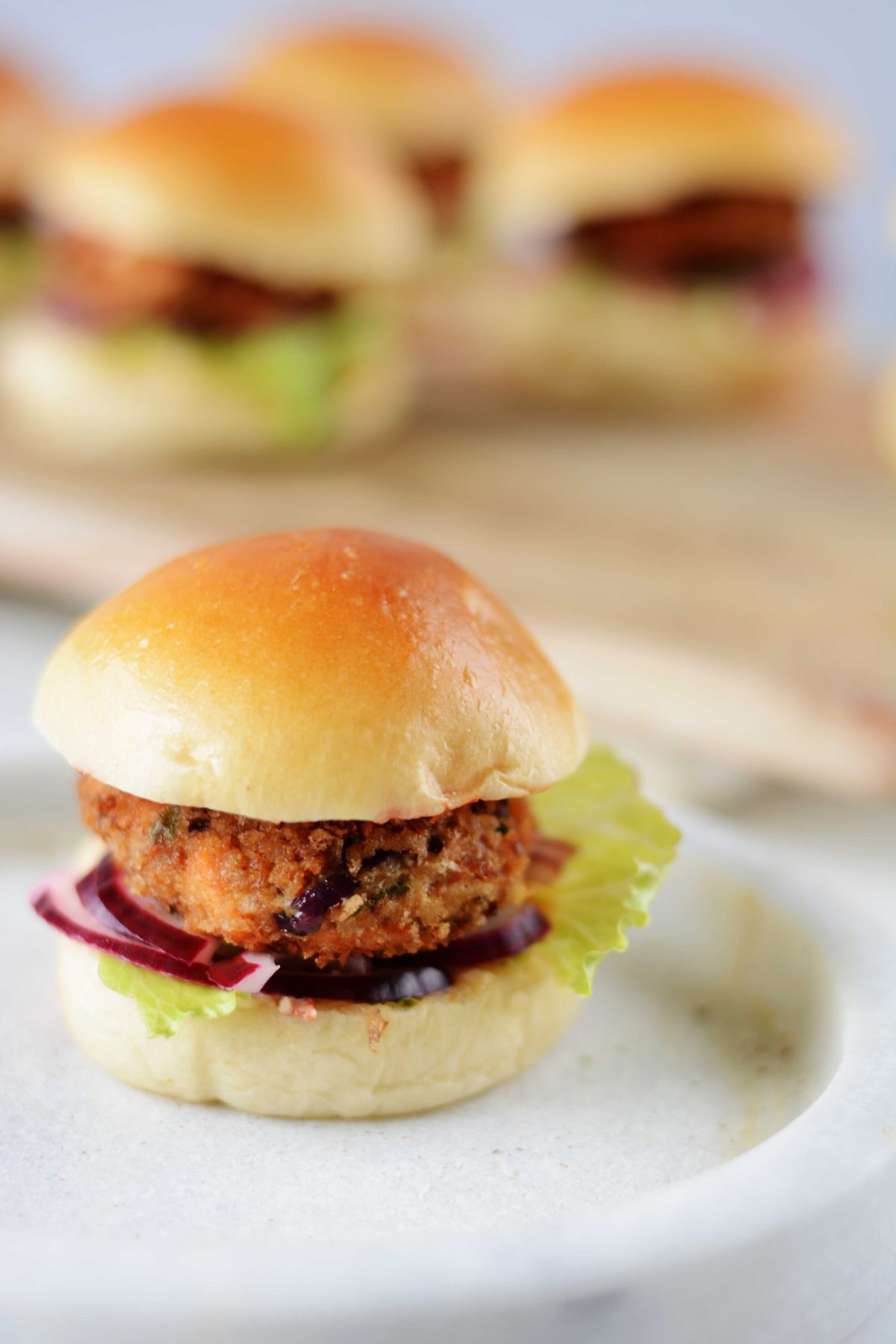 Any kind of fleshy fish without tiny bones can be used for making the patties. Prawns, crab meat and lobster meat are all good options too. Since salmon is an oily fish, there is no need to add any other binding agent (except for a bit of breadcrumbs) but if you are using a white fish, you may need to add potatoes or more bread crumbs so that the patties will not break while frying. And shallow frying or grilling would be the best option to make these Salmon Sliders with Chilli Mayonnaise instead of deep frying.

Even though I have used the word spicy, these sliders are not super hot but there is plenty of flavour from the spices and aromatics. And don't get thrown off by Kashmiri chillies in the mayo; these are a variety of chilli from India that has an intense red colour but less heat when compared to others. But you may use any sort of mayo that you wish to.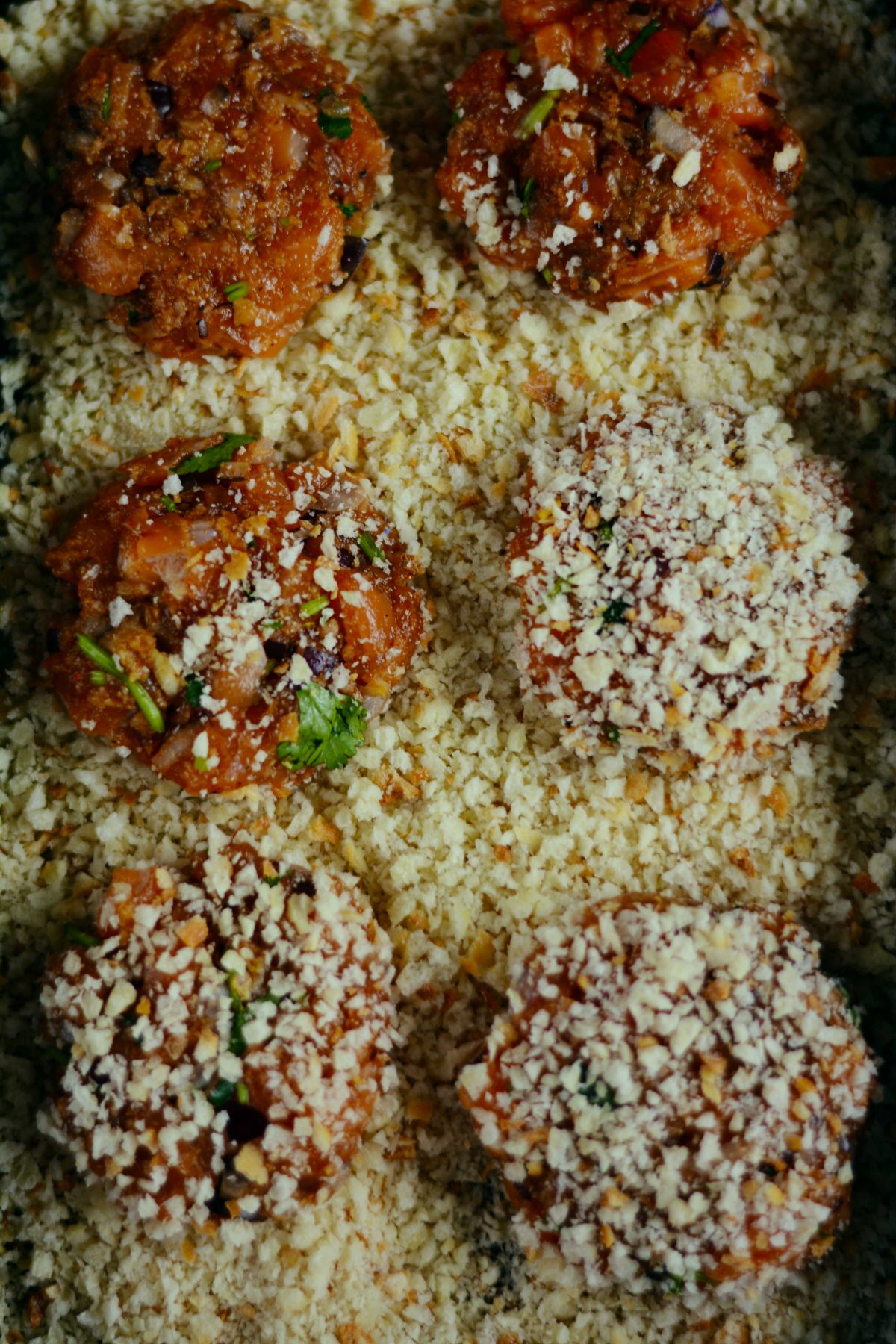 Brioche buns are the perfect pick for making sliders like these; soft, buttery and delicious. If you live in Australia, I suggest the ones that you can find at Breadtop. You will need to visit early though; gets sold off within a few hours itself.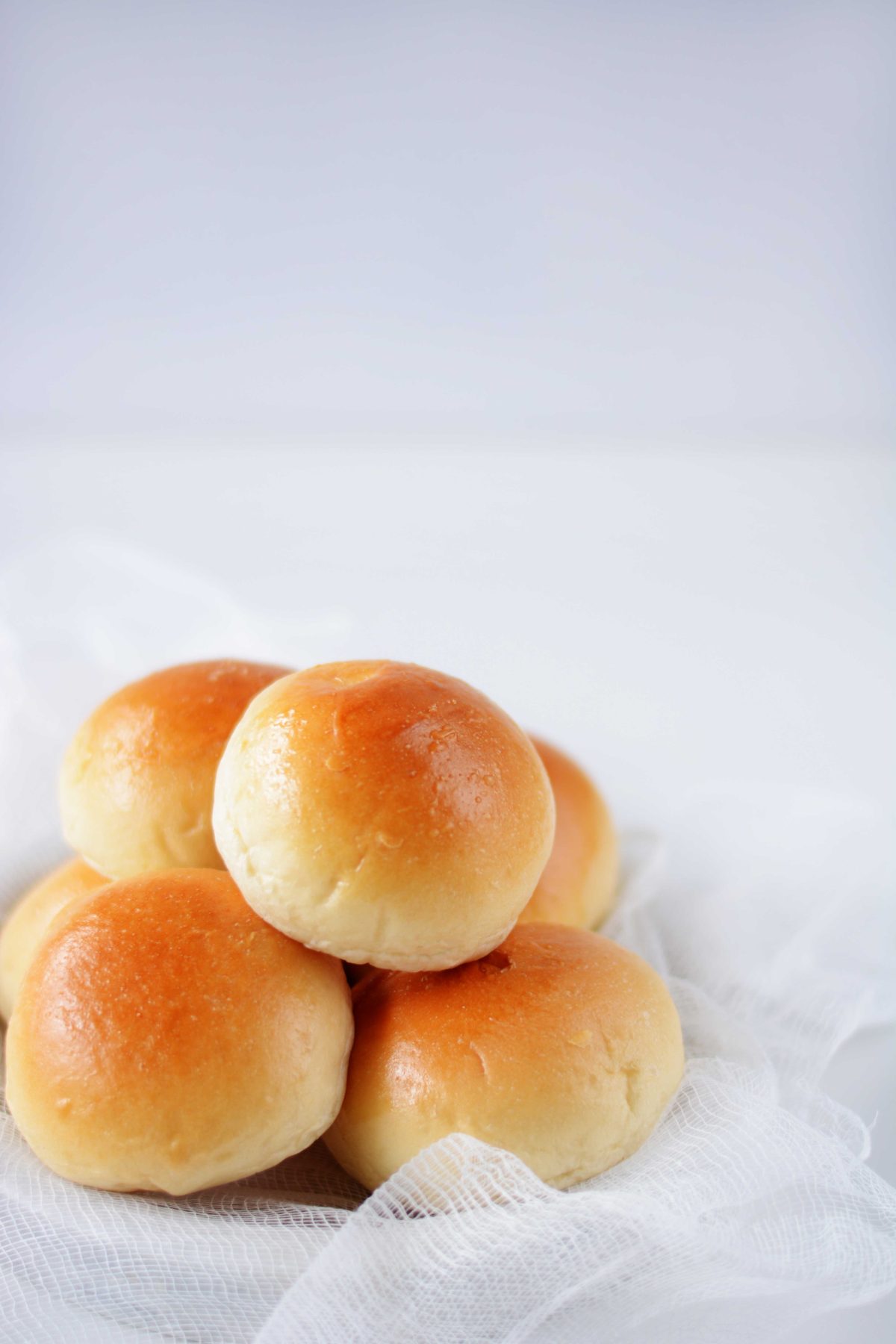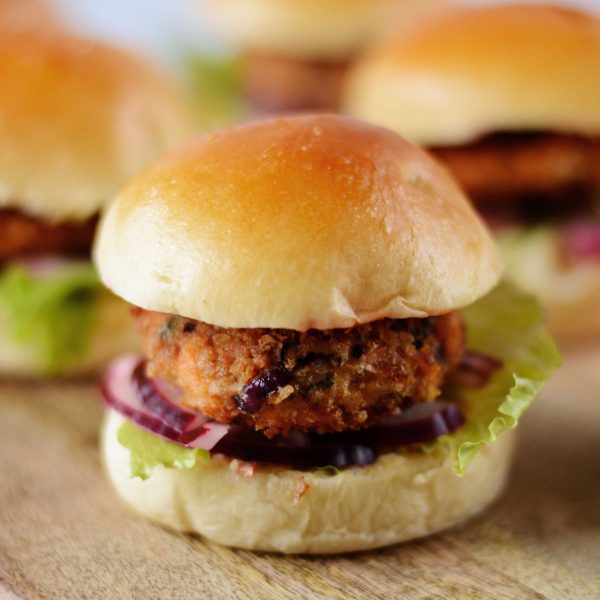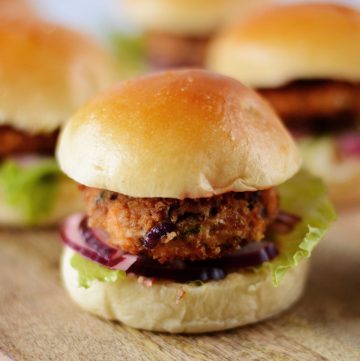 Print Recipe
Salmon Sliders with Chilli Mayonnaise
Servings:
12
salmon patties
Ingredients
For the salmon patties:
450

gm skinless salmon fillet

4

tbsp

coarse bread crumbs

1

egg

600gm

½

red onion; finely chopped

2

garlic cloves; finely chopped

2

tbsp

coriander leaves; finely chopped

¾

tbsp

hot chilli powder

adjust to preferences

½

tbsp

coriander powder

¼

tbsp

roasted cumin powder

Salt

to season

Freshly milled black pepper; to season

Vegetable oil; for shallow frying

1

cup

bread crumbs; for coating the patties
For the mayonnaise:
2

egg yolk

300

ml

vegetable oil

2

Kashmiri chillies; seeds removed and soaked in warm water for 15 minutes

Juice of ½ lemon

1

medium garlic clove

Salt

to season
To assemble:
6

brioche/slider buns

Tomato ketchup

Iceberg lettuce; torn into large chunks

Pickled red onion slices
Instructions
To make the patties:
Make sure that all the bones have been removed in the salmon fillet.

Add all the ingredients from 1- 11 into a food processor and grind for a few seconds. Do not over grind or the salmon pieces will become pasty.

Shape into small patties and refrigerate for 30 minutes.

Place the bread crumbs in a flat pan and lightly dust the patties evenly on both sides.

Heat oil in a flat pan and shallow fry the patties till golden brown on either side.
To make the mayonnaise:
Cut the soaked chillies into small pieces.

Blend the egg yolks, juice of half lemon, garlic and a pinch of salt.

As the yolks start to cream, slowly add the oil (really slowly) till you get a creamy, mayo like consistency.

Add the chillies. Taste and add more lemon juice and salt if necessary. Blend for a few more seconds and the mayo is ready.
To assemble:
Cut the buns in half; spread mayonnaise on one side and tomato ketchup on the other.

Place 2-3 lettuce leaves on one side followed by onions and then place the salmon patty on top.

Cover with the other bun and secure with a toothpick.

Enjoy!
Notes
If you do not have a processor, chop the salmon very finely and then mix together with all the ingredients in a bowl. Mix well by hand to combine evenly.
You can also skip the bread crumbs and grill or barbecue the patties.
The salmon mixture can be prepared in bulk and frozen for later use.
Makes more mayonnaise than necessary; store in an airtight container in the refrigerator.
The quantity of oil is approximate and depends on how soon you achieve the consistency.
Skip the chillies for a simple garlic mayo.
To make instant pickled onions; place the sliced onions in a bowl, cover with vinegar and add a pinch of salt. Keep for at least 30 minutes and squeeze out all the vinegar before use.