Usually I talk about the weather when I am tongue tied or when I can't think of anything to speak, but today it's simply because the temperatures are soaring in Melbourne and I just can't take it anymore.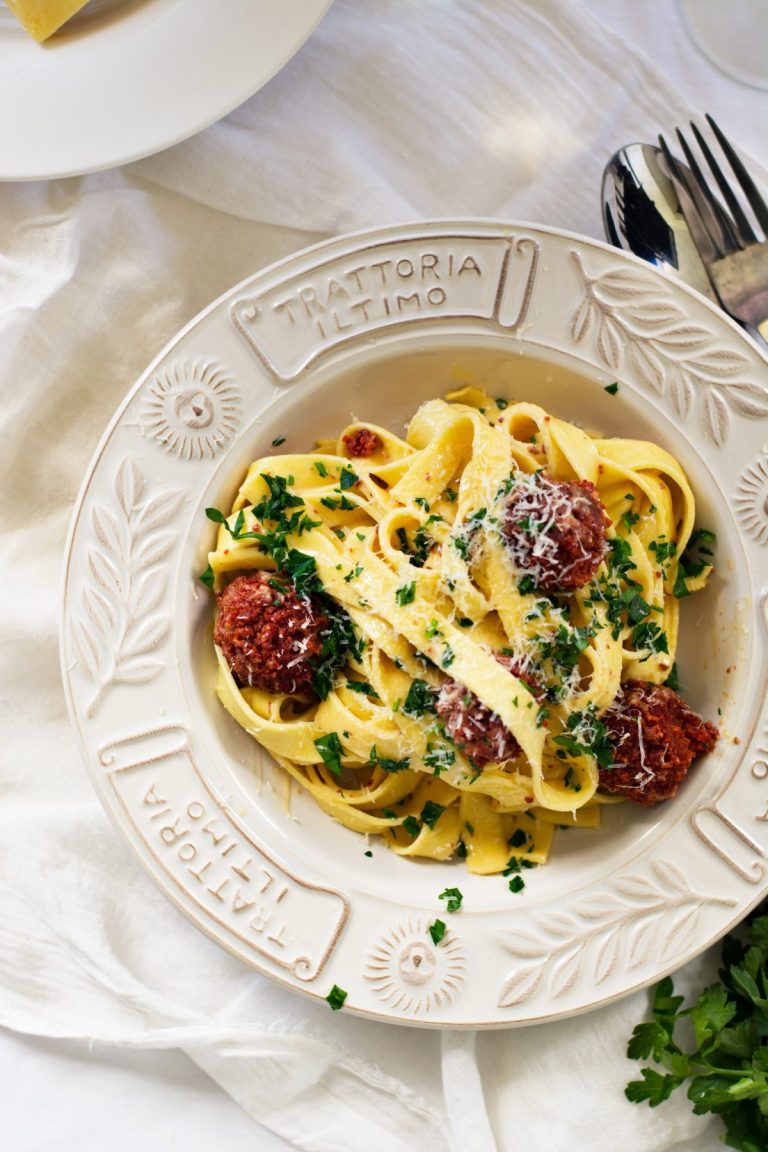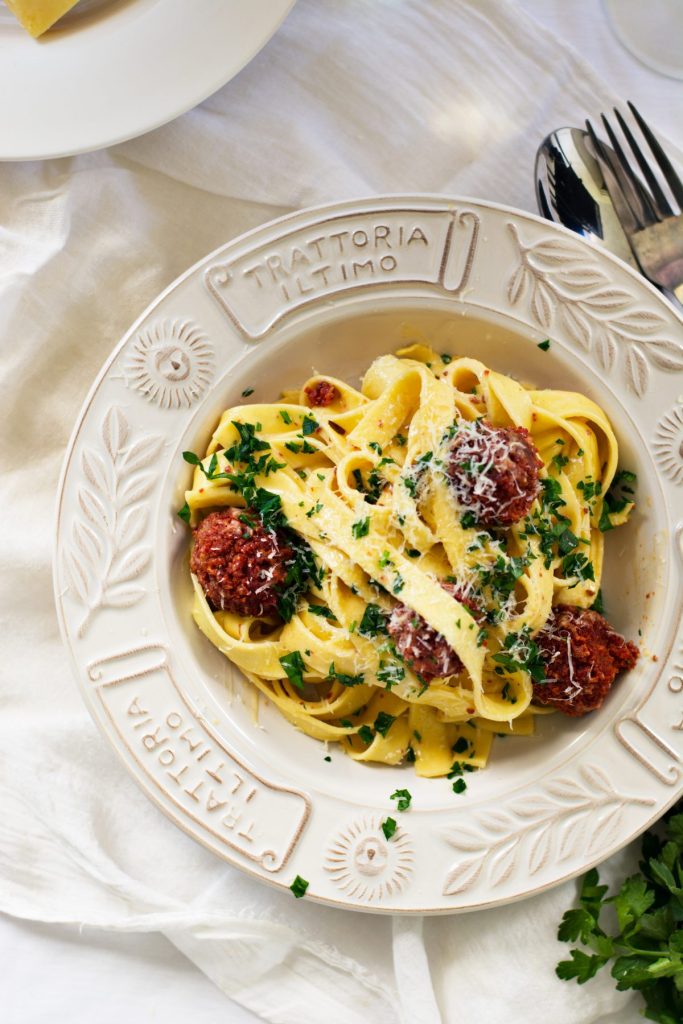 The new home we moved into does not have air conditioning and the poor fans, there's only so much it can do. I am a summer person generally but not a fan of these intense heat wave days which leaves you feeling so sick and dehydrated.

Cooking becomes a chore because I like rich, bold, big on flavour dinners but I can't imagine toiling away in the kitchen making it. Takeaway options in my suburb are rather limited which means I have to do the job anyway.

And thus the carbonara!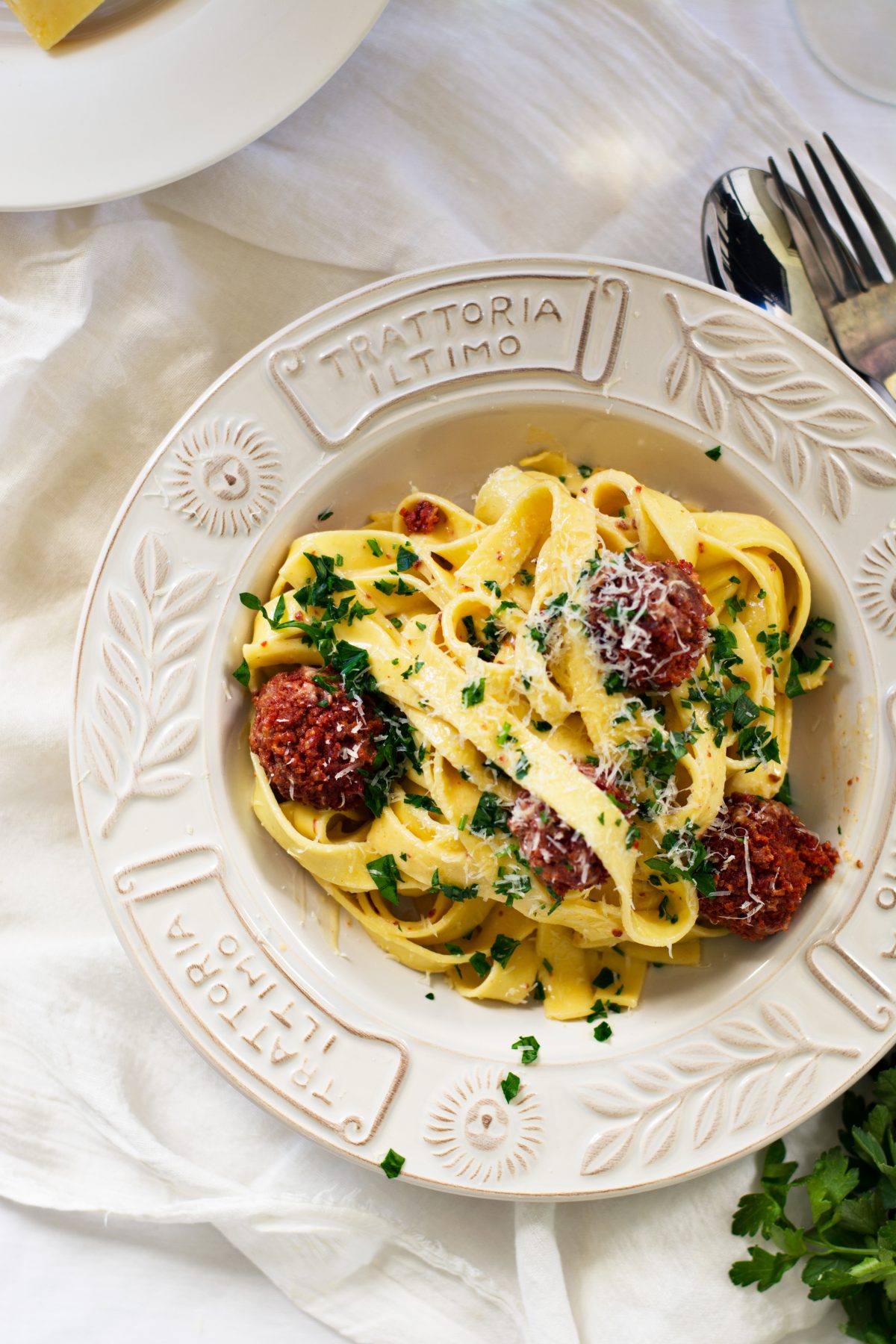 There's hardly any cooking involved for a traditional carbonara; apart from cooking the pasta ofcourse. But I wanted something more meaty and delicious to complete my carbonara experience (without much effort though)! And spicy sausage meatballs were the answer…

Fresh sausages especially the flavoured ones are really delicious; all that you need to do is remove the outer casing and then you get the minced meat to make the meatballs. Easy!

You may use any type of sausage available at the deli but I have chosen hot Sucuk, which is a traditional style famous in the Balkans, Middle East and Central Asia. Both plain and hot Sucuk is available, but the hot one adds a lot of oooomph and flavour to an otherwise mild and creamy Carbonara.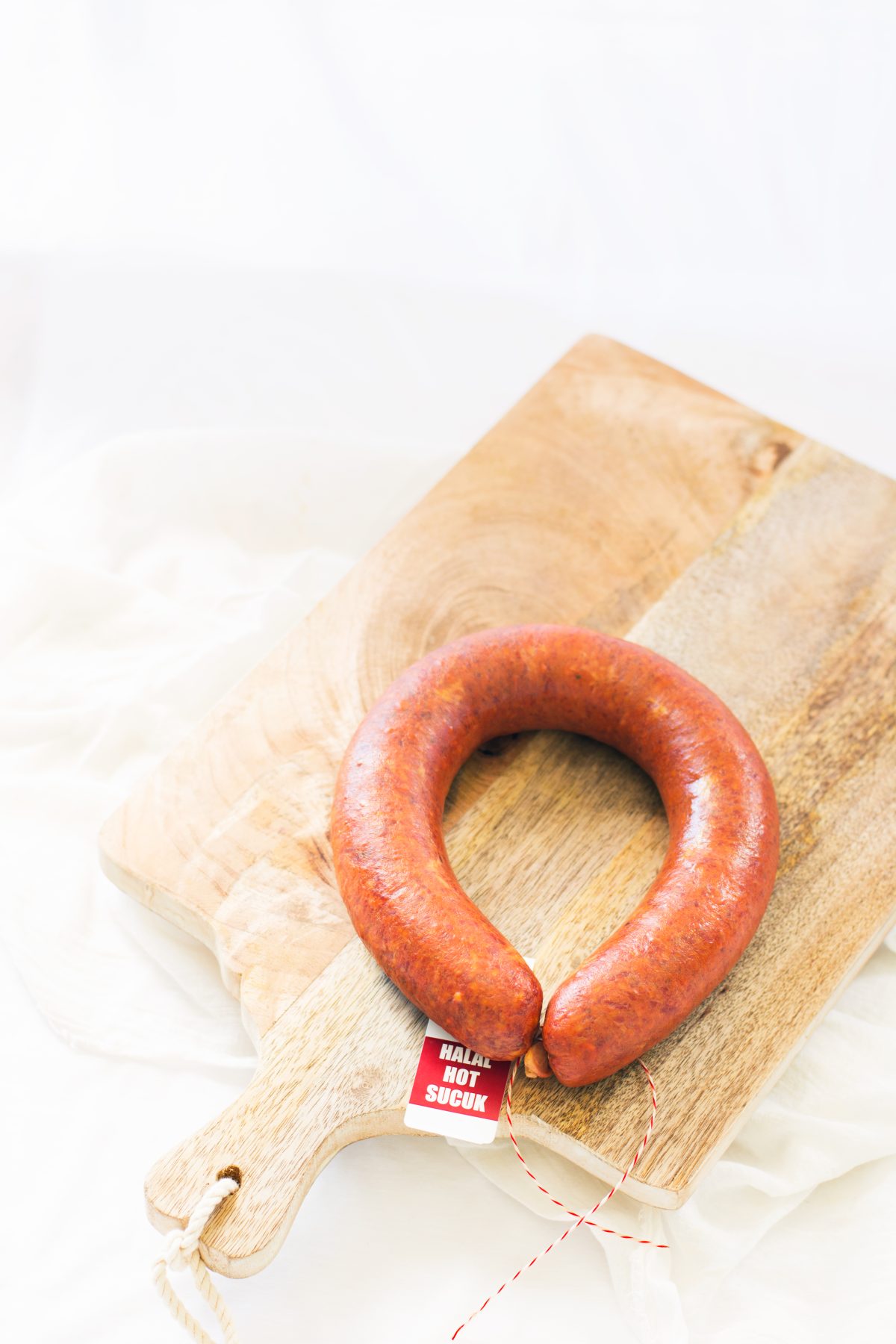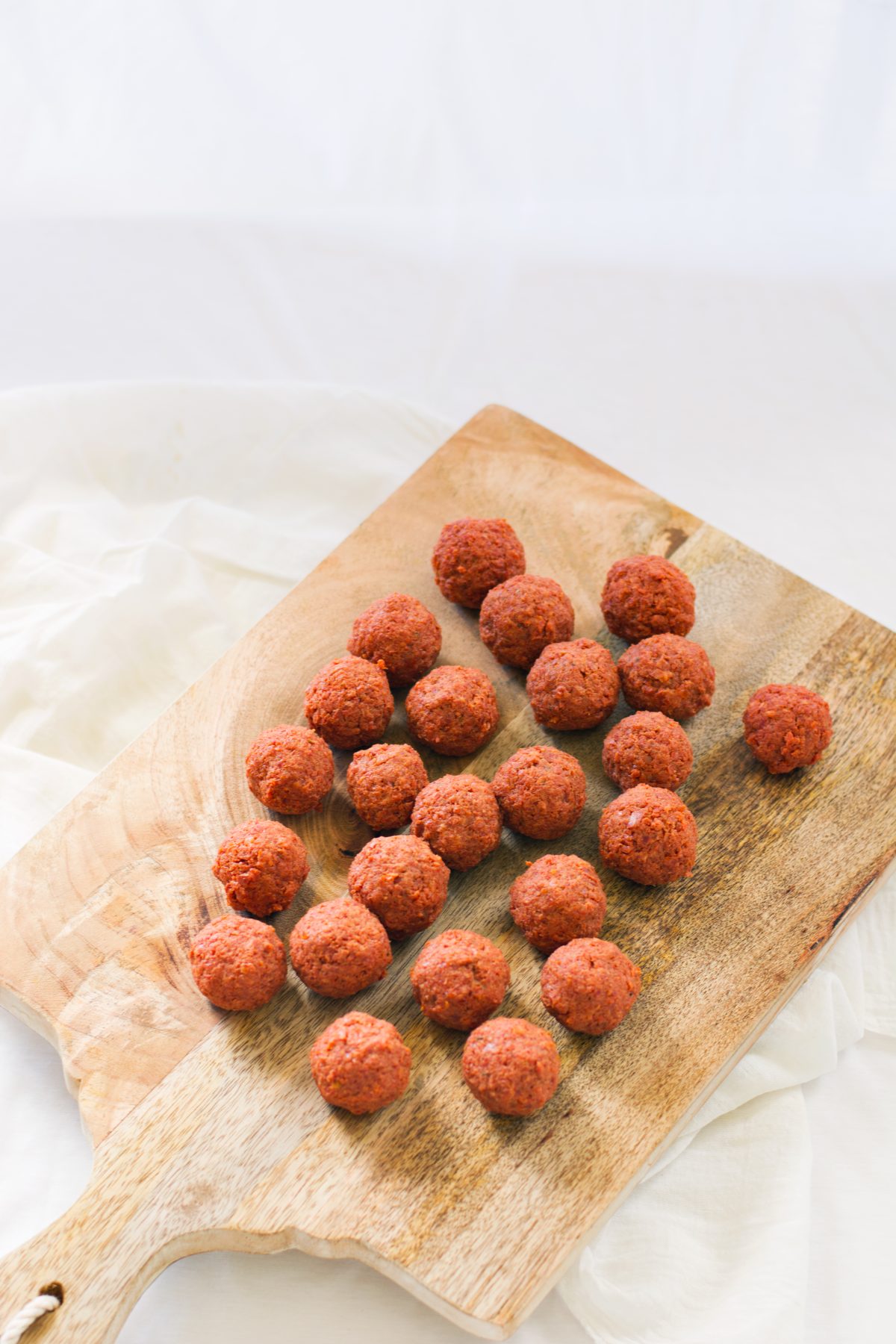 As I mentioned, you may use chorizo or any other sausage you wish to. Sucuk is a dry sausage, hence I used an egg to bring the minced meat together, or else the meatballs might disintegrate. If the sausage you are using is not dry, then the addition of the egg is not necessary.

And if you happen to try this recipe out, please do tag me #thespiceadventuress in your post; I love to see your pictures.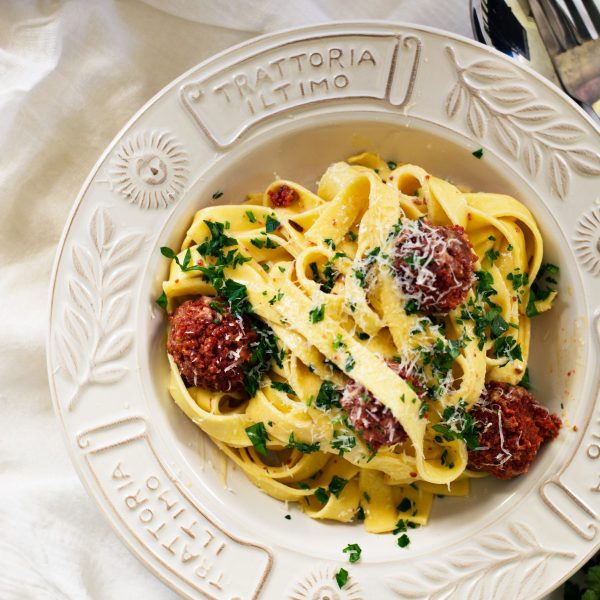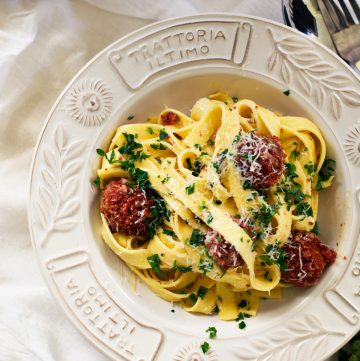 Print Recipe
Fettuccine Carbonara (with Sausage Meatballs)
Ingredients
250

gms fettuccine

1

hot sucuk

approximately 400gms

1

whole egg

150

ml

thin/cooking cream

2

egg yolks

20

gms grated parmesan

extra for garnish

Salt

to season

2

tbsp

olive oil

2-3

tbsp

chopped flat leaf parsley
Instructions
Remove the casing of the sucuk and add the minced meat along with 1 egg to a food processor. Blend just enough to combine the egg with the meat.

Divide into small portions and shape into small meatballs.

Heat oil in a large pan and shallow fry the meatballs in batches; keep aside.

Beat the cream, egg yolks, parmesan till well combined in a bowl and season lightly with salt.

Cook the fettuccine according to packet instructions; drain but reserving half a cup of the water in which the pasta was cooked.

Return the pasta to the hot pan, add the cream egg mixture along with the meatballs and toss through. The residual heat in the pasta is enough; do not place on heat or the eggs will scramble. Add the pasta water if the sauce feels too thick.

Garnish with chopped parsley and grated parmesan; serve warm.