Hummus, a simple rustic chickpea dip that has somehow bridged geographical, cultural and religious borders. Today it graces our dinner tables in a zillion avatars, from simple to gourmet.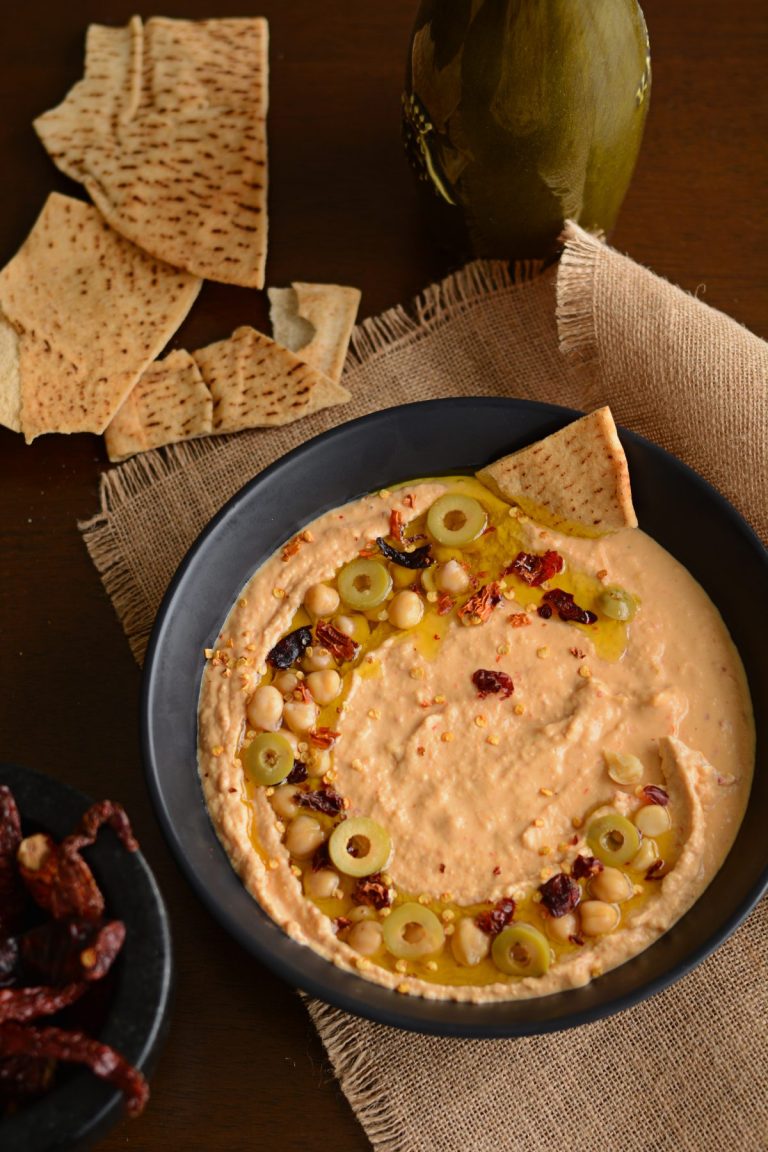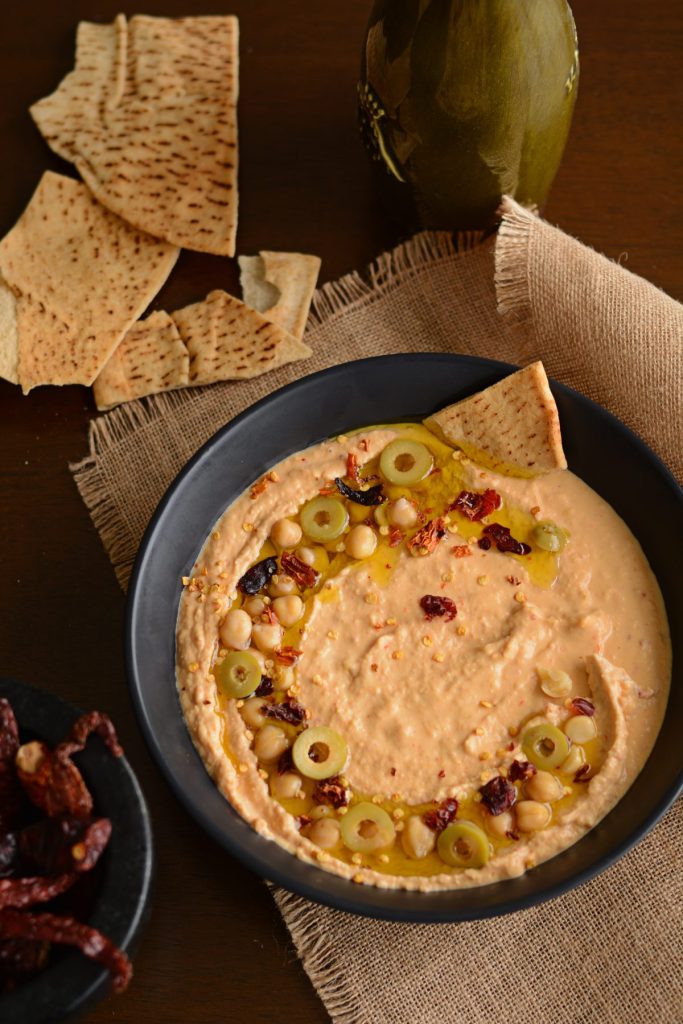 I love hummus, not just for its soul-satisfying taste, but because it is a taste of my childhood. Growing up in the Middle East, there was no way you could avoid this condiment. And it was such an integral part of the food we ate, because hummus was one of the very rare dishes that my dad would eat outside the traditional Kerala cuisine. So it made its appearance constantly sitting unassumingly alongside a platter of kebabs and tikkas.
And when we returned back to India, it was one of the main things that we missed; so much that my mom would request every friend who travels from Dubai to get her a bottle of tahini (which was very difficult to source in India at that time).
Today, we aren't just talking about hummus as a dip, but as a medium for social and religious cohesiveness…..and it's through the #spreadhummusnothate campaign spearheaded by Lina J, an award winning food blogger and the creative force behind 'The Lebanese Plate'.
I have been following Lina's work on Instagram for quite a while now and I really appreciate the work that she is doing to spread awareness and help address unwanted social and religious stigmas we have as a society. So here are excerpts of an interview with Lina and the significance of the #spreadhummusnothate campaign.
The first question and perhaps the most relevant one to this conversation….Where were you born? Are you an Australian?
I was born & brought up in Sydney.
Why #spreadhummusnothate? Could you tell us what led you to take up this campaign?
This campaign came about after coming across the hashtag #spreadhummusnothate. I felt there was increasing negativity towards people from diverse backgrounds & especially people of Muslim faith. I used the hashtag online but really felt that I needed to take it off line into our everyday lives in order for it to have a lasting effect. This is when I came up with creating opportunities for everyday Australians to sit & converse with everyday Australian Muslims & literally 'spread hummus' together.
You are an award winning food blogger but is that the only reason why you chose 'food' as the medium to express your opinions?
I don't even think of myself as 'award winning' to be honest!
Working with & around food naturally led me to use it as the basis for this campaign. I think we tend to take for granted the power of food, not just as something to nourish the body, but also as a tool to bring people together.
Is it a single person initiative or do you have a team working along with you in this campaign?
It is just me really. I have certainly had people help here and there along the way, but mostly just something that I have been pushing on my own.
What is the primary message that you want to spread through this campaign? And how do you go about it?
That all it takes is one conversation (over food) to break down barriers. I hope that people will be able to see that although we have some difference, we actually have a lot more in common. Life isn't about agreeing with or being exactly like the next person, it's about understanding & respecting our differences & still be able to converse in a positive way.
How has the response been so far?
I would say 99% of response to this campaign has been quite positive, which really gives me hope.
I have seen on your Instagram account that you host events in relation to the campaign? How are these done and is it open to the public?
The events have been smaller gatherings up until this stage. I am currently in some collaboration talks with some lovely people who really want to help take this to the next level, where hopefully there will be more opportunities for a wider range of people to attend such events. There'll be more detail soon about these events on my social media.
What are the different ways in which anyone who interested in this campaign be of help?
A number of people have helped spread the word, which is really important! But a number from my Insta family have assisted in providing goods for the #SpreadHummusNotHate Brunch, cake & desserts, meat & poultry, fresh fruit & veg. Couldn't thank these people enough for their support.
And on a lighter note, you have become the 'queen of hummus' platters with all sorts of flavours including beautiful looking ones like the beet hummus. But which is your favourite?
I do love the Beet hummus, especially topped with a marinated feta, but at the end of the day, the original hummus will always be my favourite!
Do check out her blog and Instagram page (for some amazing photography and mouthwatering food).
Of course, I cannot leave you without sharing any hummus recipes so there are two delicious ones today. First, it's the super gorgeous beet hummus recipe, one of Lina's favourites which she has kindly shared with all of us. And second will be my signature hummus recipe with Kashmiri chilli (you will love this!)
So let's #spreadhummusnothate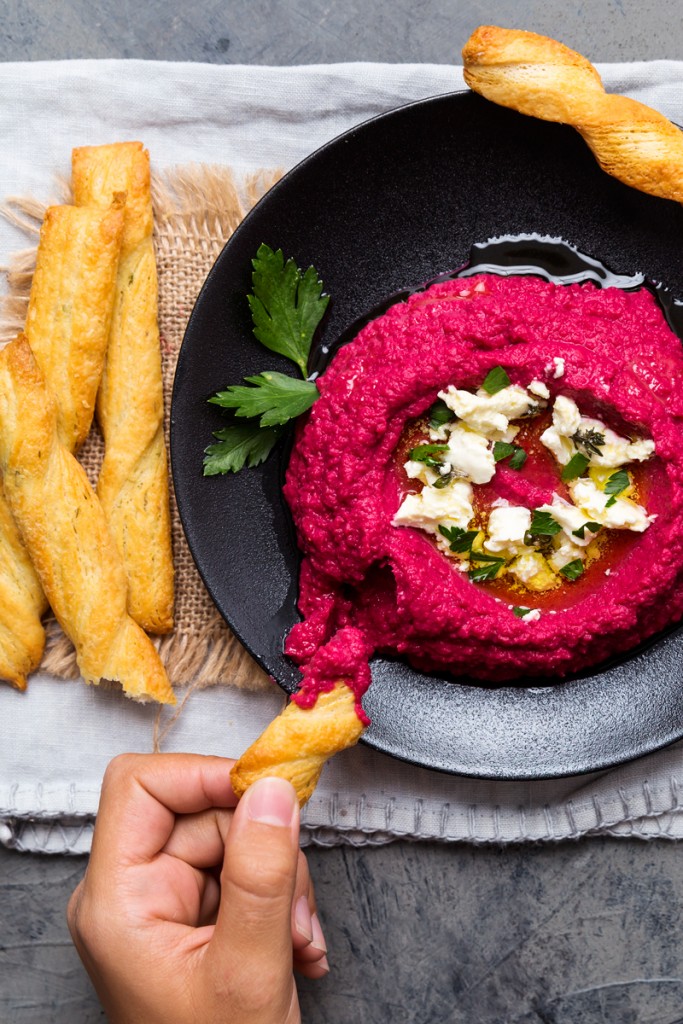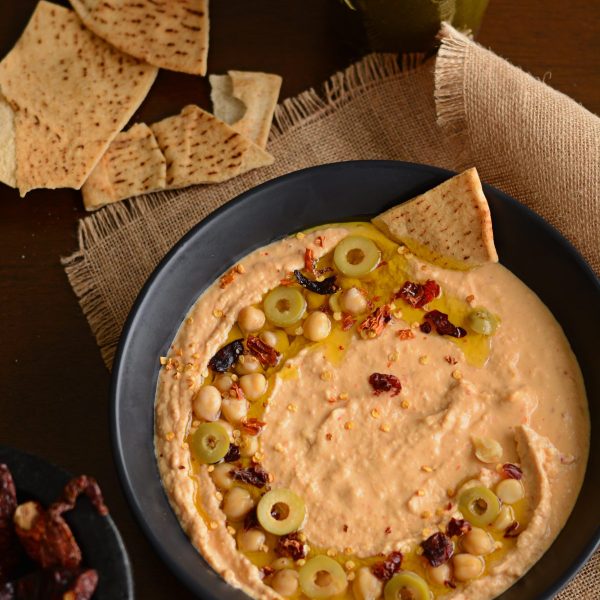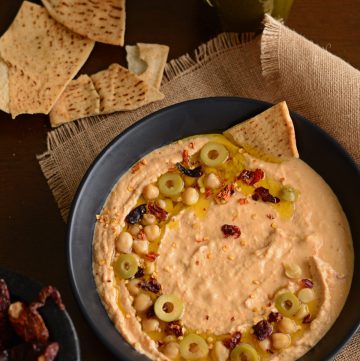 Print Recipe
Beetroot Hummus
Ingredients
1

cup

dried chickpeas; soaked overnight

1

teaspoon

bicarbonate of soda

optional

250

g

roasted beetroot

Salt

to season

3

cloves

garlic

¼

tsp

ground cumin

1

tbsp

tahini paste

1/3 to 2/3

cup

fresh lemon juice

olive oil for serving

1

tbsp

Persian feta

optional, for serving
Instructions
Beginning the night before, soak the dry chickpeas in a bowl of (approximately) 3 cups water with the teaspoon of bicarb. The chickpeas will need to soak overnight and will double in size.

The following day, rinse chickpeas and place in a pressure cooker (see note) with plenty of fresh water. Lock the lid and turn to the LOW pressure setting. Once it comes to pressure (mine begins to whistle when at full pressure), turn heat to low and cook for a further 20 minutes. Take pressure cooker off heat and allow the pressure to release and cool naturally. This may take a further 30 minutes or more depending on the type of pressure cooker you have.

As the chickpeas are cooking, preheat oven to 200ºC and prepare beetroot for roasting. Cut off greens and scrub beetroot thoroughly. Using a large enough piece of baking paper, wrap beetroot loosely and enclose by folding both ends into the middle and folding up ends to create a bag. Place paper bag with beetroot on an oven tray and into the oven. Roast for approximately one hour, or until beets are soft and cooked through. Remove from oven; allow to cool before peeling skin.

Once pressure is released from the cooker, drain away as much liquid as you can leaving only chickpeas behind. You will find that the chickpeas look mushy, but do not fret…that's exactly how you want them! I find using the pressure cooker softens and almost melts away the chickpea skin that you don't need to remove them.

Place the garlic, salt and cumin into a mortar and pestle and crush to create a paste. Set aside with the lemon juice.

Place the chickpeas in a food processor and blend until a smooth puree is formed. Add the beetroot and continue to whiz until you have a vibrant puree.

Add tahini, garlic, salt and cumin paste and blend some more. While processor is on, add 1/3 cup of lemon juice in a steady stream. Stop to scrape down sides and taste for more lemon juice.

Serve with Persian feta and a drizzle of extra virgin olive oil.
Notes
If you do not own a pressure cooker, use a large saucepan instead. Add chickpeas to pot with plenty of cold water and a teaspoon of bicarbonate of soda. Bring to the boil, reduce heat, cover and simmer for at least an hour until chickpeas are very soft.
Chilli Hummus
I used dried Kashmiri chillies for this recipe which can be easily found in any Indian/Asian store. These chillies have a beautiful deep red colour but very less heat when compared to other varieties.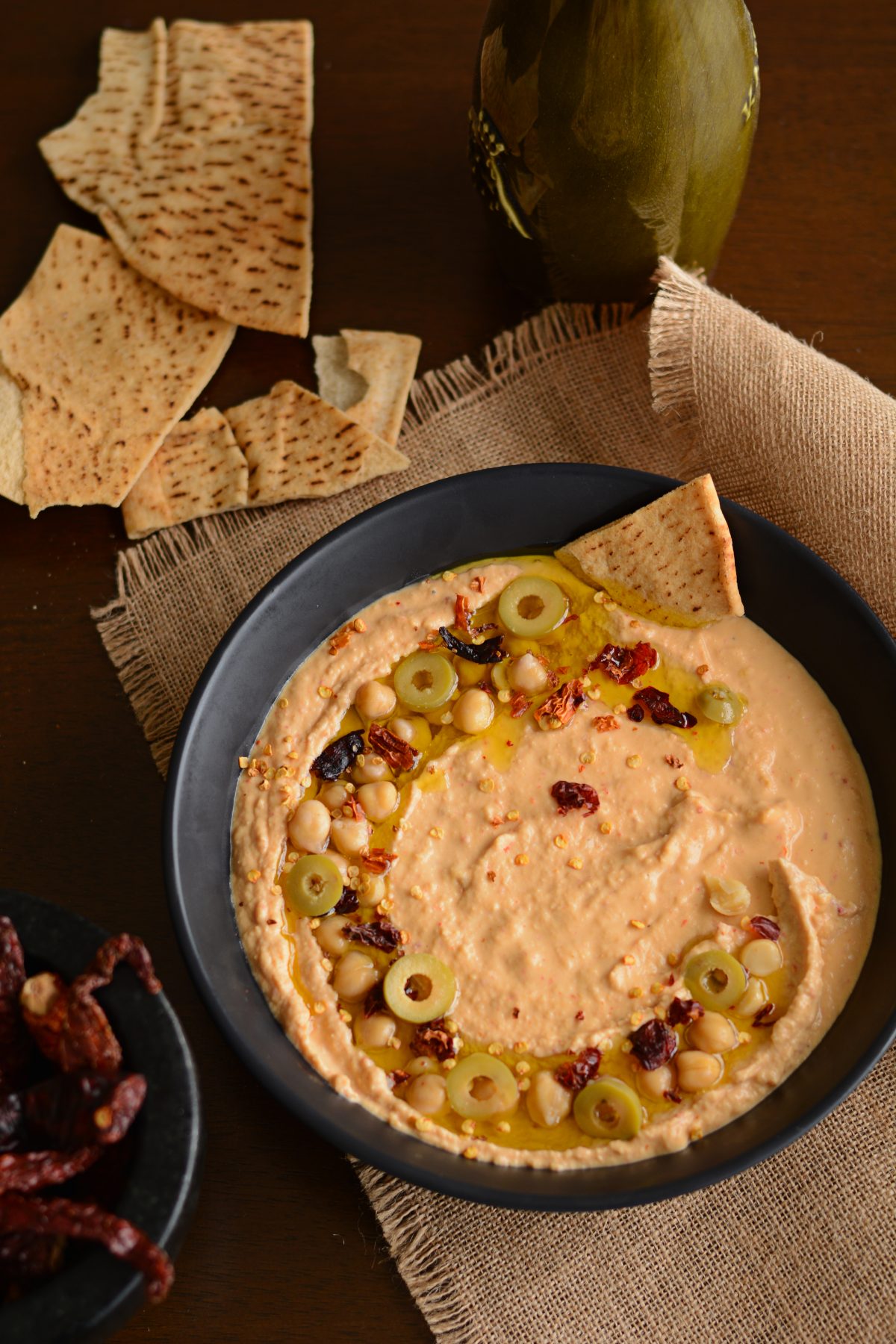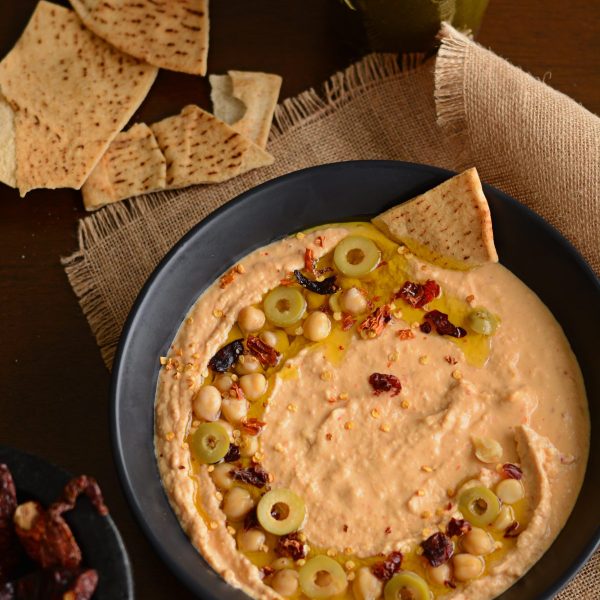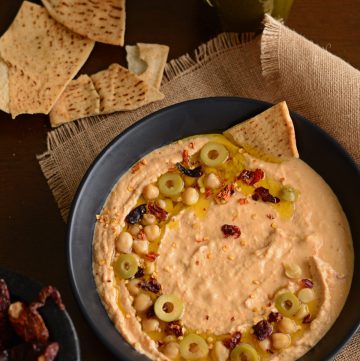 Print Recipe
Chilli Hummus
Ingredients
1

cup

dried chickpeas; soaked overnight

1

teaspoon

bicarbonate of soda

optional

3-4

Kashmiri chillies

soaked in warm water

Salt

to season

2

cloves

garlic

1

tbsp

tahini paste

Juice of 1 lemon

1

tbsp

thick greek style yoghurt

olive oil for serving

Dried chillies

for garnish

Green olives

for garnish
Instructions
The first step (just as in the beet hummus) is to soak the chickpeas overnight with bicarb. Canned chickpeas can be used if you are really rushed for time but soaking and cooking the chickpeas yourself makes a big difference to the taste.

Next day, rinse the chickpeas well and cook in a pressure cooker or pan till well done and lightly mushy. Season the chickpeas with salt while cooking.

While the chickpeas is cooking, soak the Kashmiri chillies in warm water for at least 15 minutes or more if possible.

Using a blender, grind the chillies, garlic and a pinch of salt to a coarse paste.

To this add the drained chickpeas (reserve a little for garnish), tahini paste, yoghurt and half the lemon juice. Blend till a smooth consistency is achieved (you may need to scrape down the sides in between). Taste and add more salt or lemon juice as required.

Transfer to a bowl and serve with olive oil. Garnish with the cooked chickpeas, sliced olives and crushed dried chillies.

Enjoy