Time management has always been a roller coaster ride for me. Some weeks, I am organized, motivated, super productive and all the good stuff but other weeks, it just drowns and overwhelms me completely. And this is not something that has happened post my blogging/self-entrepreneurial journey; it has always been the case.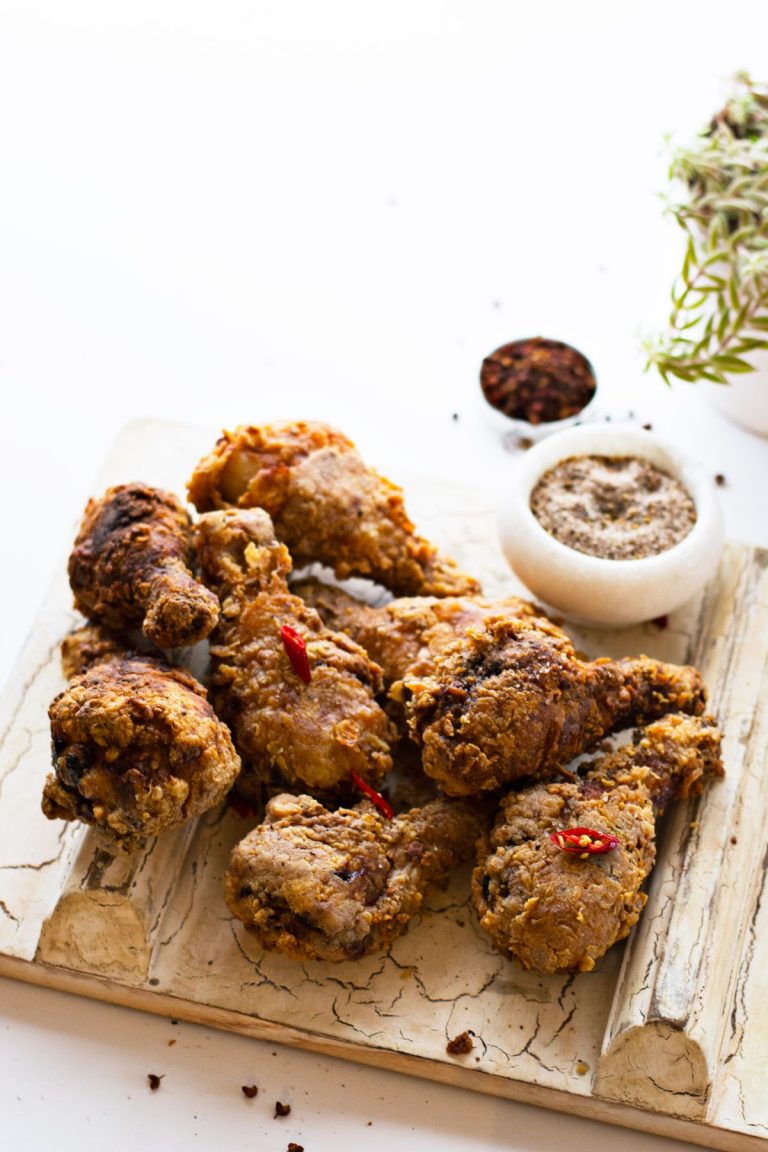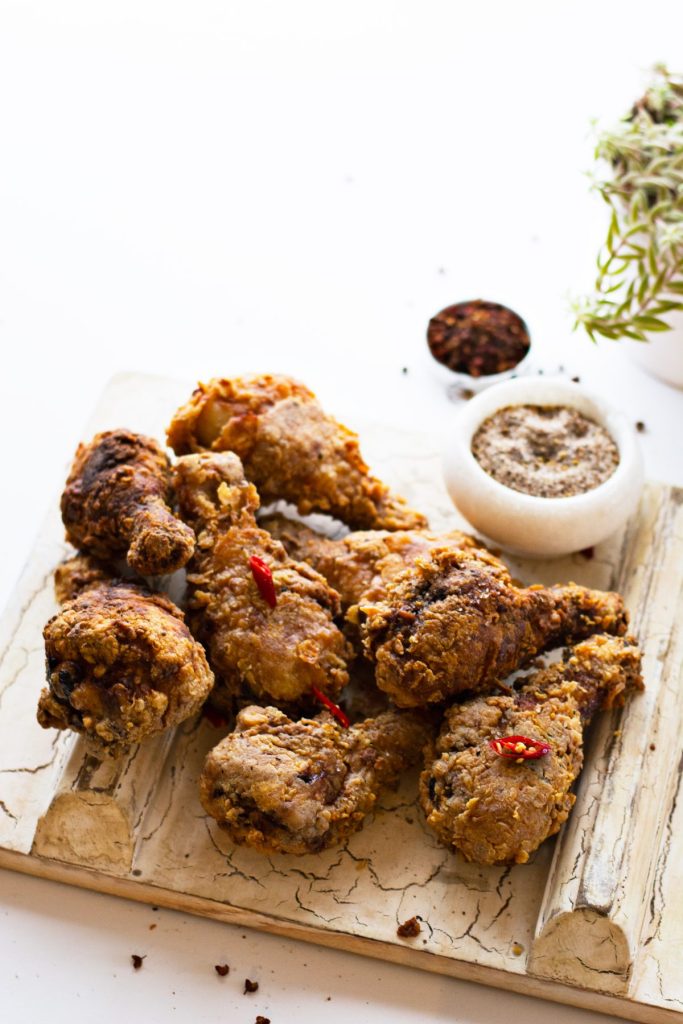 Last week was one of the latter. I have no clue what went wrong but nothing was really getting accomplished. My mind was not in the right space, a wavering mish mash of random thoughts that left me emotionally drained for no reason at all. And soon the writing work was getting piled up which left me all the more frustrated.

Unlike many people who say that cooking is a stress buster, I cannot bring myself to even boil water if I am not in the right mood. But takeaways do not sit too well with me so I had to force myself into the kitchen. Instead of elaborate meals, I opted for no fail recipes that required minimal prep time, one pot meals etc…. and these chicken drumsticks fit perfectly.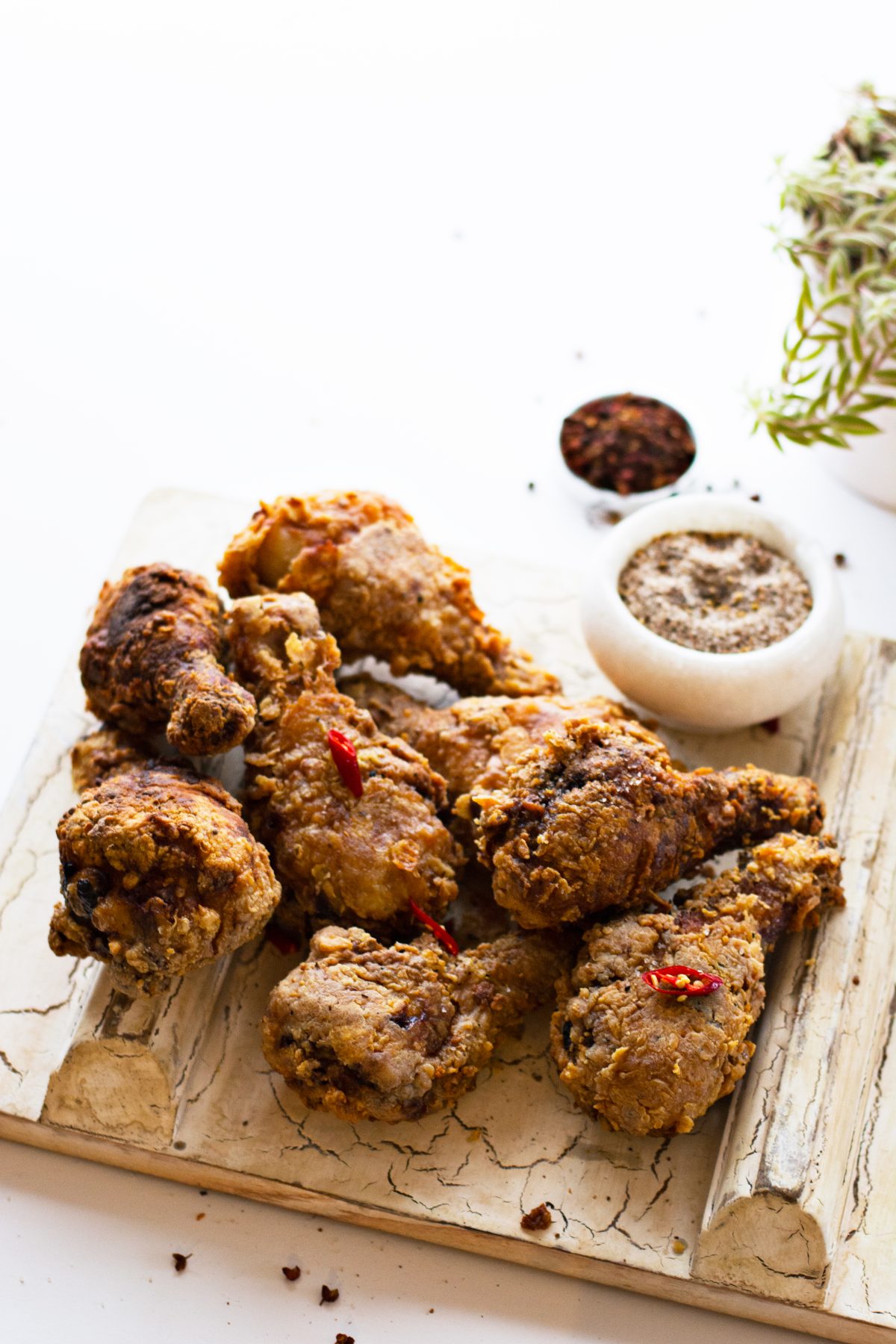 Fried chicken is an all time comfort food. If crunch is the end result of dunking anything in oil, then it wins my heart…always. And if it's savoury, then all the better.

So as the name of the dish goes, these are fried chicken drumsticks with some Asian flavours going on. You can use any part of the chicken; I went ahead with drumsticks because it had been a while since we had it. The only difference from any regular fried chicken is the Asian style marinade in which the drumsticks are marinated before going through the flour-egg-flour routine.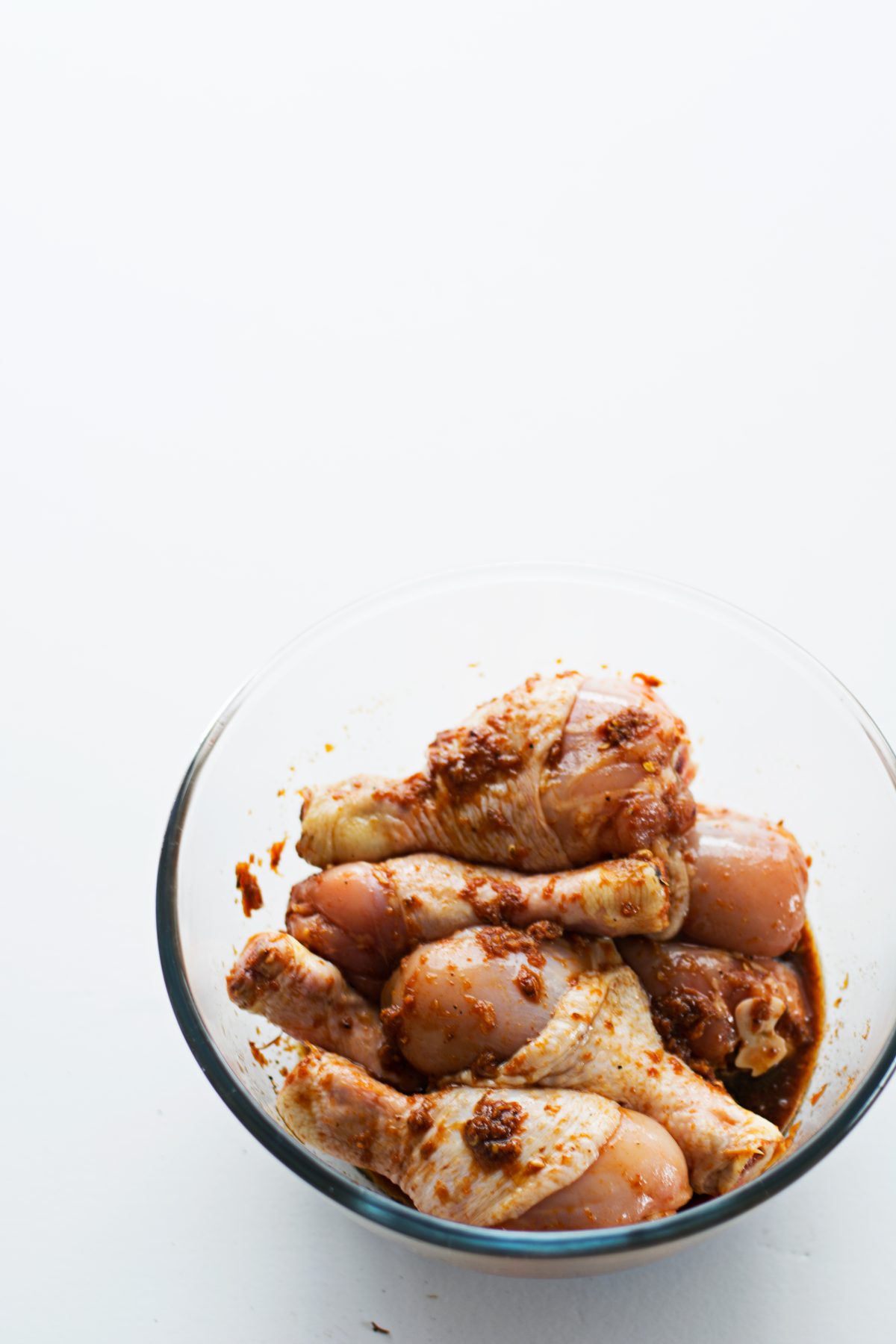 If you are not a fan of the flour coating, then use breadcrumbs instead. And if you can find Panko, then all the better for the crunch. Remember that you only need a light dusting of the flour or the outer coating can be quite floury and gluggy. And get that oil temperature right before frying the chicken if you need the crunchy deliciousness.

If oven baked is your preference instead of deep frying, then I suggest the breadcrumbs as I feel the texture is better with crumbs than flour.

So there you go; so many options to make these delicious fried chicken drumsticks. And please do tag me #thespiceadventuress if you are posting on any social media; gives me great joy to see your creations.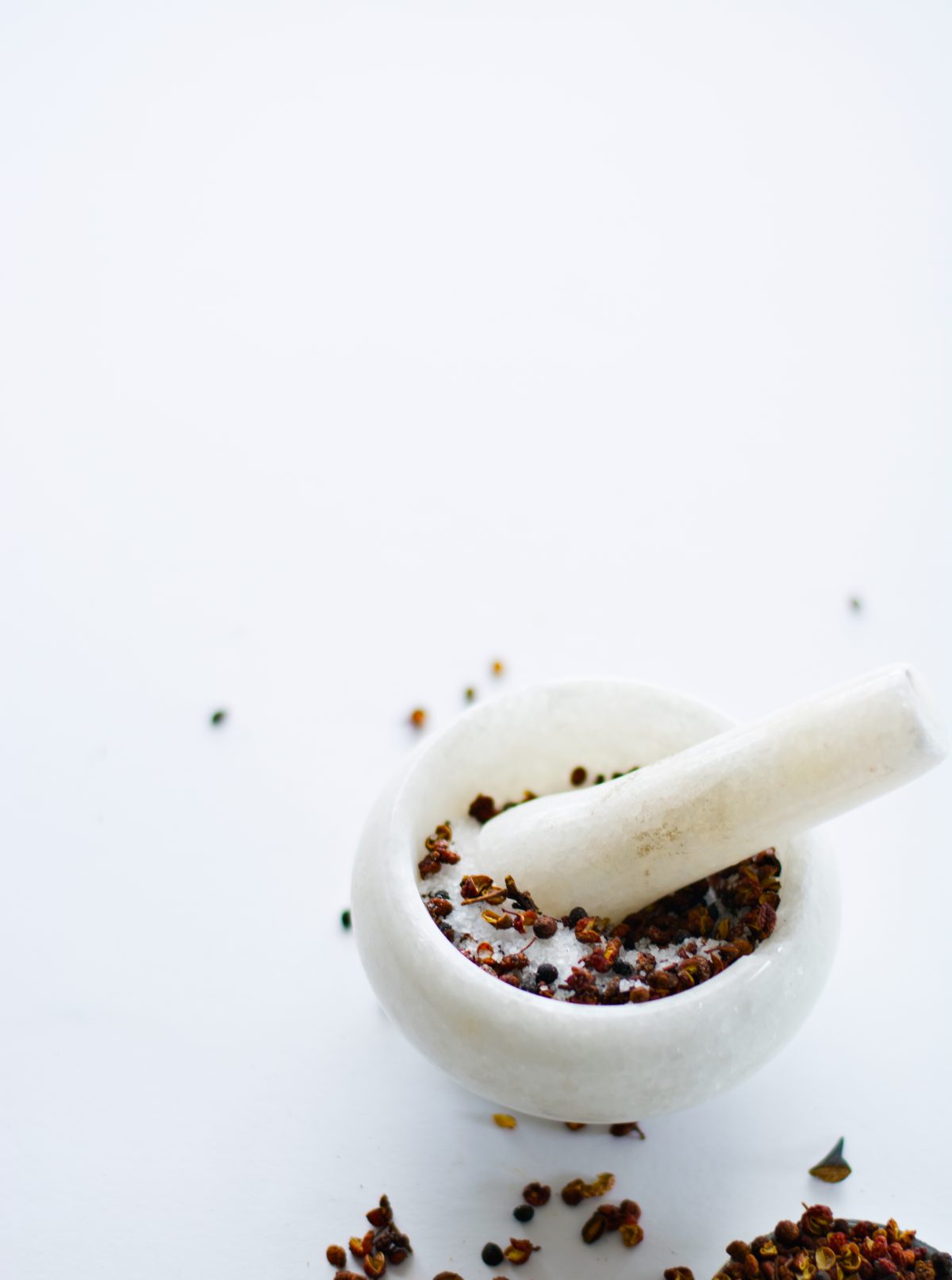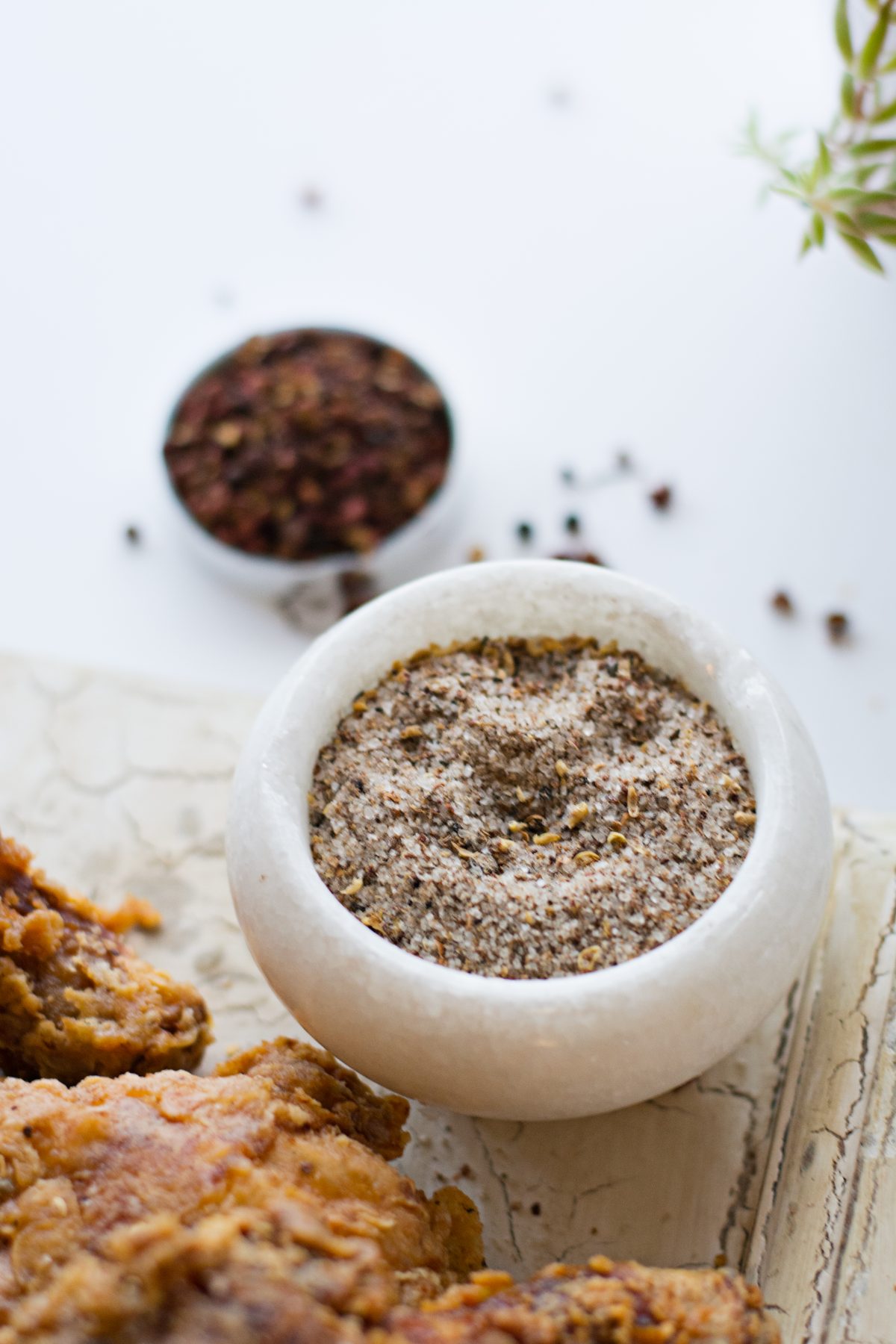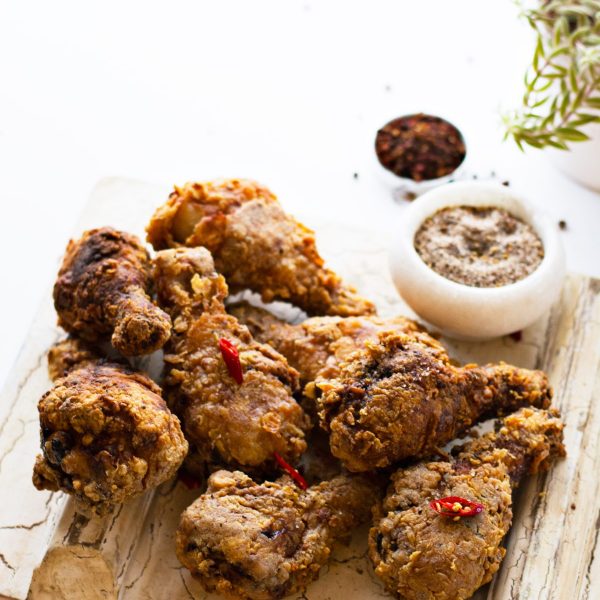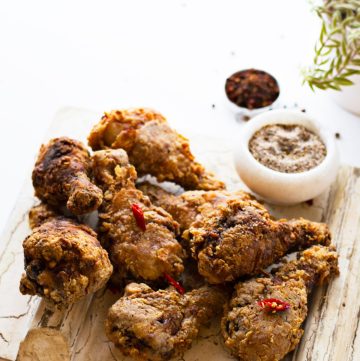 Print Recipe
Asian style Fried Chicken
Ingredients
8

medium sized chicken drumsticks

3

tbsp

soy sauce

1

tbsp

rice wine vinegar

2

tsp

sesame oil

2

tbsp

sriracha

can be replaced with any chilli sauce

3

tsp

crushed ginger

½

tsp

crushed Sichuan peppercorns

½

cup

cornflour

½

cup

plain flour

2

eggs

beaten

Salt

to season

Vegetable oil; for deep frying
Sichuan pepper-salt
2

tbsp

Sichuan peppercorns

50

gms salt
Instructions
To prepare the Sichuan salt, toast the peppercorns in a pan (without any oil) on low heat for about 2 minutes. Shake the pan constantly to avoid burning the peppercorns. Remove and allow to cool. In the same pan, lightly heat the salt for about 30-40 seconds and then add to the peppercorns. Using a mortar and pestle (or grinder), crush well to get the Sichuan peppercorn salt. If you prefer a fine powder, you may sieve this but I like to use it a bit coarse.

To prepare the marinade for the chicken, mix all the sauces, wine vinegar, sesame oil, ginger and pepper. Add the chicken and mix well; cover and refrigerate for at least 2 hours or longer if possible. Taste and season with salt only if required.

Combine the corn flour with the plain flour in a bowl. Add ½ tsp Sichuan salt to the flour and mix well.

Beat the eggs well in another bowl.

Remove the excess marinade from the chicken and then coat lightly with the flour mixture. Shake off the excess flour before dipping in the beaten egg. Return back to the flour mixture for another light dusting and keep aside.

Heat oil for deep frying and fry the drumsticks in batches till golden brown and crispy. (Remember if the oil is too hot, the outside will brown up quickly without cooking the chicken inside properly).

Serve hot with Sichuan pepper salt.